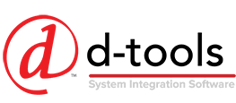 D-Tools i3 Partners realize the importance of bringing you their product information and have chosen to support the D-Tools user community by joining the program and making their product data directly available through D-Tools software. Read on for the latest supplier company news and product updates.
---

Altronix Introduces New Dual-Voltage Access Power Controller with Network Communications
New LINQ8ACM Facilitates Network Monitoring, Reporting and Control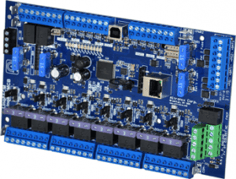 Altronix, the recognized leader in power and data transmission products for the professional security industry, has introduced the LINQ8ACM Dual-Voltage Access Power Controller with LINQ™ Network Power Management. This new solution facilitates a wide range of locking devices while providing network monitoring, reporting, and control of eight independently controlled fuse or PTC protected access control outputs. For instant on-site verification, the LINQ8ACM is equipped with bi-color LEDs which indicate 12 or 24VDC on each of the 8-outputs.
"With this new addition, Altronix can monitor all powered outputs in an access control system both on the relayed outputs with LINQ8ACM and the distributed outputs with the LINQ8PD. Voltage and Power diagnostics for every lock, panel and peripheral closes the loop on full system monitoring," said Ronnie Pennington, Director of Sales for the Americas, Altronix Corporation.
The LINQ8ACM distributes power to a variety of access control devices, including magnetic locks and electric strikes, while providing critical diagnostics and management
capabilities via its on-board network communications. Additional features include: emergency input trigger enabling egress and alarm monitoring; a disconnect feature that is individually selectable for any or all of the eight outputs; spade connectors to daisy-chain multiple modules for larger system applications; and protection using PTCs or automotive style fuses.
When combined with the Altronix VR6 Voltage Regulator, the LINQ8ACM provides the ability to select different voltages for multiple outputs from a single power source. This reduces the requirement and costs for multiple power supplies and batteries, while conserving valuable enclosure space due to its unique stackable design.
The Altronix LINQ8ACM(CB) is manufactured in the U.S.A. and backed by a lifetime warranty.
---

AudioQuest Introduces the Niagara 3000
AudioQuest expands your capability to stop noise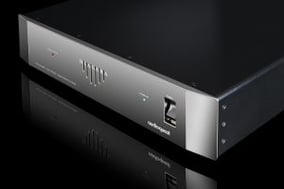 contamination and current compression with the Niagara 3000. Like all AQ power products, Niagara 3000 showcases a comprehensive approach to AC power management—one grounded in verifiable science, representing over 20 years of exhaustive research into AC power.
The 3000 incorporates almost all of the sonically effective technology that distinguishes the award-winning Niagara Series—AQ's patented AC Ground-Noise Dissipation System, Transient Power Correction, extremely wide-bandwidth Level-X linear filtering, and more—but at a more accessible price.
So, what distinguishes Niagara 3000 from Niagaras 7000 and 5000?

With rack-friendly dimensions (17.5" W x 3.45" H x 15.2" D; 24.9lbs) and 2-RU rack ears (included), the smaller Niagara 3000 is a very high-performance, cost-effective option for two-channel and custom-install applications. It forgoes the 7000's patented dielectric-biased symmetrical power isolation transformers; and, rather than the 90 amps peak current reserve available in the 5000 and 7000, the 3000 provides power amplifiers a current reservoir of over 55 amps peak (up to 25mS).
Finally, with a current capacity of 15 amps (RMS), the Niagara 3000 features two High-Current outlets and five Level-X linear filtered source AC outlets, whereas the larger Niagaras 5000 and 7000 offer four High-Current outlets and eight Level-X ultra-linear filtered outlets.
US RETAIL PRICE: $2999.95
Note: The Niagara 3000 does not ship with an AC power cable. For the best performance and proper Ground-Noise Dissipation, AudioQuest recommends its own directionality-controlled AC power cables (14AWG and larger: at minimum, NRG-Z3; ideally, Monsoon through Hurricane).
---

Universal Fiber Optic (UFO) for HDMI, DisplayPort, and DVI, developed by Celerity Technologies Inc., is the world's most compact fiber optic extender and offers uncompressed 18 Gbps. Using advanced signal processing, the Celerity UFO module transforms incoming electrical signals to optical signals from the source and reverses back from optical to electrical at the receiver. This allows long-distance signal extension for video, audio, control, and data applications.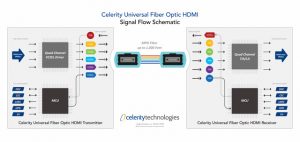 UFO modules (TX and RX) support high-speed TMDS information to pass through without loss. TMDS signals are the video, audio, and control data elements of HDMI. The low-speed elements of HDMI, such as SCL, SDA, CEC, ARC/eARC, HPD, and 5V, are the functional signals for HDMI, enabling features such as single-remote control, audio return and efficient power. Four fibers carry the high-speed channels, two fibers carry low-speed channels, and 5V transmitter power is supplied by the HDMI source.
VCSEL and PIN (Photodiode) are elements for the E/O and O/E conversion processes. VCSELs convert current input to light output, and the PIN converts light input to current output. At the sink, 5V power is drawn via a USB power cable on the Celerity UFO-RX connector to an active USB port on display.
Celerity UFO cables incorporate MPO fiber connectors (Multi-fiber Push On) to facilitate fast and reliable connection with no loss of signal integrity.
---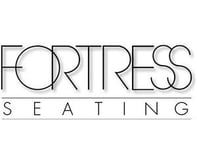 We are certain that the following weeks and months will be challenging for businesses and individuals across the world and our industry. We wanted to reach out to offer our love, best wishes and most of all our complete support during this time. If you have any questions about our company or products during the Coronavirus situation, please feel free to reach out to us directly. We have built our business on listening to and working directly with our dealers, and this continues during this difficult period. Our commitment to quality, does not just cover the products we produce, it extends out to the way we communicate and deal with challenges. Together we will find a way to deal with this challenge and make our industry stronger when this most difficult period is over. Gabi Wolper gabi@fortresseating.com
---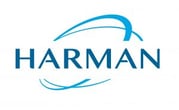 Based on the JBL L100 Classic loudspeaker introduced in 2018, the new L82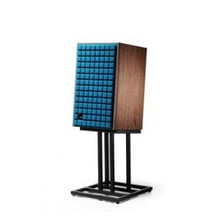 Classic's 8-inch, 2-way system design is more compact, but still delivers a premium hi-fi sound experience and an attractive aesthetic that appeals to both retro and modern sensibilities.
Packaged and sold as mirror-image pairs, the L82 Classic loudspeakers feature a 1-inch titanium dome tweeter with acoustic lens waveguide and front-panel HF Level attenuator. The tweeter is the same as used in the larger L100 Classic. The system's 8-inch cast frame white poly cone woofer delivers a full, natural sound with bass-reflex tuning via a front-firing Slipstream™ port.
The L82 Classic loudspeakers present an attractive, retro design with vintage JBL styling including an iconic Quadrex foam grille in a choice of three colors — black, orange, or blue — all with a black and bronze JBL logo. The enclosures are finished in a genuine, satin walnut wood veneer and can be positioned vertically or horizontally.
Accessories for the JBL L82 Classic loudspeakers include the JS-80 floor stands (sold as a pair), to elevate and angle the enclosures to a correct tweeter height and to direct high frequencies to ear level. Additional retro Quadrex foam grille packs are also available to easily switch between colors.
The L82 Classic has a US retail price of $2,500 per pair, while the JS-80 floor stands are $250.00 per pair and additional grille colors are $199.00 per pair. Availability begins second quarter of 2020.
---

Integra, a leading global manufacturer of premium home theater products designed specifically for the custom AV installation sector, today announced a new firmware update that enables select Integra receivers to utilize Sonos Volume Pass Through capabilities.
The update allows users to control the receiver's volume through the Sonos app on their phone or other device.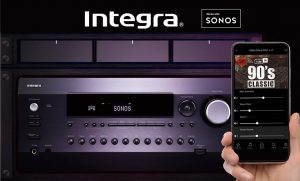 No more need to worry about presetting volume levels on the receiver or potential issues related to the presence of multiple volume controls, and owners can control the volume from anywhere in their house.
"Our Works With Sonos integration continues to evolve thanks to feedback from our valued dealer base, and our close relationship with the Sonos team.," said Robert Vieira, Director of C.I. Product Marketing, Training and Brand Localization. "As we move forward into 2020, we plan to unveil some additional updates that further demonstrate our commitment to the Integra custom install community."
The new firmware update is supported by the following Integra models:DRX-3.3DRX-4.3DRX-5.3
Integra AV receivers are the world's first and only premier home theater solution for custom integrators that is Works With Sonos certified, and can manage and route up to 3 Sonos Ports or Connects without a control system.
More information can be found online at www.integrahometheater.com.
---

ByDesign Vision & Sound Marketing Adds Josh.ai Voice Control Platform to its Lineup
AI-driven voice control platform offers privacy, accessibility, and simplicity, ideally suited for the residential custom integration market
ByDesign Vision & Sound Marketing (VSM), a leading independent manufacturers' representative in the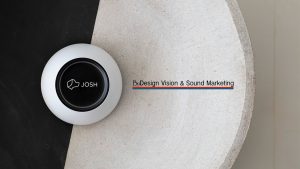 audio/video and lighting industry, has expanded its scope to include home automation and control solutions with the recent addition of the Josh.ai platform to its line of best-in-class products. Dealers who undergo training of Josh.ai configuration and installation provided by ByDesign VSM will then be able to offer the voice control solution to their clients. The control software and complementary showroom or demo hardware are available immediately to trained and qualified dealers.
To learn more about Josh.ai and to see it in action, contact ByDesign for an appointment. For ongoing training opportunities, events, and other information please visit bydesignvsm.com and follow the company on Facebook @ByDesignVSM and on Twitter @bydesign_vsm.
Josh.ai and AVPro Edge Partner to Transform the Home Entertainment Experience
AVPro Edge products support the Josh.ai platform to seamlessly control media content for elegant user experiences
As part of the Josh.ai Distributed AV workflow, AVPro Edge amplifiers and switches will auto-populate the web portal for configuration. Integrators are then able to efficiently assign input sources and output zones for whole-home media control. Josh.ai's AVPro Edge support offers a rich feature-set of functionality allowing users to switch inputs, control volume levels, distribute a single source to play across multiple zones, and route multiple sources across multiple zones verbally via Josh Micro or manually through the intuitive Josh.ai app.
Clients will experience an unmatched level of freedom when using voice to request their desired content wherever they want it. For example, "OK Josh, dim the lights on the first floor, listen to Thriller by Michael Jackson in the kitchen, and watch Stranger Things in the living room." Josh.ai handles the content search using its available streaming services and applicable sources, activates the AVPro Edge gear, routes the requested content to each zone, and sets the mood!
---

Model #: KD-MLV4x2Pro
4×2 HDMI VGA HDBaseT Seamless Presentation Matrix Switcher and Multi-View Tiling Processor with Audio De-Embed, POH. Includes 1 Rx Extender. KD-App Ready.
Main Features:
Multi-view and Tiling Processor:Create & store custom multi-view layouts, recall custom presets in 1080p (2K) Multi-view mode

Quadrant Mode (4K or 2K):Independent outputs in four equally-sized windows
Multi-view Mode (2K):Linked/mirrored outputs in customized screen layout

Seamless Switching: Un-interrupted screen transitions during source selections
Independent matrix switching:In full-screen and quadrant modes, linked/mirrored in multi-view mode
Image Layering:Stack images with customizable priority settings
Window Transparency and Border:View content through each other and choose window bezel width and coloring
Multi-format Switch:

Input:2 HDMI, 2 HDMI or Analog video, all with external audio
Output: 1 HDMI and 1 HDBaseT output. Rx unit included
Markets: This Multi-Viewer is designed to work flawlessly in the Digital Signage market.
Check out this product here and go to our website for more products!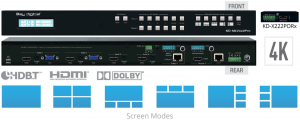 ---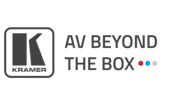 MegaEdge – Portable Table Mount Power Station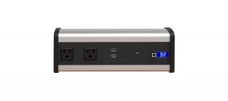 MegaEdge is a portable power station that delivers all−day power for mobile devices. Easily attach the unit to a stationary desk, rolling work surface or podium, giving your students and staff the freedom and flexibility required in today's modern BYOD classroom.
Powered by a high capacity 80000mA lithium battery and featuring AC, USB and USB−C outlets, MegaEdge expertly answers the power issue posed by the multitude of mobile devices in modern learning environments.
Watch this video to learn more!
---

Introducing the Novitizer – NoviSign Digital Signage Hand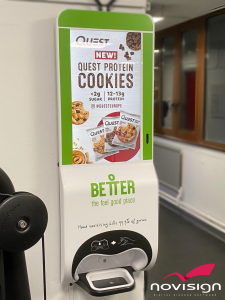 Sanitizer Kiosks
All-in-one Automatic Hand Sanitizer Dispensing Solutions with Pre-loaded Digital Signage Software
We are all currently facing unprecedented times that will impact and shift our day to day in the future. The Novitizer' Automatic Hand Sanitizing Digital Signage Kiosk (NOVI-AHS) is the next logical step for keeping the public safe. Offered by Liberty AV and developed by NoviSign Digital Signage, the Novitizer is the all-in-one solution for organizations to share important information while reducing the spread of germs. While audiences approach your kiosks to sanitize, they will be exposed to your targeted messages.
The Novitizer features a sturdy metal enclosure that is designed to withstand public settings, has a built-in commercial grade 21.5" display, and comes equipped with an internal, 1 gallon, auto-dispenser that dispenses gel, foam, or liquid sanitizer (sold separately). Supports WiFi, hardwire or 3/4G connection to the web. Wall mountable or convert to free-standing with optional pedestal sold separately (NOVI-AHS-STD). You can customize your kiosk with PanelCrafters Lexan Overlay. In stock and volume pricing discounts are available!
Includes one-year, pre-installed, NoviSign Digital Signage License. With this easy to use, 'drag and drop', cloud-based digital signage software, you can remotely display, update, and monitor any combination of public announcements, advertisements, videos, slideshows, and media from anywhere in the world!
Perfect for high-traffic public locations such as:
o Hospitals, medical clinics, and dentist offices
o Grocery and retail stores
o Commercial buildings and malls
o Gyms and health centers
o Hotels and resorts
o College campuses and schools
o Local government buildings
Remotely preschedule your media & monitor your kiosks
Update your content in just one click! All you need is a computer and for the digital signage to be connected to the internet. Easily create, edit and manage the content you want to display with NoviSign's 'drag and drop' cloud-based digital signage software. From anywhere in the world, you can pre-schedule your content to auto-update, set recurring schedules and expiration dates, and update your content. You can also monitor the status of your systems – track the analytics of the hand sanitizer; run a detailed media proof-of-play reports; and get emailed when the dispenser needs a sanitizer refill. Learn more about the Novitizer on the Liberty AV website. Bulk pricing available, made to order. Reach out to Liberty AV's knowledgeable customer service team for more information at 800-530-8998 or via orders@libav.com for 'Every-AV-Thing Connecting Source to Display'.
---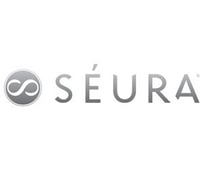 Exclusive Dealer offer from Séura:
Buy a Vanity TV Mirror, Get a Free 24" x 36" Lumin Lighted Mirror
Through the end of May, all Séura Vanity TV Mirror orders will include Séura's bestselling 95+ CRI, 3,000K, 24" w x 36" h Lumin Lighted Vanity Mirror, for free! To redeem, log in to seura.com with your authorized dealer account and add any Vanity TV Mirror and a 24" x 36" Lumin Lighted Mirror to your cart. Enter promotion code LUMIN at checkout. If requesting a custom quote, enter LUMIN in the promo code field. Promotion is available online at seura.com only to authorized Séura dealers. Limit one per customer. Offer ends 5/31/20 at midnight.
---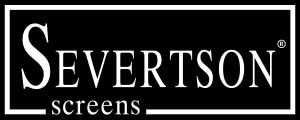 Severtson Screens Enhanced SAT-4K & TAT-4K Acoustically-Transparent Projection Screens
Severtson Screens enhanced next generation SAT-4K and TAT-4K Acoustically-Transparent projection screen lines have received tremendous accolades since their launch. Severtson is proud to build upon their success with the next generation which features an even finer weave that makes the viewing image even better than before. Made in the USA, the SAT-4K and TAT-4K replicate the cinema experience in the home and commercial settings like no other projection screen on the market today. The TAT-4K offers the same innovative technology as the SAT-4K, but is designed specifically for installations with incoming ambient light, meeting and exceeding all industry standards for optimum acoustic performance.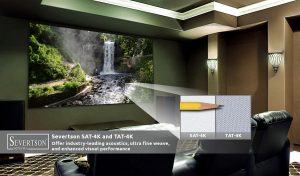 The SAT-4K offers a seamless projection screen up to 15ft., 10in., and, like the TAT-4K, is also available as an option for Severtson's new 4K thin/zero bezel fixed frame projection screen solutions. Acoustically-transparent, the entire sound stage can be placed directly behind the screen at the same horizontal axis, allowing the vocals and the special effects to be completely in sync with the brilliant images on display. This will allow for a completely immersive audio and video experience. Available in Impression, Deluxe, and Deluxe Curved configurations, the SAT-4K screen meets or exceeds all industry standards for optimum video and acoustic performance, providing reference quality reproduction of the digital image combined with true fidelity of the original soundtrack.
The TAT-4K's uniform pattern weave is unique. With these screens, there is virtually no audio or video scatter. At the same time, the screens preserve superior and deeper contrast in areas with limited light control. Additionally, the titanium-grey shade on the TAT-4K preserves picture contrast even in rooms that are not completely dark, so you get a crisp image that will amaze viewers.
Custom and standard sizes are available. Severtson asks that customers contact them directly for individual pricing for their specific needs. For more information, please visit www.severtsonscreens.com, call 480-610-5155, or email sales@severtsonscreens.com.
---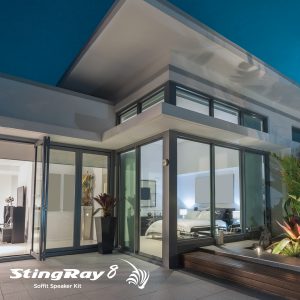 StingRay Soffit Speaker Kit
Stealth StingRay Soffit Speakers are designed for installation under the eaves of a home to add high quality outdoor audio without visual disruption to the architecture. As a new installation, or a replacement solution for ugly, rusted conventional soffit speakers, Stealth Acoustics StingRay Soffit Speakers deliver high performance, clean aesthetics, and lasting results.
StingRay Soffit speakers bridge the gap between Stealth's award winning LineaResponse indoor invisible speakers and the StingRay line of outdoor speakers. Based upon Stealth's proprietary Fidelity Glass™ radiating surface technology, and driven by an acoustically coupled, high-power, cone woofer and direct coupled high-frequency driver, the speakers generate near-hemispherical sound dispersion with a smooth frequency response throughout the full range of sound.
Each speaker includes an installation kit with router template and mounting hardware. The router template allows a precise speaker opening to be cut which is the key to a clean installation. Once mounted flush with the soffit, the pre-primed StingRay Soffit Speaker is ready for seam finishing and paint allowing it to become nearly invisible against the surrounding soffit.
StingRay Soffit Speakers are designed to last. Internally, self-resetting protection circuits prevent damage from excessive amplifier power. Externally, the extremely durable and impenetrable Fidelity Glass™ resist the elements, is immune to rust, and finishes discretely into the soffit with no openings that could allow moisture or pests inside.
StingRay Soffit Speakers achieve aesthetic perfection without compromising audio quality.
Website: https://www.stealthacoustics.com/stingray/soffit/
Contact: sales@stealthacoustics.com | Phone: 360.848.6800 | Toll Free: 888.865.6800
---

TRENDnet's new AC2200 WiFi Mesh Router System!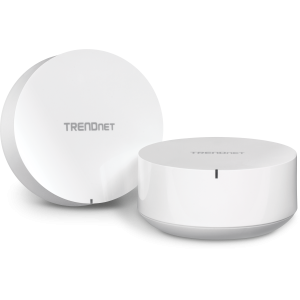 Now available! TRENDnet's AC2200 WiFi Mesh Router System is designed to blanket your home or small office in seamless WiFi coverage. The AC2200 WiFi Mesh Router System provides ample coverage for up to a 4,000 square foot home. For larger homes, simply add additional AC2200 WiFi Mesh Routers to the system for expanded WiFi coverage.
The WiFi mesh router system uses an intuitive app-based installation process, making setup a breeze using our TRENDnet WiFi Mesh app. In minutes, you'll have your AC2200 WiFi Mesh Router System up and running providing whole home WiFi coverage.
---

VMP's Low Profile Switch & Server Depth Vertical Wall Cabinets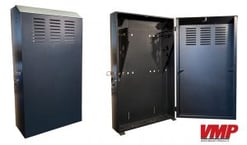 Video Mount Products' two new low profile vertical wall cabinets, the "Switch Depth" (p/n ERVWC-5U20; MSRP: $499.00) and "Server Depth" (p/n ERVWC-5U36; MSRP: $699.00), are now available. These two enclosures have been designed to securely mount EIA standard rack equipment in an out of the way place such as a back office, closet, retail location, or anywhere that has limited floor space and needs a clean and organized way to secure equipment in a location that is accessible by many. The ERVWC-5U20 (28.8in. H x 25.6in. W x 9.75in. D) and ERVWC-5U36 (42.75in. H x 25.6in. W x 9.75in. D) both have sturdy 150 lb. weight capacities.
"Our customers have been asking for this, and now we have the solution they've been searching for," explained Keith Fulmer, president of Video Mount Products. "Available in a 5U configuration in both switch depth and server depth, our new low profile enclosures are designed to securely mount your EIA standard rack mount equipment and are made of pre-assembled heavy-duty steel. These ready-to-mount enclosures feature locks on the front door and are ideal to position anywhere floor space is limited."
The ERVWC-5U20 and ERVWC-5U36 have a low profile due to their vertical mounting configuration and feature cable management punch outs, ventilation, and a dedicated location for mounting of a patch panel in addition to the available rack units. The mounting rails are reversible and feature threaded screw hole options for both 12-24 and 6mm mounting preferences.
VMP recently celebrated its 25th year as a leading provider of mounting solutions for the A/V, communication, and security industries. For more information, please visit www.videomount.com or call toll free 877-281-2169. If you need help choosing the right mount for your application, try the VideoMount™-Finder at www.chooseamount.com.
---

WhyReboot is launching its Ruckus Wi-Fi CERTIFIED 6 Access Point Program with the latest 802.11ax Ruckus models on the market and details on the new WhyReboot Cumulus6 and Cirrus Wireless programs.
The new Wi-Fi 6 Certified products available include the Ruckus R750 and R650 indoor access points, and T750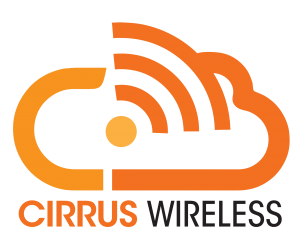 for outdoor. The latest from Ruckus Networks are the standard for Wi-Fi 6 Certified APs on the market. Wi-Fi 6 increases device speeds by nearly four times that of Wi-Fi 5!
· The latest Wi-Fi 6 standard
· Connects to more devices simultaneously
· Optimized multi-gigabit Wi-Fi performance
· Improved power efficiency
WhyReboot is also releasing the Cumulus6 network package that includes both cloud access and amazing machine-learning analytics, as well as Cirrus Wireless as a Service (formerly WhyReboot WaaS) for additional cloud services.
The Cumulus6 package gives you these advantages:
1. APs can be drop shipped from anywhere and as soon as they arrive and are plugged into a network completely configured and be ready to go. This means product and systems can reach partners in record time.
2. There is an app which allows partners to log in from anywhere to diagnose issues or make changes, should they decide they'd like to do it themselves without our assistance.
3. Unlike Meraki or other providers, if the license is not renewed, the APs will continue to function as normal, they just won't have access to make changes or view analytics.
4. Reporting and Analytics allows quick resolution to problems and the ability to head off problems before they arise. The machine-learning analytics system tells you, in plain English, where the problem is and how to fix it. No more vague error messages or hunting to find an issue.
Throughout 2020 WhyReboot will be deploying new products and offerings, so stay tuned! To find out more, please download our ebook or contact us at sales@whyreboot.com.
---