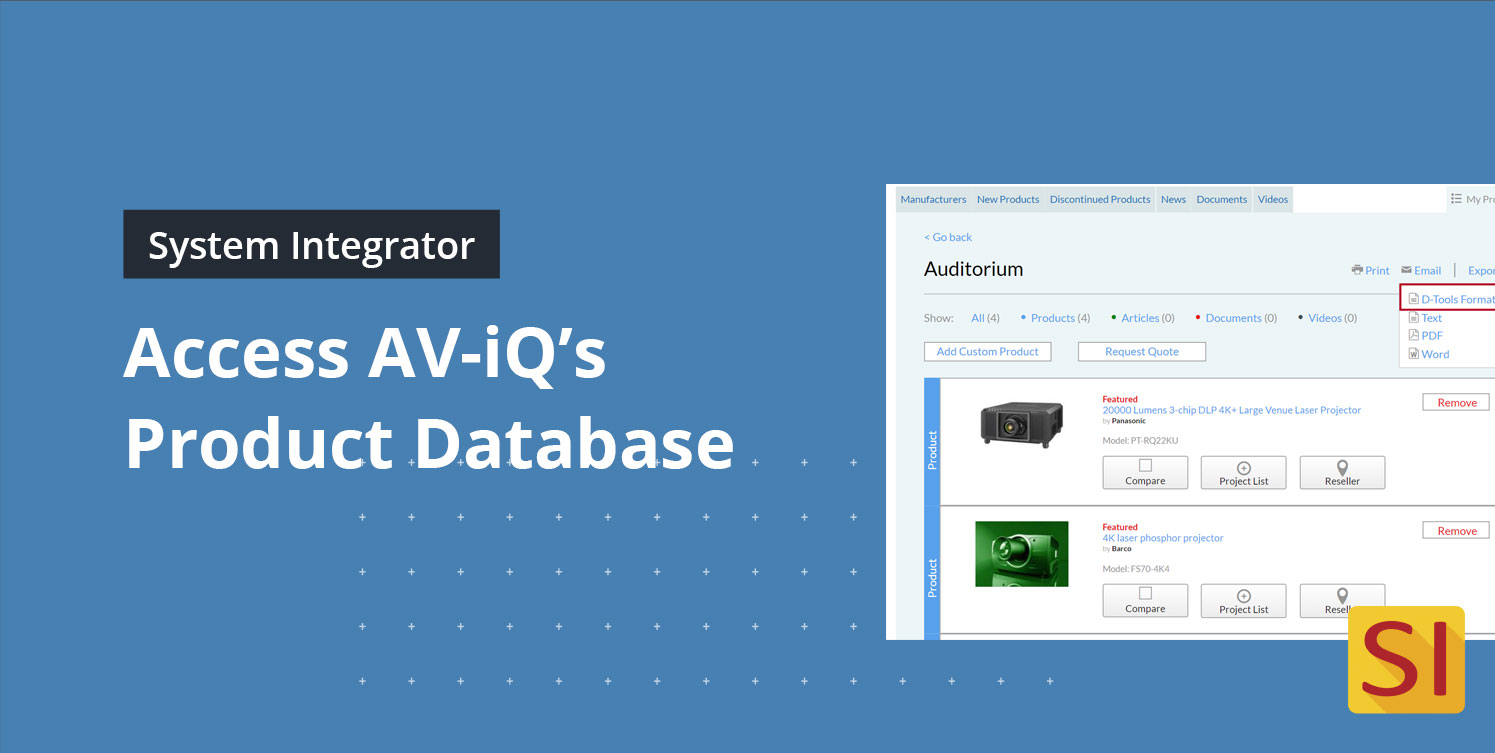 Access AV-iQ's database of products through D-Tools software for residential and commercial AV system integrators
At D-Tools, our mission has always been to help our software users become more efficient and effective through the use of our platforms in order to help their companies continue to grow and succeed. To that end, we'd like to make sure you are aware of a fantastic resource available in our System Integrator (SI) solution through an integration with AV-iQ's comprehensive database of AV products. This integration provides our SI users with direct access to AV-iQ's sponsor manufacturer product information for use in client engagements, and residential and commercial AV industries as a whole with the world's largest aggregated list of products to help streamline project workflows.
D-Tools SI utilizes product specifications and dealer-specific pricing from D-Tools' extensive and integrated Product Library to drive sales, system design, and field service management. Access to AV-iQ's database of AV products provides another powerful tool that will help them save time, costs, and errors. Linking AV-iQ's product database to project documentation through SI results in a singular, connected process to quickly and accurately find, select, and use that detailed information for estimates, proposals, and other documentation.
Now, AV-iQ has added the ability to create project lists inside their catalogs and download that product data into a format that can import to your SI software's projects, saving you from having to find that product twice.
Streamline the transfer of product details while preserving data integrity! Create more accurate proposals quickly, complete detailed engineering drawings with the most up-to-date product information, and successfully manage your projects through ongoing service, leading to improved operating efficiency and increased profitability./p>
"AV-iQ strives to leverage the power of our industry database to the greatest benefit of the user community. With this in mind, AV-iQ has partnered with D-Tools to provide access to our data for their users. By giving AV-iQ users the ability to download project lists into a format that can be imported to DTools' SI, we've added another layer to our collaboration. Sharing product information makes life easier for everyone, and combined with the marketing reach of AV-iQ, brands can get the most from participating with both our platforms", said AV-iQ President, Mark Loftus.
To learn more about AV-iQ go to www.av-iq.com or contact sales@av-iq.com.