Atea is a leading Nordic and Baltic supplier of IT infrastructure with approximately 6,100 employees. The company provides system integration in 83 cities throughout Norway, Sweden, Denmark, Finland, Lithuania, Latvia and Estonia, delivering IT products from leading vendors and assisting customers with IT infrastructure services through its team of 3,700 consultants and supporting 7,500 technology certifications.
Last year, Atea was chosen to oversee the complete technical overhaul of the 1870's era neoclassical hotel d'Angleterre. No small task as the d'Angleterre is one of Northern Europe's finest hotels, one that often hosts celebrities and dignitaries from around the world. In addition to a complete renovation facilitated by a budget of approximately 267,000,000 Euro or $300k+ USD, hotel management wanted the best possible audio and video systems in each of the meeting rooms that included large monitors, projectors and screens, as well as distributed audio for the property's restaurants, lounges, spa, fitness and club areas. To accomplish this complex technical feat, Atea utilized the D-Tools System Integrator (SI) software platform to design, estimate, and manage the project. "As is common in projects of this caliber, the client kept changing both the design and the demands for the hardware to be integrated. D-Tools made it easy for our team to keep track of and execute all necessary changes throughout the entire process," said Peter Mejer, AV System Designer for Atea. "D-Tools' dedication to standardization is of significant importance to our business management process, especially for projects such as this. By giving us the ability to standardize the way we work and exchange information with any other tradespeople on any given project, our team is able to clearly communicate across all project levels, which has led to a dramatically reduced error rate. D-Tools System Integrator makes it very easy to keep track of changes made from the early proposal stage all the way through to the completed installation documentation. Not only does this provide our team needed detail, it also delivers incredible insight into the overall success of a given project and reveals opportunities either for enhancement or for improvement on future jobs."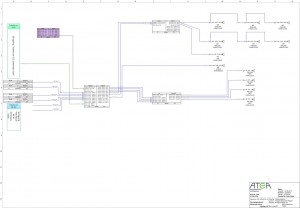 D-Tools interfaces with industry-standard design software solutions Autodesk® AutoCAD and Microsoft® Visio and allows users to create comprehensive, highly professional, and commonly accepted system designs leveraging these industry standards. Because everything in D-Tools System Integrator is data-driven, users can quickly and easily generate detailed Line, Plan, Elevation, and Schematic drawings by simply dragging and dropping products from their catalog or project file to the drawing surface to create the desired drawings. "We have been using the System Integrator platform for over 10 years now. Before incorporating SI, we did all project processes manually. Not only did this cause us a lot of grief, it created a lot of trouble. Our team struggled to figure out which revision of a particular drawing to use, never being sure if they were doing the right things in order to get projects completed on time." The Atea team was creating Blocks with text and anchor points, cable numbering and labels, elevation view, etc., but they neither had a way to exchange Blocks between their staff members nor any ability to synchronize designs across teams, let alone the option to make side views of racks. "I really wanted to improve the way we designed projects and D-Tools System Integrator made that possible," says Mejer.
"Utilizing D-Tools System Integrator to create drawings for the hotel d'Angleterre project made it easy for even rookie technicians to see what to do, where to place equipment, how to keep track of cable runs, and so on. It also enabled us to use external electricians as all of the cabling was all clearly described by the Plan Views and Cable Lists. Even the racks were assembled faster than normal, as the Elevation and Side View made it simple for the technicians to understand, enabling them to do it right the first time. With the additional ability to have ID's on both ends of the cables, our designs are clean, clutter-free, and clearly defined for our company, the client, and other contractors to see. The uniformity and enhanced communication provided by the D-Tools System Integrator software platform helped Atea successfully complete the vast hotel d'Angleterre project and many others of varying scope."
Increasing Efficiencies and Customer Satisfaction
D-Tools System Integrator helps Atea maximize their workflow by preventing redundancies and reducing error rates. Instead of using spreadsheets as a starting point for building each project, Atea's sales team can now access and utilize product information from within a centralized and frequently updated database. "Prior to implementing D-Tools, there was so much back and forth communication to clarify project scope that inconsistencies became a real issue. Thankfully, this is no longer the case."
Atea's customer satisfaction has also increased significantly due to D-Tools' streamlined workflow. "We now have the ability to easily find drawings as needed by service technicians on the spot. We are never in doubt if we are working with the right revision, and we no longer struggle to find documents and designs since all of our work can be easily accessed whenever it is needed. It is also really easy for us to create proposals and purchase orders for the customer, and we can now accurately pull items from our warehouse, reducing errors that our purchasing managers would normally be tasked with resolving. Most importantly, we can easily measure the results of using D-Tools System Integrator by the mere the fact that we now successfully manage more projects than we were able to before."
Conclusion:
System design is the largest aspect of Atea's business process. We were sold on the concept of D-Tools System Integrator when we first saw it in action at InfoComm 2002, making it an easy choice for improving customer satisfaction, as well as our internal workflow," adds Mejer. "The fact that we have exclusively been using D-Tools for the last decade says it all. Once we incorporated D-Tools System Integrator software into our business process, we immediately saw a decline in error rates that subsequently allowed us to complete more projects on time and to budget. The D-Tools team really listens to our thoughts for improvements, and is extremely fast to implement those suggestions in new releases. It's easy to see that their success as a company not only comes from their great software platform, but is also due to the fact that they continue enhancing System Integrator with direct input from their customers."
Benefits from Implementing D-Tools:
Revenue increased by 30 %
Costs reduced by 20 %
Business processes accelerated by 80 %
Employee time on task reduced by 15 %
Primary Customer satisfaction increased by 50 % according to a 2014 survey
Internal user satisfaction increased by 80 %