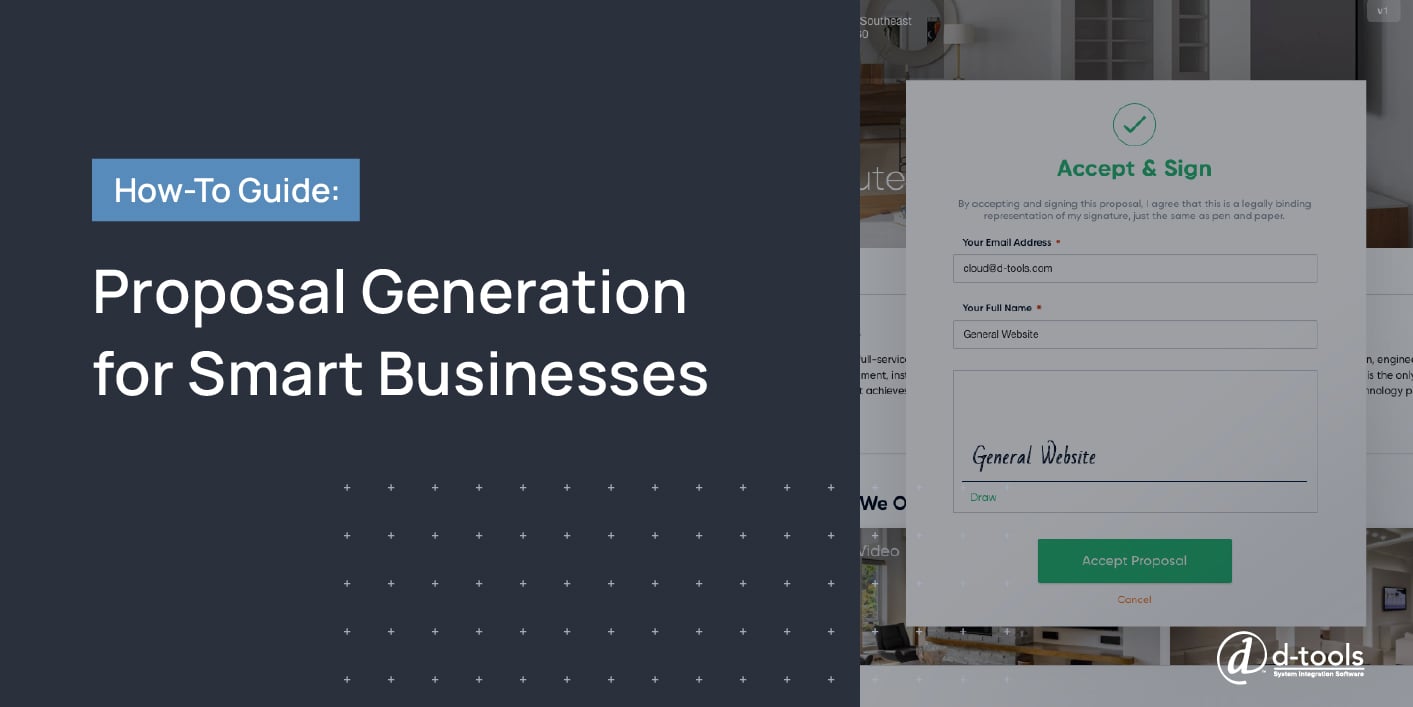 Winning a project requires a well-written proposal that clearly presents your intentions, highlights how you'll solve the client's problem, and sets you apart from your competitors. It should both inform and persuade.
If you're serious about increasing your proposal wins, it's time to leverage the power of technology. How? A proposal generator or builder can help simplify the proposal process, ensure you include all the necessary information, and quite simply — win more bids.
This article will guide you on the essential elements that every winning proposal should include and explore just how an advanced proposal generation tool can give you an advantage over the competition.
What to Include in a Proposal for a Project: 4 Key Elements
In an age of constant competition, it's not enough to rely on your business's reputation.
AV system integrators must act quickly to meet demand and grow revenue. To do so, you need to create accurate, professional proposals that convey the benefits of your solutions and win over prospective clients.
Every proposal should be tailored to the individual client and contain details that are essential to their needs. However, when putting any proposal together, there are some key elements you must include:
Background — provide context and explain why the project is necessary.
Objectives — state what you and the client want to achieve
Scope — set out what the project will and will not cover
Plan — explain how you will successfully carry out the project
Let's look at each element in more detail.
1. Background
You need to immediately grab your reader's attention and convince them that the project you are proposing is necessary and valuable. In the background section of your proposal, the aim is to persuade, so you want it to be engaging.

Your proposal background should look at why the project has come about. What is the context of the industry landscape in question? Show that you have an understanding of your client's current situation and discuss the problem or challenges your project aims to solve or the opportunities it will open up.
A seamless proposal will go beyond providing background information in an isolated manner. It will also introduce the steps you'll take to achieve the goals so you can expand upon them later.
2. Objectives
Next, it's crucial to outline your objectives — what do you want to achieve? Without well-defined objectives, it can be challenging to measure a project's success or even know when it's complete. Defining objectives at the beginning will demonstrate to the client that you clearly understand their needs and goals and will ensure the project stays on track.
Your objectives should be SMART: Specific, Measurable, Achievable, Realistic, and Time-bound.
This proposal section will provide a starting point for your plan outline.

3. Scope
Once you've defined the project's objectives, it's time to outline specific limitations and deliverables. This section will be vital in shaping the contract between you and your client. Be sure everyone is on the same page and that expectations are realistic to ensure the scope is adequately defined.
What are the project's constraints? For example, is there a budget limit? Are there any risks you'll need to manage?
And what about the project's deliverables — how will you measure key metrics along the way, and what will the final product or outcome look like?
By answering these questions, you can ensure that your scope section is clear and concise.
4. Plan
Your plan will outline the journey towards achieving the goals of the project. It will showcase how you intend to get from A to B and complete the project within the specified scope. It's essential to make sure your plan is as accurate and realistic as possible. It will set the timeframe and required budget.
To create a robust plan, you need to consider the available resources and identify any potential contingencies.
How Proposal Generation Software Can Help
These four key project proposal elements will ensure your prospect has all the information they need to make an informed decision about whether or not to work with you.
While it's possible to create a proposal from scratch, proposal generation software helps businesses create more attractive and effective proposals. It can also save you a great deal of time, giving you the chance to review your project proposal more thoroughly before submitting it to your client. The result? More successful bids and more revenue.
Remember — any proposal-building software worth its salt will ensure the four critical elements we've discussed are present. But how do you choose the best one? Here are five capabilities to look for.
Proposal-Building Capabilities: What to Look For
When deciding which proposal generator tool to use, you want to ensure the software streamlines the proposal process, is intuitive to use, and covers all the elements we've explored above.
There are several features in particular that will help you write better proposals, faster.
Instant Proposal Form Creation
Rather than starting from scratch with a blank page, you want a proposal generation tool that allows you to instantly create a professional proposal form. D-Tools Cloud, for example, features pre-set templates that look great and include all the vital elements you require.
With this tool, you can spend less time putting the proposal together and more time strategically aligning it with your business and client goals.
Multimedia Inclusion
Interactive multimedia elements are an excellent way to engage clients and help your proposal stand out. Look for a proposal generation software that makes including multimedia elements straightforward.
Whether you're working on a desktop or a mobile device, D-Tools Cloud enables you to add videos, images, and audio files to your proposal. Because it's a cloud-based proposal generator, you can access your proposal anywhere, anytime, and create winning bids on the go.
Related Read: D-Tools Named Leading Business Management & Proposal Software by CE Pro
Drag-and-Drop Visual Quoting
This feature makes tailoring your proposal to a particular client easier, quicker, and more visually engaging — particularly when it comes to quotes.
With D-Tools Cloud, you can upload floor plans and drag-and-drop items directly onto the floor plans, adding items to your quote. In addition, D-Tools Cloud allows you to automatically estimate costs based on the information stored in the integrated product library, reducing the need for manual calculations. This catalog includes an extensive collection of AV products from leading manufacturers and distributors, so you're sure to find what you need.
Visual quoting helps communicate your project vision to your clients. When they have a direct line of sight into where specific equipment and systems will be located, they are more likely to be involved in the process and move forward with your proposal.
Seamless Online Collaboration
Your proposal may change and evolve several times before you submit it to a prospective client. Seamless online collaboration will ensure key team members can work on the proposal, making changes as needed. Once internally approved, the client can be involved in the feedback process as well.
This feature makes for a smoother proposal process overall and ensures everyone is on the same page. No more back and forth emails or phone calls — just straightforward, efficient collaboration. And that's what you want when pitching to new clients.
eSignature and Payment Collection
Proposal generator software with integrated eSignature and payment collection capabilities removes barriers to closing the deal with a new client.
D-Tools Cloud has been designed to streamline the sales process from end to end. It allows you to get client approval quickly and generate payment terms on the spot. You can even close deals using a mobile device.
Stay Ahead of the Competition with Bespoke Proposal-Building Software
"D-Tools helps us turn around proposals more quickly and reliably than any of our previous bidding software. Not only that but once the job is sold, all project information can be managed through D-Tools' software, thus cutting out cross-information and double work." — Michael Chunka, Integrated Custom Audio Video
D-Tools Cloud caters exclusively to businesses in system integration. We have a clear understanding of the industry and your business needs. This understanding helps us automate the proposal process and provide you with the necessary tools to successfully bid on projects.

D-Tools Cloud is efficient, accurate, and easy to use. From its pre-set template options and multimedia inclusion to a seamless collaboration platform, this proposal generation software ensures your proposals are professional, engaging, and organized from start to finish.
Are you ready to see how our proposal-building software can help you win more business? Schedule a guided tour.