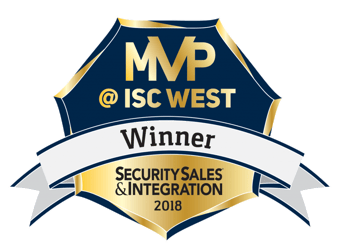 The latest version of the D-Tools System Integrator (SI) software platform – SI 2017 – has been named Most Innovative Product at ISC West 2018 Award Winner in the Business Operations category. Presented by Security Sales & Integration Magazine, the ISC West MVP Awards recognize products that make a substantial impact on security integrators and technology managers. Judging criteria not only analyze the technical merits of the products, but the ability of the devices to help others open up avenues to a potential new customer base, enable integrators to design and install systems faster and, thus, become more profitable.
D-Tools' System Integrator (SI) is the most widely used and comprehensive estimation, design, and project management software platform, specifically designed to fulfill the diverse needs of systems design and installation firms. D-Tools ties these elements together into a singular, data-driven, connected process that helps increase profitability, improve operational efficiency, and ultimately produces bottom-line results. Along with access to a comprehensive library of manufacturers' products, this solution positively effects – and thereby improves – all areas of an integrator's business. Moreover, system integration companies using D-Tools ensure – through clear communication and a streamlined process – new and retrofitted projects are completed on time and to budget, resulting in customer satisfaction.
Those interested in learning more about D-Tools and the company's award-winning System Integrator software platform are encouraged to sign up for a free online guided tour by visiting https://d-tools.com/live-demo-webinar/ or for a free 30-day trial, which can be downloaded by visiting https://d-tools.com/hosted-free-trial-signup/.
About D-Tools, Inc.
D-Tools, founded in 1998 and based in Concord, California, is a worldwide leader in accessible, highly accurate system design and documentation software platform. The company's flagship product, System Integrator™ (SI), is a robust solution that utilizes Autodesk® AutoCAD and Microsoft® Visio to facilitate comprehensive system design, documentation and project management. D-Tools enables residential and commercial integrators to streamline business processes and increase revenues while reducing the time and cost associated with the installation and integration of low voltage electronic systems. More than 5,500 leading companies in 87 countries currently use the award-winning D-Tools platform to reduce time, costs and to streamline the system integration process. Product updates and related information can be obtained by following D-Tools on Twitter, Facebook, and LinkedIn.