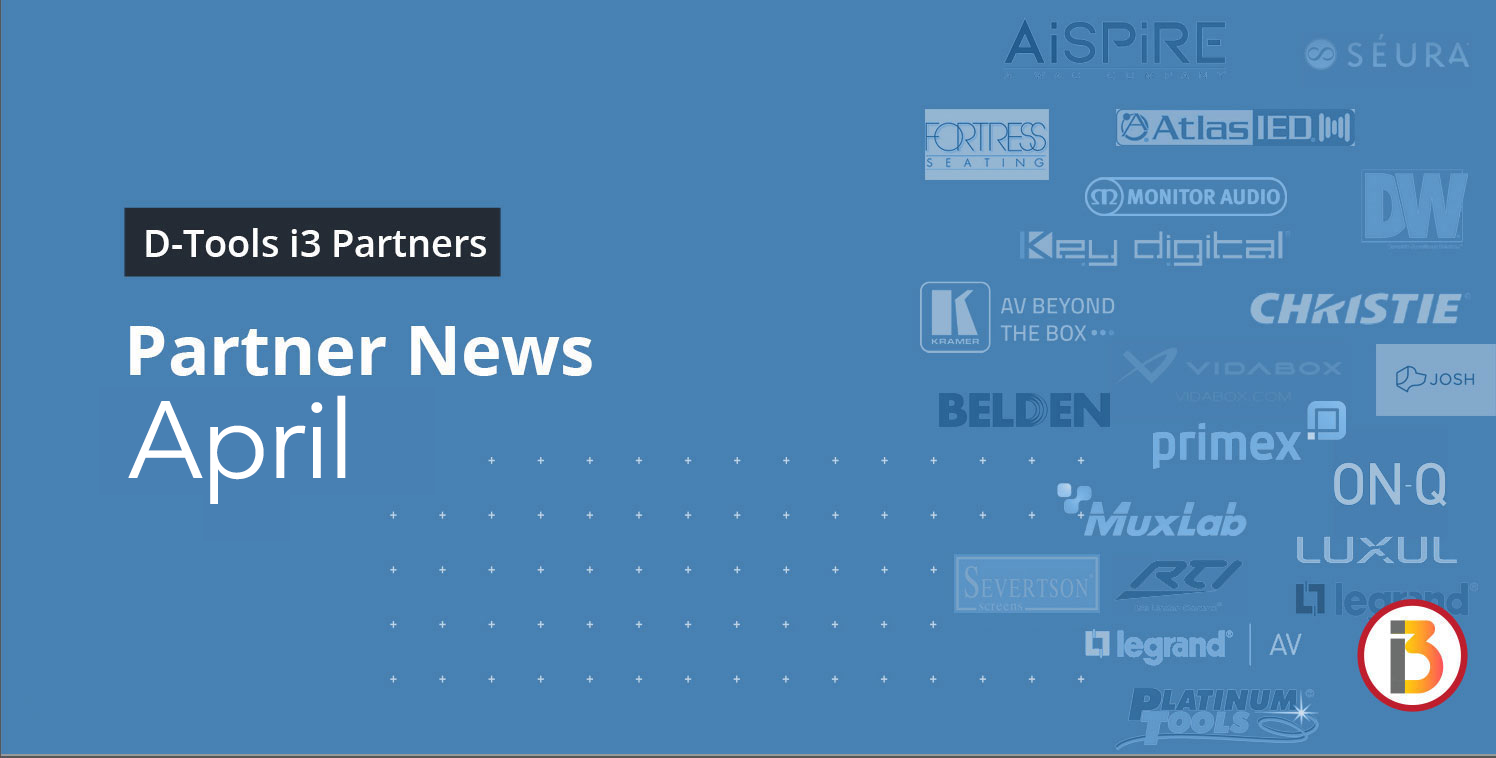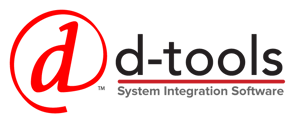 D-Tools i3 Partners realize the importance of bringing you their product information and have chosen to support the D-Tools user community by joining the program and making their product data directly available through D-Tools software. Read on for the latest supplier company news and product updates.
---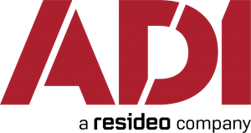 Get a Sneak Peek of New Features on the ADI Website
We've enhanced our website with new features to make it easier for you to find what you need to help your customers and grow your business. Here's a preview of some of the changes we've made:
Easier navigation to find what you need
Drill down more quickly to specific product categories with an expanded site navigation — reducing the need to apply filters.
More user guides, data sheets and more
We've added more than 10,000 user guides, data sheets, warranty information and more to help you make informed product decisions.
Ability to quickly find related products
Easily locate accessories associated with the products you need. For example, if you're interested in a certain camera, we'll show you what mount you should buy along with it.
Greater consistency across product listings
We've added data and refinements to drive consistency within our product listings across all categories so that you can more easily find the items you need. And, for our U.S. customers with access to our mobile app, these naming conventions are mirrored in the app for easier search of products there, too.
These enhancements are just some of the improvements you'll see over the coming months.
---

AtlasIED, a global electronics manufacturer providing comprehensive audio, communications, and security solutions for commercial markets, won the jackpot in Vegas with the award-winning, integration-friendly IPX IP endpoints receiving multiple accolades at the ISC West 2022 Show.
The IPX family of IP Endpoints was selected by Security Sales & Integration (SSI) as 2022's Most Valuable Product (MVP) in the Fire/Life Safety category. The MVP Awards spotlight the innovative security solutions substantially impacting integrators through successful innovation, functionality, competitive advantages, and installer, monitoring provider or end user benefits.
Additionally, the IPX Series with InformaCast integration won the Platinum Emergency Notification/Mass Notification Award for Campus Security & Life Safety's 2022 Secure Campus Awards. Chosen by an independent panel of judges, the Secure Campus Awards celebrate excellence with criteria including security features, innovation, user friendliness, interoperability, quality, design, market opportunity, impact, technical advances and scalability.
"Ensuring the safety and security of those within a facility is one of the most important obligations of an employer or educational institution, as well as a key tenet of our industry. AtlasIED prides itself on meeting the ever-changing needs of security professionals and end users to ensure the safest possible environment while exceeding stringent local standards," said Gina Sansivero, VP of Marketing and Corporate Communications, AtlasIED. "To be recognized by some of the most respected security integrators and consultants is an honor and a testament to our dedication in making safety and security as simple and intuitive as possible.
---

New Sales Team Members Join the Cleerline Team
Cleerline Technology Group is excited to welcome Dylan Prentice and Jon Fischer to the Sales Team! We know their fresh ideas and industry knowledge will help not only our team but yours as well.
Dylan Prentice began his career in the trenches of the warehouse, pulling cable, and fulfilling orders. Dylan is excited to be joining another part of Cleerline. "After almost 5 years working in the logistics and warehouse side of the company, I am happy to bring that knowledge to the sales side", says Dylan. He is looking forward to combining his love of traveling and ease of talking with people to sell this interesting and unique product. He will be providing support in the Western region of the US. Dylan can be reached at dylan.prentice@clrtec.com or 406-519-4250.
Jon Fischer, a residential integration expert based in the Midwest, also joins the Cleerline Team as a Sales Manager. Jon brings with him over 20 years of experience in residential and connected home integration sales markets. Over the years Jon has been involved in everything from providing tech support, teaching production and tech support teams about products, and most recently channel management. Jon is excited to share "a product offering that is truly versatile and not limited to one market." He will primarily be focused on supporting customers in the Midwestern region of the US. Jon can be reached at jon.fischer@clrtec.com or 406-519-4215.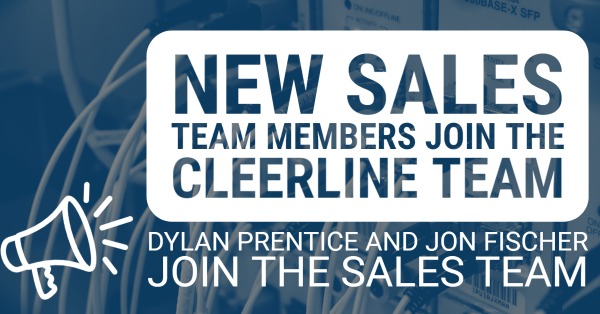 ---

Da-Lite's cable drop feature, SightLine™, available with the tried-and-true Tensioned Advantage® and Advantage electric screens, gives the impression of a floating screen. A suspension system in its single
roller design features 3 or 4 thin cables eliminating the need for black drop – the black border above the projection screen. While the market is accustomed to specifying drop distance upon ordering, now vertical placement of the screen can be variable as the cables accommodate a range of drop distances up to 70" between the ceiling and the top of the screen – making ordering a snap. What's more, this feature creates usable space above the viewing area to preserve architectural interests and provides the opportunity for camera/speaker placement. Enhanced aesthetics, painless ordering, smooth installation and future proofing for height adjustability – this is the fine line between status quo and jaw drop.
Benefits:
Enhanced aesthetics
• Gives the impression of a floating screen
• Creates usable space above the viewing
• Preserve architectural interests
• Provides the opportunity for camera/ speaker placement
Applications:
From standard ceilings to high ceilings
• Boardrooms
• Large conference rooms or multi-purpose spaces
• Rec rooms
• Home theatres
• Small lecture halls
To learn more visit the SightLine Webinar, Video, or Flyer.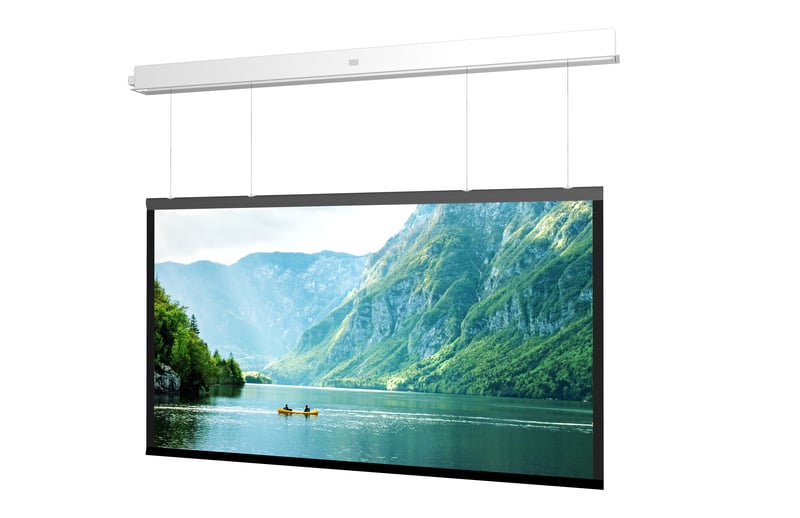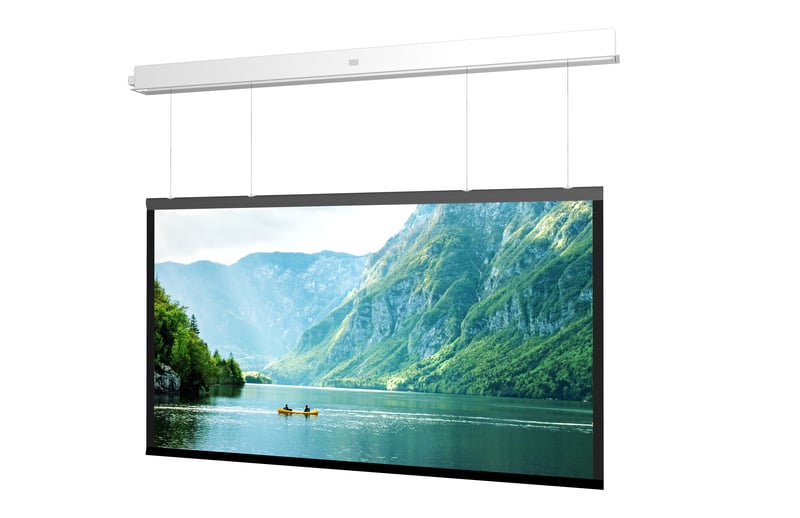 ---

DW® NightWatch™ Illuminators
DW® NightWatch™ illuminators are perfect for any installation that requires concealed or visible external lighting. They incorporate the latest surface mount Dual-Core™ LEDs, combined with enhanced optical output and outstanding reliability to provide users with smart lighting solutions for a wide range of applications. The illuminators are fully integrated with DW Spectrum® IPVMS and can be controlled and managed remotely from the software. They are NDAA/TAA compliant.
https://digital-watchdog.com/page/NightWatch/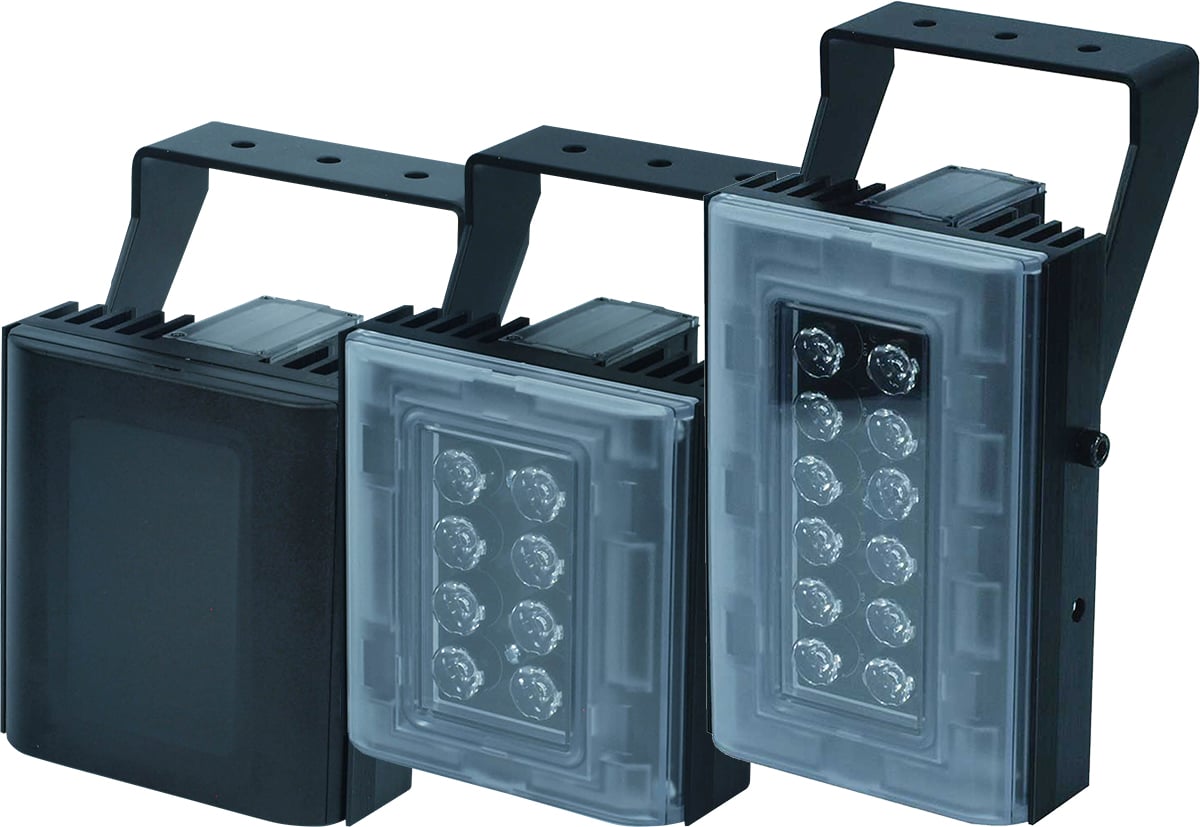 ---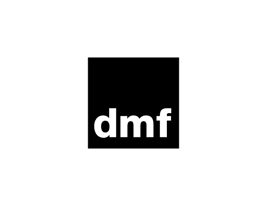 DMF's Warehouse is Fully Stocked!
We're excited to announce that we've made significant investments supporting product stock to supply our customers with the products they need right now. With most housing orders shipping out within 48 hours, our warehouse is completely stocked and ready to ship on demand.
DMF Lighting's re-designed downlighting system features the new M-Series housings that install more quickly and precisely. New construction, remodel or retrofit, DMF offers industry-leading performance and versatility with superior aesthetics. Click here for more information on all these new M-Series options. Everything is available to order from DMF right now.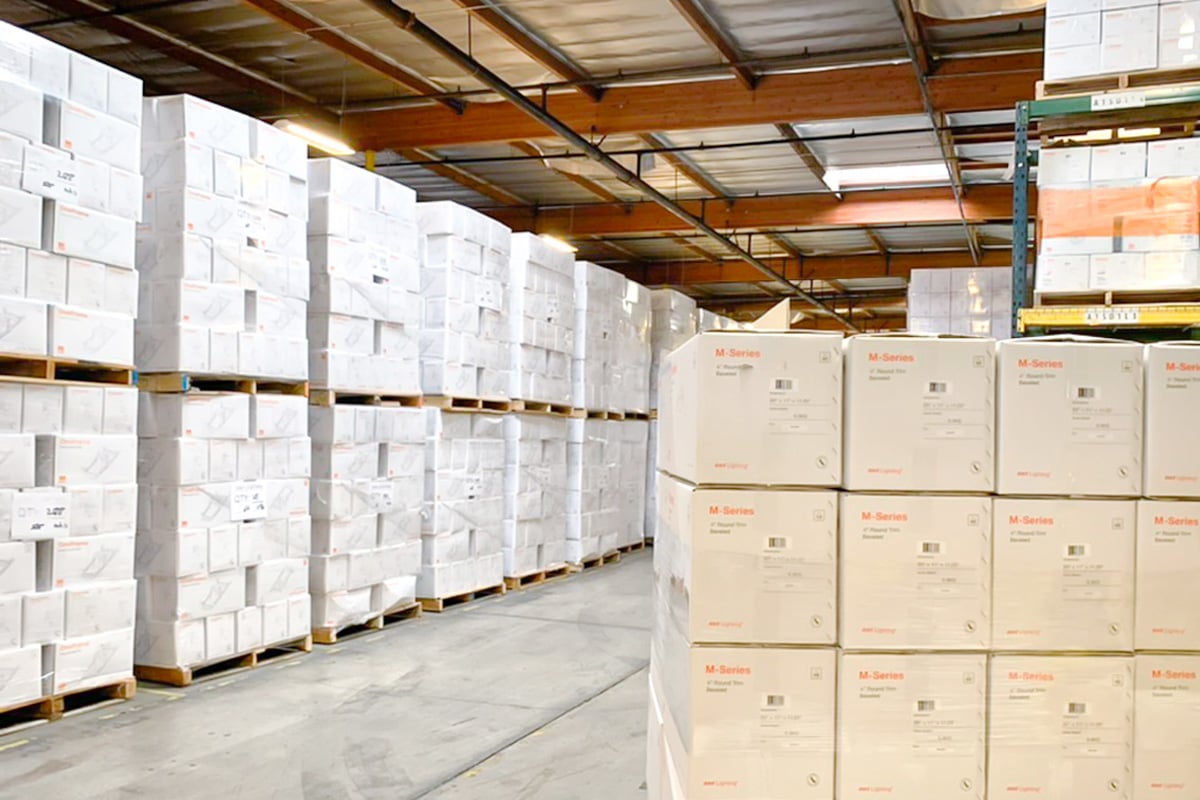 ---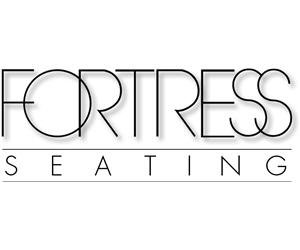 c a l i f o r n i a n
~ Great value never looked so good ~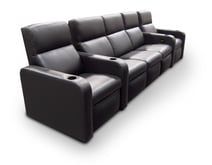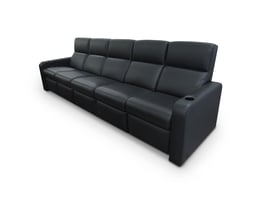 Single-Triple-Single
Common Arm Sofa
Common Wedge Arm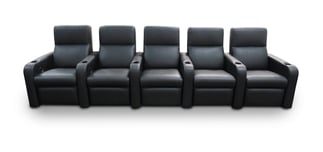 Common Arm
Luxury Seating ~ Custom Solutions ~ Made in the USA
---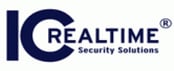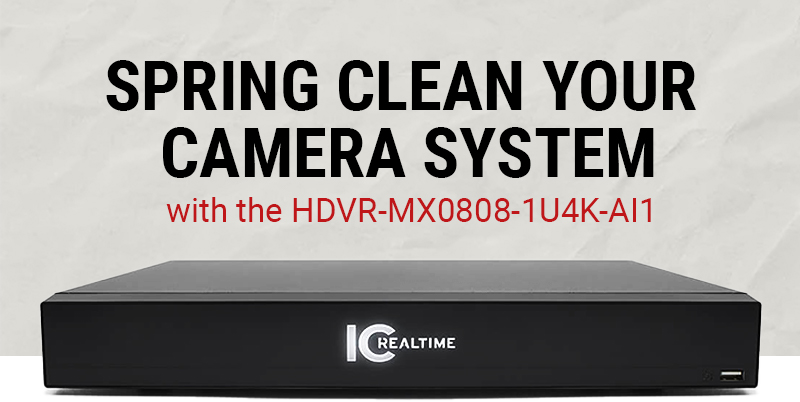 Just like your garage, springtime is clean-up time for your camera systems too.
---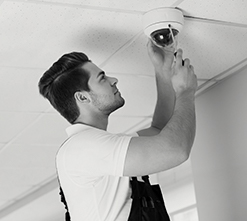 IC Realtime has the best HD network camera and recorder gear to upgrade your camera system performance. If your system has components more than a few years old, there have been huge video quality and feature improvements since it was new.
---

Take a look. It might be time to give your camera system a "spring cleaning" update too.
---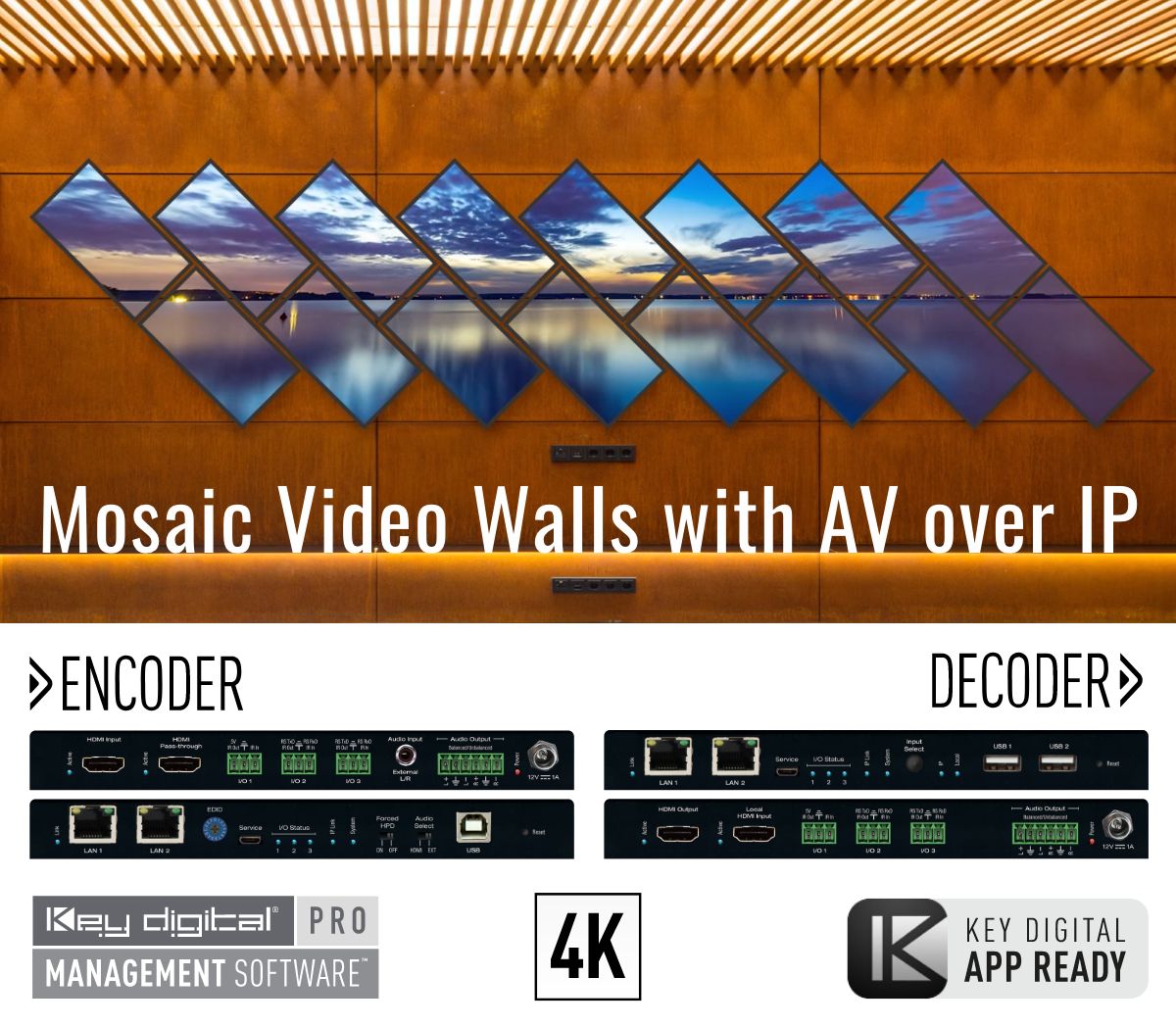 KeyDigital Presentation Solution: KD-IP1022ENC 4K UHD AV over IP Encoder with Independent Video, Audio, KVM/USB Routing. Audio De-Embed with Volume, Delay, and Bass/Mid/Treble Control, 2 port PoE LAN Switch, HDMI Pass-through, 3 port IR, RS-232, Trigger Master Controller / Control Gateway. Key Digital's KD-IP1022ENC and KD-IP1022DEC AV over IP Encoders and Decoders create expandable HDMI over IP systems that can be scaled to fit any installation. Add Encoder units to your system to integrate each video source/input and Decoder units for each video display/output. KD-IP1022ENC and DEC feature independent routing of audio, video, and USB signals, making the system ideal for network and data operation centers where KVM keyboard, video, and mouse routing is needed. The KD-IP1022 ENC DEC system supports mosaic video walls, with 1 decoder needed per display, for artistic layouts where panels of varying sizes and orientations may be installed within the overall image canvas.
Key Features:


Enterprise AV Over IP: Utilizes a managed gigabit network switch to enable video distribution, matrix switching, and extension
Video Wall Processing: Encoder + Decoder systems create video walls with up to 16 vertical and 16 horizontal monitors
› Independent Switching: Video, Audio, and USB switching all independently routable routed for multi-layer systems ○ Control: 3 multi-function ports may be used as third-party control interface, Compass Control® Pro master controller, control extension via IP, or callable via KeyCode open API

Accessories:
Power Supply model KDPS20W12VC. 2V/1.66A, 20W, desktop type.
USB Data Cable 6ft, A to Micro (qty 1)
3-pin phoenix terminal (qty 3) ○ IR Sensor with stripped wire. Red = +5V Sensor power, Black = Ground, White = IR Signal (qty 1)
IR Emitter with stripped wire. Stripe = IR Signal, Solid = Ground. Model KDIRE3501F1 (qty 1)
L-Bracket Mount (qty 2)
Screws for L-Bracket (qty 4)
Operation User Manual (qty 1)

Benefits:
Key Digital® App Ready: Network scan & detect populates pre-built GUI including image preview, and finger drag video wall layout control
HDCP 2.2: Compliancy up to HDCP 2.2 and backward compliant
4K/Ultra HD Resolution: Support for 4096x2160 or 3840x2160 24/25/30Hz at 4:4:4/8 Bit or 60Hz at 4:2:0/8 Bit (10.2Gbps max bandwidth)
4K Down-scale: Incoming 4K resolution can be down-converted to 1080p or 720p at each decoder, enabling monitors to display content at optimal resolution at all times
Audio De-Embedding: At Encoder and Decoder for ease of integration with audio systems

Ease of Integration:
Ease of Integration: Complete configuration using KD-App

3 year limited warranty included. USA based tech support, product design, and engineering. Read more about this product here and check out our website for more of our products!

---

Kramer KDS-7 – AVoIP streaming that delivers more on every level!
Kramer's KDS-7 represents a full AVoIP streaming solution for anywhere that low-latency, high-quality 4K60 content distribution and switching is required. Delivering a superb user experience, enterprise-grade IT security and advanced, yet intuitive management, the KDS-7 line is a perfect fit for Enterprise, Education, Homeland Security, Military or Government sites of any size.
Built as a complete solution, the KDS-7 line comprises a full range of encoders and decoders, supports 1K video sources, enables simple and fast deployment, and scales to suit any size network AV installation.
With the KDS-7 line, Kramer is introducing even greater scalability and flexibility. Plug-and-play integration into any IP network speeds up deployment and significantly reduces costs. High-resolution video, support for large-scale video wall installations, and full compatibility with end-user devices ensure an outstanding user experience.
"At Kramer we're proud to be a leader in creating AVoIP products that accelerate hybrid work, improve hybrid learning across campuses, and enhance performance of command and control centers at large-scale installations," commented Gilad Yron, Kramer CEO.
Interested in Kramer AVoIP solutions? Learn more!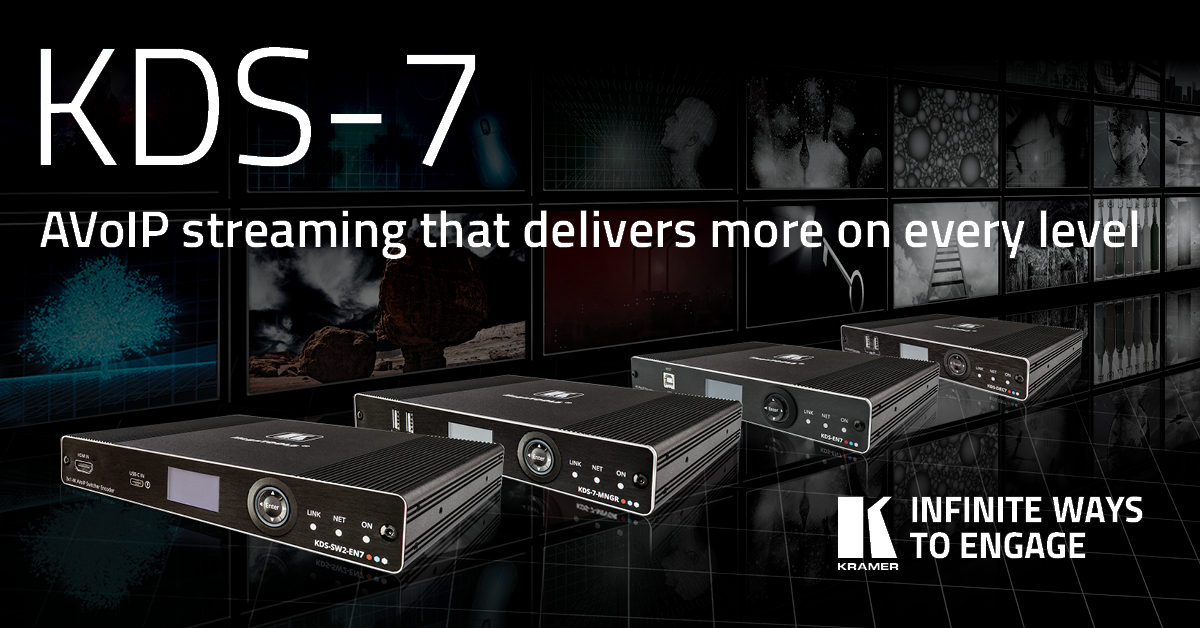 ---

New Speaker Tunings Available for Pioneer Pro Audio & KEF
Good news for integrators that are working with Pioneer Pro Audio and KEF professional speakers…We've got custom speaker tunings to get your projects dialed in quickly. Visit our library of speaker tunings and download the files today. Get More!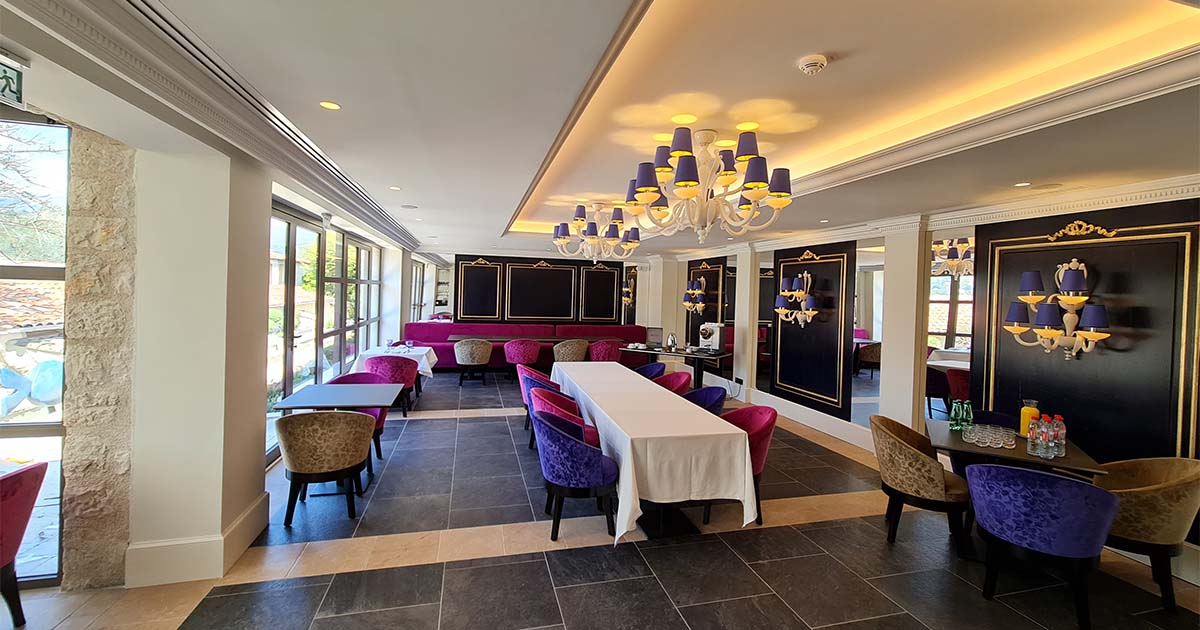 What It Takes To Deliver A 5-Star Audio Experience In Historic French CountrysideWhen guests book their stay at Domaine du Mas de Pierre, they expect luxury and relaxation. To meet those expectations, it is critical to dial in the AV system to perfection. That is exactly what local integrator, Inovasystem, did. Get More!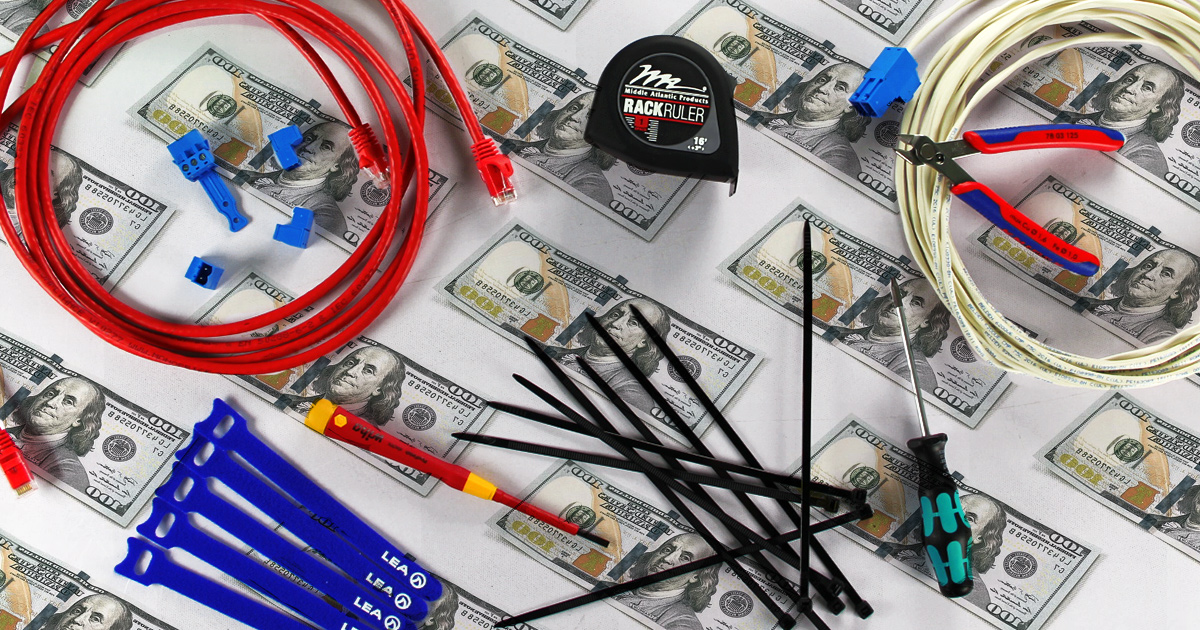 IoT AV Devices For Recurring Revenuewith IoT-enabled AV products, not only do you have simpler control & monitoring capabilities, access to data and automation, but you also have the opportunity to increase the monthly revenue of your business by adding IoT to your existing service contracts. Get More!
---


Vantage and PureEdge Lighting Form Strategic Alliance
Legr­­and's Vantage brand, has formed a strategic alliance with PureEdge Lighting. The alliance pairs Vantage's industry-leading, customizable lighting controls with PureEdge's tunable white, ranging 2200K to 6500K, RGB, and RGB+TW (tunable white) lighting systems. PureEdge Lighting has been a leader in the lighting industry for over two decades, bringing recessed 5/8" drywall lighting systems to the forefront for both residential and commercial applications. Controlling the lights is a crucial element to a versatile and easy-to-use lighting system. As part of this alliance, Vantage Controls and PureEdge Lighting have also introduced the 5+5 Dealer Profit Promotion (DPP). With DPP, projects featuring both Vantage and PureEdge products will receive a 5% discount from both brands when an order is placed. To qualify for the promotion, which runs to July 1, 2022, projects must be registered by a dealer or sale rep. With dynamic, human centric lighting programming readily available and stunning keypad aesthetics, Vantage provides best-in-class lighting control. PureEdge provides unique and innovative lighting systems that have won multiple lighting design awards. Together, these two companies provide exceptional light control.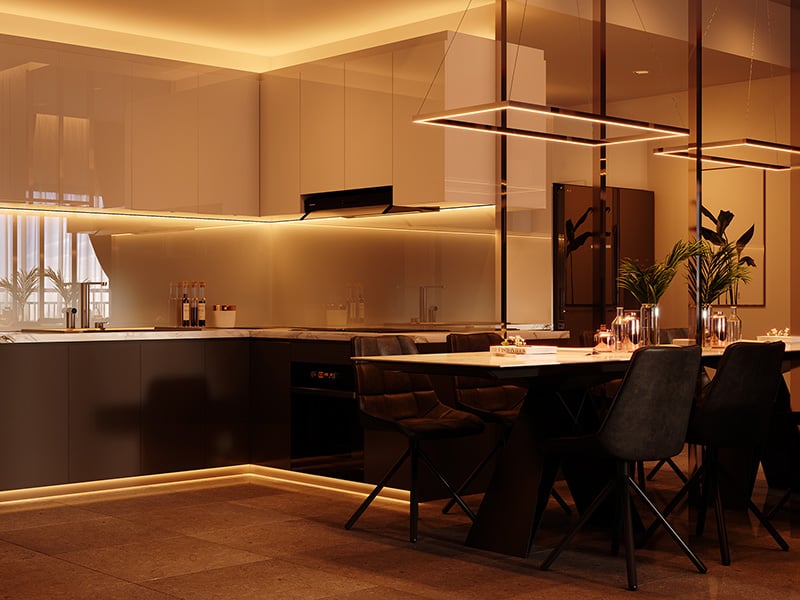 ---

Your voice Matters

"TeamUp+" Series USB and Analog Boundary Microphone (360° Omnidirectional)
Introducing the "TeamUp+" Series USB Omnidirectional Boundary Microphone by Liberty AV
Make a 360 degree difference in conferencing with the Liberty AV "TeamUp+" Series USB Omnidirectional Boundary Microphone.
Part of the TeamUp+ Series, the 360MIC was designed to sense out high-quality sound (acoustic energy) from any direction and convert the audio into USB allowing for a seamless connection to your computer. Since the 360MIC is UVC compliant, no drivers or additional downloads are required, allowing for a painless experience when using Windows or Mac operating systems. The series brings a contemporary style that compliments any setting and can easily be positioned for different scenarios.
Ensure your voice is heard regardless of where you are seated within a 4-meter range. Convenient built-in LED-illuminated button provides a green light for working mode and a red light for mute mode. Complete your install with the included 5-meter USB cord or 3.5 mm jack for connectivity.
Your voice matters. That's why we are creating the right products for your space to conduct meetings, interviews, podcasting, and home-studio recording. This versatile product is an excellent choice to use with YouTube, Skype, or FaceTime, and is backed by a 5-year warranty.
Complete the installation of the Liberty AV "TeamUp+" Series USB Omnidirectional Boundary Microphone with Liberty AV's extensive range of USB premium cables. Don't stop there — check out our entire line of USB solutions today!
Contact your Liberty AV Solutions team for more information.
---
Shop Talk - MM710
MantelMount Launches Short FAQ Videos for the Most Commonly Asked Questions
MantelMount has kicked off an exciting new initiative called ShopTalk to address the most common questions dealers have about our mounts and accessories.
We're producing a series of short videos - thirty to ninety seconds each - with the goal of getting dealers the answers and solutions they need.
Sometimes, a video is worth a thousand words! Right now, several dealers are asking, "What's unique about the MM710?" To find out, click the play button.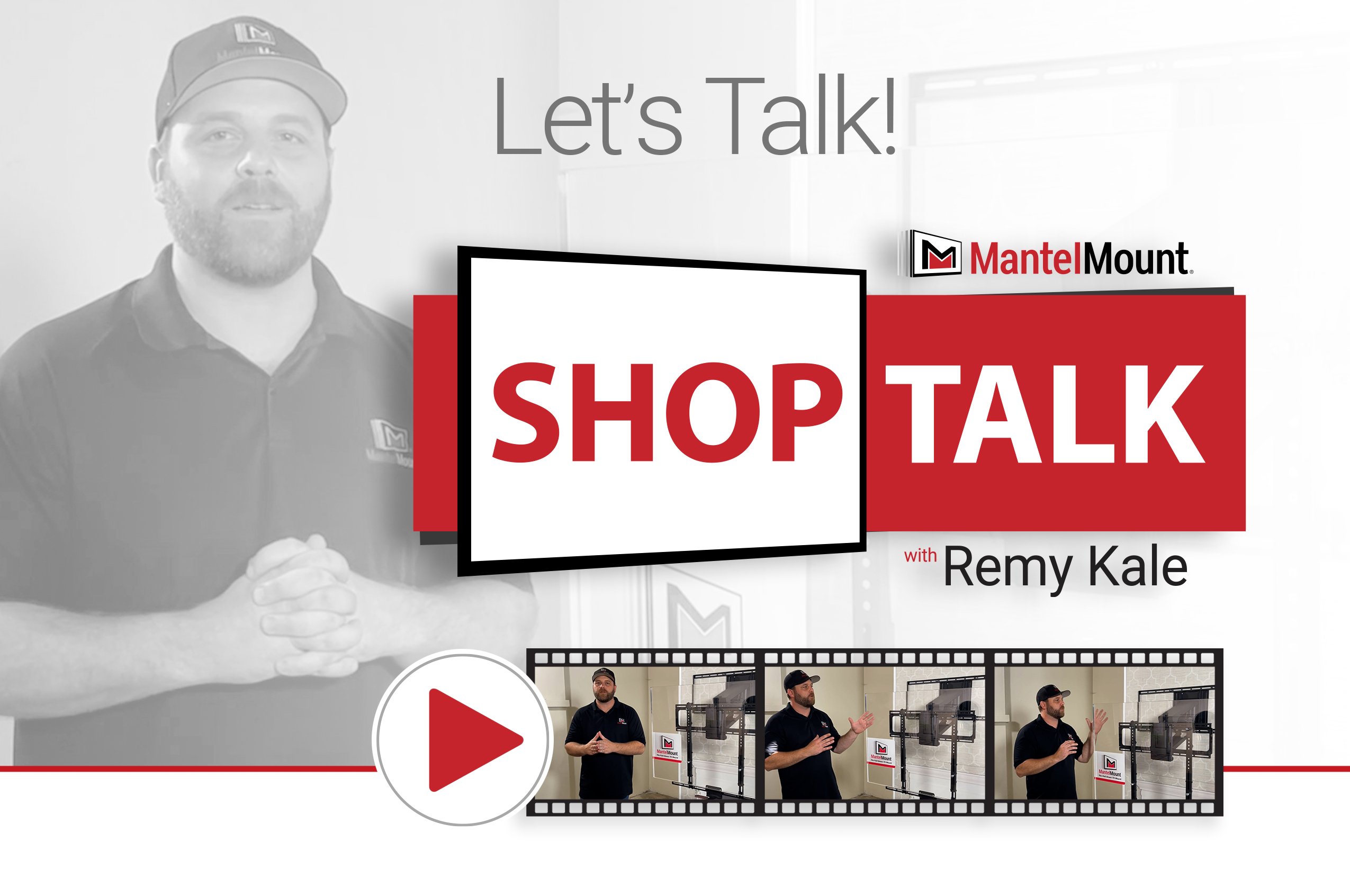 ---

Monitor Audio Climate Garden Series
The Climate Garden Series is comprised of high performance, super discreet all weather satellite speakers and subwoofers, using Monitor Audio's proprietary driver technology. Its ground level installation amongst shrubs and trees delivers a luxurious blend of unobtrusive aesthetics and natural full range audio in gardens of any size. 70/100 V line arrays of up to twelve satellites per subwoofer makes the Climate Garden System expandable with additional satellite and subwoofer sets according to garden area.
The Climate Garden Series features two satellite models and two subwoofer models.
The satellite speakers are a robust high sensitivity design built to deliver richly detailed hi- quality mid/high frequencies. Engineered to withstand the most extreme temperatures and weather conditions, their rigid conical cast-polymer enclosure houses the company's signature 1" (25 mm) C-CAM Gold Dome tweeter co-axially aligned with a 4" MMP (CLG140) or 6" MMP (CLG160) bass-mid driver. The horn-shaped housing provides excellent audio directivity in free air conditions when positioned close to the garden surface on a bracket/spike assembly, which neatly encapsulates and channels the connecting cable into the ground for a discreetly installed result.
The passive subwoofers are optimized for discreet sub-surface installation and feature a proprietary Monitor Audio band-pass design which incorporates an internally loaded 12" C-CAM driver (CLG-W12) or 10" C-CAM driver (CLG-W10) which sits in a waterproof rotationally-molded polymer enclosure buried below the garden surface (the CLG-W10 also includes the option to sit on a patio, for those who do not wish to bury the subwoofer).
The subwoofers' tight bass frequencies will join the clean mids and highs of the surrounding satellite speakers for punchy and articulate full-range garden sound.
---

Nice/Nortek Control Unveils Expansive ELAN 8.7 Update
One of its most significant software updates ever – the new ELAN® Control Systems 8.7 update is full of features dealers and homeowners will love. The update was designed with the latest control technology, convenience and broader integrations at top of mind.
Among the top advancements, the 2GIG EDGE™ panel is now compatible with ELAN control systems. The highly anticipated integration allows for completely control of the security system – allowing homeowners to arm and disarm their home from their panel or smartphone with ease. The ELAN 8.7 software is the first to deliver this type of seamless integration with the 2GIG EDGE panel.
Another key aspect is the addition of Bluetooth support for ELAN touch panels. The new Bluetooth player instantly turns every ELAN Touch Panel into a Bluetooth receiver and eliminates the need for an external receiver. Anyone in the home, whether family members or guests, can connect their smart phone through an ELAN Touch Panel to play their own music through the whole home audio system.
A new utilities tab is also bound to be a fan favorite of the update. This extensive new integration with popular home wellness and security products for an easier to design, install, and enjoy total control solution. For example, a new subcategory for popular utility products, such as power management and conditioning, air quality, and leak detection, has been added bring more visibility to the wellness of the home for homeowners.
The ELAN 8.7 update also includes integrations with specific utility solution offerings like Moen Flo® and Phyn® water leak detection, TED® energy-efficiency monitoring, and Broan/Nutone Overture® indoor air quality control. Combined, these new additions further advance Nice/Nortek Control initiatives to be 'Stronger Together' and help integrators create healthier, safer homes.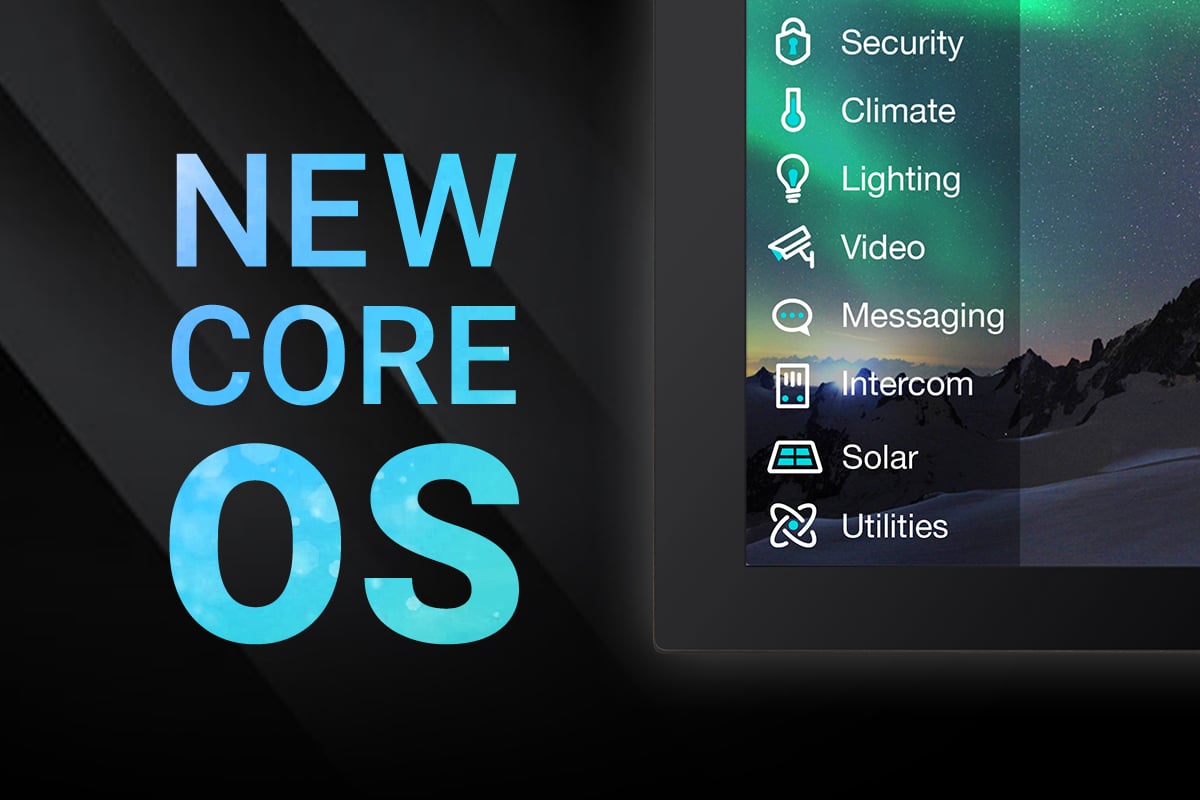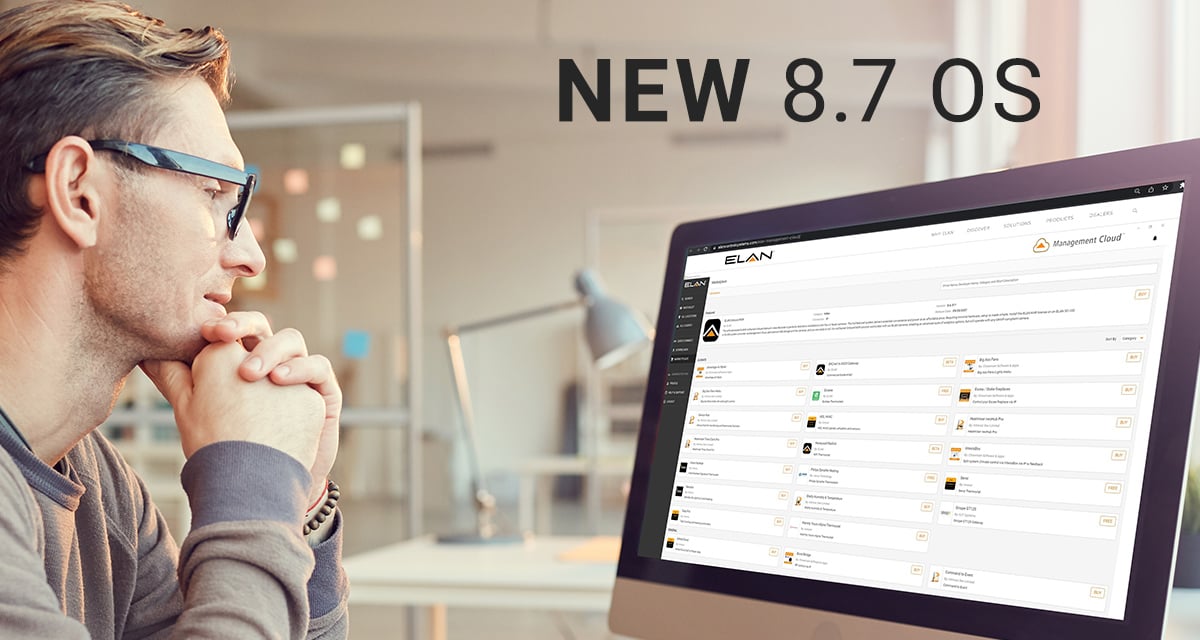 ---

153-year-old technology distributor, Pioneer Music Company (PMC), expands its Midwestern footprint to Minneapolis, MN. PMC now has 7 stores located throughout the Midwest in all the major metropolitan markets. These locations offer product lines and expertise including the top brands in AV, Networking, Commerical integration, Building Automation, cabling, tools and accessories.
The newest store boasts a 24-hour-pickup room, as well as a dedicated training space to host state-of-the-art education from vendor partners and even CEDIA certification courses taught by PMC's own staff.
A storied partner of D-Tools, shop their product catalog within the D-Tools software or checkout their website with live inventory, bill pay, and other features making your product sourcing easier.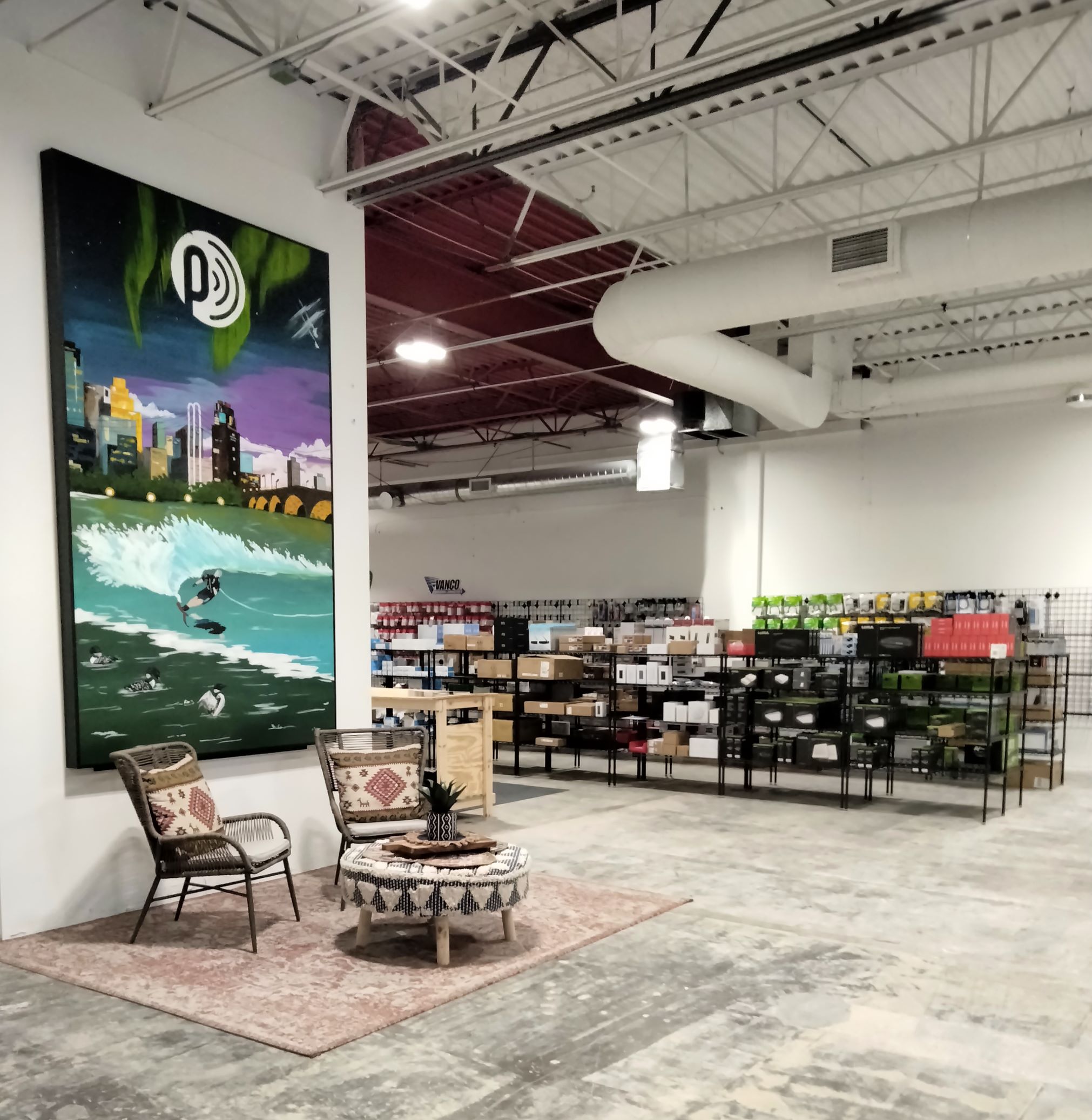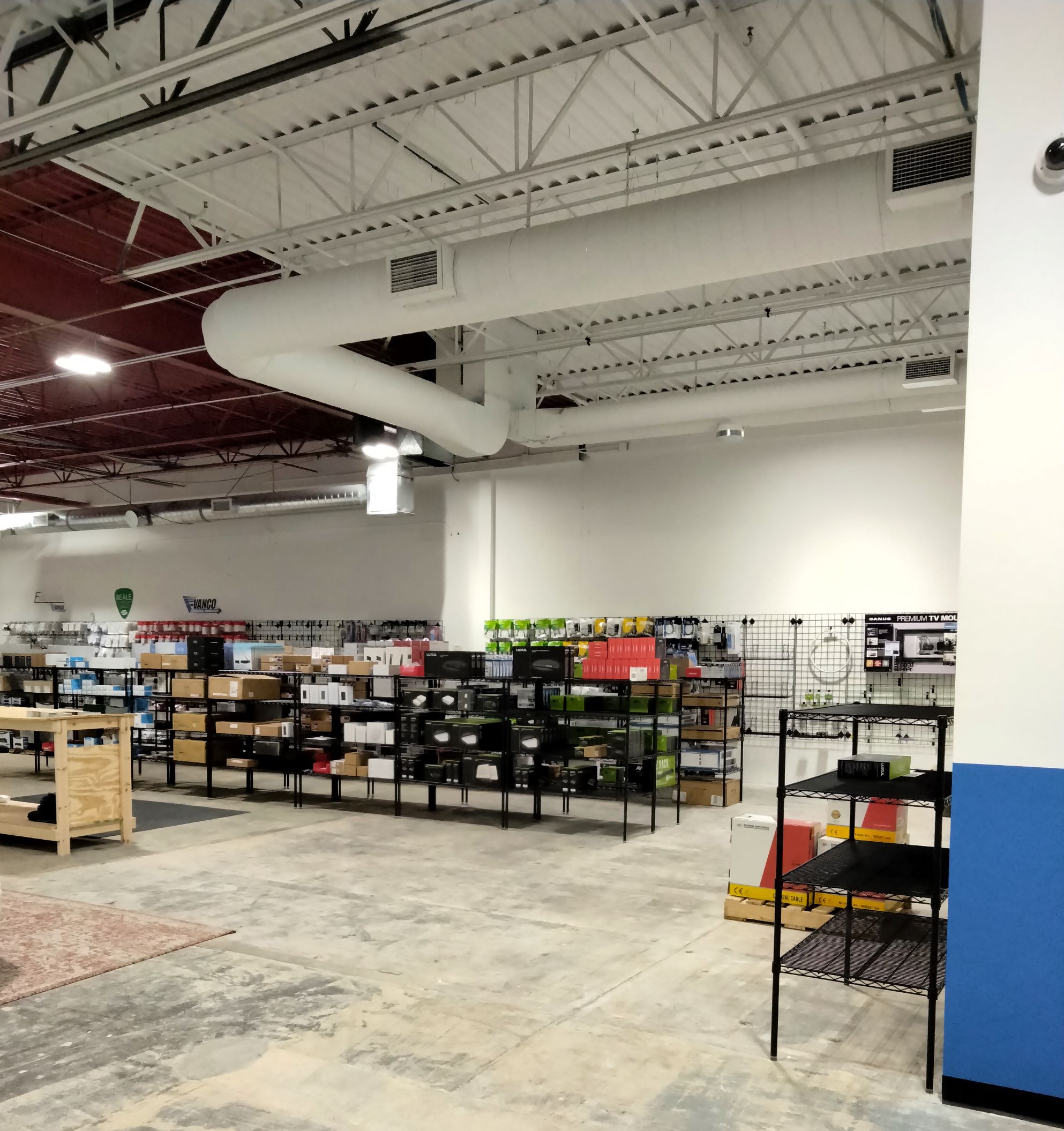 ---

Platinum Tools NetXpert XG2 10G Network Tester
Platinum Tools is proud to announce the launch of its new NetXpert XG2, providing 10G speed certification over copper and fiber, and complete network testing over copper, fiber, and Wi-Fi systems. Now shipping, the NetXpert XG2 has an MSRP of $7,135 for copper and $11,545 for fiber.
"The NetXpert XG2 sets a new standard in versatility and value for cable and network testing," said Sean Rothermel, Platinum Tools product manager. "With Cat6A rapidly gaining dominance, a tester capable of certifying networks to 10G speeds has become more of a necessity. With the NetXpert XG2, we have a single device that performs 10G speed certification, as well as all the network tests you need on copper, fiber, and Wi-Fi systems, even PoE testing up to the PoE type 4 standard. This eliminates the need to buy or carry multiple testers for various jobs."
In addition, a highly desired and rare key feature is the XG2's future upgradeability, with new firmware able to be loaded by the end-user via USB or Wi-Fi. "This capability makes the XG2 even more valuable as the investment in this product does not end when future technologies would render most other units obsolete," Rothermel added. "Upgrading new firmware will allow the XG2 to be used for years while keeping up with current technological necessities."
Features and specifications include:
Speed certification to 10G over copper and fiber
Cable qualification to IEEE standards
Active network testing over copper, fiber and wi-fi
PoE testing up to 90W (PoE type 4)
Complete reporting in multiple formats
Full color seven-inch touchscreen
Convenient form factor with comfortable hand straps and built-in kickstand
Rechargeable, upgradeable lithium battery pack
Field-replaceable RJ45 port, dual SFP+ ports, USB port
Easy software updates for future feature expansion
Dimensions: 9.75in. x 7in. x 3in.
Weight: 2.65 lbs.
For additional information, please visit www.platinumtools.com, call (800) 749-5783, or email info@platinumtools.com.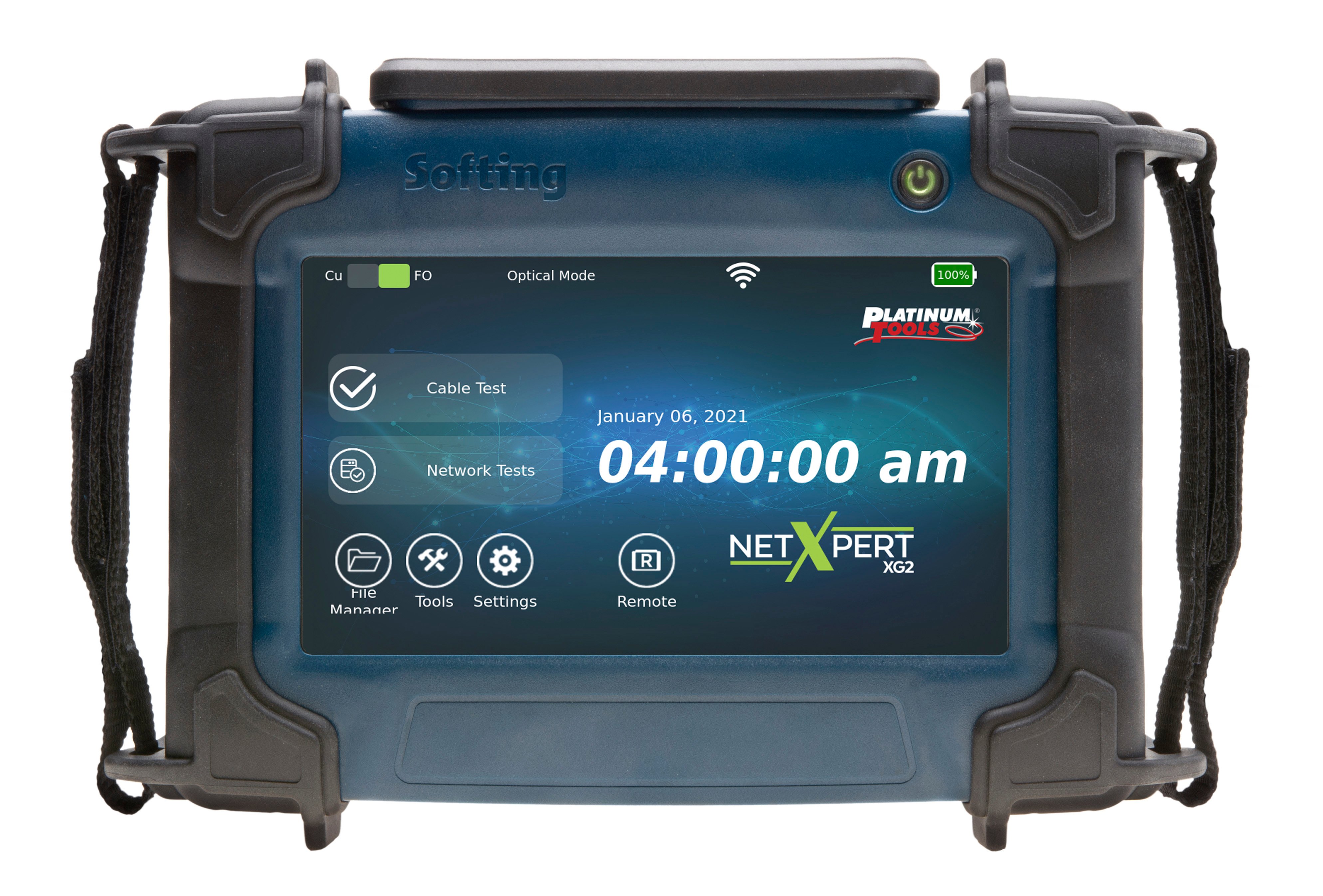 ---

QSC is the first to offer an integrated audio, video and control solution to scale the familiar Google user experience into a variety of high-value spaces. First, The Q-SYS Core processor or I/O-USB Bridge integrates with the Google Meet compute device via a single USB connection bringing the power and flexibility of Q-SYS to Google Meet. Integrators and IT end users can now utilize the robust Q-SYS Control engine to enable meeting and room control on a Google Meet-supported controller – all with the same look and feel users are familiar with. In addition, Google Cloud has certified Q-SYS video capabilities and Google Meet now supports the integration of multiple Q-SYS conference cameras, with automatic switching capabilities.

---
RTI Turns It Up to 11. Integration Designer 11 is Here!
Latest software release adds adaptive auto-programming, a built-in driver store, a new user interface, and more for residential and commercial applications
A major new update to our award-winning Integration Designer control application software is here. The new Integration Designer 11 allows you to achieve faster, more efficient installations with all the advanced customization for we're renowned. It adds time-saving performance tools and features an all-new user interface template, new icons and background libraries, custom sliders, and more to personalize residential and commercial projects.
The most visible feature in Integration Designer 11 is the all-new "Coral" template with swappable backgrounds, customizable sliders and scrolling viewports across touchscreens and mobile devices, and new graphics and fonts — all with auto-programming that adds efficiency to every project. Behind the scenes is the integrated System Manager — with adaptive auto-programming intelligence — adding feedback for scenes, rooms, and automations while auto-generating new macros based on what's already been programmed in the system. Another major new addition is the built-in Driver Store, enabling you to find all drivers without leaving the software or having to search on a separate driver site, saving time on every project. And more than ever before, RTI programming is easily reusable, again making you more efficient across all projects.
But it's not just about efficiency; Version 11 of the CEDIA Product Hall of Fame award-winning Integration Designer enables you to personalize and customize solutions that meet every home or business owner's unique needs.
More information about RTI is available at https://rticontrol.com/integration-designer.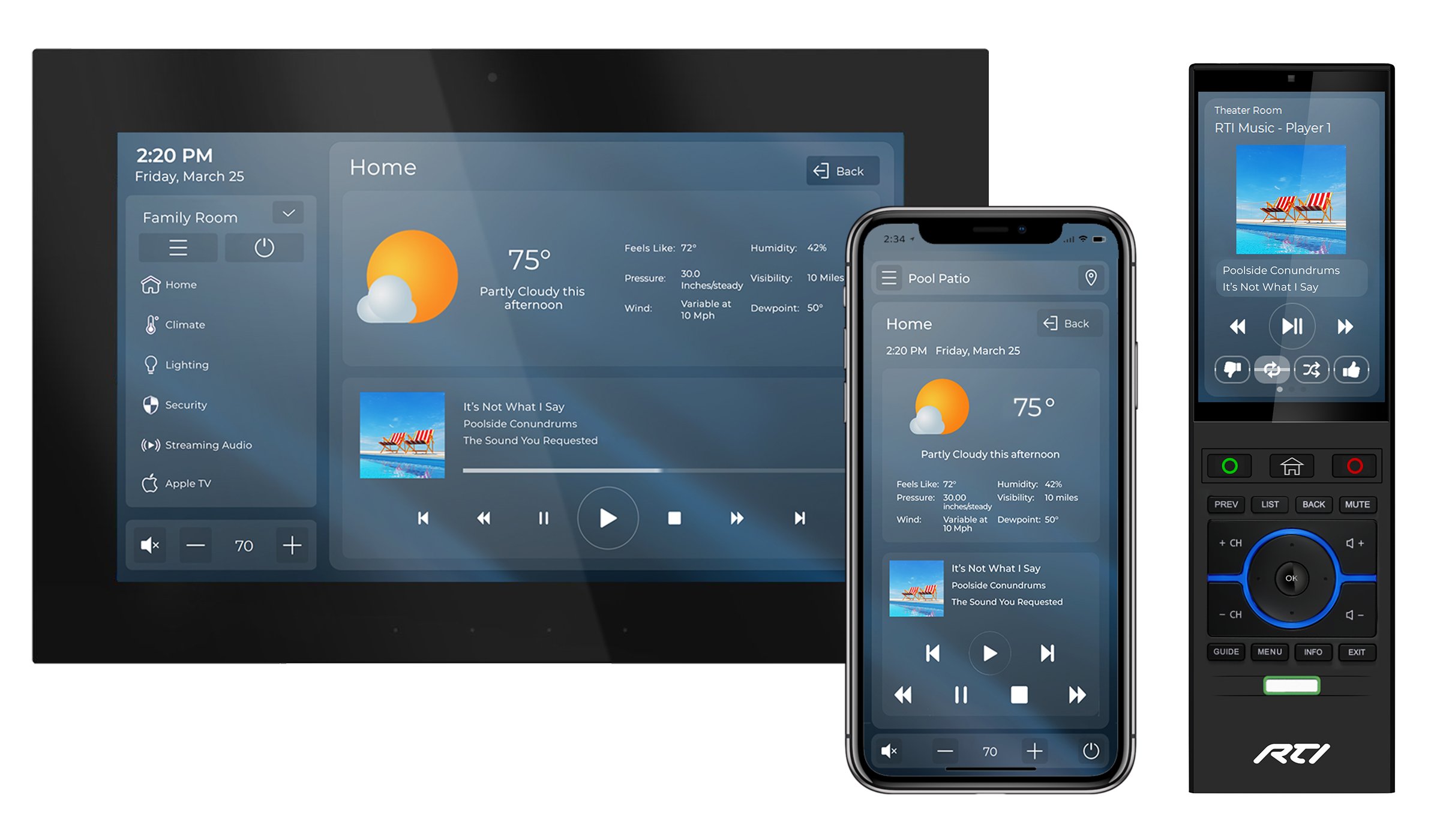 ---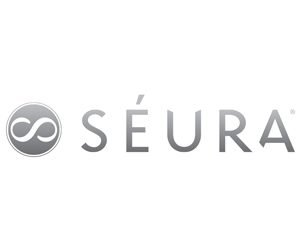 New 80W Outdoor Soundbars, by Séura
Optimized to deliver premium outdoor sound, Séura's 80W Outdoor Soundbars fill your space with rich and clear sound in loud outdoor environments. The factory-tuned 80-watt internal amp minimizes distortion and delivers better integrated, fully optimized sound. Digital Sound Processing (DSP) delivers true, accurate sound the way it was meant to be heard. Enjoy a richer bass that provides an impactful sound and clear treble that reaches 20kHz range without roll-off or audio frequency limitations to provide higher highs and crystal-clear dialogue.
Designed to complement Séura Outdoor TVs, Séura's Outdoor Soundbars are fully weatherproof, IP55 rated and carefully designed and tested to thrive outside year-round in temperatures from -40°F to 140°F, no matter how brutal the climate or conditions. The corrosion-resistant case and weatherized components are designed to prevent against fire and electrical shock. Cables neatly tuck away with no additional wiring to an external amp or power supply. For installation with a Séura Outdoor TV, simply connect the soundbar to the TV's AC pass-through input. The soundbar includes brackets and hardware for mounting to a wall or the bottom of a Séura Outdoor TV and is available in two sizes: 37.8-inches wide and 57.0-inches wide.
Learn more at seura.com/products/outdoor-tvs/accessories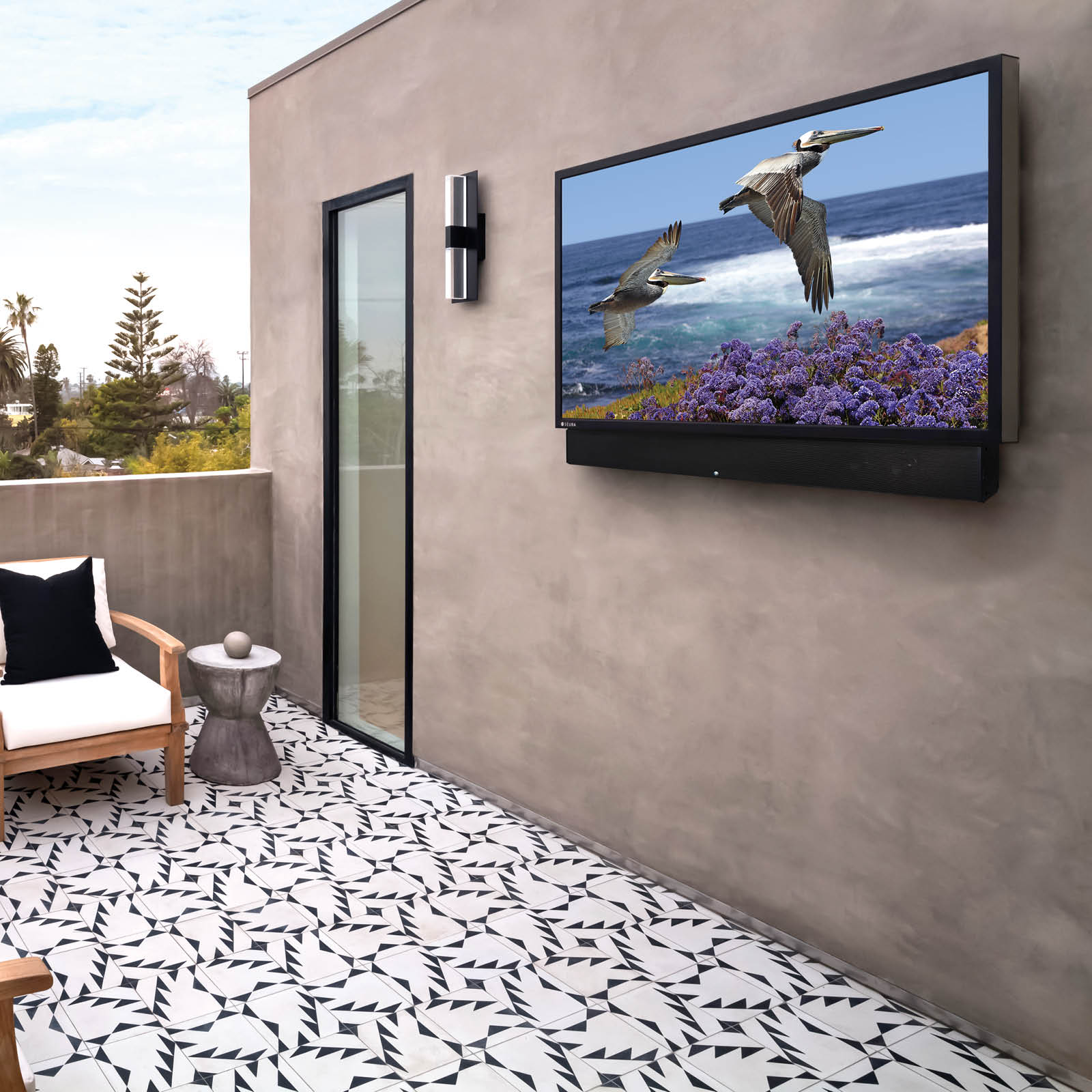 ---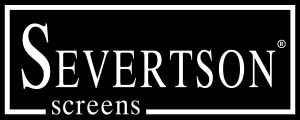 Severtson Screens Legacy Series
Severtson Screens' Legacy Series is a collection of entry-level fixed frame projection screens designed for easy assembly and built for long-lasting quality. They are an ideal choice for home theaters, conference rooms, and other applications where a permanent projection screen is desired. The Legacy Series includes popularly-priced, entry-level screens that rival the quality of competitor's "high-end"" screens.
Features include 3.25-inch deluxe, velvet-wrapped frame; white, grey, or acoustic materials; eligible for custom build program.
Each screen is manufactured to the same high standards that Severtson Screens is known for in their production of large cinema screens. From its hassle-free assembly to its signature USA-made projection surfaces, the Legacy Series is a reflection of the excellence and elegance Severtson Screens strives for.
Each Legacy screen is built using sturdy, extruded aluminum that aligns precisely when assembled. Each frame piece comes wrapped in Severtson's signature light-absorbing black velvet. These screens can be assembled quickly and easily, thanks to the Severtson Flex RTS: Rod Tensioning System. In this system, the edges of the screen material are seamed and notched to allow rods to be inserted through all four edges of the material. This allows the material to be easily secured to the frame to keep the viewing surface tensioned and perfectly flat. www.severtsonscreens.com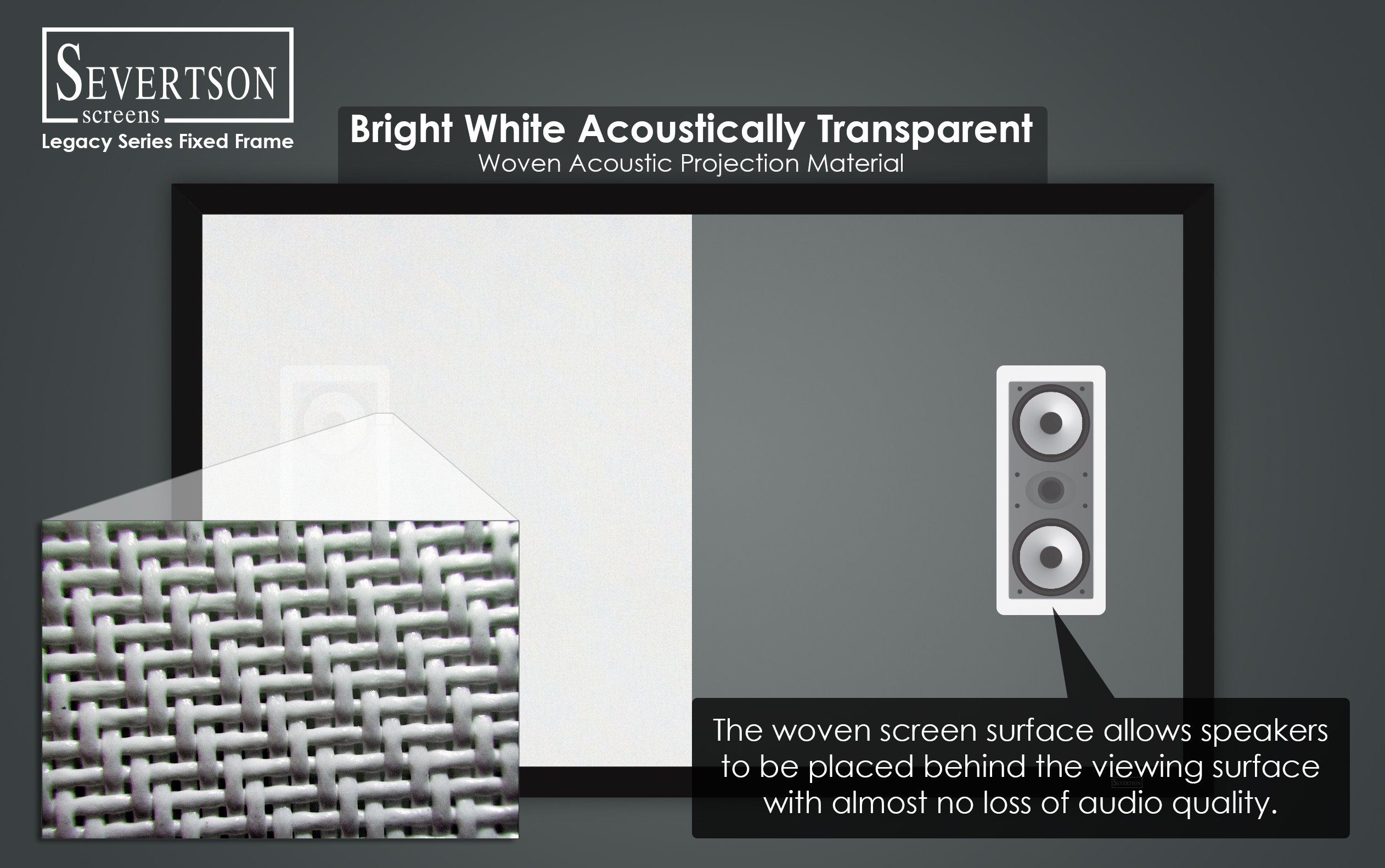 ---

TechLogix Enables 8K Installations with New Fiber HDMI Cables
TechLogix Networx, a leader in innovative audio-visual, security, and datacom solutions, is enabling real-world 8K HDMI installations with the launch of MOFO™ HD21 Series fiber-based cables. TechLogix MOFO™ HD21 Series cables are now available.
8K pushes the limit of copper-based technology. Uncompressed 8K HDMI requires up to 48G bandwidth, and traditional HDMI cables and twisted pair extenders simply experience too much loss and interference over distance for reliable, native signal transmission. Fiber eliminates these issues. TechLogix MOFO™ HD21 Series cables feature a true fiber optic core for interference-free, uncompressed 8K HDMI signal transmission up to 30m without the need for in-line boosters or power supplies – simply run the MOFO™ cable and connect it to your source and destination devices. Plus, the fiber core can be spliced and re-terminated with standard fiber optic tools and connectors. A MOFO™ cable used for HDMI today can be re-purposed for network, control, or other audio/video formats tomorrow.
To further validate performance, TechLogix received HDMI 2.1 certification from the HDMI.org Forum and HDMI Licensing Administrator guaranteeing HD21 Series cables support the entire 8K specification, including 48G 8K60 Dynamic HDR, HDCP 2.2, 3D, Deep Color, VRR, QMS, QFT, ALLM, DSC, Dolby TrueHD, DTS-HD Master Audio, ARC, and eARC. The fiber core inside TechLogix MOFO™ cables also improves durability and handling. HD21 Series cables support a 70lb pull-rating and 1.8 inch minimum bend-rating, and the plenum-rated jacket accommodates in-wall installation or in conduit larger than one inch in diameter.
For more information on TechLogix and its complete product line, please visit www.nsiindustries.com/techlogix and tlnetworx.com, or call 866-445-4405.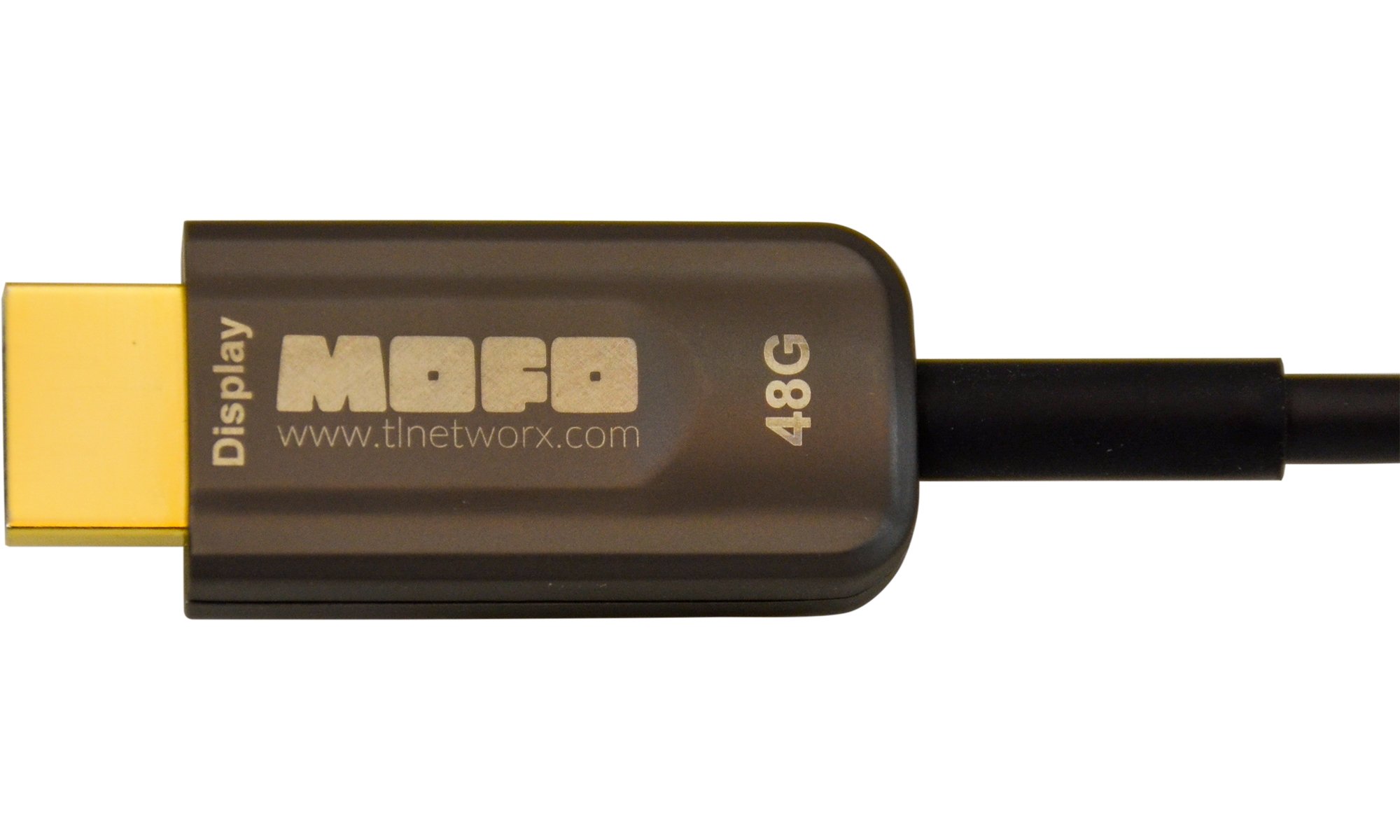 ---

Introducing TRENDnet's Unmanaged Gigabit PoE+ Switches!
TRENDnet's Unmanaged Gigabit PoE+ Switches provide high-bandwidth performance, ease of use, and reliability. These IEEE 802.3at compliant switches conveniently feature a sturdy 1U 19" rack-mountable metal housing with mounting brackets included. These gigabit PoE+ switches with SFP slots also support long-distance fiber network applications.
Installers and integrators can save on equipment costs and reduce installation time with TRENDnet's unmanaged gigabit PoE+ switches by delivering up to 30W per port of PoE+ power and data over existing Ethernet cables. Easily network PoE devices, such as high-power wireless access points, PTZ cameras, digital signage, IPTV decoders, and access controls with these reliable gigabit PoE+ switches with SFP support.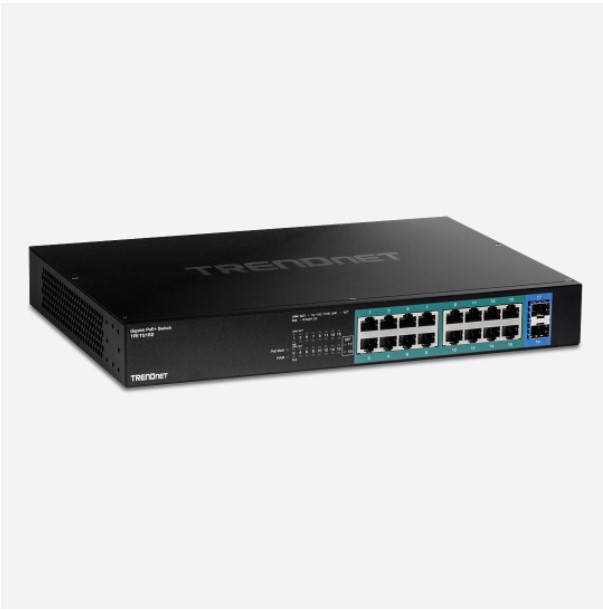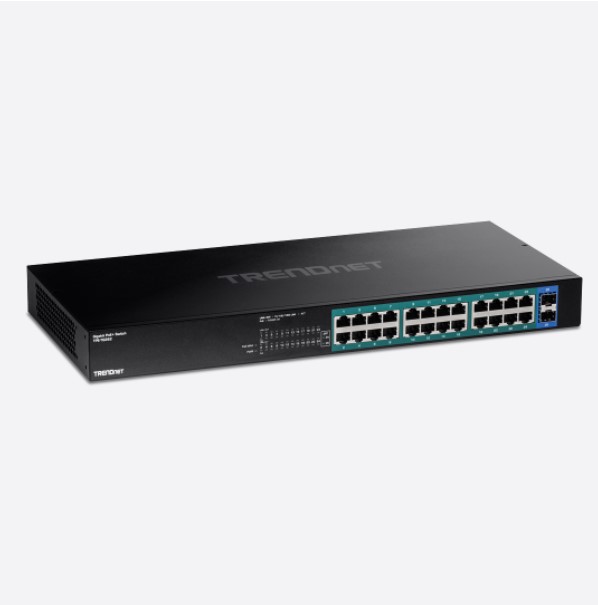 ---
EXPAND YOUR VISION
ViewSonic All-in-One Direct View LED Displays
ViewSonic's innovative all-in-one Direct View LED displays come with 108", 135", 163", and 216" screen sizes, these displays make a sizable impression that delivers a wow factor like no other.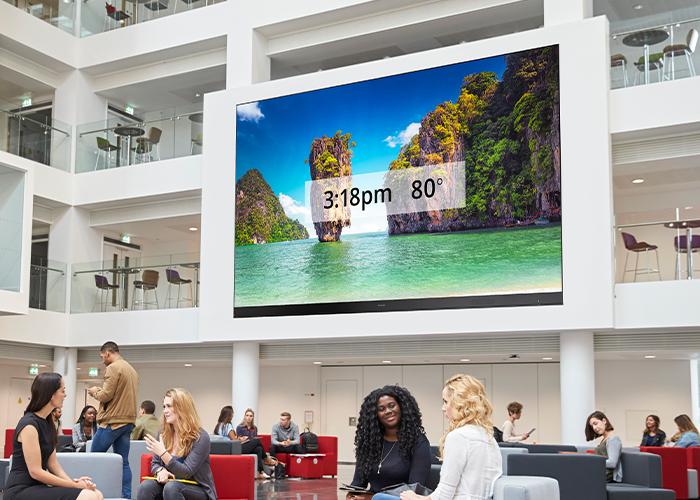 Key features:
Multiple pre-assembled and pre-calibrated panels that can be installed by two people in less than two hours.
Free ViewBoard Cast™ content sharing software for wireless collaboration or over cable networks.
ViewSonic EMBEDDED Signature Platform (VESP) for communication with the server or play digital media without any external devices.
Compatible with professional AV control systems, i.e., Crestron, Extron, and AMX
Standard 5-year limited warranty and on-site service.
Watch a quick installation video here or visit our website for more information.
ViewSonic NMP589-W HD Wireless Network Media Player
Quoted by AV Network "The ViewSonic NMP-589-W is a viable option for those looking for a wireless HD network media player to support innovative and compelling digital signage installs within retail, hospitality, or point-of-sale advertising. The media player offers 4K/UHD video playback as well as the ability to access content directly from the cloud that can be broadcast live. Wireless connectivity and HTML5 support allow for increased accessibility via the web or from a network server. The player also includes 16GB of built-in memory, helping to store and play continuous content for hours on end."
Click here to read the article. For more information, please visit our website.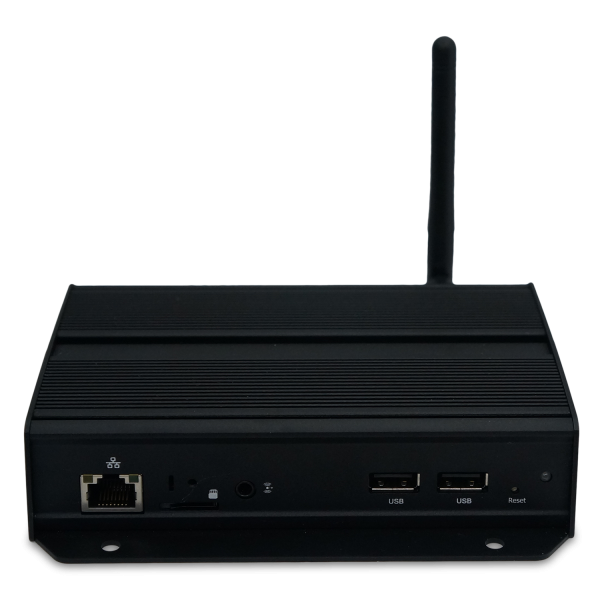 ---
WALL-SMART Introduces Flush Mount for Lutron Pico Keypad
WALL-SMART renders Lutron's popular pint-size Pico keypad a seamless part of any wall surface with innovative wall mount.
WALL-SMART introduces to the design, build, and integration community a custom-designed and engineered solution for Lutron's popular Pico keypad. Intended for installation during home construction, the design-friendly mount can be recessed into any wall material, including drywall and solid surfaces like concrete, wood, metal, and marble. Once the mount has been installed into the wall, the Pico keypad inserts easily into it, where it sits perfectly flush with the surface. Without constraints on where the mount can be installed or concerns over its impact on design, the Pico keypad can be placed in areas where it is most convenient to use.
Further camouflaging the keypad, the trim of the WALL-SMART mount can be painted to match the color and texture of the wall surface. Constructed of moisture-resistant MDF and engineered for easy insertion and removal of the keypad, the mount ensures optimal performance and control of lights, automated window treatments, and audio systems. WALL-SMART's flush mount for Lutron's Pico keypad rounds out its portfolio of other Lutron wall mounts, including versions for Palladiom, Alisse, and seeTouch keypads.
"Our new wall mount customized for Lutron's popular Pico keypad offers designers, architects, and home tech integrators yet another option for integrating Lutron control products seamlessly into home environments. Combined with the small size of the Pico, our mounts make the keypad virtually disappear into the wall surface," says WALL-SMART Co-CEO and Founder Galia Ben-Dor. "Like all of our concealment solutions, the Pico mount delivers the clean, minimalist appearance that so many homeowners want today."
---

WyreStorm Launches Three of the Most Powerful AVoverIP Solutions from the NetworkHD Series - NHD-600-TRXF and NHD-610-TX & RX
WyreStorm's AV over IP solution, NetworkHD 600 series continues to lead the SDVoE technology in the AV market. The powerful and reliable NetworkHD 600 series is still the prime device of choice for many professional AV integrators. To further strengthen the lineup, WyreStorm introduces the brand-new NHD-600-TRXF, a 4K60 10GbE SDVoE fiber transceiver. The new device was redesigned from the ground up specifically to suit the modern AV industry's requirements and is the culmination of much of the innovative design expertise and advanced production techniques gained over the past years of AV over IP development.
With more integrators and installers preferring transmitters and receivers in one unit, the new TRXF allows you to transmit and receive A/V simultaneous through a single device or be programmed to act as a dedicated TX or RX, setting a new gold standard in SDVoE distribution! The SFP+ fiber connector supports up to 300m (984ft), 10Gbps transmission distance for extremely long reach commercial applications with zero latency using Genlock technology. This unique product was built entirely with new, up to date modern chipsets, to seamlessly process 4K Lossless Dolby Vision video and Dolby Atmos audio, while consuming less power than its predecessor. Flexible options, like full speed USB 2.0, allow full control over how this transceiver operates and reduces the number of separate models you need to manage.
Moving on to the NHD-610-TX and NHD-610-RX, those two newly released Transmitter and Receiver models are a new upgrade for the very powerful but aged NHD-600 series Transmitter and Receiver. The NHD-610's can process and distribute lossless 4K60 4:4:4 and HDR over 10GbE using SDVoE technology. The new NHD-610-TX has a Dante/AES67 transmitter built in which can be isolated to a separate LAN port on the TX, making it easier for integrators to connect the TX to a dedicated Dante network. Both the TX and RX also have full speed USB 2.0 like their fiber brother, the 600-TRXF, in order to allow extension for keyboard & mouse applications and even compatibility with webcams, touchscreens, and media storage.
The entire NHD-600 series are interoperable and can be installed into the same ecosystem, allowing to mix and match models based on design requirements.
Contact your local authorized WyreStorm distribution partner or visit www.wyrestorm.com for further details on these products.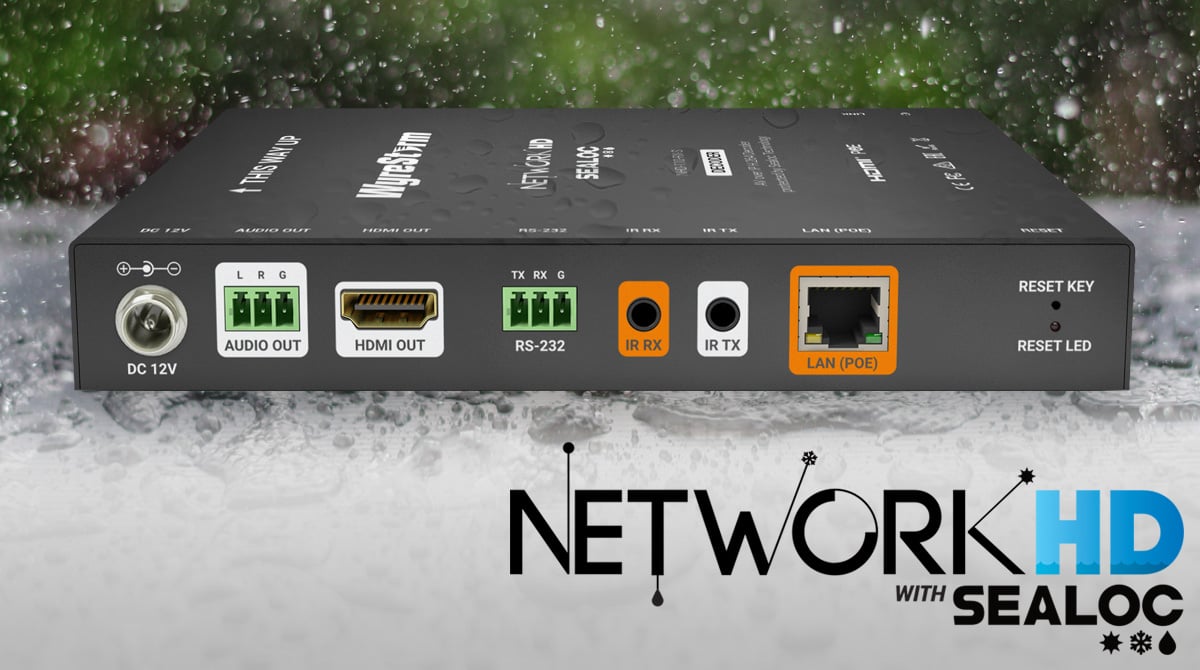 ---