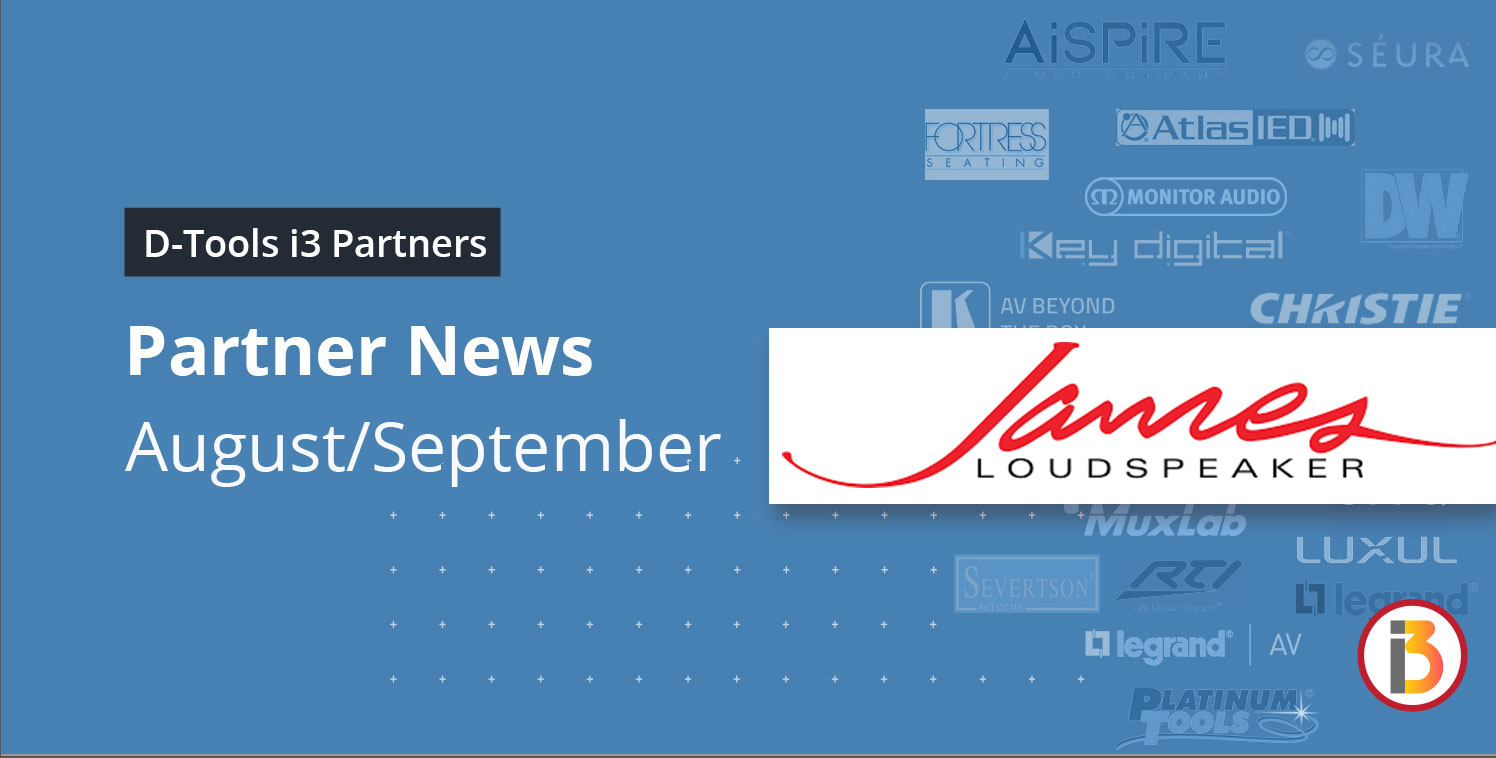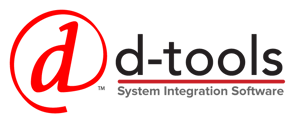 D-Tools i3 Partners realize the importance of bringing you their product information and have chosen to support the D-Tools user community by joining the program and making their product data directly available through D-Tools software. Read on for the latest supplier company news and product updates.
---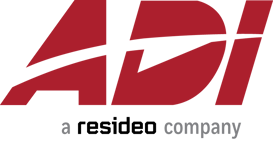 ADI Global Distribution, a leading wholesale distributor of security, AV and low-voltage products, recently announced its release of a new mobile app to provide dealers with a fast and easy way to shop at ADI from their mobile device. Dealers can use the app to search for products, check pricing and availability, place orders and manage their ADI account on-the-go.
The new ADI App presents a modern design and offers advanced features to make it easy to access the industry's largest selection of security, AV and other low voltage products. With facial and fingerprint recognition, users can log into the ADI App in seconds and can expect faster loading times, improved navigation with clear messaging and product organization and an updated navigation bar with visible links to products and services.
Using barcode scanning functionality, customers can scan items to find detailed product information and instantly check pricing and inventory levels. The simple checkout process allows users to choose local branch pickup or select the shipping option that fits their project timeline and budgets. The app makes it easy for customers to manage their ADI account, and can take advantage of time-saving features to check order status, easily reorder past shipments and make product lists by project or customer.
In addition to ADI's complete product portfolio, the mobile app provides access to ADI's deals centers, monthly sales flyers, training and events, value-added services and more. ADI will continue to add new features and functionality to the app, and make it easier for dealers to shop at ADI.
The new app is currently available for U.S. customers, for more information, please visit adiglobaldistribution.us/adi-app.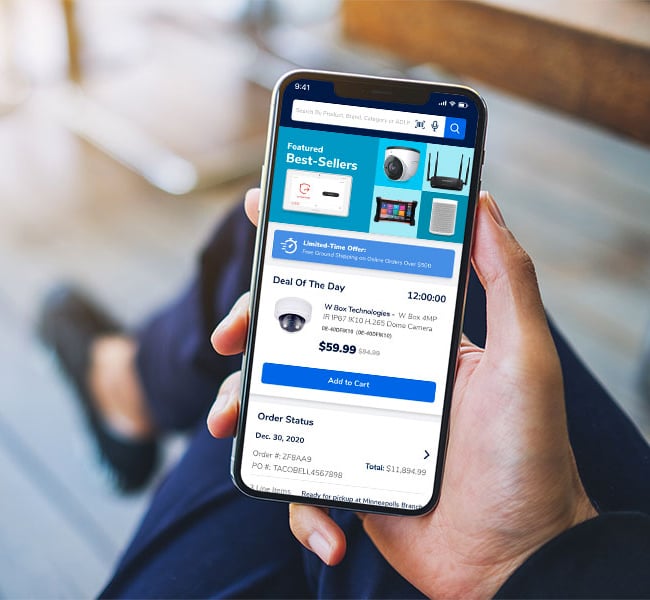 ---

New Altronix Dual Output Power Converter Provides PoE+ and 12VDC Simultaneously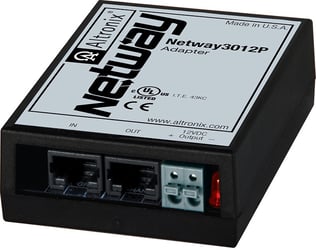 Altronix NetWay3012P PoE Adapter/Converter
Altronix, the recognized leader in power and data transmission solutions for the professional security industry, continues to expand its industry-leading portfolio of NetWay™ PoE solutions with the release of their new NetWay3012P PoE+ Adapter/Converter. This new device provides 12VDC and PoE/PoE+ (30W combined) to power two devices simultaneously, accommodating PoE cameras and external microphones, control boards, switching equipment and more!
"The NetWay3012P provides installers with more versatility by allowing them to utilize a single structured cable to deploy and power both a PoE device and an analog device together," said Ronnie Pennington, Director of Sales for the Americas, Altronix. "This reduces labor and material costs when installing multiple devices at a single location."
NetWay3012P passes PoE+ from any midspan/injector and converts PoE to 12VDC up to 2A with a total of 30W combined. As with all Altronix products, it is TAA and NDAA compliant and backed by a lifetime warranty.
For more information on Altronix's extensive line of products, call toll free 1-888-258-7669, e-mail info@altronix.com or visit www.altronix.com.
---

AiSPiRE, a new brand from WAC for the Integrator Market, introduces STRUT and Four Experiences of Light at CEDIA 2021
A Revolutionary Connected System of Smart Architectural LED Solutions
AiSPiRE, a new brand from WAC for the Integrator Market, presents a 20 x 50 booth demonstrating the Four experiences of light, a new product line called STRUT, a Low Voltage DC option for Integrators and so much more at the 2021 CEDIA Show in Indianapolis. Come experience our interactive booth which exhibits luminaires working with many various control companies, all in one footprint. CEDIA 2021 will be an amazing experience for Integrators who visit the AiSPiRE booth #6758.
Designed with a modern aesthetic and advanced technologies that captivate industry leading architects and designers, the STRUT System of Architectural Solutions is the only lighting, power and control system complete with lighting elements designed for discriminating technical performance, STRUT incorporates direct and indirect illumination, wall wash, downlighting, accent lighting, and pendants utilizing connected control technologies to give clients a personalized and modular experience.
This intuitive system is modular, adjustable, user-friendly and future-proof, developed with advancements in optics, LEDs, sensors and controls that help promote productivity, visual comfort, health and wellness. The modular system allows you to configure standard components for a customized 48V DC lighting solution. The magnetic infrastructure allows you to slide elements within the STRUT and adjust lighting effects while powered on-site. The Vacancy Photo Sensor is two devices in one; tuned in for human detection and an ambient light sensor to adjust illumination for daylight harvesting and balance electric lighting.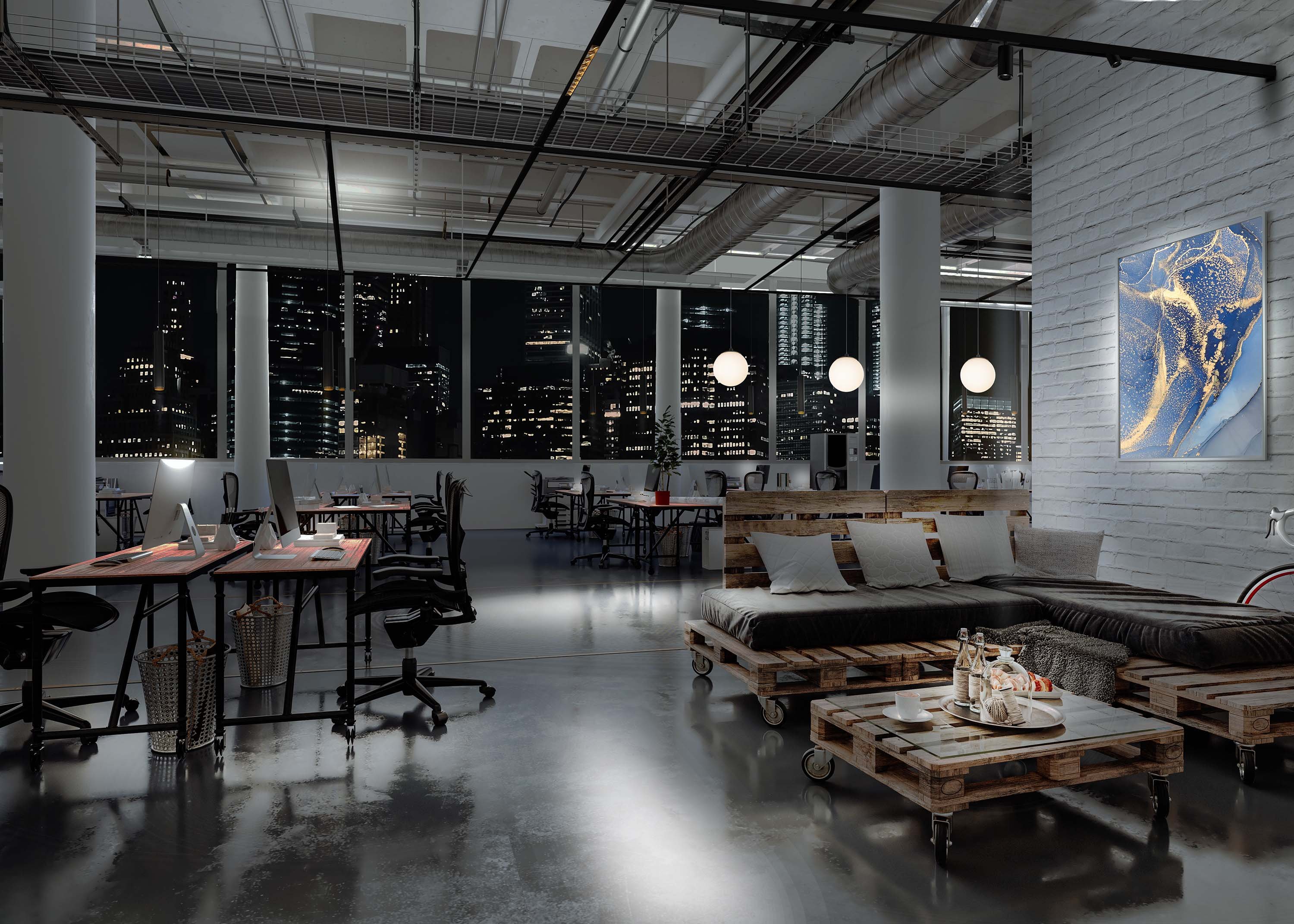 ---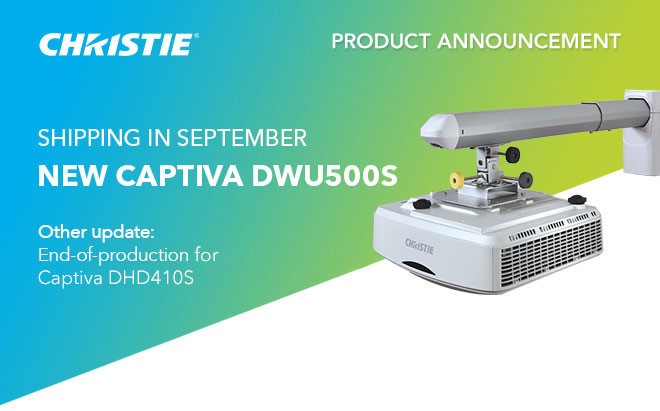 Great news!
Introducing the Christie® Captiva DWU500S ultra short throw 1DLP® laser projector.

This new model takes Captiva to another level. Here are some of the enhancements:
A larger projection area – you can display images up to 12.5' (3.8m) diagonal in landscape or portrait
More brightness – with 5,000 ISO lumens
Higher resolution – now WUXGA
Key features
Compact, light, quiet and bright
4-corner geometry adjustment
Standard WU aspect ratio
20,000 hours of low-cost operation
Reliable, easy to use and economical
Multiple orientation options and 3D formats
More for your money
All of this, for the same price means better value for you and your customers.
Shipping in September
The new Captiva DWU500S—available in black and white—starts shipping in September.
End-of-production notification

As a result, we are discontinuing the Captiva DHD410S and it reached end-of-production status on May 14, 2021. We'll continue to provide support for 3 years from the end-of-production date, until May 14, 2024, unless the product is covered under a warranty or extended warranty, in which case we'll continue to provide support for the applicable warranty period.
---

New Products Cleerline SSF™ and Planet Waves™
Media Extension Solutions

Cleerline Technology Group is pleased to introduce a range of new products designed to make projects easier, from specification and ordering to installation!
New Fiber Optic Media Extension solutions allow easy expansion of fiber optic networks. Built to meet the needs of multiple applications, these new items include:
Media Extenders: Support Gigabit Ethernet and high-quality signal distribution from fiber to RJ45 connections or from SFP to SFP. These extenders feature empty SFP slots, allowing customization for single mode or multimode fibers.
Industrial Media Extenders: Constructed for difficult environments, such as network extension to locations like gates or outbuilding, these extenders are ruggedized, with an IP40 rating and operating temperature of -40 to +75°C. An Industrial Power Supply is also available to for use with these items.
SFP Modules: Featuring options for single mode and multimode fibers, Cleerline SSF™ SFP Transceivers offer support for 1Gb (SFP) and 10Gb (SFP+) transmissions. Select models support bidirectional transmission over one strand of single mode fiber.
In addition to Media Extension products, Cleerline Technology Group has also introduced:
Cleerline SSF™ LC Connector Clips: LC Clips easily convert individual Cleerline SSF™ LC Connectors to duplex assemblies. Clips color-coded for use with multimode, single mode UPC, and single mode APC connectors.
Planet Waves™ Optical Audio Cables: Fully redesigned Planet Waves™ Optical Cables are also now available in new metered lengths! Shipping in Q4 2021.

Cleerline will also be supplying Cleerline SSF™ Fiber Optic Connectors in 25 packs.
Read the full article to learn more, or contact Cleerline.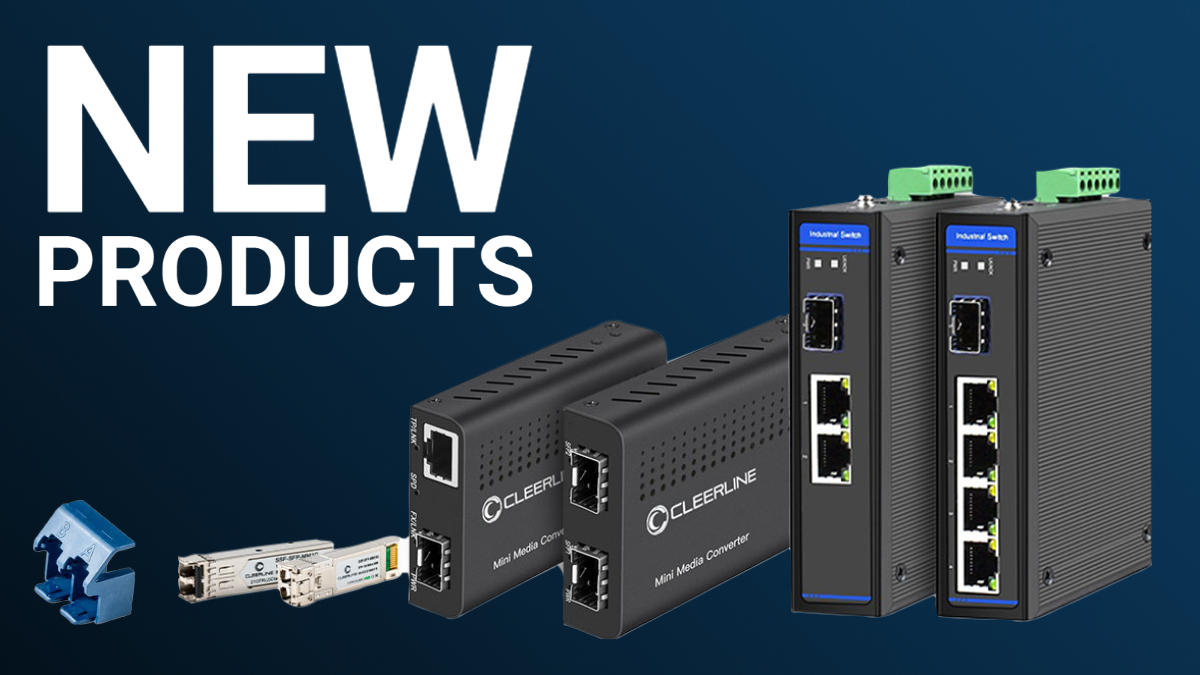 ---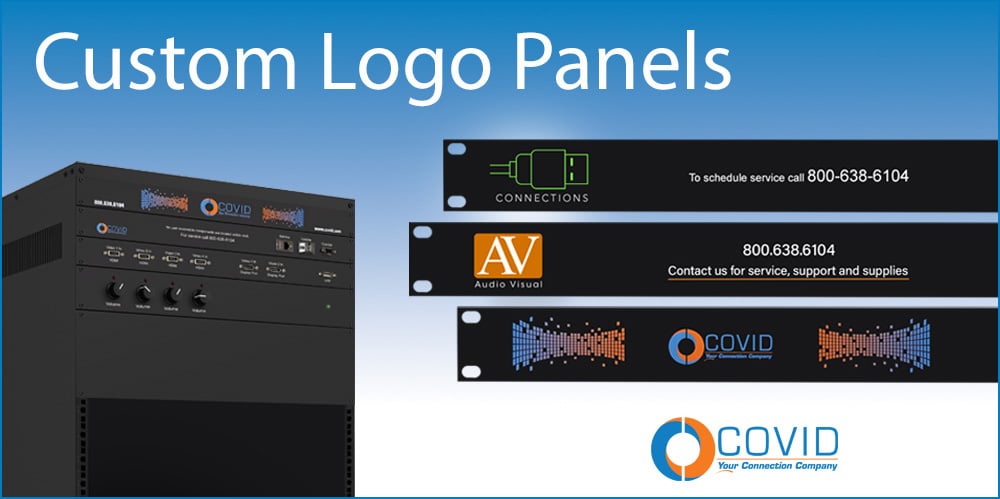 Design custom logo panels to complete your custom AV rack installations.
Covid manufactures plates and panels in house using state-of-the-art UV LED direct graphic printing. Direct graphic printing provides vibrant full-color printing, sharper detail than traditional printing methods, and outstanding solvent and abrasion durability.
For more information contact Covid at 800.638.6104, sales@covid.com or visit www.covid.com.
---

Top 5 Reasons: Why You Need ALR Screen Technology
Ambient light will always be a part of the projection equation.
Ambient light, natural (sunlight) or artificial (interior room lights), can come from any source in a room. In two-piece projection, the only light you want hitting the screen is from the projector. Screen surfaces featuring Ambient Light Rejection (ALR) properties can separate light in the environment from projected light.
Rooms aren't so dark anymore.
Current trends in construction and architecture are focused on open plan layouts that bring natural elements and energy-efficient alternatives like LED lighting without controlling or concealing all the desired light with dimmers or shades.
Dull, washed out images aren't a good look.
Ambient light that falls on a standard projection screen will compete with light from the projector and wash out image contrast, color saturation and dynamic range, affecting the viewing experience.
Da-Lite's Parallax® Family of Market-Leading Ambient Light Rejecting Screen Surfaces are designed to preserve high contrast images in the brightest of environments
The game has evolved. Has yours?
You know you want to be the tech-forward professional! Expand your product portfolio and installation opportunities by offering screen technology that can handle oodles of ambient light.
Product technology continues to evolve.
Whether you're looking for up to 16K ready technology or up to 16 feet (4.9 m) high seamless offerings, Da-Lite's Parallax surfaces fit the bill.
---
DW® SiteWatch™ Motion Detectors
Upgrade your video surveillance system with advanced motion detection. DW SiteWatch motion detectors are NDAA/TAA compliant and perfect for any installation that requires advanced motion detection. The detectors are fully integrated with DW Spectrum® IPVMS and can be controlled and managed remotely from the software.
Learn more at https://digital-watchdog.com/page/SiteWatch/.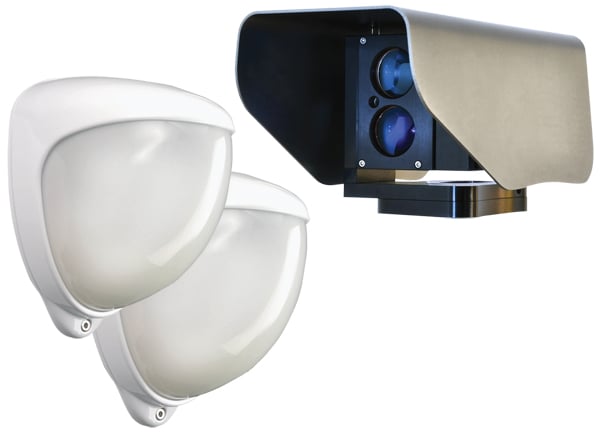 ---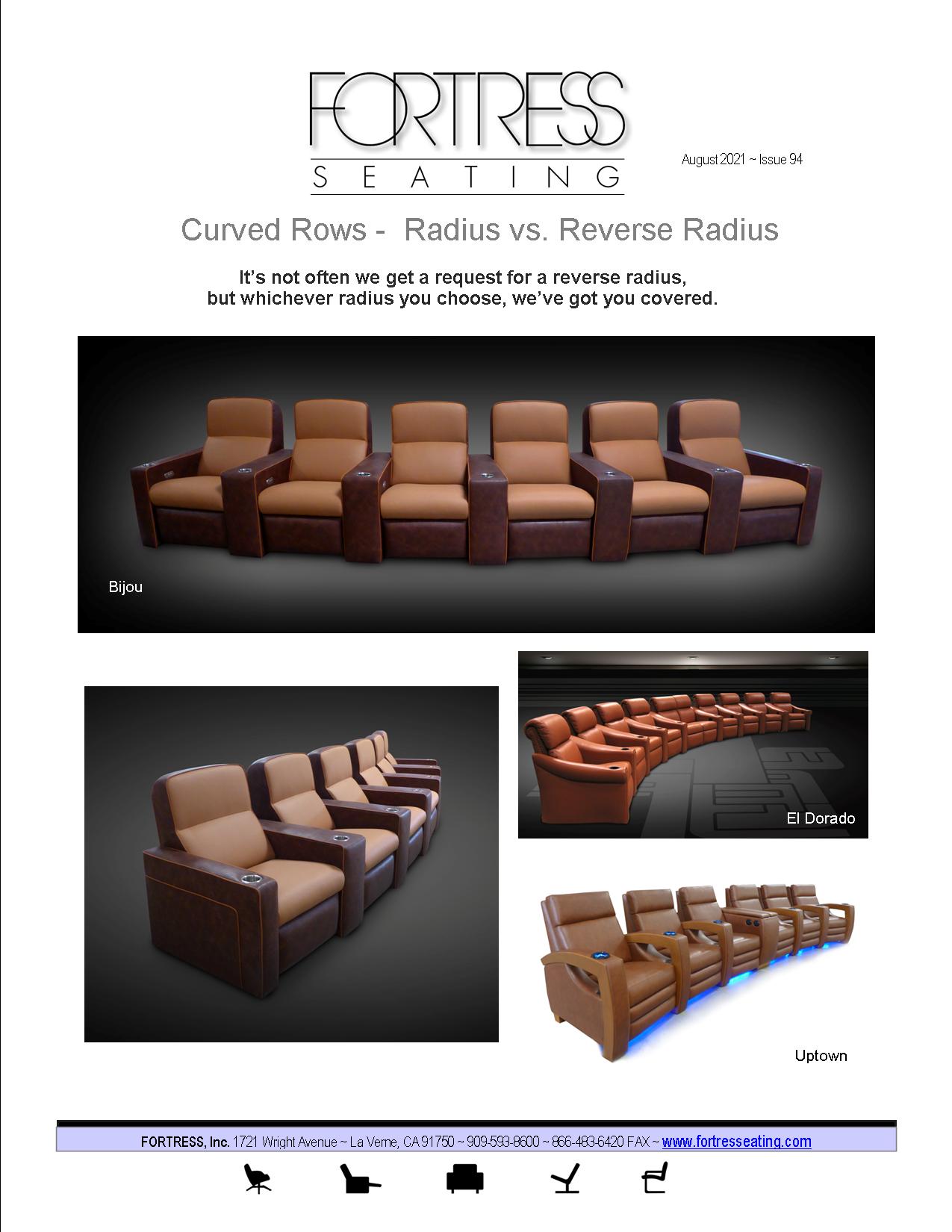 ---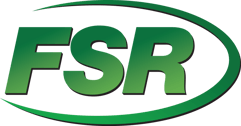 FSR Huddly Camera Mount
The FSR CM-HDLY-J5 camera mount is designed to securely mount a Huddly® IQ® or Go® camera to most wall-mounted monitors. Its .09" slotted aluminum mounting plate is designed to slip in-between any standard wall bracket and most monitors to provide a stable, permanent camera platform that does not rely on magnets, hook and loop fasteners, or simple compression clamps.
The mount can be positioned to locate the camera above or below the monitor with additional adjustability to move the camera in or out and tilt up or down as required by the installation. Versatile mounting slots adapt the mount to all VESA standards from 200x200 to 400x400 and if the VESA threaded mounting holes are 13.25" or less from the edge of the monitor. The CM-HDLY-J5 is the perfect solution for public conference areas or office spaces where additional security is needed.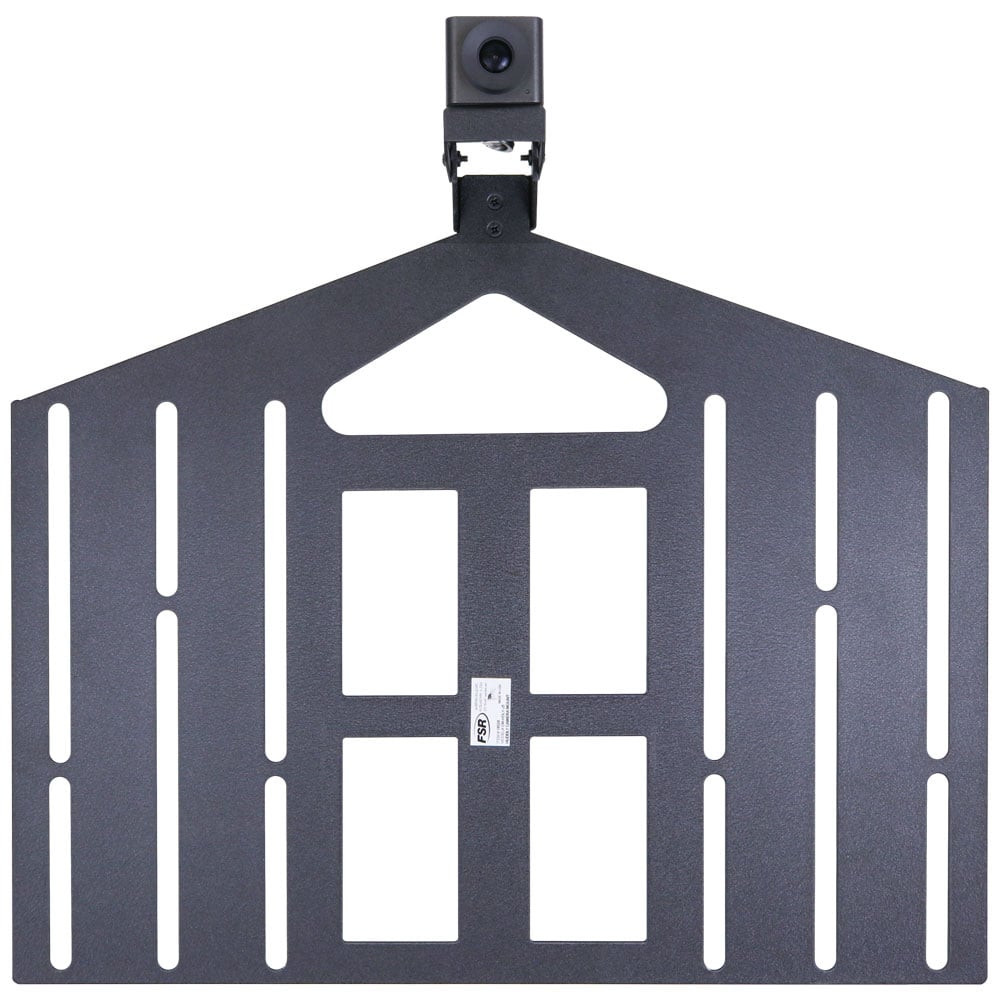 ---

The Original Jabra PanaCast!
Engineered to be the world's first intelligent 180 degree Panoramic-4K plug-and-play video solution. Traditional video conferencing cameras rarely provide the full picture. Jabra PanaCast covers the full 180° field of view.
Jabra PanaCast also works with all leading video and audio conferencing solutions, and is certified for use with Microsoft Teams & Zoom. Be confident that your team can connect, whatever equipment they're using.
Room Insights brings your meeting room data to your desk.
Using data from PeopleCount – our pioneering feature which uses the camera's 180° field of view to count the number of people present in a room – you can improve the utilization of your meeting spaces from the comfort of your office chair. Oh, and you can also make sure people are following local safety guidelines too.
Managing multiple meeting rooms is much easier when you can see how they're being used. Our Room Insights feature, which you'll find within our Jabra Xpress software, allows you to utilize the unique data capture abilities of the Jabra PanaCast to manage your meeting rooms remotely.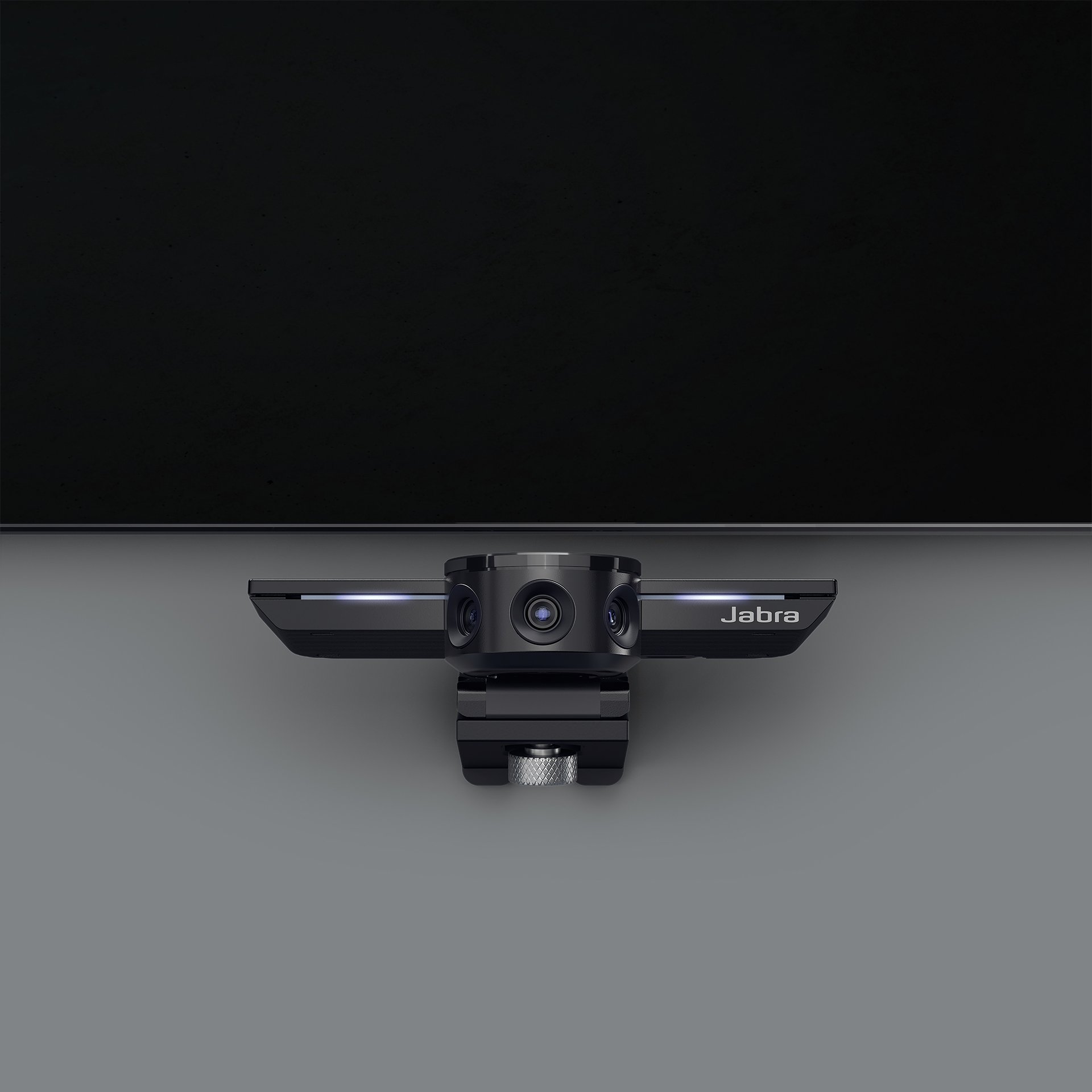 ---

Josh.ai Launches Groundbreaking Partnerships, Products, and Features Designed for Dealers at CEDIA Expo 2021
With Josh Nano and Josh Core coming soon, Josh.ai continues innovating its software while disrupting the industry with key partners.
Josh.ai, the leader in voice control and AI for the custom integration channel, is debuting a number of exciting updates for CEDIA Expo 2021. The company's new features and enhancements, representing the culmination of feedback from its network of more than 700 certified dealers, will now be unveiled in webinars and virtual trainings throughout the fall to supplement the announcements.
Touchless Home Intercom:
Josh.ai is excited to announce that the industry's first touchless home intercom feature will launch this fall. With homeowners communicating to their Josh.ai systems everyday and adding more microphones in key areas of their homes, it was a natural next step to empower families to communicate directly with each other in their living spaces.
Kaleidescape Integration:
The initial Josh.ai and Kaleidescape integration will support Kaleidescape's remote control navigation through Josh.ai's voice and app remote interfaces. Accessing the Kaleidescape remote through Josh.ai will provide access to the trackpad for directional navigation, home and menu buttons, play and pause for content playback, and Strato users will be able to use the keyboard to type in search criteria.
Josh.ai Personality Enhancements:
In an effort to make speaking to Josh.ai more inclusive for users that have previously spoken to other smart assistants, the company has introduced a first of its kind dual wake word that will accept "Hey Josh" or "Ok Josh" to activate its far field microphones. The flexibility to speak more naturally, combined with advanced wake word sensitivity tuning, provides dealers with an even greater arsenal to optimize their client's voice automation experiences.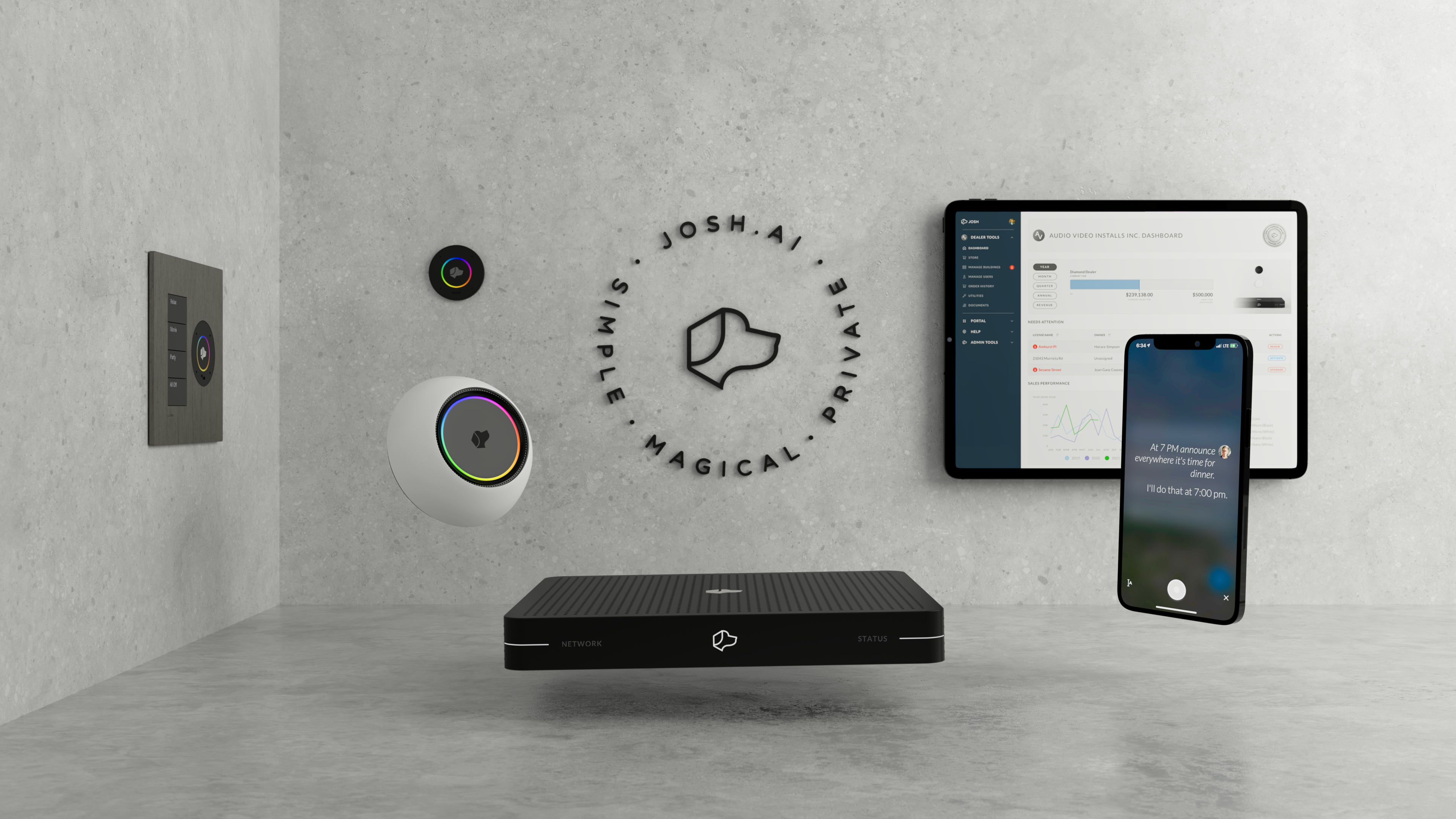 ---

VIA Connect²
Easily Make Any Room a Wireless Hybrid Work or Learning Space
SHARE. ENGAGE. COLLABORATE.
Enterprise
Approximately half of the global workforce has worked remotely since 2020. Hybrid work environments demand flexibility. Organizations need the ability to have their employees, clients, and consultants wirelessly bring their own meetings (BYOM), anywhere, from any device, using any videoconference platform. Whether in the office, at home, halfway across the world, or in-transit, VIA Connect2 enables businesses to turn any room into a huddle space. This fosters collaboration, increases communication, and encourages productivity. Simple, flexible, and secure. VIA Connect2 enables any Windows, Mac, Chromebook, Android, or iOS device to join meetings with enterprise-grade security. It works with any videoconferencing platform and seamlessly integrates with calendar and scheduling tools.
Education
Schools and universities require the flexibility to transform any classroom into a hybrid learning space. By themselves, videoconference software platforms can't do this. VIA Connect2 makes this possible. It empowers school districts and universities to instantly create smart, wireless hybrid education classrooms for in-class and remote learning. Seamlessly stream all collaboration activity from the classroom, use whiteboards, share 4K HD video, and much more, VIA Connect2 strengthens student participation and engagement. The small, easy-to-use, and secure device fosters engagement among students and teachers. Anyone with a mobile connection can attend class using a mobile device, desktop, or notebook computer. From home, school, or the dormitory. Students and teachers can seamlessly integrate schedules into their calendars and attend class with one click!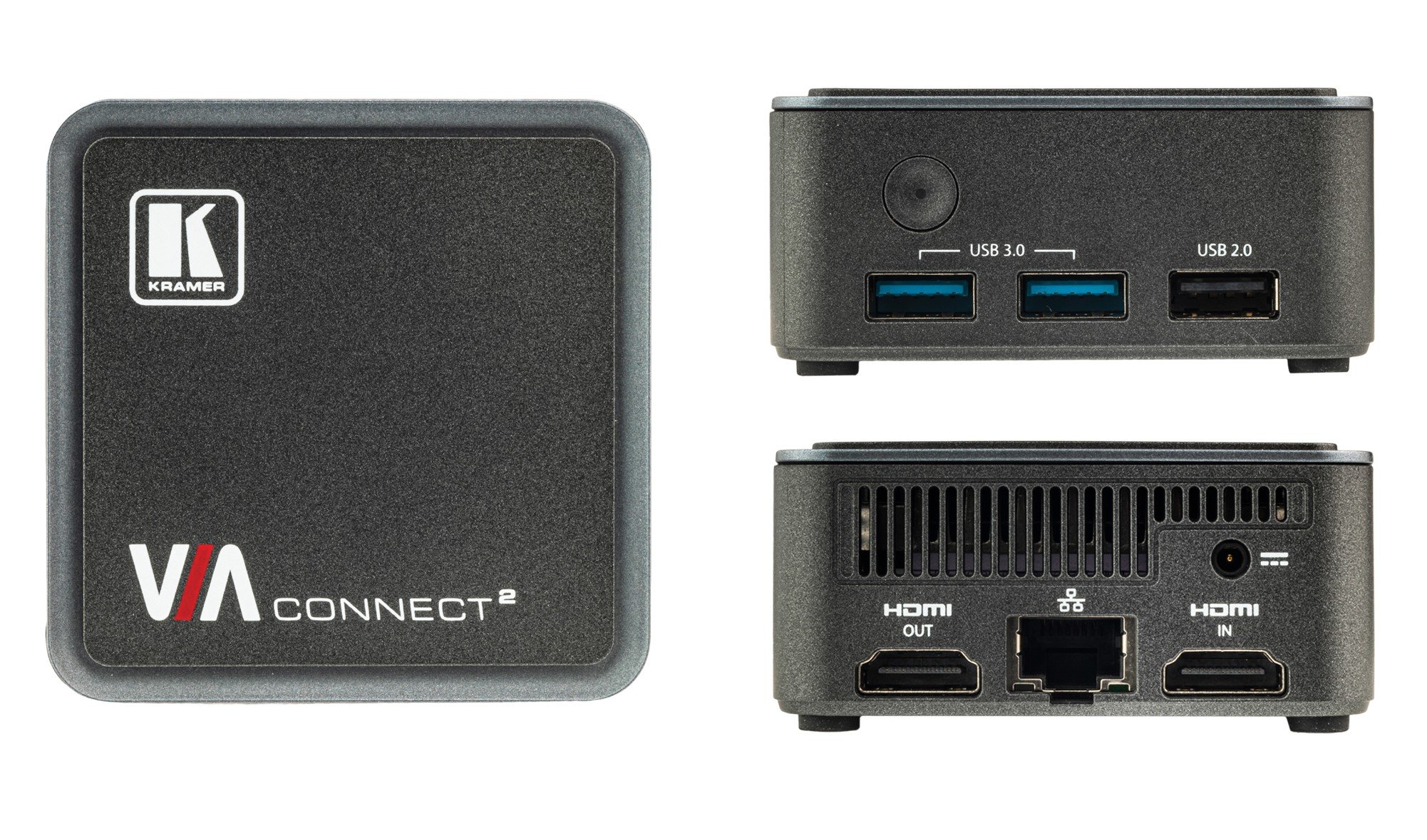 ---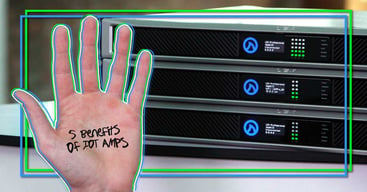 Why Should I Use Smart Amps In My AV Systems?
System integrators are making the switch from traditional power amplifiers to our CONNECTSERIES smart amps. While supply issues from their current amp providers might be the reason for the switch, the feedback has been unanimous – our smart amps are an integration game-changer. See the benefits of IoT-enabled smart amps for yourself and learn why the CONNECTSERIES has become a "go-to" solution for integrators around the globe. Get More!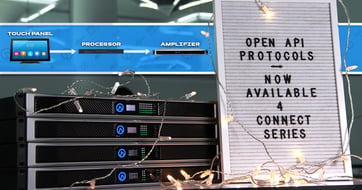 Integrating Smart Amps Into Your Systems Is Easy With Our Open API Protocols
No matter what systems you design, spec, or build, you can easily integrate CONNECTSERIES smart amps using our open API protocols via TCP & Websockets. We've made it even simpler by working with providers like Crestron, Extron, Utelogy, Q-Sys, Atlona Velocity, and Barco to create free API drivers that you can download directly from our website. Get More!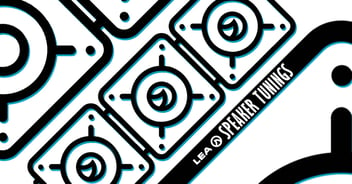 Reduce System Configuration Time With Our Free Speaker Tunings
Our expert team of techs have worked countless hours creating speaker tunings for our amps so that you don't have to. Download tunings for select speaker models from JBL, Bose, Martin Audio, Sonance, Sonance Commercial, and more. Then simply upload the speaker tuning file to a CONNECTSERIES amp to instantly configure the amp to your speakers based on your speaker manufacturers specifications. Get More!
---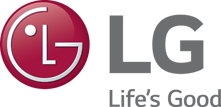 The LG Direct View LED Home Cinema Display
The LG indoor fine-pitch direct view LED (DVLED) home cinema display is LG's first-ever DVLED display series designed specifically for high-end residential installations. It allows viewers to immerse themselves in the captivating brilliance, vibrant color, wide contrast ratio, and breathtaking screen sizes of their very own home theater in any room they choose – even those with bright sunlight! Available in various sizes and performance levels, LG's home cinema displays take the guess work out of configuring which DVLED screen is right for each consumer. From 2K to 8K configurations with screen sizes from 108-inches to a show stopping 325-inches, these solutions come with virtually everything customers need, except the popcorn.
That includes LG direct view LED panels, 5% spare modules, spare boards, parts and a service tool. All of this ships in a custom branded, wheeled flight case to protect the display when it has to be moved. Plus, every DVLED Home Cinema Display comes with exceptional warranty and services, including a 5-year ExtendedCare Warranty, 3 years of LG TotalCare Health Checks and a 3-year subscription to LG ConnectedCare.
For more information about the LG Direct View LED Home Cinema Display, check the LG website at https://www.lg.com/us/business/direct-view-led-home-cinema-display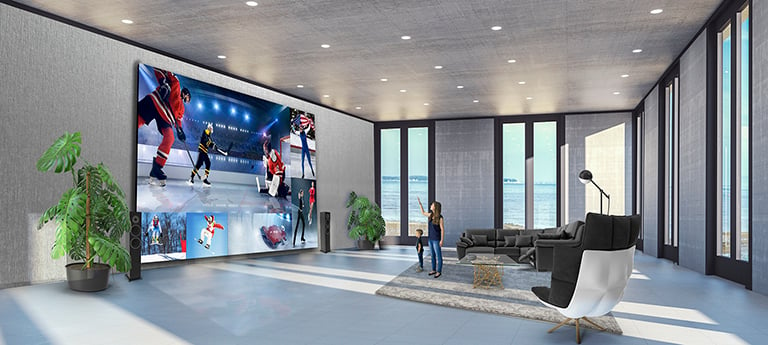 ---

Seven is now more than your lucky number — it's our newest TeamUp+ USB Hub 3.0 with seven ports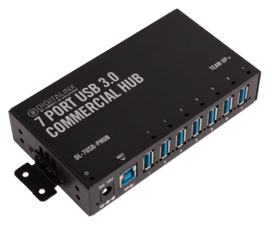 Introducing the "New" TeamUp+ Series 7-Port USB 3.0 Commercial Hub
Expand from one USB port to seven — each ready and capable with 3.0 technology and data speeds of 5gbps. Seven more reasons to connect these USB peripherals to a laptop, personal computer, webcams, and more.
Increase productivity seven ways, seven days a week, because you have seven USB ports eliminating the annoyance of swapping connected devices on your port-limited laptop. Connect seven ways and simultaneously charge with full USB 3.0 power.
Add this superfast 7-port USB to the TeamUp+ Series product lineup that tucks tidily under a conference table or behind a display.
We give you seven more reasons to connect up, charge up with another novel product from the TeamUp+ Series.
Completely plug and play: NO additional driver or software required to be recognized by the computer.
Complete the installation of the DL-7USB-PHUB with Liberty AV's extensive range of hybrid, optical, and premium cables. Don't stop there — check out our entire line of USB solutions today!
Contact your Liberty AV Solutions team for more information.
---

Monitor Audio Controlled Performance (CP) Series
Monitor Audio's Controlled Performance (CP) Series of in-ceiling and in-wall speakers have been developed using the advanced driver technologies from their award-winning box speaker ranges and come fitted with fully-sealed back boxes for optimum audio performance.
Featuring a total of 13 models ranging from compact in-ceiling and LCR models, to full-size luxury in-walls, the CP Series guarantees excellent audio quality and versatility while providing a superior level of sound isolation between rooms and floors.
Fully-Sealed Back Boxes
The CP Speaker back boxes provide an ideal air load for the drivers, optimizing mid-range and bass performance while maintaining sonic consistency regardless of interior wall construction. These rigid, mineral filled enclosures reduce the sound from the back of the cabinet by around 30 dB. The airtight enclosure design also protects each precision-engineered driver system against the damaging ingress of dust and dirt.
Full Size Luxury In-Walls
The CP Series includes two full-size luxury in-wall models combining Monitor Audio's high performance driver technology in compact three-way, five driver (B-M-T-M-B) configurations, built into cast polymer closed-box enclosures which provide a high degree of rigidity and acoustic damping properties. The CP-IW260X features Monitor Audio's signature C-CAM drivers and C-CAM Gold Dome tweeter, while the CP-IW460X takes things up a notch with Monitor Audio's RST 'dimpled' cone driver technology and rotating C-CAM Ribbon High Frequency transducer from their award winning Platinum and Gold ranges.
LIFETIME Warranty
Every CP speaker model is covered by a LIFETIME warranty, which provides both you and your customers with peace of mind and guarantees a never ending flow of hi-fi audio.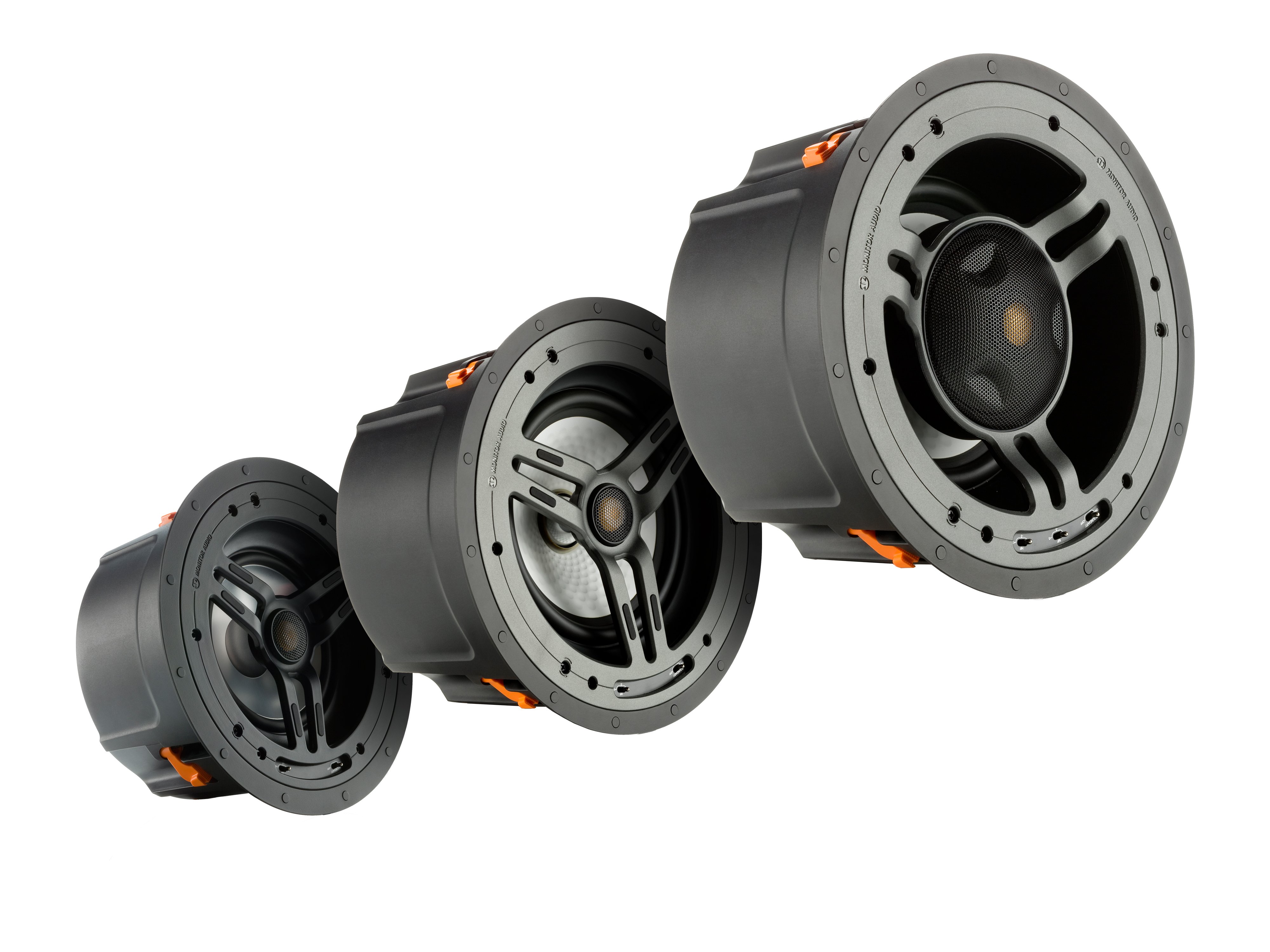 ---

Model 500786
Single Camera Live Streaming Solution
MuxLab's breakthrough live streaming solution is now available for shipping. The Single Camera Live Streaming Kit allows you to easily stream your audio and video content from any location to unlimited viewers across the globe in minutes. Kit includes the main components needed to broadcast live content to mass recipients spread out across the globe. The solution allows live presentations to effectively be streamed over the Internet at up to 4K, and can work with industry standard broadcast streaming services such as YouTube, Facebook, Wowza, to name a few, and also works with popular Audio/Video content production software tools such as OBS, Wirecast, and others.
Manage with the MuxStream Software and App which are available for free to all users. The kit comes complete with an AV over IP H.264/H.265 4K Transmitter to stream content to Broadcasting Services, an HDMI/IP PTZ camera @ 1080p/60, a wireless Mic, and a 6.6ft (2m) Premium Certified HDMI 2.0 cable.
The MuxLab MuxStream Control App is free to download, available for iOS and Android tablets, and Windows PC. The Control App manages the system setup, configures the Transmitter to stream to various broadcast services such as YouTube, Facebook and Wowza, and manages camera settings (such as PTZ). The AV over IP H.264/H.265 4K Transmitter supports up to 4K video @ 30Hz and may be located up to 330ft (100m) from an Ethernet network switch and supports PoE (but a PSU is included) and supports low bandwidth for streaming AV content over the Internet.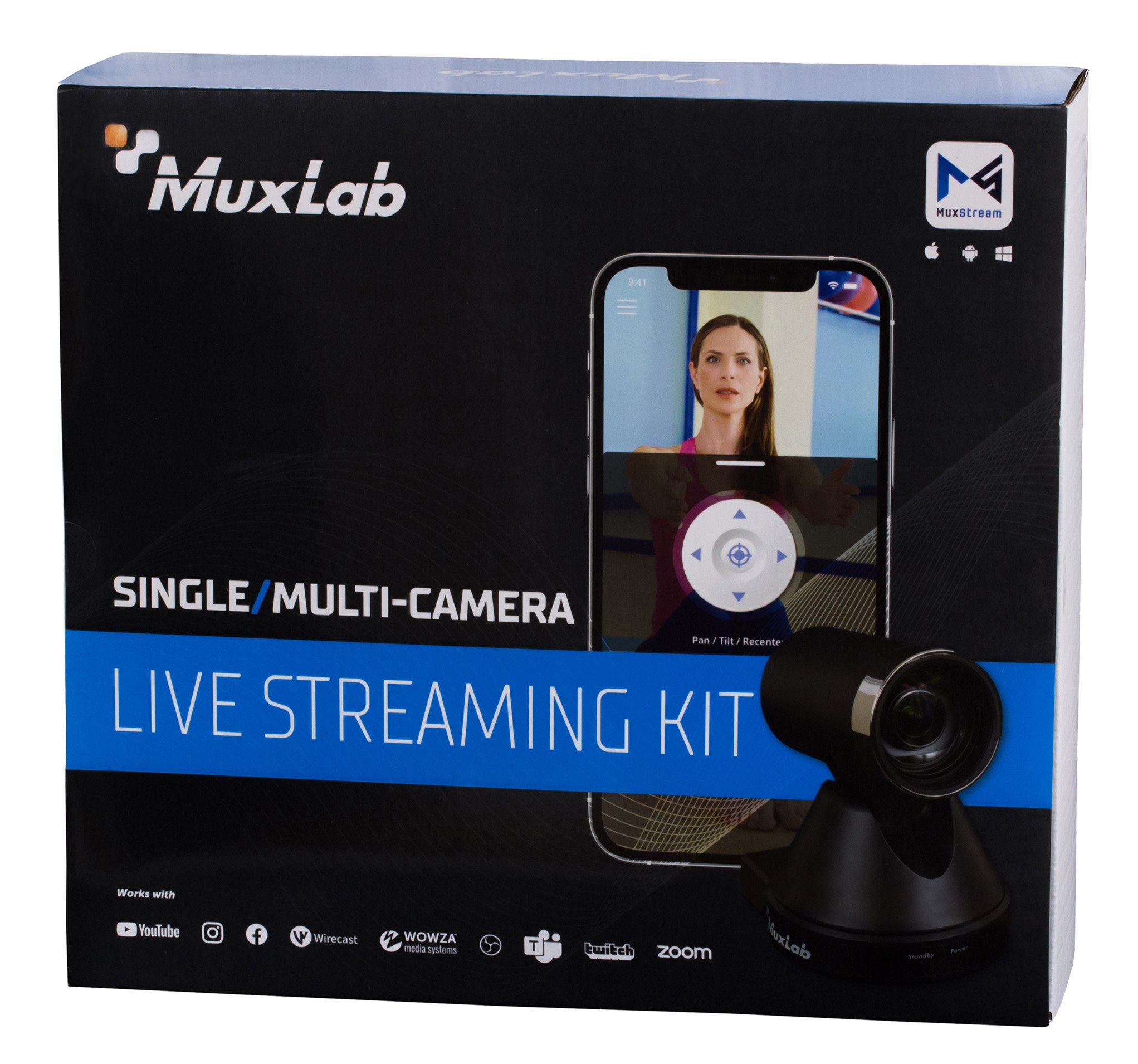 ---

Platinum Tools NetXpert XG2 10G Network Tester
Platinum Tools is proud to announce the launch of its new NetXpert XG2, providing 10G speed certification over copper and fiber, and complete network testing over copper, fiber, and Wi-Fi systems. Now shipping, the NetXpert XG2 has an MSRP of $7,135 for copper and $11,545 for fiber.
"The NetXpert XG2 sets a new standard in versatility and value for cable and network testing," said Sean Rothermel, Platinum Tools product manager. "With Cat6A rapidly gaining dominance, a tester capable of certifying networks to 10G speeds has become more of a necessity. With the NetXpert XG2, we have a single device that performs 10G speed certification, as well as all the network tests you need on copper, fiber, and Wi-Fi systems, even PoE testing up to the PoE type 4 standard. This eliminates the need to buy or carry multiple testers for various jobs."
In addition, a highly desired and rare key feature is the XG2's future upgradeability, with new firmware able to be loaded by the end-user via USB or Wi-Fi. "This capability makes the XG2 even more valuable as the investment in this product does not end when future technologies would render most other units obsolete," Rothermel added. "Upgrading new firmware will allow the XG2 to be used for years while keeping up with current technological necessities."
Features and specifications include:
Speed certification to 10G over copper and fiber
Cable qualification to IEEE standards
Active network testing over copper, fiber and wi-fi
PoE testing up to 90W (PoE type 4)
Complete reporting in multiple formats
Full color seven-inch touchscreen
Convenient form factor with comfortable hand straps and built-in kickstand
Rechargeable, upgradeable lithium battery pack
Field-replaceable RJ45 port, dual SFP+ ports, USB port
Easy software updates for future feature expansion
Dimensions: 9.75in. x 7in. x 3in.
Weight: 2.65 lbs.
For additional information, please visit www.platinumtools.com, call (800) 749-5783, or email info@platinumtools.com.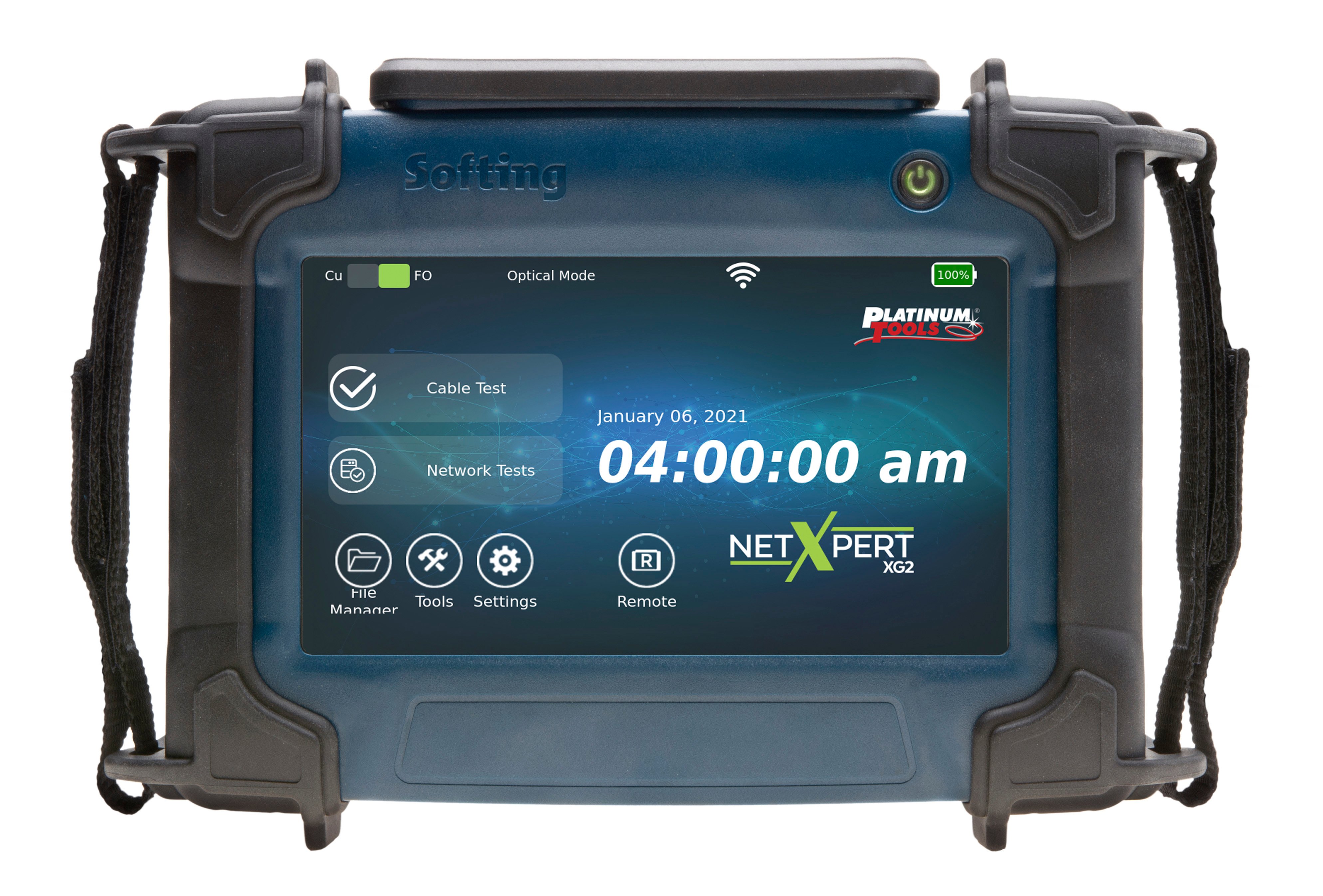 ---

QSC Communities for Developers

In May, QSC announced the launch of "QSC Communities for Developers". It enables an engaged and scalable technical community of professionals and organizations to come together to collaborate, create and deliver on the "art of the possible" with the Q-SYS Ecosystem. Through this new platform, a community of active "citizens" will have access to a wide array of unique development tools, direct access to QSC engineers and valued ecosystem partners, and an online forum to exchange ideas with colleagues around the world.
QSC Communities for Developers is a one-stop shop with fully searchable access to any Q-SYS development resources including a growing library of approved plugins, code exchange, sample scripts, design files, and user components, as well as an advanced Q-SYS SDK help system. It also offers access to private and public forums, ideation groups offering the opportunity to share cutting-edge ideas and problem solve with peers, QSC advanced application engineers, and valued ecosystem partners.
"We looked to create a modern development platform where AV and IT users can come together in an authentic way, learn from each other and speak freely with QSC experts," says Greg Mattson, Product Manager, Q-SYS Control, QSC. "It will also serve as an incubator for some of the brightest minds (and ideas) in our industry. We have always looked at Q-SYS as AV's great hivemind. The best ideas have always come from our developers and users, and we hope they use the platform to propel their systems and their developer careers while serving the greater good of the community and the Q-SYS Ecosystem."
Thousands of QSC "citizens" have already joined the neighborhood. QSC Communities is open to any Q-SYS developers and aspiring citizens can learn more and register to join at developers.qsc.com.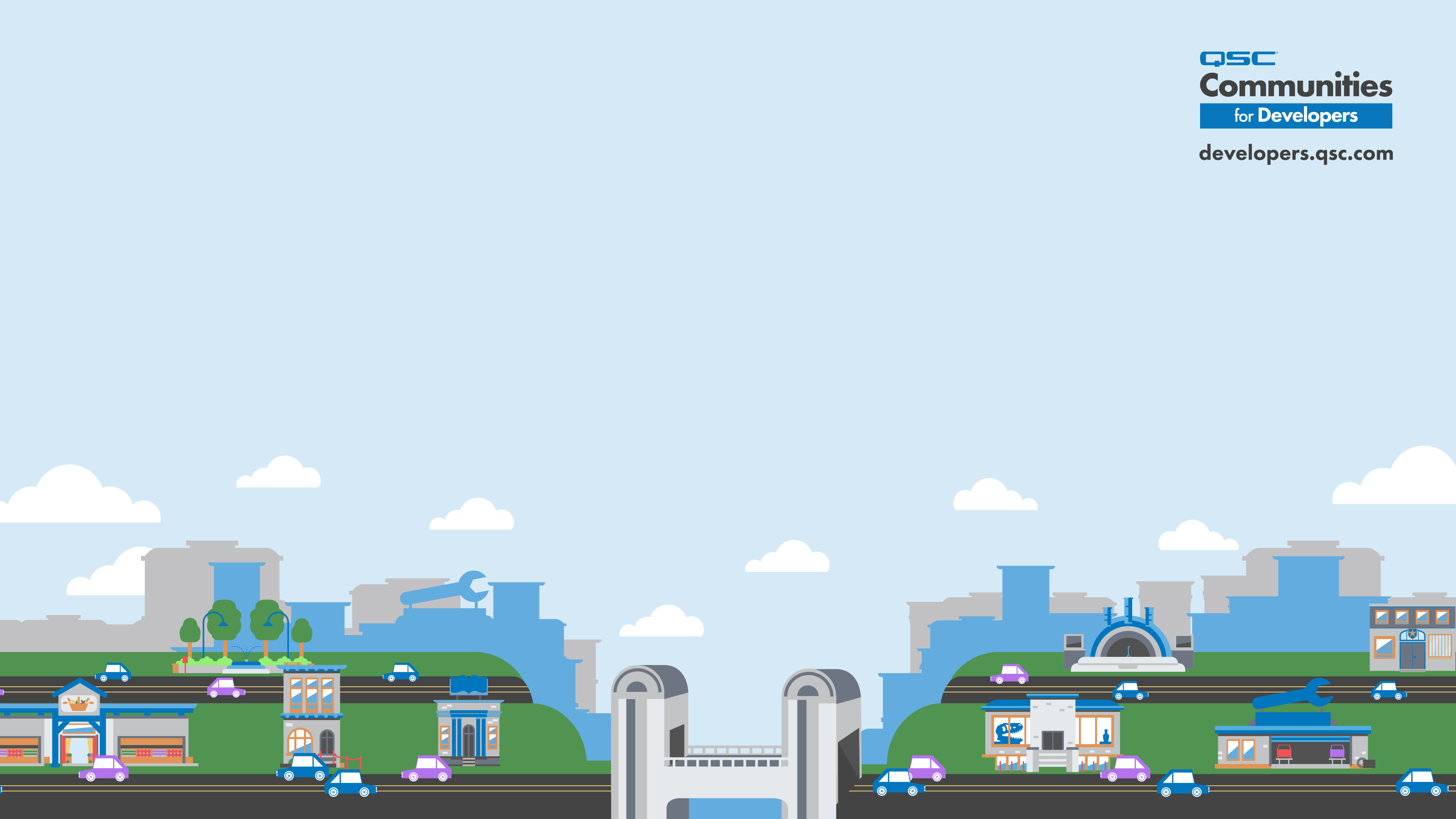 ---

RTI Elevates the Audio Streaming Experience With RTI Music
New MS-3 Music Streamer Enables Native Control of Streaming Services from RTI Systems
RTI Music is designed so that you can deliver an exceptional streaming experience with native control through any RTI control system. For home or business owners, RTI Music is an entirely seamless control experience, eliminating the need — for example — to exit the control app to search for music and access a playlist. With RTI Music, users can stream high-res audio into any room from their favorite platform or from their local NAS with a simple tap on a touch panel, remote or their favorite mobile device
RTI Music supports three concurrent streams from sources including Pandora, Spotify, iHeart Radio, SiriusXM, SiriusXM for Business, SoundMachine, and TuneIn. The AirPlay interface enables streaming from Apple Music and Amazon Music. The Music Queue features a play now, play later, and play soon options to build an on-the-fly song queue while the Favorites playlists integrate songs from multiple services and local devices.
RTI Music operates natively within the RTI control system, making it easy to access playlists and search favorite songs, artists, and albums on favorite services, and then direct the music to the room(s) of choice. A music collection on a local NAS drive or computer can be accessed and fully integrated with support for lossless audio (FLAC and ALAC) formats. The three streams in the MS-3 can keep the whole family engaged, while the lossless audio capability and local drive access can satisfy the audiophile.
RTi Music and the MS-3 Music Streamer are designed with the integrator in mind. When connected, the RTI Integration Designer programming platform will automatically discover the MS-3 while the configuration utility makes it simple to setup homeowner's music accounts. The 1U chassis MS-3 pairs with RTI audio distribution systems for seamless audio throughout the home.
More information about RTI Music and the MS-3 is available at www.rticontrol.com/rti-music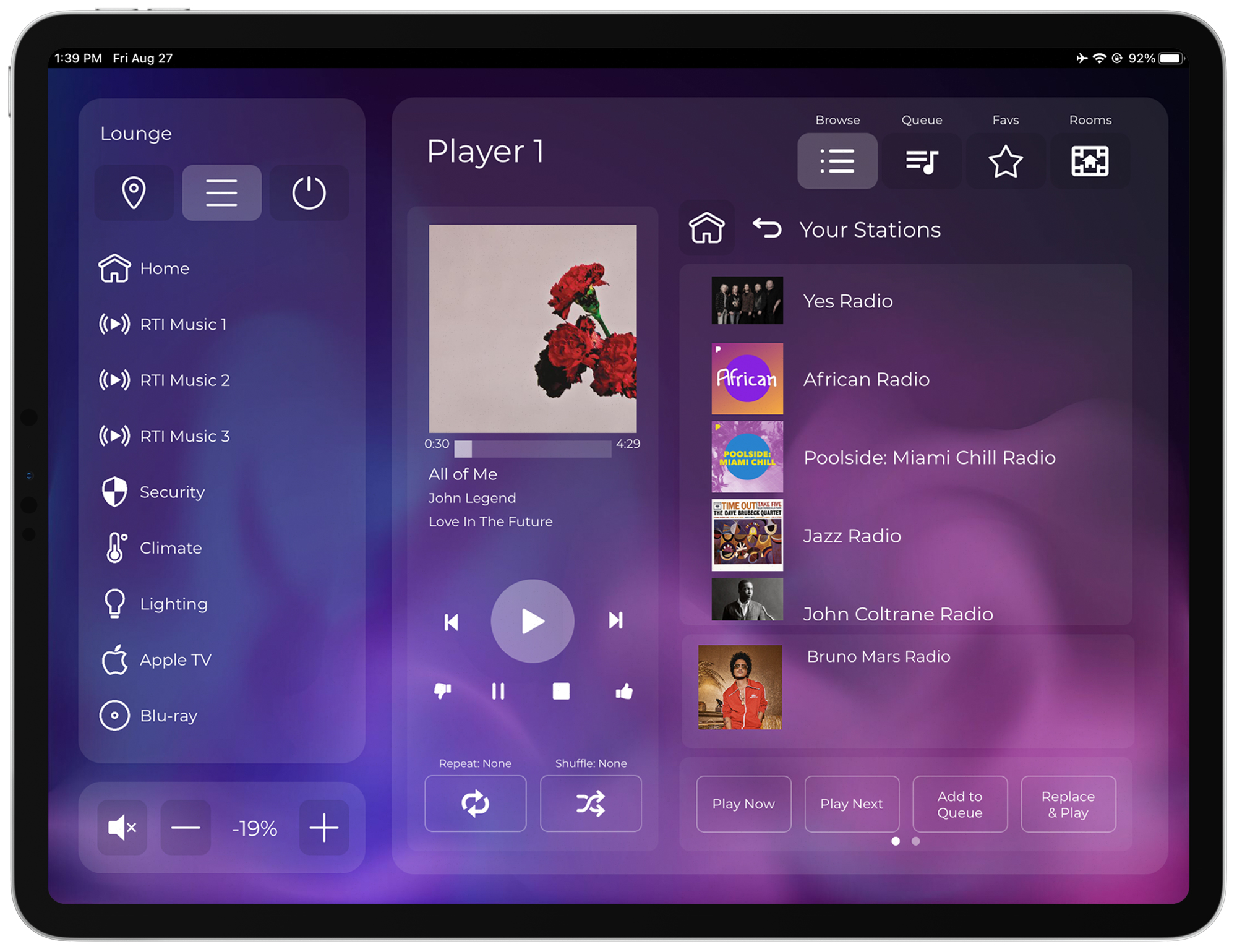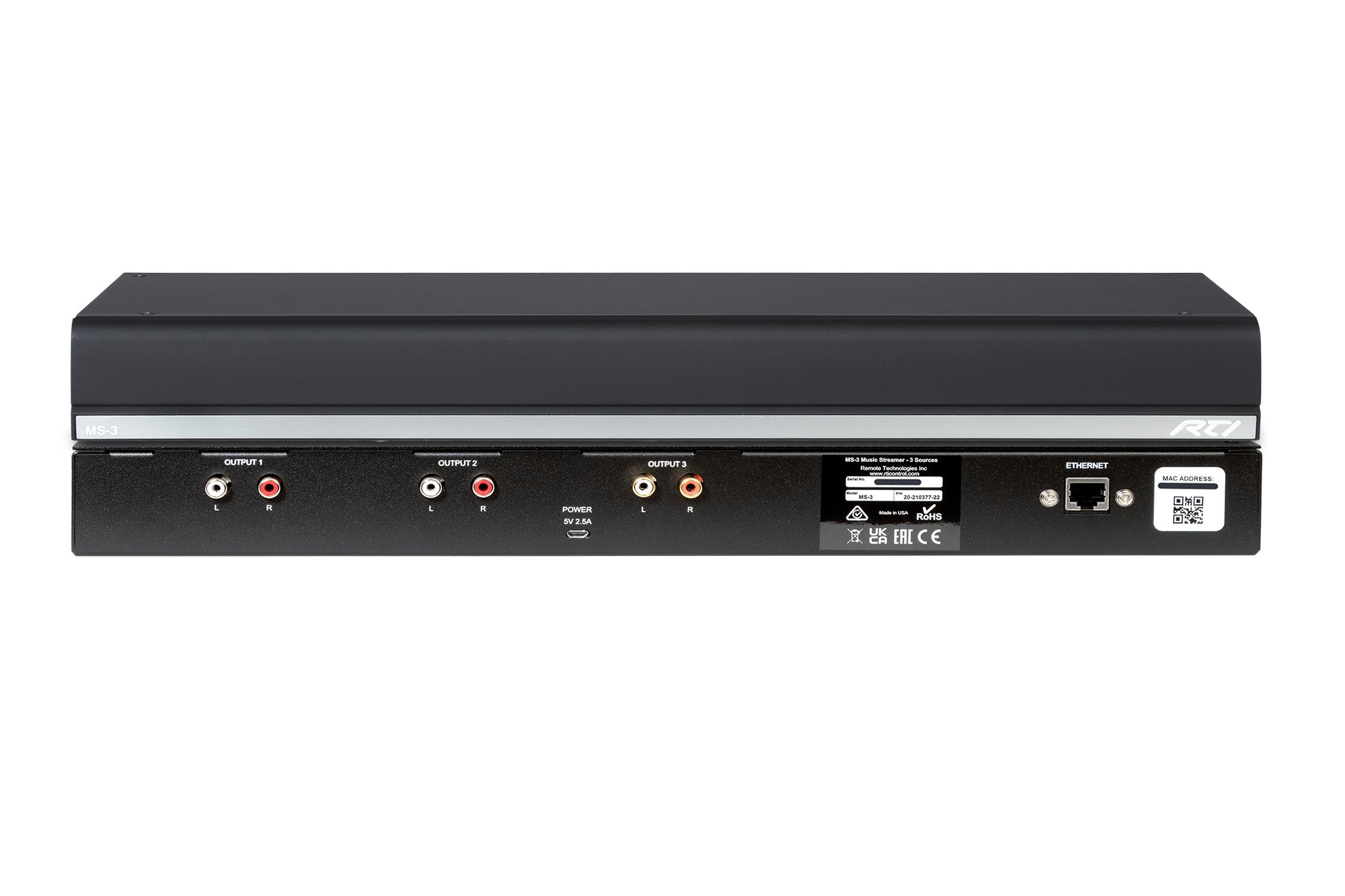 ---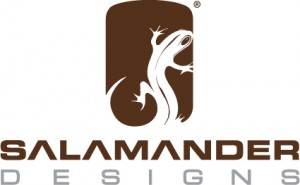 Just announced! With the arrival of the Samsung UST Projectors LSP7TF and LSP9TF, comes this specially designed new, turnkey Salamander and Samsung Integrated UST Projector Cabinet, offered in multiple colors and styles. This beautiful solution brings clients a seamless "all-in-one" video system that simplifies every installation. Thrill clients by eliminating the need to open walls or ceilings to run cables. Designed with a perfect flush top surface and recessed projector cavity, it delivers a more elegant solution with easy access to components and wiring. Supporting components are enclosed in the Cabinet to provide a stunning, seamless appearance to suit any décor.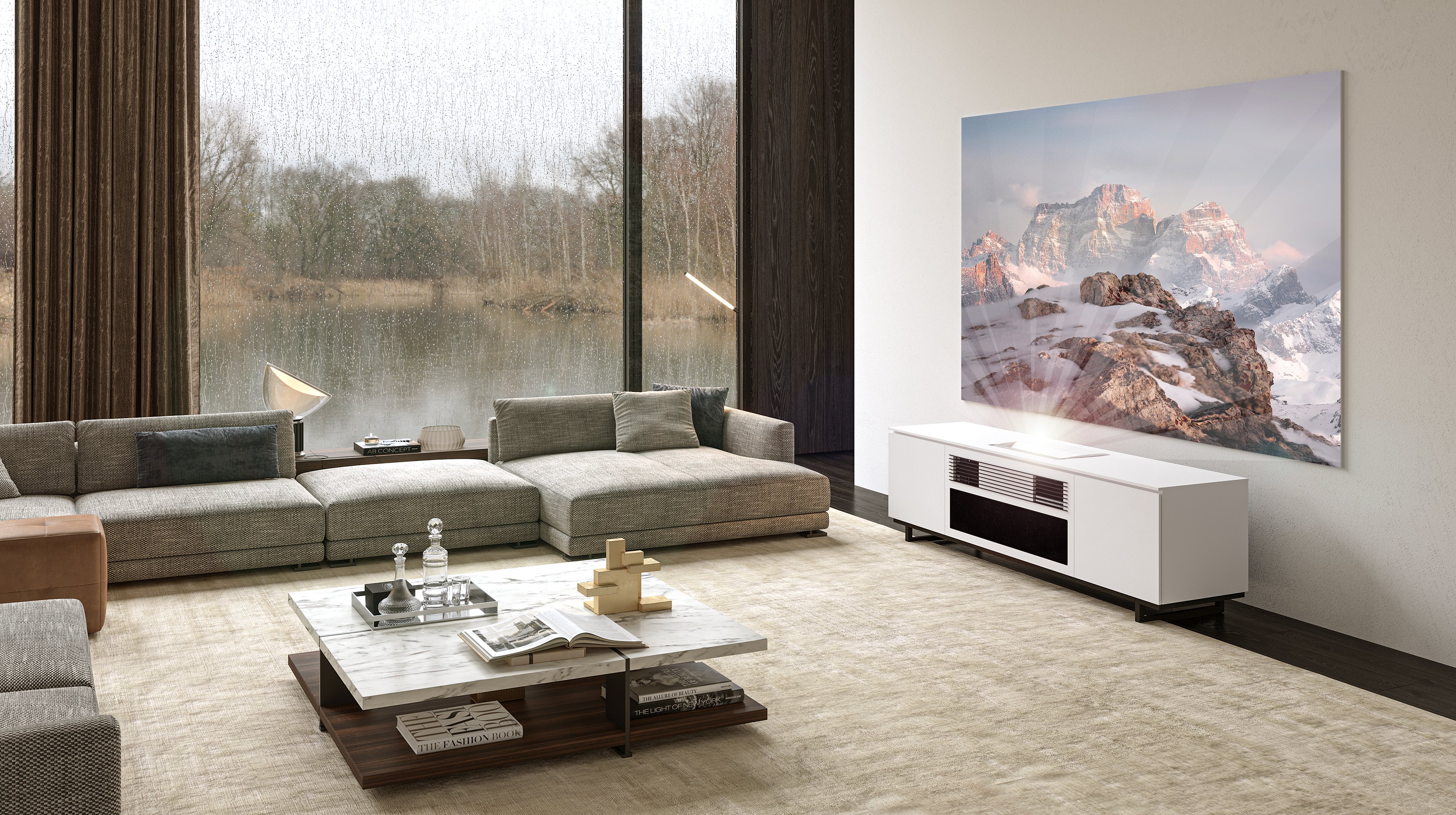 ---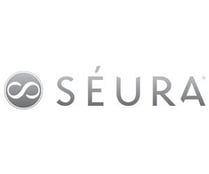 Séura® Redefines the Visual Experience with New, 2000-Nit Full Sun Televisions for Personal Outdoor Home Theaters.
With a mission to revolutionize your personal environment, Séura® advances the industry yet again with the latest release of their Full Sun Series™ outdoor televisions, which outperform anything on the market in terms of extraordinary picture quality, remarkable weatherproofing, loftier screen size, and more.
An unbelievable 2000-nit brightness comes color-calibrated for ideal picture settings in both shade and full sun, plus the immersive experience of 4K UHD resolution offers exquisite picture clarity that blurs the boundaries of reality. Vivid color and lifelike images are further intensified by the high dynamic range (HDR)—so while you're not actually on screen, you may feel as though you are.
Rooted in contemporary design, Full Sun Series™ televisions are a striking addition to your outdoor home décor with thoughtful details like narrow bezels, mirrored side panels, clean lines, and a sleek profile. Because this series comes in screen sizes up to 85-inches, this means Séura leads the industry by offering the largest full-sun outdoor TV.
The Full Sun Series™ is built to bask in direct sunlight, waterproof to a high IP55 rating, tested to thrive in any kind of year-round weather, and fully sealed to keep out rain, snow, ice, and dust. Designed with Extreme Temperature Protection™, you get an ultra-quiet system that automatically heats and cools to endure temperatures from -40°F to 140°F. Superior blackout and UV protection prevents the summer sun from cooking the display, so you'll never have to worry about dark spots or overheating. The entire television is engineered with top safety standards to prevent corrosion and protect against fire and electrical shock. Séura leads the industry with a 2-year warranty, which provides you with worry-free performance for reliable and safe entertainment. To learn more, visit www.seura.com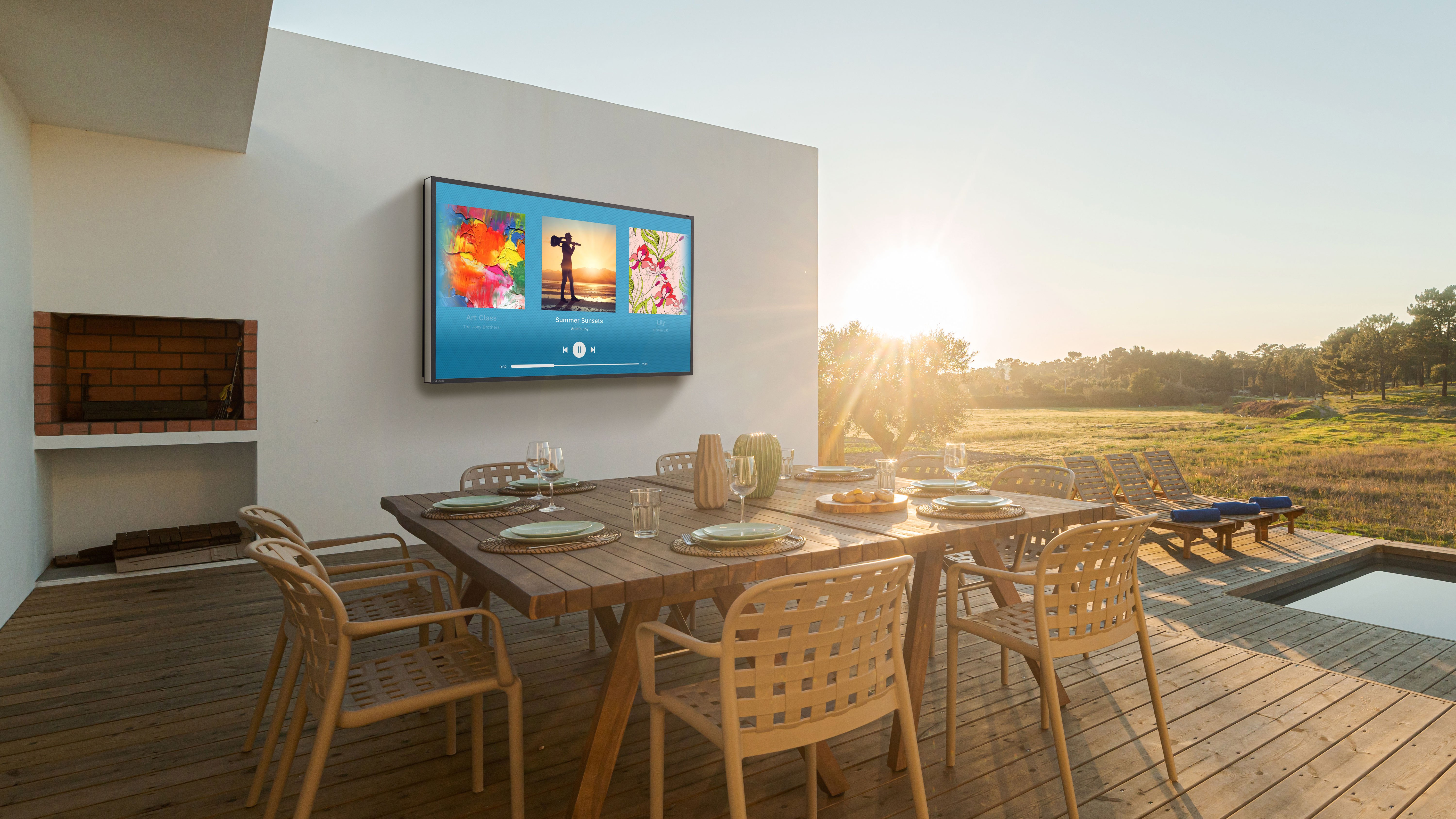 ---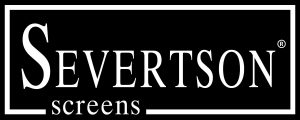 Severtson Screens Launches Cable Drop Series of Motorized Projection Screens
Severtson Screens new Cable Drop Series of electric motorized projection screens (model CDT) is now available in multiple projection surfaces and sizes to meet the needs of large venue installations.
"Our new Cable Drop Series is a collection of motorized electric screens that drop down on a thin steel cable, providing a clean look and versatile viewing experience," explained Aaron White, Home Theater & Pro AV sales lead at Severtson Corp. "This unique system enables the screen to be lowered from very high ceilings in large venues, and eliminates the need for a large black drop area. The Severtson Tab Tension system also ensures that the screen's viewing area will be flat. The industrial look of the Cable Drop Series makes it the perfect choice for performance halls, churches, and other large venues."
The new line can be operated in multiple convenient ways. The included wireless handheld RF remote control allows wireless control, the 5-12 volt trigger connection allows the Cable Drop Series to be automatically synchronized with the power cycle of a compatible projector, and RS-232 control enables advanced control of all screen functions. The powerful motor provides smooth operation, extended durability, and reliable performance.
The Cable Drop Series is available in a number of Severtson's quality projection surfaces*, including:
Cinema White (1.3 gain)
Cinema Grey (1.0 gain) (max 220in. at 16:9 aspect ratio)
High Contrast Grey [HCNC] (0.7 gain) (max 168in. at 16:9 aspect ratio)
Rear Projection (0.8 gain) (max 265in. at 16:9 aspect ratio)
*coatings and perforation may also be available. Contact a Severtson sales representative for more information.
Additional features include:
12volt trigger connection via 3.5mm jack
Trigger cable
Power cable
Limit switch adjustment tool
Stylish cable drop mechanism
High gain white material provides industry-leading visual performance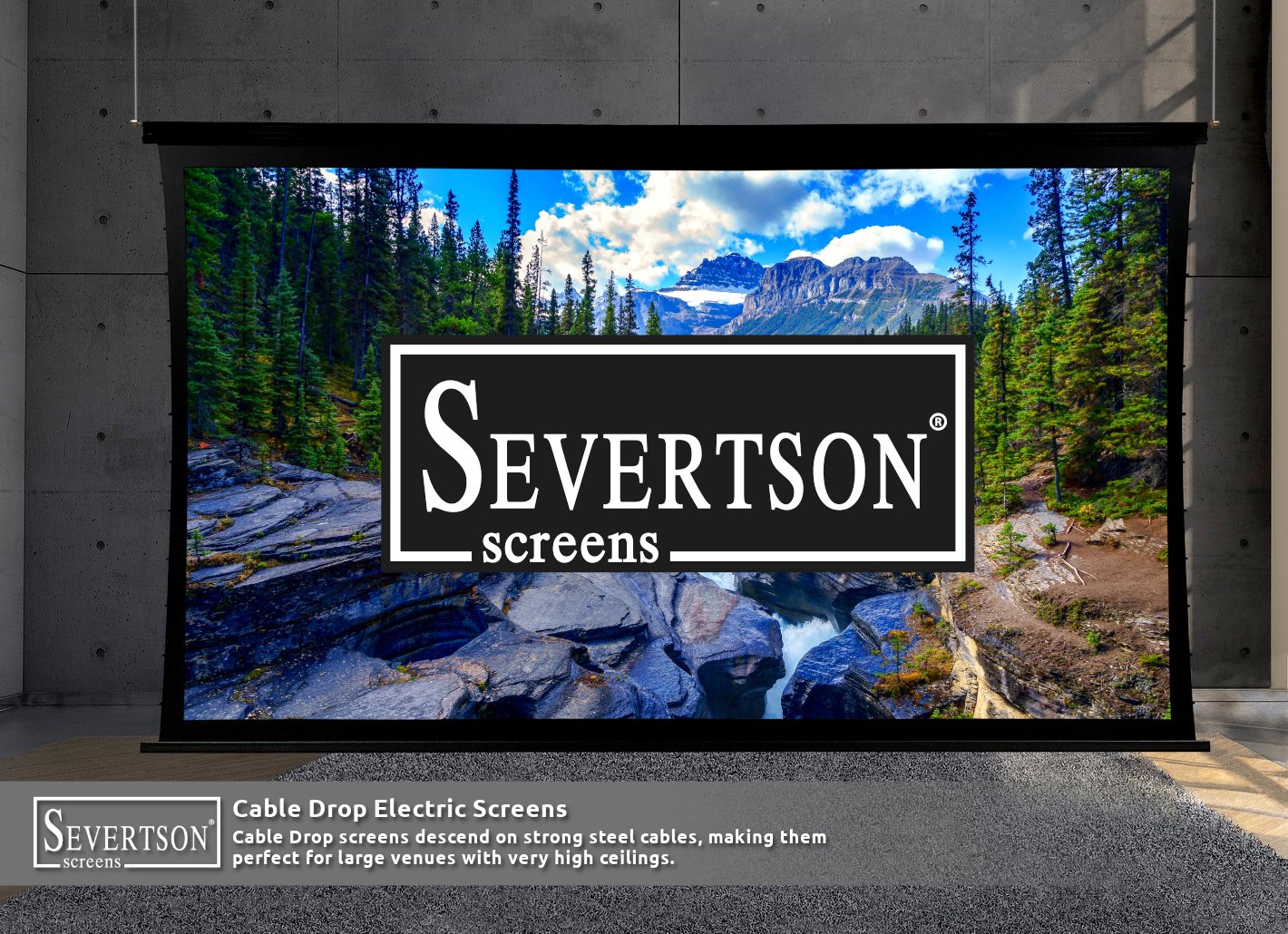 ---

Native immersive experience with Spatial
Spatial, the immersive audio experience company that is reinventing sound and Steinway Lyngdorf today announced at CEDIA Expo a game-changing native digital integration between Spatial's real-time immersive audio engine and Steinway Lyngdorf's unsurpassed processor audio experience. The integration promises to provide audiophiles and home-theater system owners with deeper, immersive sound that will not only reproduce the sound to its truest fidelity, but will also transport listeners to another place, moment or time. "We've been working closely with the Steinway Lyngdorf team to break traditional installation constraints," said Calin Pacurariu, Co-Founder and CEO, Spatial. "Our clients, modern architects, and space designers demand flexible layouts for interior and exterior spaces across estates. Spatial's new native integration with Steinway Lyngdorf enables designs that otherwise wouldn't be possible."
"Spatial's deep real-time immersion combined with Steinway Lyngdorf's unparalleled processing performance brings a unique approach to sound in the smart home industry," said Thomas Birkelund, CEO, Steinway Lyngdorf. "Combining our technical expertise and strengths provides our respective customers a first-of-its-kind product that delivers an unmatched audio experience."
Crafting Next-Gen Sound Experiences
Spatial Reality engine is built on an object-driven platform that operates on modern Mac and Linux systems. The program is free of rigid requirements like speaker location or the size/shape of a space. Designers using Spatial playback can connect and assign a variety of audio outputs and inputs to prepare believable soundscapes in real-time, and scenes can scale and adapt to each location with natural physics and complex object behaviors that allow for 24:7 dynamic experiences. Spatial Reality runs on a dedicated Mac that is connected digitally via AES67 to Lyngdorf MP-60 2.1 surround sound processor or Steinway & Sons P300 2.1 ultimate performance processor.
Read the whole press release here: https://lyngdorf.steinwaylyngdorf.com/native-immersive-experience-with-spatial/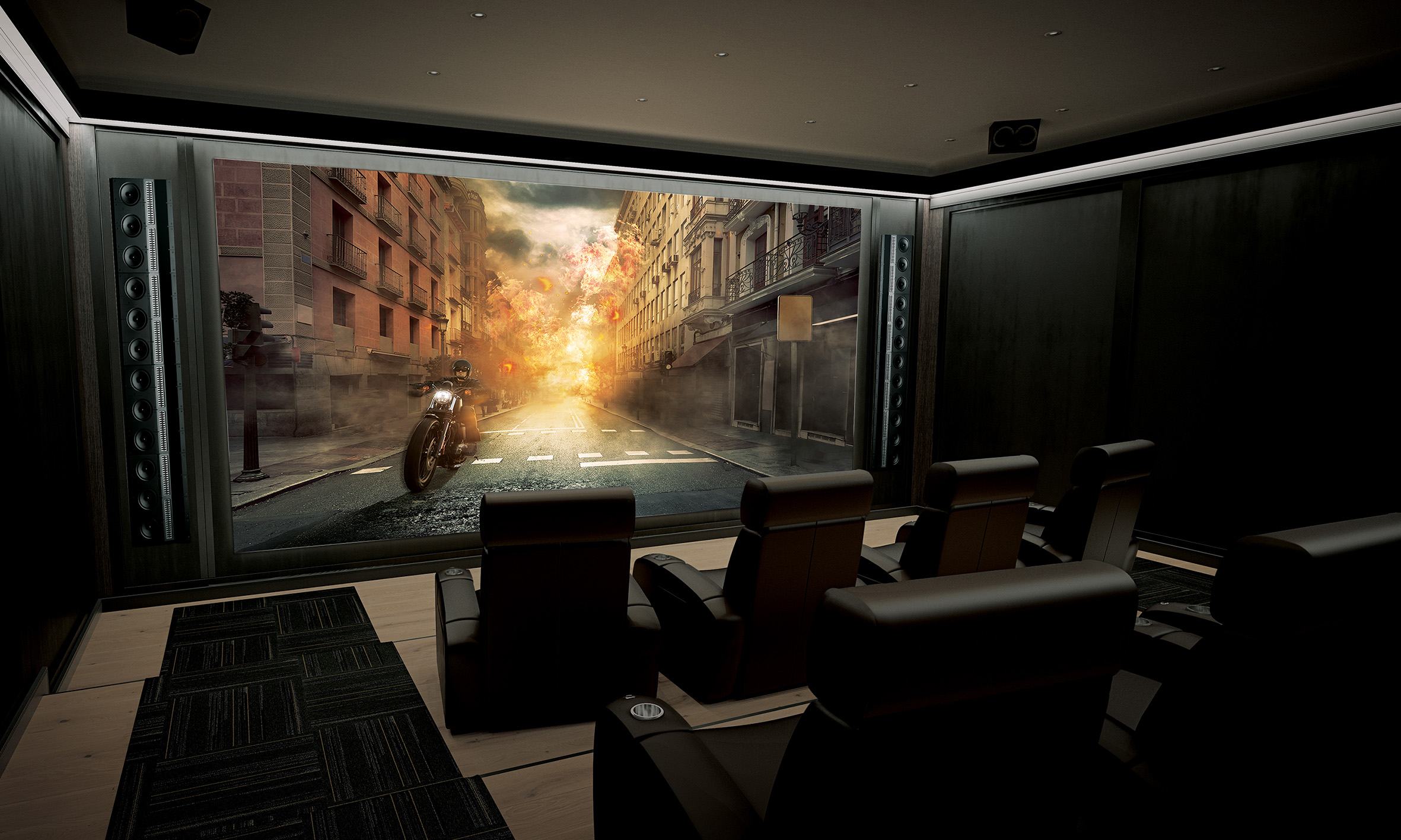 ---

Large Format Presentation Displays
ViewSonic® CDE20 4K series deliver immersive learning environments in classroom or conference room. The stunning 4K Ultra HD resolution, 24/7 operation rating, wide viewing angles, dual speakers, and ViewBoard® Cast content sharing software, and remote casting with myViewBoard™ Display app, content can be easily streamed wirelessly from anywhere.
Key Features:
Streamlined UI/UX interface and easy app installation.
No external media player or PC required with the integrated ViewSonic Embedded Signage Flatform secured by Linux-based Kernel.
Up to four participants can securely share media from their laptops, tablets, or mobile phones.
Mirror content to multiple displays without using an HDMI splitter.
Configure displays to school/district or business specifications with powerful enterprise mobility management (EMM) software.
Included vController™ software enables remote management or displays.
The displays are Crestron®, Extron®, and AMX® compatible with professional AV controls to achieve seamless integration and automated control.
Learn More about ViewSonic® CDE20 Series >
Bundles:
CDE20 USB Wireless Adapter Bundle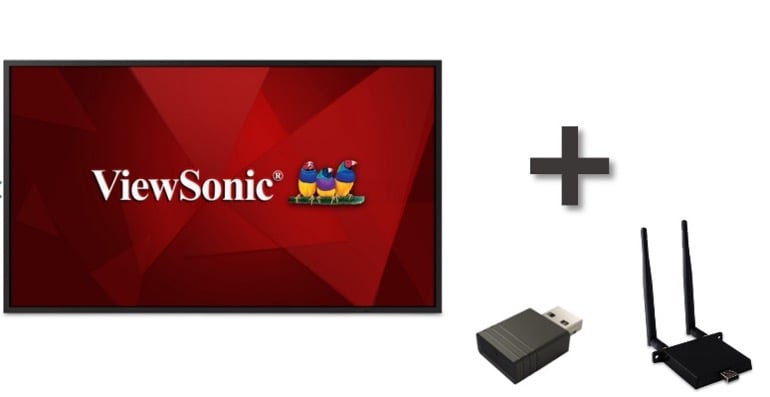 CDE20 USB Wireless Adapter + Wall Mount Bundle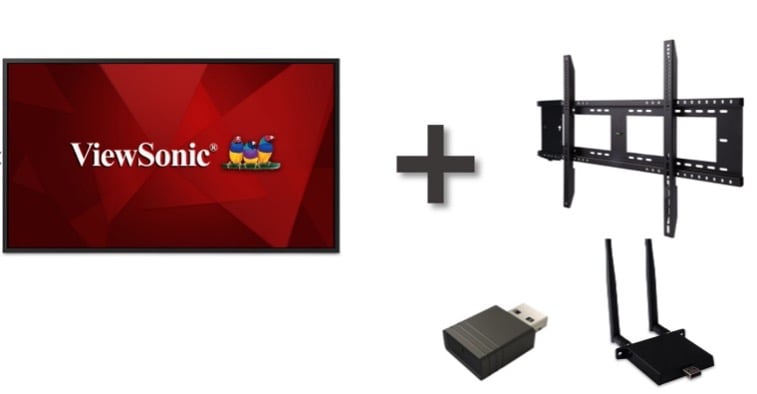 For more information, contact your ViewSonic representative today.
ViewSonic Sales: (888) 881-8781 or SalesInfo@viewsonic.com
---