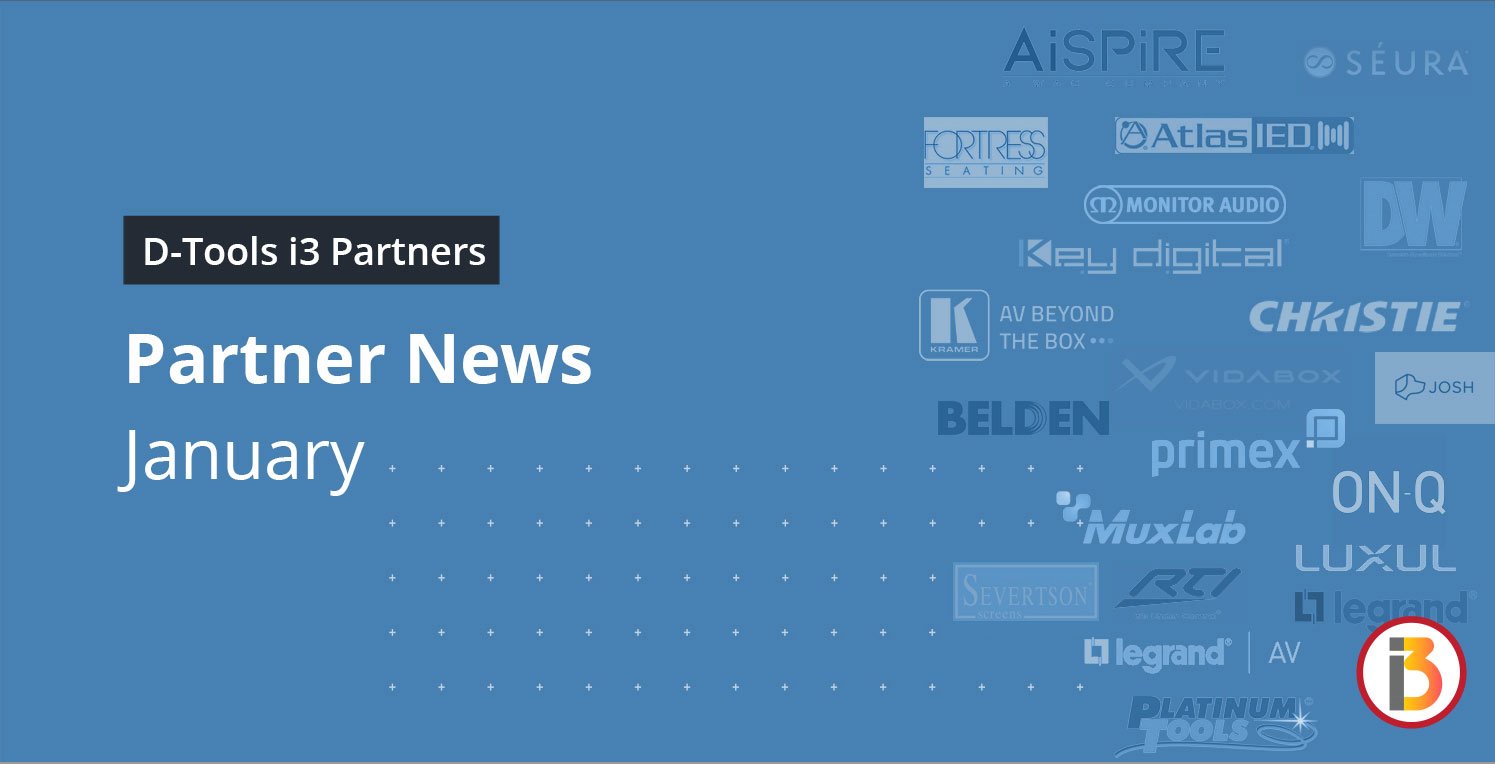 D-Tools i3 Partners realize the importance of bringing you their product information and have chosen to support the D-Tools user community by joining the program and making their product data directly available through D-Tools software. Read on for the latest supplier company news and product updates.
---
The AT-VTP-1000VL 10" Velocity System touch panel is ideal for either AV control or room scheduling applications. Bright LED lighting surrounding the edge of the panel provides a visual representation of room status in scheduling applications or for adding emphasis to AV control functions. The panel ships with a dual-purpose wall or glass mount kit, and the optional AT-VTP-VTM tabletop mounting kit is available for placement on a meeting table or lectern.
Applications:
Scheduling: Ideal for lobbies, hallways, or outside of any meeting space that requires a quick and easy visual means of displaying room availability.
AV Control: Great for large meeting rooms, board rooms, lecture hall, or video wall locations where more complex control functionality is required.
Key Features:
Velocity System 10" touch panel
Single, flexible touch panel platform can be used for room scheduling and AV control applications
Surround bezel LED lighting
Dual purpose glass and wall mount kit is included
Available in black or white
Optional AT-VTP-VTM kit for placement on a meeting table or lectern
---
AudioQuest 48-Series HDMI Cables
Over the last decade, AudioQuest's Indulgence Series of HDMI cables have earned their dominant place in the HDMI sphere. AudioQuest applied superior design and superior materials in order to bring the A/V enthusiast a superior experience.
Now, with the 48-Series of Indulgence and Mythical Creature HDMI cables, both HDMI LLC and AudioQuest dramatically raise the bar yet again. The new HDMI 2.1 speci­fication sets a far more capable baseline—all conforming cables from all manufacturers will offer better sound and will enable more features than their previous models.
But! AudioQuest's 48-Series of HDMI 2.1 cables have very meaningfully increased the AudioQuest advantage. The company has applied every previous design and material advantage—and added numerous additional design and material upgrades, achieving performance even more without peer than ever before.
AudioQuest's entry models Pearl 48 and Forest 48 are the ­first HDMI-2.1 cables to receive HDMI LLC's Ultra High Speed certification; others will follow. While HDMI only certifies a bare minimum, no AudioQuest cable is ever only a "bare minimum."
For more information on AudioQuest's comprehensive line of high-performance HDMI cables, visit https://www.audioquest.com/page/aq-hdmi.html.
---
Using Clear Language to Clarify the Work of Integrators
Many U.S. states are proposing legislation that could limit an integrator's ability to legally do work they're most likely qualified to do. And small changes in legislative language can make a big difference in determining who may be able to install certain technologies, including PoE, 5G and IP-enabled building automation.
Belden is part of the Connected Technologies Industry Consortium—a thinktank is made up of global trade organizations and industry leaders from organizations like BICSI, SIA, TIA and NSCA.
One of our goals is to monitor and defend against language in state-level legislation involving PoE, low-voltage lighting, alarm/security systems and network-connected devices that might hinder an integrator's ability to do their work.
We agree that, by referring to low-voltage installers or integrators as "power-limited systems integrators," we can unify the workforce under one occupational trade name and strengthen the industry occupation classification.
Although "low-voltage installer" has been used for several years, this phrasing may imply that low-voltage installers serve as a subset of an electrical contractor—and also imply a specific voltage level associated with the work. Integrators or low-voltage installers aren't trained or licensed to perform work that involves installing wiring connected to the power grid or circuit breaker box. That work is solely the responsibility of a licensed electrician on every jobsite.
Using "power-limited systems integrator" makes it much clearer. It also eliminates semantics of "voltage" and "electrician," which perpetuate confusion.
We all play a vital role in this industry … and we all need to act as eyes and ears on the lookout for changes that may impact permitting, ordinances, licensure, regulations or code compliance in our local area.
Stay engaged. Attend local town hall meetings. Know your legislative leaders and provide input and perspective on how regulations may impact technology adoption. Learn more at www.belden.com/Blogs/using-clear-language-to-clarify-integrators-and-installers-work.
---
Major Savings with Cleerline SSF™ Fiber Optic Technology
Some installation conditions are more challenging than others. In a new case study from Cleerline SSF™, learn how Security 101 was able to overcome an adverse environment and gain major savings in time and labor by using Cleerline SSF™ fiber optic cable.
For the project, Security 101 was tasked with upgrading analog cameras to IP cameras within a 10-block housing authority. Sending PoE over the longest distance required fiber optic cable, which can easily handle high bandwidths over extended spans.
Security 101 chose to install Cleerline SSF™ fiber. Cleerline SSF™ fiber's unique construction makes it stronger and easier to handle than traditional fibers. These qualities were vital for this installation, which featured what Security 101 Lead Technician Frank Boutot called "…the worst conditions I've ever pulled cable in."
The cable they chose, SSF™ Rugged Micro Distribution, was able to withstand the less-than-delicate handling necessitated by the conditions. Most importantly, Security 101 was also able to easily terminate the Cleerline cable on site rather than call in a fiber-specific contractor.
Installation Details:
Project: Replace analog cameras with IP cameras
Challenge: Extending PoE
Fiber Type: Cleerline SSF™ Single Mode Rugged Micro Distribution
All-in-all, using Cleerline SSF™ translated into a 50% savings in time and labor. Frank Boutot noted, "We are now independent of fiber terminators. We don't have to worry about that anymore. We just do it ourselves, simple."
Read the full case study at https://cleerlinefiber.com/documents/security-101-upgrades-camera-network/
---
Digital Watchdog® Launches New Blackjack® Tower™ Server with 360Mbps Throughput and DW Spectrum® IPVMS Preloaded
Digital Watchdog announces the release of our new Blackjack Tower server. This new mid-size desktop server model is ideal for medium to large scale applications, as part of a larger mesh of servers in multiple locations or as a single location solution.
The Blackjack Tower mid-size server is a reliable and high-performance solution for viewing, monitoring and recording multiple IP cameras of any resolution at up to 360Mbps throughput. The server is National Defense Authorization Act/Trade Agreement Act (NDAA/TAA) compliant and includes Windows 10® OS, an Intel® i5 processor, dual network cards and local true HD, DVI and VGA outputs. The server comes preloaded with DW Spectrum IPVMS and four (4) recording licenses, accommodates up to 18TB internal storage, is ONVIF conformant and comes with a 5 year limited warranty.
"This new Blackjack model bridges the gap between our popular Cube™ form factor and our rack-mountable models," said Mark Espenschied, Director of Marketing, Digital Watchdog. "The server's robust features make it a perfect choice for installations with a larger camera count."
---
ELK Products Inc. has released a new wall mounted PIR Motion Sensor in their 319 Series Wireless Sensor
line. The ELK-319PIRW offers a detection range of up to 40 ft. and pet immunity up to 22 lbs. This supervised motion sensor features selectable sensitivity and a built-in tamper switch. Utilizing the 319.5 MHz operating frequency, the ELK-319PIRW is compatible with many popular systems, including ELK's M1 Controls. This new Wireless Motion Sensor, along with ELK's full line of 319.5 MHz wireless sensors, is ideal for existing Interlogix systems in need of replacement sensors.
Learn more about the ELK-319PIRW and other 319 Series sensors at www.elkproducts.com/319wireless.
---
The Chamber of Secrets: Harry Potter Home Cinema
Featured Model: Hudson
As families are spending more time at home it is essential to have the sanctuary of your home theater. Let Fortress help you achieve your dream.
Hudson Private Theater Seating: Contemporary and well designed, this unique model features upholstered side panels and wood veneer arms that can be stained to match the other wood detail in the room A beautiful blend of rich woods with supple leather. The richness of the wood gives this theater chair a truly timeless look.
Made in the USA
Whether a traditional or an "all out" themed theater, the choice is yours.
For an in depth view of this magic place, visit:
https://pulsecinemas.com/case-studies/the-chamber-of-secrets-harry-potter-home-cinema
---
DV-T6SS4K-41A
The DV-T6SS4K-41A is a multi-format presentation scaling switcher with four HDMI® inputs and one output. It allows any HDMI® source (e.g., Blu-ray disc™ player, HD-DVD player, laptop, tablets, portable devices, etc.) to be shown on the main output display, with a breathtaking 4K scaled output. Just plug in your source and the DV-T6SS4K-41A switches itself and the display on (via CEC or RS-232) and goes to that input. Plug a new source in and the switcher will automatically go to the new input.
This HDMI® and HDCP 2.2 compliant device supports up to 4K @60Hz YUV 4:4:4 HDR and supports high dynamic range 10 bit (HDR10).
Video quality is excellent with fast switching between sources. There are four methods of remote control: Remote Pushbutton Interface, RS-232, IP Control and Web GUI.
The unit features simple front panel direct input select controls. Front panel buttons allow override or manual selection, and when the last source is removed, it can turn itself and the display off after a configurable delay, or display an installer created screen saver. This multi-format presentation switcher was designed as a compact 1U height rack mountable unit. The form factor is perfect for mounting under or above a desktop, using the supplied mounting ears. The DV-T6SS4K-41A includes a 3-PIN connector for RS-232 connection and AC power adapter with locking connectors are included. A variety of different country specific plug adaptors are included with the standard package.
---
GoldenEar BRX bookshelf/standmount loudspeaker
Sound & Vision magazine's Top Pick of the Year, the GoldenEar BRX (Bookshelf Reference X) truly lives up to its name. This bookshelf/standmount loudspeaker takes technology found in the flagship Triton Reference and packs it into a luxuriously finished, compact (12" H x 8" W x 12.25" D) enclosure.
Meticulously designed to deliver superior performance in two-channel audio systems and multichannel home theaters, the BRX combines GoldenEar's Reference High-Gauss High-Velocity Folded Ribbon with a 6" cast-basket bass/midrange driver that was originally developed for the Triton Reference. A unique balanced crossover is used to seamlessly blend the two drivers, while a pair of inertially balanced, side-mounted 6.5" planar infrasonic radiators enable powerful, well-controlled bass.
Despite the speakers' small size, they easily produce dynamic, immersive, room-filling sound and feel right at home on desktops, in bookshelves, or atop dedicated stands as part of any world-class audio system.
"Consider me gobsmacked," said Stereophile's Herb Reichert.
With the BRX, even more music and movie enthusiasts can enjoy GoldenEar's trademark three-dimensional imaging and high-resolution clarity. For more information, visit https://www.goldenear.com/products/bookshelf-series.
---
JBL 75th Anniversary SA750 Integrated Amplifier and L100 Classic 75 Loudspeaker
If the walls of JBL's Northridge, CA design center could talk, they would sing the accolades of 75 years of pioneering acoustic, transducer and electronic design. They might also speak to the impact of JBL's innovations on music, movies and broadcast audio but they could well be lost for words to capture the craftsmanship, audio engineering and design of the new 75th Anniversary JBL SA750 Integrated Amplifier and the limited edition JBL L100 Classic 75 Loudspeaker, which were both announced earlier this month.
The JBL SA750 Integrated Amplifier features an iconic retro-inspired milled aluminum face panel with luxurious volume, balance and input
dials and hefty switches for power, mute, direct, MC/MM phono, and Dirac Live room calibration. The face panel includes a 3.5mm Aux input and 3.5mm Headphones output, plus a 2-line orange display screen. The look is completed by the classic teak wood veneer side panels.
The L100 Classic 75 features the same iconic, 1970's-style retro design as the JBL L100 Classic, with vintage JBL styling including an iconic black Quadrex foam grille and exquisite teak wood veneer cabinets that match the side panes of the JBL SA750. With only 750 pairs of this historic product available, the exclusive loudspeaker features a unique signed rear-badge and Certificate of Authenticity, commemorating 75th years in our homes.
Over the last 75 years, JBL has become an icon of audio innovation by way of its unique and storied history with artists, producers and audio engineers to create exceptional listening experiences for consumers around the world. With the introduction of these two products to the brand portfolio, JBL continues to be a force of innovation wherever sound matters.
---
Corona Tags – Workplace & Campus Contact Monitoring

Easy. Affordable. Secure. PRIVATE.
Corona Tags are innovative devices designed to monitor social distancing in the workplace, school, or public venues. They eliminate the need for a wide shut-down in case of infection. Based on HSL technology, Bluetooth signals measure the distance and exposure time between tags without revealing or saving personal information; there is no central database of encounters and no location tracking at all, making the user's movements private. The device is fully independent, does not rely on cell phones or other connections such as WiFi or a SIM card, and does not require charging.
Preserves Individual Privacy — Bluetooth signal is used to only measure the distance to other tags. It does not pair, receive or transmit data to any other device.
Secured — Data is extracted only when an authorized administrator uses a special cable and software to extract events history from a confirmed sick individual's tag.
Preserves Anonymity — Tags only record other tag numbers, exposure time and distance. No location, names or other private data is recorded. No GPS or SIM card needed.
Short–Term Archiving — Information is kept only for the last two weeks. No central database of encounters is kept.
Low Cost and Easy Deployment and Use — No special infrastructure required. No user training of any kind is required.
Energy Efficient — Battery lasts approximately six months.
Make Corona Tags part of your comprehensive personal protective equipment plan. Watch this informative video to learn more!
---
USB-C 7-in-1 Dual Display Docking Station – 54439
Easily connect two display, multiple USB accessories, and charge a laptop or tablet all through a single USB-C port
Product page: https://www.cablestogo.com/product/54439/usb-c-mst-docking-station-7-in-1-dual-display-with-hdmi-displayport-vga-and-power-delivery-up-to-100w-4k-30hz?slug=usb-c-7-in-1-dual-display-mst-docking-station-with-hdmi-displayport-vga-and-power-delivery-up-to-100w-4k-30hz
Tablet Stand Series
Chief floor and tabletop tablet stands support safe entry and navigation through public spaces. By offering aesthetic, value-driven, easy to install mounting solutions.
Product page: https://www.legrandav.com/resources/360_product_overviews/tablet_stand_series
Tensioned Electric Screen Care During Energy Conservation Measures and Reduced
Occupancy
Curious about best practices for screens when normal climate control isn't an option, or how often you should cycle your tensioned screen for optimal performance and longevity? Maybe you just want to harness the freedom of network control so you can implement these best practices wherever you are on the network for wired remote control of a screen or lift. Dive in for all these answers.
Flyer Download: https://res.cloudinary.com/avd/image/upload/v1610371446/Resources/Da-Lite/Literature%20and%20Reference/200690-Tensioned_Electric_Screen_Care_Infographic_Final.jpg
C3 Display Mounts – C3-32-LD1U (Single) & C3-32-LD2U (Dual)

Middle Atlantic C3 Display mounts convert your C3 Credenzas into full AV systems. We have partnered with Chief to create an industry leading display mount designed with height adjustment, cable management and minimal hardware for a quick and easy install.
Product page: https://www.middleatlantic.com/products/technical-furniture/c5-accents-accessories/c3-accessories.aspx
RoboFLIP 30 HDBT IN-Ceiling HD PTZ Camera – 999-99800-000

Enclosed within its recessed ceiling mounting case, the RoboFLIP® 30 HDBT In-Ceiling HD PTZ Camera is ideal for capturing events or videoconferencing where being aware of active video status is of critical importance.
Product Page: https://www.legrandav.com/en/products/vaddio/cameras/hd_ptz_cameras/roboflip_30_hdbt_camera
Luxul New Five-Port PoE+ Powered Gigabit Switch Is Now Available!
For installation flexibility, the SW-100-05PD is powered by a PoE+ switch or injector — eliminating the need for a power supply — and offers multiple mounting options. The SW-100-05PD features a dedicated PoE+ input port, a pass-through Gigabit PoE port capable of powering a PoE/802.11af device up to 15 Watts — such as an IP camera, control system interface, or AV-over-IP receiver — and four additional non-PoE Gigabit. The unit offers a durable metal enclosure and includes attachable optional rubber feet for desktop mounting, mounting wings with keyhole features for surface mounting, and magnetic feet for easy mounting to metal surfaces.
On-Q Dual-Purpose In-Wall Enclosures
Available in 9-inch and 17-inch form factors, the award winning On-Q dual-purpose In-Wall Enclosures can be used to house cable boxes, streaming players, and more behind a TV, or as Wi-Fi transparent enclosure for structured wiring, providing a centralized area to store video, voice, and data components.
SANUS Indoor/Outdoor Custom Mount for the Sonos Move Now Shipping
The SANUS 10U Stackable Skeleton Rack (CFR1610-B1) for housing AV components and network servers is now available. Featuring a knock-down design, the compact, open-frame rack is compatible with existing SANUS Component Series skeleton racks and includes everything needed for quick and easy floor or wall mounting.
Legrand Shading and Residential Controls
QMotion E Screen Deco Collection
What makes QMotion shade fabrics transformative? It's a combination of texture, style, and light-filtering technology. The new QMotion E Screen Deco line offers a decorative element featuring a sophisticated, cross-weave texture. These fabrics offer style and function in 14 neutral colors — the perfect finishing touch that coordinates with any décor. Samples can be ordered from QMotion Sampling Portal.
HCL wins a Connected Design 2020 Award!

Vantage is proud to announce its Human Centric Lighting System won a Connected Design 2020 Award last month. These awards were created to honor the best-designed technology and products that the smart home industry has to offer. Products and software solutions chosen for this year's awards were judged by a distinguished panel of experts from the custom integration, design and architecture disciplines.
---
Make Yourself Heard
­Introducing the "TeamUp+" Series USB Omnidirectional Boundary Microphone by Liberty AV
"TeamUp+" Series USB and Analog Boundary Microphone (360° Omnidirectional)
Make a 360 degree difference in conferencing with the Liberty AV "TeamUp+" Series USB Omnidirectional Boundary Microphone (DL-USB-360MIC)
Part of the TeamUp+ Series, the 360MIC was designed to sense out high-quality sound (acoustic energy) from any direction and convert the audio into USB allowing for a seamless connection to your computer. Since the 360MIC is UVC compliant, no drivers or additional downloads are required, allowing for a painless experience when using Windows or Mac operating systems. The series brings a contemporary style that compliments any setting and can easily be positioned for different scenarios.
Ensure your voice is heard regardless of where you are seated within 4 meter range. Conveniently built-in LED illuminated button, Green light: working mode; Red light: mute mode. Complete your install with 5 meter USB cord or 3.5 mm jack for connectivity included.
Your voice matters. That's why we are creating the right products for your space to conduct meetings, interviews, podcasting and home-studio recording. This versatile product is an excellent choice to use with YouTube, Skype, FaceTime and all backed by a 5 year warrantee.
Every-AV-Thing Connecting Source to Display
Liberty AV can optimize the installation of these devices with premium, certified, Liberty AV Optical, HDMI and Category cables and our sister company, WESCO Broadcast and AV can provide all of the quality, distributed brands needed to complete your install, including speakers, digital displays, and more. Ask about our eKitting all of these great components in one, convenient kit for time and cost-savings at the time of deployment.
Learn more at https://secure.libertycable.com/product_details.php?pitem=DL-USB-360MIC or Reach out to Liberty AV's knowledgeable customer service team at 800-530-8998 or via orders@libav.com for 'Every-AV-Thing Connecting Source to Display'
---
New Spyclops® Surveillance Cameras Now Shipping
New Spyclops 4-in-1 HD Coax cameras and IP cameras come in a variety of styles for bullet, mini bullet, dome, turret dome, and mini turret dome options. IP cameras with built-in PoE support up to 5MP/20 resolution while the new HD coax cameras support 4K lite and native 5MP resolutions.
New Spyclops Pro Series DVRs, NVRs and XVRs in Stock
Metra's new Spyclops Pro Series provides increased storage capacity for video recorders, higher recording and playback resolutions (including 4K), 5-in-1 technology support for XVRs, and NVR options for larger surveillance systems to expand to 16, 36, and even 64 channels. These new video recorders feature H.265 and H.265+ video compression for maximum video storage efficiency with versatile options for hard drives.
Surveillance grade hard drives are also available separately and are designed to handle the continuous writing demands and provide years of reliable service. Read more about it here.
Velox® 8K Fiber HDMI® Cables Now Available in 5- and 8-Meter Lengths
Velox's ultimate high speed cables are designed for the future and engineered with a bandwidth capability of up to 48Gbps that can support the new 4K/120 and 8K/60 specs. Previously available in lengths from 10 to 100 meters, (or 32.8 to 328 feet), integrators can now purchase these cables in 5-meter and 8-meter lengths (or 16.4 and 26.3 feet). This cable won a Residential Top New Technology (TNT) award in 2020 as it was one of the first HDMI cables to support 48Gbps at 100 meters with its innovative technology. The ability to inject external power into the cable is just one of the unique features that makes this cable compatible with a wide range of devices. Read more about it here.
---
Monitor Audio Flush Fit Speaker System
The CF230 & ICS-8 are Monitor Audio's most visually discreet architectural speakers to date.
Featuring a 3.5" C-CAM driver and ¾" C-CAM Gold Dome Tweeter, the CF230 in-ceiling speaker offers superb flexibility, providing an
abundance of design possibilities for integrators, architects and designers to work with. The CF230's pre-construction and retrofit options are the key to upholding its flexibility claims, and this ability to fit into any set-up means that the new speaker is easier and more economical than other models.
In a pre-construction, flush fit setting, the result is a seamless appearance with no shadow-creating edges, and one which becomes even more discreet when the grille is painted to match the ceiling colour. The finished result is quickly achieved, thanks to the CF230's carefully developed, patent pending pre-construction kit.
Fitting the CF230 into an existing construction, or where minimal disruption to the building is a mandatory requirement, the retrofit installation kit is used. The flexible bracket fits in a hole smaller than the bracket area, and provides a firm fixing behind the plasterboard/Sheetrock, complete with precise machine screw fixing points for the driver.
The ICS-8 subwoofer was primarily developed to complement the CF230. It will fit into ceiling and wall cavities and under floors, enhancing the CF230 driver array and providing powerful, punchy bass down to 40 Hz.
The ICS-8 follows the same visual appearance as the CF230, with round and square flush fit grille options on offer. The subwoofer's 8" driver uses Monitor Audio's renowned C-CAM cone technology and is angled internally in the rigid MDF enclosure to reduce the ICS-8's overall box height. Integrators can combine an ICS-8 with a CF230 system, fit grilles to match and create a stunning sounding audio system from a practically invisible, yet extensive, speaker set-up.
---
Model 500789
4K Digital Signage Player Plus
MuxLab's DigiSign Plus CMS software offers unmatched user friendliness and industry leading capabilities. Used with the 4K Digital Signage Player Plus, the software is designed for an exceptional user experience with easy set up and maintenance. The MuxLab DigiSign Plus content management system allows users to easily create, arrange, manage, and schedule Video, Images, Audio, and HTML content from a variety of sources, including content streaming via an H.264/H.265 codec over a local Ethernet network, the Internet, via internal memory and external USB 3.0 memory devices.
The system supports numerous widgets including RSS feeds, Instagram feeds, Text Tickers, Clocks, Stocks, Exchanges, Weather info, Maps, to name a few. The system supports Multiview layouts, including Picture-In-Picture (PIP) and the ability to create a schedule of up to 1 year or more of content in advance. The user can then publish the signage content and schedule to the 4K Digital Signage Players distributed throughout your network and displayed on the connected TVs.
The 4K Digital Signage Player Plus is capable of receiving multiple H.264/H.265 AV content simultaneously up to 4K/60 (4:4:4) from a local network, the Internet, internal memory, and supports Multiview capability (including dual 4K windows, or multiple 1080p windows) and scheduling to automatically deliver this customized windowed AV content based on a yearly schedule. Multiple video, audio and image file formats are supported. The unit delivers 4K@60Hz (4:4:4) content to a display or to an AV over IP system to support signal distribution to multiple displays and video wall arrangements.
---
Platinum Tools® Announces New Fiber Optic Visual Fault Locator
Platinum Tools® (www.platinumtools.com), the leader in solutions for the preparation, installation, hand termination, and testing of wire and cable, is proud to announce the launch of its new Fiber Optic Visual Fault Locator (p/n TVFL100). Now available, the fault locator has an MSRP of $105.00.
"Our new Fiber Optic Visual Fault Locator works with virtually all common fiber optic sizes and connector types, allowing you to test cables prior to install, and test patch and breakout cables for faults," explained Sean Rothermel, Platinum Tools product manager. "The TVFL provides easy visual location of fiber optic cable faults, comes in a zip carrying case, and includes an adaptor for 2.5mm and LC ferrules."
Additional features and specifications include:
Bright 10mW laser for continuity testing; also shows breaks and performance-reducing bends in most types of fiber optic cable
Aluminum construction for durability
Runs for more than 20 hours on 2 AA batteries (included)
Simple slide switch to select either a flashing or solid beam for easy identification of problems
Fast & easy pass/fail testing of most fiber optic cables
Convenient hinged endcap protects tip when not in use
For additional pricing and more information on Platinum Tools and its complete product line, please visit www.platinumtools.com, call (800) 749-5783, or email info@platinumtools.com.
---
The RTI U3 Weather-Resistant Remote Control is Now Shipping
The perfect companion for hot tubs, pools, bathrooms, and decks, the device is designed for reliable wireless control of electronic systems in
environments that are too harsh for standard controllers. The U3 utilizes inductive charging and wireless programming updates, allowing the unit to be completely sealed for the ultimate in weather protection. The remote is resistant to water and chlorine, and floats if dropped in the water for easy retrieval. The device features RTI's dual-RF platform, supporting both 433-MHz RF for one-way control and 2.4-GHz ZigBee® for bi-directional communication with RTI processors and supported third-party electronics like music servers, lighting, and pool control systems.
The remote combines the convenience and low power requirements of an easy-to-read electronic paper display similar to those found on e-book devices, with fully programmable soft-touch buttons for quick access to commonly used functions. The display is easy to read in bright light and can be customized to each project via RTI's award-winning Integration Designer programming software.
---
New weatherproof TV mounts from Séura
Séura's new family of outdoor TV mounts offers the right mounting solution for any outdoor design – from cabanas, to fire pits, to poolside. The mounts are designed to withstand extreme weather conditions and deliver a broad range of outdoor viewing experiences with easy installation, security, and adjustability. Séura mounts are compatible with VESA patterns up to 600×400 and mount to wood, concrete, brick and stone surfaces.
Mount options include:
• New Floor Stand
• New Ceiling Mounts
• New Tilting Wall Mount
• Slim Wall Mount
• Articulating Wall Mount
The durable mounts are made of steel with an outdoor-rated protective coating that prevents rusting. A two-stage weatherproofing process provides dual protective coatings to seal the mounts from outdoor elements. Tested to the extreme, Séura mounts undergo salt spray corrosion testing for 120 hours, weight durability testing of 600 lbs. for 48 hours, and wind resistance testing to withstand a 300 lb. horizontal pull test and 85mph wind. Locking hardware ensures the TV is locked into place to help prevent theft. Take comfort in knowing your TV is safely mounted and secure outdoors.
Learn more at seura.com/products/outdoor-tvs/mounts.
---
The Severtson Screens Enhanced TAT-4K Acoustically-Transparent Projection Screen
Severtson Screens (www.severtsonscreens.com), a global leader in innovative and quality projection screens for the home theater, commercial, pro AV, and cinema markets, is pleased to announce its enhanced next generation TAT-4K Acoustically-Transparent projection screen line, which is now available.
The next generation TAT-4K features an even finer weave that makes the viewing image even better than before. Made in the USA, the TAT-
4K replicates the cinema experience in the home and commercial settings like no other projection screen on the market today. The TAT-4K offers the same innovative technology as Severtson's SAT-4K, but is designed specifically for installations with incoming ambient light, meeting and exceeding all industry standards for optimum acoustic performance.
The TAT-4K is available as an option for Severtson's new 4K thin/zero bezel fixed frame projection screen solutions. Its uniform pattern weave is unique…there is virtually no audio or video scatter. At the same time, the screens preserve superior and deeper contrast in areas with limited light control. Additionally, the titanium-grey shade on the TAT-4K preserves picture contrast even in rooms that are not completely dark, so you get a crisp image that will amaze viewers. The TAT-4K is compatible with 2D, Active 3D, 4K, and laser projection applications. Also available in Impression Series Fixed, Deluxe Series Fixed, Deluxe Curved Series Fixed, Pro, and Cinema Frame configurations, the TAT-4K comes in heights ranging from 37 inches in an Impression Series home theater screen, to 10 feet, 3 inches in a Pro-Frame or cinema screen.
Custom and standard sizes are available. Severtson asks that customers contact them directly for individual pricing for their specific needs. For more information, please visit www.severtsonscreens.com, call 480-610-5155, or email sales@severtsonscreens.com.
---
VidaBox is proud to the announce support for the latest Galaxy Tab A7 10.4" tablets, as well as recent releases from Apple, such as the new iPad 8th Gen 10.2" and iPad Pro 4th Gen 12.9"! All of these models, along with matching, CAT5-based / PoE charging solutions – will be or are already in stock and ready to ship from their (5) warehouses – in the United States, Canada, United Kingdom, Germany, and Australia!
"We're very excited to be on the forefront of providing complete, secure mounting and charging solutions for the latest & most popular tablets," says Steven Cheung, President of VidaBox LLC. "By choosing VidaMount and VidaCharger solutions, anyone can mount almost any tablet, in any location, and have it ready for use at any time!"
The VidaBox range of VidaMounts provide for wall, desk/table, glass mounting, as well as solutions for floor standing displays or mounting onto VESA ready arms & brackets. For more info, call 844-4-KIOSKS / 516-499-5050, or visit www.vidabox.com
---
WE MAKE TEAMWORK WORK with ViewSonic's ViewBoard IFP70 Windows Collaboration
Displays
Certified by Microsoft to provide the best Microsoft Office 365® and Microsoft Teams® collaboration experience, ViewSonic® ViewBoard® IFP70 Windows Collaboration Displays deliver exactly what you need to move your ideas forward. Equipped with a Skype-certified premium conference camera, microphone array, Azure IoT sensor hub, and more, these displays foster teamwork and boost productivity. A PCAP (projected capacitive) 4K touchscreen provides for an incredibly natural and responsive handwriting experience that allows multiple users to simultaneously write or draw on the huge ViewBoard panel. What's more, meetings and presentations start fast thanks to convenient one-wire USB-C connectivity.
---
AiSPiRE lighting brand introduces ASTRO line of Dim-to-Warm Technology with Intuitive Dimming
AiSPiRE, a new lighting brand from WAC, has introduced ASTRO, a new line of Dim-to-Warm lighting that recreates the incandescent dimming curve with no required programming.
By mimicking an incandescent lamp's dimming appearance, AiSPiRE is able to shift color temperatures and create a visually comfortable and innately familiar emotion while still benefiting from the energy savings and long life of LEDs. ASTRO offers several dim to warm options that are easy to install and easy to use, delivering a range from a 3000K White Light- the color of halogen—to a warm 1800 Kelvin. Traditional LED does not change color or warm up when you dim the light down, like incandescent light sources.
At full brightness, Dim-To-Warm luminaires shine at 3000K color temperature and an extraordinary 95-plus color rendition index for a beautiful crisp white light.
Dim-to-Warm technology allows you to dim down to a more intimate, calming glow at 1800K candlelight ambience, to provide a warm mood with gentle illumination. Great for Master baths, dining rooms, home theaters and more!
All Dim to Warm options use only one channel that include TRIAC, Electronic Low Voltage or 0-10 Volt Universal protocol. Choices include Round or square, trim or trimless, new construction and remodel! Bring intuitive dimming to your space and have more control over luminaires with Dim to Warm Technology.