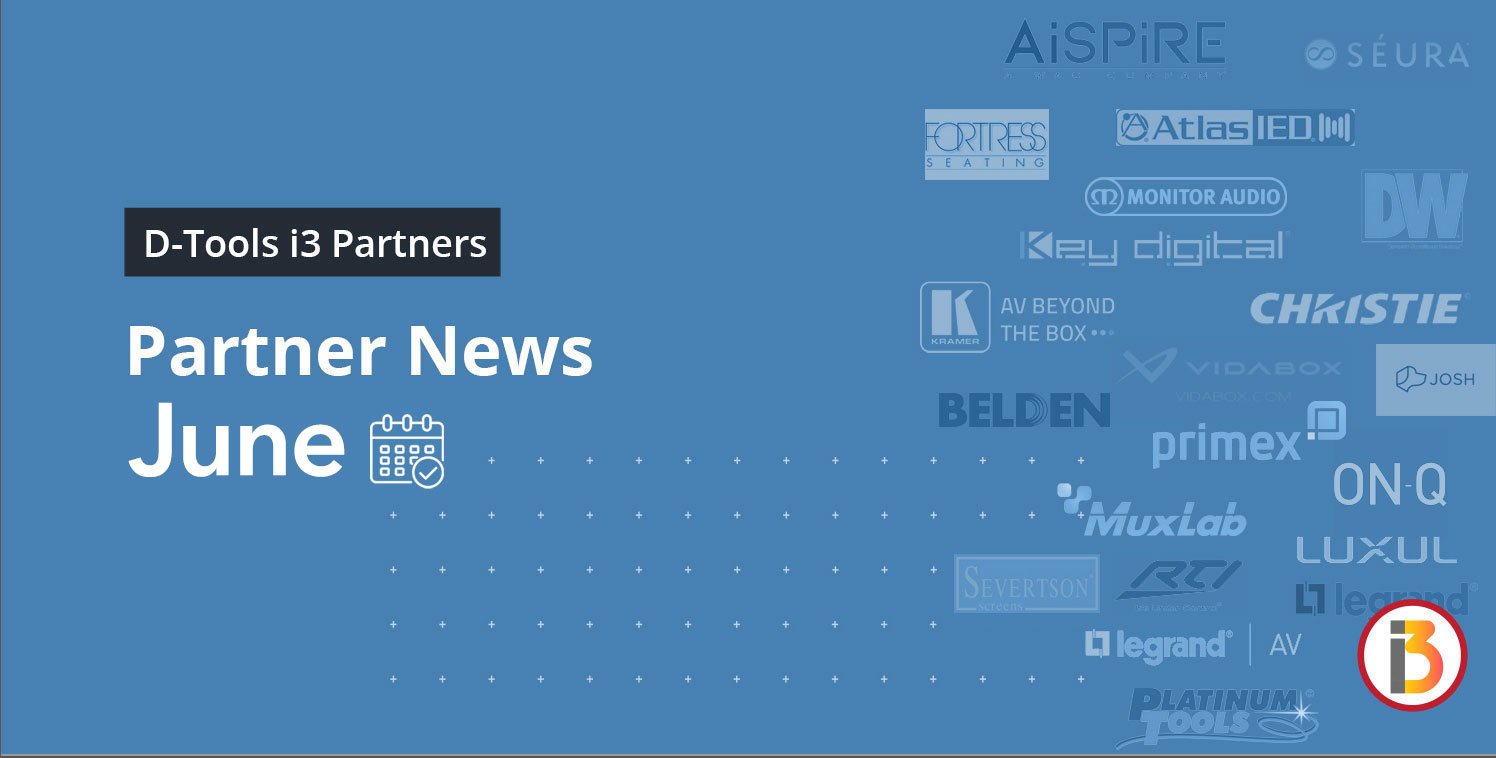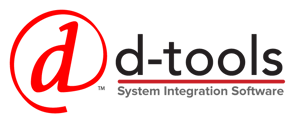 D-Tools i3 Partners realize the importance of bringing you their product information and have chosen to support the D-Tools user community by joining the program and making their product data directly available through D-Tools software. Read on for the latest supplier company news and product updates.
---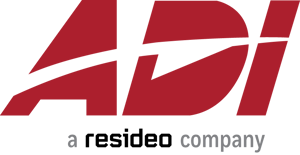 Device Programming
How fast can your technicians update and program a device? At ADI, we have a team dedicated to programming IP products so that you can avoid out-of-box failures and reduce labor costs. By letting our team configure your programmable devices, you can let your technicians simply focus on installation. Whether your project is big or small, our programmers can help with any technology product that has an IP address and needs to be set up.
---

AiSPiRE introduces ASTRO line of Dim-to-Warm Technology with Intuitive Dimming
AiSPiRE has introduced ASTRO, a new line of Dim-to-Warm lighting that recreates the incandescent dimming curve with no required programming. By mimicking an incandescent lamp's dimming appearance, AiSPiRE is able to shift color temperatures and create a visually comfortable and innately familiar emotion while still benefiting from the energy savings and long life of LEDs. ASTRO offers several dim to warm options that are easy to install and easy to use, delivering a range from a 3000K White Light- the color of halogen—to a warm 1800 Kelvin. Traditional LEDs do not change color or warm up when you dim the light down. like incandescent light sources.
At full brightness, Dim-To-Warm luminaires shine at 3000K color temperature and an extraordinary 95-plus color rendition index for a beautiful crisp white light. Dim-to-Warm technology allows you to dim down to a more intimate, calming glow at 1800K candlelight ambience, to provide a warm mood with gentle illumination. Great for Master baths, dining rooms, home theaters and more! All Dim to Warm options use only one channel that include TRIAC, Electronic Low Voltage or 0-10 Volt Universal protocol. Bring intuitive dimming to your space and have more control over your luminaires with Dim to Warm Technology. For more information, please visit www.aispire.com.
---

Meeting customers where they are is a hallmark of AtlasIED's unmatched customer experience, whether that's consulting with them to design and optimize products to fulfill their unique needs, or providing service and education resources far beyond the initial installation.
Now, the brand is hitting the road to bring its wide selection of audio and mass communications systems to the doorsteps of integrators, end users and IT professionals. The AtlasIED Sounds Like Success Tour kicks off on June 24th in Lenexa, KS with visits to cities throughout Missouri, Ohio, Indiana, and other key Midwestern destinations, wrapping up this leg of the tour in Louisville, KY on July 8th.
At every stop, visitors will have the opportunity to enter the trailer safely and experience AtlasIED's award winning selection of audio systems—expertly designed to deliver mass communication, high intelligibility announcements and paging, background music, IP-based visual and audio communications, and more.
The Sounds Like Success Tour experience tailors to vertical markets, making it easy for visitors to hone in on the solutions matching the needs of their particular application—whether it's for a transportation, hospitality, education, corporate, healthcare, government, or industrial environment.
"After two years of limited travel and personal interaction, we are excited to launch a large-scale tour that allows us to meet face-to-face with industry professionals and end users who want to learn more about the unique mass communications, life safety and audio resources available from AtlasIED," said Gina Sansivero, VP Marketing and Corporate Communications, AtlasIED.
To register for tour stops, and keep up with the latest adventures on the road, visit https://www.atlasied.com/hosted_events and follow #SoundsLikeSuccess on Twitter and Instagram.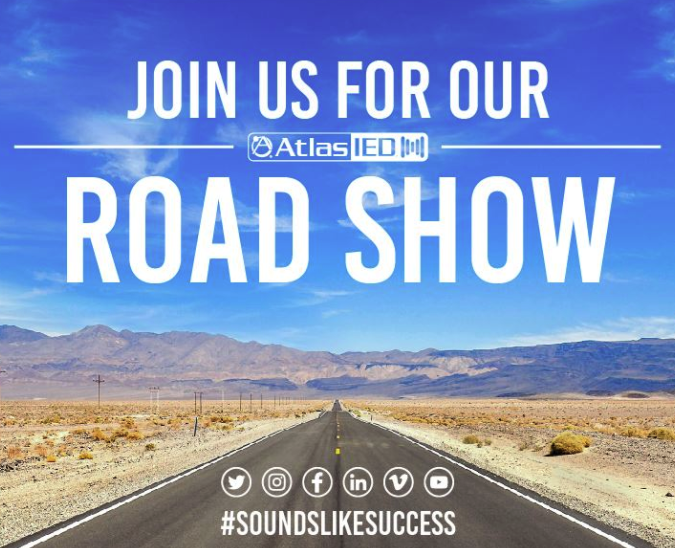 ---

Save Patch Panel Space with Micro BNCs
As pro broadcasters incorporate emerging technology into live productions—from augmented and virtual reality to OTT streaming and the migration to IP—their patch panels are becoming congested.
Many high-density patch panels offer fiber, copper and coax ports to facilitate all three types of connections. With more of today's broadcast technologies calling for fiber, the number of fiber ports in patch panels is increasing. This leaves less room for copper and coax connections—even though they're still needed to connect and manage the cables that support devices like routers, processors, amplifiers and replay servers.
In situations where patch-panel space is at a premium, Micro BNCs are a great option. They look and function similarly to standard BNC connectors, but they're designed for applications that require high performance in high-density environments.
Micro BNCs offer a 51% smaller footprint compared to standard BNCs and a 10% smaller footprint compared to DIN 1.0/2.3 connectors.
With Belden's new Micro BNC addition to our coaxial connector portfolio, we can deliver Micro BNCs and cabling systems quickly so you're not waiting on products to keep your project moving. Learn more about our new Micro BNCs at www.belden.com/Blogs/Broadcast/save-patch-panel-space-micro-BNCs.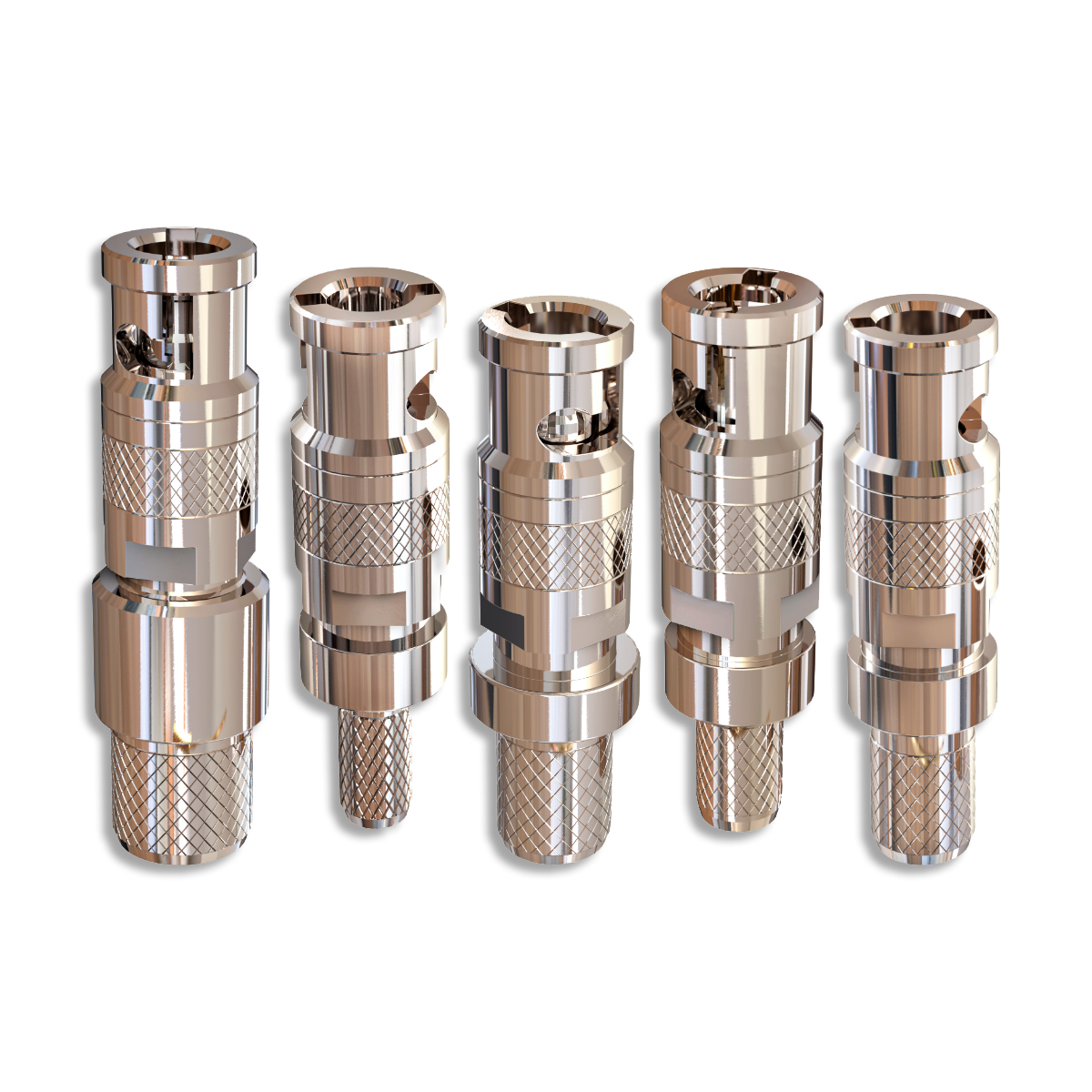 ---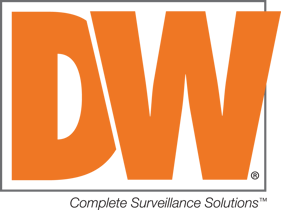 DW MEGApix CaaS 'Camera As A System' Edge Solutions with DW Spectrum IPVMS
DW MEGApix CaaS edge cameras are a complete system with memory and DW Spectrum IPVMS onboard. Look at these features:
• You are not a hostage — Your DW system is yours.
• DW Spectrum Inside
• Simple to Install — PoE cameras are online and fully operational in minutes.
• No NVRs or DVRs – Store up to 365 days of video.
• Easy to scale with bandwidth-friendly cameras.
• Remote management with DW Cloud - enables secure access on any device, anywhere.
• Cloud-managed Solution – Connect an unlimited number of cameras to DW Cloud with no recurring cost.
• In stock – Ready to ship.
• NDAA-Compliant
www.digital-watchdog.com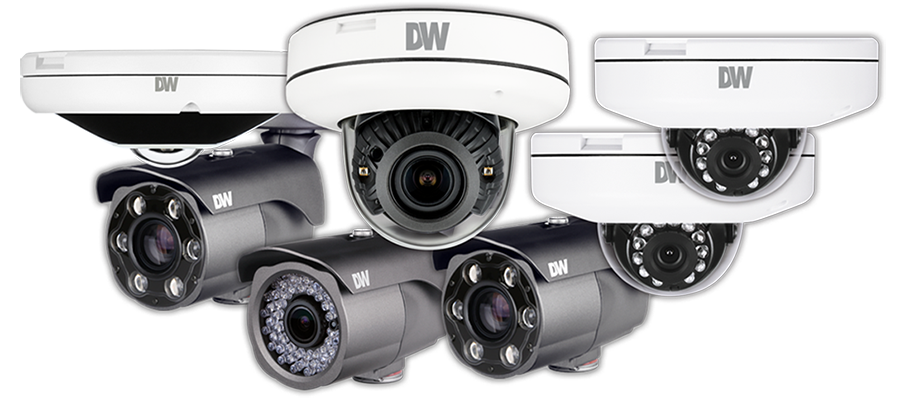 ---
H E A D ' S U P !
Headrest options for optimum comfort.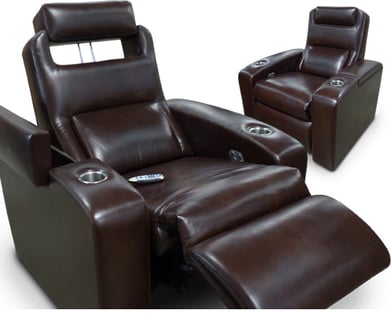 Motorized Adjustable Headrest
IInfinite positions.
Available on any model.
Articulating Headrest
Motorized or Manual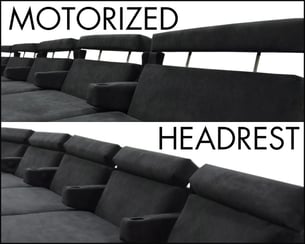 VIEW CONTEMPO HEADREST HERE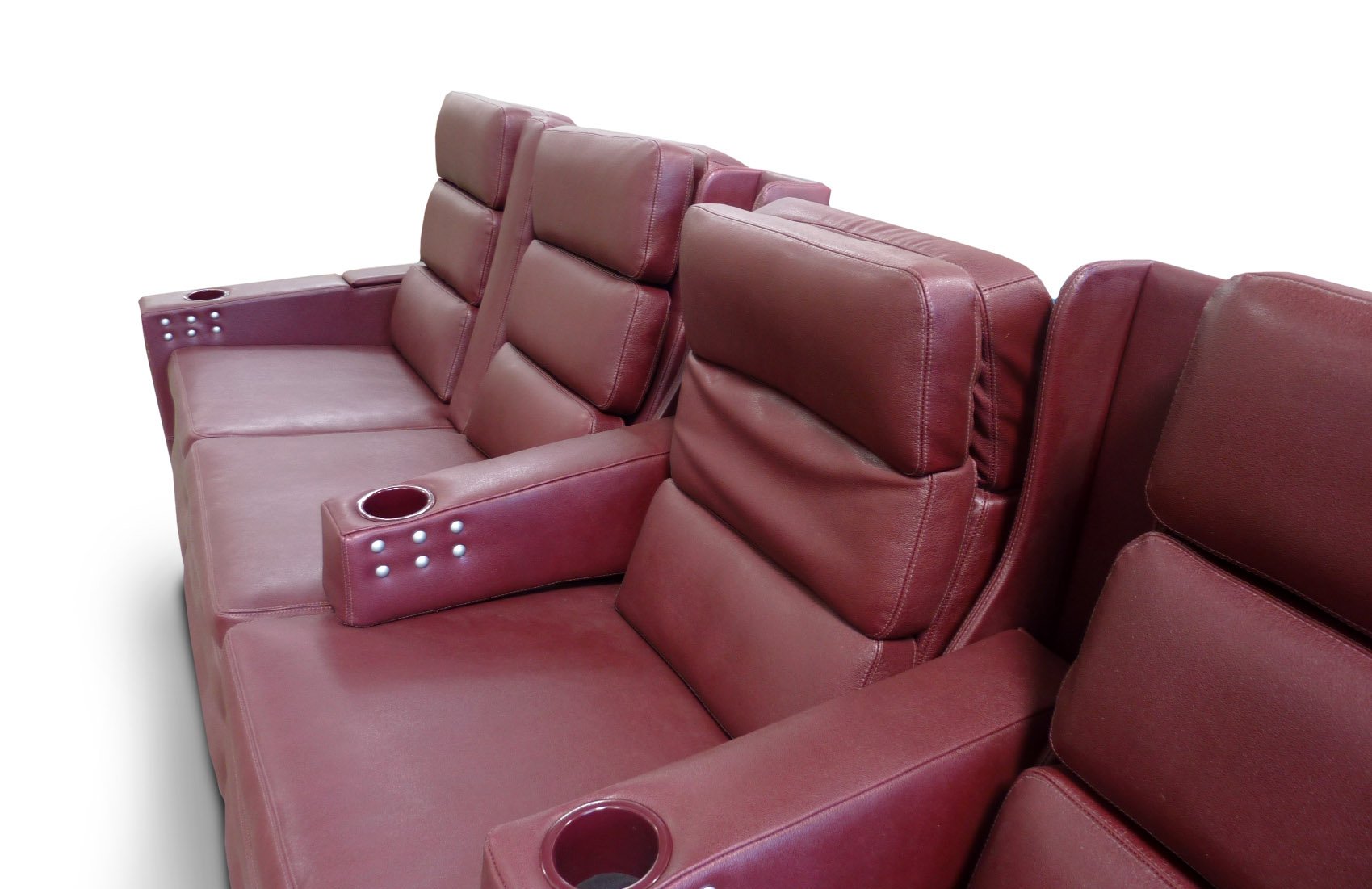 ---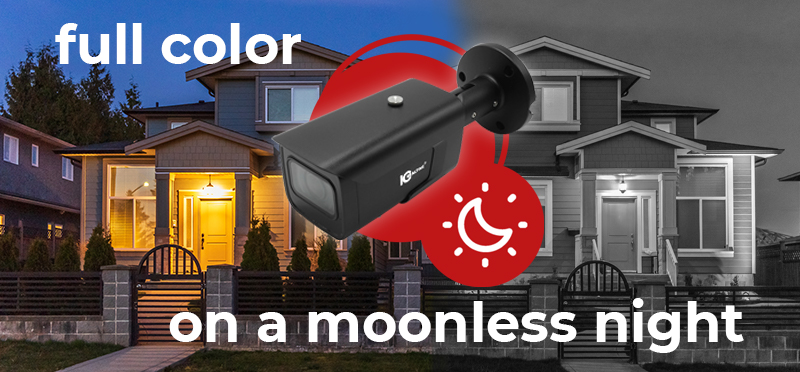 High contrast color night vision video footage
For those camera installations where a white 4MP Starlight bullet
camera just isn't going to work, try an IPFX-B40V-IRB2
from our Factory Black collection.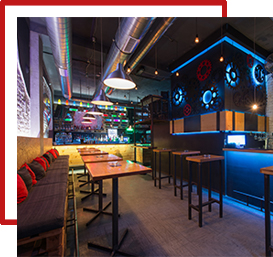 Black finish cameras virtuallyLearn More
disappear against dark finishes, especially when installed in the lower ambient light levels often favored by entertainment venues and retail/food service locations.
___________________________________________________________________

Make your next dark surface installation faster & more cost efficient
with the Factory Black camera collection from IC Realtime.
---

Combine Kaleidescape with Lutron to Create the Ultimate Cinema Experience in Any Room at Any Time
Technology Designer Magazine conducted an exclusive feature story on how Kaleidescape, maker of the ultimate movie player, and Lutron Electronics, the global leader in architectural lighting controls and automated shading solutions are redefining home entertainment with the ability to turn any room into an exceptional movie watching environment.
By simply pressing play, Kaleidescape sends information cues to enable control system triggers that can close shades and bring lighting to specified levels, seamlessly transforming any space into an optimal environment for families to enjoy premium quality entertainment.
"With visual display technology getting thinner and larger in size, they are quickly becoming a design feature that savvy architects and designers can build into the texture of any given space," explains Douglas Weinstein, editor and partner at Technology Designer Magazine. "This brings a new creative element to architects and designers looking to incorporate innovative lighting, shading, integrated controls, and automation systems in early-stage planning for new construction, remodels and smart home upgrades."
Check out the feature story here and be sure to check out the exclusive interview with Zach Schroek, Director, Product Management at Lutron Electronics, who discusses the new Lutron RadioRA3 product launch and how Lutron and Kaleidescape are partnering for better cinematic experiences.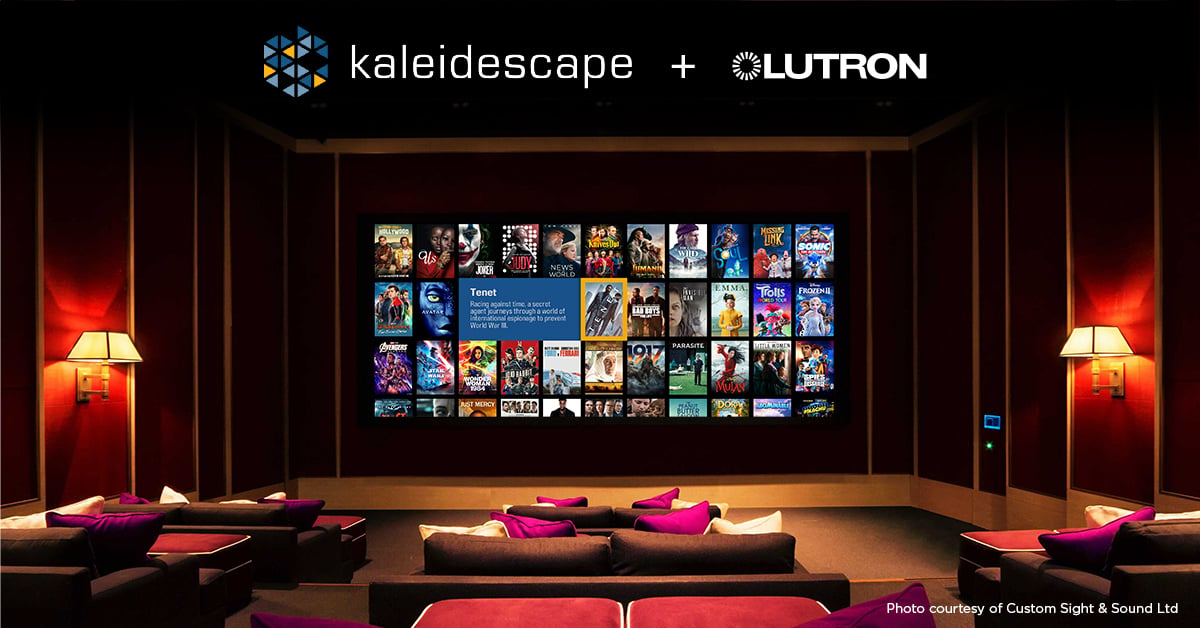 ---

Key Digital Introduces the KD-X444LP 4K HDMI Extender Set
— The KD-X444LP HDMI allows signal and device control extension up to 70 meters —
Key Digital, an award-winning developer and manufacturer of leading-edge digital video processing and video signal distribution solutions, introduces its new KD-X444LP HDMI CAT5e/6 extender set – a 4K 18G transmitter/receiver pair featuring Power over CAT (PoC) with bi-directional IR and RS-232 control extension. The single CAT6 extension, with fully automatic, cable length dependent equalization and amplification, has a range of up to 70 meters (230 feet).
The low-profile, slim-chassis KD-X444LP supports video resolutions up to 4096x2160/60 Hz at full 4:4:4 sampling through Key Digital's proprietary UHDoTP (Ultra High Definition over Twisted Pair) protocol. The extender set provides uncompressed 10.2 Gbps signal extension with visually lossless compression applied to video formats exceeding 10.2 Gbps up to 18 Gbps. The provided power supply can be flexibly connected at either of the Tx or Rx units, with the second unit receiving PoC – only one power supply is needed.
An expansive list of content standards is supported by the KD-X444LP, including the HDCP 2.2 anti-piracy protocol; the HDR10 standard for high-dynamic-range video; and EDID management for display recognition. It also offers deep color support up to UHD/4K 30Hz 4:4:4/12-bit or 60Hz 4:4:4/8-bit. A full buffer system manages HDCP authentication, EDID control handshakes and TMDS re-clocking / signal re-generation for serial data optimization. Hot Plug Detection Control can force a display to see a partner device as always connected and active to help overcome installation obstacles in cases where multiple connectivity layers or use with non-standard devices results in a "no source connected" error.
Dolby and DTS surround formats up to 6.1 channels are supported alongside video extension, while the KD-X444LP Tx unit's HDMI pass-thru output supports Dolby, Dolby TrueHD, DTS and DTS-HD surround formats up to 7.1 channels.
For shorter extensions of 50m (164ft) or less, and where 7.1 HD audio or HDMI pass thru is not required, Key Digital offers its otherwise identically capable KD-X444SP extender set.
The Key Digital KD-X444LP HDMI extender set is available to ship from stock at an MSRP of $499. (USD) as is the KD-X444SP at an MSRP of $315. (USD).
For more information:
Key Digital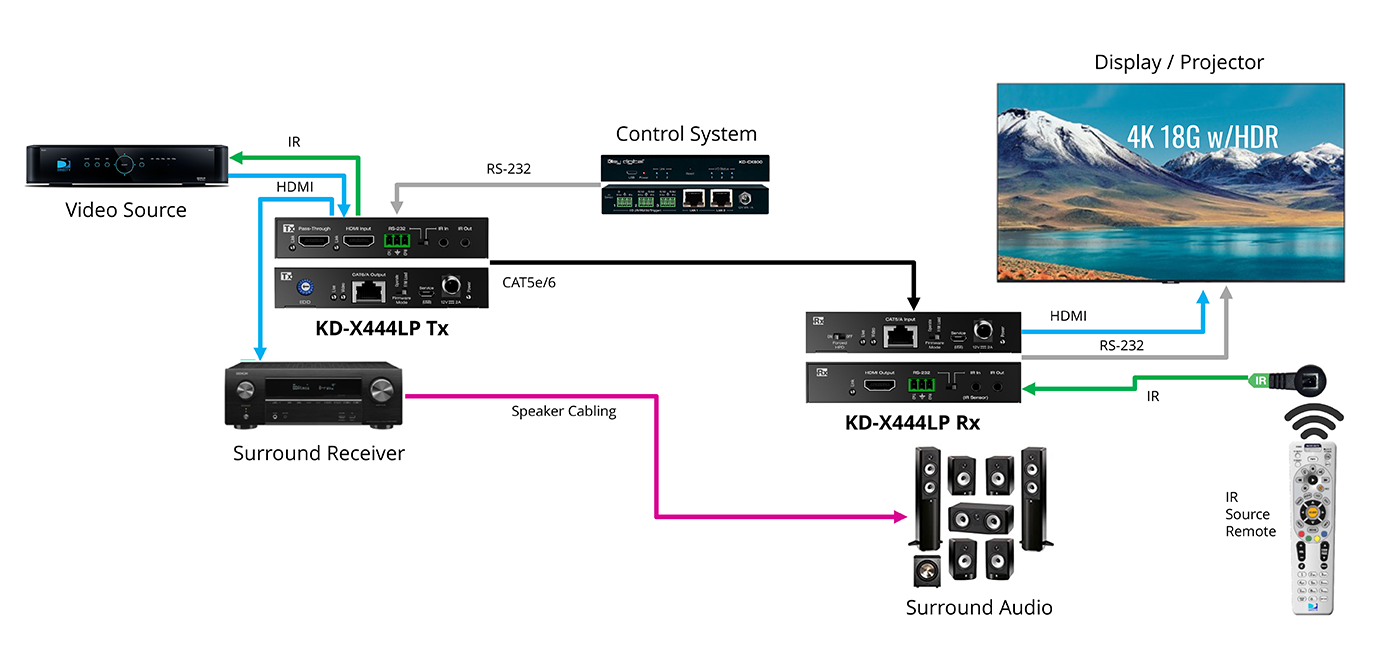 ---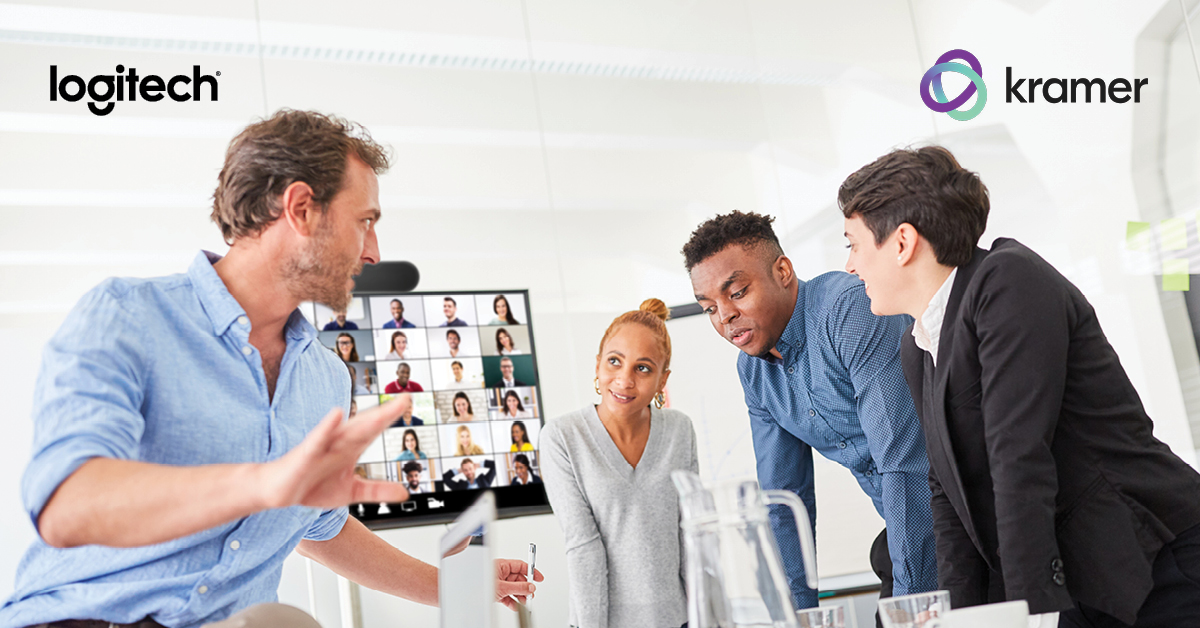 Kramer, the leading audio-visual experience company, has announced that the Logitech MeetUp conference camera is now fully certified for Kramer VIA Connect2 and VIA Campus2 wireless presentation. The solution unifies Kramer VIA-Connect2 and the Logitech MeetUp all-in-one video bar in a compact, easy-to-deploy, complete wireless presentation and collaboration solution.
Through this partnership, Kramer and Logitech are reducing complexity and increasing flexibility in meeting rooms worldwide.
Aviv Ron, Vice President, Corporate Development & Strategy at Kramer, said: "As corporations catch up with new hybrid working habits, collaboration between UC manufacturers is key to producing solutions that are not only efficient for resellers and users, but are future-proofed as platforms advance and customer requirements evolve."
"We constantly look for partnership opportunities that will improve our customer experience and bring greater value. Logitech has been instrumental in the development of meeting room solutions and together, we look forward to providing new and innovative solutions that further enhance the workplace."
Sudeep Trivedi, Head of Alliances and Go-to-Market at Logitech, added: "We are very pleased to continue our relationship with Kramer, and combine the excellent wireless presentation and collaboration of Kramer's VIA family with our leading solutions in the unified communication space."
https://bit.ly/KramerLogitech-DTools
---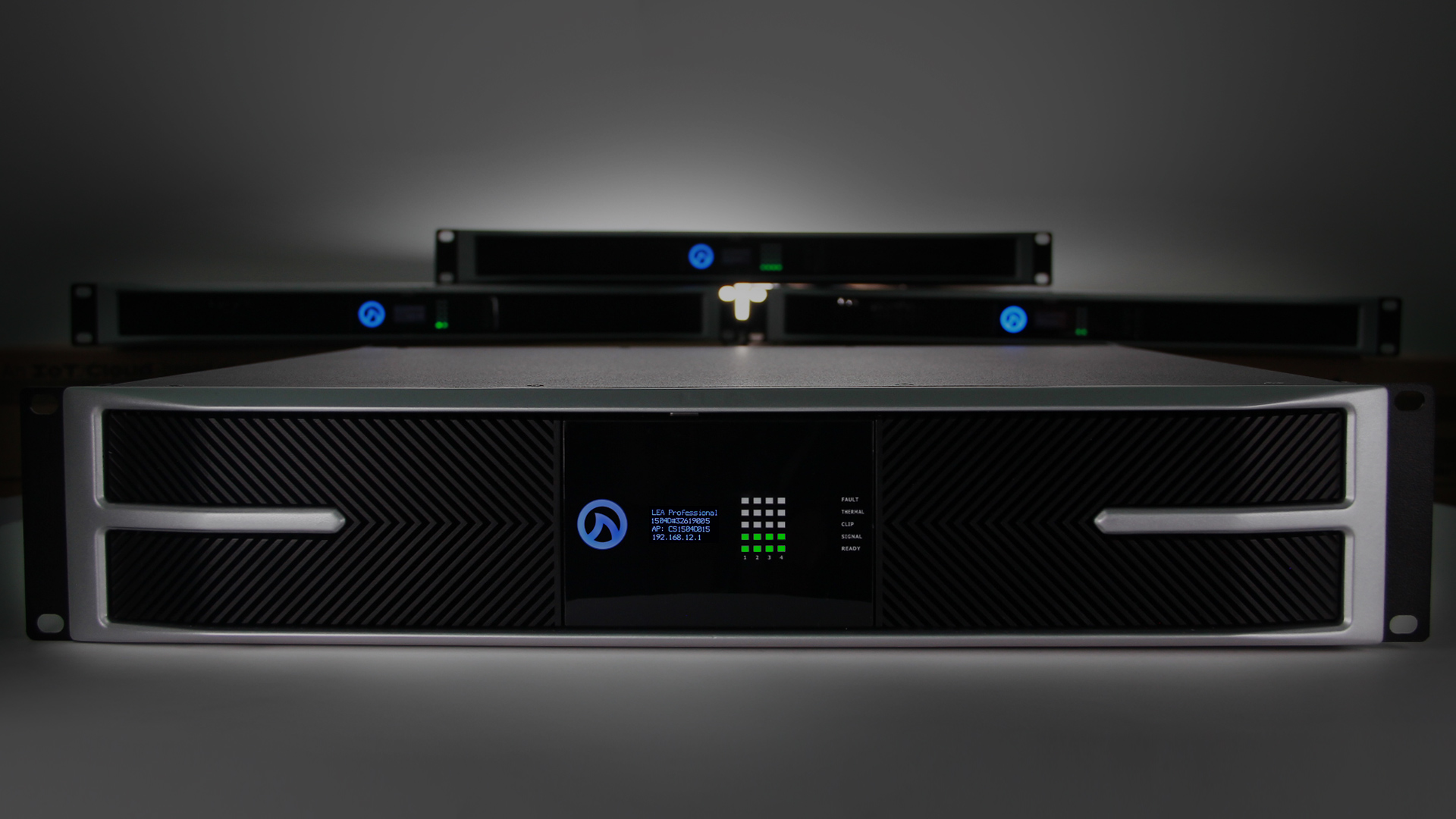 Now Accepting Orders For Our New 1500 Watt by 4 Channel Smart Amps
These new higher powered Connect Series models open the door for Cloud-connected install projects in Large Venue settings like Arenas, Conventions Centers, and more… Get More!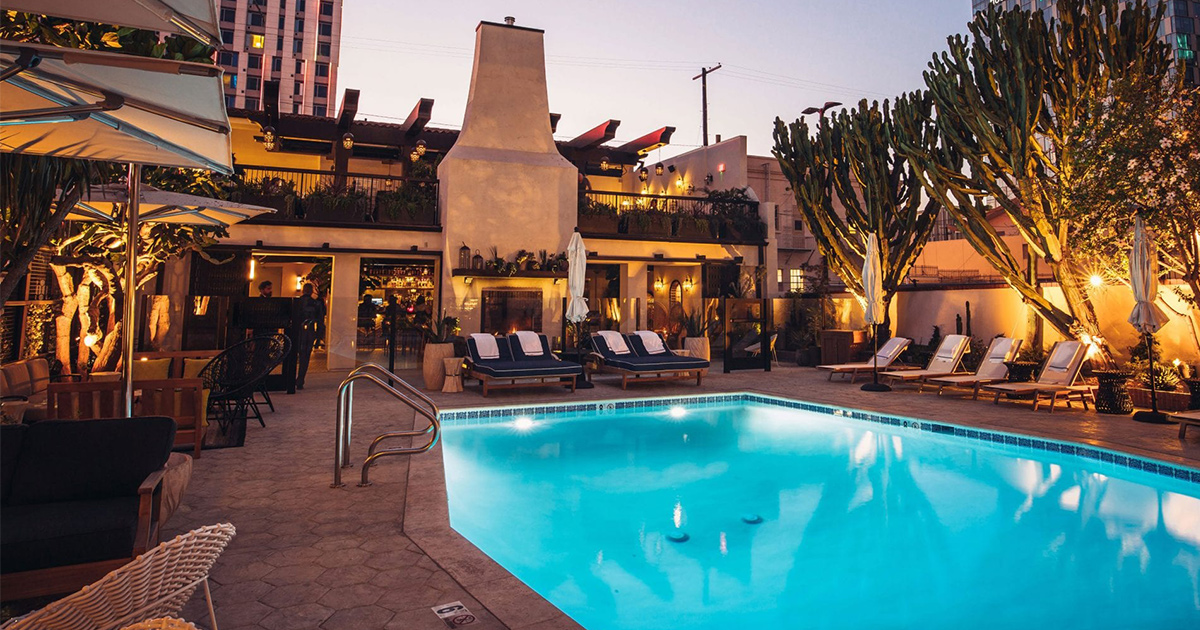 Iconic Los Angeles Hotel With Rich 90-Year History Upgrades to LEA Smart Amps
When upgrading amps within a legacy infrastructure, integration company, Drp Inc, found the versatile feature set of the Connect Series Smart Amps to be a perfect fit... Get More!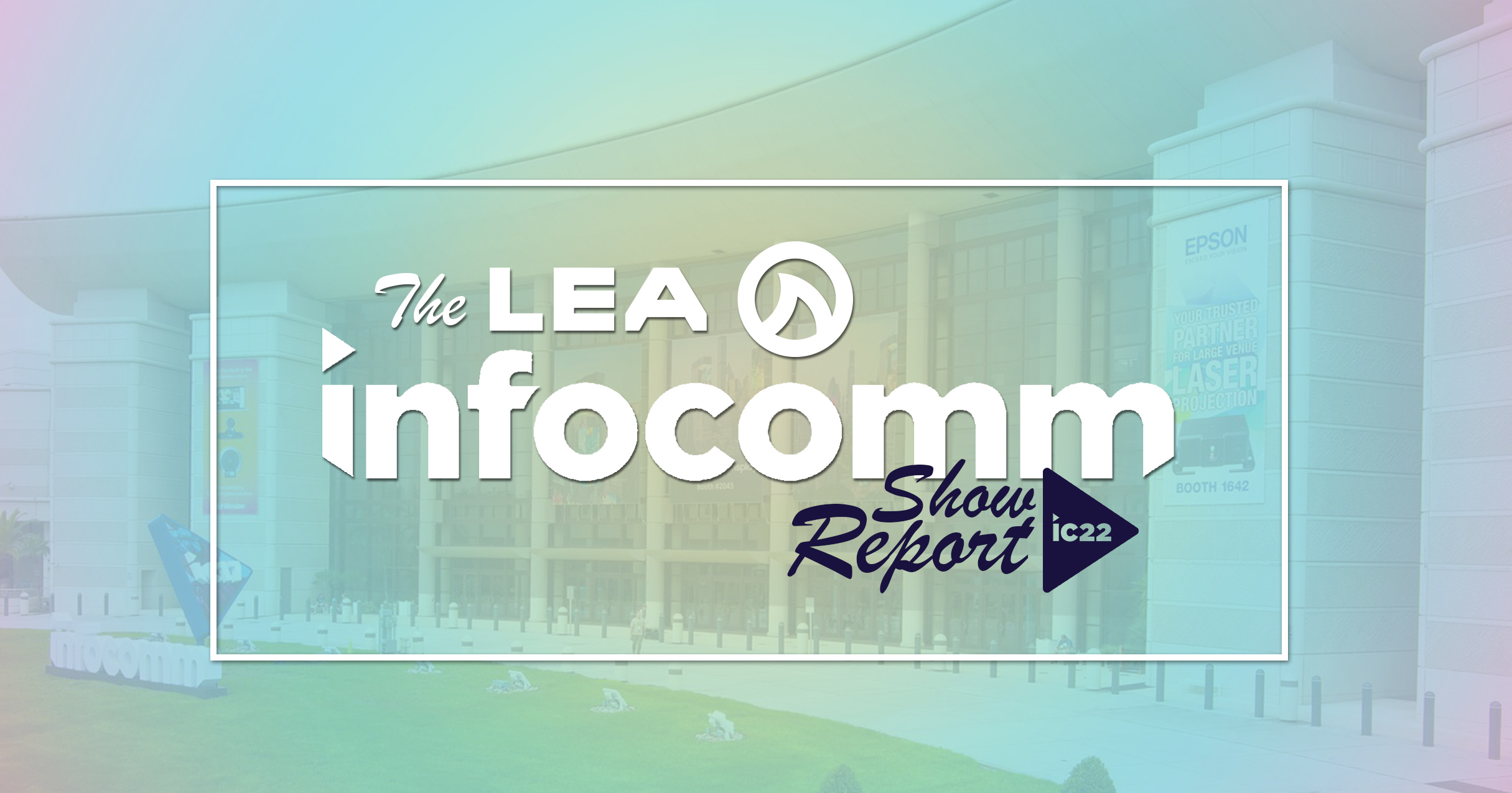 New From InfoComm 2022: Get The Full Recap From the LEA Booth
If you couldn't make it to the show, don't fret! We have all of the highlights from the show floor in one place. From new product announcements to a sneak peek at upcoming software... Get More!
---


Vantage Broadens Lighting Fixture Support Through Strategic Alliance With No. 8 Lighting
Legrand announced its lighting control brand Vantage formed an alliance with No. 8 Lighting. Created by lighting designers for lighting designers, architects, and interior designers, No. 8 Lighting offers architecturally inspired recessed and surface-mount fixtures with patented precision features, stunning design, innovative engineering, and easy installation. The alliance ensures the company's fixtures pair seamlessly with Vantage's LHUMAN human centric lighting solution to offer an even better design experience in residential and commercial projects.
---

Simple Control and Remote Management

Introducing the Liberty award-winning networked USB 3.0 hub with control and client switching capacity
Liberty has revolutionized the way you will think about USB hubs by adding remote management, robust power, surge protection, client port switching and uninterruptible power to USB peripherals connected to the core of the system, your PC.
By modernizing USB connectivity, we fix the uncertainty that comes with USB. Not only are we increasing the power, but we are enabling USB communication between the host and the client through virtual reseating of the connection.
When you integrate Liberty's networked based powered hub into your cloud-based video collaboration systems, you can achieve adequate power, power expansion, and power cycling to all connected USB peripherals. Virtually reseating a USB connection just became possible, enabling even remote users to instantly troubleshoot and save the day.
A purpose-built, professional-grade USB hub now makes USB connectivity easy, and, available, and ensures 24/7 system uptime.
Complete the installation of the TeamUp+ Series 4+1 Port Powered USB 3.0 Hub with Control and Client- Switching Capability with Liberty's extensive range of USB, or premium category cables. Don't stop there — check out our entire line of USB solutions today!
Contact your Liberty AV Solutions team for more information.
---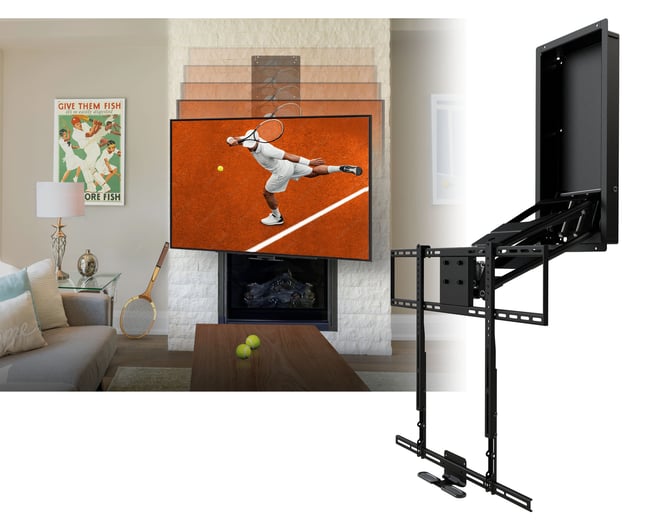 30 LOVE
*30 inches, that is.
And you'll love the MM750 Pro TV Mount that allows you to lower your TV up to 30" into the perfect eye-level position. Experience the best picture quality, the sharpest image, and the most vibrant colors that your TV has to offer. The MM750 Pro also swivels up to 25° in each direction for the best alignment to your favorite easy chair.
Other mounts could be just another racket.
With MantelMount, it's game, set, and match
---

MetraAV® Introduces Revolutionary
New Smart Power Distribution Unit
MetraAV® has introduced a revolutionary new product, the Big Dog Power Smart Power Distribution Unit. This innovation combines all of the features integrators need into one power distribution unit to deliver surge protection, remote control, smart home integration, rack temperature management, and more. Twelve individually controllable outlets have power metering, self-healing, and automatic reboot capabilities for smarter and easier remote management of connected devices. Devices can be turned on and off without requiring an internet connection, allowing for scheduled reboots and an easy network equipment power reset that can solve the most common technical issues. For integration professionals, this means reduction of time-intensive support calls and truck rolls.
The PR-R13PI Smart Outlet PDU includes a surge mileage meter that shows when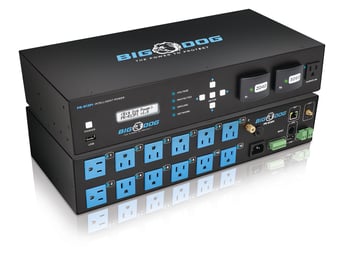 surges have occurred and the percentage of remaining protection. When a surge happens, two removable surge protection modules can be replaced without sacrificing the entire PDU, making this solution unique and cost-effective. Temperature control can also be automated with four magnetic temperature sensors that can be used to program turning on a fan or turning off devices when the temperature gets too high. The 13th service outlet powers a temporary device without having to reach behind the PDU. This unit is also designed to work without internet connection and still have automatic self-healing functions.
The innovation doesn't stop there. Big Dog Power's flexible app is designed to work how integrators work, with easy programming that can be set up by outlet or device to mimic the workflow of their choice. Once set up, integrators can monitor all of their clients within the free Big Dog Power app. The PDU will also work with other popular automation platforms to allow the user to continue managing their devices through the same control system app.
Three alternate, scaled-down versions of this product are available to suit the needs of smaller systems. The PR-V7PI model, which features seven outlets, the PR-W3PI model, featuring three outlets and even a single-outlet style plug for individual appliances, the PR-S1PI. Visit BigDogPower.com for technical specs and more information.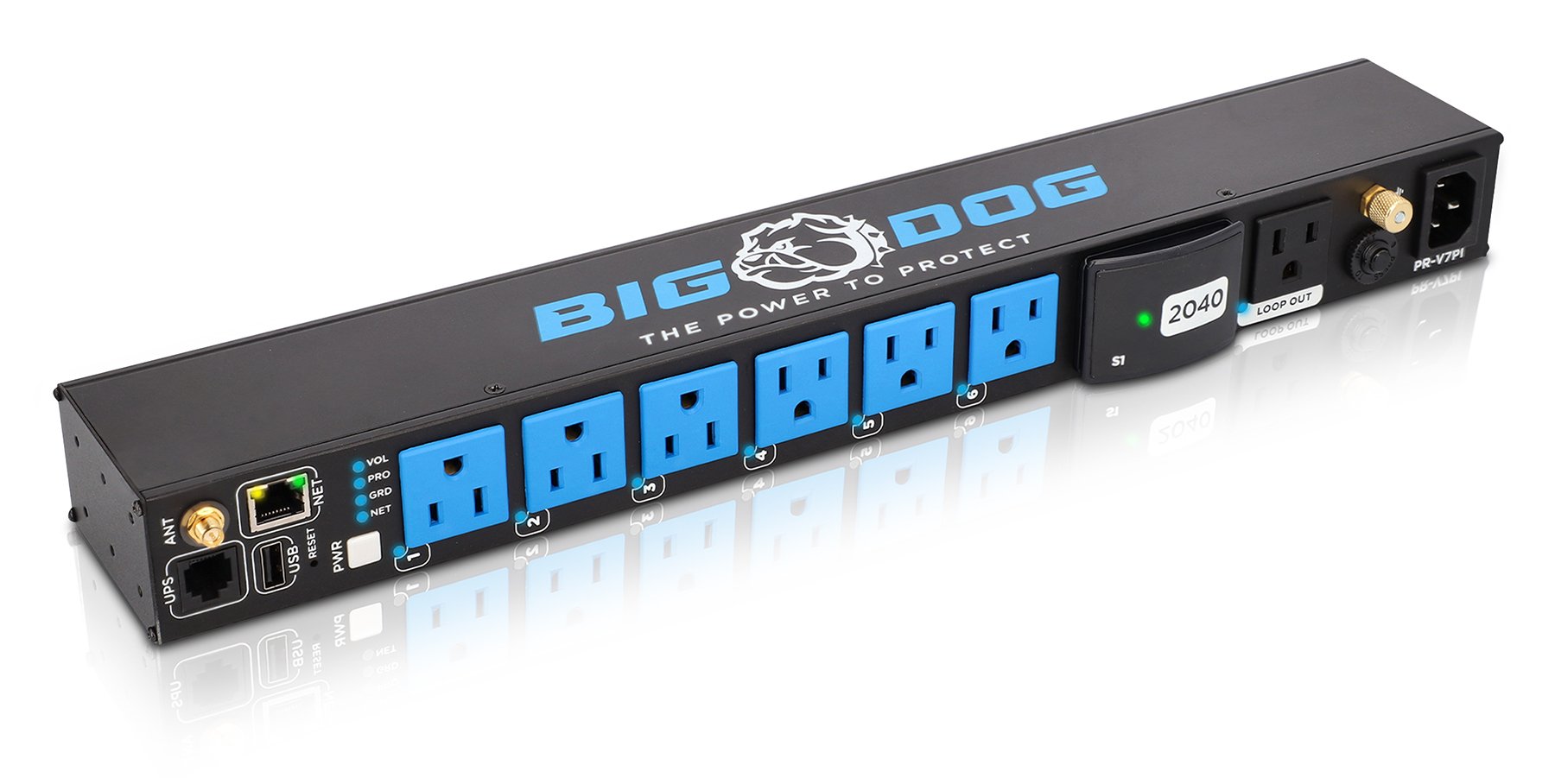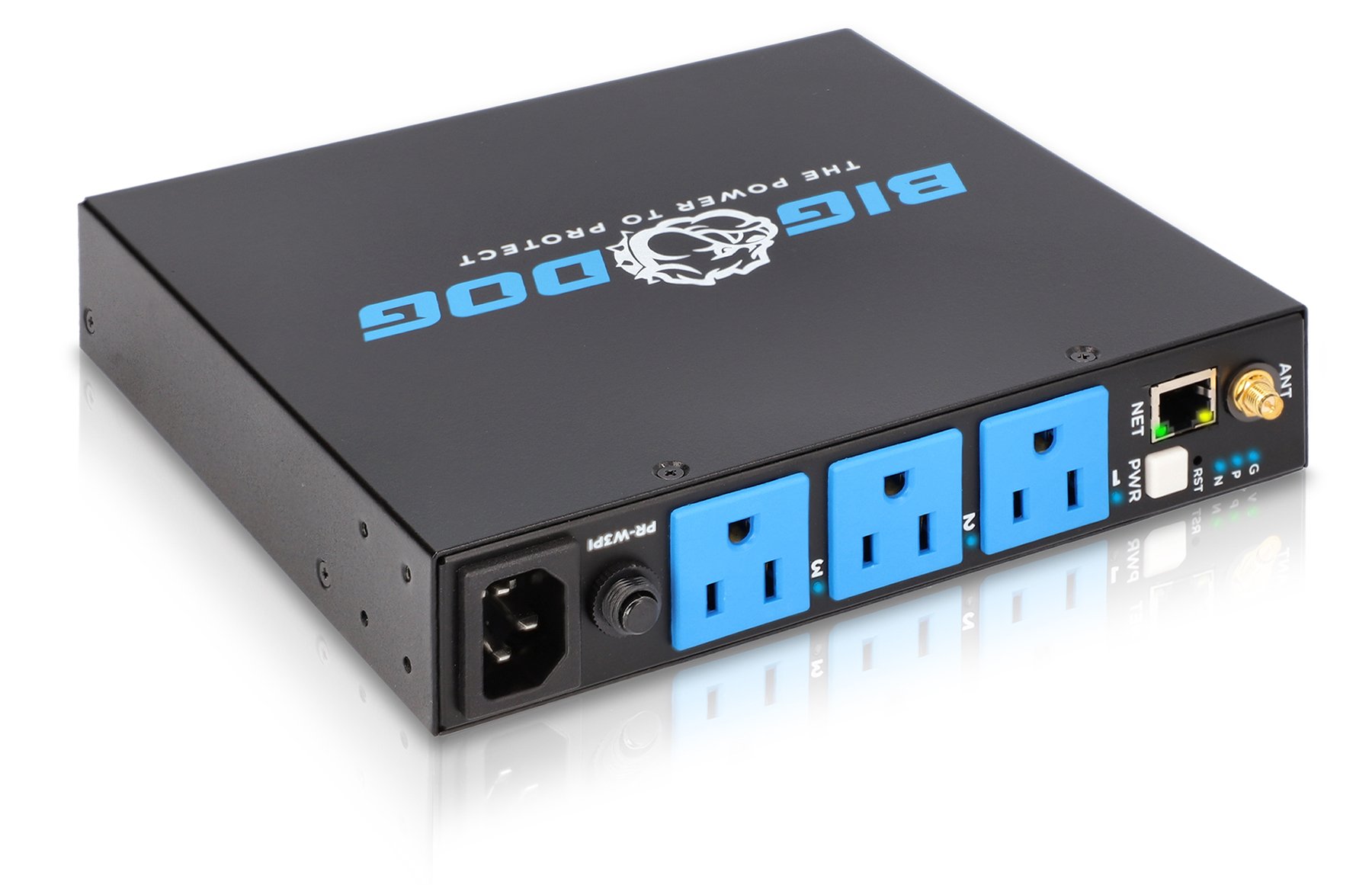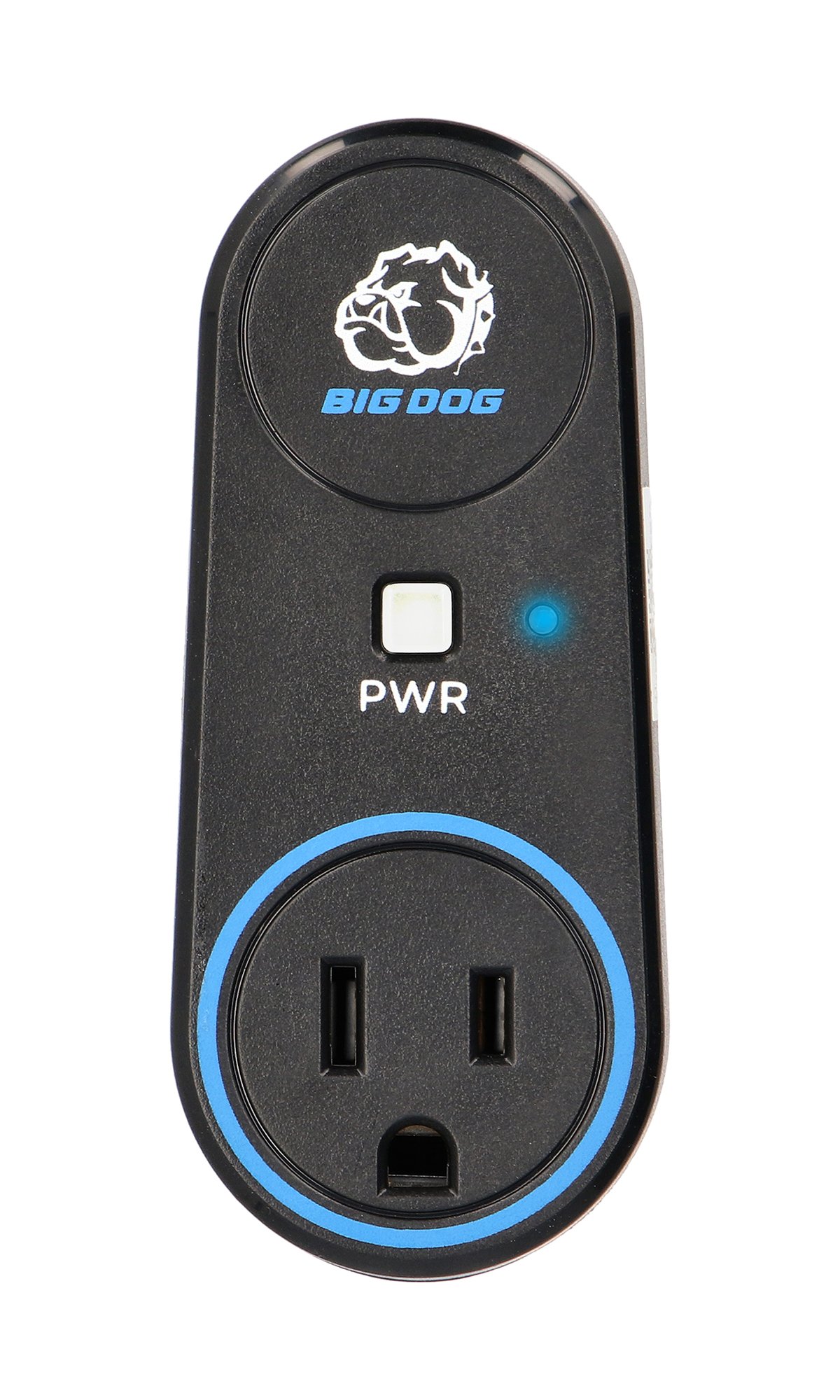 ---
Monitor Audio Climate Series
There Is No Environment Beyond The Reach Of Great Sound
Monitor Audio's Climate Series includes 4 all-weather models that can be wall mounted in any combination while providing a wide and even dispersion of full range sound over large areas. You can rely on Monitor Audio's meticulous engineering to protect the Climate models from weather ingress. Their solid, sealed, high-density polypropylene enclosures are specially treated to resist water, corrosion and the effects of prolonged UV exposure, and their aluminum grilles and rugged brackets are equipped to prevent rust.
Mounted at either end of each Climate speaker cabinet is a heavy-duty bracket designed for 175 degrees of horizontal or vertical rotation in small non-slip increments. Magnetic end-caps protect the bracket terminals top and bottom, and make the process of re-positioning easy. Once installed, a Climate speaker can be directed precisely for the maximum musical effect. For added flexibility a supplied installation wedge advances the angle of rotation by a further 15 degrees to extend the choice of firing angles.
Each model includes a C-CAM driver and a 1" C-CAM Gold Dome Tweeter (the CL60-T2 stereo model includes two tweeters). Sound quality is further optimized for the open environment through the use of an additional sealed ABR (Auxiliary Bass Radiator) driver to enrich low frequencies with extra punch and penetration.
The Climate Series features paintable textured white or black finishes offering a stylish design to coincide with the range's high performance sound.
"...the Monitor Audio CL80 is the best sounding outdoor speaker I've had the pleasure of listening to..."
Suave Kajko, Canada HiFi (NOVO)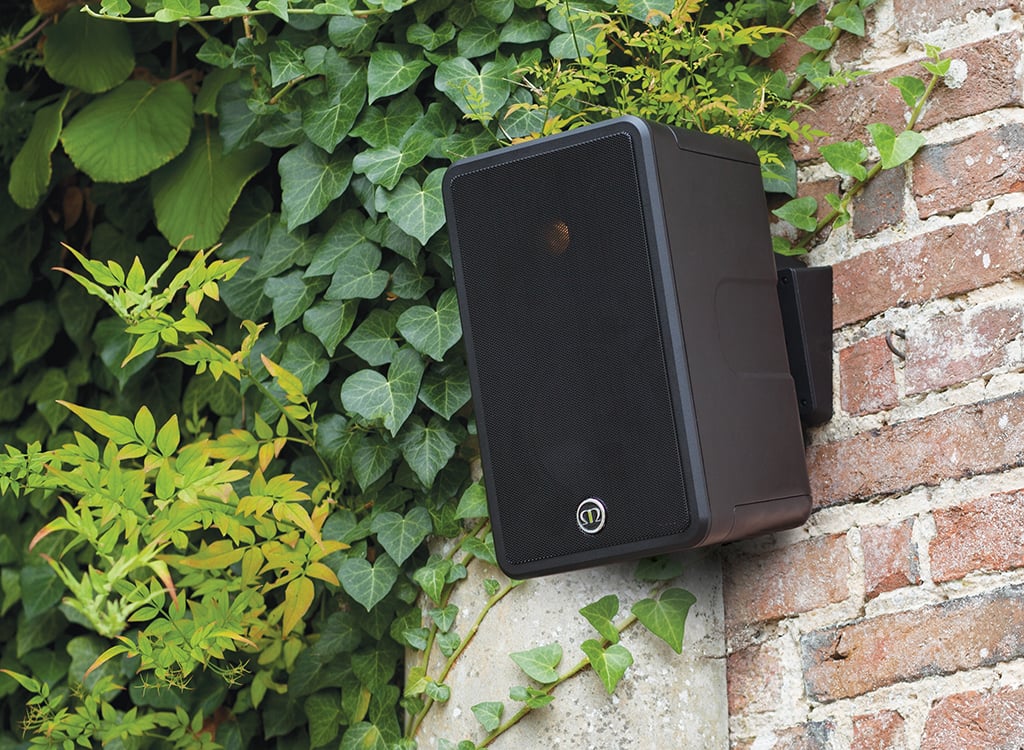 ---

Platinum Tools ezEX-RJ45™ Termination System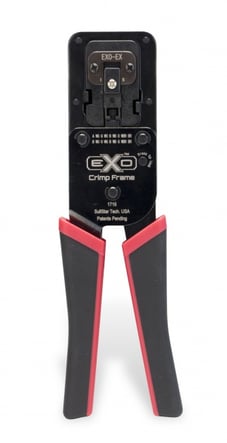 The ezEX-RJ45™ Termination System provides a solution for terminating larger diameter twisted-pair cables, with conductor sizes up to .048 inches. The ezEX-RJ45™ connector has a hi-lo stagger design to increase performance and accommodate larger conductors found in Cat5e, Cat6, and Cat6A cables while maintaining the EZ® pass through design. This allows you to verify the wiring sequence before terminating. The EXO™ professional crimp tool and EXO-EX die set pair with the ezEX-RJ45™; connectors to ensure a flush cut and reliable termination every time. Saving time and money without sacrificing performance on high-end jobs.www.nsiindustries.com/platinumtools, call (800) 749-5783, or email info@platinumtools.com.
For additional information on Platinum Tools and its complete product line, please visit
---

RTI Integrates With Orro Intelligent Lighting Control System
We're excited to announce that the RTI control platform now works with Orro, integrating Orro's intelligent lighting control into any home automated by RTI. With light, motion, and sound sensing, plus elegantly designed smart switches, Orro's adaptive lighting automatically adjusts based on homeowner presence and preferences. RTI elevates this lighting performance by enabling control and automation of Orro switches from within the RTI control environment. The integration elevates control system performance by launching control and automation events triggered through Orro presence detection.
Orro turns on or off lighting scenes based on presence detection, and the RTI control system can trigger automations also based on this detection. For example, when someone enters the room, not only will the lights turn on, but the music can automatically be adjusted to a preferred station and the volume brought to the desired level. When no presence is detected, the lighting scene can change, and the music can be turned off.
Standard Orro lighting control is enabled through the RTI system, creating an exceptional experience throughout the home. The homeowner can launch lighting scenes, set dimmer levels, control lighting loads, turn individual lights or lighting groups on and off, and combine Orro Switches into groups. The Orro One and Orro S Intelligent Lighting Switches work together to create a seamless lighting system, setting the perfect mood in any home. Orro also works with popular smart bulbs and switches.
The new driver that enables the RTI-Orro integration is available to authorized RTI dealers at the RTI driver store and directly within the RTI Integration Designer 11 control application programming software.
Learn more at www.rticontrol.com.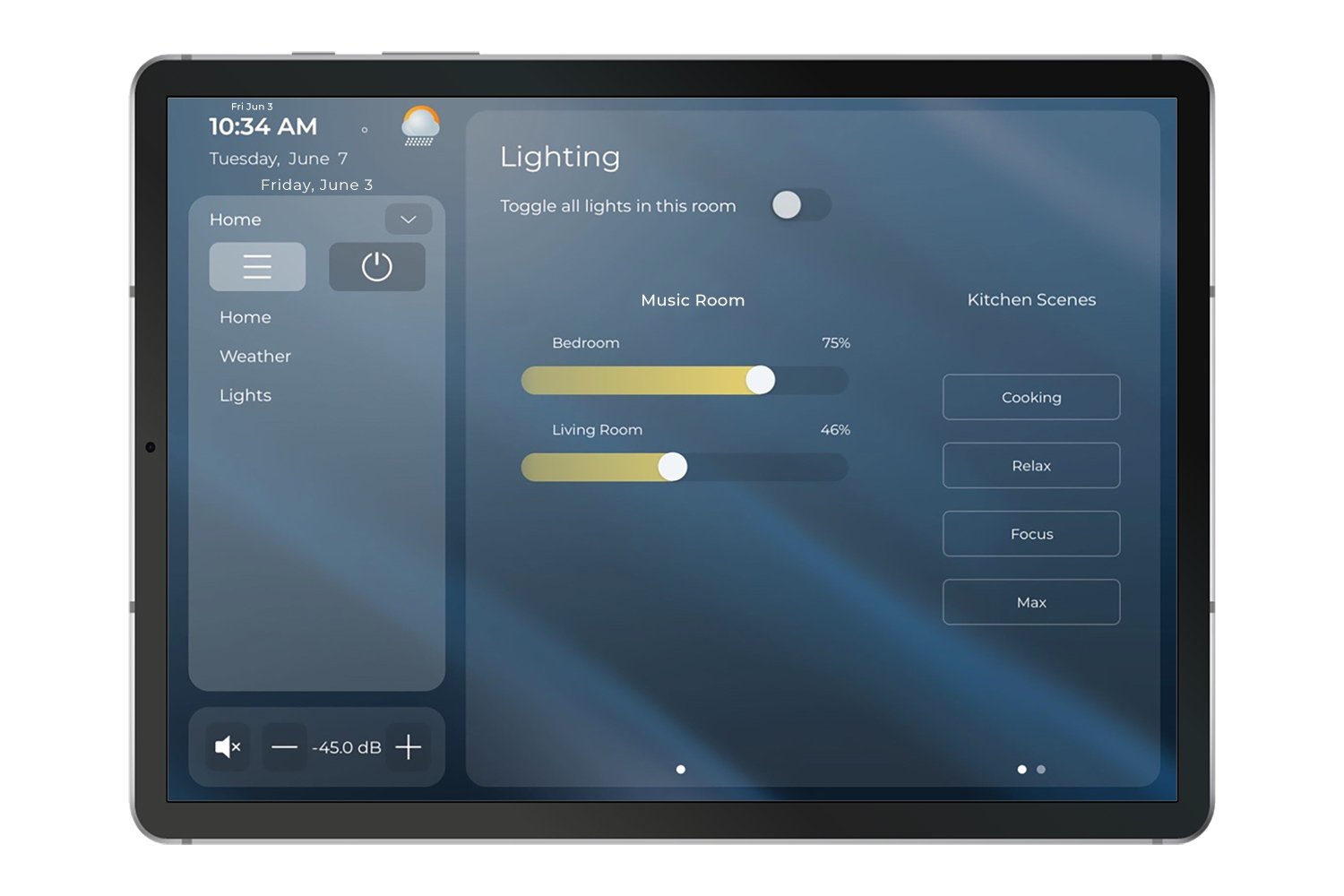 ---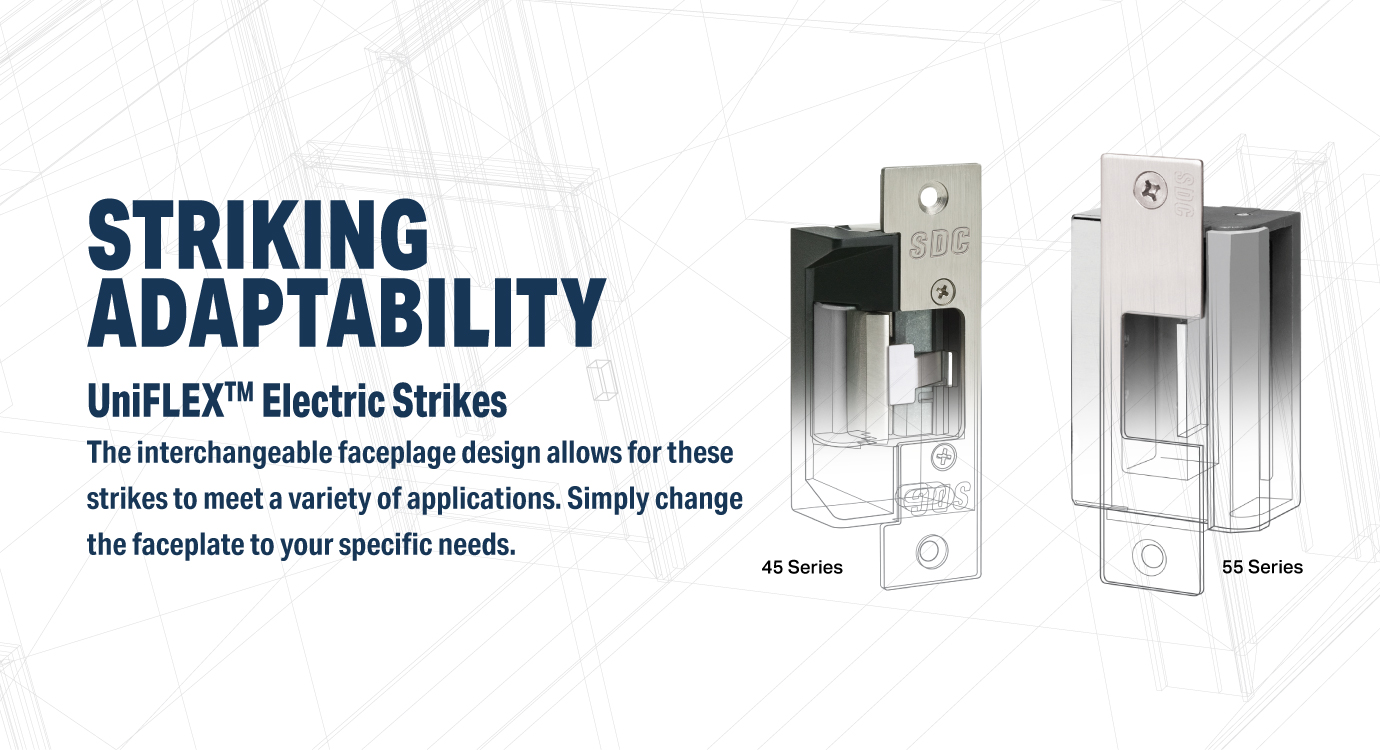 SDC's UniFLEX™ electric strike products feature interchangeable faceplate designs which allows for these strikes to meet a variety of applications. Simply change the faceplate to meet your specific needs. The UniFLEX™ design also allows for multi-application kits… On part number covers it all!
SDC electric strikes enable the electrical release of a locked mechanical latch or bolt and are well-suited for both new and retrofit construction. SDC's 55 series and 45 series electric strikes are available in a variety of configurations to accommodate several types of mechanical locksets and door and frame styles - as well as failsafe and failsecure applications.
SDC's 55 series 3/4" latchbolt electric strikes are heavy duty. They are designed for installation in hollow metal frames for access control of cylindrical locksets, mortise locksets with or without deadbolts and mortise exit devices.
SDC's 45 series 5/8" latchbolt electric strikes are centerline latch entry strikes designed for use with cylindrical locksets and mortise locksets without deadbolt for both metal and wood frames.
DID YOU KNOW?
SDC pioneered the integration of Electric Strikes into the door hardware industry from access control and was the first to engineer an interchangeable faceplate design with field reversibility for failsafe or failsecure operation – as available in our 45/55 series strikes.
---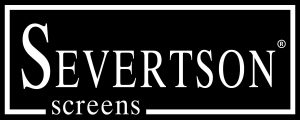 Severtson Screens Broadway Series
Broadway Series is a collection of fixed frame projection screens that offer a sturdy extruded aluminum 6-piece frame with a 2 3/8-inch bezel, wrapped in light-absorbing black velvet which provides a clean, sharp appearance. It is an excellent solution for any venue needing a quality, high-performance projection screen, such as any home theater, sports bar, educational facility, or conference room.
The Broadway Series fixed frame offers an affordable projection screen and the same excellent quality that has come to be expected from a Severtson screen. Broadway is available with white and grey projection materials and numerous sizes, making it ideal for a variety of lighting situations. Its appearance does not distract from the projected content, but instead quietly enhances the viewing experience with its perfectly tensioned viewing surface and precision-aligned black velvet frame.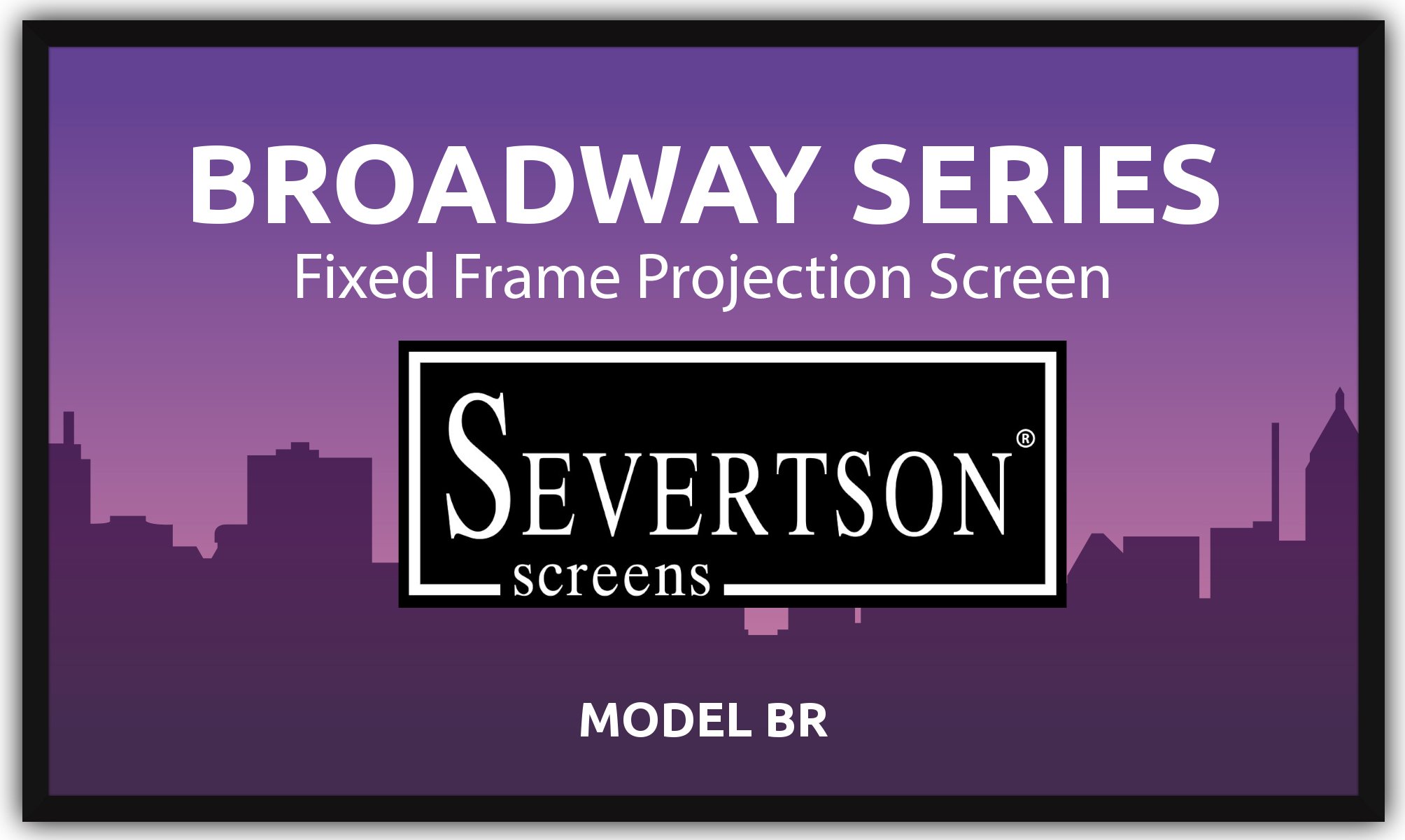 ---
Announcing Somfy's WireFree Li-ion Solar Panel Kit
Harness the power of the sun with maintenance-free charging for Somfy WireFree motors!
The Li-ion Solar Panel is an easy-to-install solar panel option for Somfy WireFree motors that charges Li-ion batteries. Plugs in to automatically charge both embedded Li-ion motors or those with an external Li-ion battery tube. The panel's low-profile is easy to conceal in the window and comes with a variety of mounting options to suit any application. Go green with the convenience of maintenance-free charging!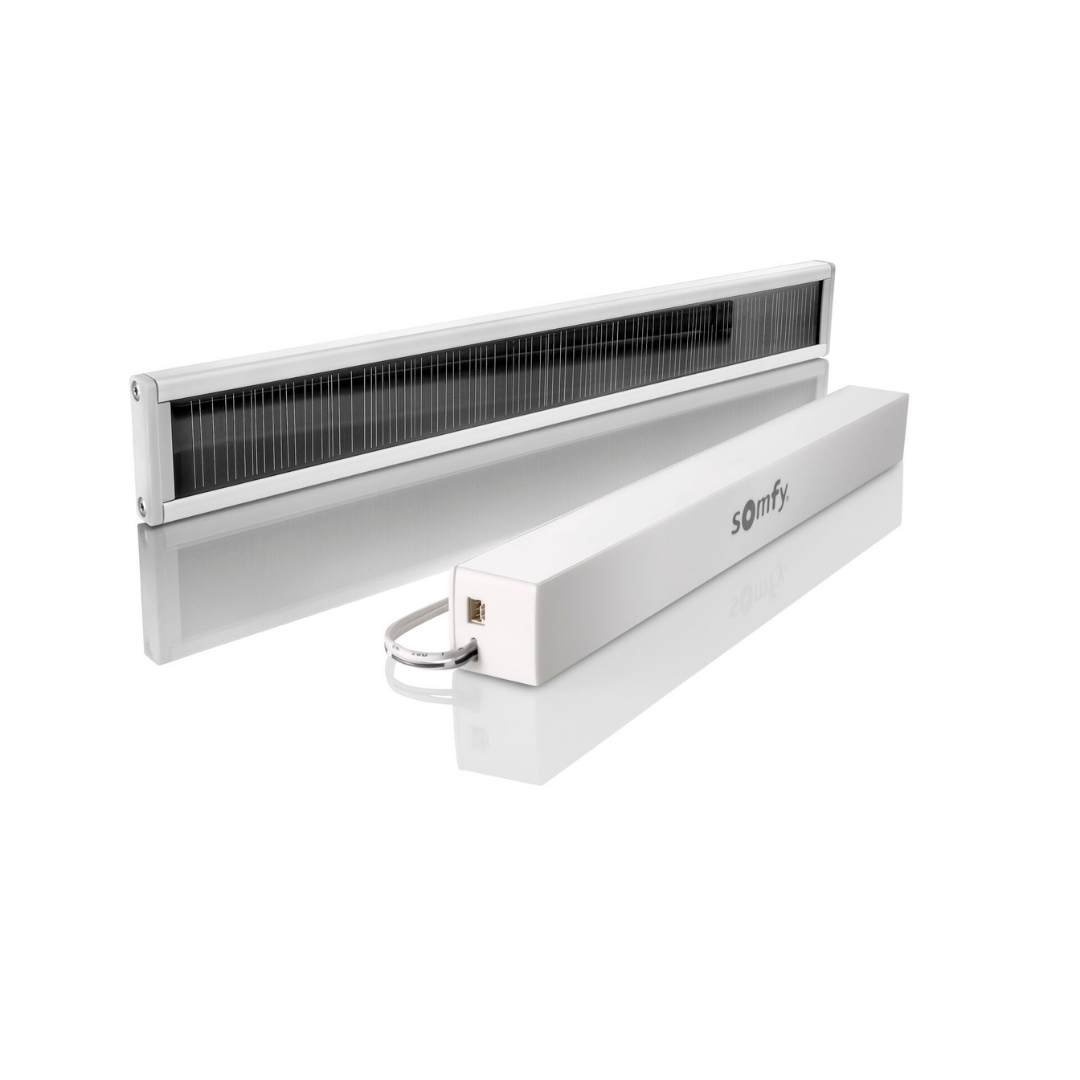 ---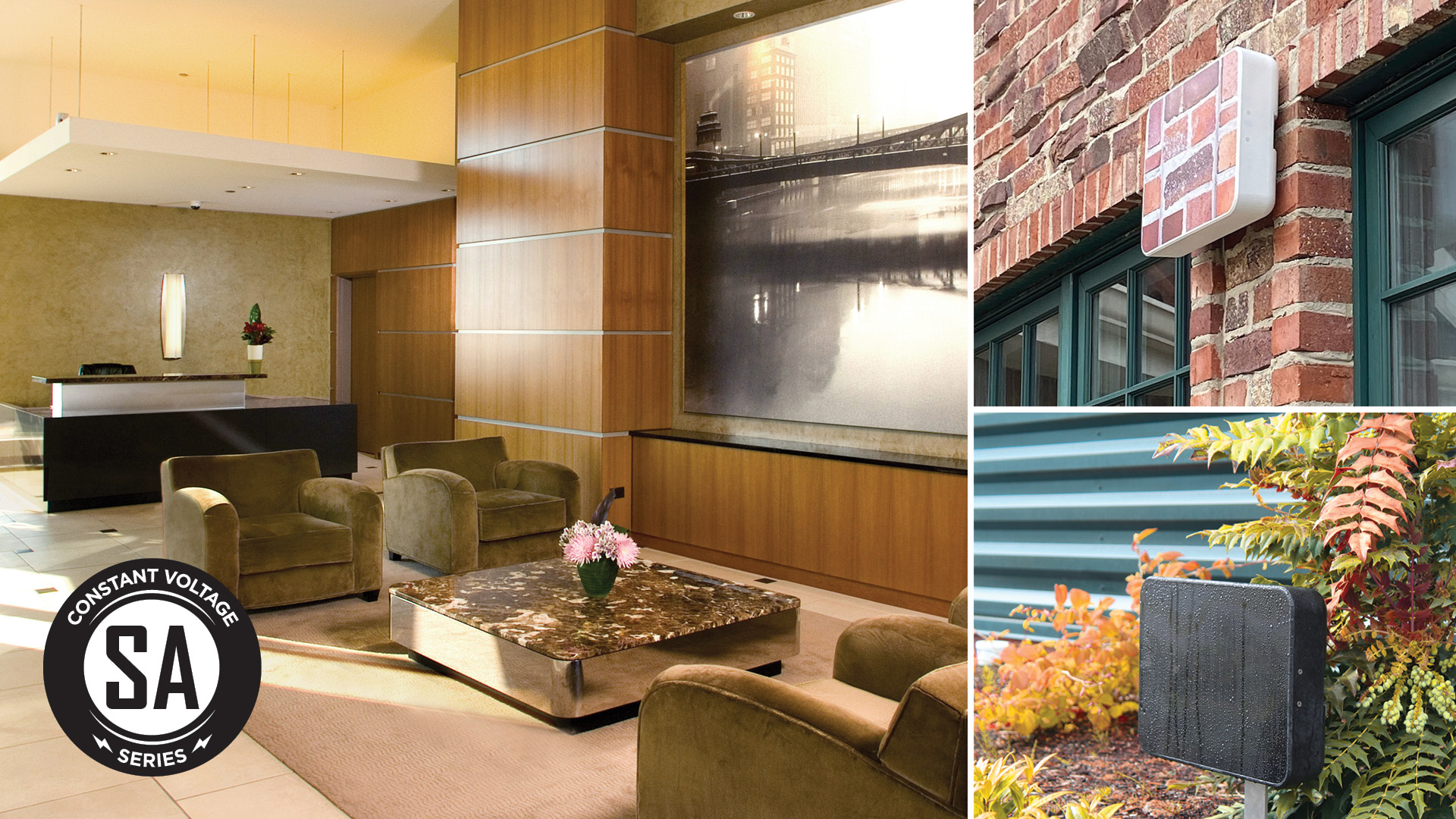 High Performance Commercial Audio Solutions: Invisible & Environmental!
Stealth's most popular indoor and outdoor distributed audio speakers are available as Constant Voltage Series (CVS) models. Ideal for commercial projects, these speakers don't sacrifice sound quality and won't clutter the space with unsightly speaker grills. Stealth's CVS speakers are compatible with 70-volt amplifier systems and have multiple transformer tap values of from 60 to 5 watts (depending on model).
Stealth's LineaResponse LRX-83, LR8g, and LR6g Invisible CVS Speakers feature exceptional audio performance and the same built-in protection circuitry as their standard model counterparts. The speakers can be installed in walls and ceilings (similar to installing a wallboard patch), and after standard wall finishing and paint has been applied, they completely disappear into any office or showroom to be heard, but never seen.
For outdoor projects, the CVS StingRay X83, StingRay 8, and smaller StingRay 6 are ideal. Stealth's StingRay speakers are IP68 rated, meaning they are sealed to withstand the harshest environments, and have a sleek appearance without any grills or ports that would allow dirt, moisture and pests inside.
StingRay speakers are available in white or black finishes suitable for many installations, and their unique design makes them a perfect choice for projects that need to Blending In! or Standing Out! By applying camouflaging imagery, custom artwork, or commercial branding directly to the face of a StingRay speaker it can hide in plain sight or make a bold audio visual statement in ways no other outdoor speaker can. Or, for a more traditional approach, standard exterior grade latex paint may be applied to StingRay speakers at the project site to achieve an exact color match the with the home or installation surroundings. A full line of mounting accessories is available.
Constant Voltage Series speakers are built to suit. Please contact Stealth Acoustics for design assistance, custom orders, and availability. Stealth's high-quality, commercial grade transformers are also available for purchase separately.
---

TechLogix MOFO™ PT Series
The TechLogix MOFO™ PT Series is the first HDMI & USB plate solution backed with fiber. Forget clunky extenders and bandwidth-limited copper cable. The MOFO™ PT Series combines fiber-based cabling with traditional table inserts and wallplates, delivering cleaner installations, fewer failure points and better bandwidth. Simply pull, plug and play.
The MOFO™ PT Series includes USB cables in a variety of lengths, HDMI cables in a variety of lengths, aluminum table insert grommets in black or white finish, and aluminum decora wallplates in black or white finish. Simply combine components based on the installation. The system leverages TechLogix's MOFO™ fiber-based technology to manage 18G 4K60 HDMI and universal USB formats (3-2-1 technology supporting full-speed, hi-speed and SuperSpeed USB).
For more information on TechLogix and its complete product line, please visit www.nsiindustries.com/techlogix, call 866-445-4405, or email info@tlnetworx.com.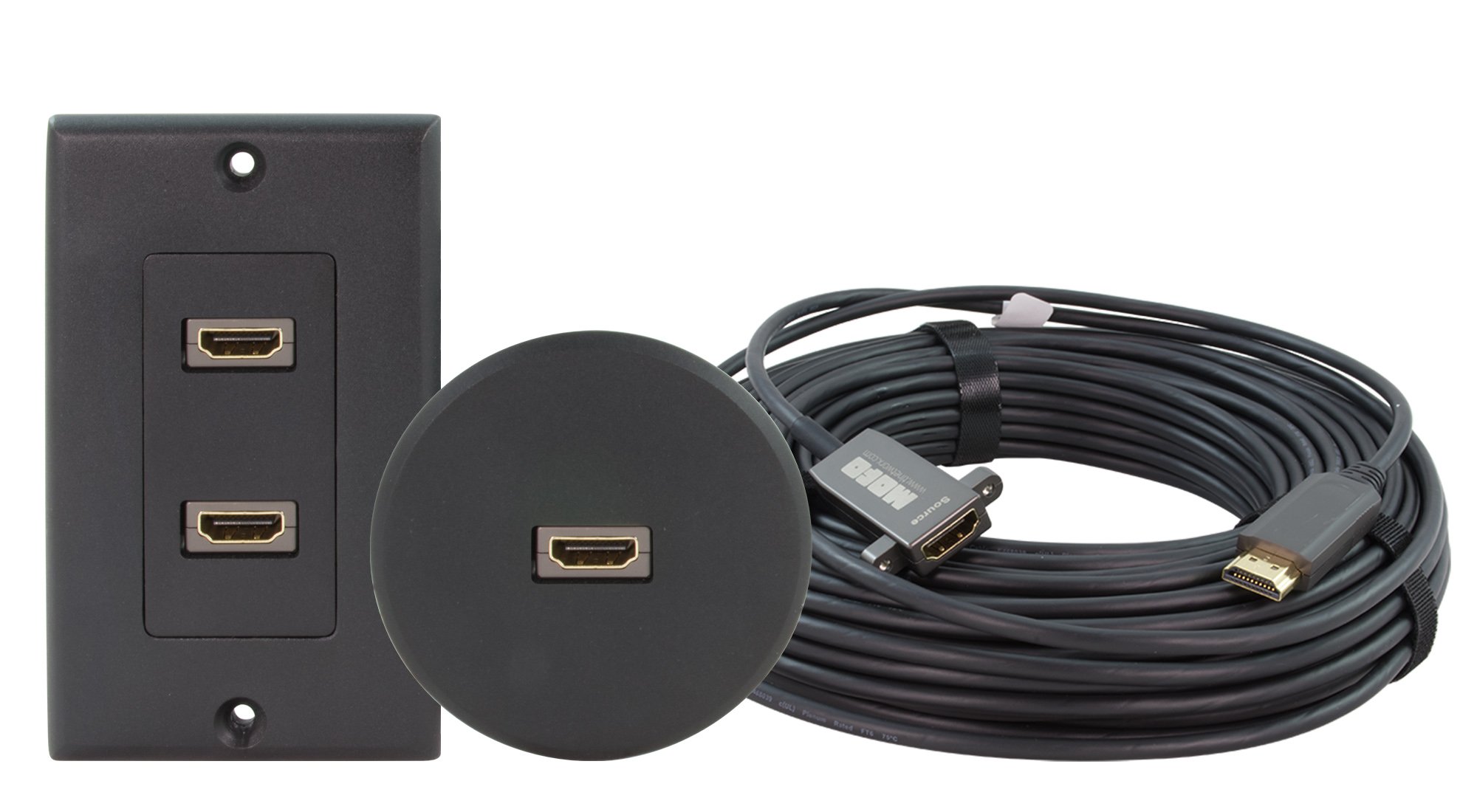 ---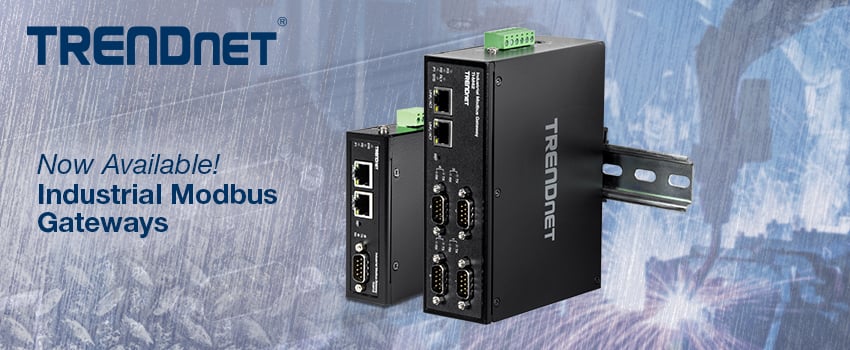 Connect Serial Devices to your network with TRENDnet's Industrial Modbus Gateways!
TRENDnet's industrial gateways easily connect RS-232, RS-422, and RS-485 serial devices to a network, and are equipped with two fast Ethernet ports that support distances up to 100m (328 ft.) using Cat5e cabling. Choose between models TI-M12 and TI-M42 depending on how many serial devices are needed to connect to a network.
Designed with a rugged IP30 rated housing, TRENDnet's industrial Modbus gateways are resistant to a high degree of vibration and shock while having the ability to operate within a wide operation temperature range.
Click on the links below to learn more!
TI-M12- Industrial Modbus Gateway
https://www.trendnet.com/products/modbus-gateway/industrial-modbus-gateway-TI-M12
TI-M42- 4-Port Industrial Modbus Gateway
https://www.trendnet.com/products/modbus-gateway/4-port-industrial-modbus-gateway-TI-M42
---

ViewSonic All-in-One Direct View LED Displays
Seeing is believing with ViewSonic's innovative All-in-One Direct View LED displays. With screen sizes up to 216", these displays make a sizable impression in any corporate lobby, boardroom or conference room, boasting seamless and stunning video wall images in Full HD resolution.
Better yet, the advanced all-in-one design features multiple pre-assembled and pre-calibrated panels for hassle-free installation. They are easy to set up, easy to calibrate and easy to maintain, significantly reducing the total cost of ownership compared to custom video walls. With larger-than-life images and simple setup, ViewSonic® All-in-One Direct View LED display solutions are perfect for delivering high-impact messaging to your audience.
Ready to start your next project? Visit Direct View LED Displays | ViewSonic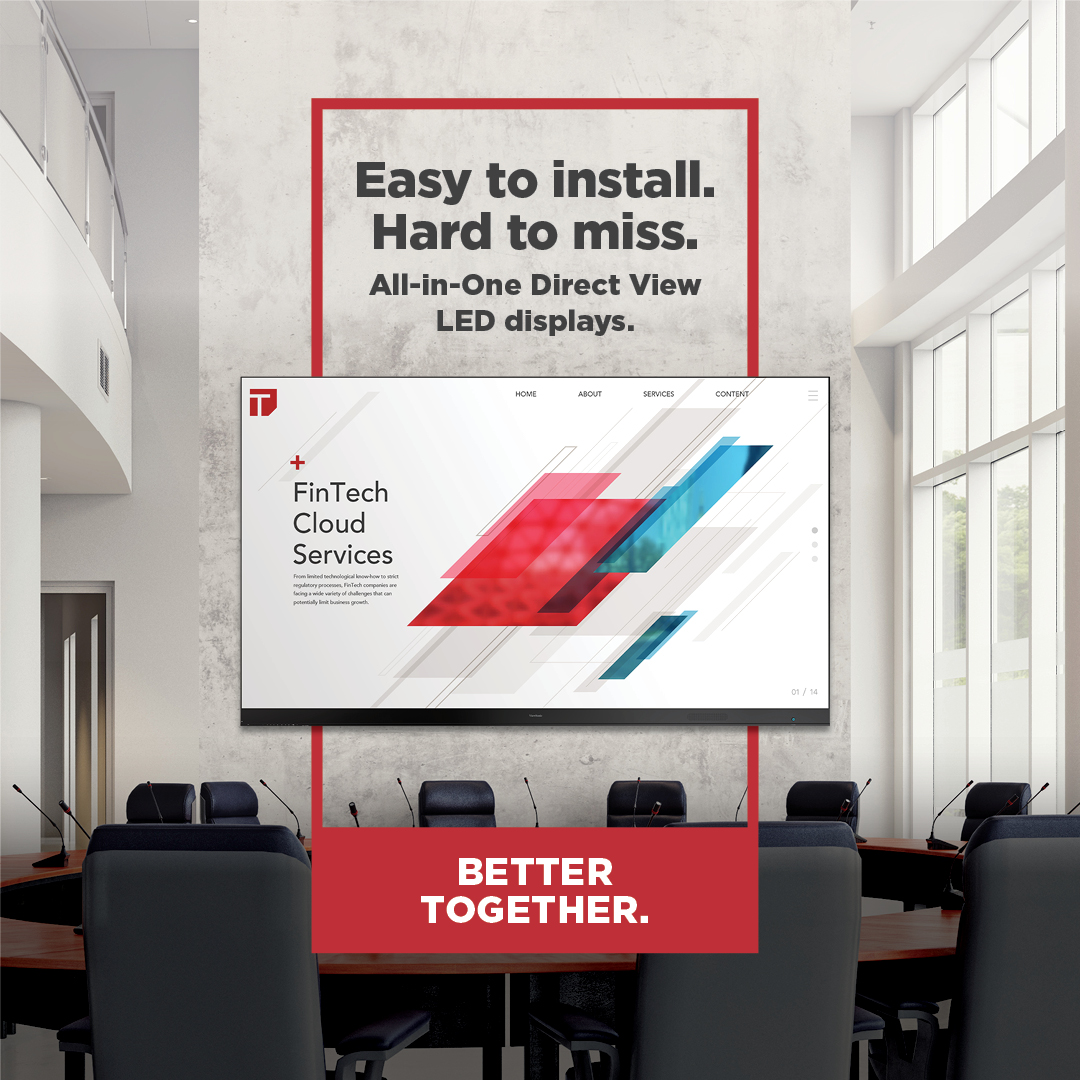 ---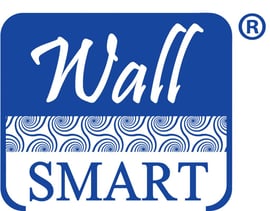 Wall-Smart Flush Mounts Hide Wireless Access Points
Customized by WALL-SMART for a variety of best-of-brand access points from leading home networking manufacturers, the award-winning Flush Mount for Access Points takes a device that would ordinarily protrude from the ceiling and recesses it completely within the surface. The mount can be installed in any orientation and its cover can be painted to match the ceiling surface, dramatically minimizing its visual impact.
Because the mount disappears within the home design, integrators, interior designers, builders, and architects now have a better installation alternative than hiding access points in closets where coverage, range, and signal strength can be compromised or keeping access points out in the open where they conflict with the home design and decor.
Thanks to the new line of WALL-SMART mounts, access points can be located where they provide the strongest, fastest, most reliable Wi-Fi 6 signals for optimal connectivity and a better customer experience. Every detail was addressed in the design of the mount. It includes the necessary hardware for installation in both new and existing homes, ensures optimal Wi-Fi performance, promotes proper airflow and heat dissipation, and is easily accessible for service.
Comprising moisture-resistant, chemically treated MDF, WALL-SMART's design-forward mounts install similar to that of any drywall application. The mounts recess into standard stud bays and ceiling joists for a flush appearance. Installation in new construction follows standard Level 4 drywall procedures. The mounts can be ordered directly from WALL-SMART, further simplifying the deployment process.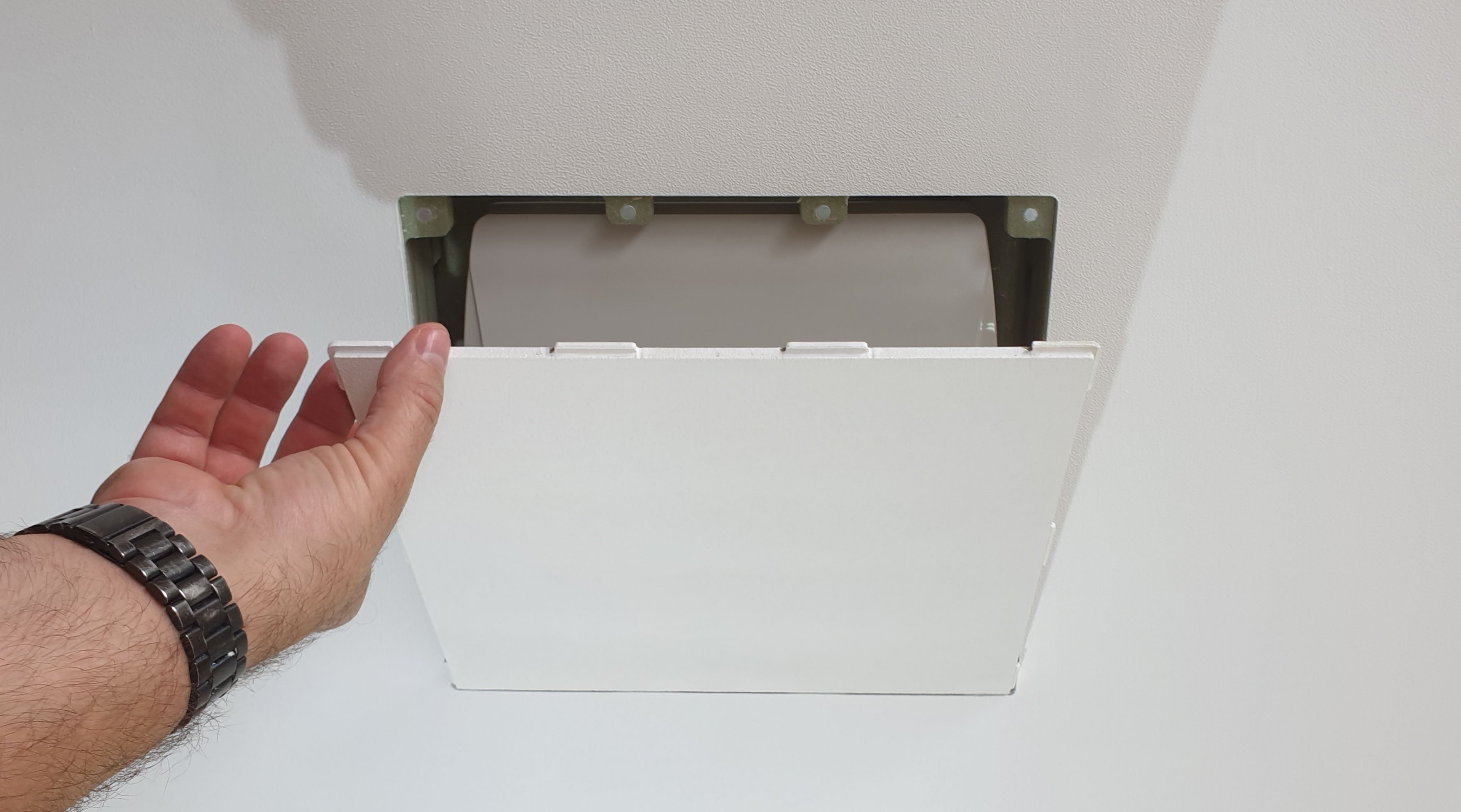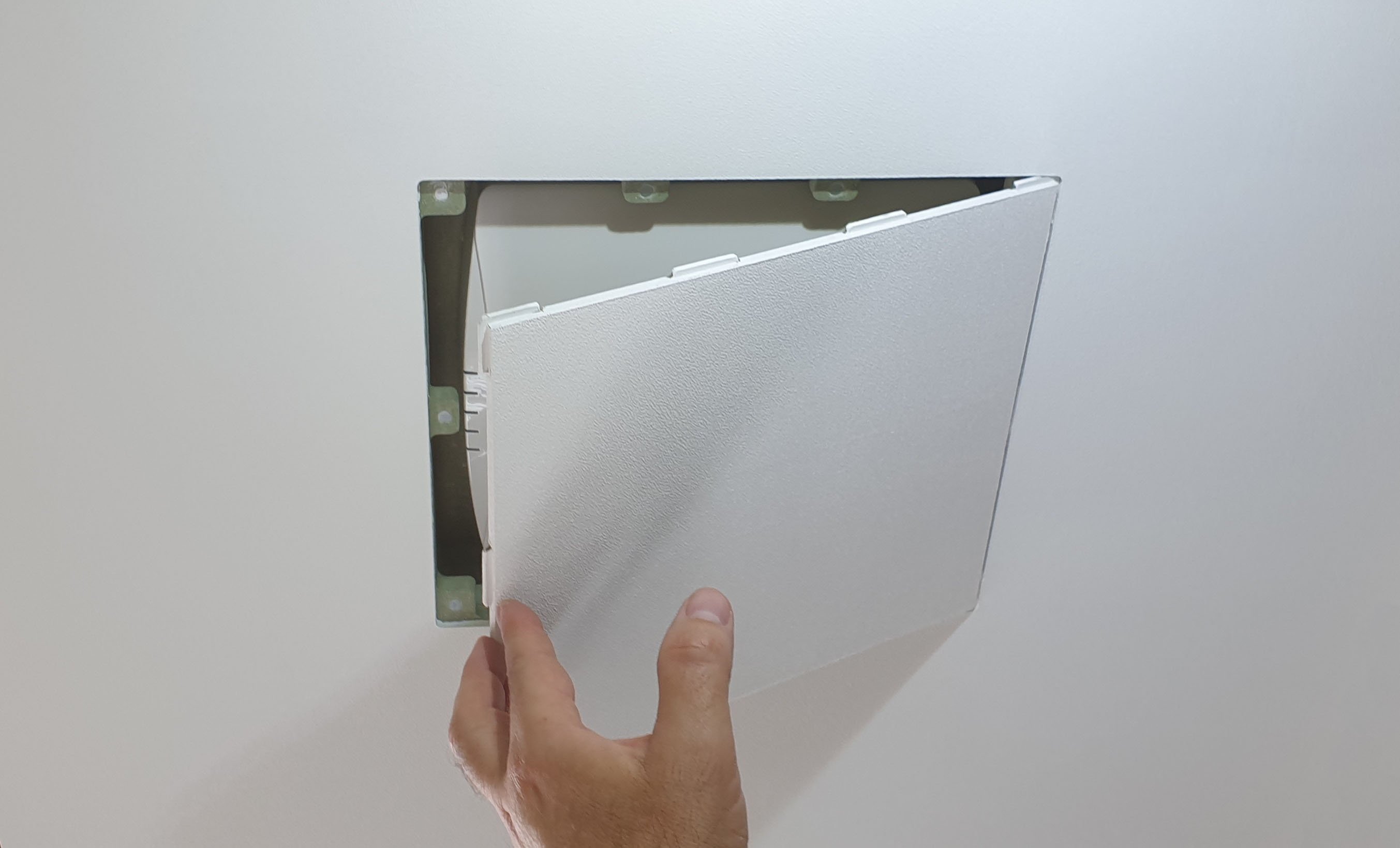 ---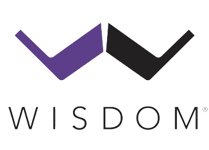 Customizable Line Source Array Center Channels For Large Micro-LED Displays
Introducing our new series of dedicated, customizable high-output center channels for Large Micro-LED displays. This product series provides a solution to increase audio clarity and overall performance when the center channel must be installed above or below a hard surface display. We use a proprietary wavefront curvature technic to shift the sonic image to the center of the array. This ensures the horizontal localization remains at the center of the screen for any listener seated off-center/ axis. The proprietary DSP Loudspeaker management implementation required is included using our new generation of DSP amplifiers.
Two-Fold Customization with Sage Cinema or Wisdom Series
The length of the Line Source Array Center Channel is adjustable, not to match the size of the display, but to match the width of the listening area. The performance level can also be adjusted using either the Sage Series Planar Magnetic drivers, which cover 6 Octaves of the spectrum and then transition to woofers, or the Wisdom Series, where all 8 Octaves are reproduced by planar magnetic drivers.
Unique Design Approach
Line source devices are typically used vertically. This is the first horizontal application providing the same power over distance (matching the vertical line source) and allowing the benefits of line source's clarity (hearing less of the room) to be used in designing solutions around large LED displays.
Reach out to us for more information at info@wisdomaudio.com and also visit our website to learn more: https://www.wisdomaudio.com/product/line-source-array-center-channels/

---