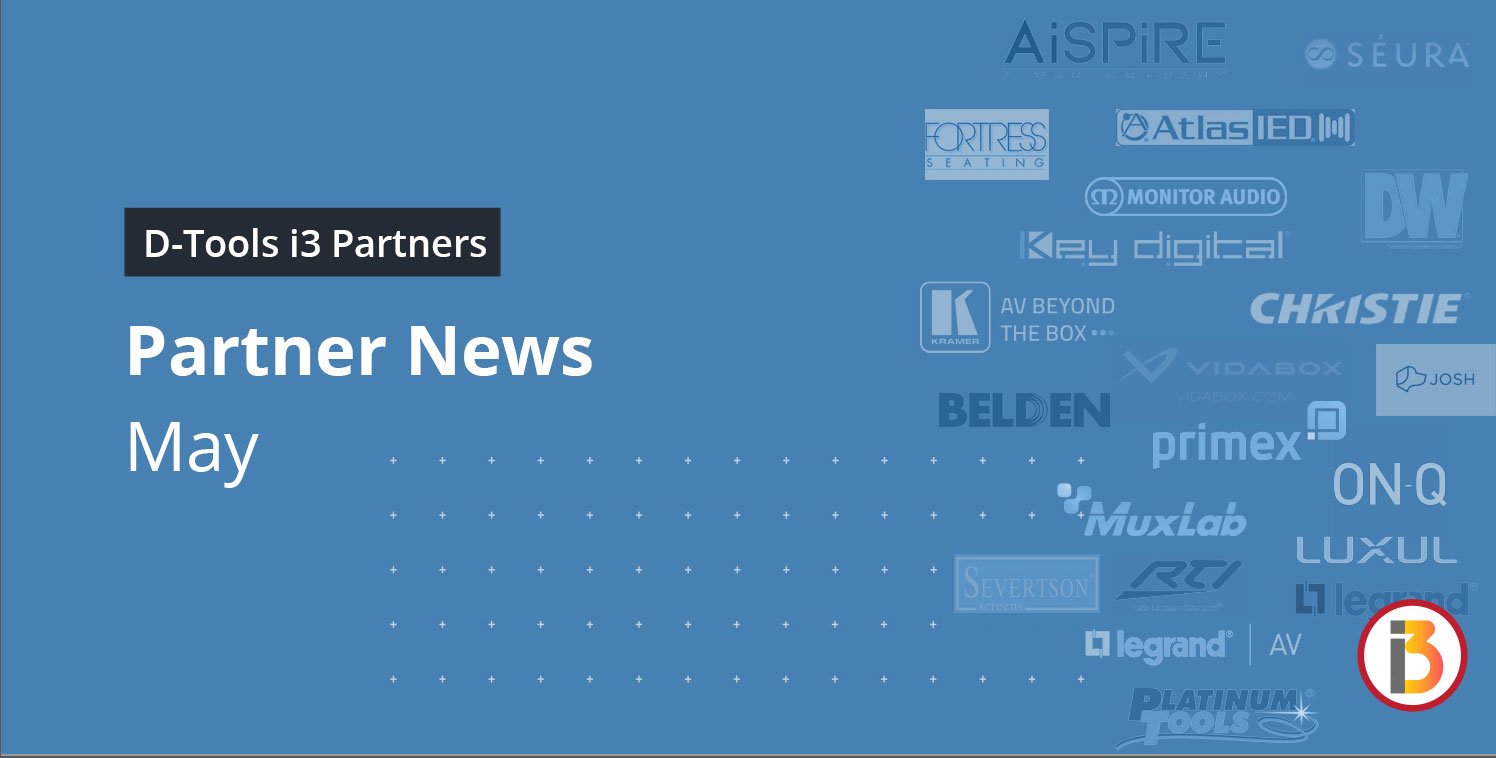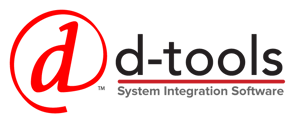 D-Tools i3 Partners realize the importance of bringing you their product information and have chosen to support the D-Tools user community by joining the program and making their product data directly available through D-Tools software. Read on for the latest supplier company news and product updates.
---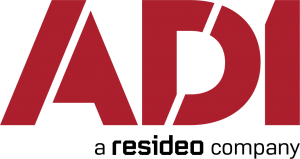 ADI's Security Camera Buying Guide
A video surveillance system is essential for any business, big or small. Choosing the right system, however, can be a challenge when you're trying to customize the installation to your customer's specific needs.
Our video surveillance guide can help you find the appropriate IP cameras, recording device and video storage option to meet your project's specifications.
---
AiSPIRE/WAC Lighting
Landscape Accents
Perfect every time— low profile, integrated, and powerful. Our award-winning LED accent luminaire is fully adjustable. Multiple continuously adjustable beam angles from 10 to 60 degrees and built-in brightness controlled directly on board. Gutter and tree mount accessories available and sold separately. Problem-solving landscape luminaires make it easy to specify and install with flawless results.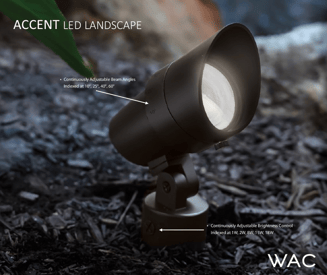 Find out more about our complete landscape lighting line. Fully adjustable integrated landscape lighting fixtures now performing nightly... Visit www.waclandscapelighting.com
---

Altronix Introduces New Occupancy Alert System
Provides a Cost-Effective Situational Awareness Solution to Protect Secured Areas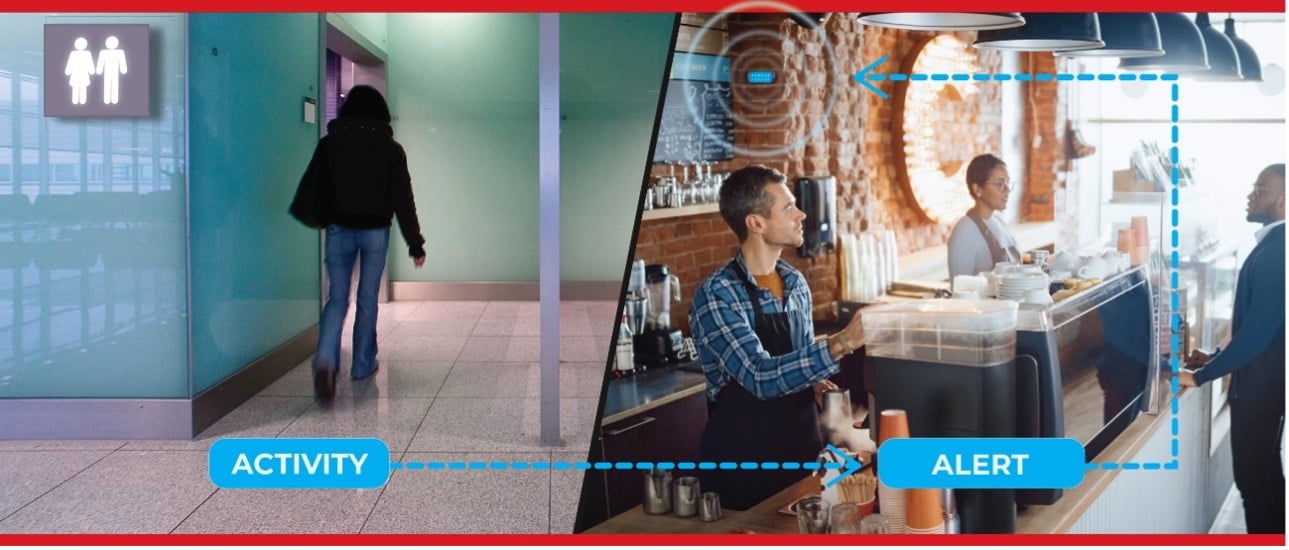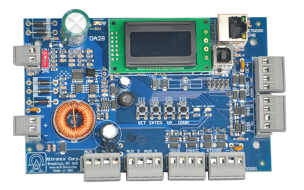 New Altronix OA2 Occupancy Alert System
A new addition to Altronix's growing product portfolio, the OA2 provides notifications when unauthorized activity or loitering occurs in up to two protected areas. This stand-alone, simple to deploy system is designed to help facilities reduce risks and liabilities in public facing secured areas such as restrooms – commonly found in convenience stores, retail establishments, restaurants, universities, sports and recreation venues, etc.
The new OA2 is designed to work with virtually any type of sensor for monitoring doors or restricted areas. Local alert notifications may be audible, visual or both. Optional LINQ network communication enables real-time remote alerts as well as providing system status information. Normal traffic activity can be monitored as well.
The OA2 Occupancy Alert System comes in a compact metallic NEMA1 enclosure and operates at 24VAC. Model OA2X includes an integral transformer and operates with 115VAC line voltage. Both models include a built-in battery charger to maintain seamless operation in the event of a power failure, and an LCD display facilitating quick programming and deployment.
For more information on Altronix's extensive line of products, call toll free 1-888-258-7669, e-mail info@altronix.com or visit www.altronix.com.
---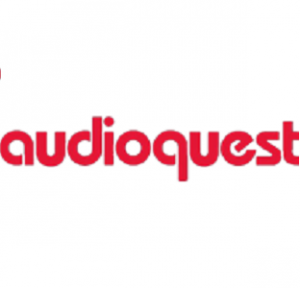 AudioQuest Niagara 1200 Low-Z Power | Noise-Dissipation System
Designed by Garth Powell, AudioQuest's Senior Director of Engineering, the AudioQuest Niagara 1200 embodies the very same design philosophy and incorporates the same patented technology found in its larger award-winning siblings, but packs it into a smaller, sleeker enclosure — at a fraction of the price.
Much like the larger Niagaras, the Niagara 1200 uses ultra-low resistance solid-core wiring optimized for low-noise directionality, capacitor forming technologies that vastly improve linearity and minimize distortion, and low-impedance AC inlet and outlet contacts with heavy silver plating over high-purity Beryllium Copper for superior noise dissipation.
Similarly, Niagara 1200 features AudioQuest's non-sacrificial surge protection, patented Ground-Noise Dissipation technology, and over-voltage shutdown. The Niagara 1200's non-sacrificial protection circuits ensure that the connected audio/video system is thoroughly protected from AC surges and spikes, and the Niagara 1200 protects itself — no damage, no down time. Set it and forget it.
The Niagara 1200 fits seven high-performance outlets into its sleek cabinet-friendly chassis and affords a variety of placement options: It can sit on a shelf like a component; it can be used facedown, fitting much better in the space between furniture and a wall; and it can stand on one end. Input current maximum capacity is 15 amps RMS in the 1200.
With its affordable price, room-friendly size, and exceptional versatility, the AudioQuest Niagara 1200 brings the benefits of highly optimized power management to far more music and movie lovers.

---

Eliminating Wireless Dead Zones for Better Safety Communication
Everyone has experience with wireless dead zones. When you place a call, open a browser or connect to an app, your device registers no signal.
But these dead zones impact more than worker productivity or communication quality. They impact the ability of first responders to react to emergency calls and provide assistance to those who need it most.
An International Association of Fire Chiefs survey reports that, when out on emergency calls, nearly all first responders (98.5%) have experienced dead spots in buildings.
That's because cellular networks were originally designed to support user mobility—not indoor cellular coverage. Today, however, cellular networks need to work inside all of America's 6.2 million commercial buildings—not just outside—to combat dead zones and make communication possible from anywhere.
The answer can be found in in-building wireless networks, and we're helping to spread the word by supporting the efforts of the Safer Buildings Coalition to prioritize public safety and align our in-building wireless solutions with recent codes and standards to ensure safety and compliance.
Learn more at https://www.belden.com/Blogs/Smart-Building/Improving-In-Building-Wireless-Dead-Zones-for-Safety-Communication.
---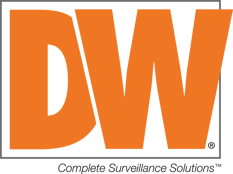 Digital Watchdog Announces New Even More Affordable IP Cameras
Digital Watchdog (DW), announces the availability of our new MEGApix IP cameras, designed to balance the most sought-after features with affordability. These new 4MP MEGApix cameras offer a choice of fixed or varifocal lens, true Wide Dynamic Range (WDR), Smart IR and basic video analytics to help reduce bandwidth and storage requirements. Available in bullet and dome housings. To learn more about the full line of MEGApix IP cameras, talk to your distributor or visit digital-watchdog.com.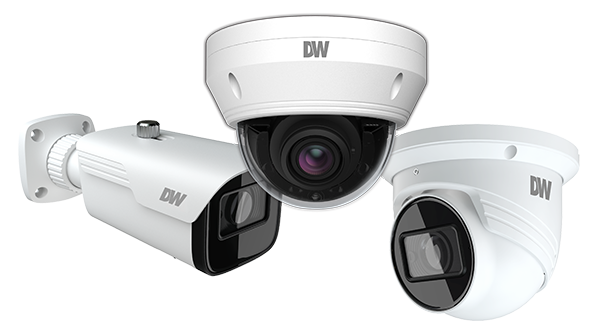 ---

100 SERIES - MUSICALITY WITH UTMOST DISCRETION
DEDICATED TO THE HOME AUDIO MARKET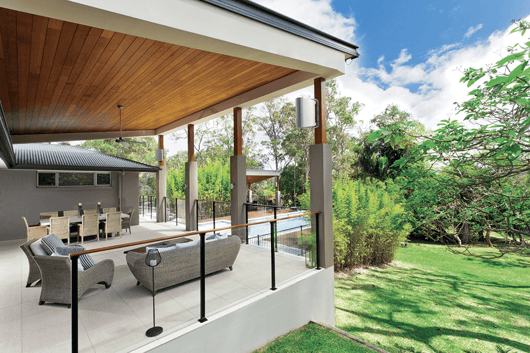 The 100 Series is mostly dedicated to the home audio market. Three main types of use of built-in products are provided: multiple loudspeaker systems (hallways, living rooms…), stereo systems (bedroom, kitchen…), and Home Cinema systems (in dedicated rooms or living rooms).
INNOVATION AT THE ENTRY-LEVEL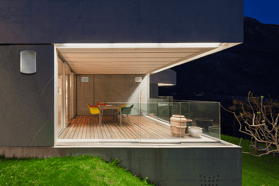 The products are equipped with a new more compact aluminum inverted dome tweeter and a new Polyglass cone speaker driver. The "in-ceiling" loudspeakers have a new crossover featuring an innovative architecture that improves off-axis listening and reduces the "shower effect".
EASY TO INSTALL AND INVISIBLE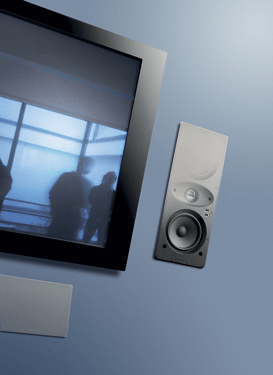 Numerous advantages: a compact design with the speaker driver's basket and chassis being redesigned as one single piece, square and circular front grilles, frameless, ready to be painted. The products can be installed everywhere in the house even in humid environments such as bathrooms.
---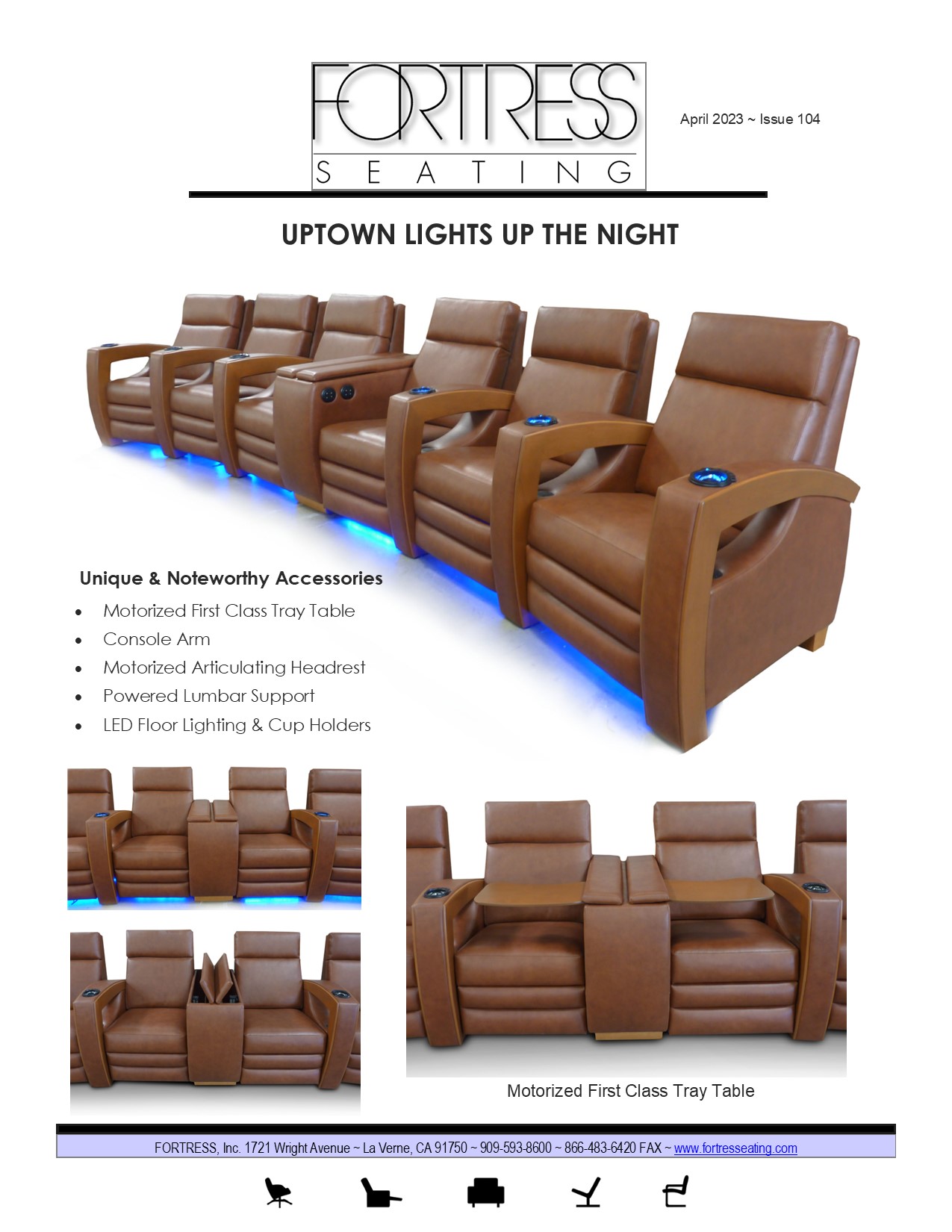 ---

GoldenEar BRX bookshelf loudspeaker
The GoldenEar BRX (Bookshelf Reference X) truly lives up to its name. This bookshelf loudspeaker takes technology found in the flagship Triton Reference and packs it into a luxuriously finished, compact (12" H x 8" W x 12.25" D) enclosure.
Meticulously designed to deliver superior performance in two-channel audio systems and multichannel home theaters, the BRX combines GoldenEar's Reference High-Velocity Folded Ribbon AMT tweeter with a 6" cast-basket bass/midrange driver that was originally developed for the Triton Reference. A unique balanced crossover is used to seamlessly blend the two drivers, while a pair of inertially balanced, side-mounted 6.5" planar infrasonic radiators enable powerful, well-controlled bass.
Despite the speakers' small size, they easily produce dynamic, immersive, room-filling sound and feel right at home on desktops, in bookshelves, or atop dedicated stands as part of any world-class audio system.
"Consider me gobsmacked," said Stereophile's Herb Reichert.
With the BRX, even more music and movie enthusiasts can enjoy GoldenEar's trademark three-dimensional imaging and high-resolution clarity.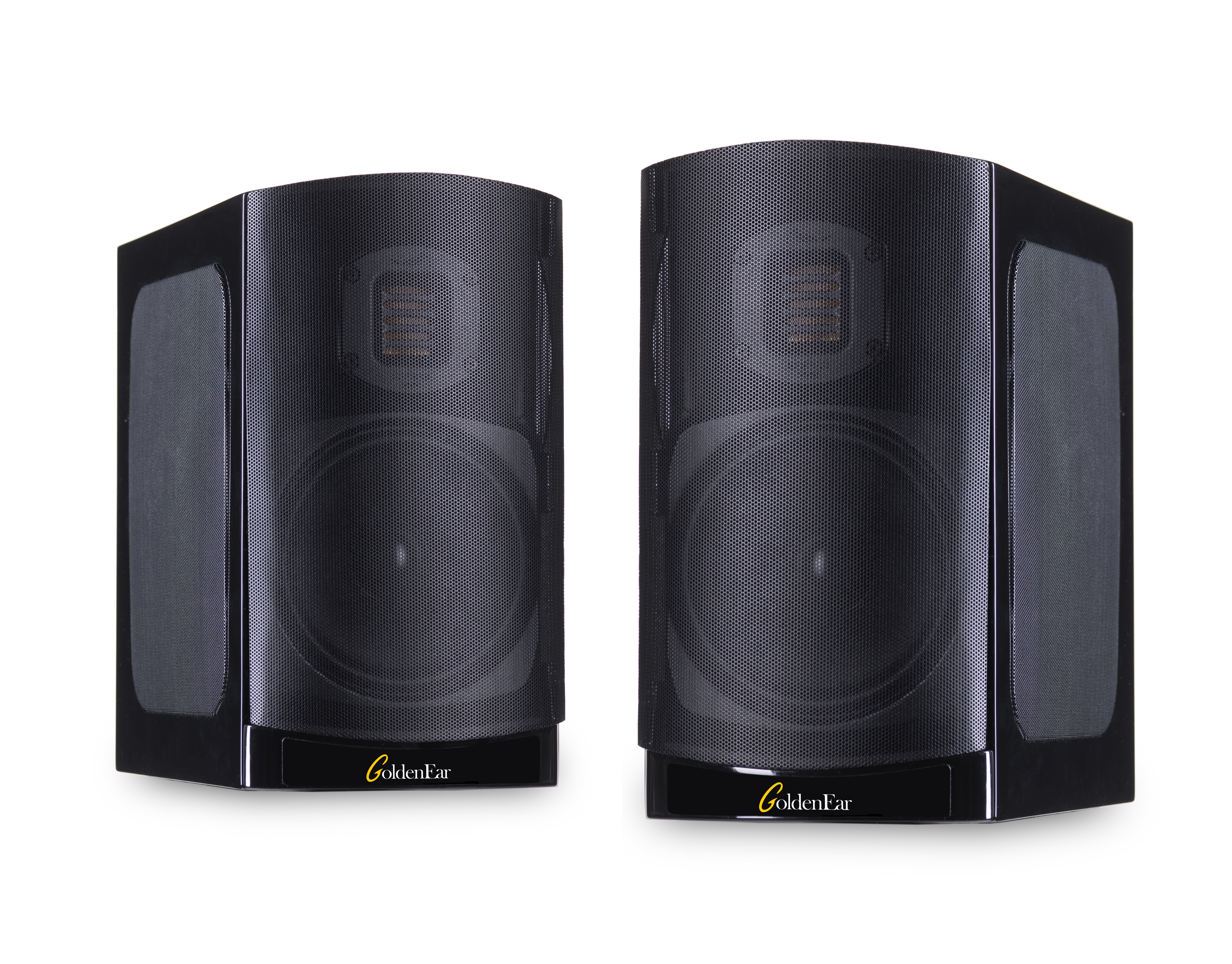 ---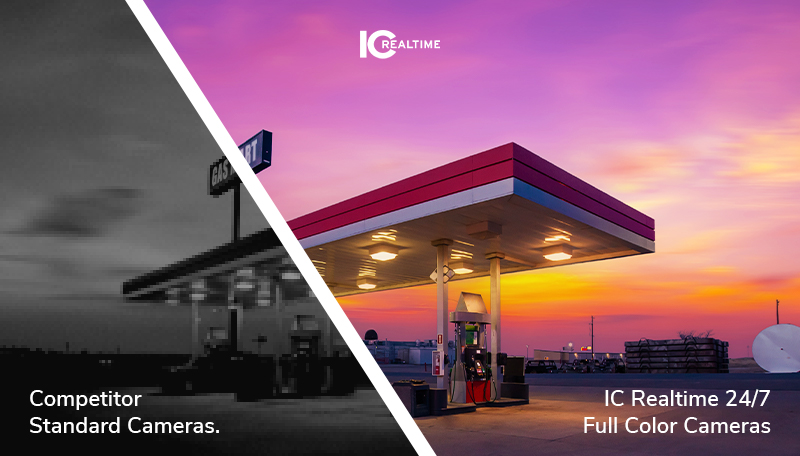 Available Now! 24/7 Full Color Cameras
Now Including our new Active Deterrence Cameras
Using the latest 4MP Starlight video chips, wide aperture lenses,
full spectrum LEDs, and customizable alerts, these cameras stream
4MP full-color video and audio day and night.
---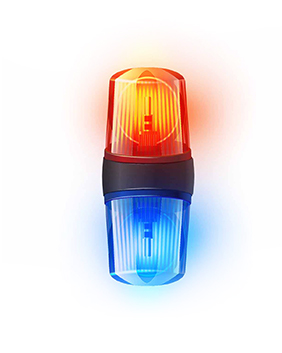 ACTIVE DETERRENCE
All the capabilities of a 24/7 Full Color Camera,
plus the ability to chase away intruders with
flashing red and blue LEDS, and a built-in
speaker/mic for customizable audio
warnings or even a siren.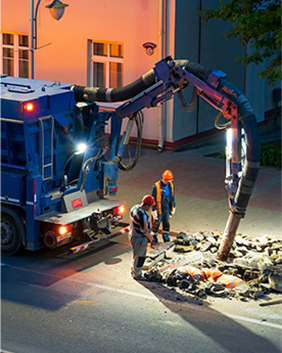 24/7 COLOR & POWER ZOOM
If 24/7 Full Color is excellent, then 24/7 Full Color
with a remote power zoom lens is awesome!
Get that 115° medium-wide shot and the 48° tight FOV plus everything in between in one 4MP Starlight camera.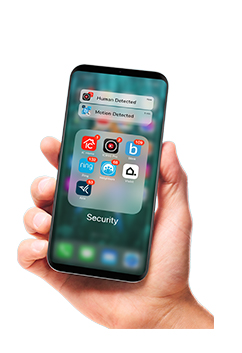 INTELLIGENT MOTION
DETECTION (IMD)
Say hello to customizable and accurate intruder
detection and goodbye to 95% of false alerts with
the industry's best camera-based and NVR-level
detection systems.
---

Jabra PanaCast 50
Shift to Smart Video with Jabra PanaCast 50 for BYOD or Room Systems!

180 field of view: ensures everyone in the meeting is seen, heard, and INCLUDED!
White Board: Share content easily and quickly with Jabra's whiteboard sharing technology. Dual stream cameras built into the P50 mean that a 2nd camera is not needed!

Other features include:
• 8 Beam forming microphones
• 4 speakers
• Dynamic Composition
• 3 x 13-megapixel cameras
• Processor stitching within each of the 3 cameras
• Virtual Director follows and highlights those speaking
• People Count and in-room capacity notifications
---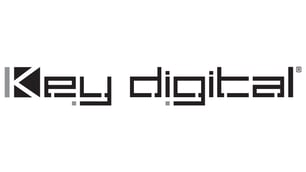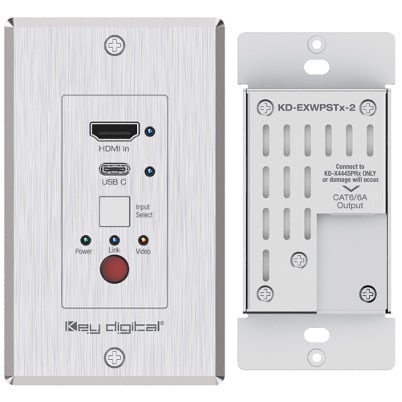 Wall Plate Extender Set: KD-XWPS
HDMI USB-C over 50m CAT6 Wall Plate Extender Set


Key Digital® KD-XWPS is a single-gang wall-plate switcher transmitter + receiver kit with one HDMI and one USB-C input ideal for professional AV systems installations in conference rooms, huddle spaces, classrooms, and more. The wall-plate unit fits in a standard US single-gang box and is powered by the Rx unit for convenient installation. KD-XWPS supports 4K/UHD resolution with bandwidth up to 18Gbps and HDCP2.2 compliancy and extends video resolutions up to 4096x2160 at 60hz with 4:4:4 chroma sub-sampling over a single CAT6/6A cable up to 164ft (50m). In addition to HDMI video and audio signals, KD-XWPS features an IR sensor on the
faceplate to control remotely located equipment.
Key Features:

Presentation Switching: 1 HDMI and 1 USB-C selected by push button or auto switching
Auto-Switching: Automatic selection of newly detected source and switching from newly disconnected source when enabled
Complete Kit: Includes Tx (model KD-EXWPSTx) and Rx (model KD-X444SPRx) units.
Ultra HD/4K: Supports up to 4096x2160 or 3840x2160 24/25/30/60hz at 4:4:4 (signals up to 18Gbps bandwidth)
Visually Lossless Compression: 18G enabling technology applied to all video formats exceeding 10.2Gbps to accommodate CAT6/6A transmission channel
Power over CAT: Wall plate Tx unit powered by Rx
Accessories:

(1) Brushed aluminum decora plate
(2) Decora mounting screws with flat head
(2) Gang-box mounting screws
(1) 12V/2A (24W) Power supply with screw-in connector. Desktop type. Model KD-PS12V2ASC.
(1) 5ft Micro USB to USB A data cable (USB 2.0)
(1) IR Emitter with 3.5mm mono end
(2) L mounting bracket for Rx unit
(2) Velcro for Rx unit
Benefits:

HDCP Licensing: Fully licensed and compatible with HDCP 2.2
HDR10 (High Dynamic Range): More life-like images through a greater range of luminance levels
Signal Extension: For resolution and cable quality

4K/UHD (up to 18G) & 1080p: Up to 50m / 164ft

Deep Color Support: Up to 4K/UHD 30Hz 4:4:4/12 bits or 60Hz 4:2:2/12 bit
Full Buffer System™: Manages TMDS re-clocking / signal re-generation, HDCP authentication to source & display, EDID Control handshake, and Hot Plug Detection Voltage
EDID Management: Internal library with 15 internal EDID handshakes including 4K with HDR in addition to native EDID data copied from the Rx display/device
IR Sensor: Wall-plate collects line-of-sight IR from remote(s) without external IR wiring
Surround Audio Support: Dolby ®, DTS™ (formats up to 5.1 / 6.1)
3 year limited warranty included. USA based tech support, product design, and engineering.
Read more about this product here and check out our website for more of our products!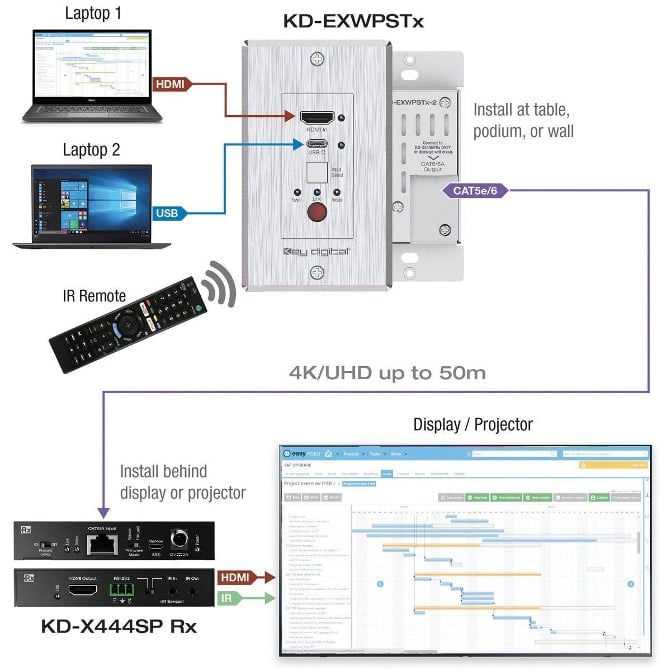 ---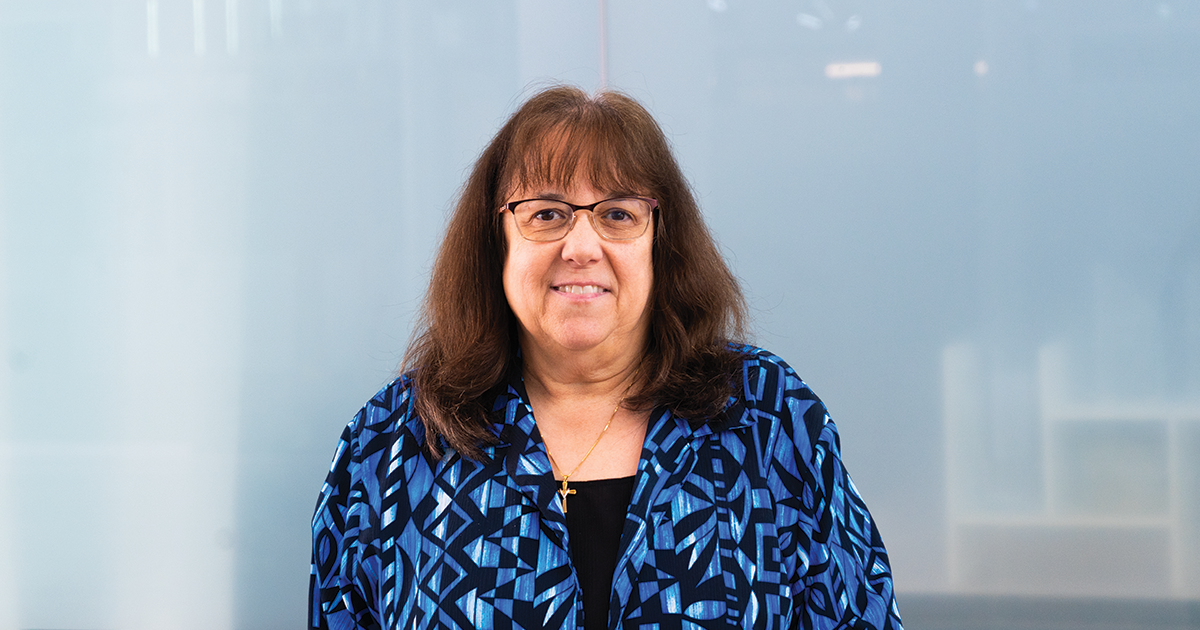 Supporting our customers is something we take very seriously. It's a critical part of our company philosophy that we call the LEA WAY. Meet our new Customer Care Specialist, Lynda Gring.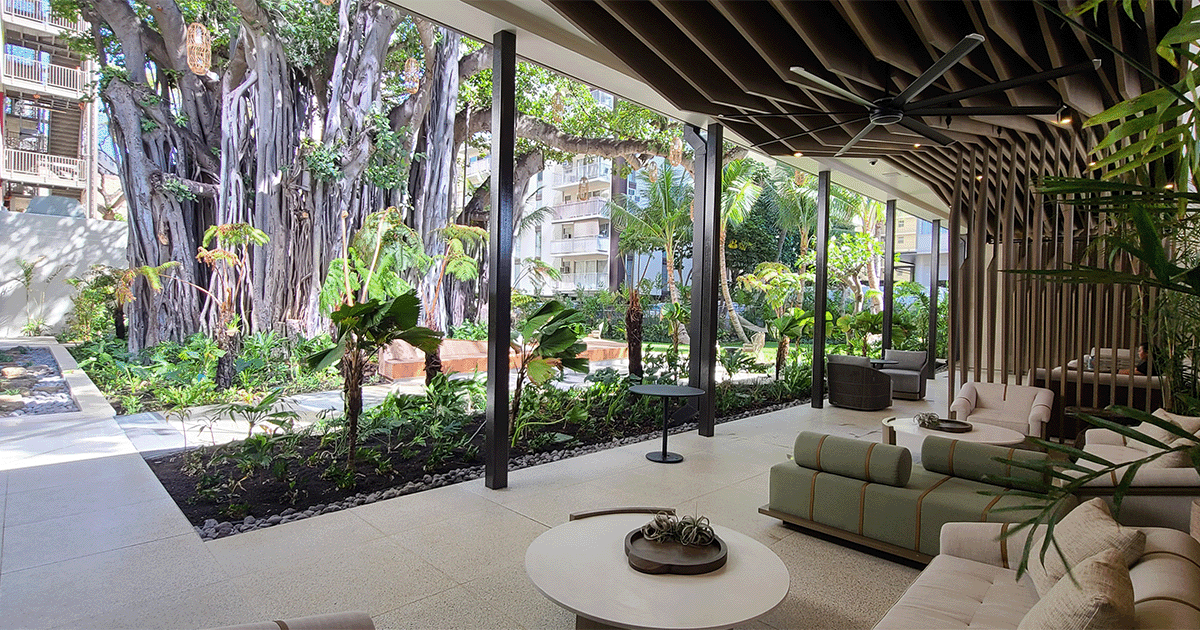 LEA Amps Take On Project In Aloha State
Lilia Waikiki is a vibrant mixed-use development in the heart of Waikiki, one of Hawaii's most well-known destinations for retail, lodging, dining, and commercial entertainment. Enter LEA Professional to help complete this install. Read More…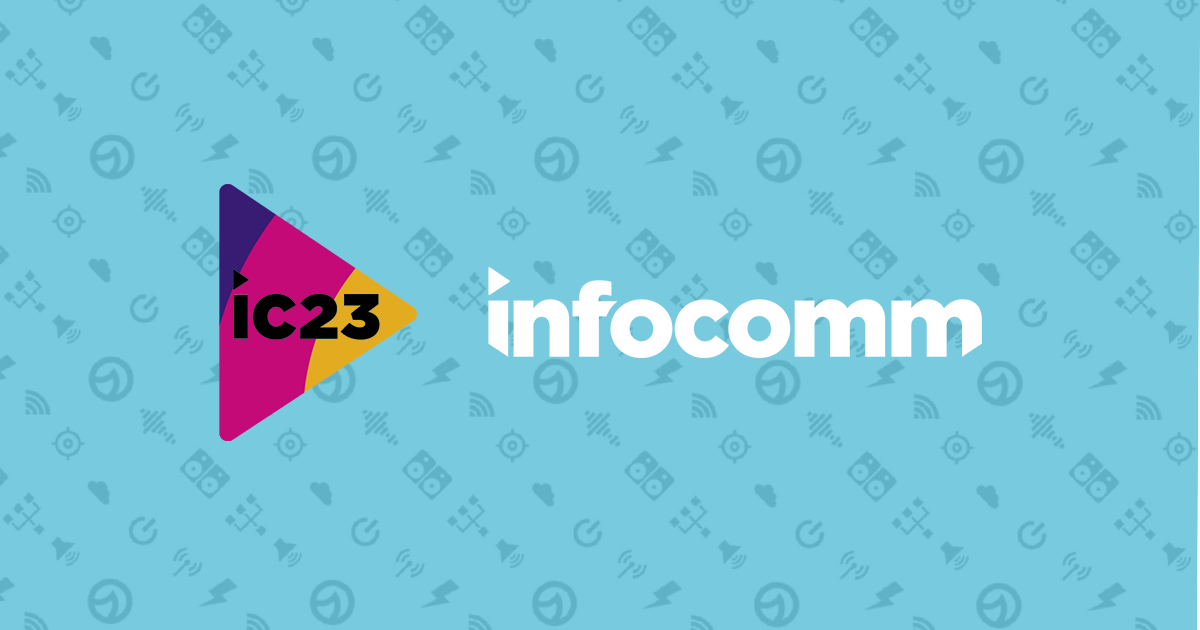 With Infocomm right around the corner, don't forget to stop by booth 5275 to check out everything LEA. Come check out our brand new offline design software, SharkWare. Get More…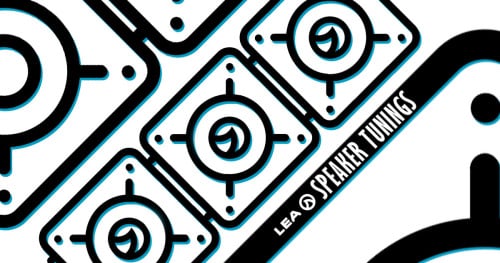 Attention Connect Series users! We have just recently added Stealth Acoustics to our speaker tuning library! Along with that we have also updated both MSE and Danley Audio speaker tuning files. Get More…
---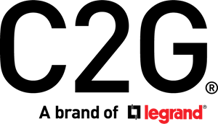 C2G Adds New HDMI® Dongle Adapter Converters
We have new HDMI dongle adapters available: the USB-C to USB-A Dongle Adapter Converter, Mini HDMI to HDMI Dongle Adapter Converter, and Micro HDMI to HDMI Dongle Adapter Converter. These solutions allow users to connect any device outfitted with a USB-A, mini HDMI, or micro HDMI port to an existing HDMI cable for easy connection to a display or projector. The new adapters are also available with eyelets, making them fully compatible with C2G's HDMI AV Adapter Ring and Universal Retractable 4K HDMI Adapter Ring, and all feature BioCote antimicrobial coating.
The C2G USB-C to USB-A Dongle Adapter Converter is an easy and convenient solution for connecting a USB-C cable, USB-C hub, or USB-C peripherals to a USB-A female port on a laptop or source device. This adapter can be paired with a USB-A laptop and the Barco ClickShare to enjoy a hybrid meeting space with flexibility for virtual collaboration. The Mini HDMI to HDMI Dongle Adapter allows easy connection of a mini HDMI port to an HDMI-enabled device. The Micro HDMI to HDMI Dongle Adapter is designed to connect a micro HDMI port to an HDMI-enabled device. Both the Mini HDMI and Micro HDMI adapters can carry a digital video signal, supporting up to a 4K resolution and meets the requirements for high-performance applications. With these adapters, users are able to avoid tech frustration by simply plugging the adapter into the computer, then attaching it to the existing HDMI cable from the monitor or projector. The portable, compact design also makes it easy to carry in a laptop bag when traveling or on the go.
The eyelet models of the new adapters present a modular solution for easily expanding new and existing setups using C2G's HDMI Adapter Ring and Universal Retractable 4K HDMI Rings.
The adapter rings are color-coded, so users can quickly identify the correct adapter. Other adapters include HDMI-to-DisplayPort, Mini DisplayPort, USB-C, VGA, and Lightning dongle adapters. Adapters can be accessed quickly and reached easily with the customizable integrated pull tab. They can be attached directly to an HDMI cable, or, when attached to the retractable mount, the retractor extends up to 4.9 ft., ensuring the adapters are always within reach. Custom adapter configurations are also available.
All connectivity solutions are available through retailers and direct to users from C2G.


Luxury is On Tap With New Dealer Demo Case for Vantage Keypads
We're excited to introduce our new dealer demo case for our Vantage keypad collections. The demo cases are the epitome of style, design, and luxury. The durable powder-coated aluminum portable case opens to feature two removable trays that securely hold and elegantly showcase Vantage's EasyTouch II, EasyTouch Glass, RPTouch, and adorne® keypad and faceplate options, along with an EQ40 LCD keypad. With a desire to facilitate the experience for the customer, the case also includes a battery backup that illuminates the keypads and allows the user to operate the EQ40 touchscreen.
Whether customers want classic or modern styles, they can customize the adorne, EasyTouch family, or RP Touch keypads down to the trim, color, and style. Customers will see the various design and button style options to ensure the system fits their lifestyle.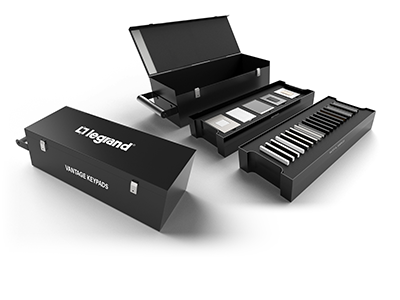 SANUS Now Shipping Wall Mounts for the New Sonos Era 100 and Sonos Era 300 Wireless Speakers
We're now shipping the SANUS Adjustable Wall Mounts for the new Sonos® Era 100™ and Sonos Era 300™ wireless speakers. The new tilt and swivel wall mounts are available in singles or pairs, which complement the new Sonos speakers in applications like home theaters or ambient listening spaces. Fast and easy to install, all models come in white or black to match the color options of the new Sonos speakers.
Homeowners will enjoy optimal audio performance from anywhere in the room with the SANUS wall mounts designed exclusively for the Sonos Era 100 and Sonos Era 300 wireless speakers. Featuring effortless tilt and swivel movements, the wall mounts are versatile enough for any system setup, whether it's in a home theater or for easy listening. They install in drywall, wood studs, or concrete in only 15 minutes and in three easy steps.
The SANUS adjustable wall mounts for the Sonos Era 100 and Sonos Era 300 wireless speakers include the WSWME11 (single) or WSWME12 (pair) for the Sonos Era 100 and the WSWME31 (single) or WSWME32 (pair) for the Sonos Era 300.
More information is available at www.legrandav.com/products/sanus.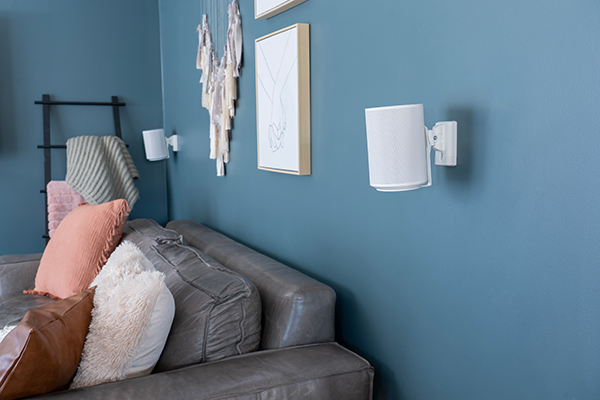 ---
Why Sell MantelMount?
This short video shows how MantelMount is the best option for you and your customers when mounting a television high on the wall.
---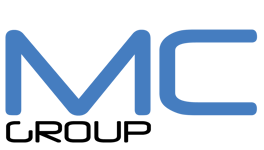 With the momentous rollout of Service Management in D-Tools Cloud, the question no longer is, "how can I manage my service requests", but it's "what are the best practices to create a profitable and efficient service department." You are already running a service department. The question is, are you running it properly? If done right, your service department can be the most profitable and valuable part of your company, and relieve a significant part of the 'stresses' of keeping customers happy. In this series of newsletters, we'll cover it all, but let's look at profits first.

PROFITABLE SERVICE MANAGEMENT
A service department is not a loss leader – it's the profit center of many businesses. Look at just about any new car dealership. The service staff outnumbers the sales staff by at least 3 to 1. That's because the profits are not in new car sales, but in service. The total sales volume might be bigger in car sales, but the margins are slim. Creating your profitable service department requires a number of elements. To start, let's look at just one – your service policies.

Your Service Policies. This is where you set the all-important customer expectations. Be sure to have the right set of service policies and introduce them at the beginning of your sales process. Presented properly, this is a big plus to your customers and sets expectations that you have a winning company that designs, installs, and maintains your projects.

First and foremost, your policies need to address what's included with a new system purchase. Here are a few key policy areas to consider:
1. Do you include or bill for additional customer requests such as adding a new streaming service or showing a visiting family member how to use the system
2. How do you handle manufacturer's equipment warranties
3. Who pays for the diagnosis, removal, repair, and replacement of equipment under warranty and out-of-warranty
4. Your workmanship warranty
5. Your included labor warranty

The last item on this list, your labor warranty, is the most significant problem area in the low-voltage/system integration industry. How much free time do you give your customers with the purchase of a new system? One-year? Six-months? Thirty-days? Then what happens after the 'free' period ends? Do you have paid System Performance Plans that kick in covering support, maintenance, and repairs both remote and on-site? Or do your customers treat you as if they 'own' you because they once bought a system? Getting this part right is step one in building a profitable service department. Yes, there are right answers to each of these questions based on your company profile to set customer expectations. There's a lot to be said about how you describe your service department to your customers so everyone's on the same page. We'll cover this in further detail later or contact us or your D-Tools rep for assistance.
In our next issue, we'll delve deeper into Service Policies including staffing, hours, response time, liabilities, exclusions, and proper messaging.
---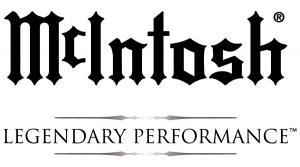 MCINTOSH LAUNCHES MHT300 HOME THEATER RECEIVER
The New Home Theater Receiver Delivers Blockbuster Power to Redefine At-Home Entertainment
McIntosh is proud to announce the launch of its new MHT300 Home Theater Receiver, an uncompromising 7.2 channel home theater powerhouse, set to transform home theater dreams into reality.
The MHT300 is an unmatched receiver that offers 120 – 150 Watts of legendary McIntosh power to every speaker with all seven channels being driven. For every explosion, car chase, high-speed fighter jet flyby, to the roar of the crowd after a game winning score, the MHT300 will faithfully reproduce the action with full power on every speaker. It also supports breathtaking 8K/60Hz and 4K/120Hz video on all 4 of its HDMI inputs and 1 HDMI output so the image will feel as realistic as the sound.
With consumer experience at the forefront of the brand's values, the MHT300 was created to not only provide unparalleled sound, but to be customizable and expandable. Its individual amplifier modules can be configured in a multitude of ways to suit any specific speaker configuration and additional external amplifiers can be connected to power the included Height 1 and Height 2 audio outputs, effectively turning the MHT300 into a 7.2.4 home theater receiver. State-of-the-art Dirac Live® Room Correction enables users to optimize their sound systems and adjust their audio output to the unique acoustics of the space.
"Considering the increase in video streaming services over the last decade, we are excited to share our latest innovation in home theater with our customers for them to better enjoy their entertainment in the comfort of their home," said McIntosh President Charlie Randall. "We look forward to seeing the positive impact the MHT300 will have on consumers' at-home viewing and listening experiences.
The MHT300 includes traditional McIntosh design cues such as their signature black glass front panel, an illuminated McIntosh logo, rotary control knobs, and a familiar form factor highlighted by silver trim all in a robustly built and durable chassis.
Additional key features include:
Power Guard® signal overload technology that prevents overdriving and damaging your speakers,
Sentry Monitor™ short-circuit protection circuit that disengages the output stage should current ever approach unsafe operating levels and then resets automatically when operating conditions return to normal
Eco-friendly on/off signal sensing that turns the unit off if no input signal has been detected for a set amount of time and – perhaps more conveniently – automatically turns the MHT300 on when it senses a signal from your home theater processor
An FM Tuner for enjoying free over-the-air radio broadcasts
AVAILABILITY
The MHT300 will be available now through Authorized McIntosh Dealers with an MSRP of $8,000 USD.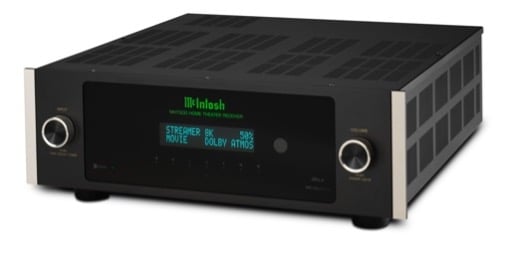 ---

SoundTube Entertainment is celebrating its 10th anniversary of IP-Addressable speakers! SoundTube created the category for IP-enabled PoE speakers with the introduction of STNet™. Have total visibility and control of the entire audio system from end-point to end-point with STNet 🔊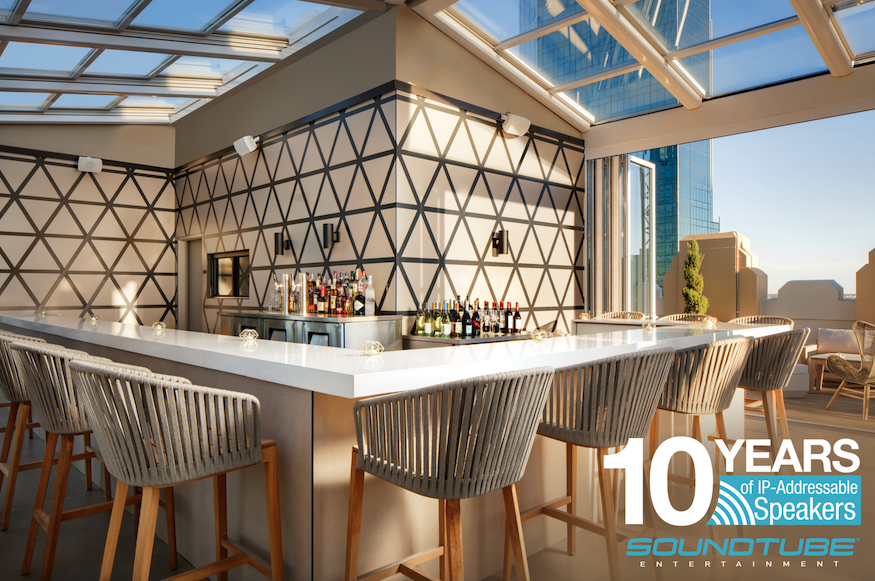 ---

Monitor Audio AWC Series: All Weather Custom Speakers
The AWC (All-Weather Custom) Series of in-wall / in-ceiling speakers from Monitor Audio will carry the brand's quality discreetly into garden, pool and marine areas, proving that there is no environment beyond the reach of great sound.
Not only are the four AWC models equipped with the excellence of over four decades of award-winning speaker engineering, their stealthy flush-fitting design includes a heightened level of water, dust, corrosion, UV and temperature protection, providing custom installations with long-term reliability in the most challenging conditions.
Developed using all-C-CAM® driver systems derived from the Company's critically acclaimed hi-fi speakers, the AWC series comprises stylish two-way 6 1/2" and 8" models (AWC265 and AWC280) with single speaker stereo (T2) variants, the AWC265-T2 and AWC280-T2.
Protecting the drive systems are low profile trimless grilles engineered from high-grade stainless steel and fixed using special non-corroding rare earth magnets for easy utility. The rear of each model is polymer encased to prevent the ingress of dirt and moisture. Where it meets wall or ceiling, a layer of specially formulated EPDM barrier material ensures a long-lasting waterproof seal.
The AWC Series includes a LIFETIME Warranty, and adds super-discreet, weather-proof high performance to a growing list of reliable solutions.
The AWC Series is ON SALE NOW! Contact your local dealer today for details.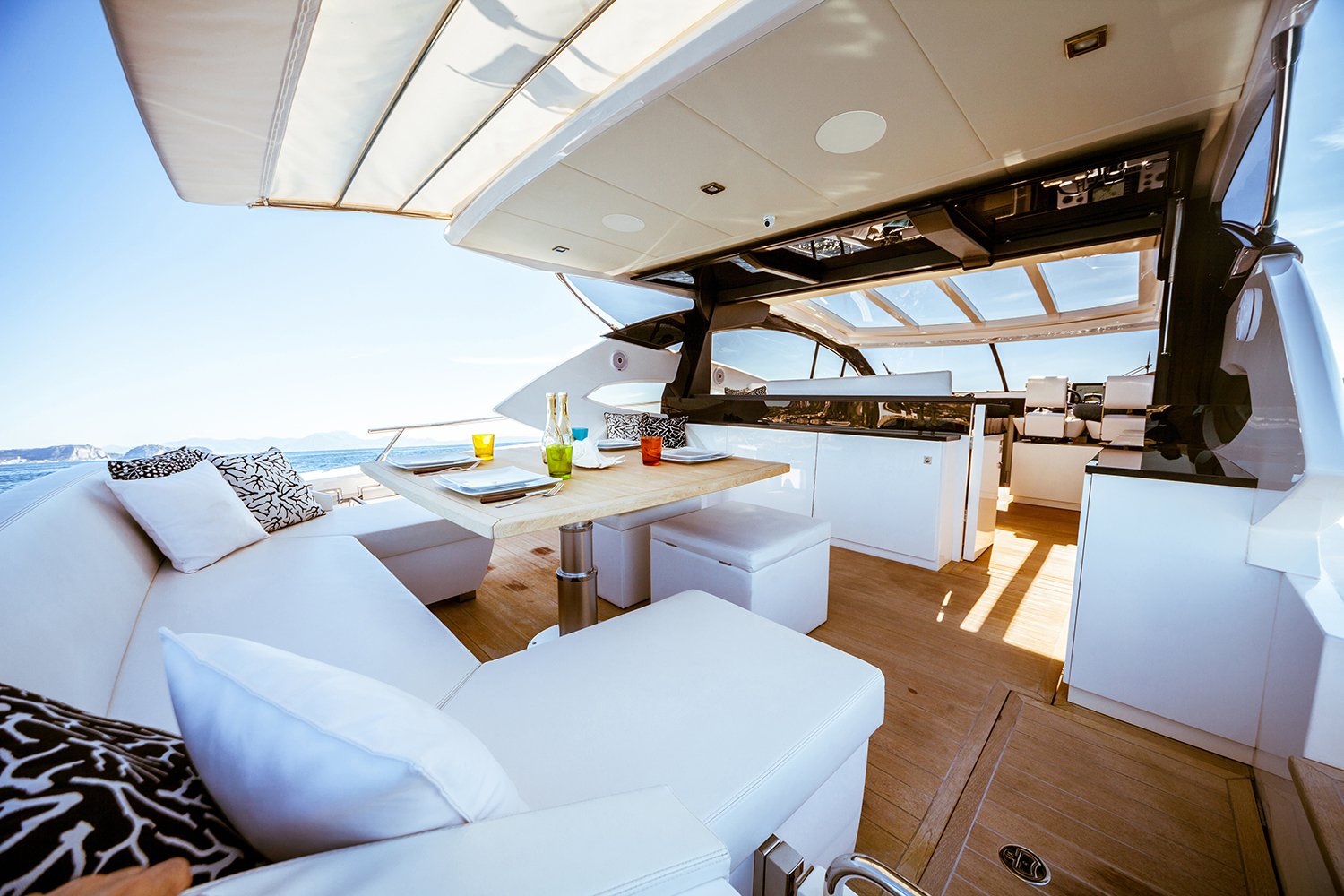 ---

As Chris Scanlan prepared to host 50 dealers for three-day training event at Industry Tech Sales in Mendota Heights, Minn., he was a bit nervous. The distributor's network kept dropping offline.
"We have an AV-over-IP system in the office, and it just wasn't working properly," recalls Scanlan, account manager/sales engineer at Industry Tech Sales. "Finally, at 5 o'clock the night before the training we decided to pull that switch offline and install a NETGEAR unit. We went into our inventory, grabbed a NETGEAR switch and installed it. Within 5 minutes it was racked, configured, and up and running, and we walked out the door. The next day the training went off without a hitch. It was a lot of fun talking about that for the next two days with the group!"
As far as Scanlan is concerned, the success of that NETGEAR switch during the training event is a microcosm of how well the entire product line, including the new wireless access points, works for AV integrators.
https://www.cepro.com/networking/netgear-av-centric-switches/
---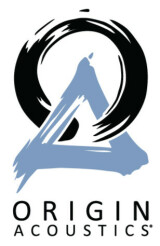 Just in time for warmer weather, the NEW line of OS Surface Mount Speakers from Origin Acoustics is now available and ready for outdoor summer fun. Replacing the first-generation OS line of surface mount speakers, this new line comes in 5", 6.5", and 8" variations with 1" high-resolution aluminum tweeters and injection-molded polypropylene woofer cones. Cleaner, sleeker, and more powerful than the previous models, these speakers are guaranteed to deliver a high-performance sonic experience that is unmatched.

Operating with 8-ohm nominal impedance, this new OS line is designed to have excellent sound quality, longevity, and a simple installation process for integrators. To ensure these surface mount speakers are always aimed toward the action, they can be orientated as desired with a nominal coverage angle of 70° horizontal by 70° vertical. Additionally, they're IPX4 rated for outdoor toughness, feature a front-facing 2-pin Phoenix connector access door, and are available in black or white finishes to match your desired outdoor aesthetic. All speakers will be sold in pairs except for the 6.5" dual tweeter variety.

If you have any questions or are interested in placing an order, please call Origin Acoustics' Customer Service Team @ 1.844.674.4461 or contact them at Sales@originacoustics.com.
---

Platinum Tools Launches New PTS Pro Crimp Tool
Platinum Tools®, the leader in solutions for the preparation, installation, hand termination and testing of wire and cable, is proud to announce its new PTS Pro Crimp Tool (p/n 12520C). Now shipping, the PTS Pro Crimp Tool has an MSRP of $85.83.
Platinum Tools' new PTS (Pass Through Standard) Pro Crimp Tool takes years of Platinum Tools innovations and combines multiple tools into one sleek design. The PTS Pro allows for the termination of both ezEX-RJ45 connectors and the legacy EZ-RJ45 connectors in a single tool with no part changes. This is a single tool for all Platinum Tools terminations. The tool utilizes a sliding plate to change between the different types of connectors and a captive thumb screw to make swapping between connector styles seamless. The tool features a connector locking mechanism so connectors "click" into the tool for termination. This tool also includes the cutting and stripping blades for Cat5e and 6 built directly into the handle. Additional PTS Pro Crimp Tool features and specifications include Crimps standard pass-through and standard RJ45 connectors; Wiring guide printed directly on the tool for easy connector wiring; Ergonomic grip for comfort during extended use; Replaceable blades; Smooth single cycle operation; For both UTP and STP connectors.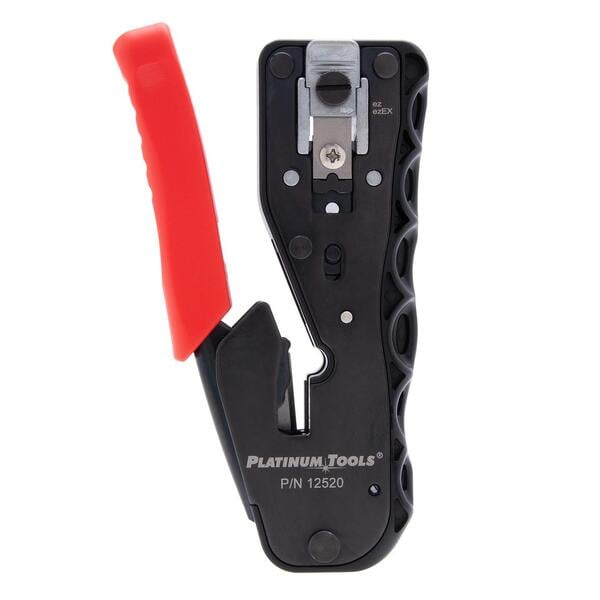 Platinum Tools Launches Cat6A PoE Type 4 Connector
Platinum Tools®, the leader in solutions for the preparation, installation, hand termination and testing of wire and cable, is proud to announce the launch of the new Cat6A PoE Type 4 Connector (p/n 106260). Now shipping, the connector has an MSRP of $17.85.
With the increasing need for higher performance and more power, Platinum Tools has come out with a tool-less connector that will satisfy both the Cat6A specification and meet the hefty requirements for PoE Type 4. Our new Cat6A PoE Type 4 connector is rated up to 90W of power and running PoE across all four pairs. Whether it is for PoE lighting installations or for powering equipment on a production floor, this connector has it covered. This connector also features a simple two-piece design and only requires basic wiring tools to terminate and is compatible with cables ranging from 6.0mm to 8.5mm and conductor sizes of 26 AWG to 23 AWG. Additional specifications and features include Cat6A certified for Patch and Permanent Link; Unshielded twisted pair; IDC Terminal style contacts for wide range of conductor sizes; Cable tie included for securing cable jacket; UL 94V0 rated housing; Phosphor bronze contacts with 60u" nickel coating and 50u" gold plating; Operating temp -10 C - 60 C.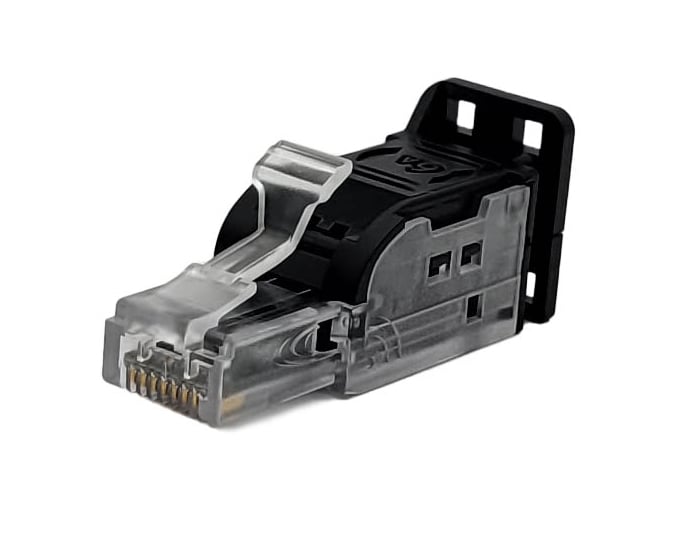 ---

RTI Simplifies Control, Automation, and Video Distribution at InfoComm 2023
We're ready for InfoComm 2023 and will present our latest commercial solutions in control, automation, and video distribution in booth 4272. You will get a chance to see how RTI's new KX4 4-inch In-Wall Touchpanel with Control Processor simplifies single-room commercial installations that require both on-wall control and processing power to control multiple devices.
RTI's KX4 in-wall keypad combines an in-wall touchpanel and hard button input with a built-in control processor. The result is an enhanced automation solution in a single, convenient, and cost-effective unit that simplifies installation while maximizing performance, particularly in conference room or lecture hall settings. It boasts a 4-inch high-resolution capacitive touch display with five configurable hard-buttons that can be customized with RTI Laser Shark engraving. The built-in control processor delivers robust capabilities to maximize integration with connected devices, including support for two-way drivers and the RTiPanel App, and can be used as either a standalone processor or a secondary processor in larger configurations. Back panel connections enable direct control of devices via IR, IP, and two RS-232 six-voltage sense ports with sense-event capabilities, and four relays for control via contact closure. The KX4 and all RTI control solutions are programmed via RTI's award-winning Integration Designer control application programming software. The latest version, Integration Designer 11, is a major new update, enabling integrators to achieve faster, more efficient installations with all the advanced customization for which RTI is renowned.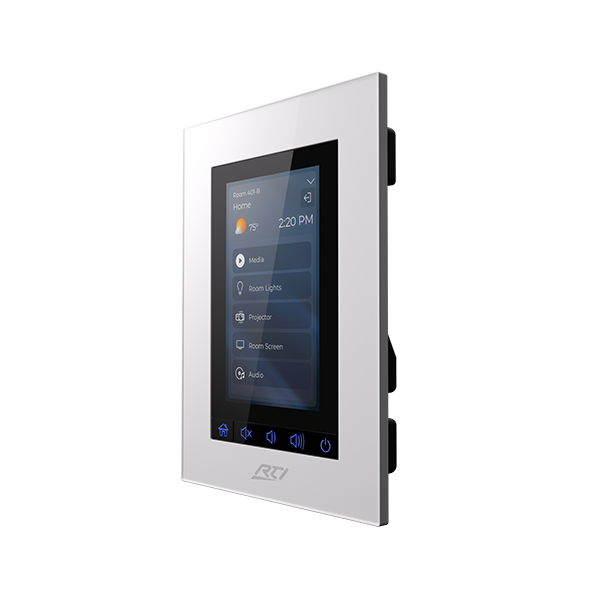 ---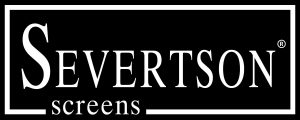 Severtson Launches Perforated Broadway Series Thin Bezel Fixed Frame Projection Screen Solutions
Severtson Screens, a global leader in innovative and quality projection screens for the home theater, commercial, pro AV, and cinema markets, is pleased to announce the launch of a white, perforated, acoustically-transparent screen option for its acclaimed Broadway Thin Bezel Series fixed frame projection screen solutions.
"After meeting customer demand for a new lower cost Broadway Series Thin Bezel collection last year, they then asked for a perforated version, and we are proud to deliver," said Aaron White, Home Theater & Pro AV sales lead at Severtson Corp. "Now available with an acoustically transparent option in seven screen sizes ranging from 100- to 165-inches, Broadway is a complete collection of fixed frame projection screens that offer a sturdy extruded aluminum frame with a 3/8-inch visible border for a fully maximized viewing area. They are excellent solutions for any home theater, office, conference room, sports bar, or other venue needing a modern, high-performance projection screen. Broadway's appearance does not distract from the projected content, but instead quietly enhances the viewing experience with its perfectly tensioned viewing surface and precision-aligned black velvet frame."
The Broadway Thin Bezel Series' durable, aluminum frame offers the thinnest visible bezel that Severtson Screens can provide, offering a clean, sharp appearance that maximizes the viewable area. Each screen is manufactured to the same high standards as Severtson's large cinema screens installed in theaters worldwide. Customers can choose from Severtson's perfectly tensioned screen materials that will take the viewing experience to the highest levels of performance available in the market today. Broadway Thin Bezel Series material choices include: Broadway White (1.1 gain) and Broadway Grey (1.0 gain).
For more information, please visit www.severtsonscreens.com, call 480-610-5155, or email sales@severtsonscreens.com.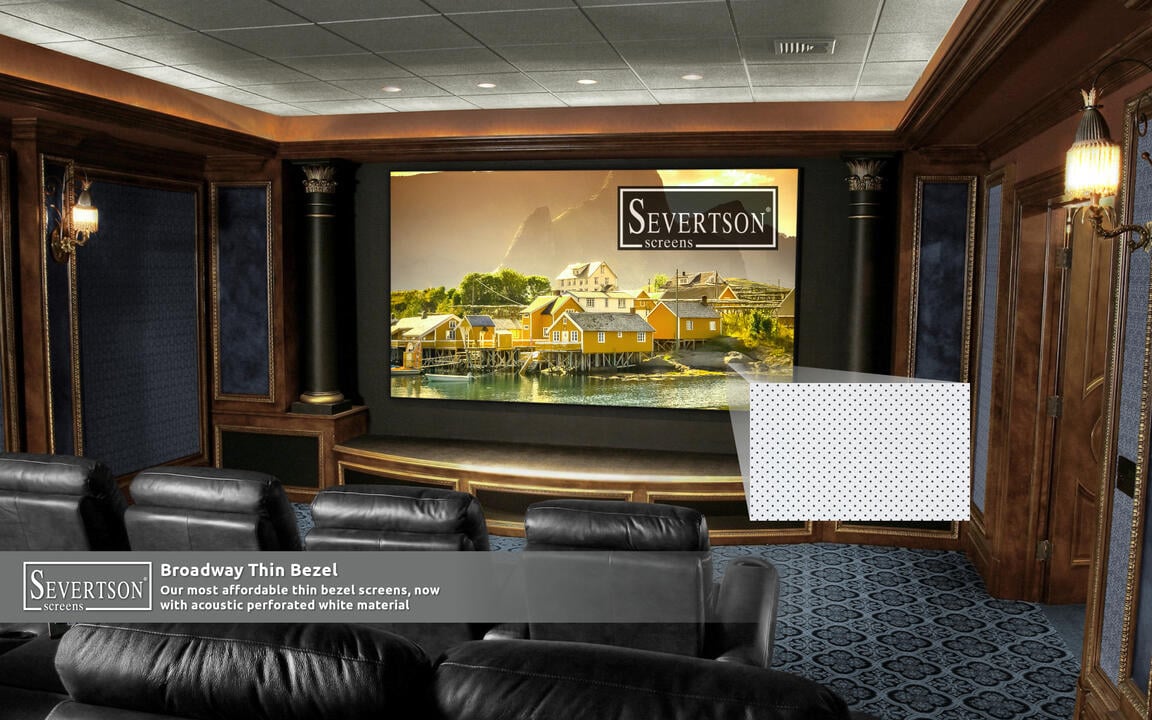 ---

Shure Certified Solutions Guides for Microsoft Teams & Zoom Rooms
feat. Crestron, Logitech, Poly, Yealink
With offices adopting different definitions of hybrid, IT managers are looking to create meeting spaces with flexible conferencing solutions for every type of meeting. To accomplish this, it's critical to find the right AV and UC solutions that are reliable and enhance the collaboration experience.
An effective Microsoft Teams or Zoom Room needs compatible, certified devices that work together to ensure every meeting participant is seen and heard. To help make the process of finding the right solutions easier, Shure has created two new guides to break down what you need to create rooms with certified AV solutions from Shure and key technology partners.
Creating Microsoft Teams Certified Solutions with Shure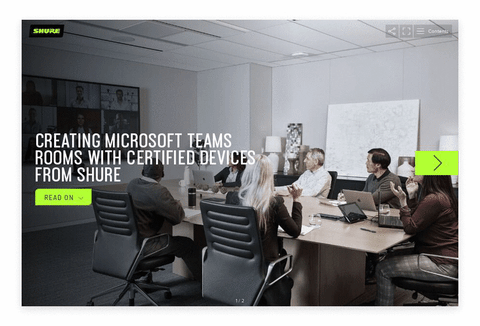 Creating Zoom Certified Solutions with Shure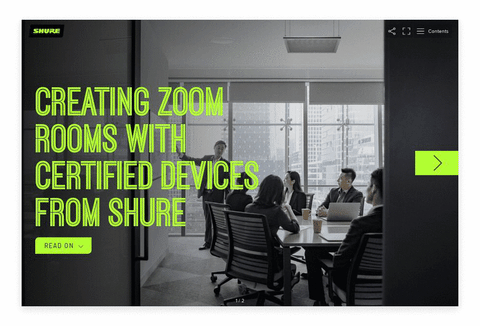 To learn more about Shure's Technology Partnerships, visit https://www.shure.com/en-US/conferencing-meetings/partners
---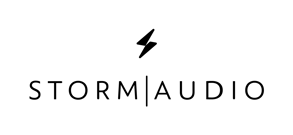 Shipping has begun for StormAudio's much-anticipated, high-performance surround sound preamp/processor; the ISP Evo. This new compact, fully digital processor is available in 20-channel and 32-channel models in a software-based upgradeable platform. Based on StormAudio's award-winning and industry-recognized ISP Elite MK3 model, the ISP Evo retains the same slim and compact platform of the ISP Core 16.
This new processor is digitally compatible with some of the finest speaker manufacturers on the planet including Pro Audio, Wisdom Audio, Meridian, Grimani Systems, TPI, Alcons Audio, Devialet, and more. The processor allows for a fully digital connection between the processor and the amplifier, or active speaker system. The result is a much lower noise floor, less error, and a true-to-recording fidelity due to less D-A and A-D conversions. Depending on the model, AoIP (AES67) or AES/EBU (AES3) is supported.
---
TRENDnet Hive Mobile App Allows Easy Network Management on the Go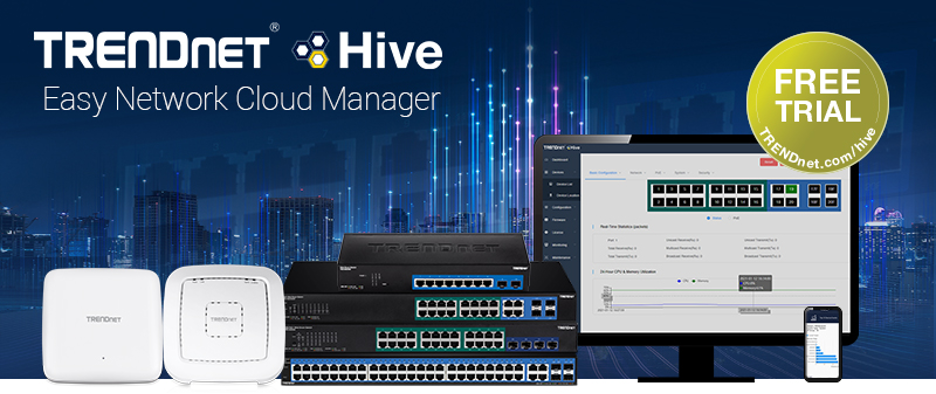 TRENDnet Hive is an advanced network cloud management solution designed to save users on time and cost by simplifying and centralizing the management and monitoring of a network(s) and networked devices. The new Hive mobile app gives users the ability to have full control over multiple networks in multiple locations all from the palm of one's hand, including managing, monitoring, and configuring Hive cloud compatible network devices. Users will be able to experience nearly all the features available on the TRENDnet Hive web portal conveniently from a mobile device(additional license purchase required).
FREE TRIAL OFFER! TRENDnet Hive includes a free 30-day trial for three (3) network devices for new users after creating a Hive account.
TRENDnet Hive Premium – For consumers & end users
Overview of devices, clients, and system logs
Manage system settings, documentation, logs, and debugging
Set notifications and e-mail alerts
Free iOS® and Android™ mobile apps
Centralized firmware management
View user and traffic statistics, and device lists
Device analysis, such as memory, CPU, PoE usage
Real-time network diagnosis and testing tools
Set and manage device configurations
Pricing: $10 USD per device annually
TRENDnet Hive Pro – For integrators & partners
All features in TRENDnet Hive Premium
Google Maps location tracking
Multi-tenancy creation
Monitoring and advanced management
Detailed reporting tools
Multi-user roles and permissions
Potential to earn RMR
Pricing: Contact your Authorized TRENDnet Distributor
For more information, and for a full list of TRENDnet Hive compatible products, please visit www.trendnet.com/hive.
---

Take presentations to the next level with the new ViewSonic CDE30 series of 4K wireless presentation displays. With breathtaking 4K resolution, enhanced connectivity options and streamlined content sharing, getting your message across has never been easier! Learn more:
CDE30 Series - Digital Displays - Products (viewsonic.com)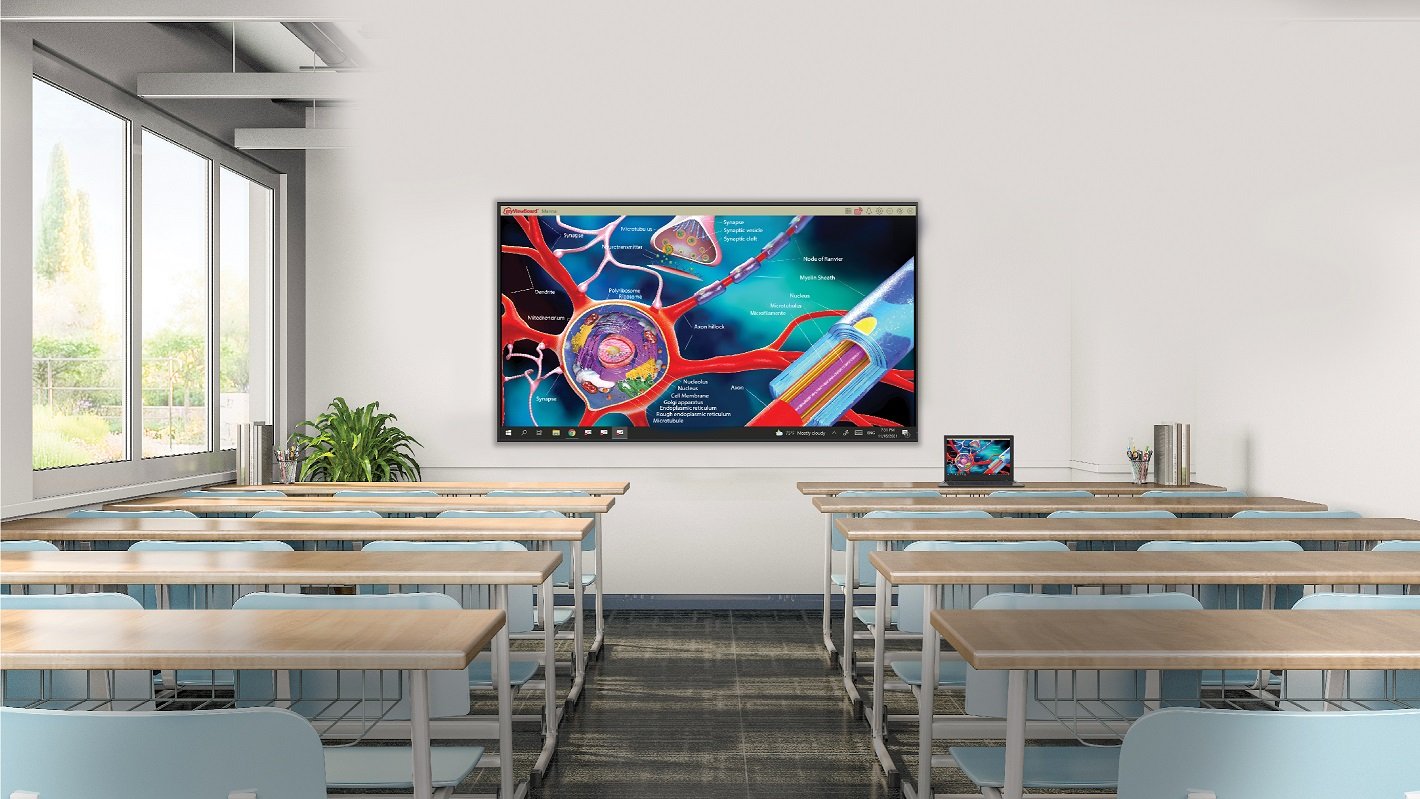 ---

VITAL is equal parts CFO, Mentor, and Accountability Coach for the custom integration industry.
Get the tools you need to step up to the plate as a business owner and industry leader. In VITAL's free CI Business Mastery Class, you'll learn to overcome obstacles and master the know-how, leadership, prioritization, and skills your business needs to succeed. The next LIVE class is Thursday, June 8, at 10:00 am Pacific. Visit https://growwithvital.com/integrator-signup/ to watch recorded sessions and register for upcoming sessions.
The VITAL Method has helped over 300 Custom Integrators optimize their business using technology, benchmarking, and personal guidance.
---

CASE STUDY: Okada Manila Hotel & Casino Delivers Unique Visitor Experience With VITEC IPTV & Digital Signage Solution
As a world-class destination that combines advanced technology with deluxe amenities, Okada Manila wanted to offer cutting-edge video entertainment throughout its property. With a 24-hour a day operation catering for thousands of international visitors, the resort required a reliable video solution that could easily handle the vast range of media inputs and diverse distribution requirements.
With a mix of static, dynamic and live video content, the solution needed to be flexible enough to interface with a wide range of display types and aspect ratios whilst being easy to manage for operators to make sure the right content, branding, wayfinding and messaging gets to the right machine or screen, at the right time.
Okada Manila chose VITEC for its low latency, high picture quality, easy-to-use, reliable and integrated IPTV and signage system. The centrally-managed solution enables the seamless distribution of TV channels, promotions and jackpot information on each of the electronic gaming machines and screens across the casino gaming floor, as well as to back of house areas.
The result
The VITEC solution enables Okada Manila to display a dynamic range of entertaining and informative content on hundreds of connected screens including Samsung TVs, computer screens, mobile devices and LED screens across the venue. The technology advancements from VITEC and providers, including Alcatel and Samsung, have created a unique visitor experience, and the casino has benefited from increased footfall, extended dwell time, revenue growth, and above all, a casino destination clearly differentiated from the competition.
To read the full case study visit: https://www.vitec.com/success-stories/okada-manila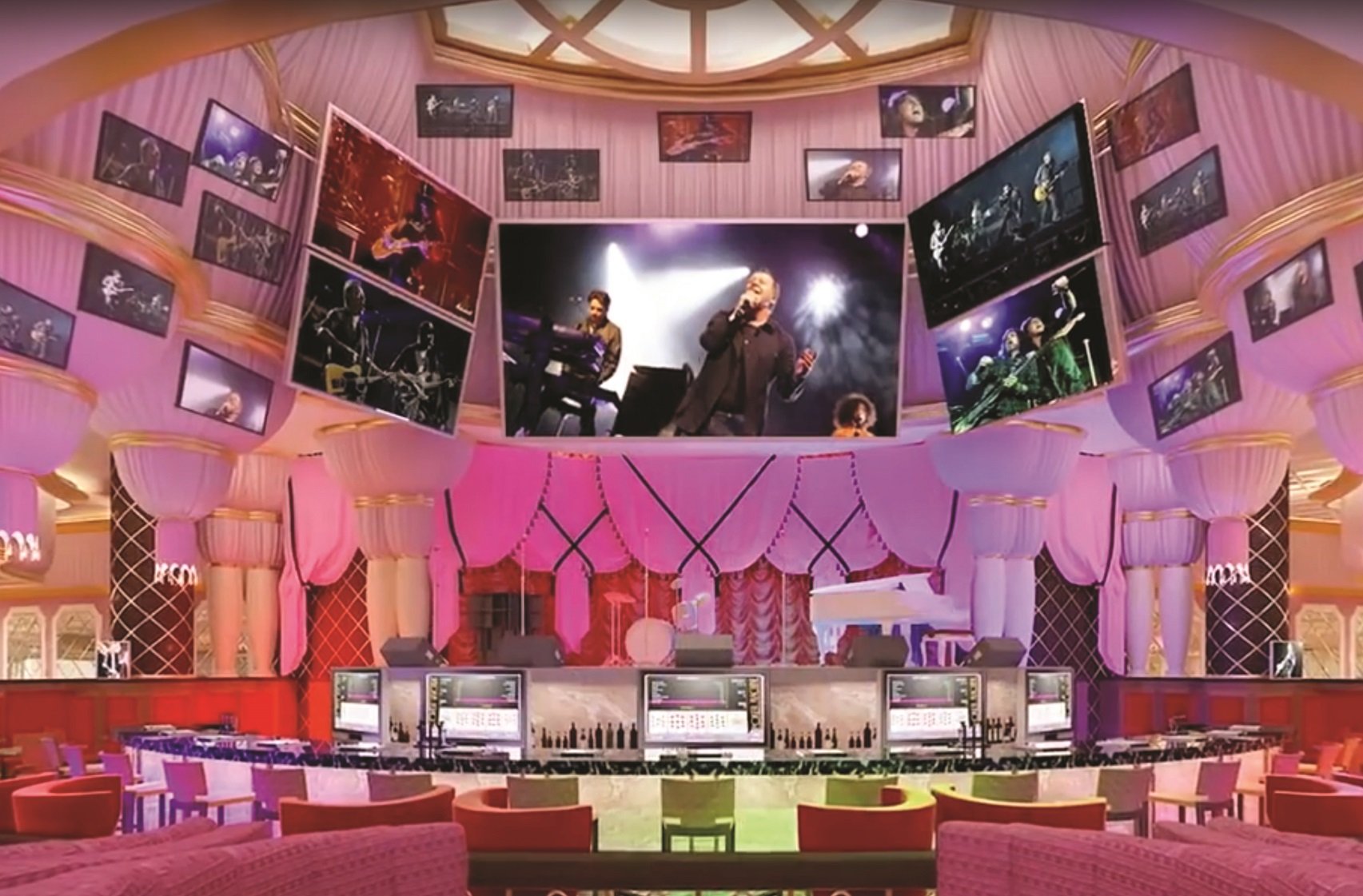 ---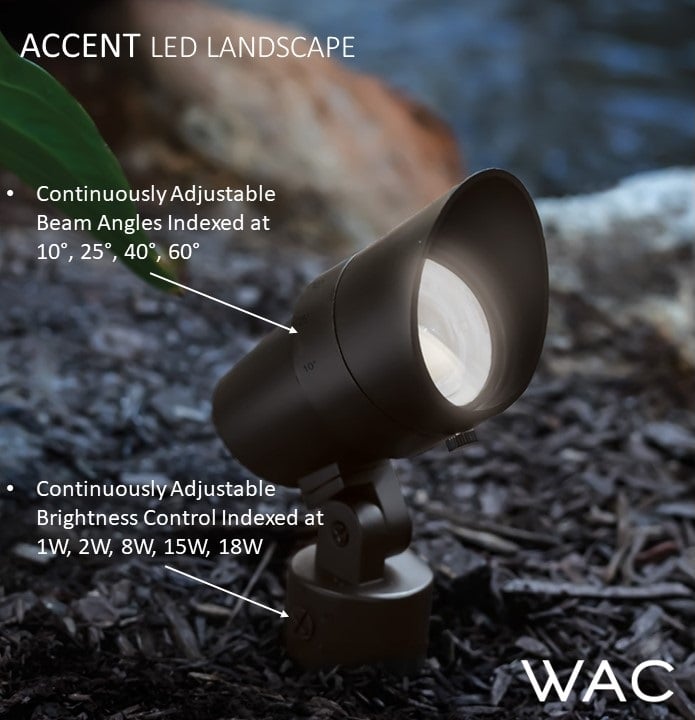 Landscape Accents
Perfect every time— low profile, integrated, and powerful. Our award-winning LED accent luminaire is fully adjustable. Multiple continuously adjustable beam angles from 10 to 60 degrees and built-in brightness controlled directly on board. Gutter and tree mount accessories available and sold separately. Problem-solving landscape luminaires make it easy to specify and install with flawless results. Find out more about our complete landscape lighting line. Fully adjustable integrated landscape lighting fixtures now performing nightly...
WAC LANDSCAPE LIGHTING
---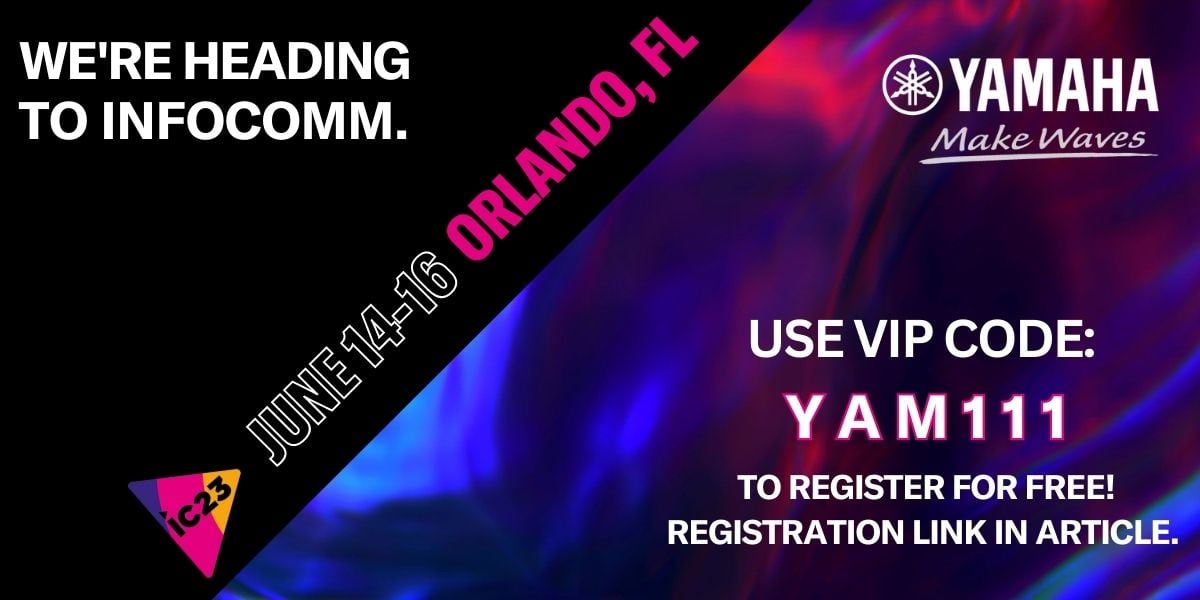 For the first time in 5 years, Yamaha will be reunited at the world's largest professional audiovisual trade show in North America, Infocomm 2023. Yamaha Corporation of America & Yamaha Unified Communications will be displayed side-by-side, showcasing solutions designed to connect the world through sound & music. Whether amplifying a musical performance live on-stage, through installed solutions, or connecting people through conferencing; when it comes to sound, it just makes sense to trust a company that lives and breathes sound and audio.
Attendees can stop by and check out the latest audio solution lines and technologies, such as the award-winning conference audio solution, ADECIA , the revolutionary VSP-2 Speech Privacy System, the newest compact digital mixing console, DM3, which launched at The NAMM Show to great review, RIVAGE PM Digital Mixing Systems, NEXO solutions, and more exciting announcements closer to the show! Yamaha engineers will also be taking part in 5 different speaking engagements that cover a variety of sound and av topics throughout the conference.
"We're so proud to announce that Yamaha UC and Yamaha Pro Audio will be together again at InfoComm. We have many new technologies to showcase including our recently updated ADECIA audio solution, our VSP-2 Speech Privacy system, and so much more. Our meticulous attention to detail in every aspect of product design and manufacturing, as well as our thorough testing and commitment to innovation will be clearly displayed in every one of our unique products on the show floor."
-Tatsuya Umeo, CEO of Yamaha Unified Communications.
To see Yamaha at InfoComm, please visit Orange County Convention Center, Orlando, Florida June 13-16, 2023. Yamaha #4671 and Yamaha UC #4773.
Don't miss out! Register for the event today using our VIP code over at: https://info.uc.yamaha.com/infocomm_vipcode
---