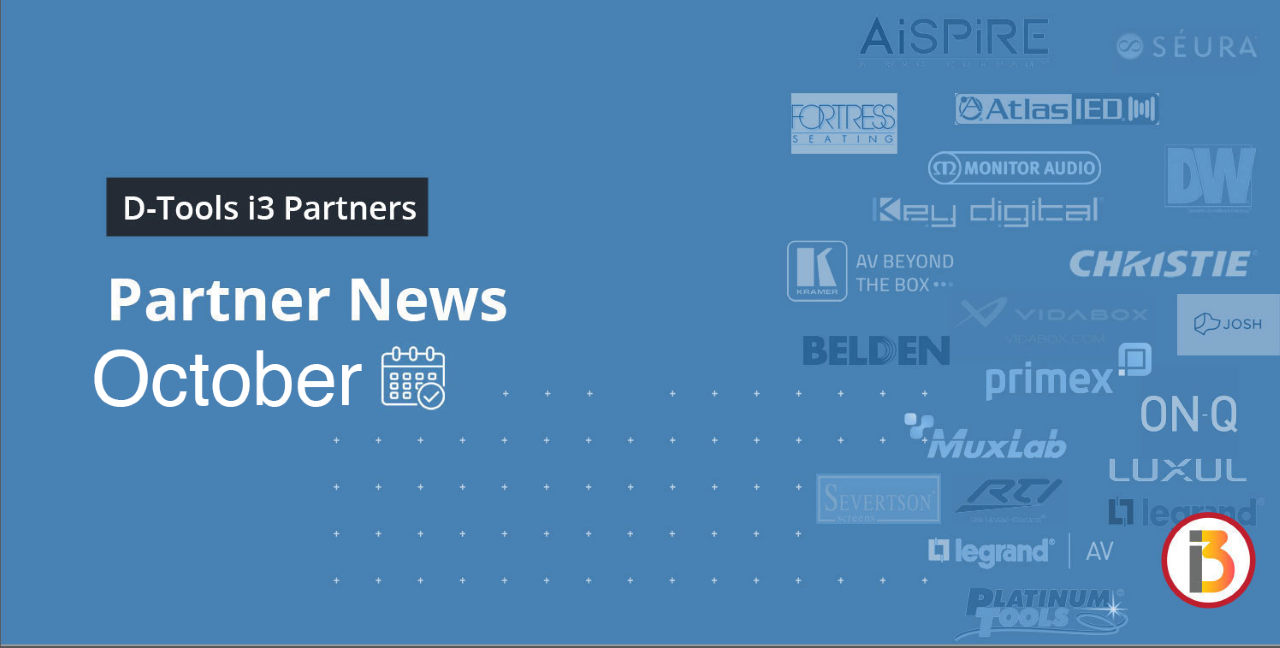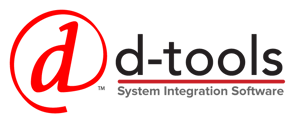 D-Tools i3 Partners realize the importance of bringing you their product information and have chosen to support the D-Tools user community by joining the program and making their product data directly available through D-Tools software. Read on for the latest supplier company news and product updates.
---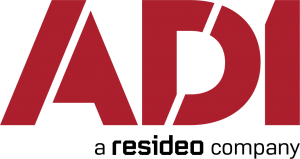 Cybersecurity Tools
Your business demands security. As a provider of low-voltage services, protection for your company and client data is just as most important as access to the products and skills you offer. In a partnership with Defendify, an award-winning, all-in-one cybersecurity platform, ADI can help you identify gaps and improve defenses with three free cybersecurity tools. There is nothing to install and nothing to pay for.
---

AtlasIED and RTI Control Partner to Help Integrators Enhance Customer Experience
To demonstrate a commitment to enhancing the customer experience, AtlasIED, a global electronics manufacturer of audio, mass communications, and security solutions, and RTI, a leading control and automation manufacturer, today announced RTI control platform compatibility with AtlasIED's Atmosphere audio processing and control system. The companies collaborated to create a control module specifically to enable RTI customers to manage Atmosphere directly through the RTI control and automation system.
Ideally suited for hospitality, education, house of worship, retail, and other commercial environments, Atmosphere harnesses touchless control, automation and artificial intelligence to simplify the installation, customization, and operation of digital audio systems. With the new control integration, RTI customers can now integrate, identify, and control Atmosphere products through the same RTI interface—on touchpanels, keypads, and mobile devices—that controls and automates the rest of the facility.
"Establishments of all types require audio systems that are simple to install, integrate, and configure to improve audio performance and create experiences that connect with guests," said Tom Lureman, Product Manager at AtlasIED. "The new RTI driver aligns with our core foundation for developing Atmosphere; specifically, to offer a simple way for integrators and users to create memorable experiences for guests and staff in any environment."
The control module permits RTI control panel integration with Atmosphere and enables customers to route audio signals through a single user interface within an establishment or to multiple zones within a space. The control panel will include native Atmosphere audio controls including sources and volume and will also include a microphone input, such as for in-house announcements or to connect music from a DJ. RTI customers will automatically have access to the Atmosphere module in the RTI driver library and it can also be downloaded from the RTI dealer portal.
"Integrating the Atmosphere audio ecosystem into the RTI control platform has been a priority request from RTI integrators," said RTI Product Management Director Neal Ellsworth. "RTI and Atmosphere elevate the control and audio experience in any commercial setting, from retail to hospitality, and we are excited to launch the new driver that integrates Atmosphere with RTI."
AtlasIED has created a range of native drivers to meet the industry's compatibility demands, allowing end-users to integrate AtlasIED technology into a greater variety of audio, video and network devices to create a unified system.

---

Add Apple Music and Calm Radio streaming music services to Autonomic MMS systems with the Advanced Music Bridge (AMB-1). The AMB is a companion to the award-winning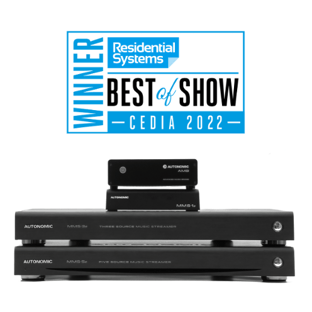 Mirage Media Server lineup to unlock the feature set of Mirage OS 7. With the AMB, dealers can add two network streams of Apple Music, Calm Radio, and expand local track limit support from 40K to an impressive 200K tracks with snappy browse performance to their Autonomic systems.
Plug-and-play setup and configuration simply adds the AMB to the MMS for configuration of the available streaming services. Full control system integration allows browse, search, and play of catalog and your music content.
The Advanced Music Bridge was awarded "Best of Show" from Residential Systems at the latest CEDIA Expo. dTools users can add the Advanced Music Bridge to their Autonomic proposals with an updated product catalog available now. For more information and to learn more about special bundle promotions available, contact Autonomic at sales@autonomic-controls.com or sign up to become a direct dealer.
---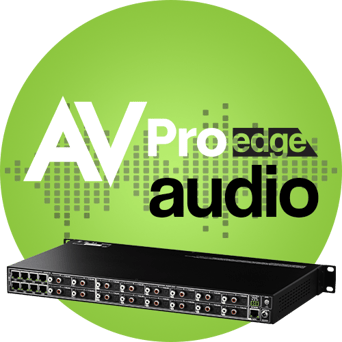 AVPro Audio: Introducing the AC-AEX-RC-HUB
Proof innovation never tires at AVPro Edge is found in this departure from our regular cadence of intensive video technologies development, as we introduce our first full width chassis product dedicated solely for audio use, the AC-AEX-RC-HUB. An engineering contemplation brought to fruition, it was conceived to harvest as many as eight decentralized audio-oriented sources at various distances from a centrally located third-party distribution system - joining four additional audio sources neighboring the AC-AEX-RC-HUB, then aggregated into a common endpoint with matrixing capabilities for seamless system integration. Control is mastered from the AVPro Edge GUI, or the API interfaces with automation systems like Control 4, Crestron, Elan, Savant and more to transparently traffic audio signals discretely behind the scenes.
---

Going the Distance with Serial Digital Coax
In the late '80s, the Society of Motion Picture Television Engineers (SMPTE) developed a standard for transmitting serial digital interface (SDI) video signals. These uncompressed, unencrypted digital signals are still part of broadcast signals today.
What type of cabling did SMPTE choose to run SDI signals? Most SDI signals used a 75 Ohm coax, which has been a staple for broadcasters for years.
As more and more coax cables for SDI signals hit the market, they were offered in multiple variations and sizes. With all these choices, designers needed an easy way to determine how far they could run each of these cables.
To help, we created a table based on signal loss recommendations for given formats as specified by SMPTE. Recently, we updated this table to feature a new format and new versions of cables as they become available.
As the industry moves toward 12 Gb/s single-link configuration as part of SMPTE 2082-1, it's critical for designers to verify distance. To do this, check with equipment manufacturers to confirm the type of cable needed to reach the distance you want to meet.
Get your copy of the chart—and tips on how to use it—here.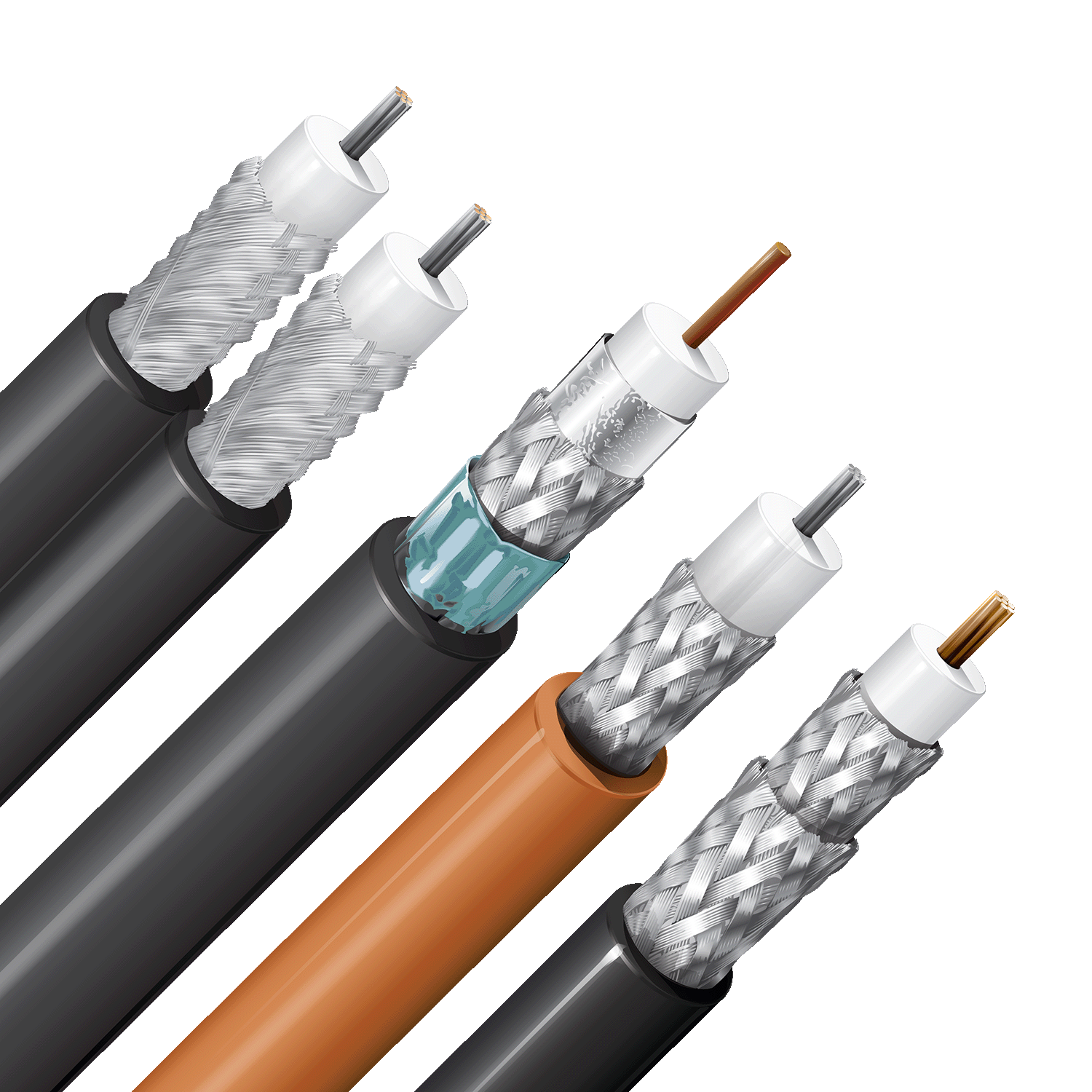 ---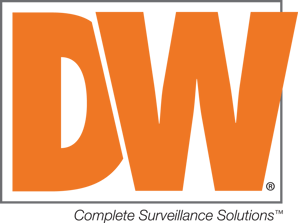 DW MEGApix CaaS 'Camera As A System' Edge Solutions with DW Spectrum IPVMS
DW MEGApix CaaS edge cameras are a complete system with memory and DW Spectrum IPVMS onboard. Look at these features:
• You are not a hostage — Your DW system is yours.
• DW Spectrum Inside
• Simple to Install — PoE cameras are online and fully operational in minutes.
• No NVRs or DVRs – Store up to 365 days of video.
• Easy to scale with bandwidth-friendly cameras.
• Remote management with DW Cloud - enables secure access on any device, anywhere.
• Cloud-managed Solution – Connect an unlimited number of cameras to DW Cloud with no recurring cost.
• In stock – Ready to ship.
• NDAA-Compliant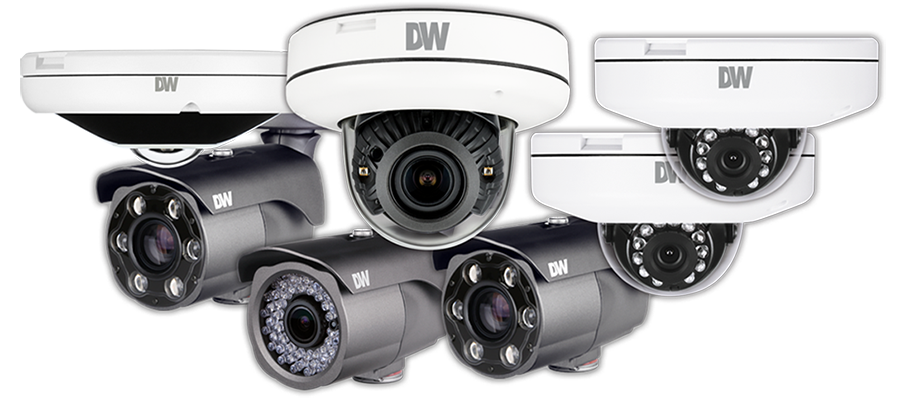 ---

Draper Unveils New Smart, Stylish Roller Shades
Draper is elevating window shade style with the introduction of an all-new motorized roller window shade system.
FlexStyle is designed to meet the exacting standards of the most fashion-conscious homeowner. The alluring, stylish aluminum brackets are available in 9 colors and plated finished. Every FlexStyle shade is custom manufactured and hand inspected in the company's world class Spiceland, Indiana factory.
"FlexStyle is the first shade product we've ever designed, engineered, and built specifically for the residential market," said Randy Reece, Draper director of AV sales and marketing. "We see this as an important and expanding market and so we asked our product designers to come up with something special – something that subtly enhances any interior design."
FlexStyle is powered by Somfy to integrate into smart home systems. Battery and standard motors are available with RTS or built-in Zigbee technology.
FlexStyle features hundreds of fabric color, texture, and openness choices from American weavers Phifer and Mermet USA, plus custom colors, patterns, and graphics.
To see the next step forward in window shade innovation, go to draperinc.com/go/flexstyle.
---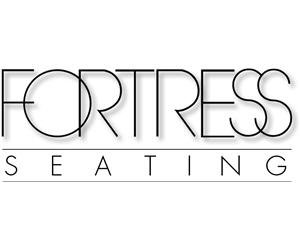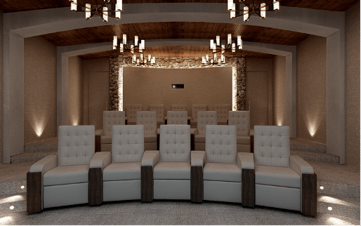 MIX AND MATCH
Palladium Back ~ Hudson Arm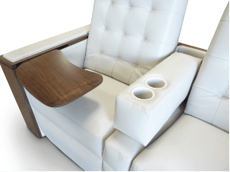 Pocket Arm|Fixed Wedge Seat
Wood Back Panel: Walnut Veneer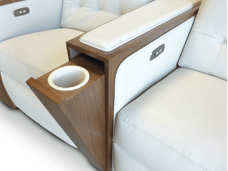 Motorized1st Class Tray Table: Walnut finish
Wood Front Access Cup Holders: Walnut finish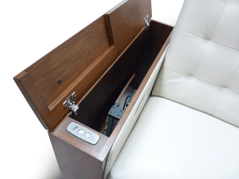 Stainless Switch w/USB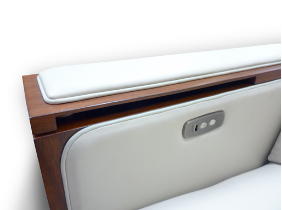 Cup Holders Powder Coated to match leather
Upholstered Arm Pads and Side Panels

Y o u D e s i g n I t ~ W e B u i l d I t
---

Hisense Laser TV – BIG Screen Big Entertainment
Hisense Laser TV is revolution in display technology, delivering a cinema-like picture with ultra-wide color gamut at a massive scale. The use of pure color lasers beaming at an ambient light rejecting screen from just inches away gives you a beautifully bright picture with true-to-life color. Add to that built-in Dolby Atmos Sound, 4K Resolution, Smooth Motion, and a Smart TV OS, Laser TV will quite literally change the way you watch TV.
Immerse yourself in this incredible TV and experience the game, a movie, or your favorite TV show like never before. Big screen entertainment in a convenient package. No need for ceiling mounts or in-wall cable runs, simply place the Hisense Laser TV on a TV stand about 11-14 inches from the wall and get a massive 100-inch and 120-inch projection.
Hisense Laser TV also comes with a perfectly paired Ambient Light Rejecting (ALR) screen to remove the guesswork from a UST projector setup. The UST ALR screen gives you a killer picture under any lighting condition without having to kill the lights.
Enjoy up-to $1500 saving on Hisense 100" & 120" Hisense Laser TV in this Black Friday. Don't miss out, great deals do last long.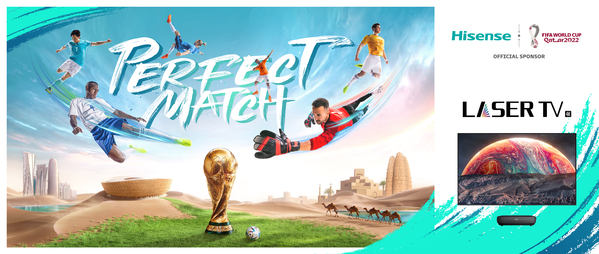 ---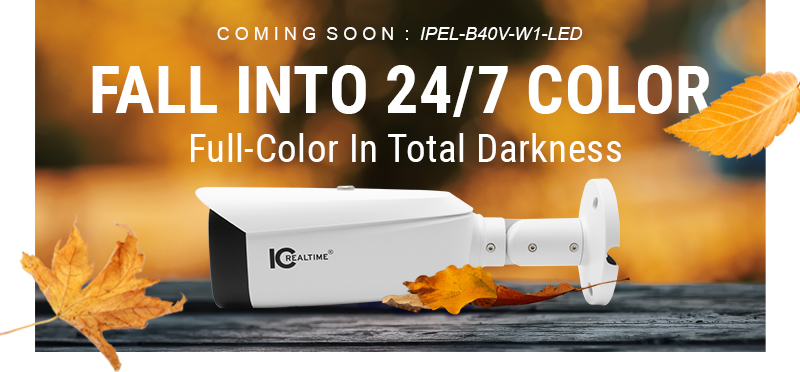 In low or no light, 24/7 Full Color cameras deliver
detailed, discernible and forensically useful details.
---
IC Realtime's new 24/7 Full-Color series is available as
an eyeball dome, bullet, or vandal dome camera, and every
one is built with our newest Starlight video chip.
This chip powers better definition of an object's edges,
shape, and color for enhanced human & vehicle detection.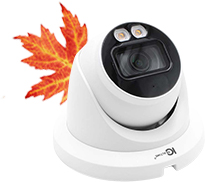 IPMX-E40F-W1-LED
TURRET 4MP LED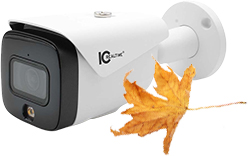 IPMX-B40F-W1-LED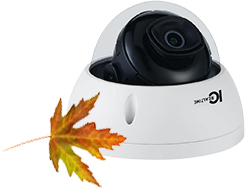 IPMX-D40F-W1
---
These cameras stream color images even
on a moonless night. Turn over a new leaf with 24/7 Full-Color security cameras.

---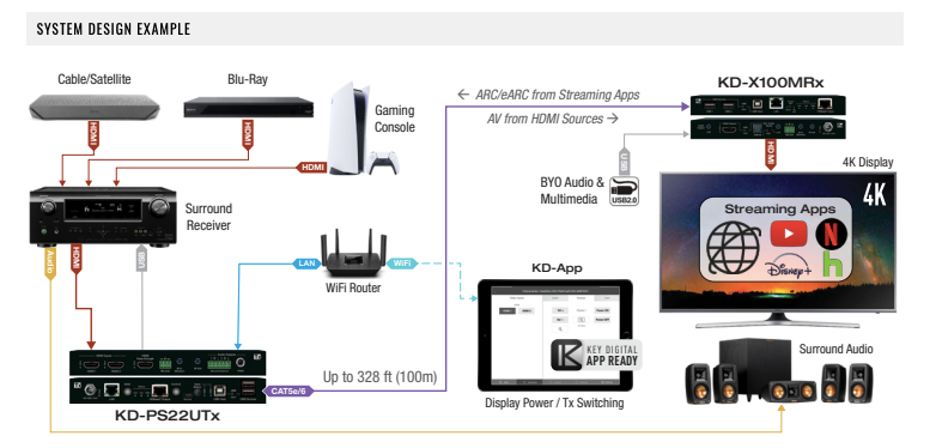 KD-XPS22U
4K 18G Smart Extender Kit. Includes KD-PS22UTx and KD-X100MRx. Extends HDMI, USB 2.0 KVM, LAN, IR, RS-232 up to 328ft (100m). Features 2x1 Switcher, Mirrored Output, ARC of HDMI or Optical Audio, Audio De-Embed, Power over CAT, CEC Display Control. IP Controllable, KD-App Ready, KDMS™ Pro Ready.
Key Features:

› Signal Extension:

4K/UHD (18G): Up to 100m / 328ft
1080p: Up to 150m / 492ft

Ultra HD/4K: Supports up to 4096x2160 or 3840x2160 24/25/30/60hz at 4:4:4 (signals up to 18Gbps bandwidth)
Visually Lossless Compression: 18G enabling technology applied to all video formats exceeding 10.2Gbps to accommodate HDBaseT transmission channel
10G Pass-thru: Mode enables uncompressed 10.2Gbps signal extension
Mirrored Outputs: 2 HDMI and HDBaseT Outputs
Auto-Switching: Automatic selection of newly detected source and switching from newly disconnected source when enabled
Power Over HDBaseT: Tx can be powered by Rx unit
HDCP Licensing: Fully licensed and compatible with HDCP 2.2
Accessories:

Power Supply (qty 1) 48V/1.04A, 50W, desktop type, model KDPS50W48VC
IR sensor (qty 2)
IR emitter (qty 2)
L-Mounting Bracket (qty 4)
Ear Mount Screw (qty 8)
6-pin phoenix terminal (qty 1)
3-pin phoenix terminal (qty 2)
6 ft USB Micro cable (qty 1)
6 ft USB A to B data cable (qty 1)
Benefits:

Deep Color Support: Up to UHD/4K 30Hz 4:4:4/12 bits or 60Hz 4:4:4/8 bit
Full Buffer System™: Manages TMDS re-clocking / signal re-generation, HDCP authentication to source & display, EDID Control handshake, and Hot Plug Detection Voltage
HDR10: More life-like images through a greater range of luminance levels
EDID Management: Internal library with 15 internal EDID handshakes including 4K with HDR in addition to native EDID data copied from the Rx display/device
IR Bi-Directional control: Tx supports IR input via the included IR sensor and output via the included IR emitter
3 year limited warranty included. USA based tech support, product design, and engineering.
Read more about this product here and check out our website for more of our products!

---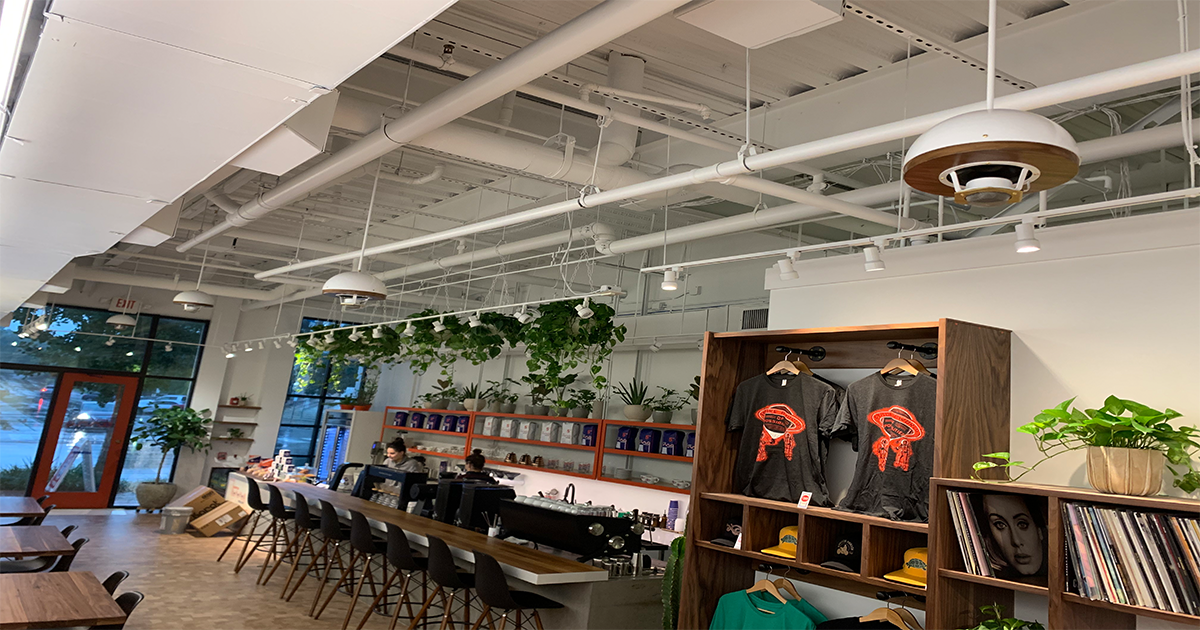 When Hazelwood laboratories needed quality and flexible amplifier technology, they looked no further than LEA Professional to help complete this custom install… Get more!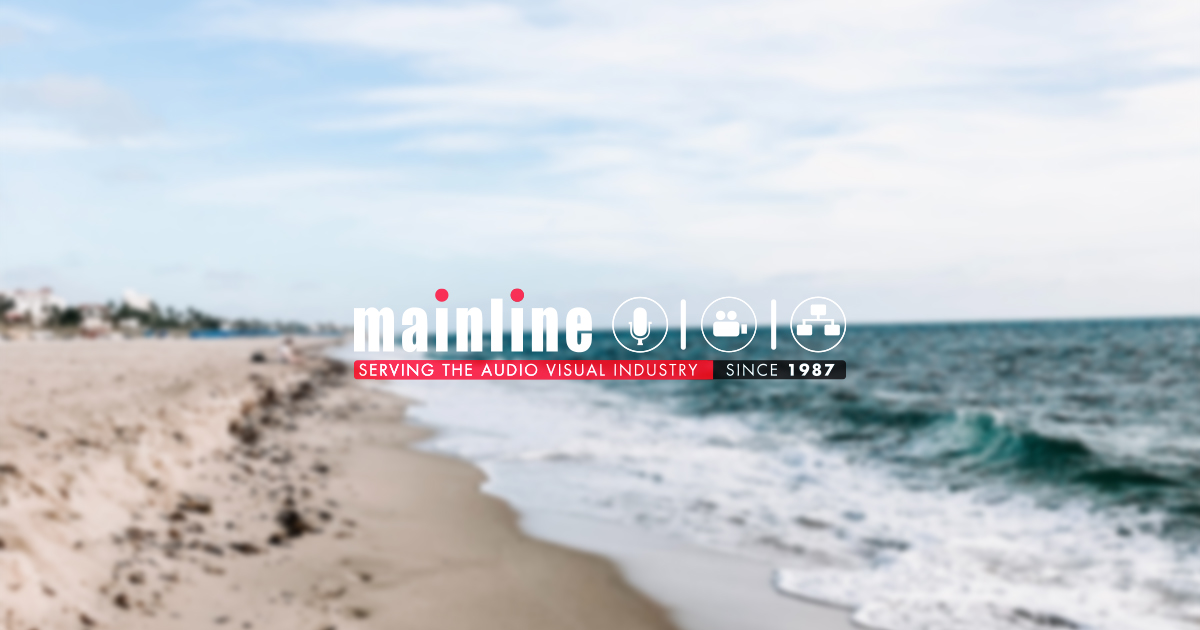 With increasing demand for our Connect Series amplifiers we have decided to bring in Mainline Marketing, who will serve as our Commercial rep in the state of Florida… Get more!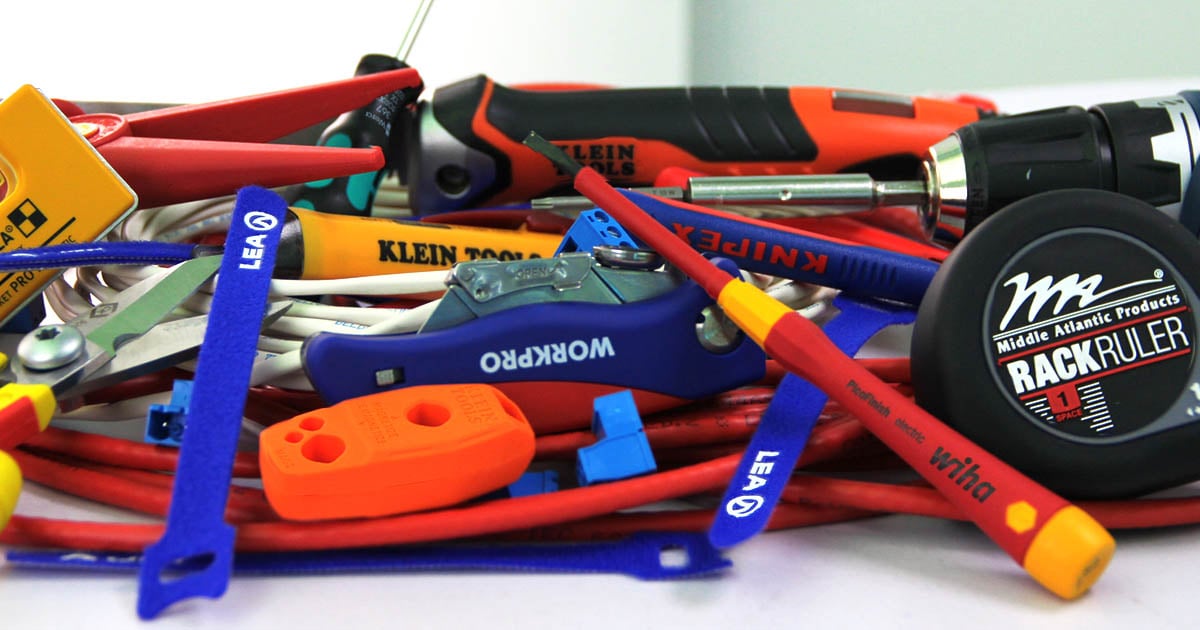 AV Installation Tools: 18 Must-Have Tools for System Integrators
If there's an AV problem that needs corrected, you'll likely find 20 different tools for the job. That's why we took the liberty of curating a list with some of the most critical tools in any installer's toolbox… Get more!
---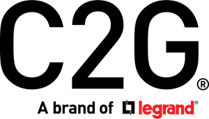 New Mini HDMI and Micro HDMI Adapter Ring Options Available
We have added two new options to our family of dongle adapter rings: the Mini HDMI to HDMI Dongle Adapter Converter and the Micro HDMI to HDMI Dongle Adapter Converter. These solutions allow you to connect to any device outfitted with a mini HDMI or micro HDMI port and plug-in an existing HDMI cable for easy connection to a display or projector in conference rooms, huddle rooms, classrooms, lecture halls, and more. The new mini and micro HDMI adapter converters are fully compatible with C2G's C26 Retractable Universal 4K HDMI Dongle Adapter Ring.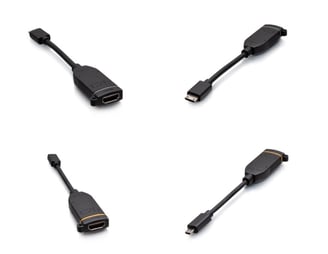 C2G's Mini HDMI to HDMI Dongle Adapter Converter and Micro HDMI to HDMI Dongle Adapter Converter are great additions to new or existing HDMI adapter rings, allowing you to connect a mini or micro HDMI port to an HDMI-enabled device in the home or office. The adapters carry a digital video signal, supporting up to 4K resolution, and meet the requirements for high-performance applications. In this way, you're able to avoid tech frustration by simply plugging the adapter into the computer, then attaching it to the existing HDMI cable from the monitor or projector. The portable, compact design also makes it easy to carry in a laptop bag when traveling or on the go.
The adapter rings are color-coded, so you can quickly identify the correct adapter. Other adapters include HDMI-to-DisplayPort, Mini DisplayPort, USB-C, VGA, and Lightning dongle adapters. Adapters can be accessed quickly and reached easily with the customizable integrated pull tab. They can be attached directly to an HDMI cable, or, when attached to the retractable mount, the retractor extends up to 4.9 ft., ensuring the adapters are always within reach. Custom adapter configurations are also available, and all are backed by our lifetime warranty.

Tech Lighting and Soraa Lighting Now Part of Vantage Lighting Fixture Alliance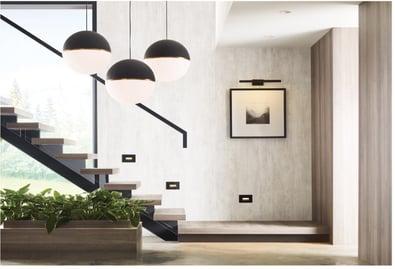 We have recently added ELEMENT fixtures by Tech Lighting, and retrofittable lamp manufacturer Soraa: Simply Perfect Light, a division of Korrus, to our growing lighting fixture alliance. The alliance ensures that these companies' fixtures pair seamlessly with Vantage's lighting control to offer a comprehensive and beautiful lighting design and user experience ideal for any new construction, remodel, or redecorating project.
Tech Lighting is a premier lighting brand for architects, lighting designers, and interior designers. Its portfolio includes architectural recessed downlights, linear LED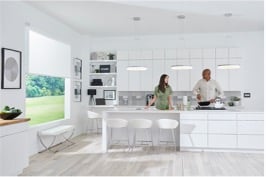 channels and tape, and high-end decorative fixtures, delivering a complete lighting package.
By partnering with Soraa, we ensure a seamless pairing between Soraa best-in-class spectral technology and Vantage lighting controls. Soraa VIVID™ Brilliant and Warm Dim lamps are guaranteed to work with Vantage's InFusion controller and the company's customizable keypads and touchpanels. The end-to-end solution enables control of a fixture's saturation, hue, intensity, and color temperature.
When combined with Vantage's LHUMAN human centric lighting control solution, featuring design-friendly Vantage control touch panels or keypads and automated shading from Legrand Shading Systems, architects, interior designers, and installers can intelligently render the perfect lighting environment homeowners need for any task or mood.
Get the Design Center 4.4.6 Update
The latest version of our Design Center programming software now introduces the Shade Quoting Wizard. The Shade Quoting Wizard provides you with the ease and convenience of quoting lighting and shading straight from Design Center!
To start quoting, go to "Ordering" on the toolbar, then "Shade Quoting Wizard."
After completing the quote, clicking "Request Quote" will send it to customer service, where you will receive a detailed quote back within 2 business days.
Several parameters are built-in, so it's less likely to order a shade that cannot be built.
Download the release notes: https://go.legrand.us/e/84502/0-tok-z8dZsC5xoqv6JHKtZWGsxARR/hwll3k/1004247073?h=adwhBm-DJO5YNldRa_q5DYVvcrzKGqEaKhIunzDux74
Fabric Books Are Now Available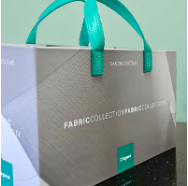 With the launch of our new fabrics featuring designer collections from Coulisse, Twitchell, Phifer, and more, our latest fabric books are now also available. Fashion-forward, beautiful, and functional, our curated collections feature new decorative, solar screen, sustainable, and room-darkening options — perfect for dressing up windows in style and spicing up any room. With this latest release, we now offer 753 fabrics in our portfolio.
Our two new fabric books are packed with all these new fabrics and you can order them on our online service center (OSC) or from your customer service rep. Fabric swatches can be ordered here.

RTI Touchpanel With Built-in Processor is Now Available for Pre-Sale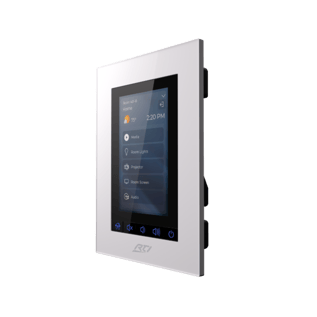 The new KX4 touchpanel with built-in processor simplifies single-room commercial installations from boardrooms to lecture halls that require both on-wall control and processing power to control multiple devices. Shipping Nov. 1, the KX4 combines a 4-inch capacitive touchscreen and five-button interface with a control processor for fast and cost-effective installations in all single-room environments.
For front panel control, the KX4 boasts a 4-inch, high-resolution capacitive touch display with five configurable hard-buttons that can be customized with RTI's Laser Shark engraving. The built-in control processor delivers robust capabilities to maximize integration with connected devices, including support for two-way drivers, the RTiPanel Mobile App, and use as either a stand-alone processor or as a secondary processor in larger configurations. Back panel connections enable direct control of connected devices via IR; IP; two RS-232, six voltage sense ports with sense-event capabilities; and four relays for control via contact closure.
More information about the KX4 touchpanel with built-in processor is available at www.rticontrol.com/kx4-in-wall-controller.html.
---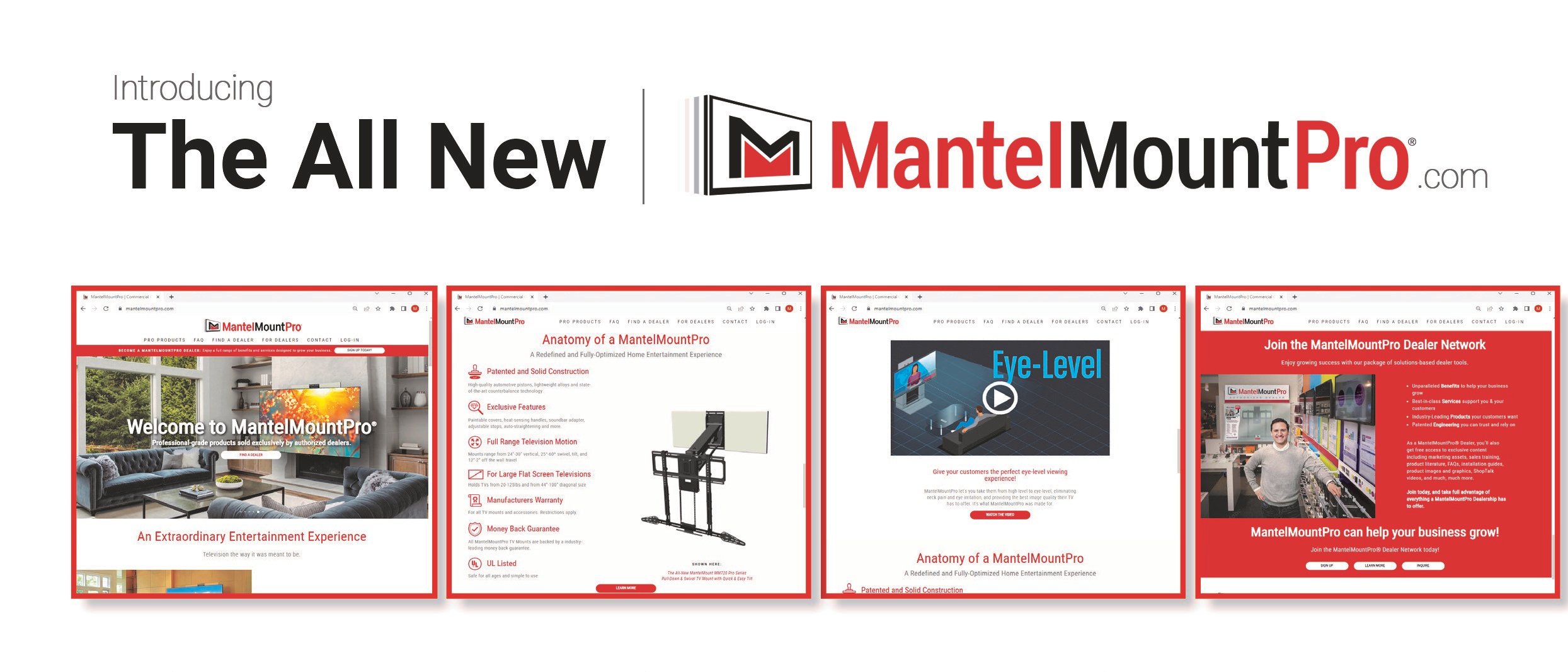 The NEW MantelMountPro Website
Our dealers now have their own dedicated website where a full-line of Professional Grade MantelMount products are sold exclusively by our Pro Dealers. Our new site provides expanded support for Professional CE Partners with product images, Shop Talk videos, sell sheets, manuals and more at
MantelMountPro.com
.
---

Monitor Audio Super Slim Speakers
Monitor Audio's Super Slim Series brings a fresh approach to in-wall and in-ceiling speaker design. The series features one in-ceiling model and three in-wall models with three performance levels. All four models provide versatility while their slim profiles and 2" depth offer flexibility with endless installation scenarios, enabling high performance sound where previously none was possible.
The three in-wall models share the same footprint and pre-constriction bracket, providing simplicity as well as the option of specifying a higher performance model in the range before completion.
CSS230
The CSS230 is a brilliantly innovative design with an impressively shallow 2" mounting depth, custom built to offer hi-fi levels of performance in spaces where no high quality speaker has gone before. The hybrid back-box provides the best of all worlds for installer and customer. Combined, the three proprietary 3" C-CAM mid-bass units achieve the bass output of a 6 1/2" driver, all from a super-stealthy flush-fitted profile.
WSS130
The entry-point WSS130 features 3" MMP II cone drivers, augmented by a 1" (25 mm) Gold Dome tweeter and is likely to excel in many general home theater and music applications. This MPP cone technology allows for a simple crossover design and smooth overall sound character.
WSS230
The mid-point WSS230 features Monitor Audio's renowned C-CAM metal cone drivers and is ideal for set-ups where even more critical music reproduction is required. It offers a step-up in performance in increased precision and detailed sonic characteristics, when compared to the WSS130.
WSS430
The WSS430 offers supreme audio performance, drawing on design principles and materials from Monitor Audio's flagship Platinum speakers. Employing dished C-CAM cones, the WSS430 design ensures ultimate diaphragm rigidity. The MPD high frequency transducer technology - also from Monitor Audio's flagship Platinum designs - ensures incredibly low distortion, delivering clear high frequency to over 50 kHz.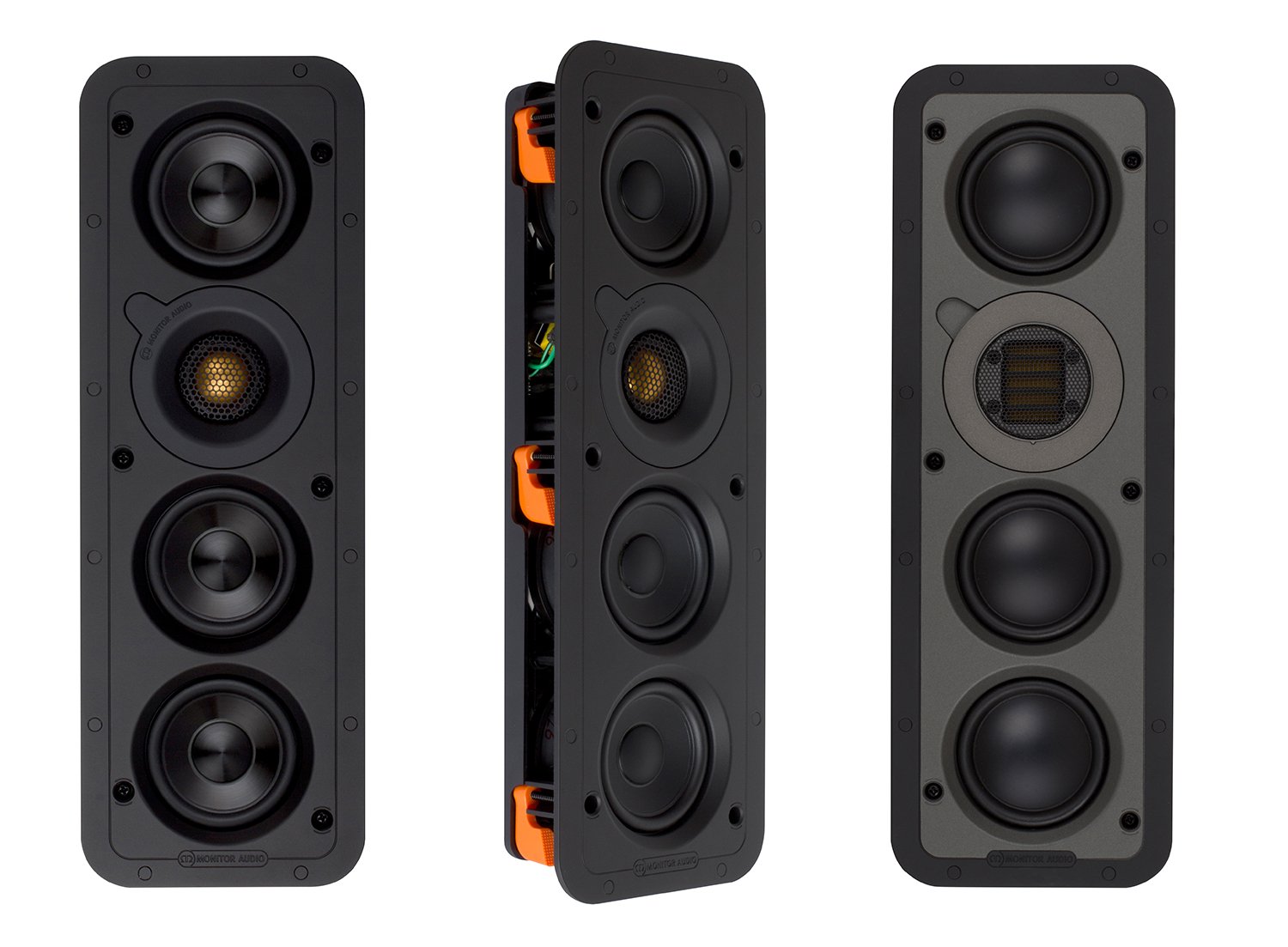 ---

55" Xtreme™ High Bright Outdoor Display (XHB554)
There has never been an outdoor daylight readable display built to withstand the harsh outdoor elements like the Peerless-AV® Xtreme™ High Bright. Featuring a fully sealed, IP66 Rated design and a patented thermal exhaust system, Xtreme High Bright Outdoor Displays are fully protected against water, dust, moisture, and even insects. The display's cover glass is optically bonded, which increases the perceived contrast ratio and cuts down on glare, providing amazing picture quality even in direct sunlight.
With an operating temperature range of -31°F to 140°F, Xtreme Displays are designed to thrive year-round outside, without worry of extreme hot or cold temperature waves. This High Bright line of commercial displays offer 2500nits of light output to combat high ambient lighting conditions, while the ambient light sensor automatically adjusts the display's brightness to optimize the power consumption and enhance the viewing experience. Providing unmatched capabilities, Xtreme High Bright Outdoor Displays are the perfect digital signage or entertainment solution for any professional application.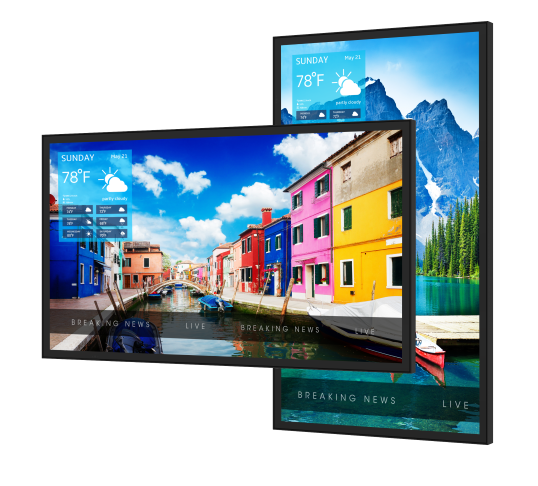 ---

Platinum Tools AnnouncesDigital Tone and Probe Kit
Platinum Tools®, the leader in solutions for the preparation, installation, hand termination and testing of wire and cable, is proud to announce the launch of the Digital Tone and Probe Kit (p/n TDG310K1C). Now shipping, the kit has an MSRP of $144.95.
"The TDG310K1C Digital Tone and Probe Kit allows tracing and locating of single or bundles cables that are connected to unpowered or active networks such as phone lines, network cables or coax cables," explained George Jang, Platinum Tools product manager. "The built-in test functions can verify proper termination of network cables or test for shorts in the single-ended test mode."
Features include race and locate cables in unpowered or live circuits; audible and visual signal strength indicators; built-in testing of RJ45 terminations; check status of analog phone lines; built-in high-intensity flashlight.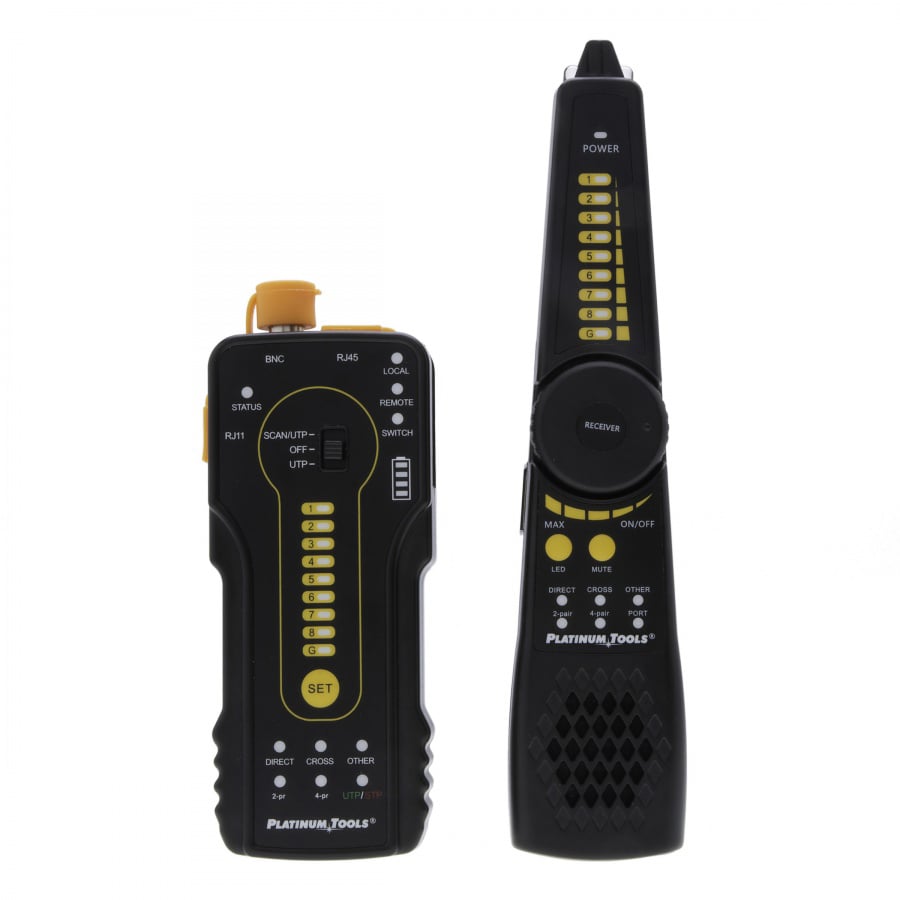 ---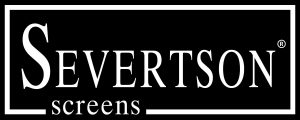 Severtson Launches Broadway Thin Bezel Series Fixed Frame Projection Screens
New Severtson Screens Broadway Thin Bezel Series projection screen solutions are a collection of fixed frame projection screens that offer a sturdy extruded aluminum frame with a 3/8-inch visible border for a fully maximized viewing area. It is an excellent solution for any home theater, office, conference room, sports bar, or other venue needing a modern, high-performance projection screen. Broadway's appearance does not distract from the projected content, but instead quietly enhances the viewing experience with its perfectly tensioned viewing surface and precision-aligned black velvet frame.
The Broadway Thin Bezel Series' durable, aluminum frame offers the thinnest visible bezel that Severtson Screens can provide, offering a clean, sharp appearance that maximizes the viewable area. Each screen is manufactured to the same high standards as Severtson's large cinema screens installed in theaters worldwide. Customers can choose from Severtson's perfectly tensioned screen materials that will take the viewing experience to the highest levels of performance available in the market today.
Broadway Thin Bezel Series material choices include Broadway White: 1.1 gain; a smooth vinyl, with a white front and black back. The screen surface provides an exceptionally wide 120 degree viewing angle. It is a great choice for situations with well controlled ambient light, and where an exceptionally wide viewing angle is required; and Broadway Grey: 1.0 gain; smooth grey vinyl with a black back. This screen surface provides a higher contrast, ideal for situations where there is more ambient light, and a wide viewing angle is desired.
For more information, please visit www.severtsonscreens.com, call 480-610-5155, or email sales@severtsonscreens.com.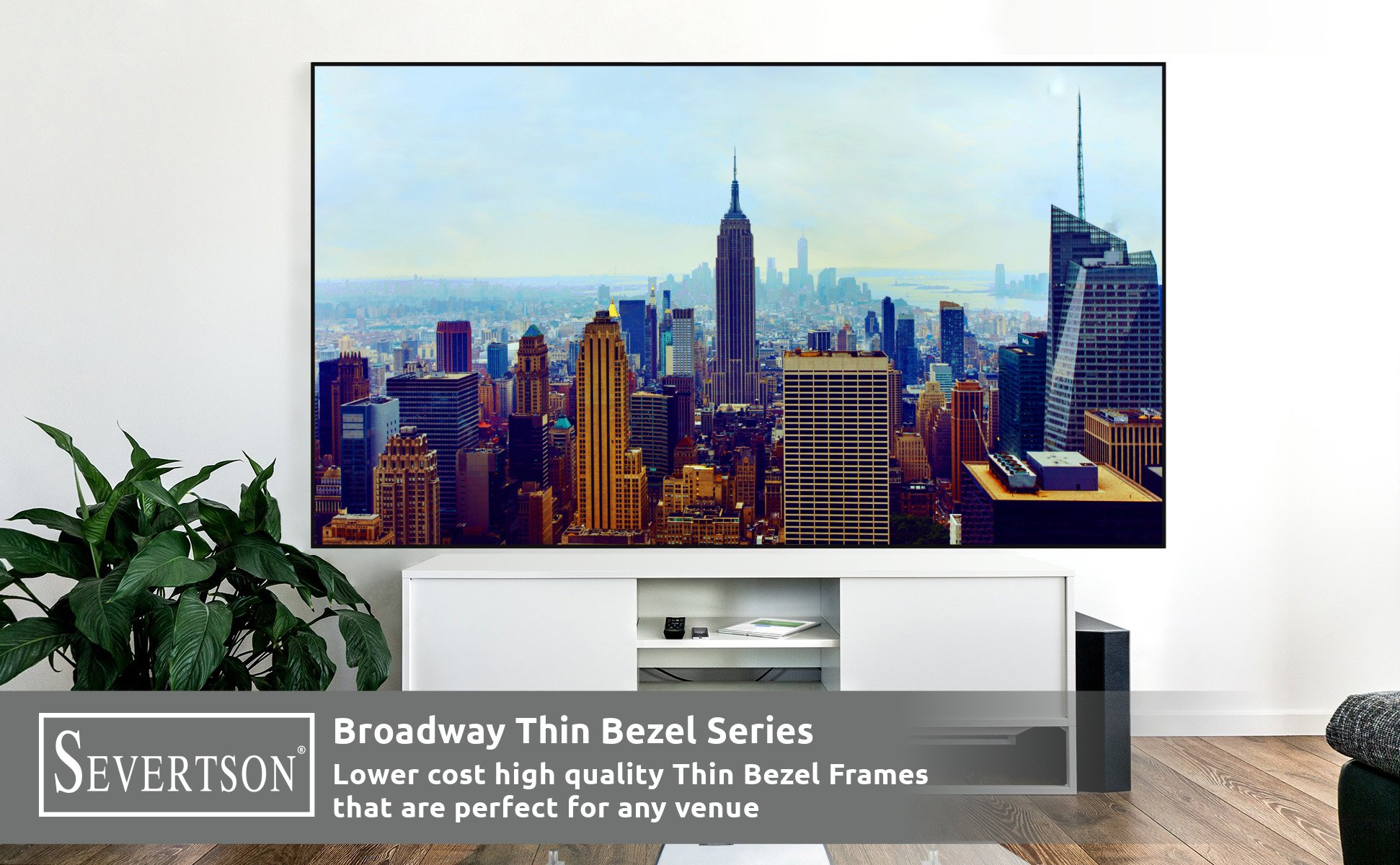 ---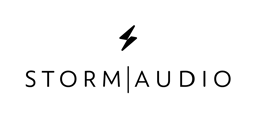 StormAudio wins CEDIA's coveted Best New Product award for their ISP 32 Digital AoIP MK3 at the 2022 Expo. This processor allows AoIP (Dante & AES67) communication between server cards (Dolby IMS-3000), DSP processors, and amplifier platforms that utilize this reliable digital communication method. Capable of up to 32 channels (16 analog and 32 digital), this processor can support any sized theater or media room.
The processor also offers a plethora of calibration tools including Dirac Live with Bass Control (premium license included), 20 PEQs per channel, Expert Bass Management, and individual channel time delay. Any amount of subwoofers can be easily combined to produce thunderous bass with even response across the critical seating areas. Additionally, StormAudio target curves and their Pro Remote Assisted Calibration service make for a compelling and emotional cinema experience for your discerning clients while taking the burden of all important audio calibration off of you, the integrator.
More information is available at www.stormaudio.com and also on their YouTube channels at https://www.youtube.com/c/StormAudio.
---

TechLogix Networx MOFO™ Series
MOFO™ 3-2-1 cables feature a plenum-rated jacket, are immune to interference, are completely powered by the USB bus and are available in lengths of 3m, 5m, 8m, 10m and 15m. Plus, MOFO™ cables are built with four strands of re-terminable multimode fiber allowing cable runs to be upgraded and re-purposed in the future using standard fiber optic tools and connectors.
MOFO™ HDMI cables leverage a true fiber core to deliver unparalleled speed, bandwidth and reliability. Pre-terminated connectors accommodate installations in seconds and the optical construction provides complete immunity to RF, EM and electrical interference. Plus, MOFO™ cables are built with four strands of re-terminable multimode fiber allowing cable runs to be upgraded and re-purposed in the future.
MOFO™ PT Series combines fiber-based cabling with traditional table inserts and wallplates, delivering cleaner installations, fewer failure points and better bandwidth. Simply pull, plug and play. The MOFO™ PT Series includes USB cables in a variety of lengths, HDMI cables in a variety of lengths, aluminum table insert grommets in black or white finish, and aluminum decora wallplates in black or white finish. Simply combine components based on your installation. The system leverages TechLogix's MOFO™ fiber-based technology to manage 18G 4K60 HDMI and universal USB formats (3-2-1 technology supporting full-speed, hi-speed and SuperSpeed USB).
The MOFO™ ST armored series, unlike their non-armored counterparts, feature stainless steel micro-armor and a tactical weather-proof jacket, providing reliable HDMI connectivity in harsh environments. ST cables are available in lengths from five meters to 100 meters and are available as standard cables or factory-installed on tactical reels. All options include factory-installed weatherproof headshell caps.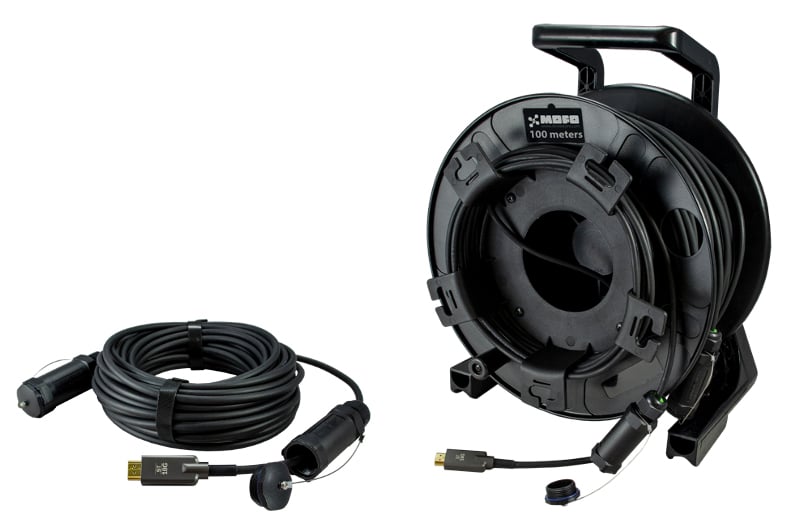 ---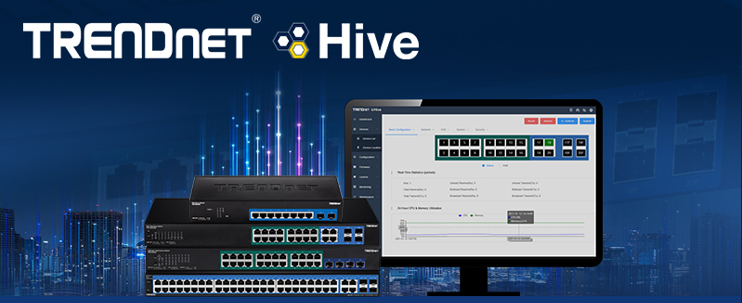 TRENDnet's Advanced Cloud Manager Simplifies Network Management and Monitoring
TRENDnet Hive is a cloud management platform that provides a centralized cloud-based, remote network management solution for TRENDnet network devices. Hive saves users on both cost and time by simplifying and centralizing network management and monitoring. Hassle-free remote access and management is made possible with TRENDnet's reliable cloud service (and free mobile companion app coming out near the end of the year); no personal cloud or server is required. Receive intuitive alerts and critical notifications to network issues, allowing the user to troubleshoot any issues immediately before simple issues become more critical problems. No special apps are required – use a web browser to easily manage multiple networks. TRENDnet Hive is easily scalable for future expansions and upgrades.
---

ViewSonic CDE12 Series
The ViewSonic® CDE12 Series is a 4K Ultra HD large format wireless presentation display. With features including a razor-sharp resolution of 3840 x 2160, 290-nit high brightness, 178-degree ultra-wide viewing angles, 2 x 10W speakers, and wireless screen sharing, the CDE12 Series transforms meeting rooms into a dynamic communications hub. The built-in ViewBoard® Cast screen sharing software* (along with the optional ViewSonic vCastSender app), and myViewBoard Display software, enables both on-site and online users to participate in conferences and simultaneously share content.
Equipped with a 1.5GHz Quad-core embedded SoC processor, 2GB RAM, and 16GB of internal memory, the CDE12 Series can play multimedia from internal storage or a USB flash drive 16 hours a day, seven days a week. And with remote configuration and content management system support, the ViewSonic® CDE12 Series is also suitable for a wide array of diverse signage applications. Ready to start your next project? Learn more at ViewSonic CDE7512 75 Display, 3840 x 2160 Resolution, 330 cd/m2 Brightness, 16/7 operation rating, built-in Wi-Fi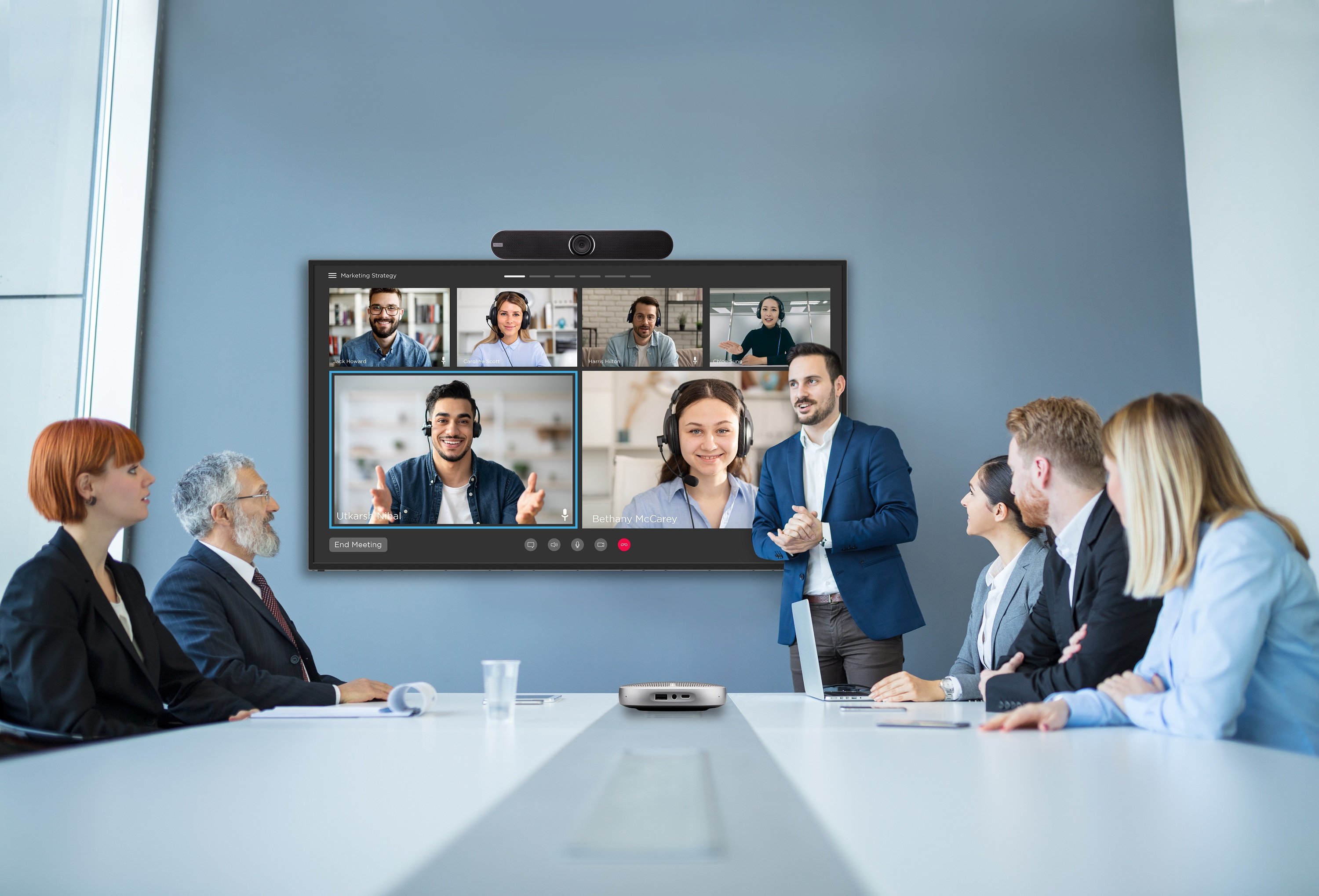 ---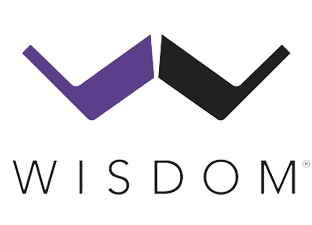 Customizable Line Source Array Center Channels For Large Micro-LED Displays
Introducing our new series of dedicated, customizable high-output center channels for Large Micro-LED displays. This product series provides a solution to increase audio clarity and overall performance when the center channel must be installed above or below a hard surface display. We use a proprietary wavefront curvature technic to shift the sonic image to the center of the array. This ensures the horizontal localization remains at the center of the screen for any listener seated off-center/ axis. The proprietary DSP Loudspeaker management implementation required is included using our new generation of DSP amplifiers.
Two-Fold Customization with Sage Cinema or Wisdom Series
The length of the Line Source Array Center Channel is adjustable, not to match the size of the display, but to match the width of the listening area. The performance level can also be adjusted using either the Sage Series Planar Magnetic drivers, which cover 6 Octaves of the spectrum and then transition to woofers, or the Wisdom Series, where all 8 Octaves are reproduced by planar magnetic drivers.
Unique Design Approach
Line source devices are typically used vertically. This is the first horizontal application providing the same power over distance (matching the vertical line source) and allowing the benefits of line source's clarity (hearing less of the room) to be used in designing solutions around large LED displays.
Reach out to us for more information at info@wisdomaudio.com and also visit our website to learn more: https://www.wisdomaudio.com/product/line-source-array-center-channels/

---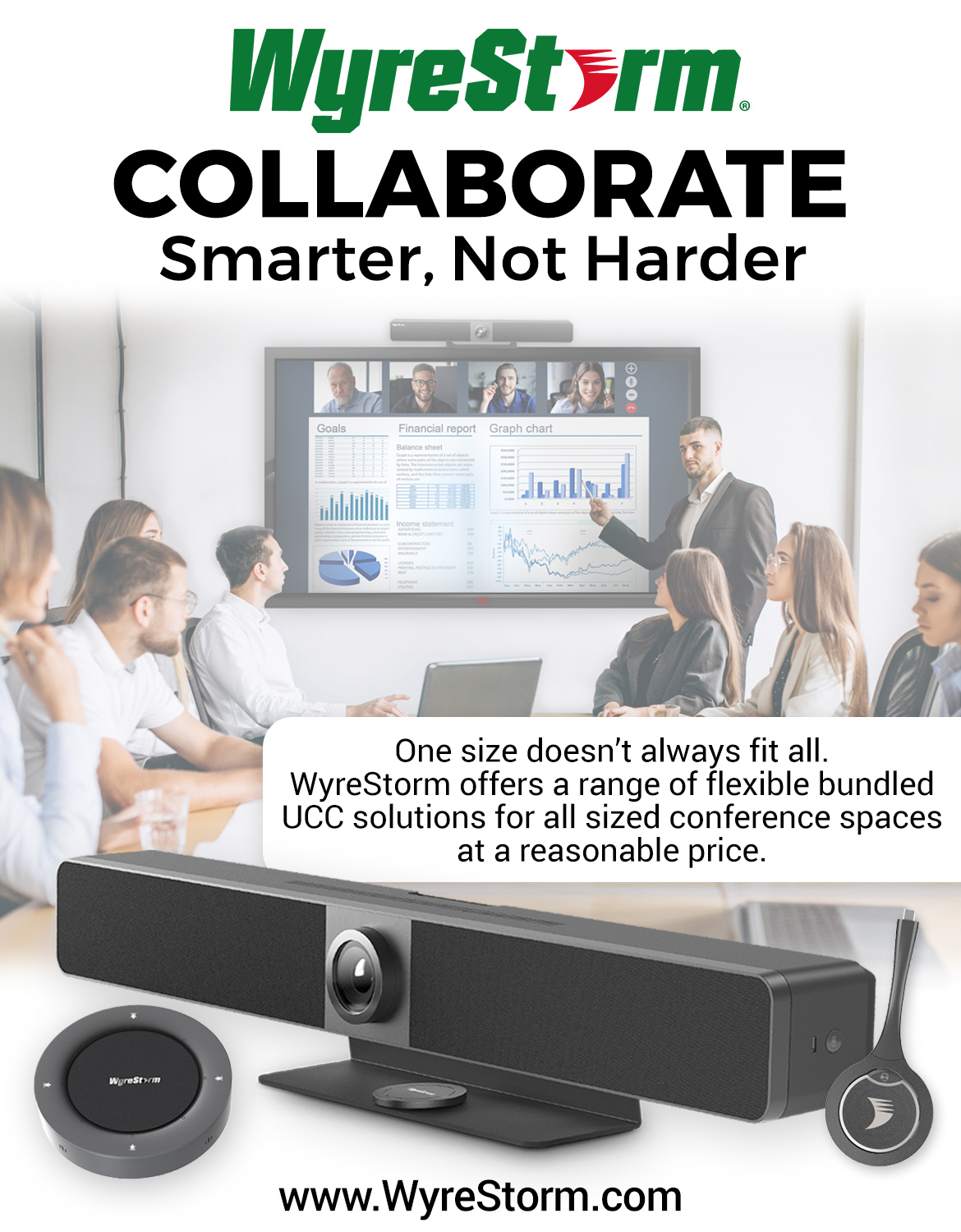 ---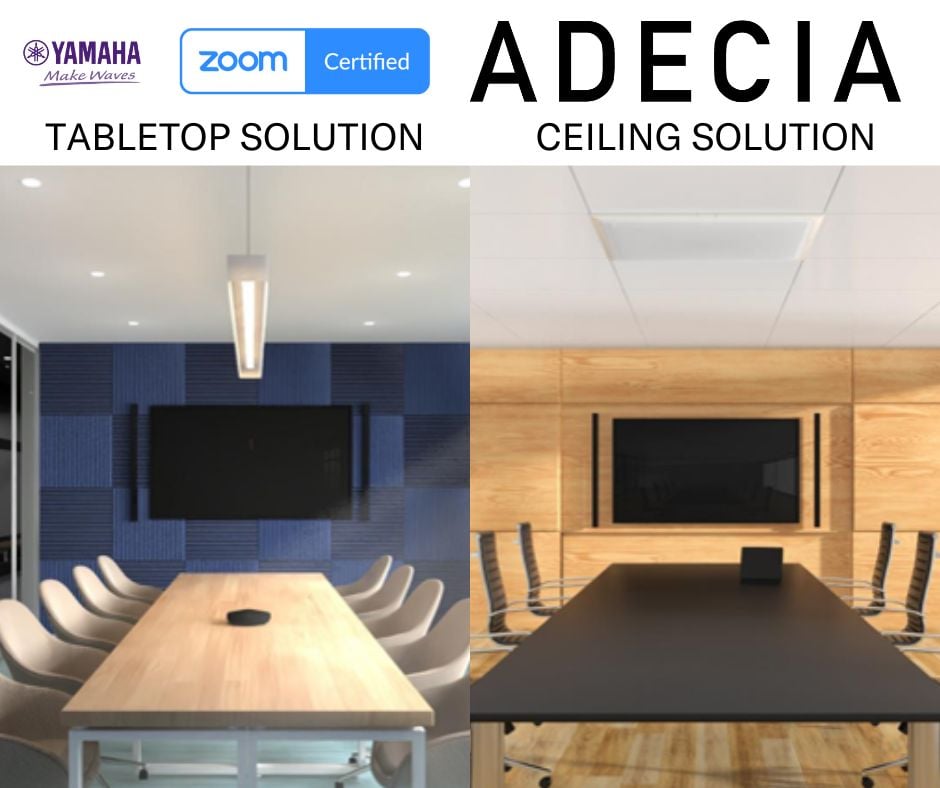 Yamaha UC is excited to announce that two of our ADECIA solutions are now Certified for Zoom Rooms: ADECIA Ceiling Microphone Solution and ADECIA Tabletop Microphone Solution. Both solutions feature a Dante-enabled microphone, our RM-CR signal processor, as well as Yamaha's well-known PoE switches and VXL Series line array speakers.
The ADECIA Ceiling Solution includes Yamaha's RM-CG, our Dante-enabled Ceiling Microphone Array, a dynamic beamforming microphone that is packed with Yamaha's signature technologies such as: Human Voice Activity Detection, Auto Gain Control, Dereverberation, and Noise Reduction. Four beams pick up voices from anywhere in the room and deliver conversation clearly to the far end. Thankfully, the RM-CG's most recent firmware update allows users to physically see a change when the mic is on mute, as the blinking green light turns to red when mics are muted. This is a useful development, because the hyper-sensitive dynamic beams often pick up side conversation from across the room - whether it's meant to be heard or not!
The ADECIA Tabletop Solution features Yamaha's RM-TT, our Dante-enabled wired tabletop microphone. This microphone also comes in black or white, and is built with Yamaha's powerful audio technologies, such as Auto Speaker Tracking. Plus, the RM-TT0 comes with six different directional options, including Omnidirectional, Bidirectional, and Unidirectional.
Both applications of ADECIA feature stunning audio in Zoom Rooms, seamless configuration, and a user-friendly experience. The ADECIA Ceiling Solution provides the ultimate room flexibility, as meeting participants are free to speak from wherever in the room, while the ADECIA Tabletop Solution is the easiest to install.
For more information on ADECIA, click here.
---