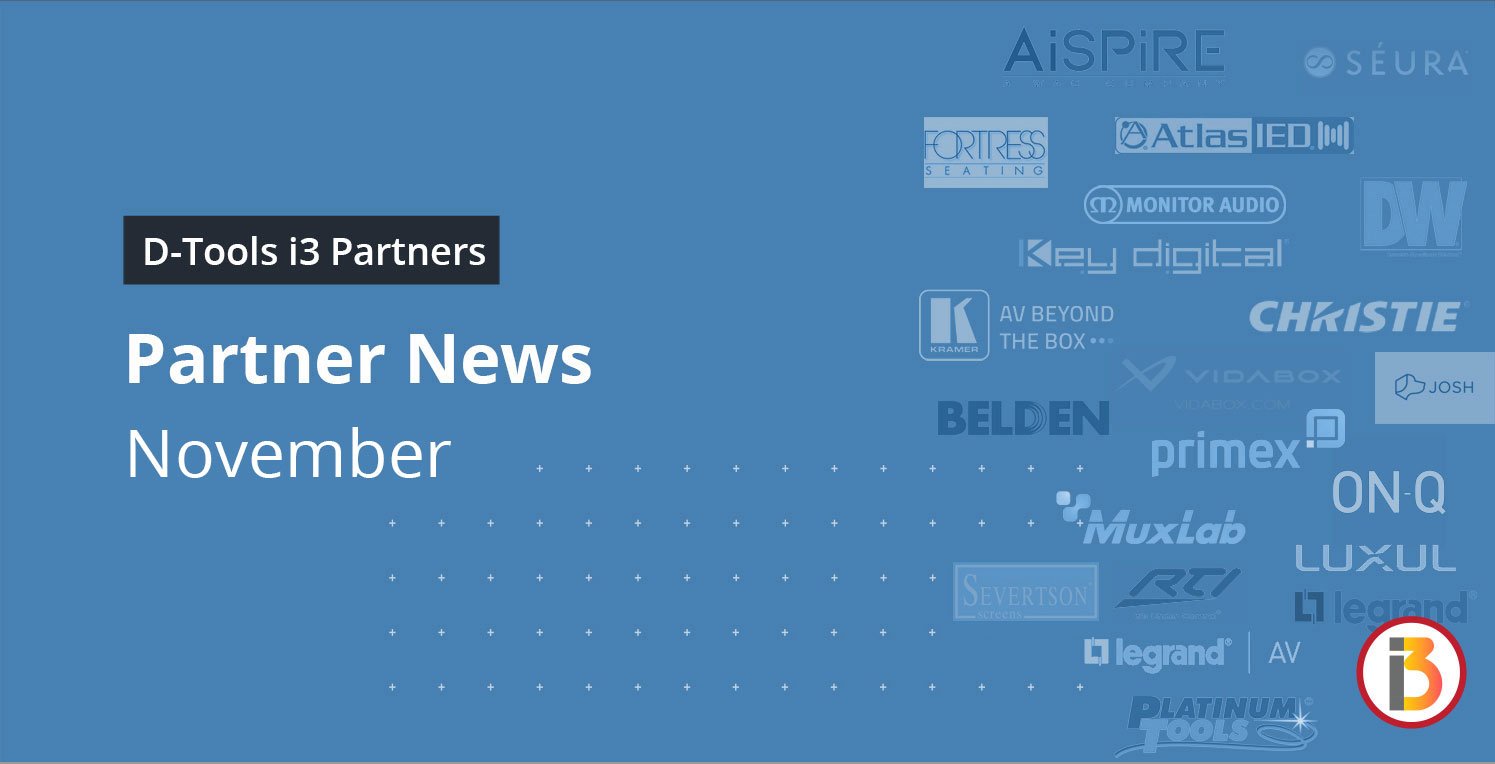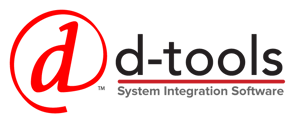 D-Tools i3 Partners realize the importance of bringing you their product information and have chosen to support the D-Tools user community by joining the program and making their product data directly available through D-Tools software. Read on for the latest supplier company news and product updates.
---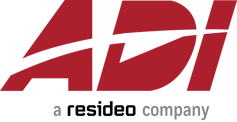 Reduce Truck Rolls with ADI's Capture Remote Monitoring
Monitor unlimited remote networks and devices with the Capture Remote Monitoring service from ADI. If you're like many installers and integrators, a truck roll is often the most expensive part of your business. Through ADI's Capture Remote Monitoring service, you can reduce truck rolls, expand your service offering and add a recurring revenue stream.
ADI's Capture Remote Monitoring service informs you of the status of any device on a network, ensuring that network devices run smoothly even after the initial installation. Our remote monitoring service gives you an instant view of whether devices are online, offline or somewhere in between — all without having to visit the job site. And if you do have to roll a truck, you'll know which devices on the network are having a problem before you go.
Here's how it works:
For only $239 you will receive the Capture Remote Monitoring device and 12 months of remote monitoring service. Capture Remote Monitoring will identify any device with an IP address on a network and alert you if a device or the network has an issue that requires attention. After activating your license, you'll be able to monitor devices remotely and have access to a dedicated support team.
---

Elevate your next media room project with the stylish BERG Wall Sconce from AiSPIRE. A solid crystal block of illuminated bubble glass sparkles in the light of hidden LEDs. The aluminum luminaire features an integrated down light to graze the wall and light up the aisle way below. Polished Nickel fittings effectively conceal the light sources and the wallplate. The BERG is easy to control with our low voltage RPS – Remote Power Supply System, meaning you can own the walls as well. A dynamic, modern sconce fit for a variety of locations throughout your home.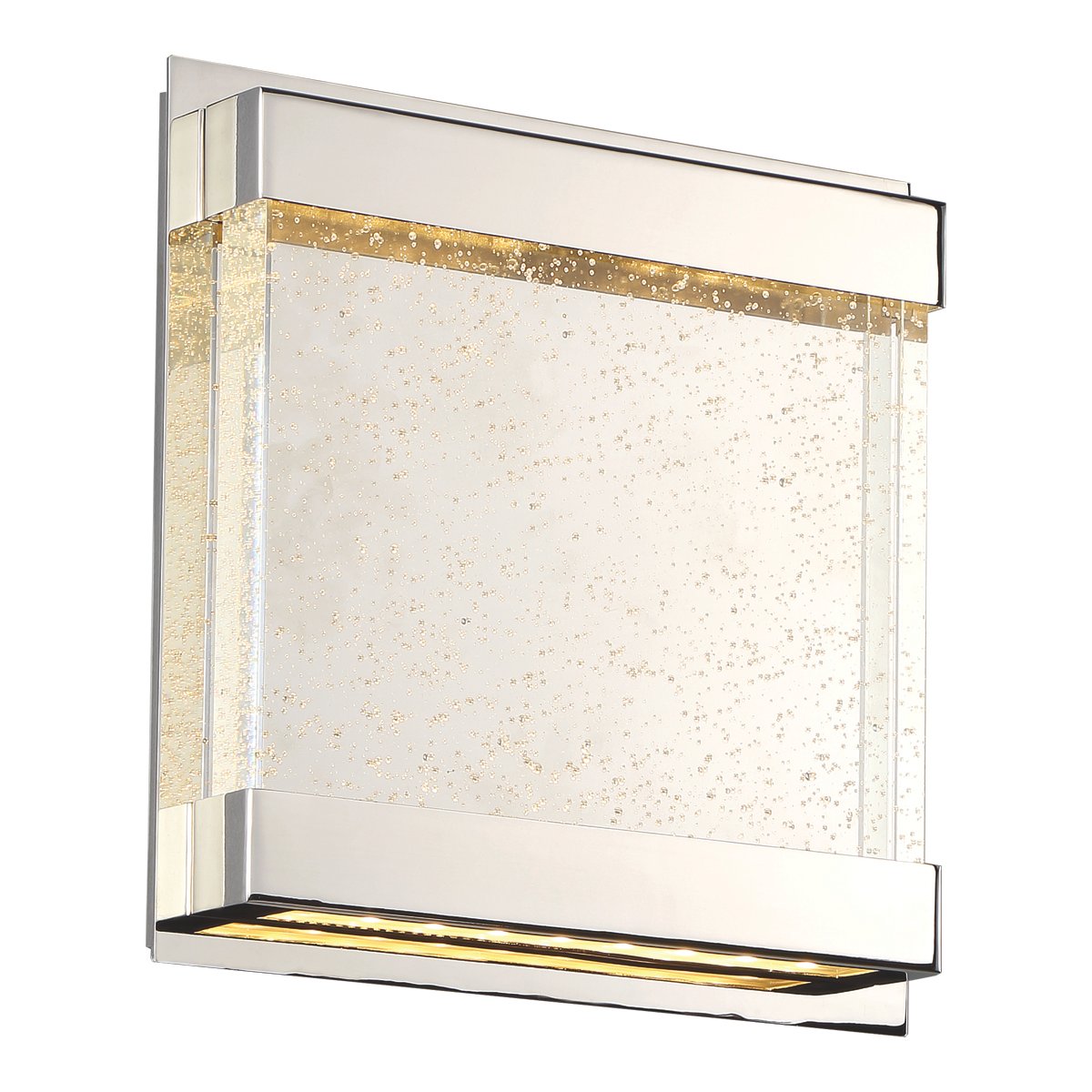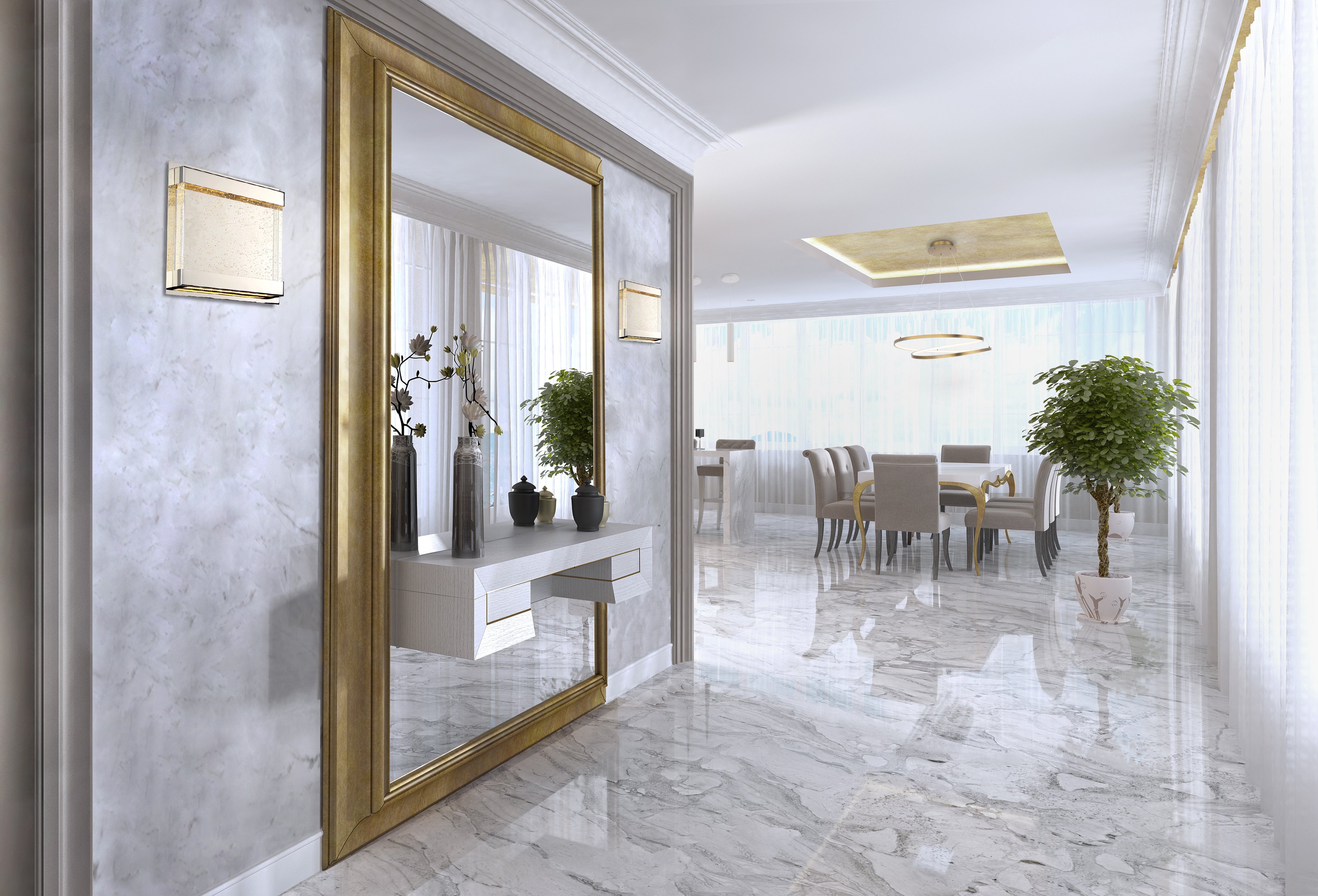 ---
New Extension Driver Available to Recall Favorites & Playlists with Crestron Home + Autonomic MMS
Crestron Home users now have easier and quicker access to recall their favorites and playlists on the MMS from the Crestron Home user interface. In addition to full browsing capabilities, users can quickly create favorites and playlists natively in the Crestron Home interface and recall them via Quick Actions or the new favorites tile on the Home/Room page.
Additionally, this functionality can be integrated into a Crestron Keypad for seamless one-touch access to favorite content from our many supported streaming services or local content.
In partnership with Randy Johnson at Control Programming LLC a new extension driver is now available to add this functionality into the Crestron Home experience. Learn more about the new driver and dealer resources here.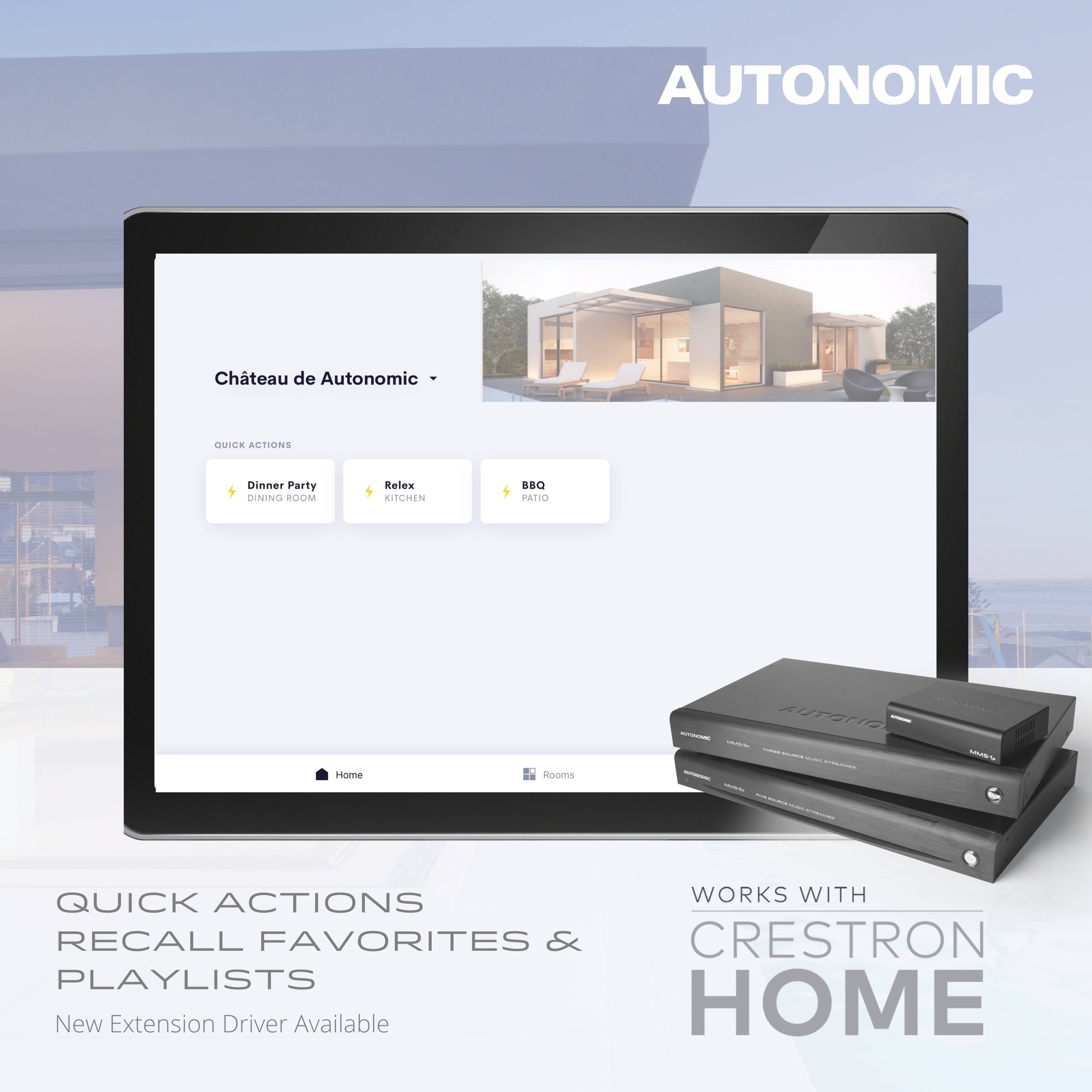 ---

Choosing RGB laser projection technology pays off in the long run
Color is a powerful creative tool. It influences the audience's reaction and connection to what they see on screen, evokes an emotional response, and can make the make-believe entirely believable. Christie® RGB pure laser technology helps create the thrilling 'reality' that audiences crave, bringing stories to life exactly as intended.
Discover a color revolution
Dive into the science of color, find out how the different color standards stack up against the colors the human eye can see, and learn what Rec. 2020 can offer your clients.
---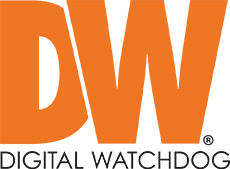 Digital Watchdog® Expands Line of 4K IP Cameras
Digital Watchdog (DW®) announces the release of our line of 4K IP cameras. Available in bullet, low-profile vandal dome and new Galaxy™ vandal ball camera housing options, they are available with our IVA and IVA+ video analytics engine pre-loaded. These cameras are your gateway to powerful video analytics features. They are both National Defense Authorization Act (NDAA) compliant and provide 4K ultra high-resolution video at real-time 30fps. The MEGApix IVA cameras have a powerful engine to detect and classify people and vehicles in real-time. An IVA+ license upgrade offers advanced video content analysis detection capabilities. The analysis of video content by the IVA engine provides users the ability to automatically analyze video, detect and determine events at the edge and receive automated alerts and notifications. Processing the raw video data in the camera itself, near the source, significantly reduces bandwidth consumption, increases accuracy and reduces response time. Learn more at www.digital-watchdog.com.

---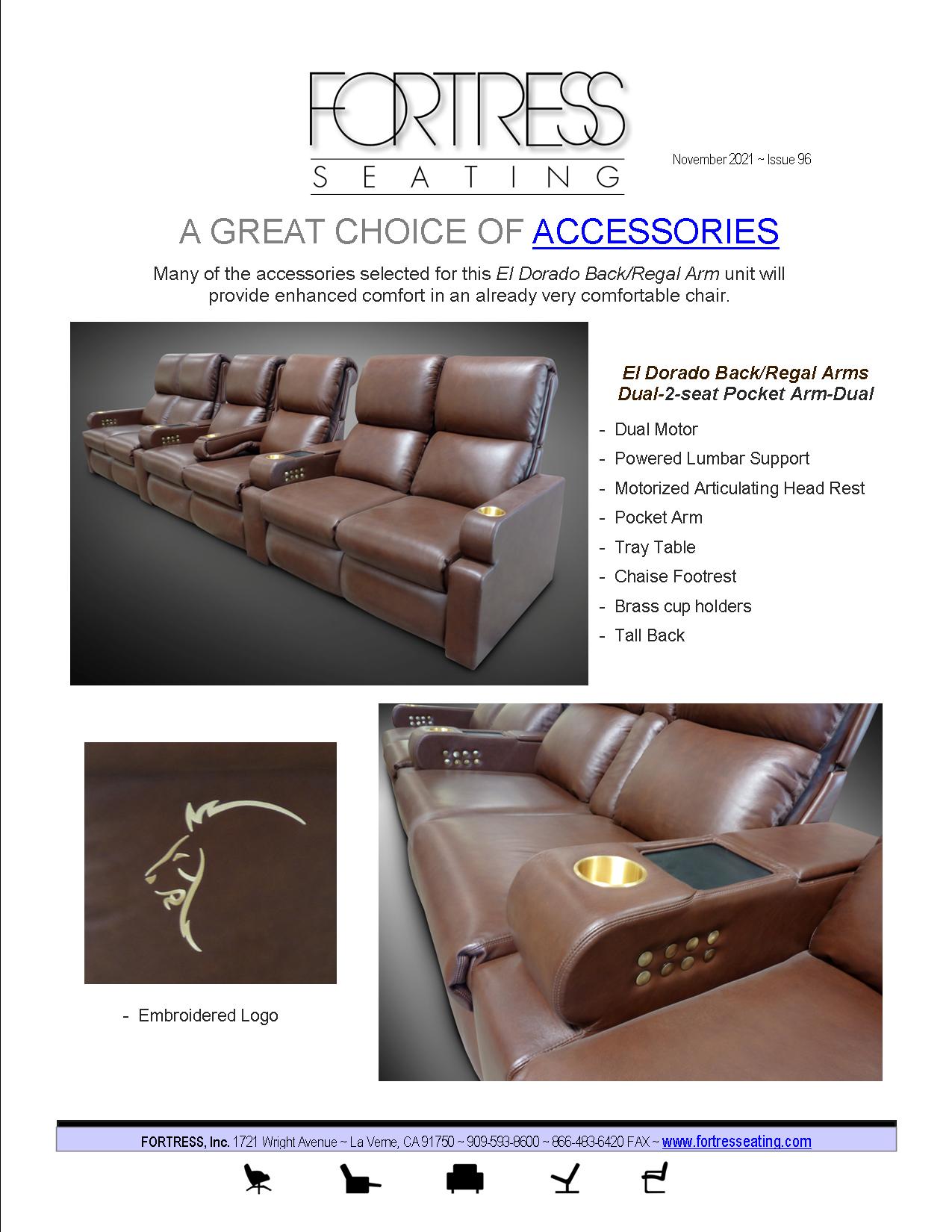 ---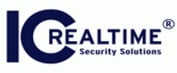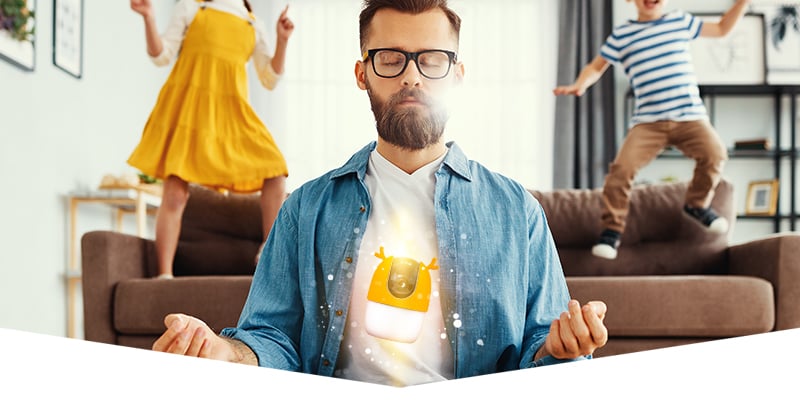 Peace of mind is a gift
This year, give it to the ones you love with
the Orbit intercam from IC Realtime.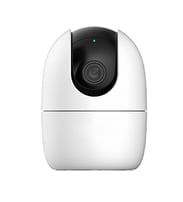 IC Realtime's Orbit is a new, private, and family-friendly way for you to do just that. Since it's a combination 2-way talk intercom & color camera, we call Orbit an "intercam" - an easy set-up wifi device that makes it easy to check on things you care about most.
The Orbit is not a nanny cam. It's a professional-grade 1080P HD security camera & speakerphone engineered into a family-friendly, remote-controlled & auto-tracking wifi pan-tilt camera.
---
Jabra PanaCast 50 now certified as a Microsoft Teams Room (MTR-W) Content Camera
Prepare your meeting rooms for hybrid work collaboration with Jabra PanaCast 50 and Microsoft Teams Rooms. Jabra PanaCast 50 enables everyone in the meeting to see the whiteboard content, whether they're physically in the room or not – and all without the need for an additional content camera. Check out the industry's only Teams Certified intelligent video bar delivering an unobstructed 180° field of view for your participants, while simultaneously enhancing and sending your whiteboard content.
PanaCast 50 features include:
180 degree Field of View
Panoramic 4K
3 x 13 Megapixel resolution cameras
4 Speakers
8 microphone beamforming array
Integrated People Count
Certified for use with Microsoft Teams, MTR, Zoom and Zoom Rooms among other UC platforms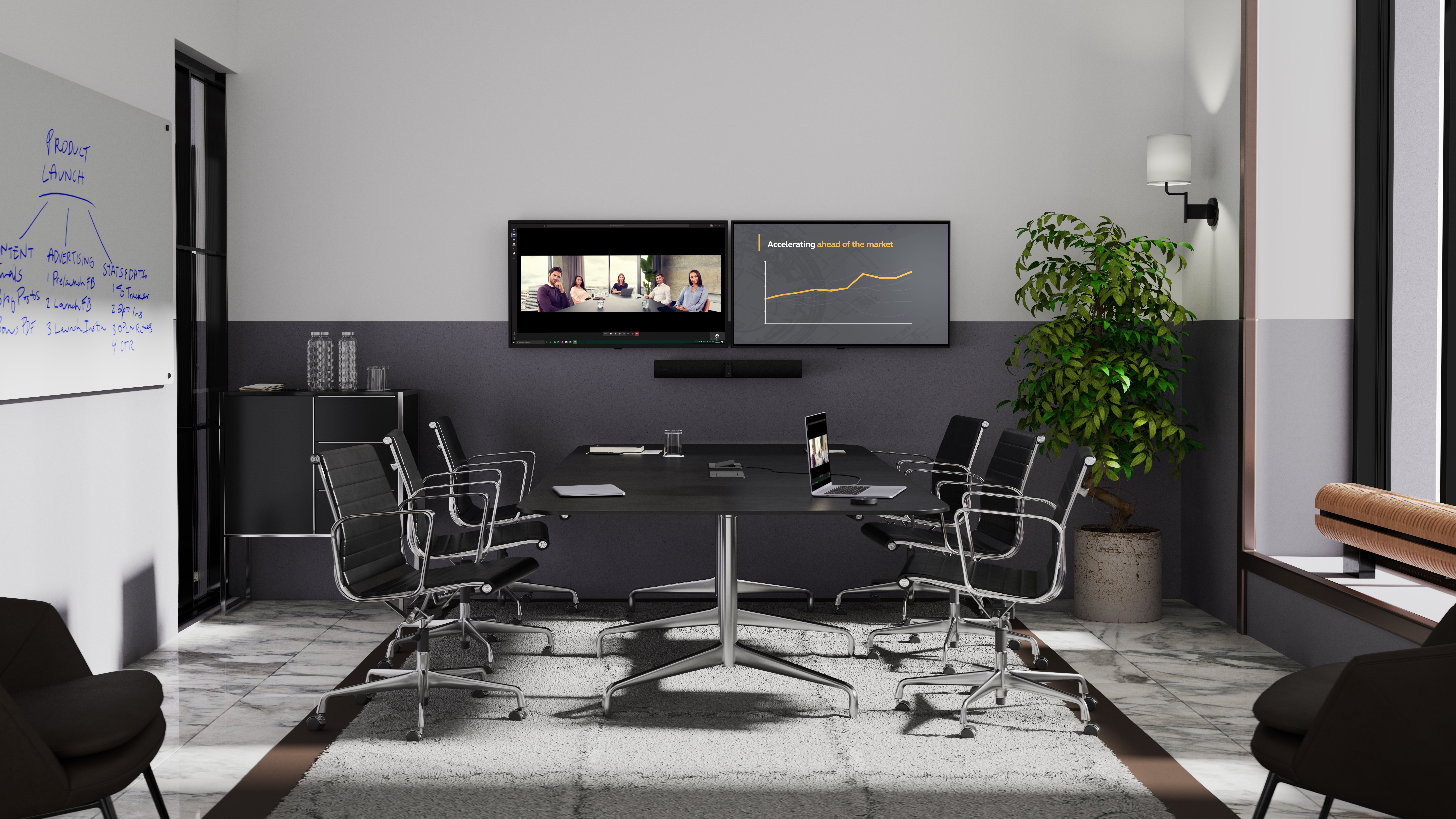 ---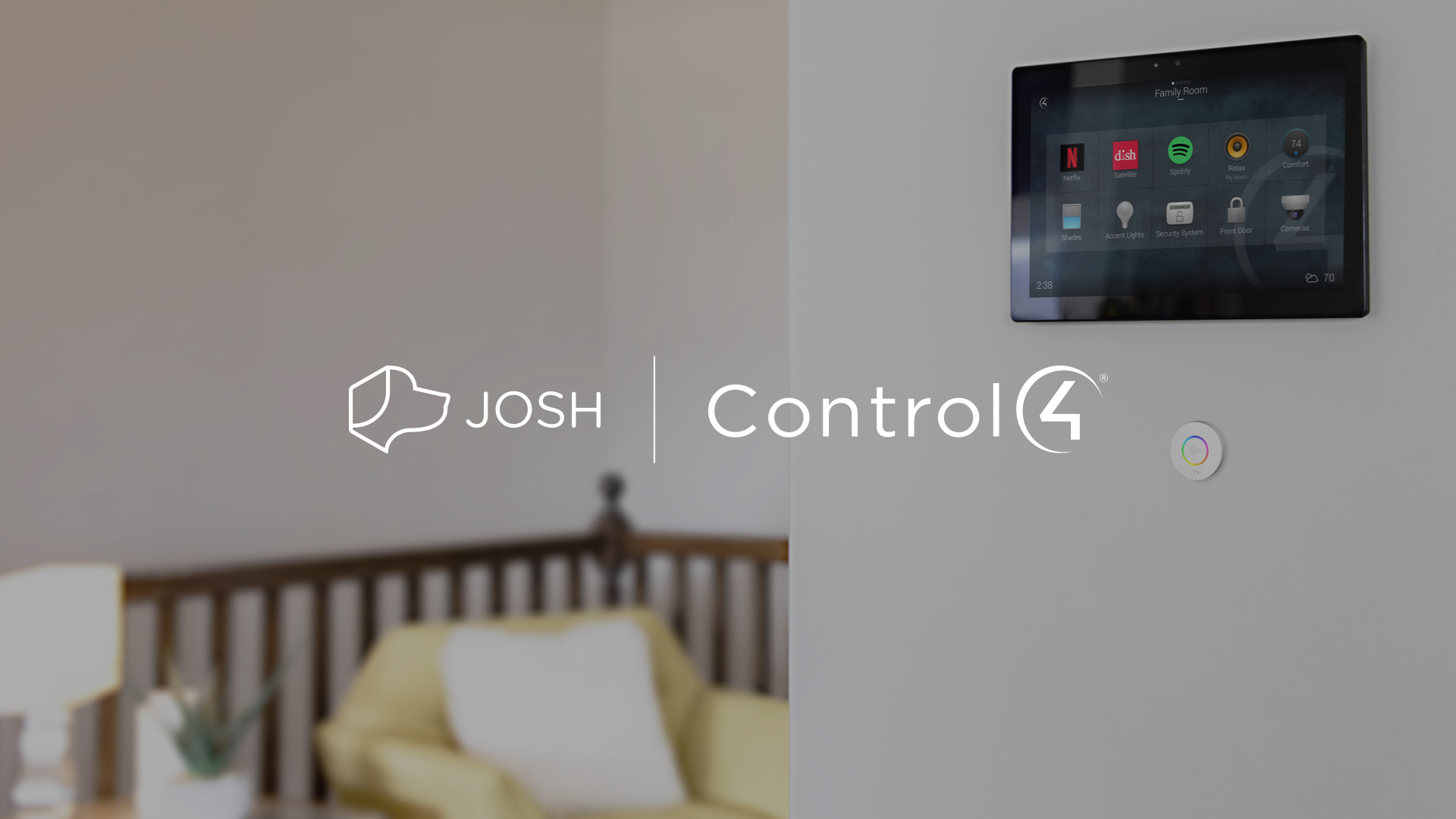 Control4 Extends Josh.ai Partnership with Strategic Development & Exclusive Distribution
The release of a first-of-its-kind Control4 Certified driver for voice control, expanded integration of music streaming services, and native support to execute advanced lighting scenes are the first transformative enhancements to the Josh.ai experience with Control4, Snap One's control & automation brand.
Charlotte – November 4, 2021 – Snap One is expanding the presence and availability of artificial intelligence in the home through an enhanced driver as well as an exclusive distribution agreement with Josh.ai.
Josh.ai and Snap One have worked closely on new driver enhancements to create a superior experience for customers. Immediately available on the online driver database is an updated Josh.ai driver that is now Control4 Certified and SDDP capable. The driver can now import Control4 advanced lighting scenes and offers deeper integration with music streaming services through Control4. Adding to Josh.ai's existing support for Pandora, clients can now enjoy their favorite SiriusXM channels, or request any song, artist, or album on Tidal to take advantage of the high-resolution audio quality from their Control4 system.
Beyond making Josh.ai driver enhancements, Control4 Dealers in the United States and Canada who are Josh.ai certified will soon be able to purchase Josh.ai hardware and software through the Control4 Portal. Prospective Josh.ai dealers interested in taking advantage of the partnership can prepare now by starting their expedited onboarding process and training on the Control4 Portal by logging in at: ctrl4.co/joshai
---

KLIPSCH RAISES THE BAR WITH NEW CINEMA DOLBY ATMOS SOUND BARS
Now celebrating its 75th anniversary, Klipsch® is pleased to introduce a complete lineup of feature-rich sound bars that are a major upgrade to stand-alone television sound, enhancing movies and music with dimension, clarity, and realism.
Klipsch is a leading manufacturer of movie theater speakers and has applied these principles into its home theater speakers and now sound bars. The Klipsch Cinema Sound Bars are crafted from wood and utilize horn-loaded technology to look and sound like the brand's acclaimed Reference speakers. In addition, the sound bars come with large, powerful, class-leading subwoofers to complete the impactful cinematic experience.
The Klipsch Cinema 1200 Sound Bar with Dolby Atmos® is a 54" sound bar system with a best-in-class 12" wireless subwoofer and wireless Dolby Atmos-certified surround speakers. The powerful 1200W system delivers a full 5.1.4 cinematic experience by bringing sound to life from all directions, including overhead, to fill the room with astonishing clarity, detail, and depth (decodes 7.1.4 Dolby Atmos). 8K HDR passthrough with Dolby Vision compatibility and an included HDMI®-eARC connection allows for compatible TVs to transmit Dolby Atmos from built-in apps. Built-in universal Wi-Fi works with Google Assistant™, Amazon® Alexa®, and Spotify Connect, allowing the sound bar to be added to existing smart home ecosystems for multi-room streaming and control. Includes two additional HDMI inputs for external devices.
A more compact Klipsch Cinema 800 Sound Bar with Dolby Atmos measures 48" and comes with a 10" wireless subwoofer for 3.1 immersive sound (decodes 7.1.4 Dolby Atmos). 8K HDR passthrough with Dolby Vision compatibility, and next-generation HDMI eARC connectivity means true Dolby Atmos sound and ultra-high-definition video with a single HDMI cable. The Klipsch Cinema 800 Sound Bar may be paired with Klipsch Surround 3 wireless speakers (sold separately) for 5.1 surround sound. Built-in universal Wi-Fi works with Google Assistant™, Amazon® Alexa®, and Spotify Connect, and allows the sound bar to be added to existing smart home ecosystems for multi-room streaming and control. Includes two additional HDMI inputs for external devices.
Also available are Cinema 600 and Cinema 400 sound bars. For more information, visit Klipsch.com.
---

Kramer Engages at InfoComm 2021
Thank you to everyone who visited Kramer's booth at InfoComm21. We enjoyed meeting with you in Orlando, discussing particular needs that your clients want to solve, and showcasing our lineup of award-winning AV technology solutions.
For those who didn't make it this year, we invite you to take a virtual tour of Kramer's booth!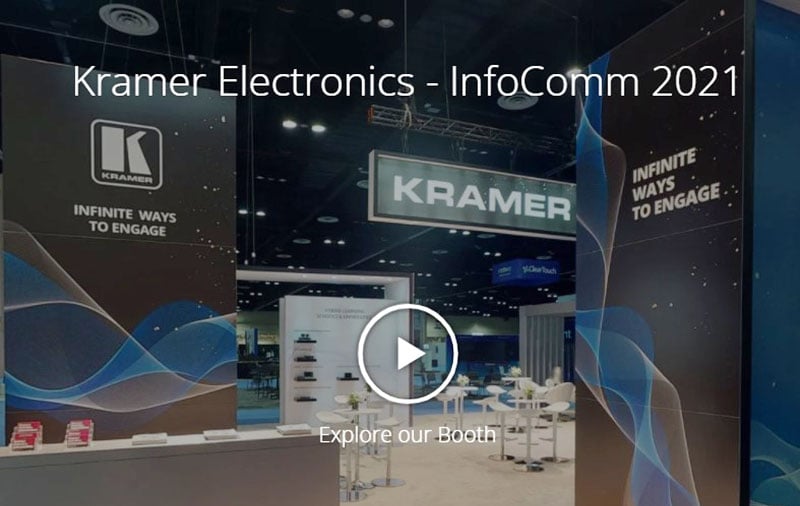 ---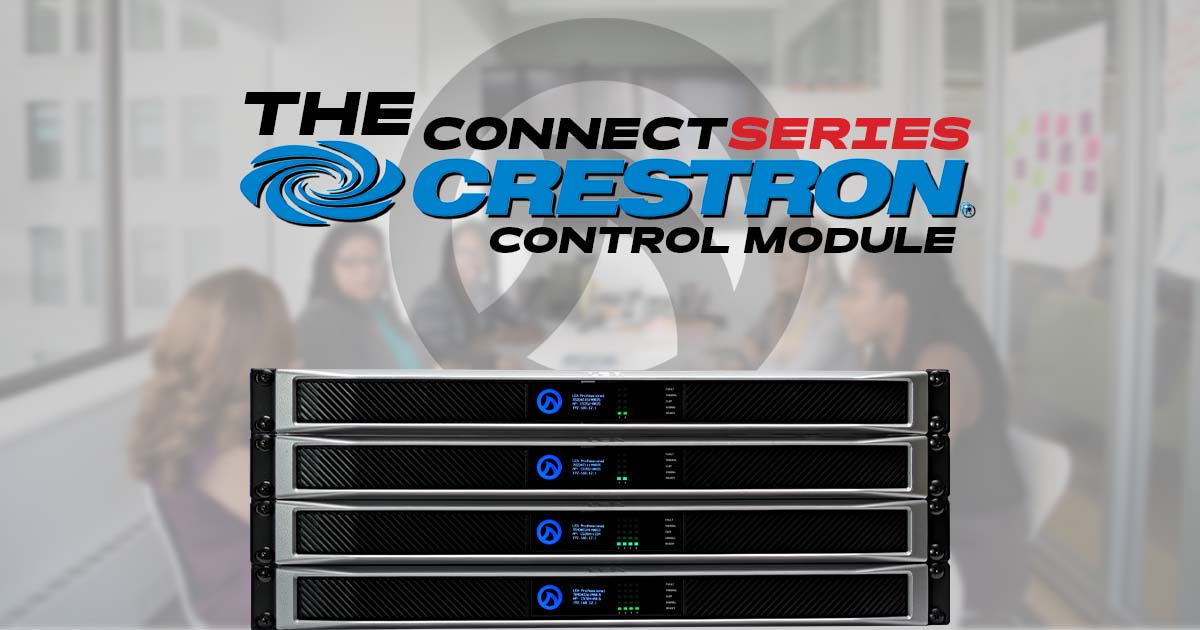 Crestron For LEA Smart Amplifiers
We're happy to offer Crestron users the ability to integrate our CONNECTSERIES amplifiers into their AV control systems. Crestron users simply need to download the control module file to gain access to this driver and start monitoring and controlling LEA products today. Get More!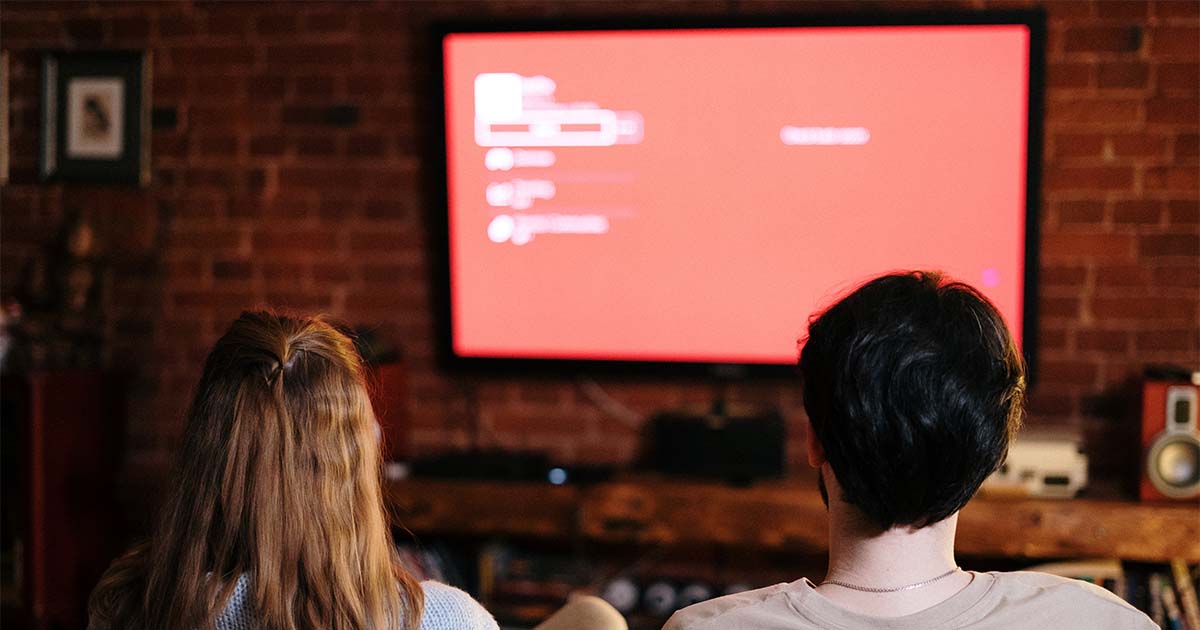 The Best Movie Scenes for System Testing
Which movies have the best scenes to test the limits of your home cinema systems and showcase its potential? We have a few that we tend to turn to and we also asked integrators on Reddit to weigh in. Here's what we came up with! Get More!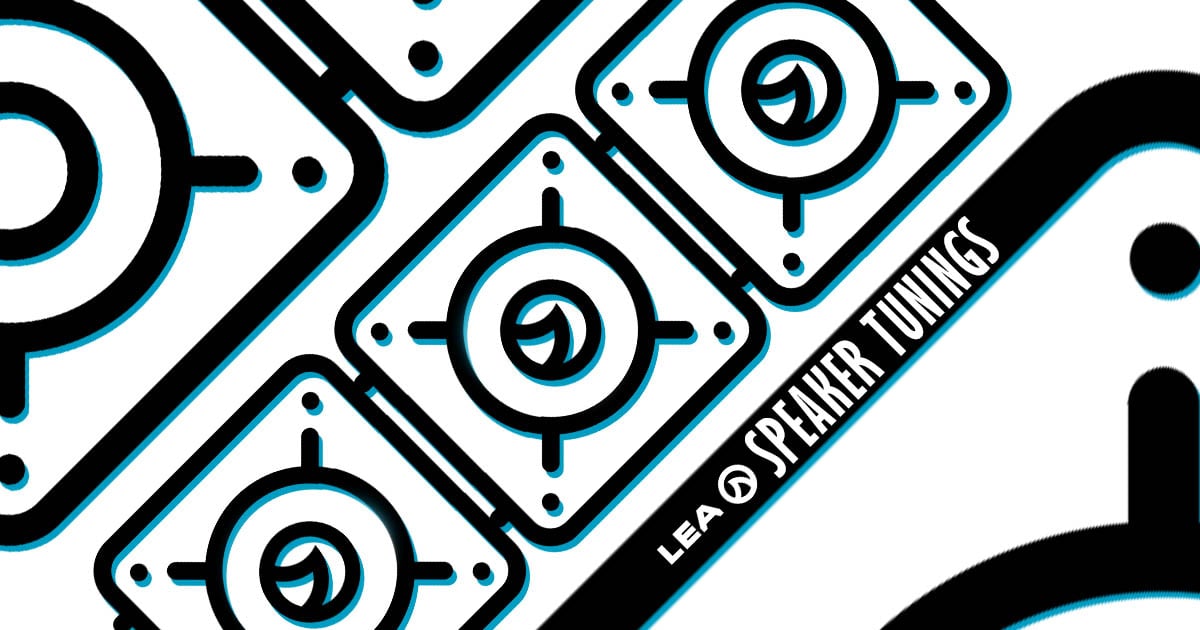 Reduce System Configuration Time with Our Free Speaker Tunings
This time around we have added a new speaker tuning to our already large list of tunings. If you're using One Systems for your AV systems, your job just got easier! Simply upload our One Systems speaker tuning file to a CONNECTSERIES amp to instantly configure the amp settings to your speakers. Get More!
---

Our Latest Residential AV News
SANUS New In-Wall TV Power and Cable Management Kit
SANUS extended its line of in-wall power products with the new SA-IWP1-W1 In-Wall TV Power and Cable Management Kit. The new in-wall solution gives you everything you need to extend power to wall-mounted displays and accompanying devices safely, while neatly concealing power and AV cables inside the wall. Offered in white to blend in with any home's decor, the In-Wall TV Power and Cable Management Kit includes a power output module with a 6-foot, prewired cord and a power input module with a drywall bracket and 6-foot, UL-rated power cable. A tamper-resistant outlet with a recessed design accommodates almost any type of power plug, including right angles and wall warts. A bush strap opening allows for the connection of AV cables, while a unique cable catcher prevents them from falling behind the wall.
More information on the SA-IWP1-W1 In-Wall TV Power and Cable Management Kit is available athttp://legrandav.com/products/sanus/accessories/power/sa-iwp1/sa-iwp1-w1.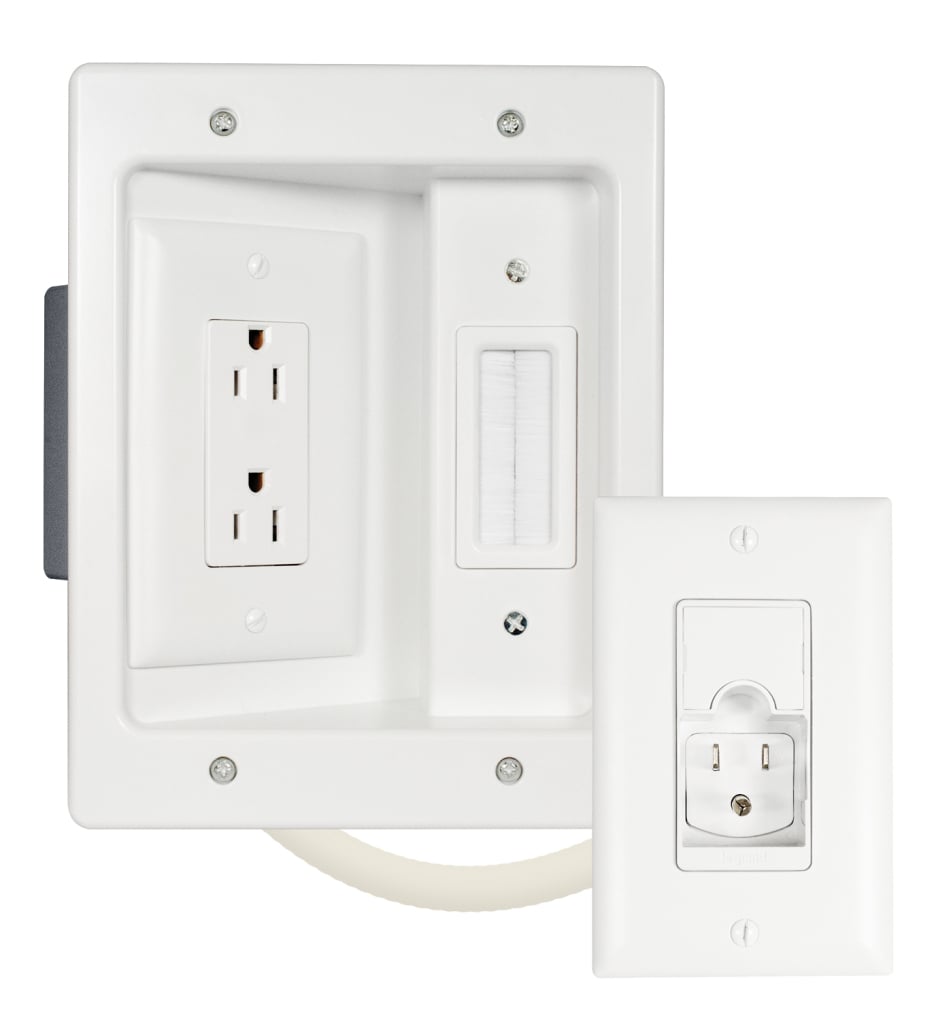 SANUS VLT7 Advanced Tilt 4D TV Wall Mount
The SANUS VLT7 Advanced Tilt 4D TV wall mount is now available. Easy-to-install, the solution allows mounted displays to be tilted in four different directions for the ultimate user experience.
Compatible with TVs from 42 inches to 90 inches and offering a slim industrial design, the VLT7 allows for tilting in four different directions, not only up and down but left and right up to 15 degrees to provide a wider viewing area, while extending 6.8 inches from the wall for maximum tilt and ease of access to cabling. The mount's scissor mechanism provides smooth in, out, and swivel motions, while its Virtual Axis™ Fingertip tilt feature allows for easy display adjustment. Simple to install, the unit's decorative wall plate cover flips open and closed for a sleek, modern look, and displays click into place for a safe connection to the mount that can be heard.
The VLT7 features an open wall plate design, which fits SANUS TV Media In-Wall Boxes and On-Q Dual-Purpose In-Wall Enclosures for convenient and discrete cable management and storing of streaming devices, network switches, and power modules. For fine-tuning, the mount's ProSet Plus™ feature allows for 1-inch post-install height and level adjustment. To prevent theft, displays can be secured to the VLT7 with a padlock.
More information on the VLT7 is available athttps://www.legrandav.com/products/sanus/mounts/tilting_wall_mounts/vlt7?ID=%7BBAA67FFC-B7E6-4430-BC5D-D83448225935%7D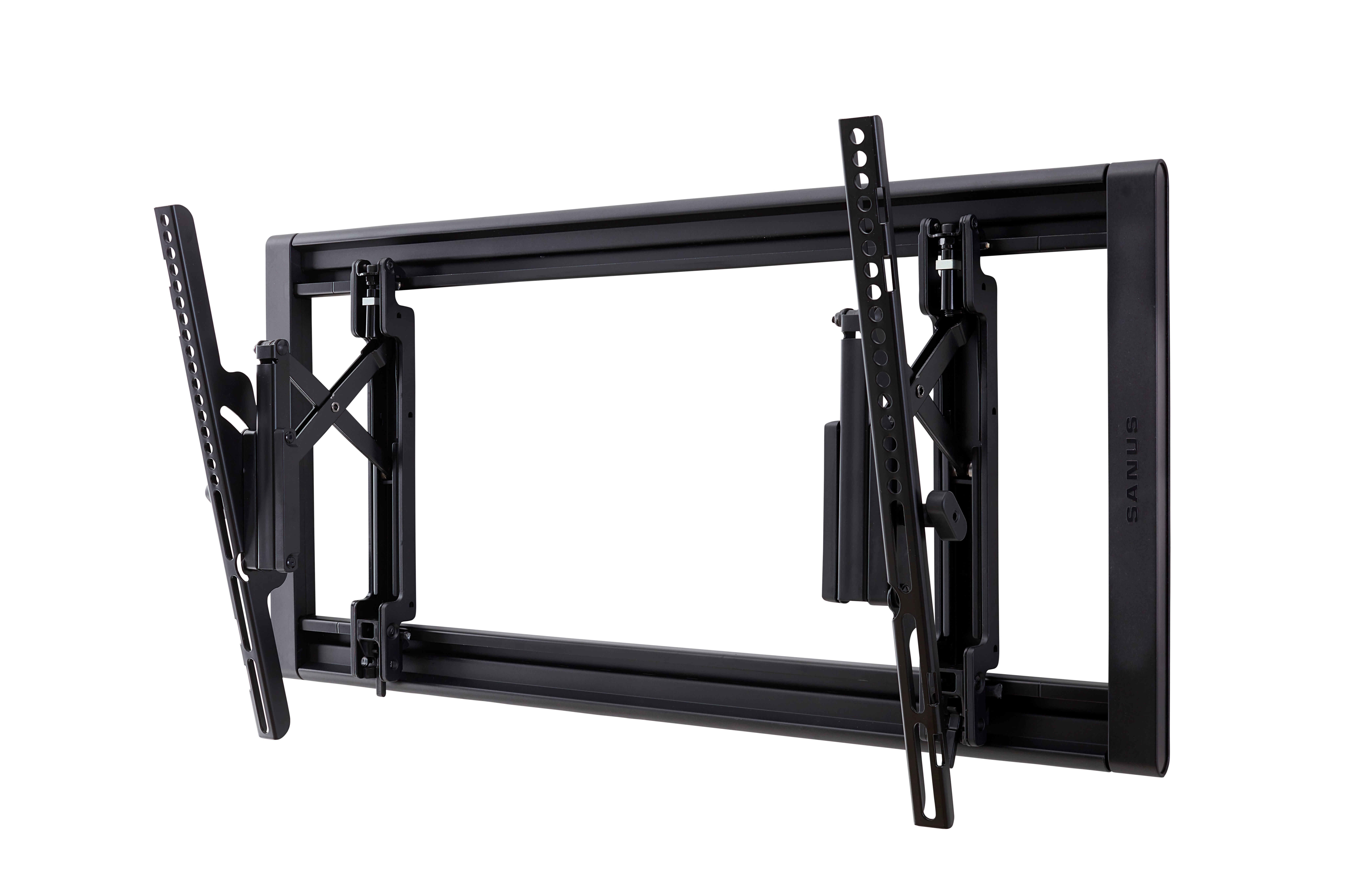 Legrand Shading and Residential Controls

Colorado-based integratorParagon Systems Integrationrecently installed the Vantage LHUMAN human centric lighting solution for a vacation home in Aspen. Featuring an impressive 199 tunable lighting fixture loads, 23 LED models, and over 100 EasyTouch Glass keypads, the house mirrors the HCL benefits of the homeowners' primary residence in New York City.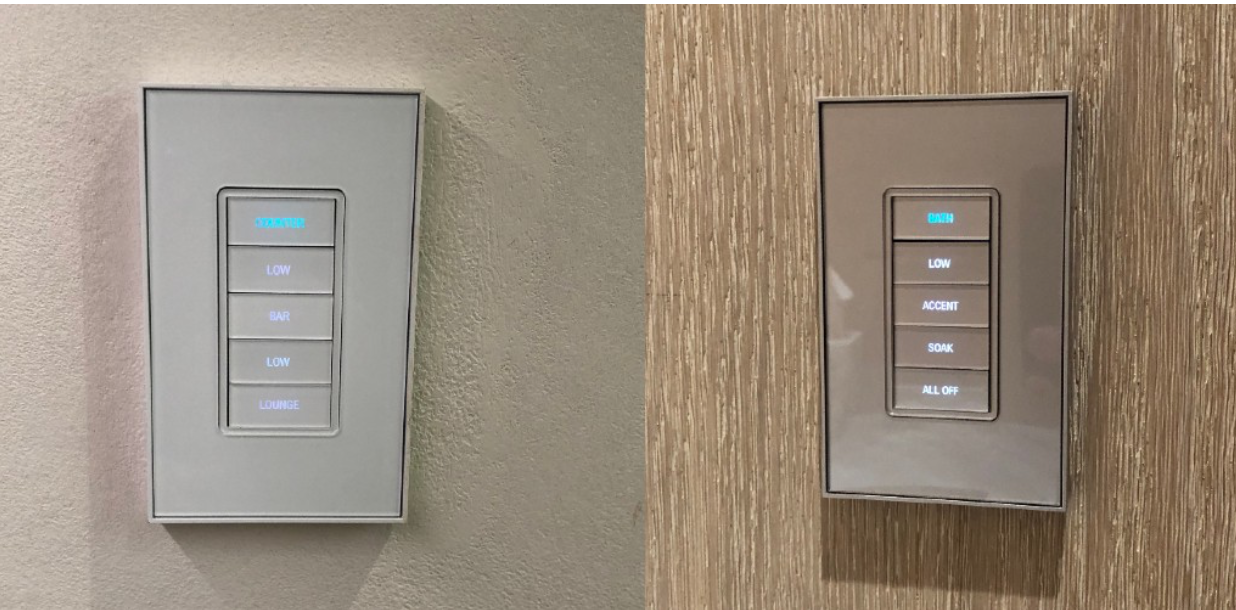 ---

Secure it and forget it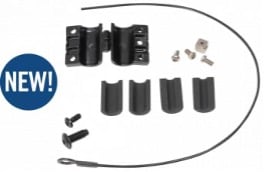 Introducing the Liberty Cable Security Line System.
The Liberty Cable Security Line System is a cable and clamp tool designed to prevent the theft or unwanted movement of cables. This security system attaches and secures cables and adapters to conference table boxes, wall plates, datacom and AV racks, teacher's desks, lecterns, and displays.
No more frustration about loss because you are now equipped with everything you need! This item comes with two screw types — one a standard rack screw and the other a standard wall plate screw. We used the Torx T10 Pin drive security option on the screw choices to provide a higher-security option than the standard screw. This security system attaches and fits cables from 3.5 mm to 12 mm in diameter, and includes two sizes of foam rubber spacers within the cable-locking ring and a lanyard with a swaged ring #10 mounting screw size.
Complete the installation of the Liberty Cable Security Line System with Liberty AV's extensive range of hybrid, optical, and premium cables. Don't stop there — check out our entire line of DL-AR adapter ring configurations for your conference room, board room or huddle room today!
Contact your Liberty AV Solutions team for more information.
---

Monitor Audio Bronze Series
The multi-award winning Bronze Series loudspeakers have been carefully designed to offer Monitor Audio's British personality with an attractive contemporary touch. Featuring a complete upgrade for superior sound and build quality, everything was created with you in mind.
The fresh cabinet designs have clean and simple lines, and are available in a choice of four contemporary finishes (White, Walnut, Urban Grey and Black), with a sleek contrasting baffle and matching magnetic cloth-covered grille for an understated appearance.
One of the most eye-catching features of the speakers is the acoustically transparent hexagonal dispersion patterns on the tweeter cover. This design gives Bronze a premium feel, allowing light to catch the distinctive gold tweeter dome behind the grille.
The Bronze Series features a new Uniform Dispersion (UD) Waveguide, which combines with Monitor Audio's signature C-CAM Gold Dome Tweeter to give even sound dispersion, improved time alignment and wider directivity for lifelike sound.
Improved C-CAM Drivers have been specially engineered using conical diaphragm geometry for increased control and Damped Concentric Mode (DCM) technology for a more accurate time response. The drivers also feature a larger diameter voice coil to allow production of higher sound pressure levels. These design enhancements allow the Bronze Series to deliver a smoother, tighter bass.
Since its first launch two decades ago, the multi award-winning Bronze Series has set the standard as a class leader and today there are thousands of satisfied owners across the globe.
With a choice of eight models, including our first Dolby Atmos® enabled speaker module, all of the Bronze speakers have been designed to please any music or movie lover. Their attractive design and choice of finishes ensures that they will complement any room in the home.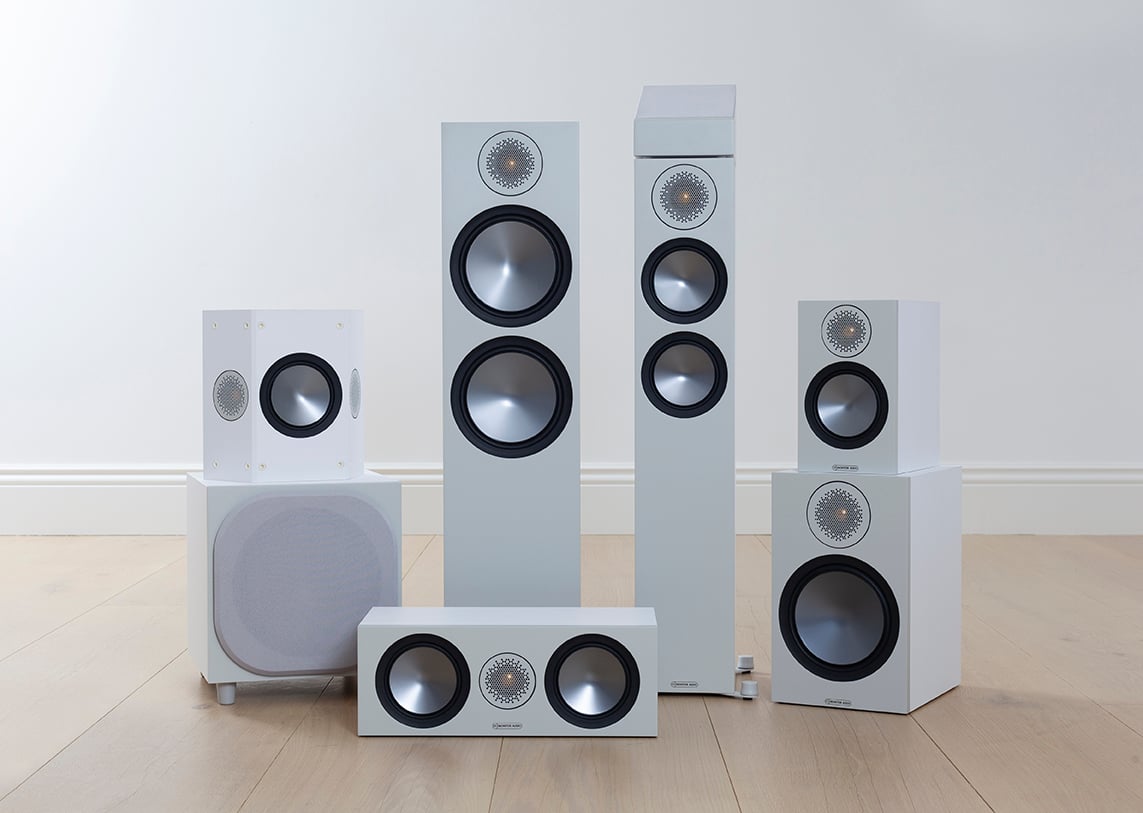 ---

Platinum Tools® TPS200C Pocket-Sized PoE++ Tester
Platinum Tools® (www.platinumtools.com), the leader in solutions for the preparation, installation, hand termination, and testing of wire and cable, is proud to announce the new pocket-sized PoE++ tester. Now available, the TPS200C has an MSRP of $89.00.
"The easy-to-use TPS200C has been designed for all varieties of PoE…up to 56 volts and 280 watts of power," explained Sean Rothermel, Platinum Tools product manager. "Powered by the PoE circuit, the TPS200C requires no batteries and can be used inline with an actual PoE device to measure current flow, or by itself in Powered Device (PD) Simulation mode to determine the maxi­mum power available from the PoE power source."
Additional features include: Tests up to 4-pair PoE (IEEE 802.3bt Type 3); Easy-to-read, bright, scrolling OLED display; Test PoE on active data cables without interrupting data flow; Automatic mode and polarity detection; Tester features dual RJ45 ports for testing PoE and dual 2.1x5.5mm DC jacks for testing DC power supplies; Includes 2.1x5.5mm DC patch cable; Dimensions: 2.50in. square x 1.00in. thick (63.5 x 63.5 x 25.4mm); Weight: 2oz. (55g).
For additional pricing and more information on Platinum Tools and its complete product line, please visit www.platinumtools.com, call (800) 749-5783, or email info@platinumtools.com.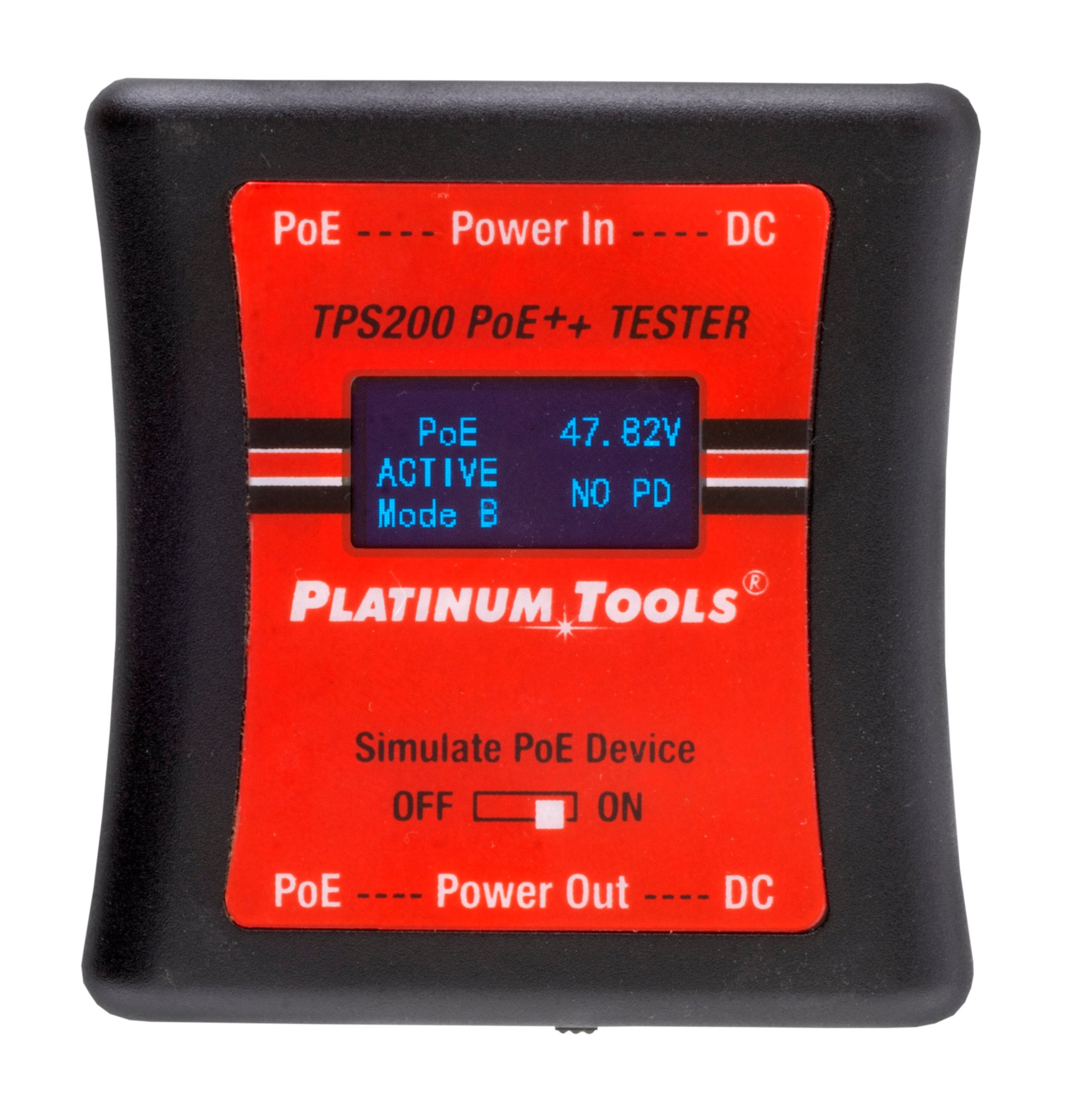 ---

The Primex 8-port Cat6 Data Module provides a termination point for simplified cross connect signal distribution from a central location. Designed to fit in Primex Media Panels for structured wiring, the modules offer quick and easy front punch down termination. They extend the networking functionality of the connected home in SFU and MDU applications while providing effective cable management.
Product FEATURES
Eight RJ45 data input jacks and eight 4-pair 110 IDC's for output provide robust data and voice distribution.
Easily and securely installed with four push pins.
Simplified cross connect signal distribution for effective cable management of the connected home.
Fits Primex Media Panels for structured wiring (P2100, P3000, P4200, P6300).
Arched mounting bracket allows for cable run access.
UL-Listed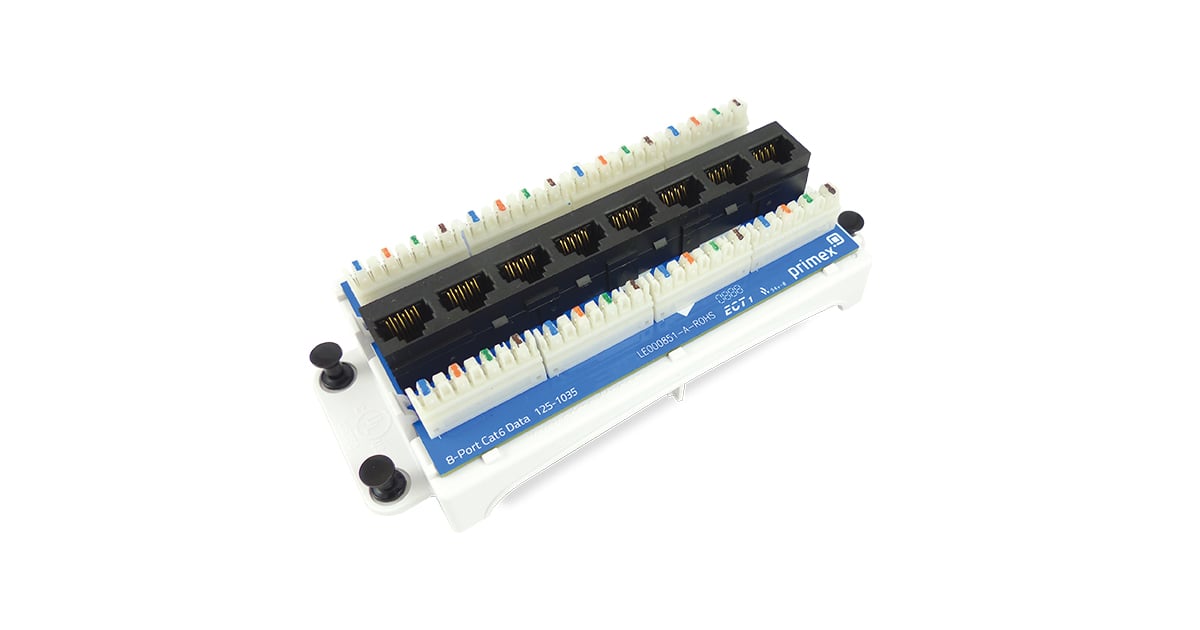 ---


QSC offers an ongoing Webinar series!
All QSC webinars are recorded so that you can learn Q-SYS on your schedule not ours. We have several to choose from all are 30 to 60 minutes of time investment.
Just Follow Me: Webinar showing how our cameras + Q-SYS plug-in enables automatic, seamless camera position and switching based on the talkers location in the room.
Remote AV Management for Hospitality Installations: Webinar reviews how to safeguard and support hospitality systems from the cloud.
Build a Fully Certified Microsoft Teams Room Design with Q-SYS: Webinar covers Q-SYS innovations to allow for custom user controls and easy commission and management process.
Microsoft Teams Rooms in High-Value Spaces: A roundtable discussion with experts from QSC, Microsoft & Avanade discussing key considerations in challenging AV spaces.
Live Case Study Discussion: Overcoming UC & AV Challenges with Ecosystems: Corporate HQ of WellsSky a leading healthcare software provider discusses Q-SYS and Zoom in a massive deployment.
Q-SYS Architect: A pre-sales focused curriculum that provides a system view of the Q-SYS ecosystem. You will learn everything you need to specify your next Q-SYS installation with no programming or commissioning knowledge required.
And many more: Check out our On-Demand Library
---

Award-Winning RTI Music and Video over IP Platform
RTI Music (MS-3 Music Streamer) and our Video over IP (VIP) platform combined to win four awards at CEDIA Expo 2021. RTI Music received a CE Pro Best Product Award and Connected Design Award, while the VIP platform earned a Residential Systems Best of Show Award and Residential Tech Today 2021 Innovation Award.
Judged by CE Pro editors and industry leaders based on innovation, functionality, and competitive advantages and benefits to the installer, the annual Best Product Awards celebrate the most noteworthy new products and technologies of the year. For 2021, in the Home Theater/Multi-Room Audio/Video category, RTI Music received the Best Media Servers/Streaming Media/DVRs Award. RTI Music was also honored by the Connected Design Awards program, which recognizes the best-designed technologies and solutions that are improving and accelerating the smart home industry and the disciplines they serve. Entries were judged by an esteemed panel of experts from the custom integration and design and architecture communities based on design, innovation, and application.
Residential Systems Best of Show Award winners were chosen based on several criteria, including value, impact, and uniqueness to the market. This year, judges were impressed with the RTI Video over IP platform. The Residential Tech Today 2021 Innovation Awards honored products for going above and beyond as solutions for everyday tech home challenges and for helping serve the comfort and lifestyle wants and needs of homeowners, naming the RTI VIP platform a winner in the Video Distribution category.
Learn more about RTI Music and our VIP platform.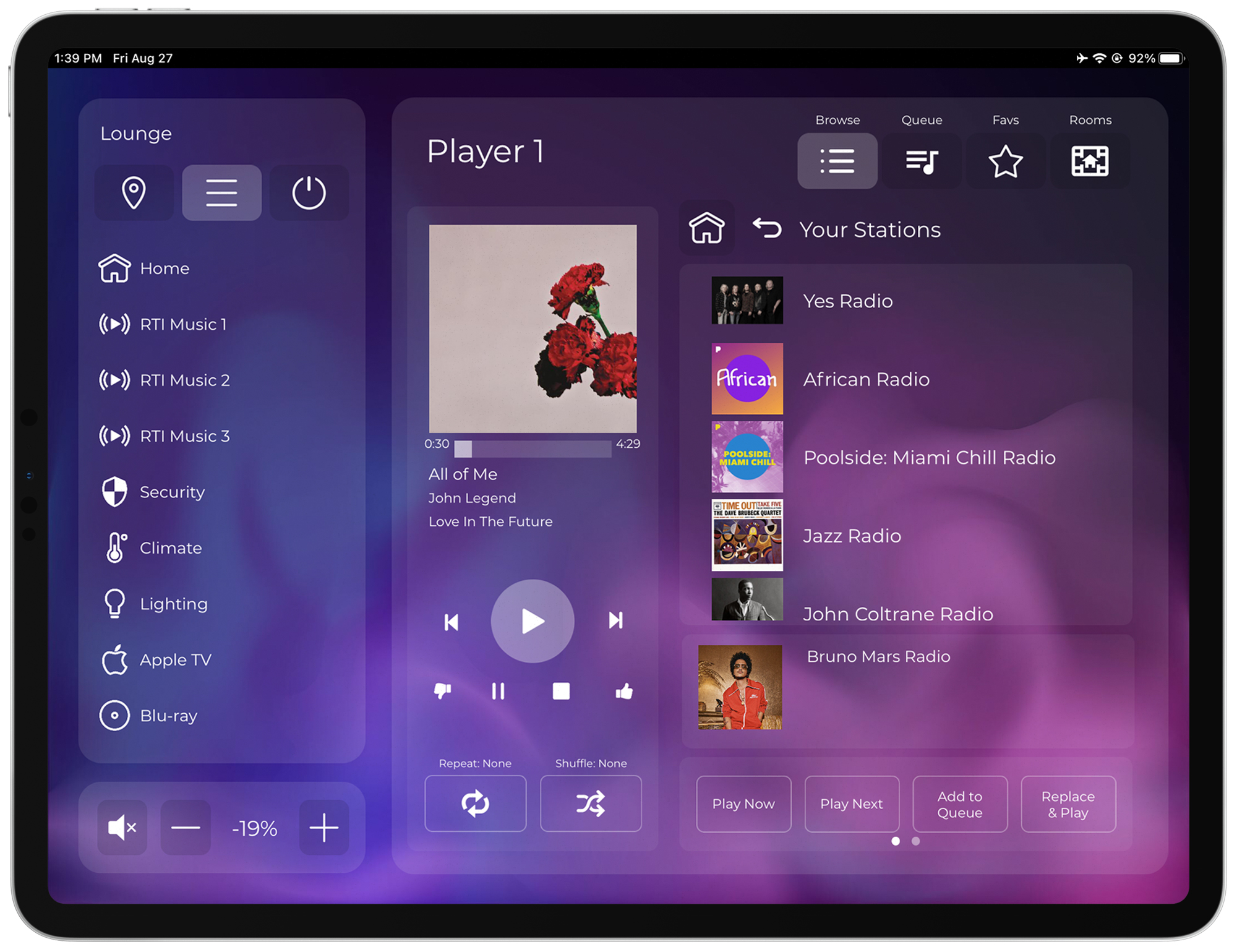 ---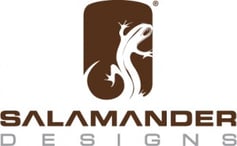 Here's to Hisense + Salamander!
Meet our newest Ultra Short Throw Projector Cabinet made specifically for the new L9G TriChroma Laser TV by Hisense! This flush top cabinet offers a turnkey, seamless solution that fits into any décor and delivers a premium video system. Benefits include the simplest installation with no need to open the wall or ceiling to run cables. With optimized ventilation, all AV components are enclosed in the credenza to provide a beautiful solution that virtually goes right to any room.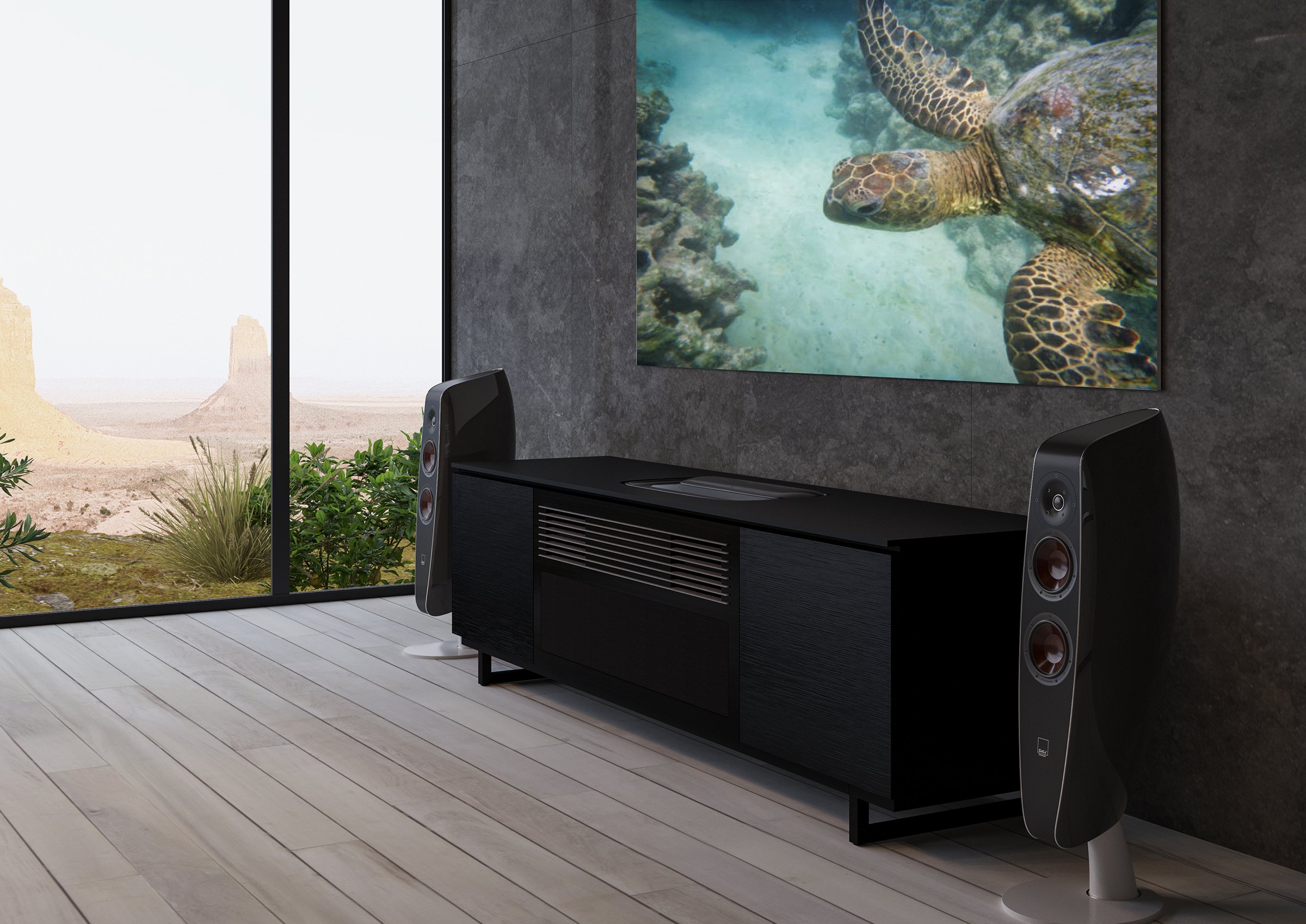 ---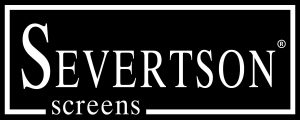 Severtson Screens Broadway Series
Broadway Series is a collection of fixed frame projection screens that offer a sturdy extruded aluminum 6-piece frame with a 2 3/8-inch bezel, wrapped in light-absorbing black velvet which provides a clean, sharp appearance. It is an excellent solution for any venue needing a quality, high-performance projection screen, such as any home theater, sports bar, educational facility, or conference room.
The Broadway Series fixed frame offers an affordable projection screen and the same excellent quality that has come to be expected from a Severtson screen. Broadway is available with white and grey projection materials and numerous sizes, making it ideal for a variety of lighting situations. Its appearance does not distract from the projected content, but instead quietly enhances the viewing experience with its perfectly tensioned viewing surface and precision-aligned black velvet frame.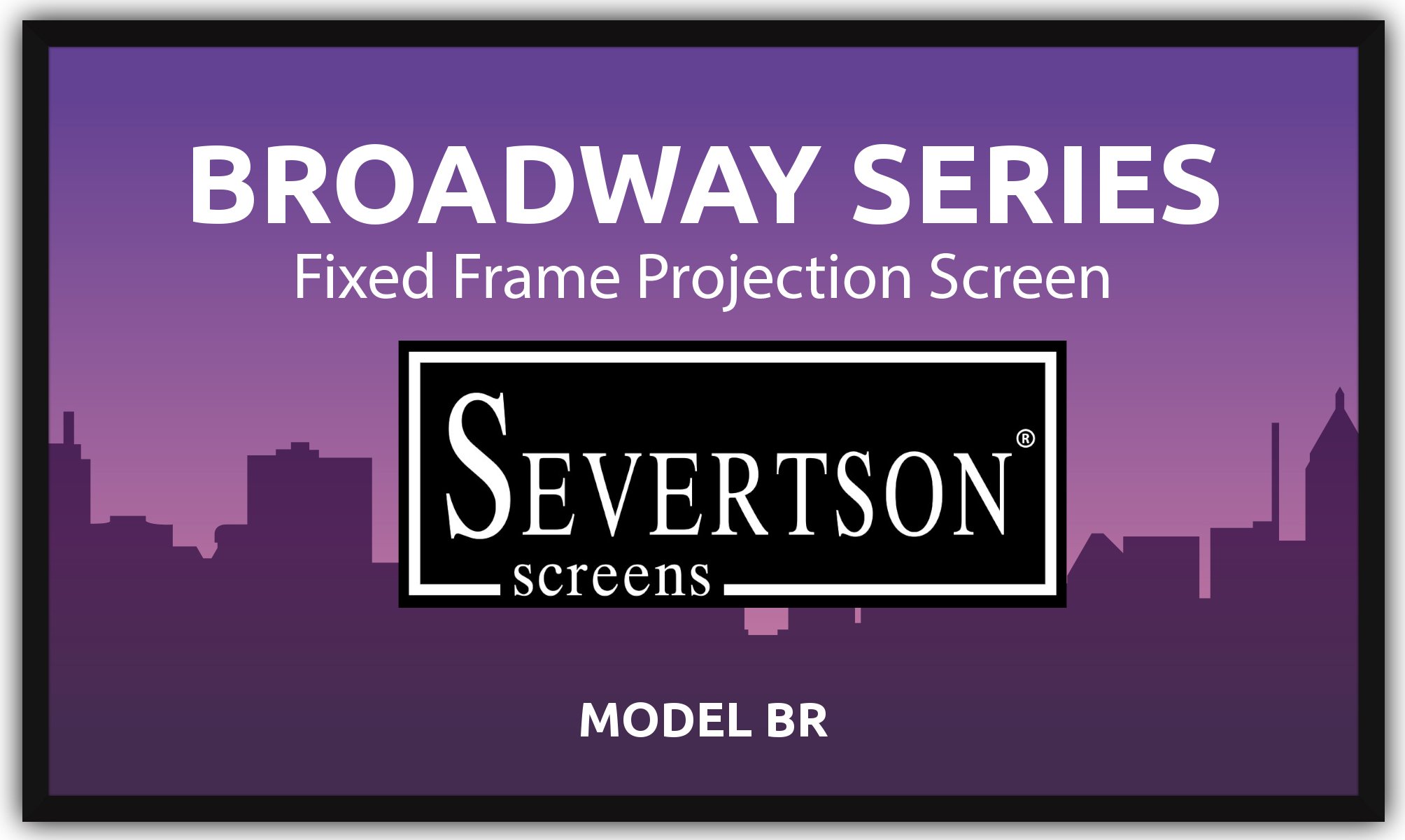 ---
High Performance Outdoor Speakers — No Rusty Grilles!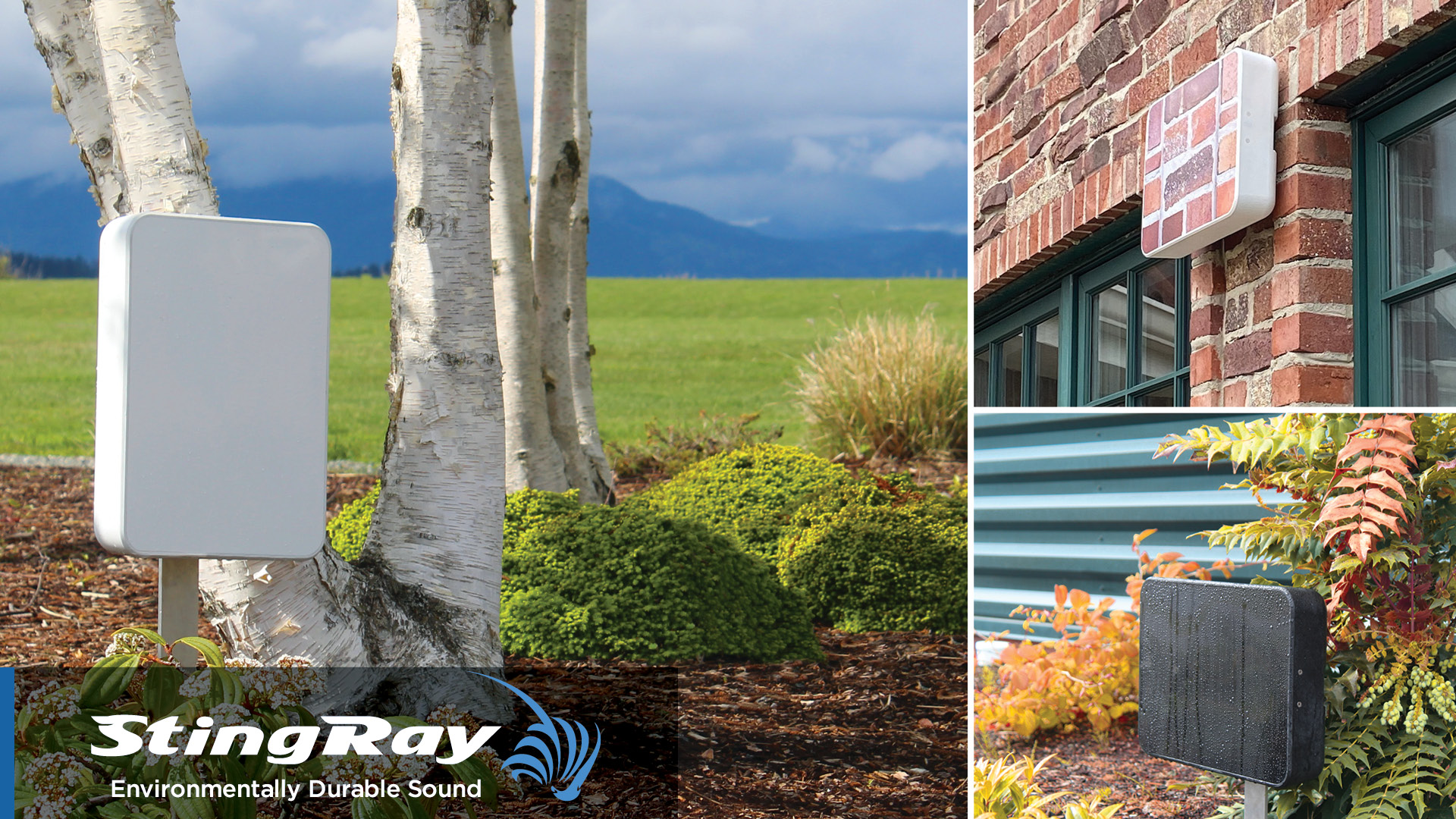 Creating great sounding outdoor speakers that can take on nature's toughest elements is no easy task, but with the StingRay line of environmentally durable speakers and subwoofers, Stealth Acoustics has done just that!
StingRay high performance outdoor speakers feature a unique FidelityGlass™ construction that achieves an industry leading IP68 waterproof rating. With a fully sealed design that prevents water, dust particles, and pests from getting inside and an operating temperature range of 0° – 150° F, StingRay speakers are at home in any climate.
StingRay outdoor speakers deliver smooth mid and high frequency response with a solid, rich bass extension and are ideal for luxury residential, commercial, and marine applications.
Designers & Architects love StingRay speakers because they seamlessly integrate into any outdoor living space.
A/V Integrators love StingRay speakers because they can count on the same sound quality and performance benchmarks Stealth's indoor speakers are known for.
Home & Business Owners love StingRay speakers because they bring outdoor spaces to life with clear, maintenance free sound — No more rusty speaker grilles!
Blend In! or Stand Out!
A sleek design and multiple mounting options mean StingRay speakers won't be an eyesore and custom finishing options can further increase their concealment. The speakers can be painted to match the exterior finish or the front radiating diaphragm of a StingRay speaker may be vinyl wrapped (on-site or custom ordered). A photo of the surroundings, logo & branding graphics, or artwork make a unique audio solution.

Invisible Under Eaves Speakers
StingRay Soffit Speakers offer an under eaves solution for high quality outdoor audio without visual disruption to the architecture. Once mounted flush with the soffit, the pre-primed Soffit Speaker is ready for seam finishing and paint allowing it to become nearly invisible against the surrounding soffit. — Replace ugly, rusted, conventional soffit speakers!
StingRay Soffit Speakers achieve aesthetic perfection without compromising audio quality.
Learn More
stealthacoustics.com/stingray
---
TRENDnet's AX1800 Dual Band WiFi 6 PoE+ Access Point
TRENDnet's high performance AX1800 Dual Band WiFi 6 PoE+ Access Point, model TEW-921DAP, features two concurrent WiFi bands to maximize device networking speeds on the latest WiFi 6 technology. The two separate high-speed WiFi 6 bands provides speeds up to 1201Mbps on the 5GHz band and 567Mbps on the 2.5GHz band. Faster speeds are possible with 1024-QAM.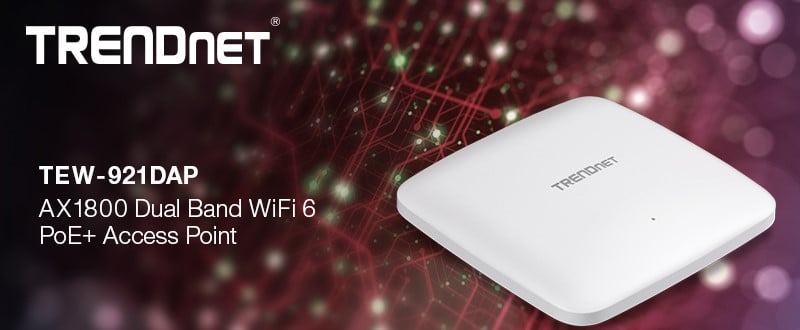 ---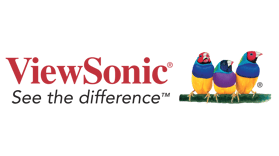 ViewSonic Gaming Monitors for esports
Esports has evolved from a niche insider sport to a wildly popular pastime that is growing at an exponential rate. For schools, esports presents a way to get students more involved in science, technology, education, arts and math. From academic esports programs to professional teams and arenas, the esports industry today is worth billions.
ViewSonic offers a myriad of gaming monitor options for your esports projects. One of them is the frameless XG2705 featuring a rapid-fire 1ms response time and AMD FreeSyncTM Premium technology. It delivers the speed, performance, and visuals that will let gamers push the limits of what's possible in gaming.
Learn more about ViewSonic's esports solutions here => https://www.viewsonic.com/us/solution/education#esports.
---