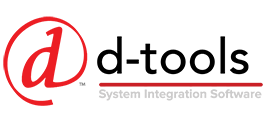 CONCORD, CA — December 17, 2018 — D-Tools, Inc., the worldwide leader in system integration software, announced today it will attend and sponsor the National Systems Contractor Association (NSCA) 2019 Business and Leadership Conference February 27 – March 1 in Tampa, Florida. This conference allows members the opportunity to discover and develop new ways of optimizing their businesses through networking and speaking sessions.
As an NSCA member, D-Tools looks to help commercial low-voltage electronic system contractors implement standardization and best practices throughout their sales, engineering and operations departments, ultimately resulting in increased productivity and profitability. There, D-Tools will discuss the latest major release version of its award-winning, on-premises estimation, system design, and project management software – System Integrator (SI) software solution – while also seeking to build connections and relationships within the organization.
Available now, SI v12 delivers critical new productivity features – workflow management rules that help business managers maintain control over operating standards and business processes, project notifications that ensure project stakeholders remain fully informed, and calculated items that provide a powerful new method for establishing pricing parameters.
"The advancements provided through this release represent a quantum leap forward in the areas of pricing, team communications and workflow management," said Randy Stearns, CEO of D-Tools. "Each of the three key features adds flexibility and the potential for new and creative ways to run your business using System integrator."
Get additional information on the D-Tools on-premises System Integrator software by signing up for a free personal tour by visiting https://d-tools.com/live-demo-webinar/ or download a free 30-day trial by visiting https://d-tools.com/hosted-free-trial-signup/.
About D-Tools, Inc.
D-Tools is a worldwide leader in accessible, highly accurate business software that caters to the unique and diverse needs of systems design and installation firms. The company's on-premises software, System Integrator™ (SI), and new cloud-based platform, D-Tools Cloud, are robust solutions that help manage all aspects of an integrator's business, including sales, comprehensive system design, project documentation, procurement, and project management. Today, more than 6,000 companies in over 80 countries use D-Tools' award-winning software to streamline business processes, leading to improved operational efficiencies and increased profitability.
Find product updates and related information by following D-Tools on Twitter, Facebook, and LinkedIn.