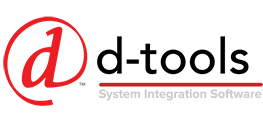 D-Tools to provide attendees insight into streamlining business processes for commercial and security technology professionals.
D-Tools, Inc. the worldwide leader in system integration software, announced today it will attend and sponsor the 2018 Total Tech Summit in Pittsburgh, PA on November 7 – 9. D-Tools will be showcasing the latest enhancements to System Integrator (SI 2018) as well as present a boardroom presentation for attendees.
D-Tools will discuss the latest version of its award-winning, on-premises estimation, system design, and project management software – System Integrator 2018 (SI 2018). In addition, the D-Tools team will be meeting with commercial and security technology managers one-on-one to discuss how implementing a data-driven solution can help streamline operations, leading to increased operational efficiency and profitability.
Get additional information on the D-Tools on-premises System Integrator software by signing up for a free personal tour by visiting https://d-tools.com/live-demo-webinar/ or download a free 30-day trial by visiting https://d-tools.com/hosted-free-trial-signup/.
About D-Tools, Inc.
D-Tools is a worldwide leader in accessible, highly accurate business software that caters to the unique and diverse needs of systems design and installation firms. The company's on-premises software, System Integrator™ (SI), and new cloud-based platform, D-Tools Cloud, are robust solutions that help manage all aspects of an integrator's business, including sales, comprehensive system design, project documentation, procurement, and project management. Today, more than 6,000 companies in over 80 countries use D-Tools' award-winning software to streamline business processes, leading to improved operational efficiencies and increased profitability.
Find product updates and related information by following D-Tools on Twitter, Facebook, and LinkedIn.