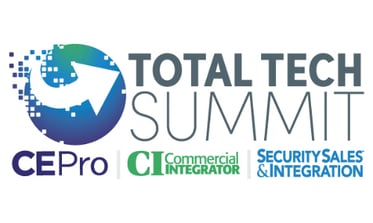 D-Tools to provide summit attendees with information on how to streamline their business process and details on the latest version of System Integrator.
CONCORD, CA — October 25, 2019 — D-Tools, Inc. announced today it will attend and sponsor the 2019 Total Tech Summit in Fort Worth, TX on November 4 – 6. D-Tools will be showcasing the latest enhancements to System Integrator, meet with commercial and security system integrators one-on-one to discuss best business practices, as well as present at a roundtable discussion for attendees.
Major Release of D-Tools System Integrator, SI v13, Delivers Valuable New Features
D-Tools System Integrator is a robust, comprehensive software that guides users through the sales, estimation, system designs, project management, installation, and service aspects of their business. The latest release now features:
Service Plans – Define, create, sell, and manage service contracts
Supplier Pricing – Access to dealer-specific pricing from select partner brands
Allowance Packages – Substitute allowances for parts with no impact on price
Multi-Conductor Cable Documentation – Draw connections down to the individual conductor
Bundled Cables Support – Provides accurate labor calculation for bundled cables
Payments Processing – Accept and process credit card and ACH payments from clients
Bar Code Scanning – Collect and validate product data, and sync with projects upon item receipt
AVaaS via Great America – SI users have an easy way to start generating recurring monthly revenue and offer "AV as a Service"
D-Tools Sponsors Profit Booster Roundtable Session
In addition, D-Tools is sponsoring the "Profit Booster Session" roundtable session occurring on Monday, November 4, from 3:00 – 5:00 p.m. Following an introduction from D-Tools CEO Randy Stearns, this session will provide attendees with the opportunity to share ideas on how to boost profits, and discuss unique ways to improve processes in the industry.
For additional information on the D-Tools' System Integrator software, sign up for a free personal tour by visiting https://d-tools.com/live-demo-webinar/ or download a free trial by visiting https://d-tools.com/hosted-free-trial-signup/.
About D-Tools, Inc.
D-Tools, Inc. is a worldwide leader in accessible, highly accurate business software that caters to the unique and diverse needs of systems design and installation firms. The company's on-premises software, System Integrator™ (SI), and new cloud-based platform, D-Tools Cloud, are robust solutions that help manage all aspects of an integrator's business, including sales, comprehensive system design, project documentation, procurement, and project management. Today, more than 6,000 companies in over 80 countries use D-Tools' award-winning software to streamline business processes, leading to improved operational efficiencies and increased profitability.
Find product updates and related information by following D-Tools on Twitter, Facebook, and LinkedIn.
Media Contacts
Tim Bigoness, D-Tools, (925) 270-4102, timb@d-tools.com
Katye (McGregor) Bennett, KMB Communications, (425) 328-8640, katye@kmbcomm.com
All products, product names, trademarks, and registrations mentioned are the property of their respective owners, all rights reserved
# # #