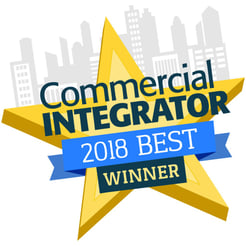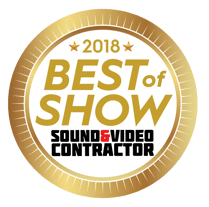 The latest version of the D-Tools System Integrator (SI) software platform – SI 2018 – has been named the winner of the 2018 Commercial Integrator BEST Award in the Project Management & Design/Web Software category, and honored with a Sound & Video Contractor Best of Show Award at InfoComm 2018.
The CI BEST Awards program highlights the most outstanding new products, solutions, and services that could impact the commercial integration industry in 2018. A panel of industry experts, integrators, and the editors of Commercial Integrator chose the winners based on criteria for the winning products that included innovation, functionality, competitive advantages, and benefits to the installer.
The Sound & Video Contractor Best of InfoComm Awards were evaluated by judges at the show against multiple criteria including innovation; performance against category standard; richness/relevance of feature set; ease of installation/maintenance; network friendliness; and value/ROI. Products with the highest total points were designated as winners.
D-Tools was also recently honored with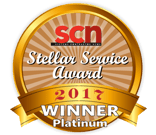 a Systems Contractor News Stellar Service Award under the Best Project Management Platform category, illustrating the importance of the company's platform and support services to the success of commercial AV systems integration companies.
D-Tools' System Integrator (SI) is the most widely used and comprehensive estimation and budgeting, design, and project management software platform, specifically designed to fulfill the diverse needs of systems design and installation firms. D-Tools ties these elements together into a singular, data-driven, connected process that helps increase profitability, improve operational efficiency, and ultimately produces bottom-line results. Along with access to a comprehensive library of manufacturers' products, this solution positively effects – and thereby improves – all areas of a commercial integrator's and technology manager's business. Moreover, system integration companies using D-Tools ensure – through clear communication and a streamlined process – new and retrofitted projects are completed on time and to budget, resulting in customer satisfaction.
Those interested in learning more about D-Tools and the company's award-winning System Integrator software platform are encouraged to sign up for a free online guided tour by visiting https://d-tools.com/live-demo-webinar/ or for a free 30-day trial, which can be downloaded by visiting https://d-tools.com/hosted-free-trial-signup/.
About D-Tools, Inc.
D-Tools, founded in 1998 and based in Concord, California, is a worldwide leader in accessible, highly accurate system design and documentation software platform. The company's flagship product, System Integrator™ (SI), is a robust solution that utilizes Autodesk® AutoCAD and Microsoft® Visio to facilitate comprehensive system design, documentation and project management. D-Tools enables residential and commercial integrators to streamline business processes and increase revenues while reducing the time and cost associated with the installation and integration of low voltage electronic systems. More than 6,000 leading companies in 87 countries currently use the award-winning D-Tools platform to reduce time, costs and to streamline the system integration process. Product updates and related information can be obtained by following D-Tools on Twitter, Facebook, and LinkedIn.