D-Tools MVP Manufacturer Partners realize the importance of bringing you their product information and have chosen to support the D-Tools user community by joining the program and making their product data directly available through D-Tools SI software. Read on for the latest manufacturer company news and product updates.
---

Belden will be hosting a free webinar on the topic: How Product Selection Can Impact LEED Certification on May 3rd, 2018 at 2:00PM EST. In this webinar attendees will be able to 1) explain the difference between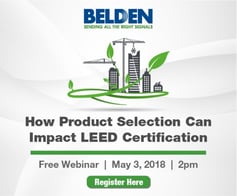 HPDs, EPDs, and MHAs, 2) describe how cabling systems can help earn LEED credits, 3) identify the differences in LEED v4 requirements vs. previous versions of LEED and 4) recognize manufacturers that properly ensure transparency and credibility through product documentation. This webinar will also be made available OnDemand if attendees are unable to make the live date. Click here to register or for more information.
Innovation, cost-effectiveness and simple installation led Forsyth County Schools to Belden when it needed to lay a solid foundation for smart classrooms. As the largest employer in Forsyth County, GA, and Georgia's seventh-largest school district, Forsyth County Schools serves more than 48,000 students and employs 5,000+ staff members. Since 2001, the district has experienced 170% student-population growth, building 21 additional schools to bring the district's total to 37 facilities (with two more opening in 2018). Belden 10GXS Category 6A cable was used to establish two drops in each classroom across the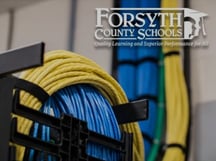 Forsyth County Schools district. By pulling two cables, the district now has redundancy. If one switch fails, a second switch keeps things running. REVConnect will also save time for the Technology Services Department; it offers an easy way for district technicians to fix problems as they arise. Patch panels and patch cords from Belden were also used throughout the re-cabling project. By using PoE switches, PoE injectors for phone and wireless access points were eliminated, saving the district money and installation costs. Click here to read more about this solution and read other Belden case studies.
Want to find out the 7 Benefits of Being a Certified Cable Installer? Perhaps you are seeking more information on Power over Ethernet. This and other topics can be found on our digital building blog. Stay current with industry trends! Sign up for notifications today.
---

LX-MU500Z Product Page:
https://www.usa.canon.com/internet/portal/us/home/products/details/projectors/all-projectors/non-interchangeable-lens-dlp-projectors/lx-mu500z
---

New MEGApix® CaaS™ Series IP Cameras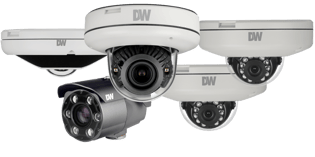 The DW® MEGApix® CaaS™ series cameras combines the power and quality of the MEGApix® IP Camera Series with the ease of DW Spectrum®. These cameras include pre-loaded DW Spectrum® IPVMS and licenses and onboard SD cards. No server hardware is required, making the MEGApix® CaaS™ an easy, cost effective way to deploy high-definition IP video systems.
---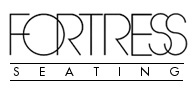 c a l i f o r n i a n
~ Great value never looked so good ~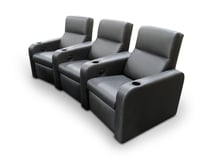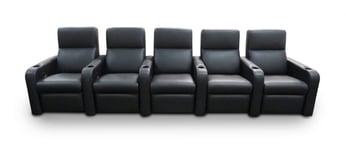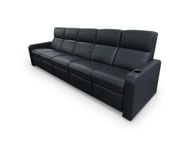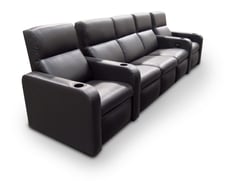 ---
The PerformaBe Series was born out of the desire to create a loudspeaker that redefined performance expectations. Using the award-winning Performa3 F208 and M106 as the starting point, Revel's development team re-engineered virtually every component in order to extract the finest details, the highest levels of performance, and the most emotion possible. With an all-new Beryllium tweeter as the basis of the Performa Be Series, the result is unparalleled detail and accuracy along with a sense of air, spaciousness, and a cohesive soundstage that will certainly define these models as world standards in performance. In short, the Revel Performa Be Series are serious loudspeakers for people who are serious about impeccable sound.
---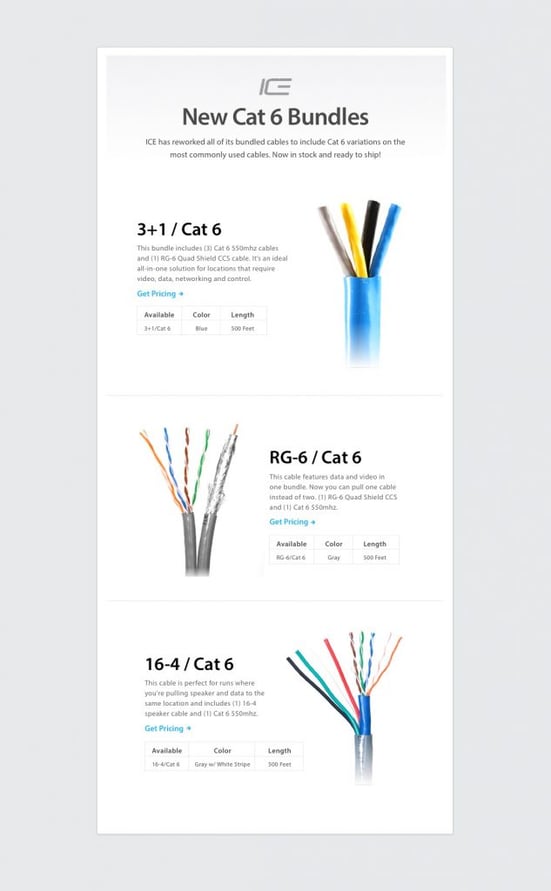 ---

Introducing ella
Ella is the world's first cloud-based, deep-learning search engine that augments video surveillance systems with natural language searching. Ella products and installation services are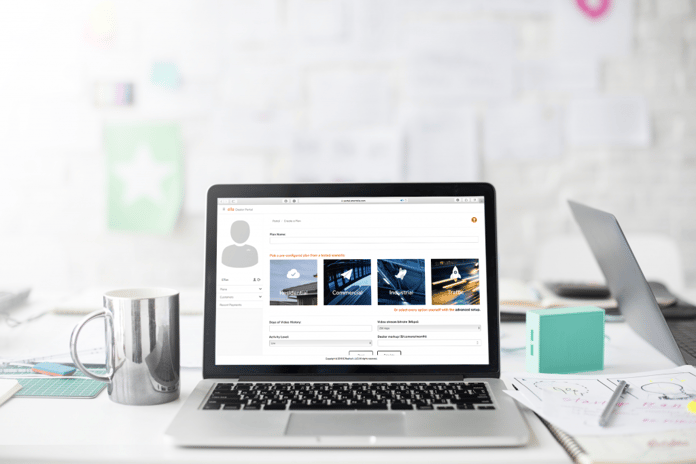 available through our network of authorized and licensed dealers in North America. Become an ella authorized dealer today to bring your customers state-of-the-art surveillance solutions that monitor, index, and alert on important events in real-time! This cutting-edge solution will safeguard your clients while also eliminating the burden of having to sift through hours of surveillance video just to capture the interesting events in life.
Program Benefits
The ella dealer program empowers dealers with the flexibility of tailormade cloud recording plans, interactive customer management, and a cross-platform RMR model. All of this is built on an interactive platform to deliver the latest technology and services to exceed the customer's experience and expectations.
Resilience: The ella dealer portal offers a range of pre-configured application plans. Furthermore, dealers can create tailormade plan templates based on their own applications, hardware setup and storage requirements.
Cross Platform RMR: With our fully integrated Stripe® payment gateway, not only are our dealers in charge of their designated profit but payments to the dealers are made instantly in real time.
Realtime support and Guidance: With our live web chat agent, dealers are able to chat live with certified ella technicians to assist with plan creation, customer management and support inquiries.
Tools for growth: With the ella dealer portal growing your business has never been easier. Marketing assistance is available to create and drive your go-to-market strategies. From web to print, the ella portal media library is a powerful resource to promote your business.
---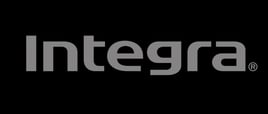 Integra Leads the 4k HDBaseT Evolution
Capitalizing on the ability for new HDBaseT chipsets to render 4:4:4 color is Integra. A variety of its products going forward will incorporate the new chip, beginning with its new DRX-7.1 A/V Receiver, DRX-R 1.1 A/V Receiver, and DRC-R1.1 preamp.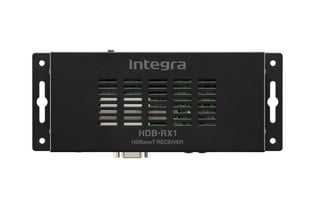 Along with the ability to distribute ultra-high-definition in 4:4:4, Integra receivers that feature this new and improved HDBaseT chip support 4K/60Hz video, including HDR10 and Dolby Vision up to a full 18GB per second over the same Cat 5/6 cabling at a
maximum distance of 100 meters, as well as audio and POC.
Even customers have a current or legacy Integra AVR or A/V processor with a HDBaseT output on board, it can become part of an HDBaseT network, thanks to the addition of Integra's new HDB-RX1 4K HDBaseT Powered Receiver. Carrying an MSRP of $400, it is an affordable upgrade that offers customers the best A/V distribution experience available today.
The HDB-RX1 enables transmission of 4K / 60Hz / 4:4:4 video via a next-generation HDBaseT LAN with an HDCP 2.2-compliant HDMI output. Including built-in support for RS-232 and IR Control, the device carries POC (Power Over Cable) and IP Control for enhanced installation flexibility. Ready to wall mount or shelf mount, the HDB-RX1 makes installation of a high-definition entertainment system easier than ever.
---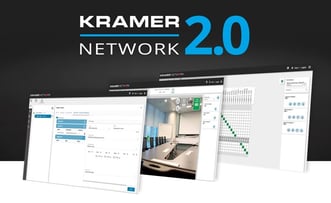 Kramer Network is an enterprise management platform that lets IT and AV professionals easily deploy, configure and manage an entire Pro AV installation from anywhere in the network, including Dante™ and 3rd party devices.
Take Pro AV management to the next level with Kramer Network V2.0! Learn More!
---

Milestone Makes the Switch to Legrand across the company
Milestone AV Technologies' brand identity has taken a back seat across all facilities, documents and online as signs and site logos are switched to Legrand.
Legrand is committed to serving the professionally installed AV industry by supporting and investing in the brands and product lines, sold principally under the Chief, Da-Lite, Middle Atlantic, Projecta, Sanus and Vaddio brands.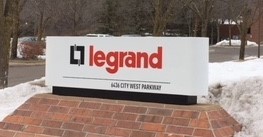 "By joining Legrand, we became part of a bigger company with opportunities for greater service to our customers and more growth for our employees," said Scott Gill, President – AV Division. "We're excited to display our new corporate identity on our building, materials and through our website."
This new identity also comes with a refreshed look for milestone.com. Customers will still have access to their favorite product brands as well as all the customer-friendly functions and features they've come to expect from the company! Chief, Da-Lite, Projecta and Sanus have fully integrated experience currently. The updated website will feature landing pages for Vaddio and Middle Atlantic until their experiences are integrated into the website. Vaddio will be fully integrated in the next few months while Middle Atlantic is planned for early 2019. The milestone URL will transition to a Legrand URL mid 2018 as well.
If you follow Milestone and Middle Atlantic online, be sure to update your social networks to get the latest from us at:
Twitter: @LegrandAVBrands – https://twitter.com/LegrandAVBrands
Facebook: Legrand AV Brands – https://www.facebook.com/LegrandAV/
LinkedIn: Legrand AV Brands – https://www.linkedin.com/company/28186909/
Legrand prides itself on innovation, customer-centricity, teamwork, integrity and empowerment. In North America, Legrand employs more than 3,600 people across 33 facilities. Globally, Legrand employs nearly 36,000 people. Net global sales in 2016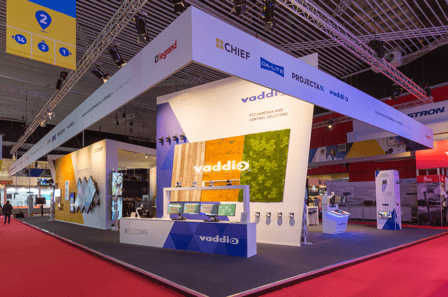 were more than $5 billion with many products leading their category.
Legrand and Milestone are recognized for solving customer challenges with innovative products and delivering exceptional customer experiences. By combining complementary AV brands, Legrand is able to provide more of the product solutions customers demand to complete their AV installations while leveraging the best practices of both entities to deliver continued innovation.
*New Legrand brand identity started rolling out in early 2018 at many shows. At InfoComm 2018, we're excited to announce that Middle Atlantic will also be part of the booth!
*One of the first integrated brochures with Middle Atlantic – the Spotlight Brochure, for the ISE Show 2018.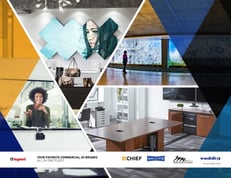 The AV brands of Legrand will continue to offer customers best-in-class products and services while developing new offerings. Legrand's world-wide resources, combined with Milestone's presence in key countries, will provide an expanded geographic footprint to service the increasingly global needs of AV customers.
Want to learn more about Legrand? Find out here.
---
Visit Luxul at InfoComm 2018, Just Add Power Booth N464
Luxul Revs Up Dealer Support With New Customer Assurance Program
New Initiative Provides Dealers With Certified Network Designs Backed by Guaranteed Performance
Luxul, the leading innovator of IP networking solutions for custom installation professionals, introduced today a new initiative to support its growing dealer base: The Luxul Customer Assurance Program, or CAP. With this new program, the company is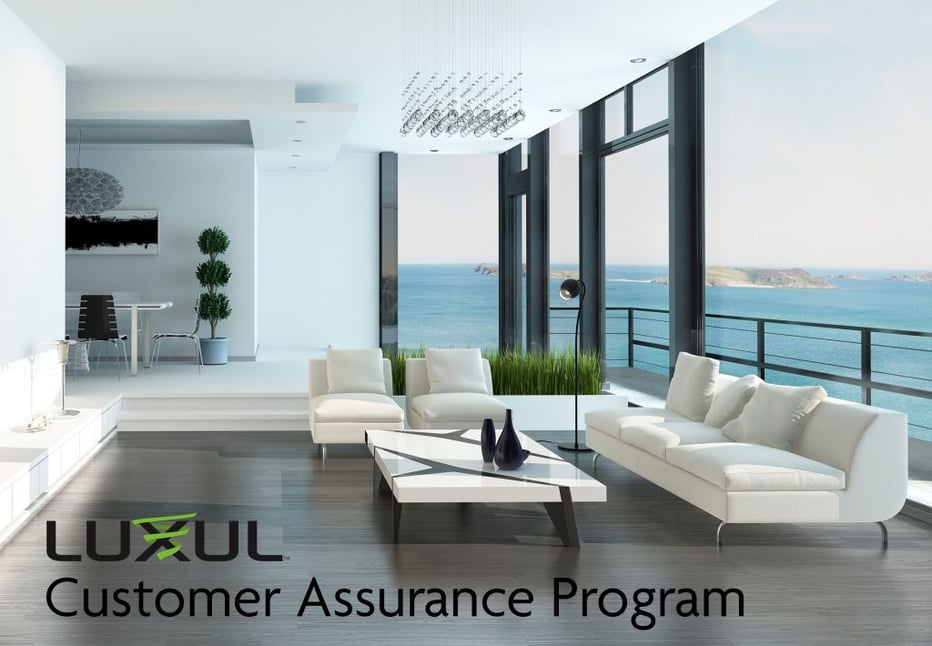 providing its dealers with certified wired and wireless network designs for residential and commercial applications — complete with tech support — that are guaranteed to meet their customers' reliability and performance requirements relating to Wi-Fi.
There's a new standard for network dependability, and that standard is only going to get higher. Today's integrators are faced with the challenge of installing systems that are expected to work quickly and reliably 100 percent of the time. What end users don't always realize is that there's a strong network running behind their system for connectivity purposes. The best networking equipment isn't the only thing necessary to meet customers' expectations — a reliable install can make or break a network. Luxul's Customer Assurance Program is designed to help ease this responsibility for integrators.
"Honestly, I can't wait to roll this out to our dealers," said Jason Brown, director of sales, Aim High Audio Distributing. "AV dealers have no shortage of manufacturers that are willing to help them lay out a system, design a video wall, or place a subwoofer, but the one thing all of those systems are going to ride on is a shoddy network. By and large, they are scared to admit what they don't know, and this could be the catalyst to change all of that."
To participate in the Customer Assurance Program, Luxul dealers simply register their projects at www.luxul.com/assurance, where they provide project details and requirements. Based on this input, Luxul engineers will deliver a complete custom network design, including both required and optional equipment along with educational pages meant to make end users aware of things like the importance of a solid network, what remote management and internet content management are and their importance, as well as what interference is and how it can be accounted for in a proper design. Dealers simply install the network based on the design, and complete it with a remote management platform like Domotz.
"With the dramatic increase in everyday connected world devices, our dealers' customers rely on, and expect, reliable networks," said Mike Grubb, vice president of marketing at Luxul. "Meeting this demand starts with the right design that specifies the right equipment. The Luxul Customer Assurance Program saves dealers time by creating this design for them, while allowing them to offer their customers the peace of mind of a guaranteed investment, at no additional cost to our dealers."
Luxul's advanced support team is available to dealers requiring assistance configuring their certified networks, while any product experiencing a failure will be promptly replaced. If the wired or wireless network doesn't perform as expected, Luxul will provide any additional equipment to meet customers' expectations at no additional cost.
"The foundation of every smart home or home entertainment system is a powerful and reliable network," said Matt Montgomery, co-founder of Tym Smart Homes & Home Theaters. "With Luxul's Customer Assurance Program, that foundation is guaranteed to be rock solid. Really, there's nothing for our clients to worry about except deciding on a movie to watch."
More information is available at www.luxul.com/assurance-program.aspx.
---
Monitor Audio Installation Amplifiers
Introducing the Monitor Audio Installation Amplifiers, built to do more and use less space, featuring cutting-edge technology for the best sound performance in any installation project, and backed by a 5 year warranty! The multi-channel amplifiers can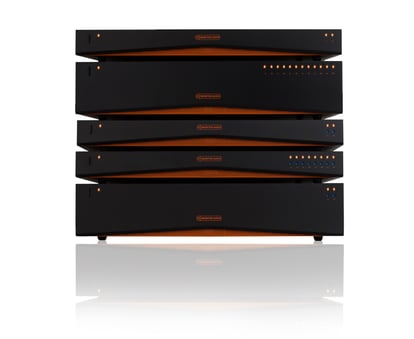 be used in a wide range of applications in residential and commercial properties with power up to 2000 watts. Audio channels can be grouped or bridged for flexible installations, configurable to 1,2,3,6,8 or 12 channels.
We have selected the world renowned Hypex amplifiers to guarantee reliability and the great sound quality you'd expect from Monitor Audio, reduced into slim 1U and 2U high cases that universally fit into most racks whilst delivering 93% energy efficiency. Auto ranging allows for use in any territory without the need for a separate power supply.
There are two types of amplifiers within the range:
Distribution Amplifiers – Full connectivity with simple wired voltage trigger or signal sense.
Connected 'Connect' Amplifiers – More complex DSP and IP control included, offering wider flexibility and integration. Using the 'Connect' IP interface, a web application which can be accessed by any device with a web browser, allows the installer to set features and fine tune audio performance remotely from the amplifier location. The installer can therefore be in the same room as the speakers when performing these tasks.
---

NEW from Penn Elcom – The RHF Hinged Wall Bracket
19 inch racking manufacturer Penn Elcom have recently launched their innovative new product, the RHF hinged wall bracket, which was exhibited for the first time at ISE in February. The device works by turning wall mount racks into hinged double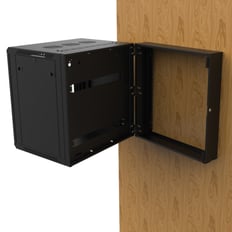 section wall mount cabinets, and is designed to be used with Penn Elcom wall mount racks.
With a width of only 152mm/ 5.98", the bracket is an unobtrusive fixture that can easily support the weight of a fully loaded rack, and enables it to securely swing away from the wall. This gives unrivalled accessibility to the rear of the rack, making it easier than ever to run cables, replace equipment parts, or keep up general maintenance of the wall mount racks contents. The bracket has been designed so that it is reversible, and can open on either the left or right hand side. Heavy duty hinges allow for the rack to be loaded up to 50kg/ 110lb. You're also to secure the rear of the rack with an in-built key lock system. Two keys are also included. The slam shut system also creates an easy open and close function. The bracket contains top and bottom 1U cable knockouts for easy and efficient cable management, as well as internal square hole rack rails.
The bracket is available for Penn Elcom 6U, 9U, 12U and 18U wall mount racks from the R6400 and R6600 series. These racks are delivered pre-assembled, and include user friendly features, including pre-welded threaded rack rails, removable side panels, three fan knockouts, and cable knockouts.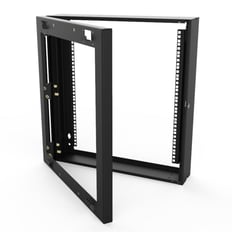 To enquire about the RHF Hinged Wall Bracket, contact Penn Elcom directly:
Phone: +44 (0) 1424 429 641
Email: onlineuk@penn-elcom.com
Webstore: www.pennelcomonline.com
---

Platinum Tools Flex Connector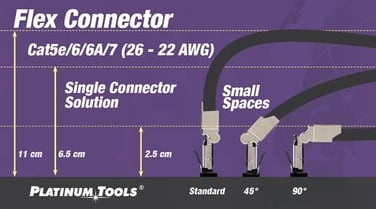 The Platinum Tools Flex Connector is the first bendable RJ45 connector, making network cable terminations easier than ever by providing a low cost solution with high performance and superior connectivity options. Connect and install devices nearly flush with the wall. No need for wall plates or jumpers. Cables can drop at 90 degrees down or 45 degrees up. The Flex Connector is rated for electronic safety and security applications: PoE+ rated, 1GHz, and 10-Gigabit certified for high data traffic.
Termination is easy. No need for crimp tools. Set it up, close it and go. Accommodates multiple category sizes (Cat5e/6/6A) up to 9.0mm with 24-22 AWG Conductors Factory pre-set contacts improve reliability. Meets cable standards: ISO 11801 Edition 2, EIA/TIA 568-C.2, TIA1096-A, BICSI/ANSI D005 & ANSI/TIA-862-A, and is compatible with solid and stranded conductors. www.platinumtools.com
---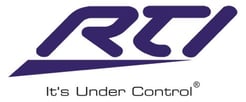 RTI Releases Complete Line of A/V Distribution Solutions
Comprehensive Lineup of Video Matrix Switches, Extenders, Scalers, and Audio Mixer Amplifiers Integrates Seamlessly With RTI Control Ecosystem
RTI, a leading control and automation manufacturer for residential and commercial settings, today announced that the company is now shipping an extensive line of A/V signal management solutions. Offering tight integration with the RTI control ecosystem, the video matrix switches, extenders, presentation scalers, and audio mixer amplifiers deliver a complete end-to-end solution for residential and commercial projects.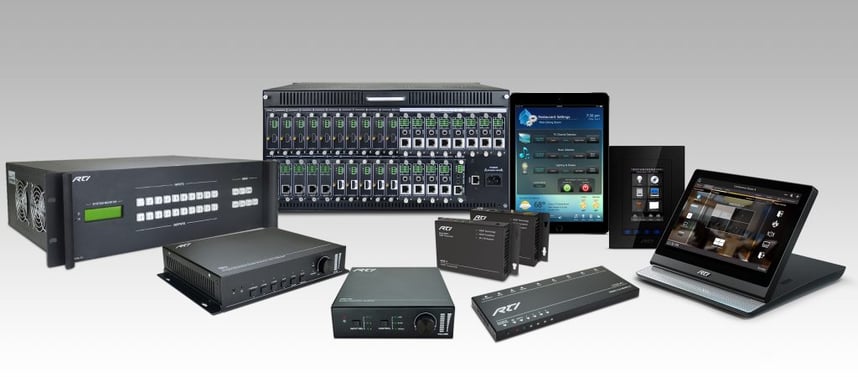 The comprehensive video distribution offering utilizes proven HDMI and HDBaseT technology to deliver reliable, high-quality 4K video throughout an installation. The VHD-4 and VHD-8 HDBaseT video matrix switchers extend video, IR, and RS-232 signals up to 230 feet over a single Cat 5e/6 cable. Also new to the lineup are the VHX-4 and VHX-8 HDMI® matrix switchers, featuring cross-point switching and HDMI 2.0 to deliver 4k video at 60MHz. In addition, a range of extenders, splitters, and wall plates is available to meet the unique needs of every installation.
To meet the A/V requirements of today's corporate, education, and retail environments, RTI now offers high-performance, modular matrix switchers and presentation scaler switchers. Delivering the ultimate in versatility, the VFX-124 and VFX-248 flexible-matrix switchers have the perfect blend of fixed outputs and open slots (12 and 24 respectively), each configurable as inputs or outputs depending on the application. To handle different signal types, a wide variety of input and output cards is available for HDMI, HDBaseT, VGA, audio, and more.
The VSS-51 Presentation Scaler Switcher Kit combines seamless switching with advanced scaling to provide excellent picture quality regardless of the source. Perfect for conference rooms, classrooms, and lecture halls, the unit accepts a variety of video input formats and includes a microphone input. The kit also includes the VSW-51R HDBaseT receiver for convenient delivery of video to an additional display.
"RTI control systems offer the customization, processing power, and integration options that are essential in commercial projects," said Mike Everett, Vice President of Global Sales at RTI. "The addition of our line signal management products expands the RTI ecosystem and gives our dealers a complete solution for tightly integrated control and A/V distribution."
More information about RTI is available at www.rticorp.com.
---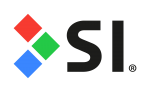 SI Gives Customers the Power to Choose with New Zero Edge Pro Screen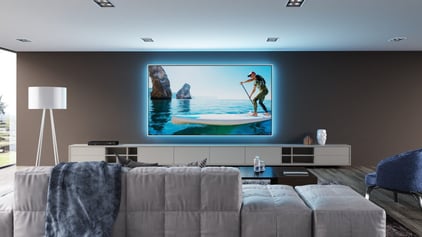 Screen Innovations (SI), has announced an update to its Zero Edge screen, the company's most popular model. Zero Edge Pro is a brand-new type of screen that gives customers the power to choose with options that fit their needs exactly. Thirty-six screens in one and three bezel options: Small (1/2-inch), Medium (1-1/2-inches), or Large (2-inches). The Medium and Large options are available in twelve designer-selected colors with an in-lay of hand-wrapped velvet or completely wrapped in velvet, made to order.
Zero Edge Pro is also available with SI's LED backlighting options, another original feature on Zero Edge screens. SI has added a new option for backlighting as well, including a new IP controlled solution that can be integrated and controlled seamlessly with Philips Hue Smart Lighting ecosystems.
---

SureCall Fusion5X 2.0™ with Max Power
New Performance Leading Signal Booster for Midsize Offices and Residences in Urban Areas
With +16 dB downlink power and built-in SureIQ™ Technology, SureCall's new Fusion5X 2.0 balances incoming signals and maximizes performance when the outdoor donor signal is strong.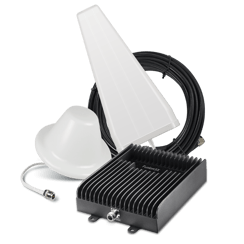 With the Fusion2Go 3.0 SureCall raised the level of performance for mobile cell phone signal boosters. Now, with Fusion5X 2.0 they are doing the same for large homes and office spaces in urban areas. We're pleased to announce the availability of the new Fusion5X 2.0 that amplifies voice, text and 4G LTE data signals for all North American carriers and can cover 2X the area when compared to the closest competitor.
Maximum Coverage Area: Fusion5X 2.0 delivers +16 dBm downlink power to cover more than twice the area as compared to the closest competing product.
Remote Monitoring: Fusion5X 2.0 is compatible with SureCall Sentry™ which allows users and installers to monitor the booster's performance, set up alert notifications via the app and adjust settings from anywhere, anytime. Sentry™ is also a great installation tool that helps optimize performance during setup.
24/7 Peak Performance: Auto-adjusting gain and SureIQ™ Technology work together to ensure 24/7 uptime at peak performance.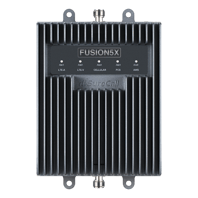 SureIQ™ Technology allows Fusion5X 2.0 to perform amidst the strongest uplink and downlink signals that often cause poorly designed boosters to shut-down prematurely. This innovative new technology was developed to correct this issue, which is a common frustration for mobile users located in urban settings. With SureIQ™ Technology, Fusion5X 2.0 is able to self-adjust and maximize performance in even the most difficult areas, including dense urban environments.
Multiple kitting options are available and offer the flexibility to customize installation inside any building. Fusion5X 2.0 includes industry best 3-year warranty and lifetime US-based tech support.
---

If your home is not already prewired with Ethernet cabling, adding it may be very timely and costly. With TRENDnet's new Powerline 200 AV PoE+ Adapters, a PoE connection can be made through your existing electrical power outlets. The TPL-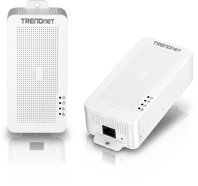 331EP and TPL-331EP2K deliver Powerline 200 networking and PoE+ support to connected devices such as IP cameras, wireless access points, and VoIP handsets.
TRENDnet's Powerline 200 AV PoE+ Adapter (TPL-331EP) creates a high-speed Powerline 200 network using your home's existing electrical system. It features a PoE+ output port to connect PoE devices such as IP cameras, wireless access points and VoIP handsets over a Powerline network. Two adapters are needed to start a network. No CD installation required—encrypted TRENDnet adapters auto-connect out of the box. Plug in the first adapter and network it to your existing router. Plug in other adapters on the same electrical system and they auto-connect to the first adapter for instant internet access.
TRENDnet's Powerline 200 AV PoE Adapter, model TPL-331EP, and the Powerline 200 AV PoE+ Adapter (2 Pack), model TPL-331EP2K are now available online on the TRENDnet Store, and nationwide via our distribution and retail partners.
---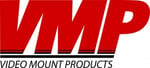 Video Mount Products ER-8RSA Eight Receiver Rack Shelf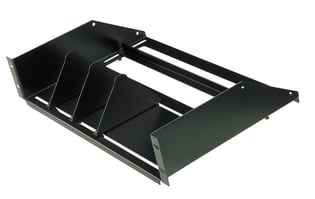 The Video Mount Products ER-8RSA (Patent # 7,850,022) is an economical and space saving solution that works perfectly in multi-receiver installs. It accommodates up to eight receivers and can be adjusted left to right and front to back to handle a wide variety of receiver brands and styles. It also comes with additional components, including front and top anti-roll bars and additional receiver separators. The rugged ER-8RSA has a load capacity of 50 lbs., includes 10-32 and 12-24 mounting screws, product dimensions (WxHxD) are 19in. x 4in. x 12.1in., and comes available in a black powder coat finish. www.videomount.com
---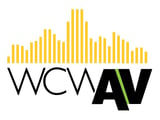 Windy City Wire offers a full line of top quality, low-voltage AV cables, connectivity products, accessories and tools. Combined with our patented cable management solution, AV integrators realize significant labor savings on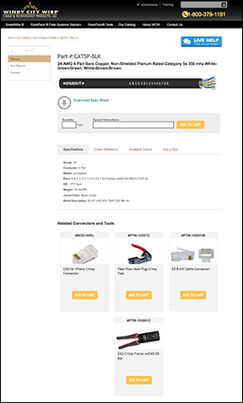 their projects while increasing efficiency and safety for their crews. To learn more, click here.
All of our SmartWire cables and transportation devices are Made in the USA. With our manufacturing facilities located at our Bolingbrook, IL headquarters we have exceptional quality control and can quickly manufacture custom cables to meet the required specifications for any project.
Users can easily access cable details, cross reference info, available colors, spec sheets and ­­associated connectors and tools via our website, www.smartwire.com. We've also developed a comprehensive mobile app that gives users unparalleled asset management for their entire team on each individual project. Download it today to get started.
With 17 locations nationwide and impressive stocking levels we're able to ensure fast delivery to get our customers what they need, when they need it. This is all backed up with exceptional customer service at every stage of your ordering process, thru delivery and beyond.
Windy City Wire is thrilled to join the D-Tools program and we look forward to assisting this user community with all of their AV cabling needs.
For additional information visit www.smartwire.com or contact
Bill Stang – Pro AV Sales Director | 630.633.4535 | bstang@smartwire.com
---