D-Tools MVP Manufacturer Partners realize the importance of bringing you their product information and have chosen to support the D-Tools user community by joining the program and making their product data directly available through D-Tools SI software. Read on for the latest manufacturer company news and product updates.
---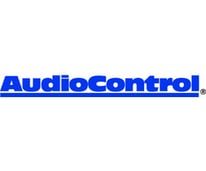 AudioControl Brings The Cinema Designer Services Along With Best-in-Class Theater Amplifiers to Premium A/V Dealers and Custom Integrators
AudioControl has joined The Cinema Designer (TCD) manufacturer database, enabling any authorized AudioControl home cinema installers, designers, dealers or distributors anywhere in the world to utilize the TCD tool in support of their theater designs. AudioControl dealers can now benefit from a powerful home theater design tool enabling them to quickly and easily generate standards-based drawings and documentation with performance projections that they can effectively present to clients or prospects
The Cinema Designer software helps integrators efficiently design standards-based home cinemas and media rooms using AudioControl's impressive array of theater processors and amplifiers.
How The Cinema Designer Benefits Dealers/Integrators
TCD is a CEDIA award-winning cloud-based tool that enables dealers to design a dedicated cinema or media room easily and efficiently. TCD allows users to create technically correct theater designs, support documents and aesthetic renders including a 3D CAD drawing. TCD is available to users all over the world and provides all relevant documentation for theatre design, including audio and video calibration reports.
AudioControl Products in TCD
The AudioControl models included in TCD's design tool are the Concert AVR-9 and AVR-7 receivers, the Maestro M9 and M5 processors as well as the Pantages G3, Savoy G3 and Bijou amplifiers.
"We are pleased to have joined TCD and bring additional support services and increased operational efficiency to our dealers and integrators worldwide," stated Chris Kane, Vice President Of Sales & Marketing at AudioControl.
Inquiries about TCD membership (www.thecinemadesigner.com) and/or available free training webinars should be directed to welcome@thecinemadesigner.com
---

Belden's FiberExpress (FX) Enterprise Closet X (ECX) Patch Panel system is an elegant, intuitive and flexible solution that has been designed to maximize installer flexibility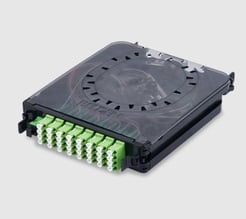 when compared to industry-leading solutions. FX ECX has been optimized for LAN environments, and provides an easy-to-deploy, efficient solution for installers.
FX ECX Splitter Cassettes are the new core components for the Belden FX Passive Optical LAN Solution. They fit in the FX ECX ecosystem and therefore are compatible with any FX ECX hardware (housings, adapters, etc). For more details, click here.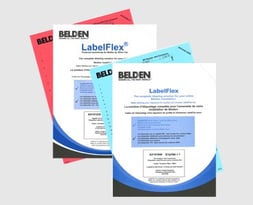 Belden LabelFlex solution is aimed at simplifying network management. Using the labeling system (software and label types), you can rapidly produce quality, application-specific labels for most Belden products in a fraction of the time needed for traditional methods. Main features include a full graphical browser, instruction videos, automatic Web updates, print full color backgrounds, copy/paste from other Windows applications and upgraded Label Workshop (with prefix and suffix on sequence tool). We also have new products that can be labeled with LabelFlex including REVConnect Patch Panels, FX ECX Housing, Fiber Patch Cords with fiber flag labels, new cable sizes (from 0.20 to 0.79 inch OD) using wrap around labels and Industrial cables with tie-on labels. Download the FREE software from the Belden website.
Stay current with industry trends! Sign up for notifications for our blog.
---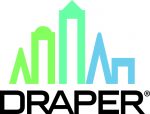 The Acrobat raises and lowers a wide range of products commonly used in large hotel ballrooms, convention centers, and on stages in gymnasiums, churches, and other venues. It can be ordered as a complete assembly or in select sub-assemblies to address unique job site requirements. Acrobat can lower projection screens up to 50 feet, eliminating the need for an extensive amount of black drop. The 1,500-pound lifting capacity allows Acrobat to easily handle other AV products, lights, backdrops, and more.
To learn more about Acrobat, including pricing and specifications, contact your Draper representative.
---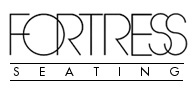 b o n v o y a g e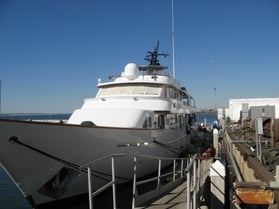 Westside On The High Seas
The key to creating exceptional seating for very specific spaces can be summed up in one word…customization. And when that seating is being installed in the grand salon of a 174′ yacht, where every inch is precious real estate, building within precise dimensions is the challenge.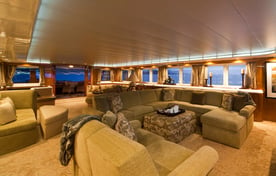 However, transforming any of Off Broadway Home Theater Seating models into a sectional for a dedicated theater, multi-purpose family room…or a yacht is a no-brainer for Fortress.
The entire seating line is completely customizable and can accommodate any size. This custom Westside sectional features motorized recline seating, fixed center seats, concealed cup holder in the sliding arm of the chaise lounge and reversible seat cushions. Built-in benches and ottoman provide extra storage for those long voyages.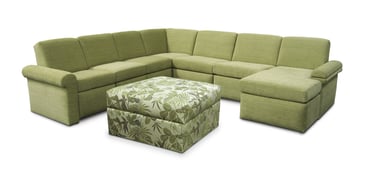 Luxury Seating ~ Custom Solutions ~ Made in the USA
---
SCL-2 In-Wall Loudspeakers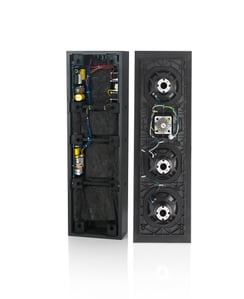 Part of the JBL Synthesis Custom Loudspeakers range, the SCL-2 offers the highest level of acoustic performance available from a flush-mount loudspeaker. The SCL-2 is designed with a 2.5-way, triple 8-inch (200mm) driver configuration for low-frequency extension with high output capability and powerful dynamics. A D2415K dual voice coil, dual 1.5-inch (38mm) annular ring diaphragm Teonex® compression driver with advanced HDI geometry horn works in conjunction with three powerful cast-frame, 8-inch (200mm) Advanced Aluminum Matrix cone woofers with low distortion motor structures.
The loudspeaker's 5.5-inch (140mm)-deep enclosure fits standard wall construction applications and features a Sonoglass™ precision molded baffle assembly with integrated HDI waveguide/horn, and a zero-bezel, magnetically-attached grille. The loudspeaker's enclosure can be oriented with the horn closer to the top or bottom, or on its side for center channel or reduced height applications. SCL-2 systems can be mixed and matched with other SCL speakers or any JBL Synthesis loudspeakers.
Designed to provide ultimate performance and the highest levels of dynamics from any in-wall loudspeaker, the SCL-2 can discreetly integrate into any environment and décor. They can also be installed in a traditional application behind acoustic fabric or woven/ perforated video screens without installing the grilles. They feature a discrete matte black baffle, HDI waveguide, and transducers, with a paintable white grille. The SCL-2 is the perfect solution for in-wall LCR or surround channel applications as part of a JBL Synthesis home theater system.
---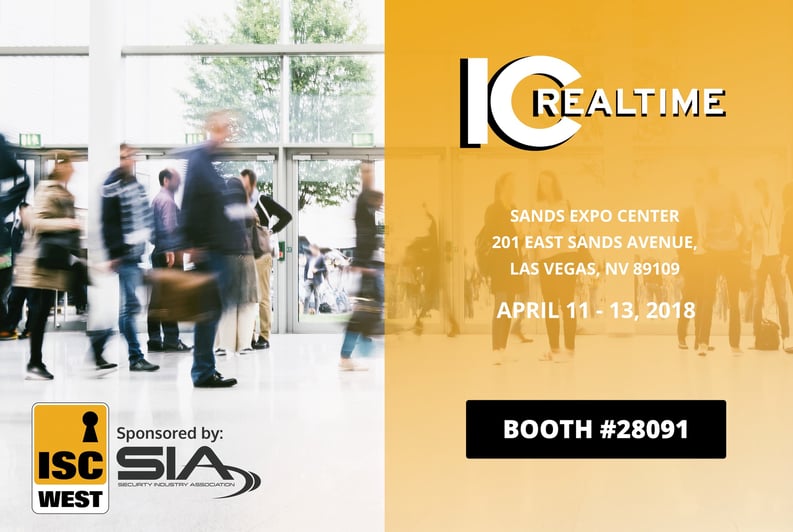 IC Realtime is coming to ISC West this April!
Stop by our booth to learn more about leading security solutions.
BOOTH #28091
To make an appointment contact Louis DiGioia @954-990-2951 or email louis@icrealtime.com
APRIL 10-13
SANDS EXPO CENTER
---

The MONSTER has Landed at D-Tools – Logipix 200 Megapixel Panorama Camera
Security integrators and consultants in the US and Canada can now offer the full line of premium Logipix high-megapixel IP cameras – including the class-leading Logipix 200 Megapixel 180-degree "Monster" Panorama camera. This platform is deal for wide-area public surveillance at airports, stadiums, manufacturing plants and safe city applications,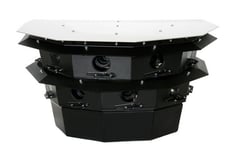 and delivers high-speed, 20 FPS frame rate footage at full resolution.
The specially-developed camera housing contains ten Logipix ONE 20 MP cameras. Combining 200 MP resolution with a high frame-rate video stream delivers revolutionary quality improvement in video surveillance. The panorama camera provides all the benefits of high-end large format sensors: high sensitivity, extra wide dynamic range and improved low-light performance.
Imageonix Technologies is the exclusive distributor for Logipix solutions in the US and Canada. For information on their reseller program, visit https://www.imageonix.com/rsp/ or call 804-571-1972 x700
---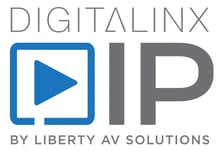 DigitaLinxIP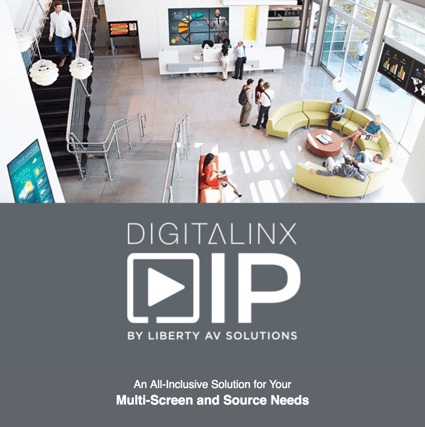 An All-Inclusive Solution for Your
Multi-Screen and Source Needs
Flexible and Scalable Distribution
DigitaLinx IP supports the video distribution needs of the multi-screen & source needs of digital signage schemes, restaurants and bars, entertainment complexes, places of worship or even in the man-cave or home theater. DigitaLinx IP offers the solution that is right for your needs.
The Most-Desired Features: 4K and 1080P, Affordable, low bandwidth consumption, video-wall capable, iPad Controllable drag and drop, or fully-compatible with 3rd party control systems (drivers available for Crestron, Control4, Elan, RTI and Savant), adjustable/ low-latency.
Designed for Ease-of-Use
Fully-Compatible with 3rd Party Control Systems,
Plus Drag & Drop Application
DRAG & DROP – Control is that easy!
DigitaLinx Control App for IPad / iOS / PC Provides complete matrix or video wall control:

Designed to Offer Simple System Control
Easy Drag & Drop App easily moves video to desired displays
Power On/Off Displays with CEC Control
Creates and Stores up to Three System Presets
Available for both DigitaLinx IP 2000 and DigitaLinx IP 5000 Series
Choose the DigitaLinx IP Solution that Meets Your Needs

DigitaLinxIP 5000 Series
4K Content Distribution – Commercial & Residential Applications
Distribution of 4K content is now easier than ever using a system of DigitaLinx IP 5001 / 5002 devices and a gigabit managed Ethernet switch. Create video matrices and video walls that are flexible and scalable without the need for a proprietary and fixed AV switch.
DigitaLinxIP 2000 Series
1080P AV over IP – Commercial & Residential Applications
The DigitaLinx IP 2000 Series is capable of transmitting video signal resolutions and individual system decoders can scale up to 1080p @ 60HZ. Utilizes H.264 compression, and greatly expands the number of potential inputs and outputs in the AV system.
---

LILIN Introduces Its Next Generation of Analog High-Definition Auto-Focus Surveillance Cameras
LILIN Americas today announced a major expansion of its surveillance camera family with three new AHD models featuring 1080p/1280H

resolution, a remote auto-focus 2.8-8mm lens, and long transmission distances, along with the convenience of three form factors — dome, bullet and turret – to fit a variety of applications in retail, SMB, C-Store and Commercial properties. The new remote auto focus AHD products provide a value-added offering with the high quality video found in LILIN's popular IP series with integration into leading automation platforms
"We have worked hard in identifying ways to improve the overall installation experience with our HD analog products. Simply mount and aim the camera type that best fits the application then adjust the FOV and fine tune the focus using AHD UTC communication from the DHD516 series and other compatible recorders" said Joe Cook, General Manager of LILIN Americas, Inc. "Our newest

AHD cameras allow installers to maintain the familiarity of analog video technology while enjoying the benefits of high-definition surveillance combined with simplified installation."
UTC or "Up The Coax" technology lets users remotely set up LILIN AHD cameras using compatible UTC recorders, reducing the time and eliminating the need for vari-focal adjustments at the camera. In addition, Infrared LED automatically activates for image capture in total darkness.
The three new cameras will be showcased at the upcoming ISC West Show in LILIN booth #32079, scheduled for April 10-13 in the Sands Expo &

Convention Center in Las Vegas, NV. The new AHD652AX2.8 is a small, unobtrusive turret-style dome camera designed for indoor/outdoor use, especially in low-light areas. The AHD662AX2.8 is a rugged outdoor dome camera with both an IK vandal-resistance protection, defogging and IP66 weather resistant rating in a wide temperature range of -40°F to 122°F. The AHD842AX2.8 is a fully-featured bullet camera for indoor and outdoor use.
For additional information about LILIN products, call 626-739-1850 or visit www.meritlilin.com.
---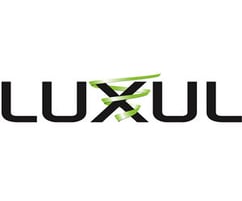 Luxul's Epic Series Wired and Wireless Routers Now Available With Built-in Router Limits Content Management Technology
New Functionality Allows Users to Easily Manage Their Internet Experience
Luxul, the leading innovator of IP networking solutions for AV integrators, today announced that the company's Epic Series of wired and wireless gigabit routers is now available with built-in Router Limits content management technology. Router Limits offers cloud-based parental controls for internet safety and puts users in complete control of every aspect of their internet experience, allowing them to choose which devices can access the web, what websites are OK, and the days and times the internet should be available. Router Limits users can also control mobile devices' access to the internet when they leave the home network.
Using an interface that can be accessed from anywhere, Router Limits makes it simple for users to set a schedule cutting off internet access during specific hours. Built-in "Categories" and "Popular Sites" also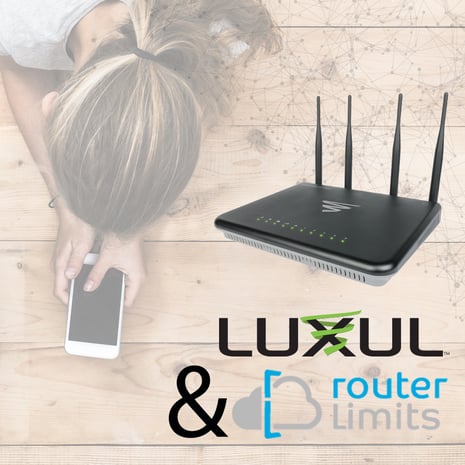 allow entire swaths of the web to be quickly declared off-limits; each category contains millions of websites and is constantly updated. Even popular mobile apps like Facebook or Instagram can be controlled. Rules for use can also be applied to individual devices or groups of devices — from smart TVs to smartphones and tablets. If there are any concerns about how or when the internet is being used, Router Limits keeps history in the cloud where it can't be hidden, manipulated, or deleted.
"Our Epic Series routers incorporate powerful technologies that make networks smarter and more reliable, while delivering a better customer experience," said Mike Grubb, vice president of marketing at Luxul. "We're glad to add Router Limits content management functionality, which provides robust, easy-to-access control for all users, whether it's parents scheduling internet time for their kids or employers managing network traffic. In addition to the Epic Series routers, we are building value with our XWR-1200 and XWR-3100 routers by adding Router Limits with a firmware update."
"Router Limits is a natural fit for Luxul's Epic Series routers, which incorporate a variety of on-board technologies to add value for integrators and end users alike," said Tyler Phillips, director of business development at Router Limits. "For Luxul's customers, this integration delivers the popular parental control features they have come to rely on via a simple, intuitive interface, while providing integrators with an opportunity to expand their business by offering recurring monthly revenue services. We're proud to team up with Luxul and look forward to continuing this valuable partnership."
Luxul's Epic Series includes the dual-band wireless AC3100 Epic 3, wired multi-WAN Epic 4, and wired dual-WAN Epic 5. In addition, Router Limits is available for the company's dual-band AC1200 XWR-1200 and AC3100 XWR-3100 wireless routers via a firmware update.
The Luxul Epic Series has recently been recognized with a TechHome® Mark of Excellence Award, presented by the Consumer Technology Association (CTA)™ at CES, for Networking Product of the Year. In addition, at the Integrated Systems Europe show, the Epic 3 Router received a CEPro Top New Technology (TNT) award in the residential home networking category.
---
The STUDIO speaker delivers exceptional audio performance from a striking, compact bookshelf design. With a sleek silhouette, unique design features and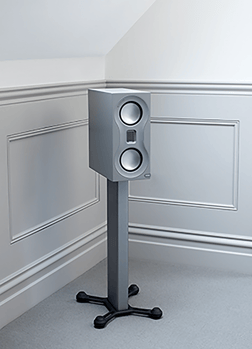 technology from Monitor Audio's flagship Platinum Series II, the new Studio sets a fresh audio benchmark.
STUDIO features a grille-less design, showing off two eye-catching 4" RDT II driver cones and an MPD Air Motion Ribbon transducer. The RDT II drivers have been modified to produce high performance bass, as well as mid-range detail. The MPD (Micro Pleated Diaphragm) has been designed to provide smooth, wide and natural high frequencies. The combination results in a sound that's more lifelike and musical, producing the harmonics of every note, without distortion that blurs definition.
The STUDIO is finished in a satin black, white or grey finish and can be placed on optional, dedicated STUDIO stands to ensure superlative performance.
The official North American debut of STUDIO will take place at the Montreal Audio Fest on March 23-25! Join us in the St. Laurent Room at the Bonaventure Hotel for a demo. Admission to the show is FREE!
We hope to see you there.
---

Platinum Tools Keystone Cat6A Jack
Tired of stabbing yourself in the hand with a punchdown tool? Standard keystone jacks are cumbersome to terminate, and if you're not careful, then a misaligned punchdown tool can cause personal injury or damage to property, such as walls or furniture. Even if the punchdown tool is used properly, prepping the cable and wiring up the keystone for punchdown on each individual conductor can take a long time. You also run the risk of losing your punchdown tool on a job, making it nearly impossible to continue punching down on standard keystone jacks.
Enter the Keystone Cat6A Jack.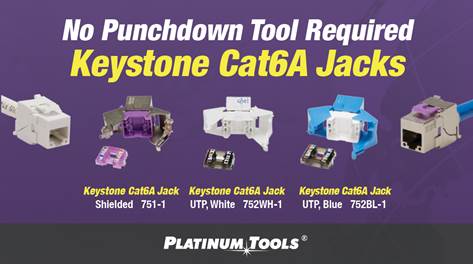 The Keystone Cat6A Jack is a reusable, tool-less keystone jack with a color-coded T568A/B wiring guide block to hold conductors in place for termination. This makes it easy to terminate and cheaper to use, since no punch down tool is required to terminate the jack. Since the jack is reusable, any wiring mistakes can be easily fixed without wasting a keystone jack, and inviting additional possibility of injury from a punchdown tool.
Designed to fit industry standard wall jacks and unloaded patch panels, the Keystone Cat6A Jack can easily replace any worn out or outdated keystone jacks and it can integrate into newer wiring projects with little difficulty. With the ease of use and its reusability, this makes the Keystone Cat6A Jack a great fit for both DIY-ers and professional cable installers. Cable installers will also appreciate the wide range of cables that can be used with this jack, as it works with solid or stranded conductors from 24 to 22 AWG.
The Keystone Cat6A Jack has 50µ gold contacts and meets Cat6A channel shielded and unshielded performance up to 100 meters. The jack also exceeds TIA/ EIA-568-C.2 standards and is RoHS compliant and UL listed. https://www.platinumtools.com/sections/news-and-events/keystone-cat6a-jack-tool-less/?utm_source=DTools&utm_content=KeystoneCat6A%20Jack
---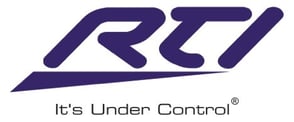 RTI Offers Seamless Integration With Z-Wave®-Enabled August Smart Lock Pro
The ZW-9 Z-Wave Interface Delivers Access Control on Any RTI Interface
RTI, a leading control and automation manufacturer for residential and commercial settings, today announced the seamless compatibility of its control systems with the August Smart Lock Pro from August Home. Utilizing RTI's ZW-9 Z-Wave® Interface Module, integrators can provide centralized access control for their customers throughout a home or building and remote access control using RTI's RTiPanel app.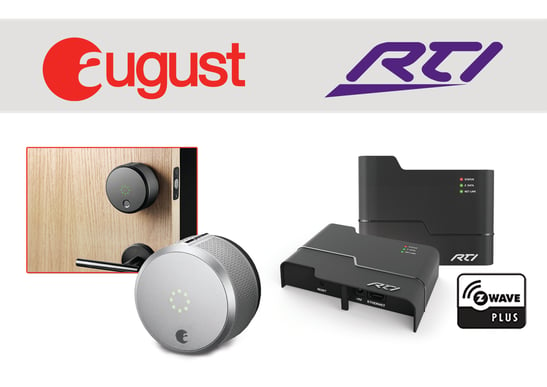 The ZW-9 uses the Z-Wave wireless protocol to provide the communication link between an RTI system and the August Smart Lock Pro. Combined with an RTI XP processor, this allows users to lock and unlock the deadbolt, as well as monitor the lock status and battery level, right on their RTI user interface — whether it be a handheld touchscreen controller, a tabletop touch panel, or remotely on a smart device.
"We continue to deliver seamless integration with more and more Z-Wave enabled devices, and we're proud to have the August Smart Lock Pro on our list of supported smart home products," said Mike Everett, vice president of global sales at RTI. "On top of its beautiful design, the August Smart Lock Pro is an excellent retrofit solution for access control and easily integrates with an RTI system."
"The August Smart Lock Pro leverages the architecture of the market-leading August Smart Lock for total control over the front door. With support for Z-Wave, the lock works seamlessly with security and home automation systems from RTI as part of a complete smart home solution," said Mike Buckingham, director, August Pro for August Home.
RTI also offers a variety of Z-Wave lighting control solutions including light switches, dimmers, a lamp module, and receptacles — with no new or specialized wiring required — that are perfect for retrofit applications. For instance, the innovative battery-operated Anyplace switch requires no wiring of any kind, offering incredibly flexible installation possibilities. With a classic, elegant design, the devices blend into any décor and easily scale to installations of nearly any size. Utilizing Z-Wave RF technology, these lighting-control solutions create a wireless network that seamlessly integrates with RTI's home and commercial automation systems via the ZW-9 Z-Wave interface.
More information about RTI is available at www.rticorp.com.
---

SnapAV Acquires Allnet to Better Serve Midwest Dealers
SnapAV products will be available at Allnet distribution locations soon
In an effort to better serve custom integrators in the Midwest, SnapAV has acquired Allnet, a leading regional distributor. Allnet currently maintains four branch locations – Chicago, Detroit, Indianapolis, and Minneapolis, and offers a portfolio of successful brands backed by expert service.
This acquisition allows SnapAV dealers to purchase products at Allnet locations, while Allnet dealers now receive exclusive access to the full SnapAV product catalog.

"This past year, we looked for ways improve our service in the Midwest," said John Heyman, SnapAV CEO. "This acquisition offers dealers in the region faster shipping times and the option for local pickup – which will help them grow their business."
Both SnapAV and Allnet are both well known in the industry for a dealer-first approach and strong commitment to service.
"When you look at the culture of our two companies, this deal just makes sense," said Wally Whinna, President of Allnet. "We always strive to put dealers' needs first, and we're grateful to have a partner that shares those values."
Allnet will retain its name, branch locations, team, and policies moving forward. Both Allnet President Wally Whinna and Vice President of Sales Bill Zidek will remain in their current roles, with Whinna running all Allnet locations.
SnapAV products will be available at Allnet distribution locations in the coming weeks. For now, dealers will continue to order where they so choose, through either Allnet or SnapAV, and all services and support will remain the same.
Continued Heyman, "We're excited to bring the experience and expertise of the Allnet team to SnapAV. By expanding our services in the Midwest region, we've echoed our rallying cry – 'making dealers' lives easier.'"
Both SnapAV and Allnet dealers will receive communication in the coming weeks regarding further details.
---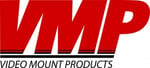 Video Mount Products ERWEN-12E750
The Video Mount Products ERWEN-12E750 19-inch wall rack enclosure is now shipping. With an MSRP of $479.00, the ERWEN-12E750 is a deeper version of VMP's popular ERWEN-12E wall cabinet, now with 24 inches of usable depth.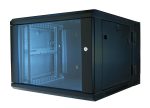 "This is a workhorse of a wall mounted rack enclosure with the added depth you need for installing today's deeper components," said Keith Fulmer, president of VMP. "With adjustable 4-post rails, a removable hinged wall plate, reversible tempered glass front door, and optional fans for enhanced thermal management, the ERWEN-12E750 has all the features today's professional installers are looking for."
Additional features of the ERWEN-12E750 19-inch wall rack enclosure include welded steel construction; ships fully assembled; Overall Dimensions – 25.3 in. H x 24.3 in. W x 29.625 in. D; Usable Depth – 24 inches; Works with all standard 19-in. rack equipment and accessories; Rails have numbered spaces with standard 10-32 threading; Adjustable front and rear rails; Vented top and bottom; Top and bottom cable routing knockouts; Reversible hinged tempered glass front door; Removable hinged back panel; Removable locking side panels; Stabilizing hasp; Load capacity – 120 lbs.; Black powder coat finish. For more information, please visit www.videomount.com or call toll free 877-281-2169. If you need help choosing the right mount for your application, try the VideoMount™-Finder at www.chooseamount.com.
---