D-Tools MVP Manufacturer Partners realize the importance of bringing you their product information and have chosen to support the D-Tools user community by joining the program and making their product data directly available through D-Tools SI software. Read on for the latest manufacturer company news and product updates.
---

ATEN Introduces 4K Dual-View Thunderbolt™ 2 Sharing Device in North America
The ATEN US7220 redefines the sharing station with a stylish and intuitive design, transforming your computers into feature-rich, state-of-the-art workstations with full KVM functionality. As a dual-computer sharing station, it allows users to effortlessly share hardware resources and digital media at blazing speeds with two Thunderbolt 2-enabled laptops/computers, as well as seamlessly switch between PCs at the push of a button. The US7220 is designed for multitasking, with instant switching, dual 4K display support and multiple device connections, making it ideal for personal studios and multimedia editing.
The ATEN US7220 features:
Flexible, Forward-thinking Solution: ATEN's US7220 leverages state-of-the-art technology, allowing users to keep pace with the ever-increasing high-performance demands of today's digital media work environments.
Blazing-Fast Data Transfer Speeds: With support for data transfer at speeds of up to 20 Gbps (four times faster than USB 3.0), the ATEN US7220 Thunderbolt 2 Sharing Switch provides next-generation versatility at blazing fast bandwidth, delivering faster-than-ever access to digital media storage, high-speed file transfers, and simultaneous dual-view 4K video output.
Astonishing Dual 4K Displays Experience: The ATEN Thunderbolt 2 Sharing Switch's dual-view display functionality immerses users in the precise colors and fine details of 4K video. The device natively supports two 4K displays – one HDMI and one Thunderbolt – meaning you can simultaneously enjoy astounding video quality at ultra-high resolutions for anything that demands high-definition visuals, whether you are watching videos, editing digital media, playing games, or designing graphics.
All Your Devices Connected in One Digital Hub: In addition to the two 4K displays, two Thunderbolt-enabled computers can directly share up to 11 devices and peripherals via the US7220, while up to five additional devices can be daisy-chained from a single Thunderbolt port.
Featured Product: http://www.aten.com/us/en/product-landing-page/us7220/
---

Attero Tech Now Shipping unDX2IO+ and unDIO2X2+ product Upgrades
Attero Tech is debuting the latest iterations of their two most popular networked audio endpoint solutions this month, the unDX2IO+ and the unDIO2x2+. The unDX2IO+ is a 4×2 Dante wall plate that supports 2 XLR inputs and outputs, with an additional 2 balanced, line level inputs available via terminal block connectors on the side of the unit. New additions to the unDX2IO+ include a smaller form factor, allowing it to be located unobtrusively near analog sources or sinks, software controlled analog output gain, and improved input and output signal level handling to accommodate all types of line input audio equipment – from consumer to pro levels. These Dante wall plates make microphone audio easily accessible for presentation systems in meeting spaces, classrooms, theaters and hospitality venues.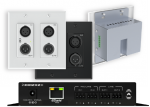 The unDIO2x2+ is a 2×2 networked audio interface that makes it simple to add up to two channels (in and out) of Dante audio to any Dante-based network. The unDIO2x2+'s small form factor and PoE power capability make it easy to put Dante connectivity wherever it's needed – near the audio source or sink thereby eliminating costly and interference prone analog wiring. The unDIO2x2+ is an upgrade of the earlier unDIO2x2, and adds several features including true +48V phantom power, maximum input and output levels of +20dBu, added input gain settings, and SW controlled output volume. Applications include adding microphones or other audio sources to Dante-based audio systems where analog cabling would be expensive or is not available back to a central rack for multi-point network audio distribution.
These two products are now shipping worldwide. Please contact your local pro-audio dealer for pricing and shipping information.
---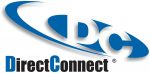 One of the most popular products offered by DirectConnect® is conduit. While it seems like a basic installation tool, DirectConnect® has used its history of innovation and installer-centric design to help our customers reduce waste and save money while using high quality products.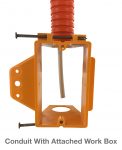 Rolls of our flexible conduit come in 250' for the 1" and 1.5" diameters and 150' for the 2" diameter. Each roll ships with a pull string for easy wire installation and end caps for increased protection from the elements. Additionally, the conduit coupler mirrors those sizes and allows cut ends of conduit to be joined together with a tight seal that doesn't create an obstruction to pulling and reduces waste. No need to throw away cut lengths that don't quite reach their destination. Just pop a coupler on the end and keep installing the conduit! Extra end caps are also available to seal the ends of any cut and coupled conduit pieces. With our conduit system of products, you'll be able to customize a run of conduit for any type of install.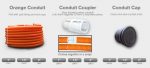 For more information on these or any of DirectConnect®'s outstanding product line, please visit our website: www.DirectConnectHome.com or call 1-800-531-3224.
---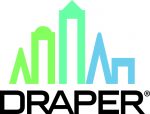 InfoComm was a time of big reveals as Draper unveiled a new look and logo that better reflects our developing focus on innovative solutions, and introduced several new products. Two in particular were big hits. Our ambient light rejecting viewing surface, TecVision CH1200X ALR, won two Best of InfoComm Awards: Sound & Vision Magazine and AV Technology both found CH1200X ALR's ability to reject 80% of ambient light worthy of recognition. Our new battery-powered shade was also honored. The FlexShade Recharge received a Best award from Commercial Integrator Magazine. The Recharge offers a quiet, wire-free alternative for motorized shades up to 12' x 12', and booth visitors loved the idea.
If you didn't make it to InfoComm, you'll have the chance to see TecVision CH1200X ALR and the FlexShade Recharge in our booth at CEDIA in early September. Meanwhile, you can find them on our website, draperinc.com.
---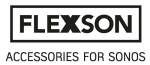 Stands, Mounts, and Accessories for SONOS PLAY: 1
Whether you want your SONOS PLAY:1 speakers on your desk, side table, wall, ceiling, or on a stand, Flexson accessories make it a reality. With stylish, durable stands, versatile wall and ceiling mounts, and a selection of helpful extension cables, Flexson's products are precision-engineered for ease of use, and a simple, quick installation.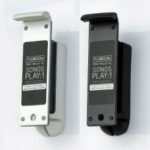 Wall Mount:
-Unique tilting mechanism – plus left or right swivel
-Can be fitted to the ceiling
-Available in single and pairs, black or white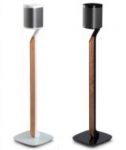 Premium Floorstand:
-Put your SONOS PLAY:1 at the ideal listening height
-Beautiful hardwood, metal and glass design
-Clever cable management
Adjustable Floorstand:
Height adjustable from 25" – 44"
Minimises vibrations
Metal, with chrome inlay
Deskstand:
Angles sound to your ears
Minimises vibrations
Metal, with chrome inlay
Black or white finishes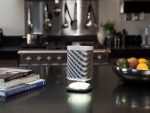 Illuminated Deskstand:
Illumination and device charging
Soft, dimmable glow, with touch-sensitive control
Two power outlets to charge USB-powered devices
Available in black or white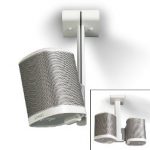 Ceiling Mount:
Holds a single PLAY:1 speaker 30cm below ceiling
Tilt 15° down, swivels 40° right, 40° left
Cable routing to ceiling
Available in single or pair configuration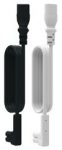 Cables:
Increases length of P1 cable to 2.9m/9.5ft (1m cable) or 4.9m/16.2ft (3m cable)
For use with Flexson floorstands and/or wall mounts
Available in black or white
---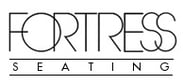 Luxury Is in the Details
If you've ever hunted for a new home, you know the difference between a tract and custom home. It's all about details: the step-up fixtures and fittings, bespoke tile, or tailor-made kitchen cabinets. Likewise, at FORTRESS Seating, every chair is created with that same attention to detail.
"We think of every chair with the idea that it is completely custom and individual to the person ordering it," says Shanon Wolper of FORTRESS Seating. "By approaching our designs this way we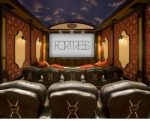 create seating options that are truly special."
In this short guide we'll take you through several options for making your seating just right for your theater, media room, or living space.
Design Details
When you look at FORTRESS models, such as our Guild design, 'cookie cutter' is hardly the phrase that comes to mind. That's because this model is adorned with fringe, tufting, gilded nail heads, luxurious fabric and cup holders that are powder coated to match. (For more on choosing fabrics for your seating, contact us at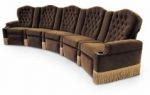 Fortress.) An extremely popular design accessory are pocket arms that create either a sofa with the arms up or individual seats with the arms down. Whether the arm is up or down the seating looks like a sofa with a continuous back cushion. Dress Elements like nail heads, embroidered logos, piping, contrasting stitching, diamond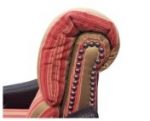 stitching, fringe, tufting and custom wood feet, are just a few ways to enhance your unique design.
Make Room for Storage
Let's face it, in most home theaters and media rooms, there isn't a lot of room for storage. Likely any usable space in a high-tech room will be gobbled up by equipment racks, sound treatments, and speakers. That's why we give our customers options for storage within the seating itself. From armrest to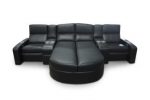 ottoman, hinged opening or sliding drawers, there are plenty of ways to create space in your room. Featured here is the Manhattan Chaise with storage for blankets, pillows, or anything you need to stow.
Tray Tables Add Convenience
Having a flat surface in your theater is handy, especially when snacks, or even laptops, are involved. That's why you need a tray table, which can easily be added to FORTRESS Seating models. We have options like illuminated inset table tops, a removable tray that fits into your cup holder or our 1st Class Motorized Tray Table that is concealed within the cavity of the arm. When not in use, it stays out of sight.
Classic, rustic, modern, ornate, or simple, FORTRESS Seating will work with you to design the seat of your dreams whether it's right out of our catalog or right out of your head.
---

IC Realtime has been the #1 choice in IP SURVEILLANCE products for 6 CONSECUTIVE YEARS amongst the CEPRO 100 dealer network!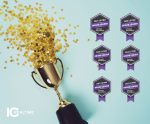 ---

On-Q: RFLC Voice Activated Control and AOC HDMI Cables
Legrand AOC HDMI Cables:
Reliably support 4K UltraHD in long runs with Legrand's AOC HDMI Fiber Cables.
The new 18Gbps Active Optical (AOC) HDMI Fiber Cables from Legrand reliably distribute high-definition HDMI signals up to 75 meters.
While other HDMI fiber cables require USB power, Legrand's AOC HDMI Cables are powered solely by the source equipment, making them easier to install without an external power adapter. The cables are constructed with plastic optical fiber, providing a better bend radius for flexible installation in tight spaces.
The features include:
Tested to Deliver 18.6Gbps bandwidth up to 75 meters with no signal loss
CMP Plenum rated for in-wall use in commercial and residential installations
Color-coded cable ends prevent installation errors
Enhanced retention grip on the HDMI connector ensures secure connection points
Available in 10, 20, 50, and 75 meters
Control your home lighting without lifting a finger!
radiant® RF Lighting Control and adorne® Wi-Fi Ready Lighting Control by Legrand now work with the Google Home and Amazon Alexa! This allows voice control of switching and dimming lights using Alexa or Google Assistant – simply tell it which devices you'd like to control. You can say things like, "Alexa, dim the family room light to 50%" or "Ok Google, turn off the bedroom light" without searching for your phone or reaching for a switch.
Integration with the Google Assistant and Amazon Alexa is powered by Samsung ARTIK™ Cloud. To enable voice control, customers must have an LC7001 Whole House Lighting Controller with an integrated Samsung ARTIK™ Cloud account.
Nuvo offers Enhanced Network Monitoring, Remote Device Management, and Streamlined Support.
Nuvo recently announced the release of innovative remote management of Player Portfolio installations using Domotz PRO. Designed for professional integrators, this network management software simplifies installations and allows for remote monitoring and tech support of Nuvo devices directly from the Domotz PRO app or web dashboard.
The remote management features for Nuvo devices include:
Fast and efficient remote troubleshooting with Manufacturer Support
Automatic device discovery with model number and software version
Remote monitoring of Nuvo Player Portfolio zone status
Remote power management and device reboot
Networking status and connection history
Alerts for network status, device offline, and when new devices are found
The new Domotz PRO Manufacturer Support feature allows installers to share access to their customer networks with Nuvo tech support for real-time, collaborative troubleshooting. Creating this direct line of communication between integrator and manufacturer, Domotz enables live support, saving installers time and money.
The Home Theater Sound Bar for Music Enthusiasts
Merging the exceptional audio quality of Nuvo with dynamic home theater technology, the P500 Player Portfolio Sound Bar delivers a cinematic experience that true audiophiles will love. With a powerful 2.1 system, complete with an 8" wireless subwoofer, the Sound Bar boosts listening experiences, playing movie, TV, or game audio in brilliant clarity. Better yet, the P500 is a single-zone Player Portfolio amplifier, granting access to networked music collections and endless streaming services. With convenient control options and simple setup, the Sound Bar delivers an immersive audio experience to complete any home theater.
The P500 features include:
All-in-one single-zone Player Portfolio amplifier and home theater Sound Bar
Powerful 2.1 system comes complete with an 8" wireless subwoofer
Easily controlled with included IR remote, optional in-wall keypads, Nuvo Player App, or the capacitive touch controls on the Sound Bar
Customized listening modes for music, movie, voice, and night
Third-party integration with control partners such as Crestron, Control4, RTI, URC, and more
Ethernet or Wireless 802.11 a,b,g,n, 2.4GHz or 5GHz
TOSLINK and analog line input
Mounting bracket included
Dynamic audio is always in season with Nuvo Outdoor Speakers.
Enhance exterior living spaces with the powerful audio of Nuvo. The Series Two and Series Six Outdoor Speakers are designed with high-quality components that deliver clean, immersive sound to outdoor areas. Offering a sleek enclosure with modern form and minimal size, Nuvo Outdoor Speakers tastefully blend with the style of any home.
Designed for easy installation, the speaker safely rests on the bracket with mounting knobs loosely installed to allow flexibility while wiring the removable phoenix connector. After the terminal has been secured, simply adjust the angle, tighten knobs, install covers, and mounting is complete.
Features:
8 ohm rated
Aluminum powder coated grill
Aluminum speaker bracket
IP65 rated for outdoor use and MIL-STD-810 for UV, salt spray, and temperature extremes
Lifetime Warranty
Available in white and black
---

Lowell Custom-Print Rack Panels Promote Greater Brand Visibility for Integrated Systems Professionals
— Add your logo, contact information, rack identification, or customized instructions to blank panels, punched panels, or panels with power —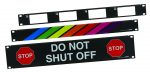 Lowell Manufacturing Company, a U.S. manufacturer celebrating its 70th year developing AV products for professional systems integration, offers in-house capabilities for custom-print, four-color rack panels, which can aid customers with brand visibility or end-users with important reminders about rack-mounted equipment.
A corporate logo with contact information can be added to a variety of rackmount panels to remind end-users who to call when they need assistance or a system upgrade. Additional information—such as a rack identification number or special instructions regarding mounted equipment—can also be prominently displayed.
"A custom-print panel adds a professional touch to the whole installation, while ensuring important information about rack-mounted equipment is clearly visible," said Kathy Lane, marketing communications manager.
Custom rack panels can be ordered in small quantities—as few as 12 blank panels or six panels with power outlets—and Lowell's in-house graphic team can assist with overall panel layout and design.
More information can be found online at www.lowellmfg.com.
---
Epic Series from Luxul—More Than Just a Router
Epic Routers Help Commercial Integrators Deliver Superior Services and Build Recurring Revenue
The router is a critical piece of every network. With the release of its new Epic series, Luxul has redefined the router, adding capabilities that make it far more than just a traditional router.
In addition to being high-performing commercial-grade routers, the Epic series offers a platform for optimizing the user experience in retail establishments, restaurants, offices and more. This experience is delivered through Luxul and third-party applications running on the Epic platform, the first of which is enhanced content filtering from Router Limits. Additional applications, including Domotz remote network management and support tools are planned for future development. These advanced features can be implemented at the integrator's discretion, making Epic routers an outstanding platform for delivering world-class support and services to their customers. The applications also offer the perfect base upon which to build recurring revenue.
Epic routers are available in two basic configurations: The Epic 4 Series and the Epic 5 Series. While the Epic 4 released earlier this year is designed to offer a solid 600+ Mbps WAN to LAN performance, the new Epic 5 supports gigabit WAN to LAN (900+ Mbps) speeds for those customers with access to gigabit service. The Epic 5 also features Dual-WAN capability with load-balancing and failover control, advanced security and remote access features, and a console port for local configuration.
Epic 5 routers are now shipping, while Epic 4 models were available from authorized distributors in March.
Check out the Luxul site to learn more about the Epic series.
---

Road Show Starts a New Journey for 2017
The Milestone Road Show is hitting the pavement once again to bring the latest solutions form Chief, Da-Lite and Vaddio directly to customers around the country. Last year, the road show covered the South and North East. This year, Milestone is focusing on the Midwest and West.
Many solutions on this mobile tradeshow debuted at InfoComm in Orlando. Chief has new storage, digital signage and staging and rental solutions. Vaddio is bringing the new AV Bridge MatrixMIX Multimedia Switcher, OneLINK Bridge AV Interface and PTZ cameras that bridge AV to PC. Da-Lite will have the Fast-Fold NXT, Parallax, and FullVision on hand.
Prizes, refreshments and more will be provided. Follow the show at www.theavroadshow.com.
---

iPort's iPad Surface Mount and Hardwire Networking Solution: Hands Down the Best Option for Dedicating iPad for Touch Control.
With the widespread popularity of iPad, many are transforming iPad into a dedicated touch controller for home automation. But with many options out there for mounting and charging, which one do we recommend?
Enter iPort's Surface Mount, which is the most elegantly way to integrate iPad onto any Surface. The system ships with a precision-machined aluminum bezel and PoE Electronics kit. The bezel is offered in three different finishes: black, silver and white. And, for the first time ever you can hardwire iPad to a network and turn off Wi-Fi with iPort's PoE Splitter, data Cable, and Apple's Ethernet adapters! The hard-wire solution is a game changer if an installation presents a challenge to use Wi-Fi to network with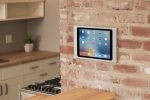 iPad or if you're just more partial to the reliability of wiring devices to a network.
Surface Mount also allows for all of the iPad's features to be accessible like Speakers and Microphone for intercom or door-answering applications. The product even contains a security locking feature to keep the iPad locked on the wall, which is ideal for those office or commercial installs. Learn more about Surface Mount at iportproducts.com/surfacemount and for details on what you need to hard-wire the iPad to a network visit iportproducts.com/ipadethernet.

---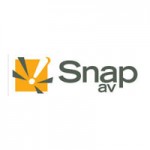 SnapAV Announces Exclusive Launch of New BenQ 4K LED Projector
Will be first distributor in North American channel to sell BenQ's new HT9050
In a move that signals BenQ's serious commitment to the custom integration channel, their North American headquarters has announced that SnapAV will be the first exclusive distributor of their new 4K LED projector, the HT9050, when it's released later this summer.
"Personally, I'm happy that we're able to launch this projector to our dealers first," says Andras Balassy, Product Manager of Distributed Products. "Nobody else in the U.S. has anything like it. From a feature standpoint, the 9050's brighter than conventional LED projectors, it's got a revolutionary HLD LED engine and a better color spec—I think our dealers will love it!"
In the last few years, BenQ has steadily grown their presence in the home cinema projection space. The HT9050 represents years of intensive research and innovation. Driven by a cutting-edge Phillips ColorSpark™ engine, and operating at 2,200 Lumens, it's not only brighter than conventional LED models, but also has a higher standard of color accuracy due to its DCI-P3 spec and Digital Light Processing (DLP)® technology. Plus, it offers 4K UHD with 8.3 million pixels on the screen for added image quality enhancements.
BenQ's Director of North American Sales, Russell Barefield, says his company could not be happier with the SnapAV partnership. "Everyone's thrilled about how well things are going with Snap. We've seen firsthand that their integrators love them for a reason, because they provide a tremendous amount of service and support. I'm happy to further our continued cooperation through this exclusive product launch, and excited to see what else is around the corner for our partnership."
Integrators can learn more about the HT9050 on SnapAV's website.
---

SunBriteTV Announces 1,000-NIT, 32" Full-Sun Pro Series Model
SunBriteTV's newest Pro Series model is designed for permanent outdoor installation in environments where readability in direct sunlight is a top priority. Additionally, EST Technology guards against isotropic blackout and an ultra-bright 1,000-NIT panel offers unparalleled readability in any lighting.
"The SunBriteTV Pro Series has always been a rugged, go-to solution for commercial installations in exposed outdoor areas," said Jonathan Johnson, General Manager, SunBriteTV. "The new 32" Pro Series model is especially equipped for durability with its ruggedized, tempered glass shield to protect the LED screen and watertight cable entry systems."
The new 1,000 NIT, 32" Pro Series model is the brightest display available in the SunBriteTV Pro Series. Other screens in the series range from 43" to 85" and 700-800 NIT. All Pro Series displays are equipped with a powder-coated aluminum exterior to protect against rust and prevent inclement weather conditions, including rain, snow, dust, salt corrosion and insects, from affecting internal electronics. The Pro Series is also guaranteed to perform in temperatures from -40 degrees F up to 122 degrees F.
"We know our Pro Series customers need a display so reliable that they never have to worry about performance," says Johnson. "With the new brighter screen and smaller display, SunBriteTV is really working to make sure that there is a display for every installation."
Built-in RS232 serial control provides for user-friendly operation, and two HDMI inputs allow connectivity with a variety of devices. The new 32" Pro Series is available now in black, silver, and white color options. Also available in both landscape and portrait orientations, with optional multi-touch touchscreen capability.
---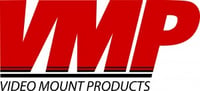 Video Mount Products ERWEN-6E Wall Mounted Rack Enclosure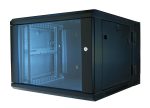 Beautiful and strong, the ERWEN-6E is a workhorse of a wall mounted rack enclosure. With adjustable four post rails, a 120 lb. load capacity, black powder coat finish, ships fully assembled, a removable hinged wall plate and a reversible tempered glass front door, the ERWEN-6E has all the features installers are looking for. www.videomount.com. MSRP: $339.00