D-Tools MVP Manufacturer Partners realize the importance of bringing you their product information and have chosen to support the D-Tools user community by joining the program and making their product data directly available through D-Tools SI software. Read on for the latest manufacturer company news and product updates.
---

ATEN Introduces the Latest Addition to its Modular Matrix Switch Series and New 4K HDMI Over IP Extender at InfoComm 2017
Discover Visual Excellence in 4K with Integrated Multimedia Distribution & Control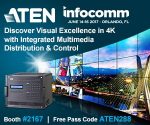 ATEN will introduce its VM3200 32×32 Modular Matrix Switch and VE8950 4K HDMI Over IP Extender at booth #2167 at InfoComm 2017, June 14-16 in Orlando, Florida. Key highlights at the ATEN booth will include live demonstrations of the VM3200, featuring its Red Dot Award-winning user interface and revolutionary Seamless Switch™ technology. The VM3200 provides real-time control and switching between 32 video sources and 32 video displays and is expandable, accommodating a lineup of hot-swappable I/O boards. Features include:
Built-in Scaler: Unify various video input signals and render optimum output resolutions on displays without delays or signal loss for uncompromised precision.
Seamless Switch™ Technology: Control and change content in real time with instant video switching to deliver full HD video powered by an exclusive seamless engine implemented at each output port.
Hot-pluggable I/O Boards and device parts: Allows video sources of any interface type to be routed independently to target displays of any interface, making it easy and flexible to cross play video in any matrix. The hot-pluggable fan and power modules provide higher reliability and flexibility of maintenance.
Easy Video Wall Setup: Award-winning web GUI allows you to create custom video wall layouts easily. Up to 64 video wall profiles can be created.
Real-Time Preview and Advanced Scheduling Features: Live streams of connected video channels and image previews of video wall layouts are possible via web GUI. Calendar-based scheduling also provides connection profiles synchronized with real-time.
Superior Video Quality: Supports 4K resolutions up to UHD (3840 x 2160) and DCI (4096 x 2160) with refresh rates of 30 Hz (4:4:4) and 60 Hz (4:2:0).
ATEN will also introduce its new VE8950 4K HDMI Over IP Extender and show how it supports the video matrix function through AP router/DHCP protocol with an unlimited transmission distance. Features include:
Proprietary A/V codec
Support video matrix function through AP router/DHCP protocol, unlimited transmission distance
3D and 4K2K@30Hz transmission by proprietary A/V codec
HDMI Audio supported and individual stereo audio supported
Support point to point & multipoint to multipoint
Support Receiver Daisy Chain, Web GUI control and USB 2.0 transparent
Bi-directional IR/RS232 bypass channel
Featured Product: http://www.aten.com/ext_data/global_en/microsite/Modular_Matrix_Switch_Series
---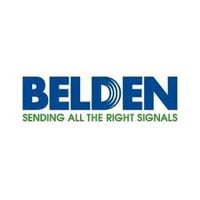 Cables with LP Certification Now Available from Belden
Installers, consultants and enterprises can now prepare for future applications where devices exceed 60W or use PoE Type 4
Belden Inc., a global leader in signal transmission solutions for mission-critical applications, announces that many of its cables, including its 10GXS and 2183 lines, are now Limited Power (LP) certified. Belden LP-listed cables are designed to maintain safe operation and not exceed temperature ratings.
As digital building applications continue to converge over the same IP networks, demands for increased bandwidth and Power over Ethernet (PoE) are placed on the cabling infrastructure. This leads to additional heat generation inside cables, which can cause declines in performance and reliability.
In late 2015, UL developed the LP cable certification and listing program to respond to this challenge. The certification and listing verifies that a cable can carry the identified amount of current per conductor under certain conditions without exceeding the cable temperature rating.
LP-listed cable simplifies cable selection and usage when power delivery is higher than 60W or PoE Type 4 is being used, and when cable bundles sizes exceed the 2017 NEC limits. Today, the vast majority of PoE applications involve power delivery below 60W and use PoE Type 3 or lower, and may not require the benefits of LP-listed cable.
Although LP-listed cable is not part of any current or future PoE standard, Belden pursued LP certification to help installers, consultants and enterprises prepare for future applications where devices may exceed 60W or use PoE Type 4, and where it is unclear what the cable bundle sizes are. Belden LP-listed cables maintain safe operation to the identified current amperage without exceeding cable temperature ratings.
Only Belden's innovative enterprise connectivity solutions take a universal approach to customers' enterprises, resolving signal transmission needs with IP- and legacy-based solutions that enable a smooth migration to convergence. Belden's extensive portfolio spans LAN, data centers, building automation and security and access control to keep information running smoothly. Outstanding global service and support capabilities and application-specific warranty programs complete Belden's unique offering.
For more information about Belden's LP-listed cables, visit info.belden.com/ecos/lp-cable-wp
---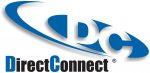 LED lighting isn't a new phenomenon. They have been used for commercial décor, residential under cabinent lighting, and even underwater as accent lighting in pools or on boats! In DirectConnect®'s tradition of supplying cost effective and quality products, we've created the LEDBetter™ line of LEDs. These LEDs conform to the standard of excellence that our products are known for by bringing you the long life, energy efficiency, and environmentally friendly lighting that every install calls for.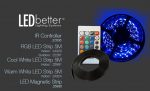 At DirectConnect®, we know that every job has its own unique needs. That's why LEDBetter™ LED strips are the ultimate in design flexibility. They are available in Warm White, Cool White, and RGB (full color) in indoor and outdoor rated strips. Customizing the length of your light is easy! Quickly and easily mount your lights on any surface with the attached double-stick mounting tape or in a rack with the LED magnetic strip. The LED strips communicate perfectly with our wireless IR remote packages. Set any color your customer desires or give them the control to change it with their moods! With LEDBetter™ LEDs, the design options and colors are endless!
For more information on these or any of DirectConnect®'s outstanding product line, please visit our website: www.DirectConnectHome.com or call 1-800-531-3224.
---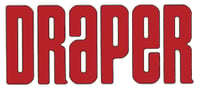 AT ALR Screens
At InfoComm 2017, Draper will be exhibiting the latest addition to the award-winning TecVision line of ISF-certified, 8K-ready viewing surfaces. TecVision CH1200X ALR is a grey surface with excellent ambient light rejection properties. The new formulation features an ALR rating of 20. That means 80% of ambient light—light not being produced by the projector—is being rejected. CH1200X ALR works best in situations where there is high ambient light and controlled viewing angles. It's a high-contrast surface with excellent black retention, and is available as a Nanoperf surface for acoustical transparency. The higher 1.2 gain will help brighten the image, in sizes up to 67 feet wide. CH1200X ALR is 8K-ready and ISF-certified for color accuracy.
CH1200X ALR is just one of several Draper product introductions at InfoComm 2017. To see it all, and to experience our new look, stop by booth 3342.
---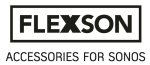 Introducing the NEW Illuminated Charging Stand for SONOS PLAY:1
Meet the new multi-function, space-saving home for your SONOS speaker.
The Flexson Illuminated Charging Stand for SONOS PLAY:1 allows you to combine music, power and light in one stylish unit, cutting clutter.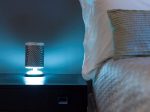 Ideal for bedrooms, kitchens, the office and beyond, the Flexson Illuminated Charging Stand securely holds your SONOS PLAY:1 speaker, while also offering dual USB power outlets – perfect for charging your smartphones, tablet, wearables, e-readers and more – and dimmable light, with touch-sensitive controls.
Available in black or white, it's the perfect addition to your bedside, desk or kitchen counter.
FEATURES:
Stylish support for SONOS PLAY:1, with illumination and device charging
Gives a soft, dimmable glow, with touch-sensitive control
Ideal for bedroom, kitchen and anywhere you need ambient light
Two power outlets to charge USB-powered devices
Available in black or white to match your SONOS speaker
---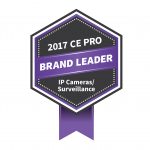 Did you know that IC Realtime has been the #1 choice in IP SURVEILLANCE products for 6 CONSECUTIVE YEARS amongst the CEPRO 100 dealer network?
You're in great hands!
---

KanexPro HDBaseT™ Seamless Presentation Switcher & Scaler
The KanexPro Booth 3481 HDBaseT Seamless Presentation Scaler is a switcher system designed to switch & scale up to 5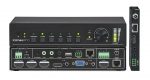 devices to one or more displays. Featuring five inputs with one local HDMI output and one HDBaseT output. Ideal for lecture halls & conference rooms for fast switching and scaling. Supports seamless switching from one device to another with zero latency. Visit us at www.kanexpro.com or 888-975-1368, email us at sales@kanexpro.com
Product URL: http://www.kanexpro.com/item/?id=SW-HDSC51HDBT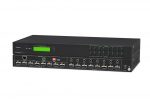 KanexPro HDMI 2.0® Matrix Switchers w/ 4:4:4 + HDR in 4×4 & 8×8
KanexPro Booth 3481 HDMI 2.0 Matrix Switchers, available in 4×4 or 8×8, feature 18 Gbps of bandwidth for each HDMI input and output, as well as video up to 4K/60Hz. With fast switching up to 0.2 seconds when used with several video sources to 4K display, the HDMI 2.0 Matrix is the ultimate switching solution. Easy to control via WebGUI. Visit us at www.kanexpro.com or 888-975-1368, email us at sales@kanexpro.com
---

Chief, Da-Lite and Vaddio are joining together at InfoComm this year. You'll find one great experience with all brands at booth 2600. See new solutions from each brand in a booth so big it should have its own zip code. Here are just a few you'll see at the show: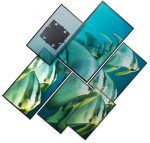 FRA
Freestyle Chief-Style
Chief has opened new creative possibilities with a freestyle rotation accessory that works with Fusion and ConnexSys mounts.
Freestyle Adapter
For your most unique video walls.

AV Bridge MatrixMIX™ Multipurpose AV Switcher
Enhance your live event production with interactive content – and live stream it to a UC application for a truly superior user experience. Bring Live Production Capabilities to UC Applications.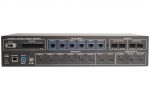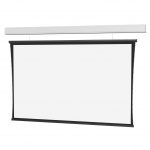 Wireline Advantage
Many large venues feature beautiful architecture you just don't want to cover up. But there's also a need to project content onto large screens to enhance the event experience. By using thin steel cables up to 29' instead of back drop, the Wireline Advantage almost invisibly suspends content at just the right viewing height.
---

Monitor Audio ASB-10 & WS-10 Wireless Soundbar System
Our ASB-10 compact Active Soundbar system, complete with optional WS-10 active subwoofer and wide ranging wireless functionality, is expertly engineered to re-energize HD and UHD pictures with the rich, detailed, immersive sound you've been missing. Equipped with a precision-tuned high performance 2.0 audio design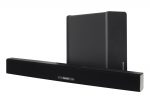 comprising C-CAM drivers and tweeters, integrated Dolby Digital processing and superior Bluetooth apt-X wire-free streaming, the super-slender ASB-10 will generate big audio dynamics from TV, games, discs and smartphones, to become the audio hub for every home.
In most circumstances the ASB-10 will deliver ample levels of bass, but for low frequency enthusiasts Monitor Audio has developed the optional WS-10 active subwoofer, purpose-built to add big bass dynamics to the ASB-10 system and all space-efficient set-ups. Complete with three-position EQ and a high quality digital wireless link to the ASB-10, the WS-10 is a compact and versatile design, comprising an 8" C-CAM driver powered by a 120 watt amplifier, generously provisioned with individual volume and phase controls, and a standard array of wired LFE and 12V inputs for integration with an AVR in alternative system applications.
Equipped with twin HiVe reflex ports, the WS-10's robust, low-profile cabinet of 18mm MDF is designed with flexibility in mind, contributing deeper bass to any Soundbar or compact satellite system through wired or wireless connections from the widest range of discreet room locations: beneath furniture, along room boundaries or in corners.
Simple to set-up and integrate, flexible to use and expand, and easy to appreciate in any environment, Monitor Audio's super-slim active ASB-10 Soundbar and its optional companion WS-10 active subwoofer employ over four decades of award-winning audio precision to help all home entertainment fans enjoy what they've been missing from their TVs and smartphones.
---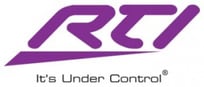 RTI Expands the Audio Experience With AD-16x Audio Matrix Switcher, Now Shipping
New Matrix Routes Up to 16 Audio Sources Across 16 Zones for Comprehensive Audio Management in Large Installations
RTI, a leading control and automation manufacturer for residential and commercial settings, today announced the availability of the all-new AD-16x 16×16 audio matrix switcher. Part of RTI's lineup of audio distribution solutions, the AD-16x seamlessly integrates into the RTI ecosystem, providing users with intuitive audio management and making the experience simple and enjoyable.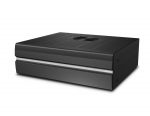 "From the latest digital streamers to older iPod® docks, the AD-16x can accommodate all of today's audio sources, as well as tomorrow's," said Mike Everett, Vice President of Global Sales, RTI. "This, combined with 16 output zones and the power of the RTI ecosystem, allows every room to be filled with personalized entertainment."
Ideal for large, multi-zone audio installations, the AD-16x provides routing for 16 audio sources across 16 zones, while RTI Cool Power® amplifiers (CP-450/CP-1650) drive crystal-clear audio to every speaker. For added convenience, the AD-16x also features eight remote source inputs, which allow devices located in other rooms to be used as global sources. When the system grows past 16 zones, up to four AD-16x units can be cascaded for up to 64 output zones. The switch also delivers complete audio management, including parametric equalizing, zone grouping, and balance control — all configurable via a convenient web interface.
Setting the AD-16x apart is the engineering that enables this matrix to become an extension of the RTI ecosystem. At the heart of this powerful integration is the AD64 two-way driver running on an RTI XP processor, which delivers unmatched flexibility and programming efficiency. The driver features custom project labeling, allowing integrators to name all zones and sources and eliminating tedious programming by ID number. Pushing the user experience to new levels, the driver also allows dynamic audio source management, which tracks active sources. This allowsa user to determine if a source is already in use and select a different one to avoid an inadvertent music change.
More information about RTI is available at www.rticorp.com.
---

TRENDnet launches its first wireless controller kit, the AC1200 Dual Ban Wireless Controller Kit, model TEW-821DAP2KAC, designed as a seamless roaming solution for your busy office or home.
The wireless controller kit features TRENDnet's new wireless hardware controller. In addition to simplified management and setup processes, the controller introduces next-generation technology to deliver seamless roaming capabilities for users moving from access point to access point on the same network.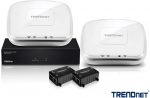 To provide the best seamless WiFi roaming conditions, TRENDnet's hardware controller utilizes intelligent radio resource management (802.11k), providing a more efficient WiFi roaming environment by intelligently managing neighboring APs and passing mobile clients to the next best AP. For a faster and seamless transition, fast BSS transition or fast roaming (802.11r) and Opportunistic Key Caching (OKC) pre-authenticates WiFi clients with neighboring APs.
In addition to the TEW-821DAP2KAC kit, TRENDnet will also offer the N300 Wireless Controller Kit, model TEW-755AP2KAC; the Wireless LAN Controller, model TEW-WLC100, will also be available separately. Later this year, TRENDnet will introduce an AC1750 indoor access point also compatible with the new controller.
Each controller kit includes the Wireless LAN Controller, and two indoor access points with PoE injectors. Centralized AP management allows you to easily configure, manage, monitor network status connections, and perform firmware upgrades on up to 128 APs. Upload floor plans using WAP Maps™ for a visual overview of each access point's location.
---

TruAudio, a global leader of premium architectural, outdoor and commercial speakers, announced a limited release of the much anticipated Select Series will be shipping on June 1, 2017. Select Series is a high-end line of TruAudio speakers, designed and envisioned for the genuine music and movie enthusiast. It is initially being launched with the S63 bookshelf and W12 subwoofer and will be available to purchase directly or through a selective amount of dealers.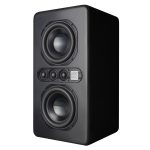 The Select Series concept was born when TruAudio had the desire to create a series that would identify with high-end integrators and their passion for accurate sound reproduction. Designed, engineered and built in the USA, Select Series brings quality sound to life in the form of in-room speakers. It took over a thousand hours of design and engineering to develop the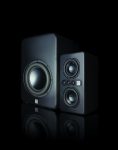 Select Series.
The new in-room S63 speaker boasts a triple array of 1" tweeters, two 6.5" extreme high excursion mid-bass drivers, patented MMAG Motor Technology licensed from STEP Technologies, and a bi-wire crossover. The W12 subwoofer includes ICE power, axially aligned opposing 12" drivers creating total force cancellation allowing for maximized output, multi-radius rubber sound for extended 3" peak-to-peak cone travel, and comes complete with a 700-watt power output.
For a limited time, TruAudio will be offering exclusive Select Series drives filled with their media kit, images, logos, recommended demo tracks and three hi-res songs when you call to inquire.
---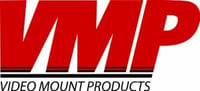 Video Mount Products ERWEN-12E750
The Video Mount Products ERWEN-12E750 is a deeper version of our popular ERWEN-12E wall cabinet. With 24 inches of USABLE DEPTH, this is a workhorse of a wall mounted rack enclosure with the added depth you need for installing today's deeper components. With adjustable 4-post rails, a removable hinged wall plate, reversible tempered glass front door and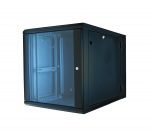 optional fans for enhanced thermal management, the ERWEN-12E750 has all the features today's professional installers are looking for. Additional features and specs include welded steel construction, ships fully assembled, overall Dimensions – 25.3″ H x 24.3″ W x 29.625″ D, works with all standard 19″ rack equipment and accessories, rails have numbered spaces with standard 10-32 threading, adjustable front and rear rails, vented top and bottom, top and bottom cable routing knockouts, removable locking side panels, stabilizing hasp, load capacity – 120 lbs, black powder coat finish. MSRP: $479.00
---