D-Tools MVP Manufacturer Partners realize the importance of bringing you their product information and have chosen to support the D-Tools user community by joining the program and making their product data directly available through D-Tools SI software. Read on for the latest manufacturer company news and product updates.
---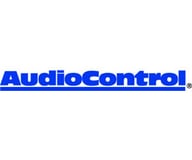 AudioControl has added support for Dolby Vision HDR to their entire line of A/V receivers and preamp/processors including the new Maestro M5 introduced at the 2017 CEDIA Expo.
Dolby Vision HDR (High Dynamic Range) is one of three HDR formats tasked with bringing out the very best from the most advanced TVs. It delivers superb video image quality, enhancing the subtleties of the picture while delivering more natural color tones. By adding support for Dolby Vision HDR, AudioControl users will be able to enjoy the most stunning video performance available today.
"Dolby Vision is currently the only HDR format with dynamic metadata", commented Chris Kane, VP of sales at AudioControl. "This means that the brightness levels of HDR content can vary between shots, giving filmmakers finer control over how the image looks. With sales of HDR-capable displays expected to grow 300% over the next 4 years, supporting a premium HDR technology like Dolby Vision was a natural for AudioControl."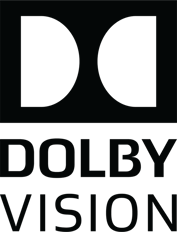 Dolby Vision HDR is now a standard feature on all of AudioControl's unparalleled home theater products including the Concert AVR-7 and AVR-9 receivers, the Maestro M5 and M9 preamp/processors. Current owners of these products may download firmware from the AudioControl website at audiocontrol.com to update their units.
AudioControl also offers a superb lineup of 7 and 5-channel Savoy G3 and Pantages G3 theater amplifiers to create the ultimate home cinema experience. AudioControl's receiver and preamp/processors all offer an unmatched feature array including Dolby Atmos and DTS-X immersive audio surround formats and Dirac Live room correction along with dual balanced XLR inputs and balanced XLR outputs for all channels. There are inputs for seven HDMI sources plus dual HDMI outputs (ARC compatible) as well as an ultra HD 4K video pass-through and upscaling capability.
---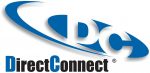 LED lighting isn't a new phenomenon. They have been used for commercial décor, residential under cabinent lighting, and even underwater as accent lighting in pools or on boats! In DirectConnect®'s tradition of supplying cost effective and quality products, we've created the LEDBetter™ line of LEDs. These LEDs conform to the standard of excellence that our products are known for by bringing you the long life, energy efficiency, and environmentally friendly lighting that every install calls for.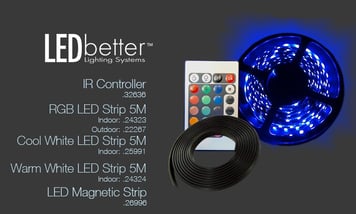 At DirectConnect®, we know that every job has its own unique needs. That's why LEDBetter™ LED strips are the ultimate in design flexibility. They are available in Warm White, Cool White, and RGB (full color) in indoor and outdoor rated strips. Customizing the length of your light is easy! Quickly and easily mount your lights on any surface with the attached double-stick mounting tape or in a rack with the LED magnetic strip. The LED strips communicate perfectly with our wireless IR remote packages. Set any color your customer desires or give them the control to change it with their moods! With LEDBetter™ LEDs, the design options and colors are endless!
For more information on these or any of DirectConnect®'s outstanding product line, please visit our website: www.DirectConnectHome.com or call 1-800-531-3224.
---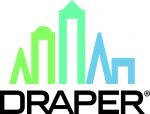 Ambient light has traditionally been one of projection's worst enemies. Before ambient light rejecting screens, as soon as you turned on the lights, the image on the screen washed out, sometimes almost completely disappearing. Draper offers several solutions for ambient light rejection.
When you have very wide viewing angles, TecVision XH900X ALR is the best choice. This surface never reaches half gain. In fact, even at 75 degrees off-axis, the gain has only gone from 0.9 to 0.7. XH900X ALR rejects 60 percent of ambient light. MS1000X ALR rejects 73 percent of ambient light, with more moderate viewing angles than XH900X ALR. CS1000X ALR rejects 82 percent of ambient light, so it will perform very well in spaces where there is high ambient light and no way to control it. We recommend using this surface where viewers will be within 30-35 degrees off-axis. CS1200X ALR also rejects 82 percent of ambient light, like CS1000X ALR. It also provides superior contrast and is suited for spaces where there is high ambient light and no way to control it. This surface is best in narrow spaces, but will perform well out to about 28-33 degrees off-axis. To learn more about Draper's TecVision ambient light rejecting surfaces, including how to buy, visit draperinc.com/projectionscreens/surfaces.aspx.
---

Floorstands for Every SONOS speaker
Put your SONOS speaker at the ideal listening height with Flexson's floorstands. Designed and engineered in the UK to perfectly match the style, color, and aesthetic of SONOS speakers, Flexson has a solution to suit your needs.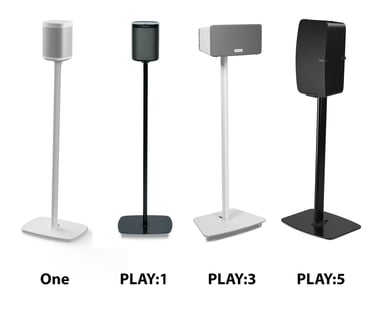 PLAY:1 / 3 / 5 / SONOS One Floorstand:
Specially designed to fit seamlessly with speaker
Holds speaker 26.5" – 31.81"H from ground (stand height varies between speaker model)
Sturdy, metal design with stable base that can slip under couch or chairs if needed
PLAY:3 / 5* floorstands can hold speaker in vertical or horizontal position
Neat, cable channel at rear of stand keeps floorstand tidy
Includes spikes (carpet) and rubber feet (hard wood floors)
Available in matte black or white
*PLAY:5 has separate SKUs for vertical / horizontal position of speaker.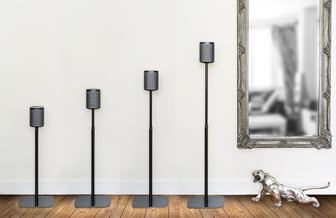 PLAY:1 Adjustable Floorstand:
Specially designed to fit seamlessly with speaker
Adjustable height from 25" to 43.7"
Precision engineered from steel and aluminum
Neat, cable channel at rear of stand keeps floorstand tidy
Available in black or white, single or pairs
PLAY:1 / 3 / 5 Premium Floorstand:
Specially designed to fit seamlessly with speaker
Modern, elegant design crafted from solid hardwood, aluminum steel and glass
Holds speaker 32"H from ground
PLAY:5 stand allows for horizontal or vertical speaker position
Neat, cable channel at rear of stand keeps floorstand tidy
Available in White/English Oak or Black/American Walnut finish
Flexson has over 75+ accessories to help you get the most from your SONOS system
From wall mounts to floor stands, desk stands to PLAYBAR mounts; all of Flexson's products are specially designed to complement the look, color, and functionality of SONOS speakers.
---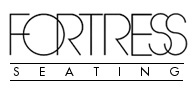 500 – s e a t c o m m e r c i a l t h e a t e r p r o j e c t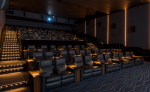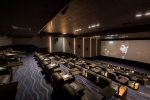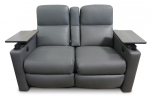 Swivel Tray Tables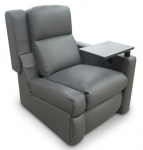 Pocket Arms creating individual seats
Chaise Foot Rest
End Aisle, Special Needs Access: Bijou Model #910
---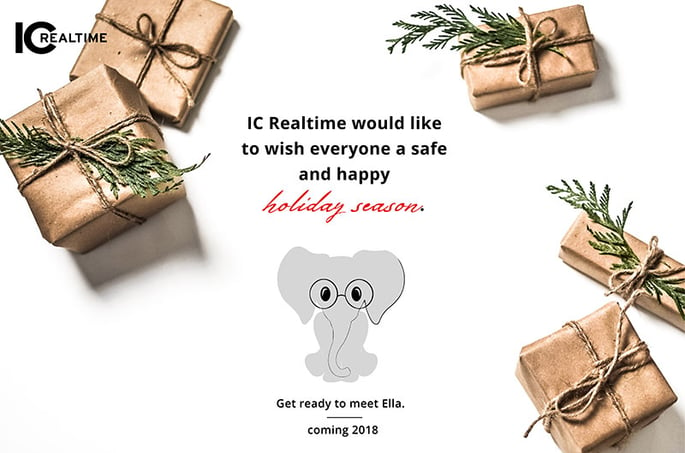 IC Realtime would like to wish everyone a safe and happy holiday season.
Get ready to meet Ella. Coming 2018
---

On-Q: 8 Port Network Modules:
Support Today's Connected Home with Legrand 8 Port Network Interface Modules
The 8 Port Network Interface Modules with Cat5e (AC1058) and Cat6 (AC1068) connections connect a router or switch to devices wired with Ethernet throughout a home like computers, TVs, and gaming systems – ensuring a strong, secure networking connection.
Features:
Supports punchdown termination of up to 8 Cat5e or Cat6 data lines for easy interface with the home network
Easy access to front mounted 110-IDC Punchdown terminals and RJ45 Jacks
Modules mount in all On-Q structured wiring enclosures
Supports termination using T568A wiring standard, is UL listed and exceeds TIA/EIA 568-C.2 industry standards
Nuvo: Landscape Speakers
Stand-Out Audio with Landscape Speakers that Subtly Blend Into the Landscape.
Deliver an immersive outdoor audio experience with the Nuvo Series Two Landscape Speaker Kit (NV-2LSK-BK), complete with (4) two-way satellite speakers and an eight inch, in-ground subwoofer. The low-profile, black teardrop satellite speakers have 3.5" poly woofers and .5″ UFLC tweeters for clear, robust audio and even coverage. The powerful, eight inch subwoofer's cylindrical enclosure blends subtly into landscaping while providing stand-out bass response.
Features:
IP-67 and MIL-STD-810 compliant to provide years of reliable performance in harsh weather conditions
8 ohm system pairs perfectly with Nuvo Player amplifiers or can be used with any 8 ohm amplifier
Highly scalable with option to add-on satellite speakers to cover larger areas
Lifetime warranty
Expansion Parts Include:
Series Two Satellite Landscape Speakers (Pair), NV-2LS3-SAT2
---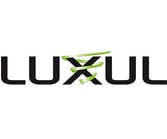 Luxul Releases Epic 3 Wi-Fi Router With Built-In Remote Management Software
In November, Luxul introduced a new AC3100 dual-band gigabit router with a host of built-in features. Packed with the latest technology for a superior Wi-Fi experience, the new Epic 3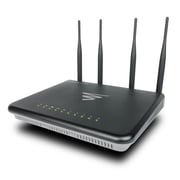 integrates Luxul's wireless controller with Roam Assist™, remote network monitoring and management from Domotz, and cloud-based content management and parental controls from Router Limits. With the Epic 3, installers can now create a seamless, roaming Wi-Fi experience for their clients and service their networks remotely. With Domotz remote network monitoring built in, installers receive alerts when issues arise on their clients' networks, allowing them to fix problems before customers even realize they exist. The Epic 3 router is compatible with Luxul's access points (APs), allowing installers to add APs to maximize the performance and budget of each project. Roam Assist provides seamless Wi-Fi connection throughout the home, eliminating problems such as low, dropped, or lost signals, while Router Limits content management means end-users are in control of their internet experience by managing internet traffic; choosing which devices can access the web; what parts of the web are OK (or not OK); and the days and times the internet should be available.

New Luxul XAP-1440 and XAP-810 Dual-Band AC1200 Outdoor Access Points With Wireless Controller Compatibility
For the extension of Wi-Fi coverage to outdoor areas, Luxul recently introduced a new dual-band AC1200 outdoor wireless access point. Compatible with the company's XWC-1000 wireless

controller, the IP-65-rated XAP-1440 employs multi-stream 802.11ac technology to deliver high data rates up to 1200 Mbps. For smaller networks where budgets are a concern, Luxul has also introduced the XAP-810, a new cost-effective access point for excellent coverage indoors.Both the XAP-1440 and XAP-810 can be easily set up on a network with Luxul's XWC-1000 wireless controller, taking advantage of the controller's Roam Assist™ feature to provide a continued, seamless roaming experience for users.
---

Platinum Tools Announces Ultimate Test & Termination Deals Promotion
Platinum Tools® (www.platinumtools.com), the leader in solutions for the preparation, installation, hand termination and testing of wire and cable, is proud to announce a new promotion whereas customers who purchase a Net Chaser™ Ethernet Speed Certifier & Network Tester (P/N TNC950AR or TNC950DX), a Net Prowler™ (P/Ns TNP700,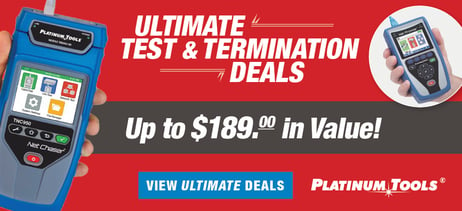 TNP800, or TNP850K1), or Cable Prowler (P/N TCB300, TCB400 or TCB360K1) are eligible to select one free product along with their purchase, which is up to a $189 value.
"Customers who purchase a Net Chaser may then select either an EXO ezEX-RJ45 Termination Kit (P/N 90140) or an Xpress Jack Termination Kit (P/N 90175) as the free add-on," said Jason Chesla, Platinum Tools marketing manager. "Or, customers who purchase a Net Prowler or Cable Prowler (TCB300, TCB400 or TCB360K1) may then select either an EXO Crimp Frame with EXO-EX Die and ezEX44 Connectors (10pcs), or an Xpress Jack Punchdown Tool and Keystone Cat6 Jack (10 pcs) as their free add-on. It's a win-win!"
Qualifying purchases must be made between October 1, 2017 and December 31, 2017, from authorized Platinum Tools Distributors only. Promotion submissions must be submitted by January 31, 2018. Offer is available in the United States of America and Canada only. Platinum Tools will fulfill direct to the customer all free promotional products on qualifying order with proof of purchase. Please allow 3 to 6 weeks for fulfillment of free promotional products. This promotion may not be used or combined with any other Platinum Tools offers, promotions, or discounts. This offer is not available to Platinum Tools distributors, agents, representatives, or employees. Platinum Tools standard terms and conditions apply. For additional information, please visit https://goo.gl/4ETdhv, and for more information on Platinum Tools and its complete product line, please visit www.platinumtools.com, call (800) 749-5783, or email info@platinumtools.com.
---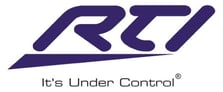 RTI Adds Built-In Control Processor to KX3 3.5-Inch In-Wall Touchpanel
Perfect for any Environment, Hybrid Device Combines an In-Wall Touchpanel and Advanced Control Processor
RTI, a leading control and automation manufacturer for residential and commercial settings, announced today expanded capabilities for its hybrid KX3 3.5-inch in-wall touchpanel keypad. Ideal for installations in homes, classrooms, and conference rooms, the cost-effective device combines an in-wall touchscreen interface and a control processor into one powerful, customizable unit.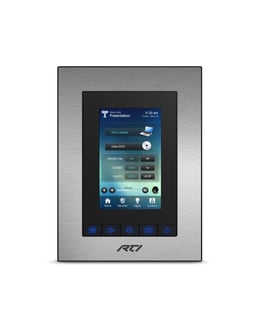 "Our KX3 in-wall controller is designed to give integrators amazing power and flexibility, while providing the user with an elegant, intuitive control interface," said Mike Everett, Vice President of Global Sales, RTI. "With the addition of the built-in processor the KX3 will perform beautifully as a cost-effective, all-in-one control solution or allow dealers to easily expand the capabilities of a larger RTI control system."
Allowing users to easily engage with their surroundings, the KX3 features a vivid 3.5-inch color WVGA touchscreen, five customizable hard buttons, and a completely customizable interface for extremely intuitive navigation. Under the hood is a robust central processor offering a myriad of benefits, including the ability to leverage RTI's expansive library of two-way drivers for seamless integration with third-party electronic systems. In addition, the KX3 offers wired and wireless Ethernet, which allows users to view video from network security cameras and seamlessly perform programming updates. Convenient LEDs reveal room status while the built-in camera and microphone support video intercom functionality. Providing intelligent operation, a proximity sensor wakes the unit up when approached by a user.
The all-in-one KX3 enables powerful control without having to purchase an additional processor. Integrators can incorporate a smart device running the RTiPanel app and add an RTI wireless remote via the built-in 2.4 GHz ZigBee® antenna, giving their customers even more control options. Additional advanced features include an astronomical clock to schedule and automate events, six voltage sense ports, infrared output, and four relays. Its interface can be easily tailored to each specific installation with RTI's Integration Designer® programming software.
RTI's KX3 in-wall touchpanel is now shipping. More information on RTI's full line of products is available at www.rticorp.com.
---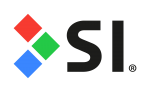 SI Launches All-New Online Presence, Dealer Dashboard, and Ships Anticipated Solo Screen
With a goal to enhance the dealer and consumer user experience, Screen Innovations is proud to announce the debut of an entirely new online presence with simplified browsing by category, an all-new Dealer Dashboard, and a custom quoting system for consumers utilizing SI's Online Screen Builder Tool. Once configured, the potential order is sent to the nearest dealer for a quote and direct response to the consumer.
"This represents a huge step forward in the quoting process for our dealers," said Skyler Meek, SI's Director of Marketing. "Instead of sending thousands of customers into a black hole, we are gathering valuable data on what they are looking for, packaging it up, and then presenting that data to the nearest dealer as a pre-configured quote, which then can be submitted as an order in their Dealer Dashboard."
SI has also announced that Solo, the screen that completely reinvents the portable screen category, is now shipping. Solo, is the world's first roll-able Zero Edge screen powered by lithium, that lasts up to 2 years on a single charge. When recharging becomes necessary, it is easily accomplished with a patent-pending magnetic charging cable."
SI has also engineered a set of mounting accessories including suction cups, which allow the screen to be mounted to a wide array of different applications for indoor or outdoor enjoyment. For added versatility, SI has developed a "Universal Locking Bracket" that has a 1/4-20 threaded bolt application to make custom mounting to nearly any application a possibility.
Solo is available in two variations, Solo and Solo Pro. The Pro variation is available with a 24-volt hardwired motor option, up to 12 cassette colors to choose from, larger maximum sizes, and all of SI's most popular material options.
---

NEW Product! – 75" Veranda 4K Outdoor LED TV – Full Shade – Black
Available Now
MSRP (SB-7574UHD-BL: $4999)
For Full Shade outdoor applications
Fully weatherproof – safer and provide superior performance and durability than indoor televisions used outdoors
Now available in four screen sizes (43", 55" 65" and 75")
Up to 30% brighter than many indoor televisions
Premium direct-lit 4K UHD screen
NEW Product! – SunBriteTV All-Weather Mounts
Available Now
A complete new line of SunBriteTV® outdoor wall mounts, including Articulating/full motion (2), Tilt (2), and Fixed (2) options.
The same rugged outdoor durability you've come to trust, plus more size and price point choices, user-friendly features like post-install leveling and LokTight™ tabs, slimmer profiles and more extension and adjustment options.
Weatherproof Durability: Primed with a dependable powder coating, as well as two layers of a durable, corrosion-resistant coating for added protection against scratches. Plus, stainless steel hardware means you'll never have to worry about rust.
NEW PRODUCT! – SunBriteTV® Premium All-Weather 2-Channel Passive Soundbars
Available Now
Allows authorized SunBriteTV resellers to provide a more premium and complete SunBriteTV Outdoor A/V solution. These All-Weather Soundbars were designed to be paired specifically with SunBriteTVs. They feature a more premium sound and build than our standard soundbars and built-in speakers, complimenting the existing SunBrite solution.
NEW PRODUCT! SunBriteTV® All Weather Series 6-1/2 in. Surface Mount Speakers (pair):
Available Now
2 Colors – Black and White
With this exciting introduction of the new All-Weather Surface Mount Speakers – resellers and end users will benefit from EXCELLENT SOUND and ALL-WEATHER PERFORMANCE in a high-quality form factor that is easy to install!
---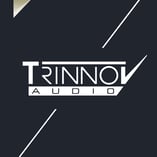 The gateway to genuine, immersive cinema at home
Trinnov Audio is the acknowledged leader in 3D audio innovation.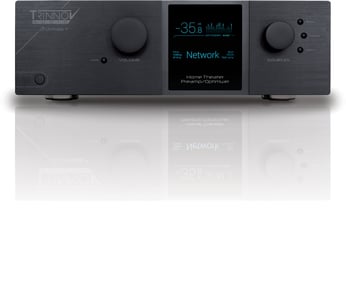 The Altitude16 simply can do many wonderful things that no other processor can do because we are not depending on the capabilities of a mass-market DSP chip.We control the signal path from beginning to end.
Thanks to its disruptive approach to AV Processor design, the Altitude32 was released with an incredible technological edge over the competition, which even today has not been rivaled. Moreover, the Altitude32 kept increasing its lead with ongoing innovation and multiple software updates that added features like Dolby Atmos®, Auro-3D®, and DTS:X™
While other companies were waiting for someone else to design a chip that would enable them to add these advanced capabilities. The Altitude32's software-based design, combined with Trinnov's advanced understanding of 3D audio, has provided critical capabilities needed for a seamless immersive audio experience that no other manufacturer has yet been able to deliver to the market.
We are now excited to announce that our ongoing efforts and investments to create and improve the Altitude32 are being consolidated and translated into another, more affordable product.
At CEDIA 2017, Trinnov will be showcasing a new AV Processor, the Altitude16, which inherits all the groundbreaking core technologies that made the Altitude32 such a remarkable success.
Render up to 16 discrete channels of information
The Altitude16 will have the ability to render up to 16 discrete channels of information and will come equipped with Dolby Atmos, Auro-3D, and DTS:X immersive audio decoders. Significantly, it also retains the unique Trinnov Speaker/Room Optimizer that goes so far beyond the more common "auto-EQ" technologies available from third parties.
The patented and proprietary Trinnov Remapping technology also will be included, which alone can reconcile the widely-differing speaker placement recommendations of the three 3D Audio formats. As with other Trinnov products, the Altitude16 will be easily software-updateable and will even come with a calibration wizard to simplify initial setup and calibration.
The Altitude16 is also ready for the future of audio over IP, whether via its Roon Ready™ input, or its UPnP/DLNA input, or future standards.
The Altitude16 supports up to 16 outputs, it will natively process high-resolution 24/96 audio, it has no limitation in terms of subwoofer outputs, and it supports up to four-way active crossovers.
The Altitude16 is made in America and available now. MSRP is $ 16.000.

Breaking new grounds in other ways.
TRINNOV Audio is introducing the remarkable new Amplitude8m power amplifier at CEDIA 2017.
Like its big brother the Amplitude8, the Amplitude8m is designed to deliver spectacular performance in a luxury home theater but at a fraction of the price. Using the Hypex N-Core Class D output module, each of the eight channels of The Amplitude8m can deliver up to 300 watts RMS at 4Ω.
The amplification stage of the Amplitude8m features the industry's lowest-distortion and noise specifications, and what little noise there is remains frequency independent with a Signal to Noise Ratio : >120dB referenced to full power. The importance of this trait cannot be over-estimated in a theater that may have twenty or thirty speakers in a single room. If each of those speakers were producing even a small amount of noise, it would rapidly become noticeable and unacceptable. This scenario never arises with The Amplitude8m .
Intelligent Power
Our amplifiers use microprocessor control for turn-on delay and feature an automatic AC power recognition and configuration system. The amplifiers not only recognize whether they are hooked up to 117V or 230V nominal power, they automatically self-configure.
They also incorporate a new "sleep" circuit. When the amplifier stays idle for a period of more than 10 minutes, power is removed from the output modules and a front-panel LED begins to flash. As soon as an input signal is detected again on any channel, normal playback operation resumes instantaneously.
Microprocessor control for turn-on delay
Automatic AC Voltage recognition and configuration
200 RMS/Channel @ 8Ω on 8 channels and 300 RMS/Channel @ 4Ω on any 4 channels.
Hypex N-Core NC-500 Class D amplifier modules
Pristine Dynamic Rendering
Intermodulation Distortion: Less than 0.05%
Signal to noise ratio: -120 dB referenced to rated output.
Frequency Response +0, -.5 dB, 5 Hz to 20kHz, load independent
The Amplitude8m is made in America and available now. MSRP is $ 7,500.
---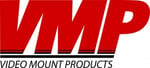 VMP ERVR Series of Vertical Equipment Racks
The new Video Mount Products ERVR Series of Vertical Equipment Racks, which are available Sept. 1 and available in 1U, 2U, and 4U configurations, is based on the popularity of VMP's floor and wall enclosures and from the many requests received for space saving solutions for rack mountable components. With an innovative compact solution that provides plenty of versatility, the ERVR series of vertical equipment racks is a logical progression to expand VMP's product offering for installation applications that lack the space for conventional floor or wall cabinets. The ER-VR4U accommodates rack equipment of any depth; equipment can be wall mounted vertically or under a desk horizontally; overall dimensions – 5in. H x 19.2in. W x 7.5in. D; standard 10-32 threading; fold-out design reduces packaging and shipping; steel construction, has a load

capacity of 150 lbs., has a black finish and an MSRP of $77.95. The ER-VR2U (MSRP $66.95) has the same description as above except 2U and overall depth of four inches. The ER-VR1U (MSRP $55.95) also has the same description as above except 1U and overall depth of 2.25 inches.
"Rack mountable equipment, of any depth, can be installed vertically or horizontally to best accommodate your workplace," said Keith Fulmer, VMP president. "The versatile ERVR series gives you a flexible, reliable and affordable solution for all of your limited space installations requiring up to a 150 lb. weight capacity. Simple in design but rugged in construction, it's tough enough for even your most challenging applications."
For more information, please visit www.videomount.com or call toll free 877-281-2169. If you need help choosing the right mount for your application, try the VideoMount™-Finder at www.chooseamount.com.
---