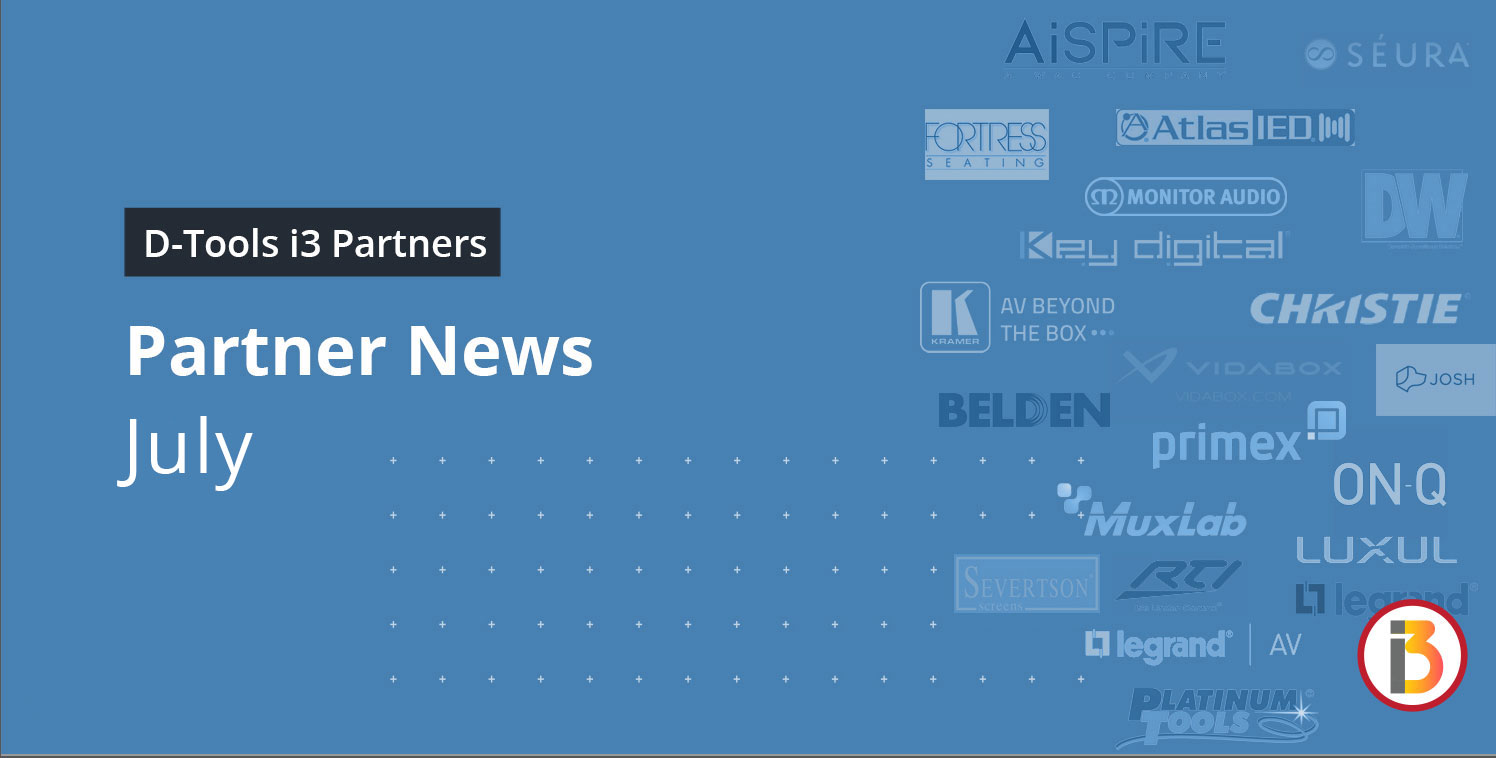 The D-Tools i3 Program provides comprehensive data from leading manufacturers to D-Tools software users at no charge to the user. D-Tools i3 Partners understand the importance of providing current, quality product specifications in order to better support their dealers in their client engagements. We would like to welcome our new and returning i3 Program partners, whose product data is available to all System Integrator users free-of-charge.
---
NEW PARTNERS

Bang & Olufsen is a luxury audio brand founded in 1925 in Struer, Denmark, by Peter Bang and Svend Olufsen whose devotion and vision remain the foundation for the company. For nearly a century, Bang & Olufsen has been pushing the boundaries of audio technology and the company continues to sit at the forefront of acoustic innovation.
Today, every Bang & Olufsen product is still characterized by the unique combination of beautiful sound, timeless design, and unrivalled craftsmanship. The company's innovative and progressive products are sold worldwide in Bang & Olufsen stores, on bang-olufsen.com and in select retailers. The company employs approximately 900 people and operates in more than 70 markets. Bang & Olufsen's shares are listed on NASDAQ Copenhagen A/S.
To learn more, visit https://www.bang-olufsen.com/en.
---
RETURNING PARTNERS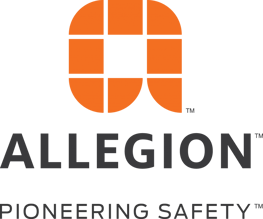 While Allegion is a new name in the security industry, we are not new. For over a century, we have kept people safe and secure with category leading products. From inventing the "panic release bar" exit device in 1908 to pioneering the first-ever electric-controlled lock, our brands have been innovators for almost as long as people have locked doors. Their entrepreneurial spirit is at the core of who we are.
As an independent Allegion, we are able to unlock our company's true potential. By tapping into that entrepreneurial spirit that has made us the leader in mechanical security, we will continue to drive forward and integrate tomorrow's electronic solutions into everything we do. Our long history of expertise in the commercial industry enables us to have better quality, stronger, and safer products for our residential customers. Together, with the power and passion of our global employees, we will realize Allegion's full potential as we continue to be a leader in the global safety and security industry.
To learn more, visit https://www.allegion.com.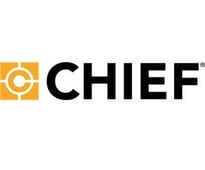 Chief is a division of Milestone AV Technologies, a Duchossois Group Company. With over 35 years of proven product and service excellence, hundreds of product awards and patented designs, we are globally recognized as an AV industry leader. We design state-of-the-art mount and rack solutions that complement the technology they support. We are committed to delivering high-quality products that are easy to install and maintain.
Chief made its mark in the industry by producing the original projector mount roll, pitch and yaw adjustments in 1978, making registration quick and easy. We continue to break new ground with new products and unique, patented features that focus on ease of installation and flexibility for the professional installer.
To learn more, visit http://www.chiefmfg.com.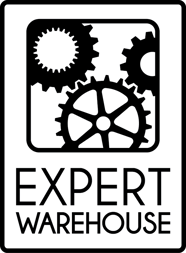 The Expert Warehouse currently remains a member-owned solution that allows our dealers to reap the many financial benefits of purchasing at much higher volume levels. Expert Warehouse overcomes many challenges by being the group's own stocking warehouse buying in truckload quantities so you don't have to worry about allocation, outlandish "free freight threshold" purchase orders, enormous annual commitments and "just-in-time" inventory.
Featuring over 20 brands of consumer electronics products including Samsung, LG, Bose, Denon and more, our Expert Warehouse is your store's extended warehouse. Increase turns, manage cash flow, buy inventory when you need it – all at the right price! With the addition of Expert Warehouse, BrandSource is recognized by many consumer electronics manufacturers as one of the largest national accounts in the United States.
To learn more, visit https://www.joinbrandsource.com/product-categories/expert-warehouse/.

MuxLab is a leading designer and manufacturer of connectivity and distribution solutions for commercial and residential installations of all sizes. Though specializing in the professional AV and broadcast markets, MuxLab products have been implemented in countless, high quality AV installations in every major market around the world. Since its inception in 1984, the company continues to be a forerunner of technological advances in signal distribution and connectivity.
While keeping up with emerging technologies, MuxLab's mission has remained the same: provide easy to use and affordable solutions that deliver all forms of audio/video anywhere. With a deep understanding of the customer's need for quality, performance and reliability, the company designs and engineers its products in Canada with this focus in mind.
MuxLab's extensive, flagship line of AV over IP solutions cover all major compression technologies including H.264 /H.265, MPEG and JPG2000, as well as uncompressed signal delivery up to 4K/60 resolution and many audio options, offering solutions for HDMI, DVI, DisplayPort, SDI, KVM and audio applications.
MuxLab strives to partner with customers around the world to empower AV installations, and provide a flawless transmission of AV anywhere, anytime.
To learn more, visit https://muxlab.com/.



Pioneer Music Company is an established family-owned and operated business that has been fulfilling the needs of Midwest dealers and integrators for nearly 150 years. Founded in 1869 as a hardware implements retailer, today it is a wholesale business-to-business provider of high-quality consumer electronics products. Pioneer Music Company has expanded to serve many other industries including residential AV, automation, network distribution, surveillance, installation accessories and more.
To learn more, visit pmcav.com.

QSC is a globally recognized manufacturer of audio solutions for huddle rooms to stadiums—and everything in between. Our systems make it easy for your team to design and integrate flexible, scalable solutions and deliver the native IT integration and standards-based technology your customers expect. This is AV built for IT.
To learn more visit, http://www.qsc.com.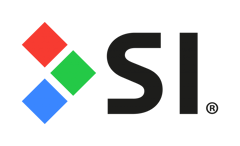 Screen Innovations (SI) is a leading manufacturer of projection screens and associated technologies for residential and commercial applications. Best known for Black Diamond™, the world's first and only multi-directional ambient light rejection projection screen technology, SI has effectively revolutionized the two-piece projection category by producing screens that deliver unparalleled images in light or dark environments.
A highly innovative, industry-specific Screen Innovations design and engineering team works tirelessly, constantly evolving the category in order to effectively bring projection to the mainstream. By operating under the principle that "No matter the budget; Screen Innovations has the best available screen solution to suit your needs," SI aims to resolve the issues that have historically hamstrung the projection screen industry.
To learn more, visit http://www.screeninnovations.com/.

Toroidal isolation power transformers by Torus Power are the world's finest clean power source for audio, video, and control systems. Dramatically increasing performance levels of connected AV components from video displays to amplifiers and powered speakers, Torus Power products utilize Plitron Manufacturing's patented NBT technologies and medical-grade toroidal isolation transformers to eliminate virtually all power-line noise artifacts and protect equipment from potentially damaging AC power line events while increasing system reliability and extending product life. Torus Power products deliver higher levels of instantaneous current which ensures that dynamic components and high-performance systems are never compromised, nor starved for power.
Built to rigorous specifications under Plitron Manufacturing's ISO 9001 quality control system in Toronto, Canada, Torus Power's toroidal transformers—the heart of the Torus Power product line—utilize similar technologies as those found in leading AV amplifiers as well as in industrial, medical, broadcast, telecommunications, IT, power conditioning, and energy management applications.
To learn more, visit www.toruspower.com.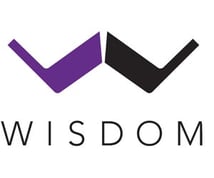 Wisdom Audio was founded in 1996 with one goal in mind, to create the world's finest loudspeakers unbound by limitations of current technologies and past design. Wisdom's proprietary large scale thin film planar-magnetic transducers, electronic crossovers in place of passive designs, and innovative woofer designs were all developed to solve problems inherent in the limitations of traditional designs and how they interact with the listening room. The result is an experience like no other.
Our passion to provide high end expressions of our art encompasses contemporary home entertainment requirements including multi-channel designs. Whether your interest is in traditional two channel music reproduction or multichannel music and film playback, there is a Wisdom system to address your needs.
Wisdom Audio… Never settle for anything less.
To learn more, visit http://www.wisdomaudio.com.