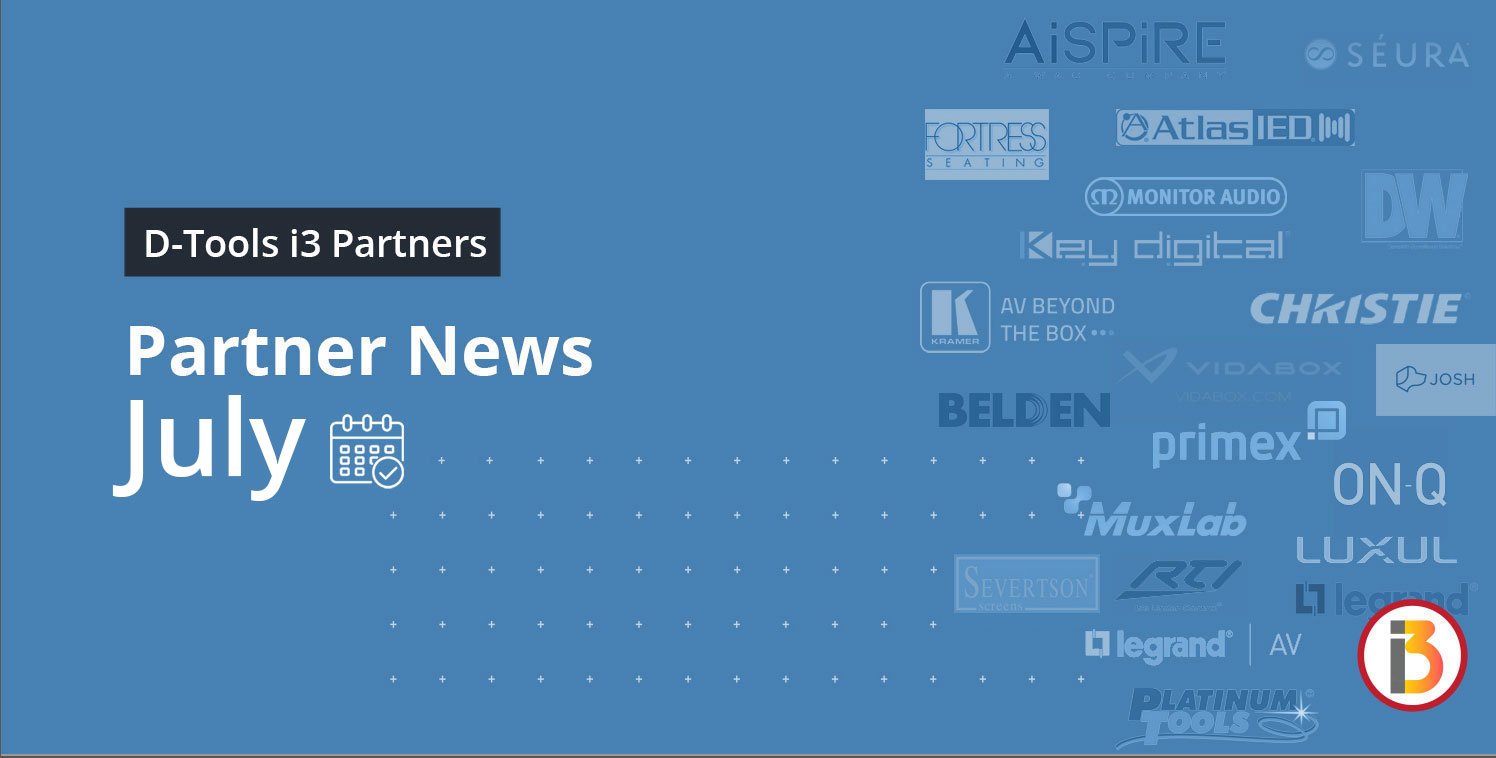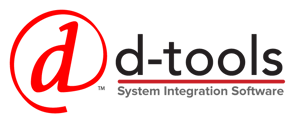 The D-Tools i3 Program provides comprehensive data from leading manufacturers to D-Tools software users at no charge to the user. D-Tools i3 Partners understand the importance of providing current, quality product specifications in order to better support their dealers in their client engagements. We would like to welcome our new and returning i3 Program partners, whose product data is available to all System Integrator users free-of-charge.
---
NEW PARTNERS

Working with a product development team that spans three continents, we have the unique ability to gain vital market feedback with a global perspective. This has enabled us to develop a range of products that boast unrivalled real world features that in turn enhance the ability of AV products in any environment. As a standard all Blustream products offer 4K resolution support and all HDBaseT solutions provide bi-directional power over ethernet (PoE), ensuring the installer has unprecedented flexibility when installing a multi-room video system. We are also the first manufacturer to fully integrate the audio return channel (ARC) via HDMI into the HDBaseT signal. This means installers using Blustream can confidently use TV's as audio sources within a multi-room system.
We have regional headquarters located in Melbourne, Australia, the UK and the USA. From all locations our experienced product managers are on hand to provide real time sales and technical support to our customers. Coupled with state of the art testing and training facilities this ensures our products can be installed in any AV environment with unrivalled confidence. We proudly deliver 24 hour technical support via phone, email and live chat to our sales partners throughout the world.
To learn more, visit https://www.blustream-us.com/.

D-BOX creates and redefines realistic, immersive entertainment experiences by moving the body and sparking the imagination through effects: motion, vibration and texture. D-BOX has collaborated with some of the best companies in the world to deliver new ways to enhance great stories. Whether it's movies, video games, music, relaxation, virtual reality applications, metaverse experience, themed entertainment or professional simulation, D-BOX creates a feeling of presence that makes life resonate like never before. D-BOX Technologies Inc. (TSX: DBO) is headquartered in Montreal with offices in Los Angeles, USA and Beijing, China.
To learn more, visit https://www.d-box.com/.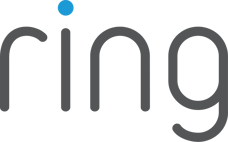 Since its founding in 2013, Ring has been on a mission to make neighborhoods safer, for everyone. From the Video Doorbell, to the award-winning DIY Ring Alarm system, Ring's smart home security product line, as well as the Neighbors app, offer customers affordable whole-home and neighborhood security. At Ring, we are committed to making security accessible and convenient for everyone—while working hard to bring communities together. Ring is an Amazon company. With Ring, you're always home.
To learn more, visit https://ring.com/.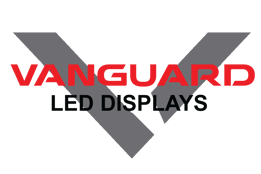 We are an American owned company based in the USA. We share common values of integrity and being forthright. Our core values are stellar service, timely communication, and responsiveness.
Vanguard uses the best possible components including gold wired Nationstar LEDS, Nova or Colorlight receiving cards and processors, Macroblock IC drivers, Meanwell Power Supply, Neutrik connectors, and the best hub cards and cables in the market. This approach ensures the reliability and longevity of our LED video displays. Customer satisfaction is our highest priority. We will not hesitate to replace a complete screen if the situation warrants it. Our reputation is priceless.
Our track record of industry leading and industry recognized, trailblazing LED display technology has made Vanguard the de-facto leader in the LED display industry.
Every other LED supplier in the market represents its own factory. Vanguard selects the best O.E.M. factory in each segment of the market. In this way our products are the best in each sector of the market and can offer the broadest range of products in the market.
To learn more visit, https://vanguardled.com/.

VITEC is a leading, worldwide end-to-end video streaming solutions provider for broadcast, military and government, corporate, sports and entertainment venues. Combining broadcasting with live streaming capabilities, VITEC's H.265 (HEVC) and H.264 offering is the most extensive in the market with encoding and decoding appliances, IPTV solutions for desktops and mobile devices, and PCI cards with SDK for integration projects. VITEC's intuitive digital video solutions can be tailored to each customer's unique market needs, delivering easy-to-use technology that ensures high-quality, low-latency HD video, capturing live and recorded events for seamless distribution in a multitude of formats anytime, anywhere, to any device.
Since 1988, VITEC has been a pioneer in the design and manufacture of hardware and software for video encoding, decoding, transcoding, recording, conversion, archiving, and streaming over IP. In keeping with the company's tradition of innovation, VITEC is the first company to bring bandwidth-efficient HEVC compression technology into the field with portable streaming appliances.
To learn more, visit https://www.vitec.com/.
Zack Electronics, BirdDog,
---
RETURNING PARTNERS

AtlasIED is the combination of two widely recognized leaders in the commercial audio world, Atlas Sound and Innovative Electronic Designs (IED). Both companies have been collaborating for decades and have grown to be two of the most successful commercial audio manufacturers.
Atlas Sound has become the largest commercial audio provider spanning small businesses to the largest enterprises while Innovative Electronic Designs (IED) has been known as the leader in mass notification systems in airports, corporations, and government institutions. For 80+ years, both companies have been installed in more than one million businesses. In 2009, Atlas Sound and IED became sister companies operating independently with combined oversight at the executive management level. As technologies continued to integrate together, both organizations united forces. In 2015, Atlas Sound and IED combined our sales, marketing, and support teams. Today, AtlasIED provides better service to you and the various market segments that we serve.
To learn more, visit www.atlasied.com.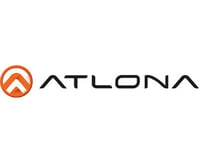 Atlona is a leading provider of innovative connectivity solutions to the Audio/Visual and IT markets.
Since 2003, Atlona has been a leading global provider of AV and IT signal distribution and connectivity solutions. In an ever-changing industry, the company has been designing and engineering innovative, award-winning products for a diverse range of residential and commercial AV and IT markets, including education, business, government, entertainment, and healthcare.
Atlona's products and services enable system designers, integrators, consultants, and installers worldwide to simplify installation, minimize maintenance and maximize the versatility of premier automated control solutions. Backed by an industry-exclusive 10-year warranty, Atlona's customer-driven products are designed and developed with the features, performance and reliability that leaders demand.
To learn more, visithttp://www.atlona.com/.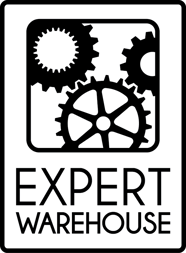 The Expert Warehouse currently remains a member-owned solution that allows our dealers to reap the many financial benefits of purchasing at much higher volume levels. Expert Warehouse overcomes many challenges by being the group's own stocking warehouse buying in truckload quantities so you don't have to worry about allocation, outlandish "free freight threshold" purchase orders, enormous annual commitments and "just-in-time" inventory.
Featuring over 20 brands of consumer electronics products including Samsung, LG, Bose, Denon and more, our Expert Warehouse is your store's extended warehouse. Increase turns, manage cash flow, buy inventory when you need it – all at the right price! With the addition of Expert Warehouse, BrandSource is recognized by many consumer electronics manufacturers as one of the largest national accounts in the United States.
To learn more, visit https://www.joinbrandsource.com/product-categories/expert-warehouse.

Logitech designs products that have an everyday place in people's lives, connecting them to the digital experiences they care about. More than 35 years ago, Logitech started connecting people through computers, and now it's a multi-brand company designing products that bring people together through music, gaming, video and computing. Brands of Logitech include Logitech, Ultimate Ears, Jaybird,Blue Microphones, ASTRO Gaming and Logitech G.
Logitech is a leading provider of collaboration devices for video conferencing, recording, and streaming.


ConferenceCams and personal webcams bring true-to-life HD-quality to collaboration. USB headsets and mobile speaker phones deliver crystal clear audio. RightSense technologies and design innovations automatically adapt to different environments and changing conditions to simplify deployment, reduce IT support requirements, and provide a reliably excellent user experience.
To learn more, visit https://www.logitech.com/.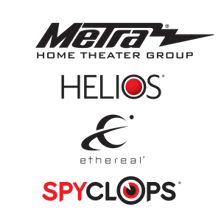 Metra Home Theater Group® (MHTG), a pioneer in HDMI® cable technology, is a division of Metra Electronics®, the world leader and "The Installer's Choice®" for vehicle installation kits and car audio accessories for more than 70 years. Headquartered in Florida, MHTG brands include Ethereal Home Theater®, Helios®andSpyclops Surveillance Systems®. Metra's strong commitment to research and investment into the development of cutting-edge solutions has a history of providing first-to-market solutions for HDMI cables and electronics.
To learn more, visit www.metrahometheater.com.

Pioneer Music Company is an established family-owned and operated business that has been fulfilling the needs of Midwest dealers and integrators for nearly 150 years. Founded in 1869 as a hardware implements retailer, today it is a wholesale business-to-business provider of high-quality consumer electronics products. Pioneer Music Company has expanded to serve many other industries including residential AV, automation, network distribution, surveillance, installation accessories and more.
To learn more, visit pmcav.com.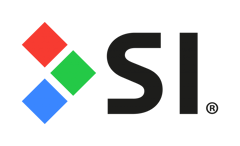 Screen Innovations (SI) is a leading manufacturer of projection screens and associated technologies for residential and commercial applications. Best known for Black Diamond™, the world's first and only multi-directional ambient light rejection projection screen technology, SI has effectively revolutionized the two-piece projection category by producing screens that deliver unparalleled images in light or dark environments.
A highly innovative, industry-specific Screen Innovations design and engineering team works tirelessly, constantly evolving the category in order to effectively bring projection to the mainstream. By operating under the principle that "No matter the budget; Screen Innovations has the best available screen solution to suit your needs," SI aims to resolve the issues that have historically hamstrung the projection screen industry.
To learn more, visit http://www.screeninnovations.com/.

Founded in 2002, WAVE Electronics' corporate offices are located in Houston, Texas. WAVE is the leader in home automation distribution, services local and national dealers across multiple channels of business that include residential/commercial A/V, and security. WAVE is recognized as the "one-stop" solution with over 8,000 stock items from 126 premium manufacturers. WAVE locations incorporate "handpick" retail-style areas, training facilities, extensively merchandised showrooms for dealers to use as their own. WAVE also goes the extra mile by offering a broad variety of services to their dealers which include: same day delivery, one day shipping, sales and product trainings, marketing services, 24/7 online shopping, and much more./p>
To learn more, visit https://wave-electronics.com/HomePage.