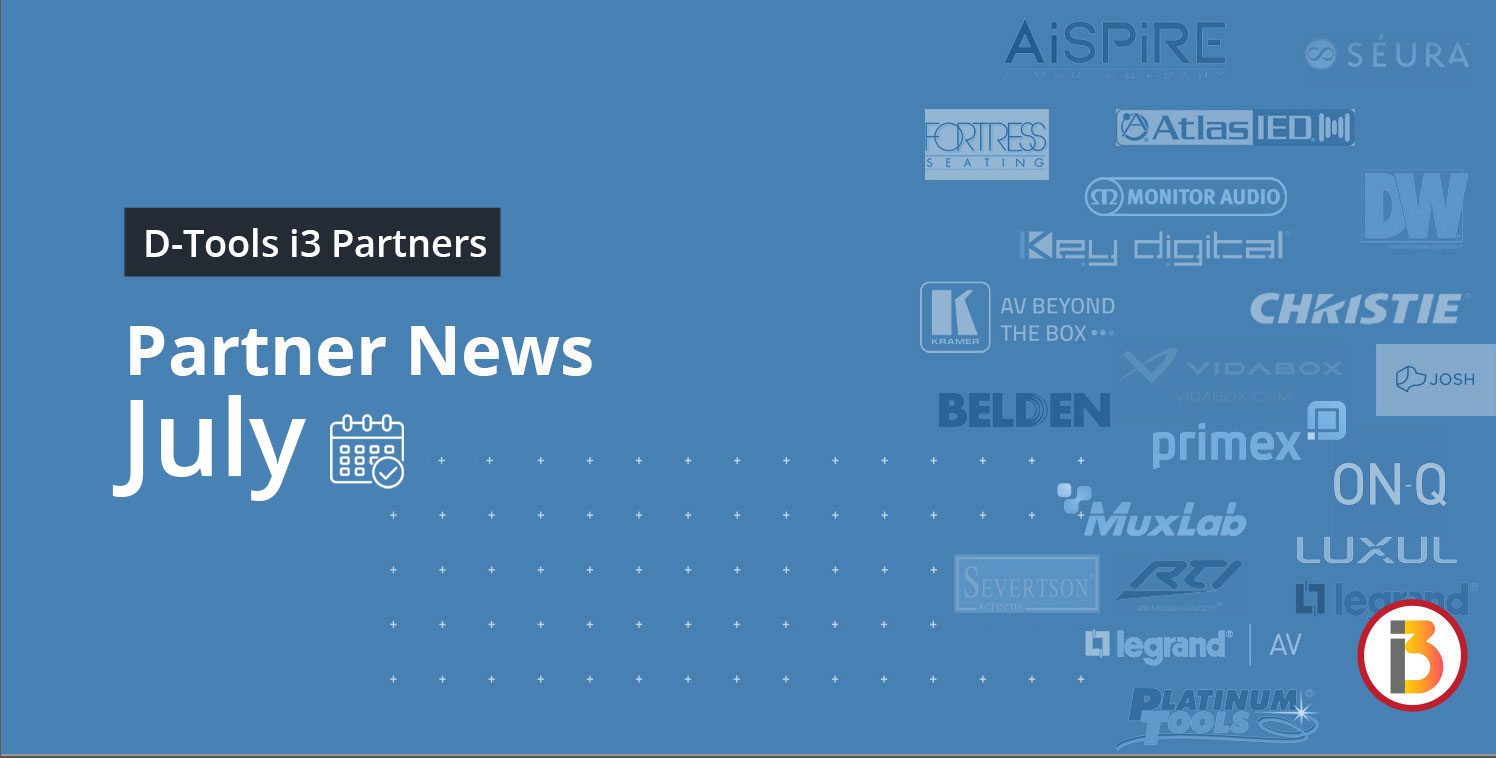 The D-Tools i3 Program provides comprehensive data from leading manufacturers to D-Tools software users at no charge to the user. D-Tools i3 Partners understand the importance of providing current, quality product specifications in order to better support their dealers in their client engagements. We would like to welcome our new and returning i3 Program partners, whose product data is available to all System Integrator users free-of-charge.
---
NEW PARTNERS

ClearOne enhances communication and collaboration for organizations worldwide, from the Fortune 500 to small and medium businesses and institutions. We design, develop, and sell conferencing, collaboration, network streaming & signage solutions through a global network of expert AV and IT practitioners who specify, install, and support our advanced hardware, software, apps, and cloud solutions. From ad-hoc work spaces and mobile conferences to the largest meeting venues and boardrooms, ClearOne is the best-in-class option for any industry or organization that relies on teamwork and collaboration to be successful.
To learn more, visit https://www.clearone.com/.
---
RETURNING PARTNERS

AtlasIED is the combination of two widely recognized leaders in the commercial audio world, Atlas Sound and Innovative Electronic Designs (IED). Both companies have been collaborating for decades and have grown to be two of the most successful commercial audio manufacturers.
Atlas Sound has become the largest commercial audio provider spanning small businesses to the largest enterprises while Innovative Electronic Designs (IED) has been known as the leader in mass notification systems in airports, corporations, and government institutions. For 80+ years, both companies have been installed in more than one million businesses. In 2009, Atlas Sound and IED became sister companies operating independently with combined oversight at the executive management level. As technologies continued to integrate together, both organizations united forces. In 2015, Atlas Sound and IED combined our sales, marketing, and support teams. Today, AtlasIED provides better service to you and the various market segments that we serve.
To learn more, visit www.atlasied.com.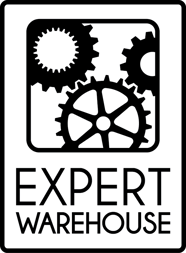 The Expert Warehouse currently remains a member-owned solution that allows our dealers to reap the many financial benefits of purchasing at much higher volume levels. Expert Warehouse overcomes many challenges by being the group's own stocking warehouse buying in truckload quantities so you don't have to worry about allocation, outlandish "free freight threshold" purchase orders, enormous annual commitments and "just-in-time" inventory.
Featuring over 20 brands of consumer electronics products including Samsung, LG, Bose, Denon and more, our Expert Warehouse is your store's extended warehouse. Increase turns, manage cash flow, buy inventory when you need it – all at the right price! With the addition of Expert Warehouse, BrandSource is recognized by many consumer electronics manufacturers as one of the largest national accounts in the United States.
To learn more, visit https://www.joinbrandsource.com/product-categories/expert-warehouse.

Legrand is a global specialist in electrical and digital building infrastructures. Its comprehensive offering of solutions for use in commercial, industrial, and residential markets makes it a benchmark for customers worldwide. Innovation for a steady flow of new products with high added value is a prime vector for growth, including, in particular, connected devices stemming from Legrand's global Eliot (Electricity and IoT) program.Legrand reported sales of $6.2 billion(USD) in 2017. Legrand has a strong presence in North and Central America, with a portfolio of well-known market brands and product lines that includes AFCO Systems, C2G, Cablofil, Chief, Da-Lite, Electrorack, Finelite, Luxul, Middle Atlantic Products, Milestone AV, Nuvo, OCL, On-Q, Ortronics, Pass & Seymour, Pinnacle, Projecta, QMotion, Quiktron, Raritan, Sanus, Server Technology, Solarfective, Vaddio, Vantage, Wattstopper, and Wiremold. Legrand is listed on Euronext Paris and is a component stock of indexes including the CAC40, FTSE4Good, MSCI World, ASPI, Corporate Oekom Rating, and DJSI (ISIN code FR0010307819).
To learn more, visit https://www.legrand.us.

Monitor Audio Ltd is a British owned and managed global specialist in hi-fi loudspeaker design, incorporating stereo and surround sound systems and a range of sonically matched architectural speakers for ultra discreet high quality sound around the home and outside.
Whatever your taste and budget you'll discover a Monitor Audio speaker that answers your desire for great sound. Since hi-fi was in its infancy we've dedicated all our technical expertise, innovation and craftsmanship to the creation of world-class loudspeakers, which communicate the essence of our brand and reward the people who buy them. We want you to share and enjoy the blend of style, quality, performance and sophistication that makes Monitor Audio unique.
To learn more, visit http://www.monitoraudiousa.com.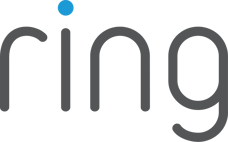 Since its founding in 2013, Ring has been on a mission to make neighborhoods safer, for everyone. From the Video Doorbell, to the award-winning DIY Ring Alarm system, Ring's smart home security product line, as well as the Neighbors app, offer customers affordable whole-home and neighborhood security. At Ring, we are committed to making security accessible and convenient for everyone—while working hard to bring communities together. Ring is an Amazon company. With Ring, you're always home.
To learn more, visit https://ring.com/.

Simply45® is the industry-leading brand for RJ45 modular plug innovation and performance solutions.
Our founders are leading developers and manufacturers of twisted pair cabling and RJ45 connections. They have been leaders in Category cable development for over 20 years and have over 100 years of combined experience with twisted-pair cabling and RJ45 modular plugs. They also pioneered the development of HDBaseT® Category Cables which were the first-time industry-standard category cables that were re-engineered to improve networking performance required to support new generation LAN cable applications.
To learn more, visit https://simply45.com/.

Toroidal isolation power transformers by Torus Power are the world's finest clean power source for audio, video, and control systems. Dramatically increasing performance levels of connected AV components from video displays to amplifiers and powered speakers, Torus Power products utilize Plitron Manufacturing's patented NBT technologies and medical-grade toroidal isolation transformers to eliminate virtually all power-line noise artifacts and protect equipment from potentially damaging AC power line events while increasing system reliability and extending product life. Torus Power products deliver higher levels of instantaneous current which ensures that dynamic components and high-performance systems are never compromised, nor starved for power.
Built to rigorous specifications under Plitron Manufacturing's ISO 9001 quality control system in Toronto, Canada, Torus Power's toroidal transformers—the heart of the Torus Power product line—utilize similar technologies as those found in leading AV amplifiers as well as in industrial, medical, broadcast, telecommunications, IT, power conditioning, and energy management applications.
To learn more, visit www.toruspower.com.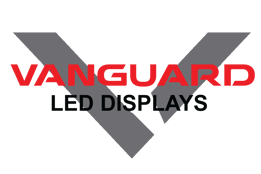 We are an American owned company based in the USA. We share common values of integrity and being forthright. Our core values are stellar service, timely communication, and responsiveness.
Vanguard uses the best possible components including gold wired Nationstar LEDS, Nova or Colorlight receiving cards and processors, Macroblock IC drivers, Meanwell Power Supply, Neutrik connectors, and the best hub cards and cables in the market. This approach ensures the reliability and longevity of our LED video displays. Customer satisfaction is our highest priority. We will not hesitate to replace a complete screen if the situation warrants it. Our reputation is priceless.
Our track record of industry leading and industry recognized, trailblazing LED display technology has made Vanguard the de-facto leader in the LED display industry.
Every other LED supplier in the market represents its own factory. Vanguard selects the best O.E.M. factory in each segment of the market. In this way our products are the best in each sector of the market and can offer the broadest range of products in the market.
To learn more visit, https://vanguardled.com/.

OUR COMPANY SPECIALIZES in creating commercial-grade networks that address the demands of advanced control and automation technologies in connected residential, commercial, and luxury marine environments. We design custom plug and play network systems tailored specifically for each and every project we encounter. We provide support on our systems like no other, literally giving you end to end, white glove service and configuration changes from the moment your system is delivered to a full year after.
Our end goal with every single job is to find the most cost effective way to deliver a system that will surpass your expectations, while keeping a very low TCO (total cost of ownership) for the end user. These systems have to work, and they have to work well 24/7. It's our business to make this happen, leaving you free to deal with more important issues. As far as the network goes, we've got you covered.
Our systems are comprised of some of the best gear in the industry. Each component of our networks has been hand picked for reliability, performance and cost effectiveness. We only partner with the best in the industry, check out our partners. While you're at it, check out our testimonials page too. See what others think about WhyReboot!
To learn more, visit www.whyreboot.com.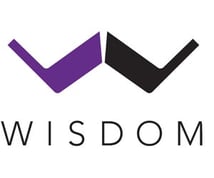 Wisdom Audio was founded in 1996 with one goal in mind, to create the world's finest loudspeakers unbound by limitations of current technologies and past design. Wisdom's proprietary large scale thin film planar-magnetic transducers, electronic crossovers in place of passive designs, and innovative woofer designs were all developed to solve problems inherent in the limitations of traditional designs and how they interact with the listening room. The result is an experience like no other.
Our passion to provide high end expressions of our art encompasses contemporary home entertainment requirements including multi-channel designs. Whether your interest is in traditional two channel music reproduction or multichannel music and film playback, there is a Wisdom system to address your needs.
Wisdom Audio… Never settle for anything less.
To learn more, visit http://www.wisdomaudio.com.