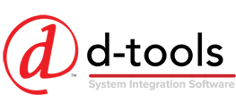 D-Tools i3 Partners realize the importance of bringing you their product information and have chosen to support the D-Tools user community by joining the program and making their product data directly available through D-Tools software. Read on for the latest supplier company news and product updates.
---
Atlona Introduces New Omega Series HDBaseT Receiver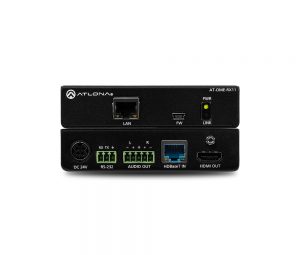 Atlona, a Panduit company, recently unveiled the AT-OME-RX11 4K/UHD HDBaseT receiver with audio de-embedding capabilities. The new model is the latest addition to Atlona's extensive Omega™ Series of switching, extension, and video processing solutions for modern AV communications and collaboration.
Paired with an Atlona HDBaseT transmitter or HDBaseT-output switcher, the OME-RX11 enables the transport of HDMI video and embedded audio alongside Ethernet, power and control over distances up to 330 feet (100 meters). The new receiver is HDCP 2.2 compliant and supports video up to 4K/UHD at 60 Hz with 4:2:0 chroma subsampling at HDMI data rates up to 10 Gbps.
Ideal for meetings, collaboration, and many other AV presentation applications, the OME-RX11 combines outstanding technical performance and business value with a wide range of integration convenience features. Stereo audio de-embedding extracts two-channel PCM audio to balanced, analog outputs for feeding an amplifier and speakers, while support for multi-channel audio enables the pass-through of formats including PCM, Dolby® and DTS®.
The locally powered OME-RX11 can deliver industry-standard Power over Ethernet (PoE) via HDBaseT to an Atlona Omega Series, HDVS-200 Series or AT-UHD-EX-100CE-TX-PD transmitter, enabling convenient transmitter installation at any remote location without the need for its own local AC power. The receiver's low-profile, 1.02 inch (26 mm) high form factor enables discreet installation in furniture, behind displays, or above projectors, while front-panel LED indicators provide power and HDBaseT link status information to ease setup and troubleshooting.
For an overview of the entire Omega series, please visit http://atlona.com/omega.
---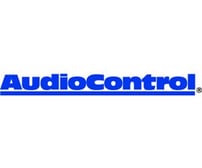 AudioControl Savoy G4 and Pantages G4 Home Cinema Amplifiers Now Shipping
AudioControl (audiocontrol.com), makers of innovative high-performance audio solutions for the residential, commercial and automotive markets will be showcasing two new home cinema amplifiers at the 2019 CEDIA Expo. The Savoy G4 (7-channels) and the Pantages G4 (5-channels) deliver the high power that theater enthusiasts demand for a lifelike surround sound experience. Both amplifiers are built on AudioControl's unique Class H topology, which provides authoritative power and unmatched clarity without generating excessive heat. Both new models feature matching cosmetics to the recently unveiled 4/3/2-channel Avalon G4, providing theater designers and A/V integrators with the most advanced amplifier lineup engineered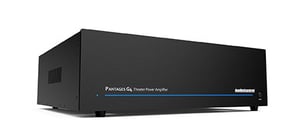 for every system architecture—from a fully immersive Dolby Atmos® system to a 5.1 or 7.1 system configuration.
Outstanding New Design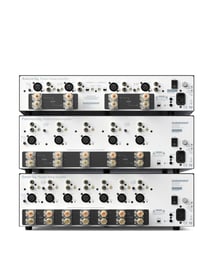 The AudioControl Savoy and Pantages G4 feature balanced and unbalanced inputs along with an audio pass-through and high-quality 5-way binding posts. Each G4 amplifier delivers improved power, performance and functionality verses their G3 predecessors, all from a sleek, more compact chassis. The new G4 models deliver 230 watts at 8 ohms, 300 watts at 4 ohms, 600 watts bridged into 8 ohms. The advanced Class H topology monitors input levels, maximizing power efficiency and reducing operating temperature through the use of multiple voltage rails. AudioControl's Class H amplifiers have become to the go-to choice for many discerning home theater specialists due to their outstanding performance, efficiency and reliability.
Always There for Integrators with the Finest Solutions Available
AudioControl has a 40-plus year history of creating award-winning Made in USA products for integrators and backing them up with superior customer service as well as a 5-year warranty. The newest G4 Series amplifiers are yet another example of a best-in-class, innovative product design from AudioControl.
---

Belden Strengthens US Sales Footprint with Strategic Investments in Rep Firm Model
Belden Inc., a global leader in specialty networking solutions, announces strategic investments to support growth in targeted geographical regions and vertical markets.
To support the ever-growing need to store, move and use data by targeted customers in the Mid-Atlantic and Northern California markets, Belden is increasing head-count at its regional Rep Firms.
Specific investments include increasing head-count at Peake Technologies who provide communication infrastructure solutions for key verticals the Mid-Atlantic area. Additional investment has been made in Verve Tech out of Northern California to support the infrastructure needs of targeted verticals within Silicon Valley and the surrounding area.
"With this investment, we are reinforcing our commitment to the dual Sales model of Direct Sales associates supporting select strategic accounts, and our Rep Firms managing our regional Sales strategy," says David Geon, vice-president US Sales at Belden. "This brings more feet on the street to support growing markets and helps us go after verticals that are key to our success."
For further information on Belden's solutions, please visit www.belden.com.
Resolving signal transmission needs with IP- and legacy-based solutions that enable a smooth migration to convergence requires a universal approach for enterprise environments. Only Belden's innovative enterprise connectivity solutions take this universal approach. Belden's extensive portfolio spans LAN, data centers, building automation and security and access control to keep information running smoothly. Outstanding global service and support capabilities and application-specific warranty programs complete Belden's unique offering.
---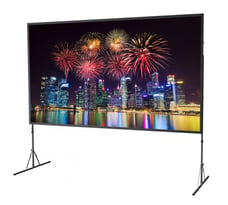 Purchase industry-leading Da-Lite® Fast-Fold® portable projection screens at a discount – designed specifically for rental & staging, live design and event applications. Qualifying products include the Fast-Fold Deluxe Screen System, the Heavy-Duty Fast-Fold Deluxe Screen System and the Fast-Fold Truss Complete Screen. Contact your Da-Lite Sales Rep or Customer Care for details about product and shipping discounts available through December 31, 2019.
---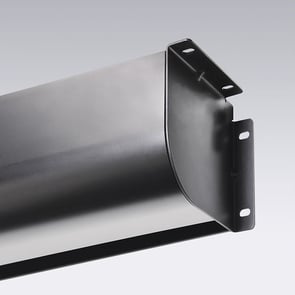 Everybody wants bigger images. However, getting really big images into conference rooms, classrooms, or home theaters can be challenging. Draper's economical Premier XL wall- or ceiling-mounted electric projection screen is the perfect solution. Available in sizes up to 12' x 16, Premier XL features a tab-tensioned viewing surface for a perfectly flat viewing surface for better image quality. Draper's RF welded tabs create a more durable seal that eliminate separation and stickiness. Housed in fabricated extruded aluminum with a curved front and L-shaped back/top cover with black finish. The motor-in-roller is insulated to provide the Premier XL with smooth, quiet operation.
---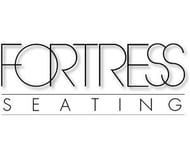 b e y o n d t h e a t e r s e a t i n g
H u d s o n
T u f t e d
L o u n g e r
Stunning Hudson Lounger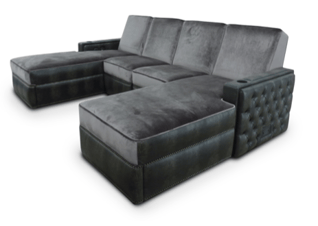 Deep Diamond Tuft on Backs and
Outside arms
Storage Ottoman on casters
Tufted on one side ~
Table Top on the reverse
---
Lexicon MC-10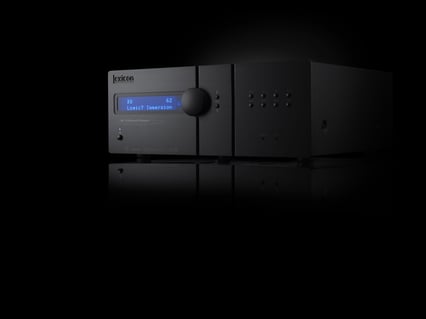 The Lexicon MC-10 was designed to ensure that the most important components of a premium AV system were executed with maximum effectiveness. Superfluous connections and features were eliminated and resources focused to maintain best in class audio and video signal integrity and processing, as well as uncompromised balanced and single ended analog outputs which can be used concurrently. The video and audio stages are designed for current and upcoming technologies. HDMI2.0a with HDCP2.2 4K Ultra HD and 3D video capability as well as Dolby Vision compatibility are built in.
An audiophile grade 24Bit /192kHz DAC, Dirac room equalization, exceptional dynamics and low distortion ensure pristine sound for music and movies. The Harman proprietary Logic 7 Immersion™ up mixer allows content to envelop the listener with a rich and natural three dimensional sound. Flexible configuration, Spotify Connect, and a zone 2 with audio, 4K video, IR control, triggers and XLR and RCA outputs, make the MC-10 an excellent choice for a broad range of applications. The MC-10 is everything you need, done right. Learn more at www.lexicon.com.
---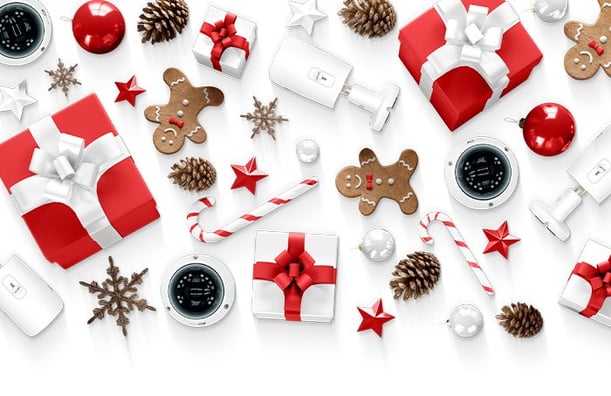 Happy Holidays from IC Realtime
We appreciate your business and the confidence you have placed in us. Please see our holiday hours below.
Christmas
Closed Early Tuesday 12/24 @ 2pm MST
Closed Wednesday 12/25
New Years
Closed Early Tuesday 12/31 @ 2pm MST
Closed Wednesday 1/1
For orders made around these dates, UPS will pick up Air shipments only 12/24 & 12/31.

---

Model #: KD-AOCH33P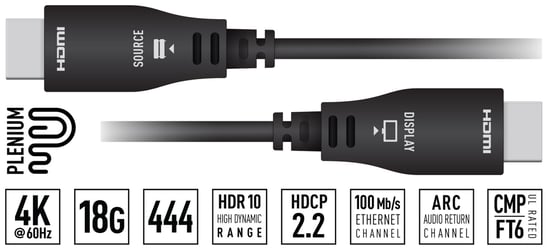 33ft (10m) 4K@60Hz/444/18G – Plenum Active Optical HDMI Cable, CMP/FT6 UL Rated
*Available in Lengths: 33 ft (10m), 49 ft (15m), 66 ft (20m), 98 ft (30m), 131 ft (40m), 164 ft (50m), 328 ft (100m)*
Main Features:
CMP/FT6 UL Rating:Fire retardant jacket is approved for installation in Plenum spaces
Active Optical Cable (AOC):Technology carries heavy TMDS HDMI channel over fiber
4K/UHD Support:4096×2160 or 3840×2160 50/60Hz at 4:4:4
18 Gbps Bandwidth:High Speed / Performance for latest HDMI standards
High Dynamic Range (HDR) Format Support:HDR10 and Dolby® Vision
HDCP 2.2:Compliancy up to HDCP 2.2 and backward compliant
Ethernet Channel: 100 Mb/s Ethernet between two HDMI connecting devices
Audio Return Channel:Audio can be returned from display back to HDMI source for amplification and display
Deep Color Support:Up to 4K 24/25/30Hz 4:4:4/12 bits or 50/60Hz 4:2:0/12 bit
Directional Cable:Each head contains specific handling for optimal performance
OPEN EYE™ Technology:Certified & tested for 0% loss and noise-free performance
Support All Digital Audio Formats:Dolby® TrueHD, Dolby® Digital Plus, Dolby® Atmos and DTS-HD Master Audio™
Thin & Flexible: Wiring supports tighter bend radius than traditional HDMI
Markets: These HDMI Cables are designed for any market.
Check out these products here and here and go to our website for more products!
---

Kramer's Award-Winning DSP Now Available!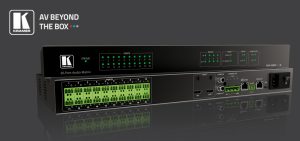 Kramer Electronics unveiled the industry's first ever 20-port audio matrix with DSP and interchangeable inputs & outputs earlier this year at ISE 2019. Immediately gaining notable attention and recognition for its unique capabilities, the AFM-20DSP was named SCN's 2019 Product of the Year. What makes the AFM20DSP so unique? The AFM‑20DSP provides configuration flexibility and eliminates I/O limitations with its 20 interchangeable analog audio ports, letting AV professionals get more functionality for less real estate!
AFM-20DSP also packs 8 AEC channels, auto feedback suppression, Dante™ support, built-in Hi-Z and Lo-Z 120W power amplification, and complete DSP functionality powered by Xilica – who has been a prominent name in the development of class-leading configurable DSP systems since its establishment in 2002. Not overlooking video requirements, AFM-20DSP provides HDMI™ embedding and de-embedding at 4K60 4:2:0. AFM‑20DSP even boasts both fixed and open architecture, enabling AV professionals to use predefined sound configurations or configure a system from scratch.
"When designing the AFM-20DSP, my top priority was to ensure that it would be easy to install and use", said Yuval Kramer, Director of Audio at Kramer. "We decided to include various critical and unique capabilities into this one box to not only remove technical constraints but also to rule out interoperability issues. Our audio line continues to revolutionize the market and I'm certain that AFM-20DSP will become an industry benchmark in the coming years", added Kramer.
AFM-20DSP can be easily integrated in existing AV installations but is ideal for the most demanding boardrooms, multipurpose spaces, auditoriums, sports bars, houses of worship, live events, broadcast facilities, and recording studios. AFM-20DSP is now available and ready to ship!
Contact your local Kramer office for more information; www.KramerAV.com/US/
Learn about other key Kramer Solutions: Kramer Network, Kramer Control Solutions, Kramer at Work, VIA Wireless Presentation & Collaboration Solutions, and Kramer Collaborative Classroom
---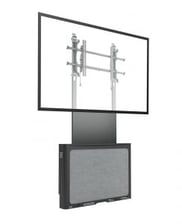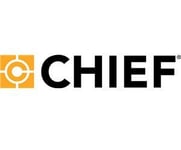 Chief: Tempo™ Flat Panel Floor Support System
The Tempo™ Flat Panel Floor Support System uses the floor instead of the wall to support displays, while maintaining a low profile. This eliminates the need for wall inspection and remediation for time and cost savings across large rollouts.

Da-Lite: Fast Fold Deluxe Screen System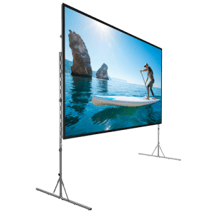 Learn about Da-Lite's Fast Fold Deluxe Screen System here.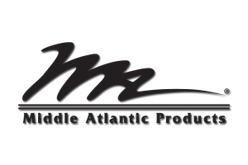 Middle Atlantic: We're Revolutionizing Rackrail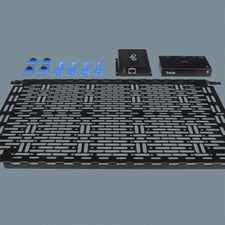 Explore Forward accessories and options. For today's systems at tomorrow's speed. Forward unleashes the inner speed demon in all of us. Enabling 5x faster installation of everyday rack builds so you can focus on what matters – delivering the ultimate AV experience.

Vaddio: All of the product information previously available on Vaddio.com will be available on legrandav.com, along with the many other benefits for an even better digital experience. Check it out!
Vaddio Deployment Tool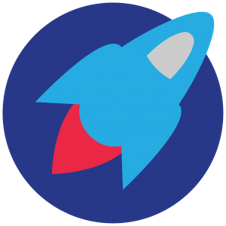 Our Deployment Tool simplifies, streamlines and makes installations of Vaddio equipment a breeze. Try it today – no charge!
Configuration Management – Copy configurations and apply them to other devices.
Device Discovery – Identify all Vaddio devices, firmware version and more.
Mass Firmware Updates – Update groups of devices with minimal effort.
Remote Troubleshooting – Solve the most common AV issues in one convenient dashboard.
---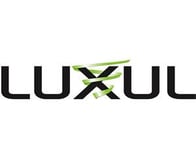 More Than A Year and Over 5,000 Designs, Luxul's Customer Assurance Program Is a Home Run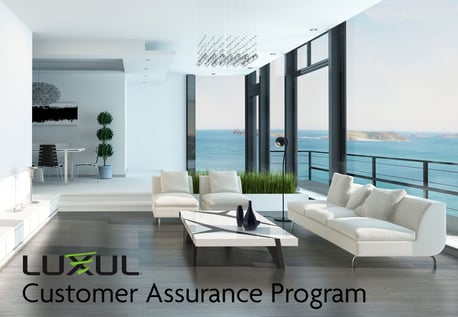 Are You Taking Advantage of CAP's Free Certified Wired and Wireless Network Designs Backed by Guaranteed Performance?
Nearly 5,000 certified wired and wireless network designs have been provided to dealers since Luxul launched the program in late 2018. The Luxul Customer Assurance Program or CAP offers free certified designs that allow you to deliver WiFi networks that are guaranteed to meet your customers' reliability and performance requirements.
To participate in CAP, you simply register your projects at www.luxul.com/assurance to provide project details and requirements. Based on this input, Luxul engineers will deliver a complete custom network design, including both required and optional equipment along with educational pages meant to make end users aware of things like the importance of a solid network, what remote management and internet content management are and their importance, as well as what interference is and how it can be accounted for in a proper design. Then, you simply install the network based on this design, and complete it with a remote management platform.
Luxul's advanced support team is available to dealers requiring assistance configuring their certified networks, while any product experiencing a failure will be promptly replaced. If the wired or wireless network doesn't perform as expected, Luxul will provide any additional equipment to meet customers' expectations at no additional cost.
More information is available at www.luxul.com/assurance-program.aspx.
---

Monitor Audio MASS Surround Sound

The MASS Surround Sound 5.1 system is designed to deliver full-scale audio performance from compact, stylish speaker cabinets that will augment any interior. MASS is comprised of 5 high-performance satellite speakers and an equally capable Subwoofer. Available in a choice of Midnight (blue/black) and Mist (white/grey) cloth covers, the discreet MASS system gives the feel of a luxury piece of soft furnishing while remaining acoustically transparent. Unique and graceful speaker stands have also been designed to complement the MASS Satellites cloth covering while offering perfect speaker placement.
Quick and easy to setup, MASS brings a genuinely enthralling surround sound experience to any room.
MASS MOVIES
Soundtracks are just as big a part of the cinema experience as its pictures, and thanks to MASS, anyone can enjoy an authentic, full-on home cinema experience without breaking the bank or compromising the look of their room. Despite its size, MASS is capable of dynamic, room filling sound with all the punch and drive that the biggest Hollywood blockbusters demand, while also providing perfect clarity to build tension in quieter scenes.
MASS GAMING
With MASS, the avid gamer can properly immerse themselves in their gaming experience and feel right in the thick of the action. Gaming is hugely enhanced by accurate placement of effects, seamless panning right around the 360° soundfield and, thanks to the Subwoofer, incredible low-frequency presence. MASS gives gamers the opportunity to 'level up' their gaming experience and enjoy all their favorite games like never before.
MASS MUSIC
Thanks to the beautiful integration between the Satellites and Subwoofer, MASS will bring music to life in a thrilling listen from the deepest bass notes to the crispest treble. Incredible stereo imaging puts the singer on the center of the stage, while advanced driver technology gives each instrument extraordinarily faithful and convincing tonality.
Featuring purity and precision, the Bronze Series is Monitor Audio's most democratically priced speaker line and has everything to gain from the company's dynamic forty-year design heritage. Enriched with elements from the critically acclaimed Silver Series, the Bronze range is simply in a class of its own. For the first time we're using spectacular steel-grey C-CAM driver cones for a seamless blend with finishes, available in a choice of Black Oak, Pearlescent Walnut, and a new White Ash (special order
only). Invisible driver fixings and floating magnetic grilles add to the impression of streamlined sophistication, lending Bronze the look and feel of a premium range.
We've engineered the acoustic design to deliver lower distortion and a wider response from 7 beautifully matched, deceptively slender models. Combined for natural full-range music and home cinema sound, Bronze will transform the quality of your home entertainment at a price that won't break the bank.
The Bronze Series has garnered an abundance of positive reviews and prestigious awards over the last few years. The Bronze 2 has received the 'Best Standmount Speaker' award from What Hi-Fi? 4 years in a row, while the Bronze 5 AV 5.1 system has received the 'Product of the Year' award from What Hi-Fi? 2 years in a row! Bronze has also received awards from SoundStage! Network, Home Cinema Choice, Hi-Fi Choice, and more!
---

R6400-RHF Double Hinged Wall Mount Rack Enclosure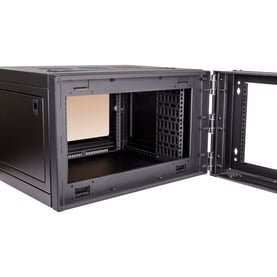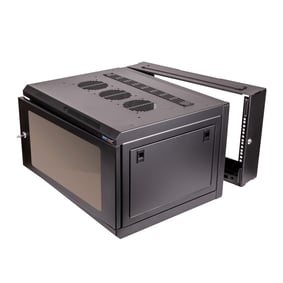 Leading UK 19" racking manufacturer Penn Elcom's R6400-RHF Double Hinged Wall Mount Rack Enclosure is an ingenious solution ideal for installations with space or accessibility requirements as well as in home systems. The enclosure is delivered pre-assembled and includes a variety of user friendly features such as pre welded threaded rack rails, removable side panels, three fan knockouts, and 19″ cable knockouts on the rear and top of the rack.
This new model enables the full rack to securely swing away from the wall, giving installation professionals unrivalled access to the rear and sides, making it a simple job to run cables, replace equipment parts or perform regular maintenance.
Penn Elcom has designed the bracket so that it's easily reversible, opening on either the left or right hand side according to requirements. Heavy duty hinges allow for the rack to be loaded up to 50kg/110lb, and the slam lock system creates an easy open and close function.
Access to the rear of the rack can also be secured with an inbuilt key lock and as with all Penn Elcom racking, it's designed with easy and efficient cable management in mind, providing top and bottom 1U cable knockouts as well as full length internal square hole rack rails.
Cabinet:
Fitted with reversible threaded and square hole rails
Removable side panels and front door (also lockable)
Integrated cable management rails and knockouts
3 top fan vents to assist airflow cooling
Frame:
Reversible, choose either left or right hinged
Heavy-duty hinges bear a load of 50kg / 110lbs
Threaded or square hole rails supplied
1U knockouts for cable access
Frame is separately lockable
---

Platinum Tools ezEX®38 – ezEX-RJ45® Cat5e Connector
The Platinum Tools ezEX38 connector features a unique integrated Hi-Lo stagger load bar and allows big conductors to pass through the front end of the connector, making it easy to verify the wiring sequence before terminating. These connectors are used with Cat5e (Sm. Cat6) cabling and are recommended for PoE/PoE+ and Data applications. These connectors are also available in shielded (STP) internal ground style. The termination tool for these connectors is the EXO Crimp Frame and EXO-EX Die (100061C).
Additional features and specifications include simple one piece/pass through design, no bars or liners; insulation diameter (conductor) size range: .033in. – .038in. (0.84 –0.97mm); max outer diameter: .290in. (7.36mm); 50 micron gold plated contacts; solid or stranded 24-22 AWG; TIA, TAA, RoHS, UL & FCC compliant; typically used with Cat5e (Sm. 6); shielded (STP) internal ground available; Made in the USA.
For pricing and more information on Platinum Tools and its complete product line, please visit www.platinumtools.com, call (800) 749-5783, or email info@platinumtools.com.
---

RTI's 4K HDBaseT Video Distribution Solutions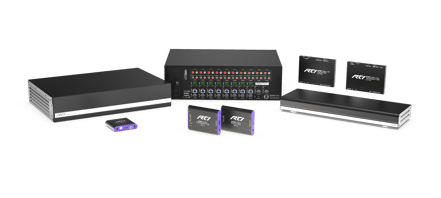 RTI's HDBaseT lineup includes matrix switches, extender sets, and accessories with the latest technology and class-leading features. Utilizing Class C+DSC HDBaseT technology, the latest video distribution solutions from RTI include the flagship VHU-8x 8 x 10 Matrix Switch and VHT-Ux Extender Set, which deliver Ultra HD 4K HDR with 4:4:4 chroma sampling over a single category cable. The result is a visually lossless video image with incredible color depth and contrast. These benefits are all possible over distances up to 328 feet (100 meters) with no latency. RTI also offers the VHD-4x and VHD-8x 4 x 4 and 8 x 10 HDBaseT Matrix Switches and the VHP-1x HDBaseT Class B Extender Set for the delivery of Ultra HD 4K video up to 131 feet. RTI's new matrix switches are loaded with installer-friendly features to simplify setup and enable ongoing support. To speed up installations, the VHU-8x, VHD-4x, and VHD-8x utilize auto-discovery of connected devices and display the I/O setup on a web-based interface. To ensure a rock-solid installation and fast troubleshooting, the units also have a suite of built-in diagnostics capabilities, including cable quality testing and remote monitoring.
---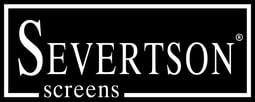 Severtson Screens TAT-4K Titanium Acoustically-Transparent Projection Screen Material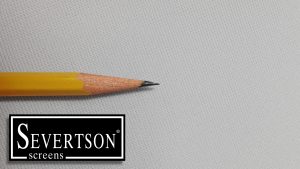 The TAT-4K from Severtson Screens is a revolutionary new woven material designed so that the entire sound stage can be placed directly behind the screen at the same horizontal axis, allowing the audio track to be in perfect sync with the brilliant images on display. The TAT-4K screen meets or exceeds all industry standards for optimum video and acoustic performance, with reference quality reproduction of the digital image combined with true fidelity to the soundtrack. The titanium-grey shade on the TAT-4K preserves picture contrast even in rooms that are not completely dark, resulting in a crisp image that will amaze viewers. The TAT-4K comes in heights ranging from 37 inches in an Impression Series home theater screen, to 10 ft. 5 in. in a Pro-Frame or cinema screen.
Founded in 1986, San Tan Valley, Ariz.-based Severtson Screens is an award-winning global leader in innovative and quality projection screens in the home theater, pro AV, and cinema markets. Its low rejection rate coupled with the high quality of all its products has made Severtson Corporation the industry standard for quality and customer service worldwide. From its unlikely origins in the family kitchen to today's three modern production facilities, Severtson Corporation has remained committed to the principles of innovation and uncompromising quality that have made them who they are today.
For more information, please visit www.severtsonscreens.com, call 480-610-5155, or email sales@severtsonscreens.com.
---
SI Launches Quick-Build 3 & 5 Day Screen Program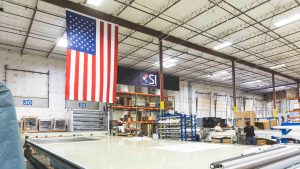 Screen Innovations (SI) who is known best for its optical screen materials such as Black Diamond, is announcing a new "Quick-Build" screen program offering a 3 and 5 day build on a pre-defined set of SKUs. This new program incorporates the most popular sizes and materials from SI's line of Motorized, Fixed, Zero Edge, and Zero Edge Pro screens.
"The goal of the Quick-Build program is not simply supplying our customers the screen they want faster but doing so reliably. What we are really promoting is consistency—we will ship on time, every time," said Jason Reis, COO at SI.
In addition to jumping into a 3-day or 5-day build line, Quick-Build screens also take dramatically less time to order compared to SI's existing custom screen builder tool. The Quick-Build ordering system displays a selection of filterable screen products with instant screen drawing downloads and a quick checkout system.
---

Stealth Acoustics: Speaker Packages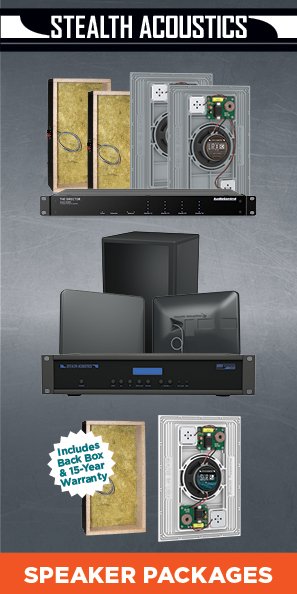 Achieving the perfect surround sound or whole home audio system requires plenty of planning. Choosing the appropriate speakers and corresponding amplifiers is an important step of the planning process, and ordering individual components and warranties adds additional overhead. To help make the whole process easier Stealth Acoustics now offers several speaker/amplifier packages.
Cinema/Surround Packages featuring Stealth Acoustics LineaResponse Invisible Speakers and Subwoofers are available in pre-designed speaker configurations for 5.1, 7.1, and 7.1.4 surround sound. To maximize performance and minimize sound dispersion into adjacent spaces, the package includes matching BX back boxes for each speaker. Choose the cinema/surround package that's right for you.
Distributed Audio Packages available in Good/Better/Best variants feature eight LR6g, LR8g, or LRX-83 speakers. Like the cinema/surround packages, matching BX back boxes are included for every speaker along with either the M4800 or M4840 8-channel amplifier by AudioControl. These packages are will fill your whole home or office with clean, crisp sound.
Subwoofer Packages, similar in concept to the distributed audio packages, include either a B22g or B30g subwoofer system with back boxes, and Stealth's own SA255 subwoofer amplifier. These subwoofer packages are ready to integrate into any audio system.
Convenience Packages are the most basic packages offered by Stealth, but they are also the most flexible. Each of Stealth's impressive LineaResponse Invisible Speakers and Subwoofers is available as a convenience package. Comprised of one speaker with its corresponding BX back box and a 15-year extended warranty, these packages are designed to make project specification easy and give you piece of mind that your investment is protected.
Outdoor Packages complete the package spectrum and are an easy way to add great sounding audio to any outdoor space. The packages are based on Stealth's award winning, IP68 rated StingRay outdoor speakers which have no grates or grills to rust and can be customized with painted or vinyl graphics to blend in or stand out from the surroundings. These packages feature Stealth's SA2400 amplifier driving a pair of StingRay 6 or StingRay 8 speakers, while the top end package adds a StingRay 430 subwoofer which features eight 8-inch woofers for full 360° degree bass coverage.
Website: https://www.stealthacoustics.com/
Contact: sales@stealthacoustics.com | Phone: 360.848.6800 | Toll Free: 888.865.6800
---

Long range PoE networking is here! The 8-Port Gigabit Long Range PoE+ Switch (model TPE-LG80) delivers data and power over Ethernet cables to PoE devices such as access points, VoIP phones, and IP cameras. It supports both PoE and PoE+ devices with a 65W PoE power budget. Enable the DIP switch to extend the PoE+ signal up to 200m (656 ft.) at 10Mbps for long distance PoE installations. Plug and play this sturdy metal switch for reliable high-speed PoE networking. Its fanless design is perfect for quiet environments that require silent operation.

---

Now Shipping: URC's new Handheld Remote with Voice Control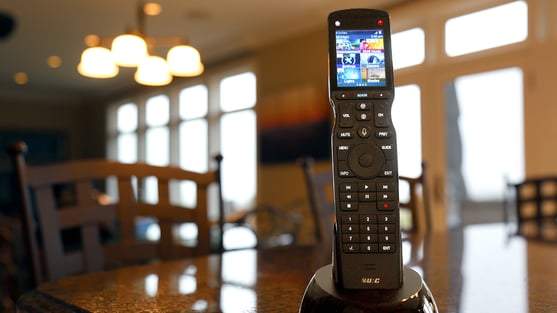 There's nothing like the convenience of using your voice to control your entire home. However, more and more these days, consumers have concerns about privacy and don't want to be monitored all the time. URC's new addition to it's Total Control Smart Automation & Control system, the TRC-1480 handled remote with voice control, is the perfect solution. Featuring push-to-talk voice control, a vibrant 2.4-inch touchscreen LCD for display of 2-way meta data, hard buttons and an ergonomic design, the TRC-1480 is now shipping.
Push-to-Talk Voice Control
The TRC-1480 features an integrated microphone for easy voice communication with Alexa or Siri (for Apple TV). "End users want a number of options for easy control of their whole house or commercial facility, so we've added voice control to our Total Control system with our new TRC-1480 handheld remote." noted Chang K. Park, President and Owner of URC. "Better yet, our new remote control features a push-to-talk microphone button to activate the voice control, so that end users don't have to be worried about their conversations being monitored all the time. Simply put, the TRC-1480 handheld remote with voice control listens to you only when you want it to." Support for additional voice services will be added with future firmware upgrades.
Engineered for URC Total Control 2.0 System Compatibility
The new TRC-1480, perfect for residential and commercial applications, provides full control URC's Total Control 2.0 system, including control of televisions, cable & satellite boxes, audio video components, music systems, lighting systems, security cameras, door locks, thermostats, motorized shades and more. Sold only through selected direct dealers, URC Total Control 2.0 is URC's whole-facility automation and control system featuring solid performance, highly customizable GUIs and robust third-party integration.
---

Video Mount Products ERWEN-12E750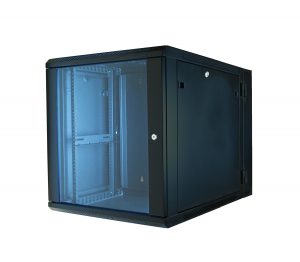 The ERWEN-12E750 19-inch wall rack enclosure is a deeper version of VMP's popular ERWEN-12E wall cabinet, and features 24 inches of usable depth. "This is a workhorse of a wall mounted rack enclosure with the added depth you need for installing today's deeper components," said Keith Fulmer, president of VMP. "With adjustable 4-post rails, a removable hinged wall plate, reversible tempered glass front door, and optional fans for enhanced thermal management, the ERWEN-12E750 has all the features today's professional installers are looking for."
Additional features of the ERWEN-12E750 19-inch wall rack enclosure include: Welded steel construction; Ships fully assembled; Overall Dimensions – 25.3 in. H x 24.3 in. W x 29.625 in. D; Usable Depth – 24 inches; Works with all standard 19-in. rack equipment and accessories; Rails have numbered spaces with standard 10-32 threading; Adjustable front and rear rails; Vented top and bottom; Top and bottom cable routing knockouts; Reversible hinged tempered glass front door; Removable hinged back panel; Removable locking side panels; Stabilizing hasp; Load capacity – 120 lbs.; Black powder coat finish.
For more information, please visit www.videomount.com or call toll free 877-281-2169. If you need help choosing the right mount for your application, try the VideoMount™-Finder at www.chooseamount.com.
---