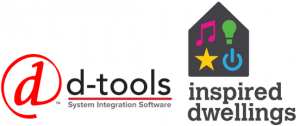 Inspired Dwellings deploys D-Tools through every phase of a smart home installation in Kent
Inspired Dwellings, a London, UK-based home technology consultancy, design, and delivery service, specializes in high-end residential, commercial, and multi-dwelling units (MDUs) around London. The integration firm uses D-Tools' award-winning on-premises software, System Integrator (SI), through every phase of every project to schedule tasks, minimize errors, track and maximize profitability, and ensure client satisfaction.
A long-time, loyal D-Tools customer, Inspired Dwellings rolled out D-Tools' Mobile Install feature approximately three years ago to drive the design, installation, and project management process. Managing Director Rob Sutherland says, "D-Tools is ingrained in our business. It's part of our daily work. Our design and project management process is all driven by Mobile Install."
D-Tools' Mobile Install functionality gives users the power to publish install Tasks and Service Orders to a web portal powered by the D-Tools cloud that can be accessed by technicians and installers in the field from any device. Installers and Technicians can track install time and completion status, take notes and photos of the install, and sync this information back into SI for accurate time and install tracking.
Weekly, the Inspired Dwellings team, including approximately seven engineers, three project managers, have a planning meeting for the following week and subsequent weeks ahead. "The week immediately following is a firm plan, while the following weeks, we outline what resources we will need, and where we may need them," Sutherland says. "Then we put all the tasks in the team's calendars and publish them to Mobile Install."
Any member of the team can tell with one look at their smartphone what any particular day will look like. "They have a whole week or two worth of work booked out on Mobile Install, and the calendar shows them their task list. The engineers can offer feedback, and at the end of the day, they can list what's outstanding, or any snags they encountered. We use D-Tools as a comprehensive management tool," Sutherland explains.
Of course, things don't always work out as planned when the team gets into the field. Sometimes the builders aren't ready for the integrator, or any other number of delays may arise.
"Mobile Install is the least painful way for us to plan resourcing," Sutherland says. "It allows us to plan the week out, and then it's just a matter of managing around that plan as new priorities come up. It's an ongoing chess match but having all the information in one place allows us to have an overall view to keep things moving."
Moving Swiftly from Sales to Design
The ability to move swiftly from sales to design, process change orders with ease, and manage the installation efficiently and effectively using D-Tools and Mobile Install helped Inspired Dwellings design and integrate award-winning AV, data, lighting, heating, and CCTV systems throughout a luxury property in Kent, UK.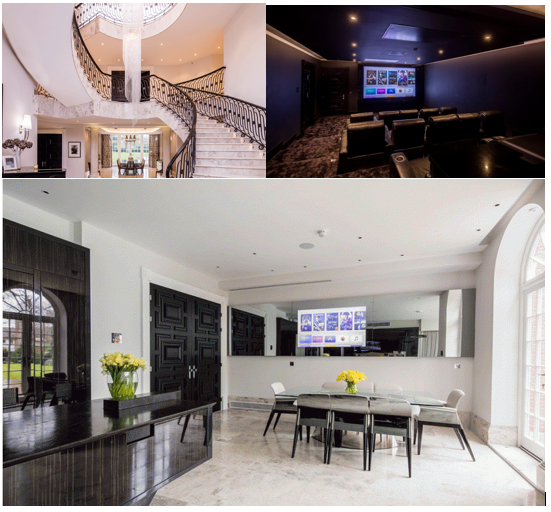 Because it was a new construction project, Inspired Dwellings had the benefit of working within the builder's schedule to run wiring in open walls and achieve optimal placement of speakers for the whole home audio system, LED screens, and understated touch screens throughout the home to access the Control4 home automation system. Mobile Install kept the project on-track all the way.
"Utilizing D-Tools extensive product library, our design team worked tirelessly to ensure that we had all the most up to date technology while the AV equipment was put together offsite in our workshop and tested to ensure a seamless installation at the customer's home," Sutherland says.
Luxury With No Boundaries The grand 12,000 square-foot home, which opens to a spacious foyer with a spiral staircase, includes a 14-seat home theater with three rows of chairs from Fortress Seating on risers for optimal sightlines, a JVC DLA-X500R 4K projector, and a 130" Screen Research screen.
All 14 rooms in the home feature distributed audio, while a family room boasts a 55-inch TV & surround sound system. Inspired Dwellings provided HDMI video distribution throughout the home and a Rako lighting system. An equipment closet houses a Middle Atlantic rack with a Control4 control system, Apple TV's, a Sonos ZonePlayer, and centralized video sources including Blu-ray players and satellite set-top boxes. Inspired Dwellings was also tasked with providing the family's data infrastructure with enough bandwidth to accommodate all the smart devices on the network, and a CCTV security system that spans the property, indoors and out.
Opportunities for Up-Sells with D-Tools' Efficient Estimation Process The family knew what they wanted to accomplish and were specific in their request for it to include the latest technology. They were, however, open to suggestions that would make their home's systems more user-friendly and enhance their overall technology experience.
By using the D-Tools SI platform, Inspired Dwellings was able to create a detailed yet straightforward estimate quickly. "The client appreciated how quickly we were able to present an initial proposal," says Sutherland. The estimate allowed the integration firm's team not just to list out items and labor, but also show alternatives the client might choose—a key to enhancing the technology experience for the family and increasing the profitability of the job through thoughtful equipment up-sells.
"By using the options within the proposal, we could show the client the price for items not included while helping our sales team facilitate any extras the client might want to add," he explains.
D-Tools Helps Preserve Profit Margins Because D-Tools' SI processes change quickly and ensured proper accessories were added, Inspired Dwellings was able to preserve their profit margins and be sure nothing had been forgotten. On a project of this size, unaccounted-for cables and connectors can quickly add up and erode profits, especially if parts need to be shipped overnight or construction is delayed due to missing components. The robustness of D-Tools' documentation and customized report format gave Inspired Dwellings the confidence to move forward.
Keeping It All Under Control With D-Tools The family embraces technology in every aspect of their lives, but didn't want it to distract from the home's beauty. Touch panels sit unobtrusively on walls in common areas and bedrooms, but family members can also control the home's systems through apps on their iPads and smartphones.
With so many different areas requiring cabling, wiring, and other various equipment, the project could have gotten extremely complicated and hard to manage very quickly. D-Tools helped Inspired Dwellings keep it all under control. "Once the client agreed to the proposal, D-Tools enabled a swift and easy transition from Sales to the Design, because the project database already had the items ready," says Sutherland. "Using D-Tools drawing capabilities – via integrated Visio – we can create cable schedules, plans, elevations, schematics and project information sheets using the information in the database. This not only saves us time, but ensures that the data is correct and to the specification that the sales rep and client have agreed. As our team started to work on this project, it was easy to locate products, rooms or systems that they were working on."
Change Orders with No Hassle As with most projects, especially new construction where the home technology professional must adapt to accommodate changes from the architect and the builder, there were several changes to the original design plans. "D-Tools allowed us to generate the Change Order via the Compare Tool, capturing all Hardware and Labor charges to send to the client for approval," says Sutherland. "This process ensured our costs and the client's budget were always aligned." Following Change Order approval, it's easy to make the changes to the design plans, saving the integrator time and keeping the project on schedule and profitable, which keeps both the client and the integrator happy.
"D-Tools is a heavily embedded tool within our business," Sutherland says. "If the client wanted to make a change to the systems, we processed that through D-Tools, put it in Mobile Install, and used Mobile Install to manage our resources."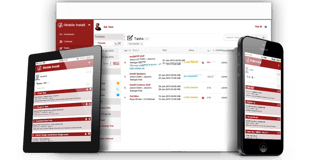 Inspired Dwellings Used D-Tools Mobile Install to Maximize Profitability Noting that Inspired Dwellings sees tremendous benefits to using D-Tools from start to finish for every project, Sutherland says he sees cost and time savings within every phase of the project thanks to the SI platform. Using D-Tools for purchase orders, scheduling, and project management Inspired Dwellings keeps large projects like the Kent Family Home on time and within budget. Using D-Tools for purchase orders also helps ensure the installation team has the right products on the truck when they need them, even when products change.
As with every project, Inspired Dwellings used the Schedule tool and D-Tools' Mobile Install feature to arrange visits and set tasks for the engineering, programming, and design teams during the Kent installation. "Using Mobile Install, we sent the schedule to the installation team's mobile devices, allowing them not only to see what they are doing but also record their time and send that information back to the project managers," Sutherland says. "Using the data from Mobile Install, the Schedule tool, and Purchase Orders allows us to track not only time and product price adjustments but also margins on our work, which is very important to help us understand job profitability," says Sutherland. "Overall, D-Tools lets us work efficiently and effectively, using one program to do many business tasks. It also saves us time and resources, which then frees the team up to deal with client management, support, installation, and sales activities to keep our business growing."
Additional information on the D-Tools SI platform and Mobile Install can be obtained by signing up for a free personal tour by visiting https://d-tools.com/live-demo-webinar/ or for a free 30-day trial, which can be downloaded by visiting https://d-tools.com/30-day-free-trial/.
Images can be found here: http://inspireddwellings.com/portfolio/av-data-lighting-cctv