Servicing an area including New Hampshire, Massachusetts, Maine and Arizona, Tailor-Made Audio and Video provides affordable and reliable technology solutions for residential and commercial markets, from home theaters and cutting-edge conference rooms to whole-house automation. Tailor-Made AV started using D-Tools System Integrator (SI) about seven months ago after a lot of internal debate within the company. The company had been using another system integration bidding software for over a year prior to that, and had never felt they were getting their money's worth. Complaints from various departments included that the system design and proposal process was taking far too long, and that it didn't seem that the investment in software was paying off. Tailor-Made is a small company, and it was essentially a full-time job keeping up with database management.
Enter D-Tools. "Our account manager at D-Tools worked with us on implementing SI into our business within our budget, and fulfilled every need we had", said John McDermott, System Designer for Tailor-Made. "There are no gimmicks like "mobile integration" that's hardly usable or accounting software integration that takes a computer science degree to operate. It simply worked from day one. It was intuitive, and when we had a question the team at D-Tools was there to help."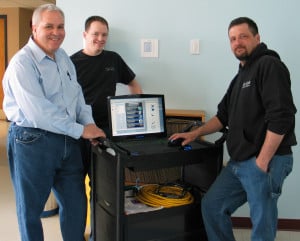 Since the company started using the newest version, they have marveled at what they have managed to do with it. "It's a complete re-imagining of the user interface, but still keeping some similarities in place to allow for a smooth transition. The process of upgrading was something we had been dreading. You don't often find a software company of any type that puts more than a basic plan in place to make sure your data stays intact and your down time is minimal," said McDermott. First of all, SI is installed next to the previous version, allowing you to transition at your own pace. Have a big project you're working on that can't wait for you to learn new software? No problem! We completed our project in the previous version and use the newest version for other projects simultaneously. Tools are in place to import your projects into SI one by one, allowing you to only move projects you want to work on in SI. You can import product data as well, or import it as you import projects if you prefer starting over with your database. I dare say they thought of everything. We have had very few hang-ups in learning the new system, and all have been (and I'm not kidding) because what we were trying to do was so much simpler than it had been before and we were trying too hard.
Now for the important part: how has SI improved Tailor-Made's business? "SI provides us with easy visibility from the Home screen of any important information needed", noted McDermott. "If we need to see if a project product has been ordered? One screen. If we need to see if it is scheduled? Also one screen. This software is made for what it is truly needed for… driving the business and we have benefited immensely from it!"
D-Tools SI has also enhanced the way different departments within Tailor-Made work together, further streamlining their business process. "When you're dealing with a project in SI, and you want to get into a "secondary" task such as running reports or scheduling, you no longer feel like this is a complicated task. The system feels like it was designed with everyone in mind from the designers to the installers. Those placing orders, scheduling jobs, or managing the books will feel just as comfortable in SI as those writing proposals. I think one of the best parts now is the ability to more easily see the progress of a project. Now these departments have an easier time knowing when it is their turn to step in", said McDermott.
"D-Tools System Integrator is already improving our team's day-to-day operations. From the simple designing of proposals to viewing of project status, ordering, scheduling, and managing our client database, SI has far surpassed our expectations. I truly believe this version will help us grow and manage our business, but more importantly I believe it will help us create a more enjoyable client experience every step of the way."
~John McDermott, Tailor-Made Audio+Video