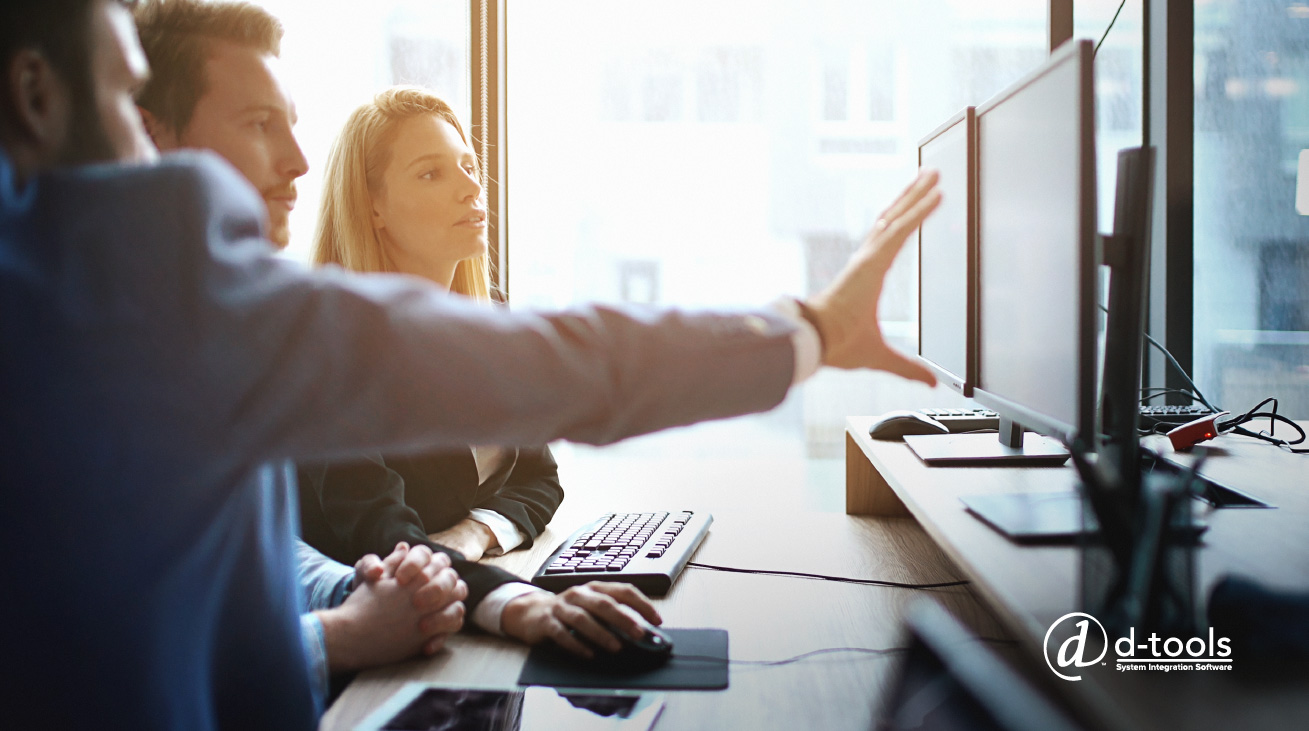 As an AV integrator, what's on your wish list? More time? More prospects? Better prospects? Actionable data? Intelligence that will drive strategy and growth? Increased revenue? All of the above? With the right AV sales management system, these move from wishes to goals - and from there, you can forge a path towards achievement.
What Is a Sales Management System?
A sales management system is a platform that enables sales teams to reach their business-building goals. It can be utilized to store customer information, track data, reduce admin tasks and time drains, score and assign leads, and, of course, win more business. A comprehensive sales management system will boost efficiency while empowering your team to work more cohesively and effectively.
That said, not all sales management systems are created equal or offer the same levels of functionality. What are the must-have features for success?

Top 6 AV Sales Management System Features
Lead Source Tracking
CRM functionality is critical for AV sales management systems, as it provides the necessary tools needed to manage leads, prospects, and the sales pipeline, which ultimately helps drive sales performance and results. Within this functionality, your software solution should contain Lead Source Tracking, which provides the ability to track and report on where leads come from, and which lead sources are most plentiful and valuable as it relates to generating new business. Further, when customer types can be divided — such as "Leads, Prospects, and Clients"— salespeople can then discern which contacts are mere suspects vs. prospects vs. actual clients, and report on each separately and appropriately.
Lastly, and importantly for sales forecasting purposes, incorporated business analytics can provide the perfect dashboard view for salespeople (and sales managers), which can include a list of pending and past due tasks (i.e., client follow-ups), a list of recently-added leads, month-to-date and/or year-to-date sales performance, sales projections and more. These dashboards can help gain valuable business insights and reporting of key performance indicators.
Pipeline Management
Effective pipeline management enables AV integrators to accomplish a number of mission-critical goals: you can accurately project revenues, analyze your sales process to identify weak points, anticipate upcoming sales growth or stagnation, and see how long it typically takes for a lead to become a paying customer.

Via your AV sales management system, you have a visual look at your pipeline, and as we are all tired of hearing, "If you can measure it, you can manage it." This presents an invaluable opportunity to improve your sales process, analyze, plan, and implement new strategies, manage and allocate resources optimally, and, of course, maintain a steady pipeline that ensures future revenue.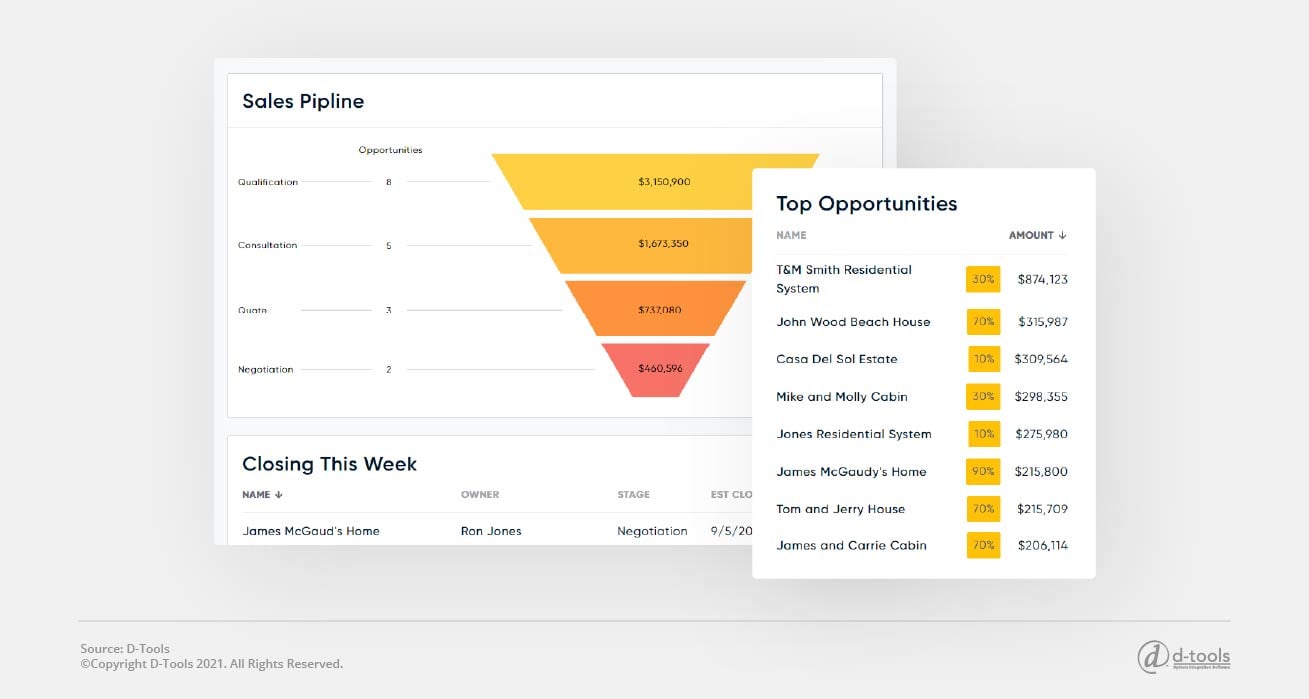 A sales pipeline is akin to a snapshot of your company's present and future health; managing it proactively is paramount.
Process Management
Those who work in and around sales know that, behind the presentations and pitches, the deals, and the closes, there is a myriad of moving parts that must work in concert to realize the results companies need. From prospecting, preparation, and presentation to closing and follow-up, there are a thousand steps (give or take!) that make up the sales process - and having in-depth insight into and management of these empowers AV integrators to move with agility, win more work, and see increases in revenue.
The right sales management system enables you to track, analyze, and improve every aspect of your process, helping you identify areas for improvement, opportunity, and growth. When many of the more mundane, tedious tasks are automated (which we will discuss in a moment), it frees your team's time and mental energy for the work of selling - and closing.
Sales Analytics
So… What's up?
In sales, you need to maintain an eagle-eye watch on your processes, practices, data, and deals. With integrated sales analytics functionality, you can measure, manage, and analyze key data in order to make strategic decisions when it comes to prospects, customers, products/services, opportunities, and performance.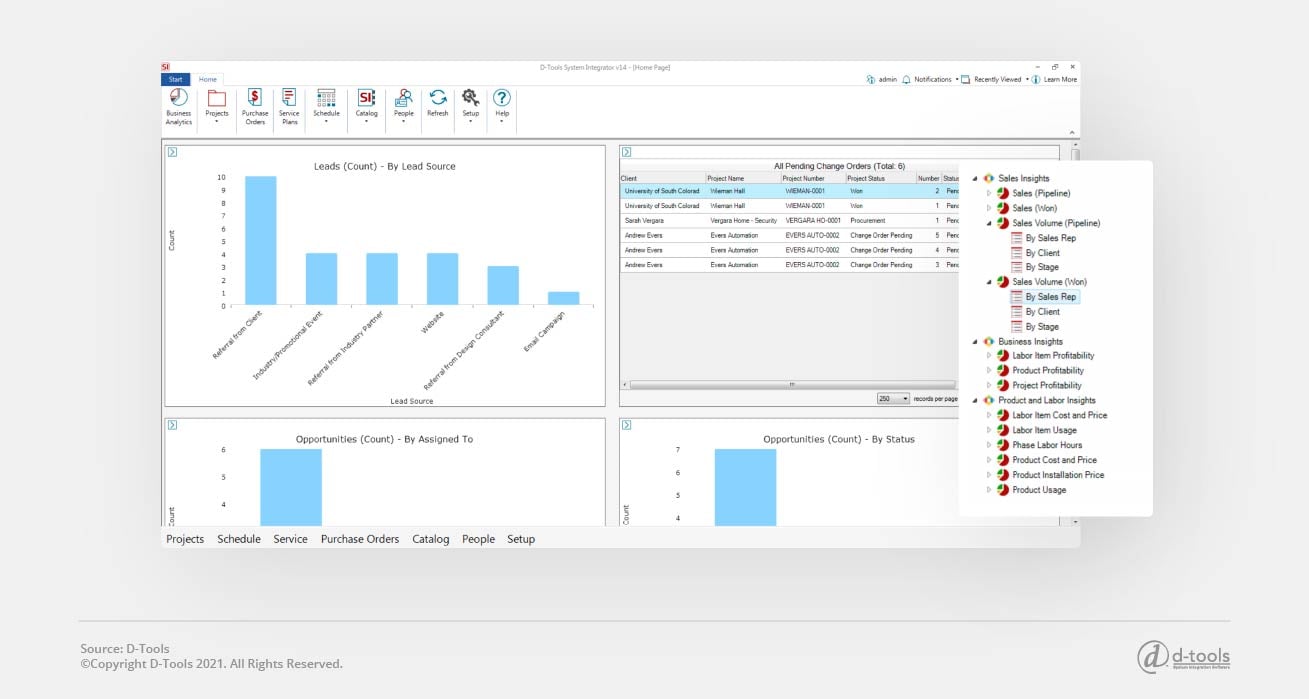 This is actionable intelligence that you can leverage for results: identify and manage risk, accurately predict revenue, prioritize sales objectives, and drive efficiency and growth.
Proposal Generation
Every project for an AV system integrator starts with the initial client engagement, which is the first step in establishing trust to get the foot in the door for the bid — an often competitive process. The project proposal is as essential to a business as it is to the client. It can make the difference between winning the job, which directly affects company revenue, or losing out to the competition, along with any resulting referrals that could lead to additional business.

Implementing the right AV proposal generation elements are critical in the beginning stages of a project as they can help integrators set and meet client expectations, adhere to budgets and timelines, outline what a successful delivery would look like, accurately determine project profitability, and ultimately help win more jobs.
Accounting Integration
A comprehensive AV sales management system is just that… integrated. There is no need to silo information or to laboriously navigate between platforms in order to access the information and functionality you require to run your business. By integrating accounting solutions, you have the facts and figures you need at the tip of your fingers.
By folding accounting functionality into your sales management system, you can accurately record revenue sources, significantly reduce admin time, and negate the possibility of errors. Further, processes, such as invoicing, become more seamless, streamlined, and ultra-efficient.
Schedule a Guided Tour of D-Tools Sales Management Software
Ensuring that your AV sales management system includes each of these key domains is critical; more than that, it can impact your ability to move quickly enough - armed with the information and intel you need— to win over prospects and close deals.

D-Tools delivers software solutions that are fully inclusive and designed to meet your specific needs. By integrating the functionality you require with the ease and convenience you want, we can drive the change you want to see within your company. See our solutions in action: sign up for a live demo to walk it through with a D-Tools professional.