You spend hours with your prospects listening, designing and putting together a quote that is now presentable. You get all your documentation organized and you send it over via email … now you play the waiting game. Did your customer receive the quote? Have they even viewed the quote? When do you follow up? This is not only time consuming but often frustrating. What if you could keep all your customer-facing documents in one location and get real-time notifications of any activity from your customers? Now you can with the D-Tools Customer Portal.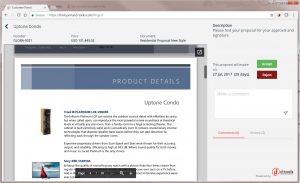 The Customer Portal enables users to publish Proposals, Contracts, Change Orders, and other client-facing documentation to the web for better client engagement. Clients will be able to log-in to a secure web portal and review documentation, make comments and accept or reject critical business documentation. Clients can also create e-signatures for proposals, contracts, and change orders, and these signed documents can be saved to the D-Tools project within SI. Saving you time and keeping you organized.
SI users will be notified when a customer reviews, comments or accepts proposals, streamlining the process and improving communications throughout the project lifecycle.
The Customer Portal is more customizable now than ever before. As a Software Assurance member, you received the SI 2018 R1 update which allows you to enable an auto-sign feature, as well customize the "from" and "reply to" email address. This allows your customers to automatically review documents from an email link that will be sent from a recognizable email display name. This quick access makes it easier to get the documents to your customers and allows them to communicate with ease.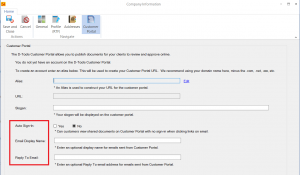 To enable go to the control panel and click on Company Information then Customer Portal, the window below will open, and you can make your new changes.
Please click here to view a demonstration of Customer Portal. Alternatively, take a look at our documentation page.
Don't waste any more time sending documents over via email with no real-time notification of the activity on the other end. Start utilizing the Customer Portal today and save time not only for yourself but for your customers as well.
Our Customer Success team is committed to your ongoing support and implementation of D-Tools System Integrator. If you have questions or would like to learn more about becoming a Software Assurance member please email our team at csm@d-tools.com. We are always happy to help!
The Customer Success Team