Remote Spanish Installation Made Easy With D-Tools
Referrals can happen under the most fortuitous of circumstances. James Ratcliffe, director of Homeplay Ltd happened to be doing a routine upgrade in Sotogrande, Spain at the Valderrama Golf Course, when an architect came in to show the home to his client. "We got to talking, and discovered that she was looking for an integrator," says Ratcliffe. While her main residence is in Singapore, she and her husband wanted to install a whole-home AV and lighting system in this golf-course vacation home.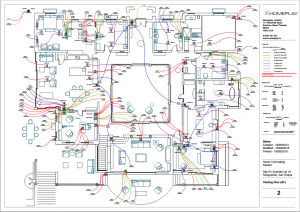 To accomplish this goal, Ratcliffe and his team used a combination of Control4 automation and Lutron lighting. In addition to the whole-home automation and lighting, Homeplay installed a Steinway Lyngdorf home cinema sound system with a 4K Sony projector and a Seymour AV screen. "The video distribution was all 4K too; we had one of the first Leaf 4K switches in Europe," says Ratcliffe. "It's always a bit of a worry being the first with any tech, but it was rock solid. We had to take a chance, either that or install a system that would have been out of date on day one." The result is an amazing home cinema that offers the very best resolution for a stunning picture.
Outdoors, a Sonance Sonarray SR-1 system provides music around the pool, which the client absolutely loves, according to Ratcliffe. "The shape of the building really helped the system acoustically, and it just sounded incredible—like a Marbella beach club!"
Getting this exemplary result in a remote location was no easy task. Aside from utilizing D-Tools System Integrator (SI) software's extensive data library for the whole-home AV and lighting system, Homeplay credits D-Tools with making the process smoother and more accurate. Homeplay has been a D-Tools customer for around five years, before which the company relied on a mixture of Visio, Excel, and Word. For the first three to four years, the company only used it for quotes. "It really helped us produce more accurately priced and more profitable proposals," says Ratcliffe. In fact, the quality of SI's proposal documentation is what won Homeplay this project in the first place. "Making sure that we accurately cost jobs is key. Our profitability is way up since we worked out what our jobs were actually costing," says Ratcliffe.
More recently, Homeplay has begun using the software platform to its full extent, noting that it has transformed the entire business. D-Tools not only helped Homeplay win the project with the quality of documentation, it made managing the project far easier. "We wouldn't have been able to complete the project so quickly and efficiently without D-Tools," says Ratcliffe. "Because the home is in the Spanish countryside, it wasn't possible to just drive down to the store and pick up additional components or parts needed to complete the installation. Every connector and cable had to be planned intricately, and D-Tools facilitated this."
Homeplay was also able to accurately predict the amount of labor that would be required to complete each phase of the install. "When working locally you can be a lot more relaxed, but when you've got to organize car hire, flights, hotels, and staff being away from home for long periods—you have to get the timing right. Staying late to finish the job isn't an option when you've got a flight to catch!" adds Ratcliffe.
Now, thanks to some careful planning and thoughtful integration, the client loves their system in this second home, and is able to entertain frequently with integrated lighting and music. Ratcliffe summarizes: "The system really is the heartbeat of this home."