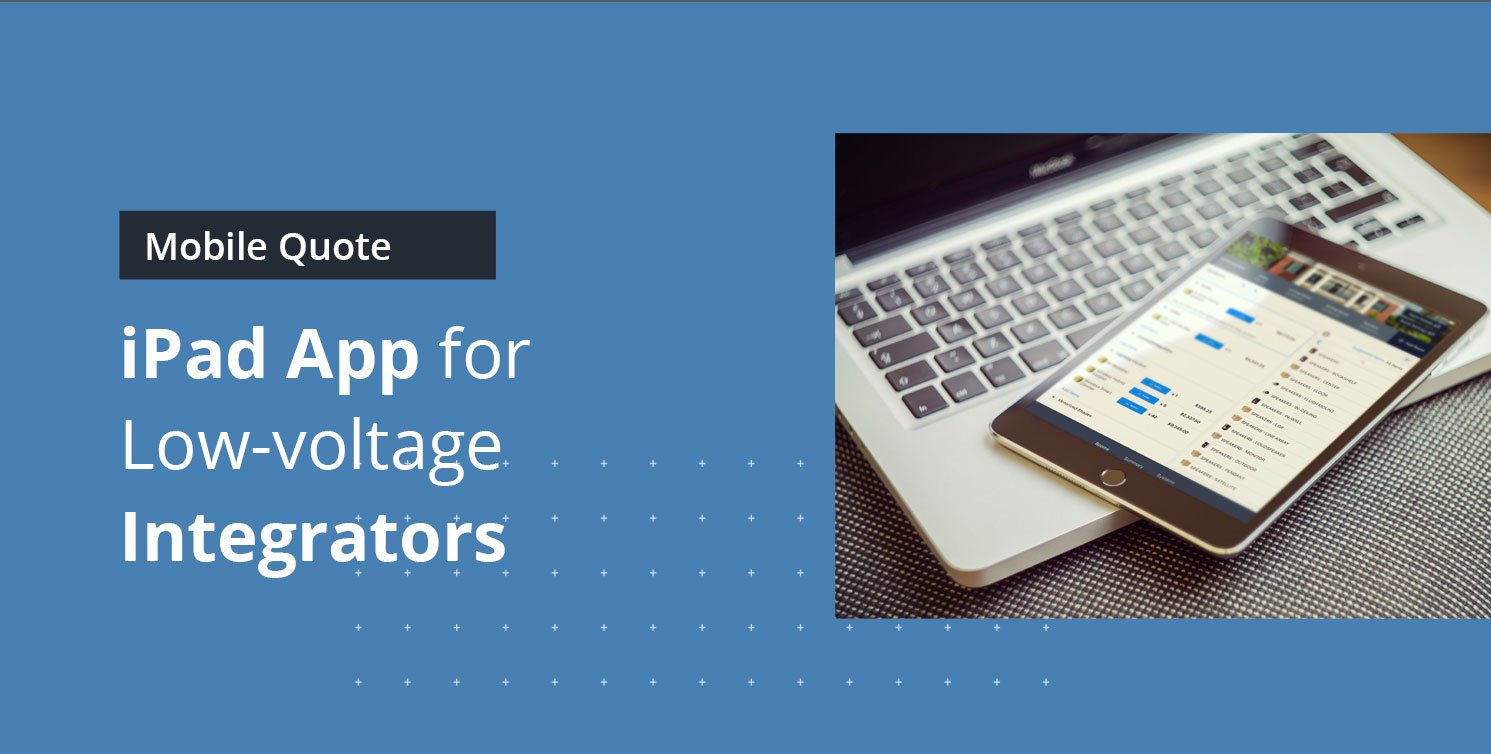 Develop scope & budget and more with D-Tools mobile quoting iPad app for AV system integrators
D-Tools Mobile Quote is an iPad companion app for our on-premises System Integrator software for audio visual system integrators. Mobile Quote makes it easy for you to walk prospective clients through available technology options while seamlessly generating a scope and budget for customer approval. The data collected is instantaneously transferred into D-Tools SI for further design development and field service management.
Leveraging D-Tools' extensive Product Library and workflow concepts such as the specification of devices by location and system, Mobile Quote allows salespeople to obtain signed approval of a project scope and budget, and even collect a design retainer, in the very first client meeting, thereby eliminating the competition as well as the need to waste valuable time on proposal revisions.
Shorten the Sales Cycle and Close More Deals with Mobile Quote 2.0
Create New Quotes
Add contact information, establish pricing parameters, set a deposit or design retainer amount, and even a price contingency/range.
Preset, Add and Delete Rooms & Systems
Add system details and room details including site photos.
Add Products as Packages and/or Allowances
Add items from the SI Catalog to multiple rooms simultaneously, adjust pricing on-the-fly.
Automatically Calculates Quote Totals and Subtotals
Automatically calculate by system, by room, or by equipment vs. labor.
View a Quote Summary
View Quote summary by system, by room, or by equipment vs. labor.
Get Customer Approval on the Spot
eSignature capabilities and even collect the deposit/retainer through your preferred mobile payments platform.
D-Tools Mobile Quote is available for download via the Apple app store and can be installed for free. However, every customer must purchase Mobile Quote licenses in order to fully use Mobile Quote. Device Licenses are priced at $25.00 per iPad device per month and managed via the SI registration system. For more information on purchasing Mobile Quote 2.0, please click here.
Download on the Apple Store https://itunes.apple.com/us/app/d-tools-mobile-quote-2-0/id1315053907?ls=1&mt=8
Mobile Quote FAQs https://d-tools.com/mobilequote-faqs/