Updating to Excellence
Performance Audio & Video, a residential and light commercial integration firm focused on creating family friendly home control systems and exceptional entertainment experiences, had serviced the technology in a homeowners' previous abode for more than a year. So when the couple decided to move to a new home in Marietta, Georgia, PAV was the logical choice to fully integrate their home with killer new home automation and entertainment systems.
Performance Audio & Video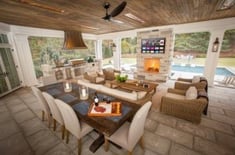 Chose an Elan g! system to control the 12,000-square-foot home, and no technology was left to chance. The Elan g! system manages a distributed video system with a mixture of 17 high-def and 4K LG TVs and an Elan distributed audio system with 13 zones of Niles HD loudspeakers, two zones of Episode landscape speakers, and two Yamaha Aventage Surround Sound Systems. Lighting control is intuitive thanks to a Lutron Ra2 lighting control system with 100% LED loads. And if that's not enough, the homeowners can easily control the Somfy motorized patio screens, a Jandy pool and spa control system, and even a full dance club powered by 4,500 watts of JBL Pro series speakers, complete with VIP lounge, DJ booth, and a DMX Lighting control system.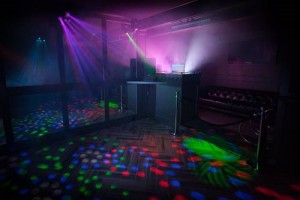 With robust and all-encompassing systems like these, nailing the details becomes extremely important, not just during the bidding stage, but throughout the entire process of the installation. "In 2008 while researching proposal and design software for PAV, I recognized that D-Tools was clearly the market leader. At that time, however, I determined that D-Tools was more than we needed for the size of our company and we chose to use another proposal-only software," says Jason Caponi, partner and operations manager at PAV. "After several years and versions of using that software, it became clear that we needed a fully featured design and project management software solution."
Before it fully implemented D-Tools System Integrator (SI) into all aspects of the company operations, PAV was managing projects inefficiently via a collection of custom Excel file checklists and Outlook calendar events. Now, all of the company's project management is completed in D-Tools SI software platform, along with the versatile Mobile Install feature for technicians in the field.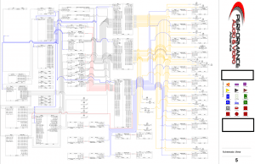 For this highly integrated home, D-Tools' system design process was a critical step to ensure that all of the connected sub-systems were integrated properly. The quality of the documentation made communicating the pre-wire, trim, and final installation details to the technicians a breeze. During the pre-wire stage of the project, for example, multiple changes were made to the number and type of media zones required. In the past, this would have required a manual 'recount' of the amp channels, video zones, network ports, audio baluns, and more to determine the effect of the changes. "The D-Tools documentation that was created in the design phase allowed us to easily determine what equipment changes needed to be made to the control, audio, video, lighting and network systems to accommodate the additional media zones," says Caponi.
Making changes or upgrades to the home is also drastically easier thanks to D-Tools. "We are now able to submit change orders to the client during the project. Once they are approved, we can reissue the installation documentation to the technicians via Mobile Install in just a few minutes," Caponi adds. "A simple summary of the change in D-Tools SI as a revision makes the invoicing process at the end of the project much easier."
In the end, D-Tools helped PAV successfully install and manage this beautiful, automated home. Alone, the effective scheduling of tasks for the project and the ability to assign each technician with specific items based on their workload has created more efficiency and prevented many of the smaller aspects of the project from getting overlooked.
"Along with utilizing the vast product data library available, the design and installation documentation that PAV created in D-Tools gave us the ability to implement the sophisticated Elan g! system, which the client now enjoys on a daily basis," says Caponi. "In this way, D-Tools has felt like a welcomed business partner and not just a software vendor—an important distinction based on the experience we had with our previous proposal-writing software."