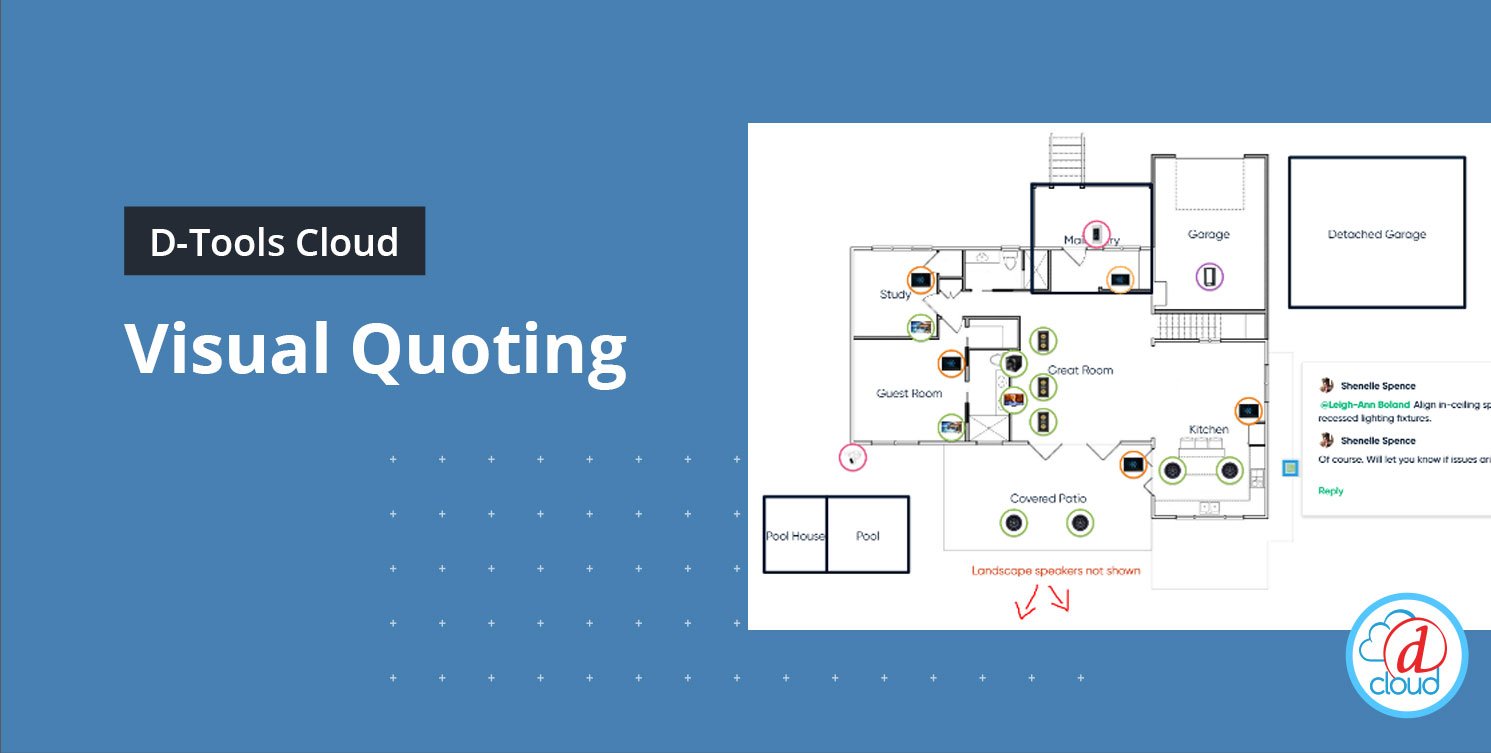 Bring projects to life with D-Tools' cloud-based av proposal software
The way we conduct business is constantly changing, and due to the pandemic, it's happening at an even faster rate – especially in the area of communication. As many of our daily interactions have moved online, either through video calls or social media, visually engaging content is now more important than ever, and research has shown that having both a sound and a visual component increases the effectiveness of communication. When D-Tools Cloud debuted visual quoting, it was exciting to hear how it allowed our users to engage with their clients on another level and the positive impact it is having on successful client communication.
Entice your clients like never before by collaborating visually while in the field (or over video chat). Upload a floor plan or create your own floor plan using D-Tools Cloud's browser-based drawing tools, and simply layout where the equipment will go. This visual approach helps clients understand your system design and get excited about the project. If you are early on in the process, you can use allowances for systems or equipment categories, which helps you quickly get to scope and budget for the project (more on this later).
Offer to walk them through each location and/or system to review the project and discuss particulars. Perhaps something like "I would like to discuss my av design with you because what you see and what I see may be different." Opening up this additional dialogue can help overcome objections and remove unforeseen roadblocks. Next, confirm that you are both on the same page. Now they feel more relaxed, and you've developed trust – simplifying their decision-making.
Visual quoting is extremely useful when the salesperson is doing their initial client discovery and trying to determine scope and budget. By using allowances (a placeholder for equipment or systems), you can click to add generic items that have standard dollar amounts associated—Ex: In-ceiling speaker $500. As you click to add items to your floor plan, D-Tools is adding up the price (including labor if desired). This makes it easy to have an early pricing conversation and learn more about their budget – again discovering any objections upfront, gaining buy-in, and reducing the amount of proposal revisions. If doing this live with the client (either on a video call or in person on a tablet), simply turn on Client Mode to collaborate more freely without showing any sensitive pricing information.
Enhance communication with D-Tools' cloud-based bidding software
The visual quoting workspace is also great for internal communication because you can chat with your field resources directly from within this space, and it's visible to the entire team. By @ mentioning your teammates, it delivers your comment via email in real-time, and they can reply to you the same way. This quick exchange is happening directly on top of the floor plan and a convenient way to work together. Additionally, it's helpful documentation for technicians. They can easily see where the equipment is going (with notes) and use it as a reference document to help them be more successful in the field.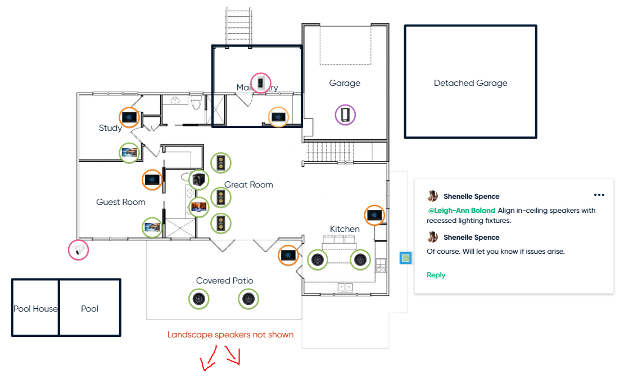 Whether you decide to incorporate visual quoting into your client discovery, sales management process, or use it for internal documentation, there is no doubt when it comes to the value of this tool – helping your clients visualize your system design can dramatically improve your close rates and set expectations for a successful project post-sale.