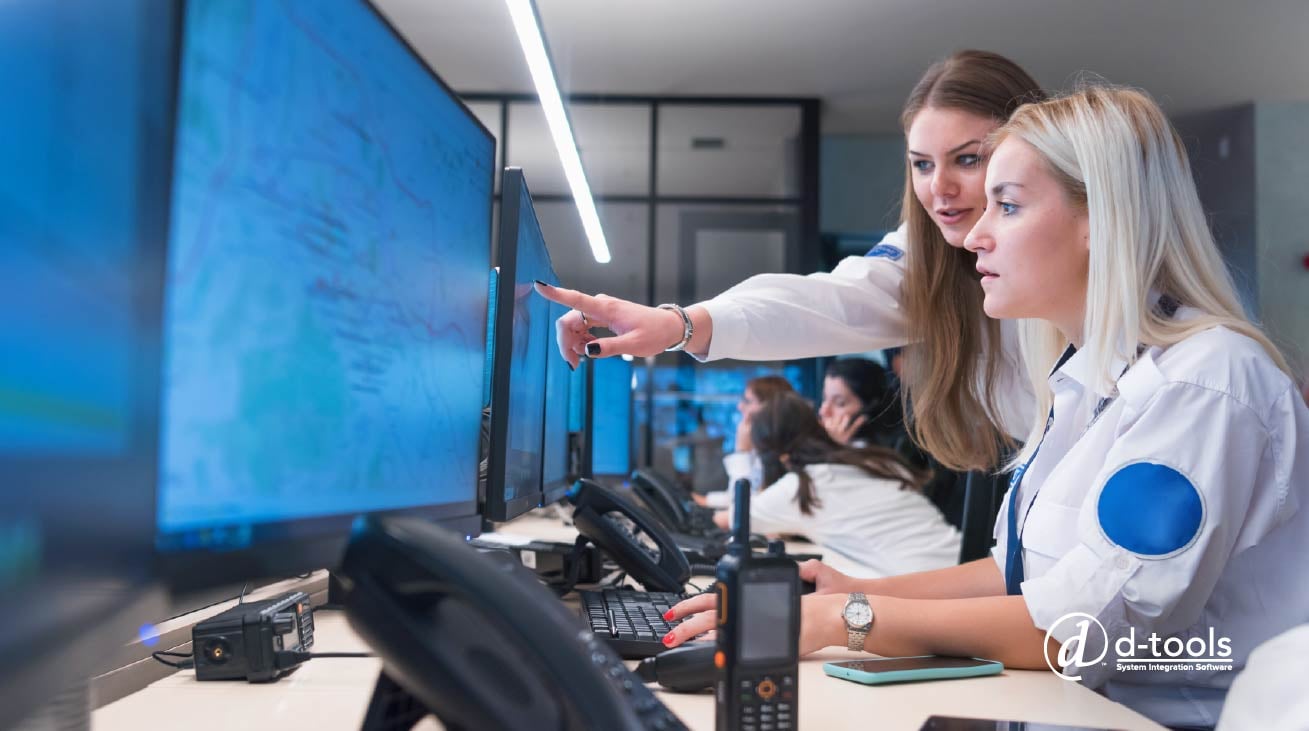 Arguably, one issue that is on the mind, or even top of mind, for virtually everyone is security. From private individuals and solopreneurs to major corporations, the need for secure systems and data protection is crucial, and only growing more pressing as threats grow more prevalent and sophisticated. For security integrators, the challenge lies in designing and installing systems that not only provide industry-leading protection but also peace of mind for clients. They must do this even as the complexity, scope, and magnitude of needs increase.
With better security system design software tools, professionals can work smarter, not harder, when it comes to providing solutions.
4 Must-Have Tools for Security System Design
"Better" can be difficult to quantify… or can it? When selecting a security system design solution, though, there are several "must-haves" for effective, efficient usage and optimal results.
Integrated Engineering Drawings
Engineering drawings are used by multiple project stakeholders, including the engineer, project manager, installation team, field service technician,. To this end, drawings need to show the relationship of the device to the:
Physical environment
Conduit system and power system
Other devices
User
Integrators need to be able to create clear, accurate systems designs via integrated AutoCAD or Visio platforms. This helps eliminate scope creep and re-work by clearly and completely documenting system designs across trades for increased efficiency across projects. This documentation can also be used for retrofitted security installations.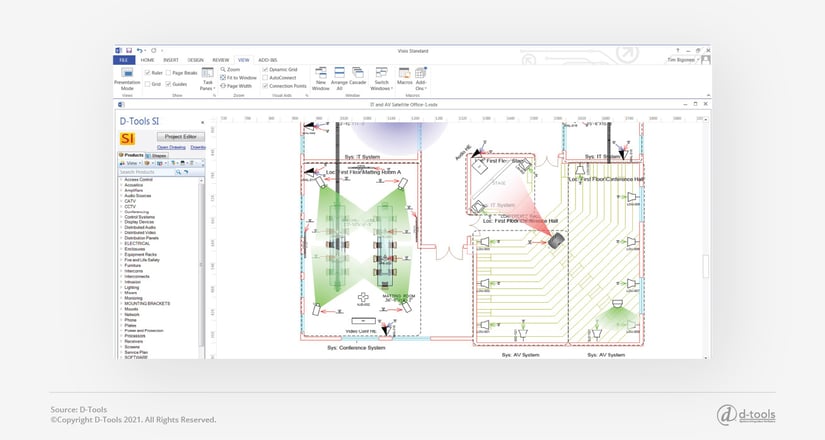 With the right security system design tools, the project manager's job is… well, much more manageable. They can juggle myriad tasks and subtasks with greater agility. Project management software should include functionality that encompasses project scheduling, resource management, communication with clients, external contractors, and internal team members, reporting, tracking of work orders and labor, analysis, and more.
Interdisciplinary Coordination
The ability to coordinate the interfaces of related systems is the key to success as a security system integrator. Designers, project managers, and other professionals need to assess a system, look at how it will "talk" to other related systems, and seek out the most effective and efficient routes to a comprehensive security solution.
Consider the alternative: without proper and skilled interdisciplinary coordination, components cannot function in concert. It is likely that any system you integrate will require external interfaces with others. If they cannot do this, or do it well, then you cannot deliver optimal services to clients. It's that simple. And with the right tool, it's even simpler.
Integrated Product Library
The goal of any security system integrator is to build a robust system that meets clients' needs while delivering services and solutions that exceed their expectations. In many respects, this hinges on specifying the right products. It has a direct impact on customer satisfaction and, ultimately, on your bottom line.
Security system design tools that feature an integrated product library make the product specification process much more streamlined and convenient. Rather than starting from scratch each and every time, you can turn to the library for all of the product information you need to move projects forward on the right footing. That product data is accurate, readily accessible, and can be quickly updated to help drastically reduce product research time, providing teams with the ability to respond to system design and installation needs more quickly. This will also significantly reduce the likelihood of missing items or specifying the wrong parts, which could result in a loss of project profitability.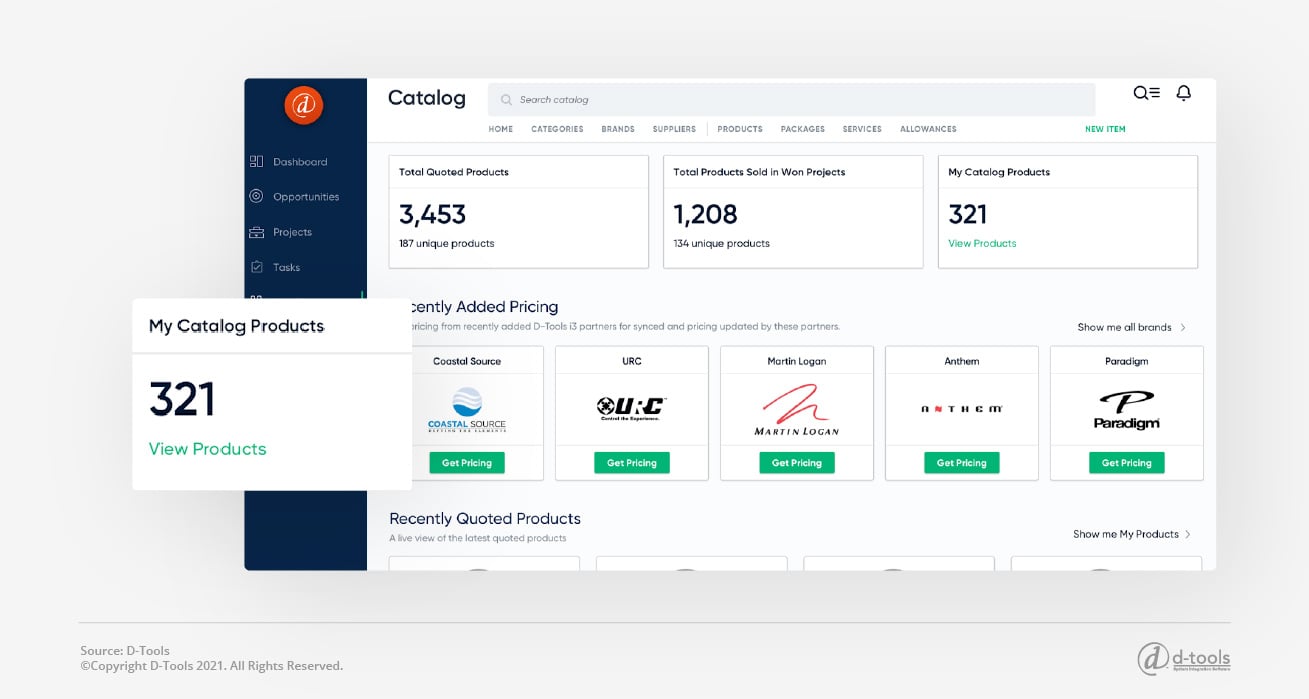 Client Management Software
Behind all of the highly technical details and work, there are human beings involved. Clients need to be given conscientious consideration throughout the process. Client management software empowers integrators to communicate clearly and in a timely manner with clients at all stages of a project. This includes review and sign-off. How will these critical steps happen? How will the client remain aware of and updated on progress?

You cannot take the human out of this equation: you will need experienced project managers, for example, who can communicate with clients. That said, client management software supports the initiating, maintaining, and building of strong relationships, ensuring that questions are answered and concerns are addressed promptly and with the right information.
Schedule a Guided Tour of D-Tools Security System Design Software

Implementing D-Tools Security System Design Software empowers integrators to streamline critical processes, achieving significant efficiencies and delivering ultimate value and results to clients. Schedule a guided tour with one of our experts to learn more.