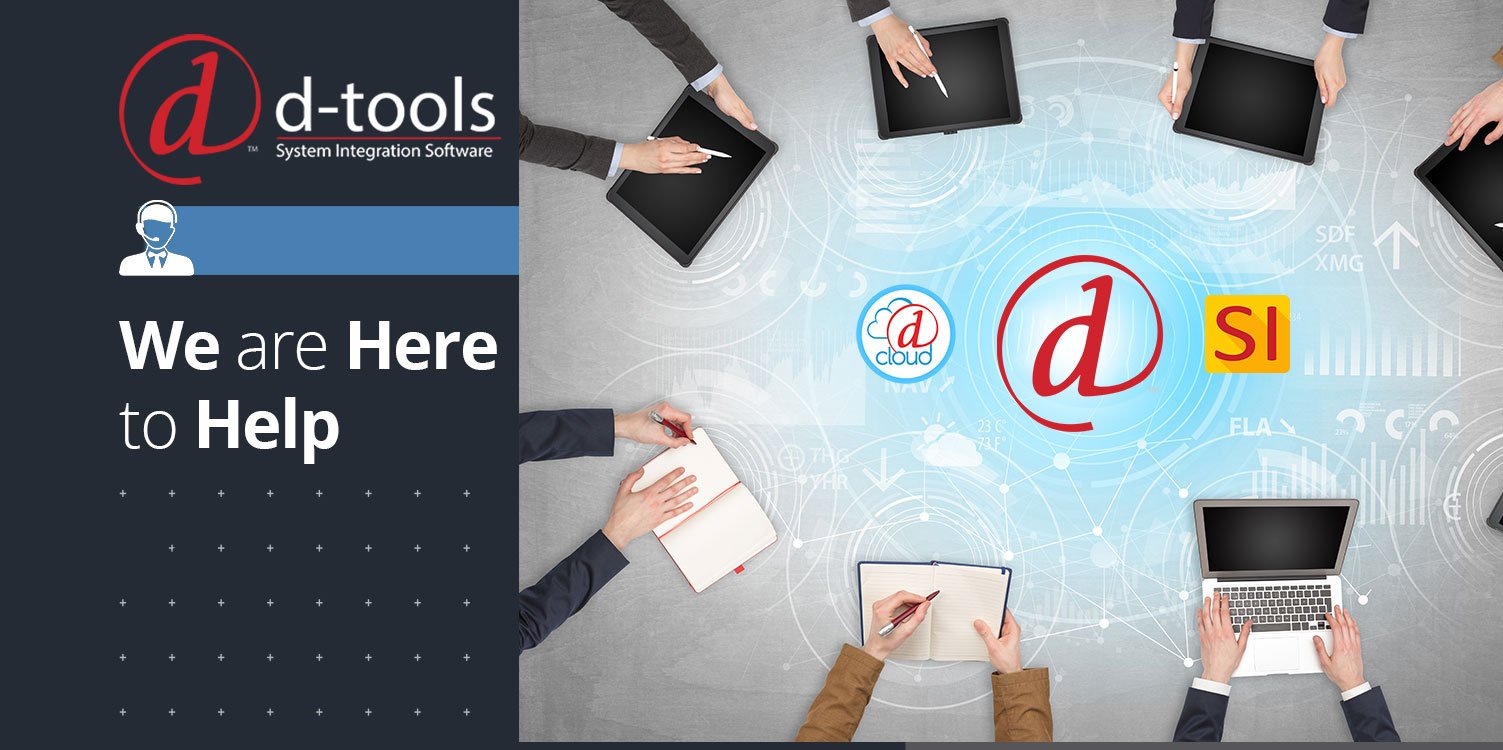 Switching up your business processes to implement new software is a big change and can be very overwhelming.
We here at D-Tools have teams dedicated to helping with the onboarding/implementation as well as answering questions or providing training to help you get the most out of your software investment. With the goal of reducing the stress around the idea of change management and the time it will take to truly get up and running with D-Tools software – or if you have been a
D-Tools user for some time, to help you utilize the software to its fullest!
Our account managers, professional services consultants, and support team members are all here to help support you, and our customers – to help guide you via training, engage in meaningful conversations, and offer ongoing support. Our goal is not only to help you successfully implement our software but to ensure your continued growth and success.
"At D-Tools we provide dedicated Account Managers that are your internal D-Tools advocates. They are here to assist with general questions, coordinate assessments on the use of D-Tools and are your primary point of contact regarding your D-Tools account. Our Customer Support team is here to support you with technical, usability and general questions regarding the software. They can be reached by email, open a support ticket, or chat, and are available Monday - Friday from 2:00am - 8:00pm ET. And we also have our Professional Services team to support D-Tools customers with advanced implementation, best practices, custom report development (SI only) and provide guidance on the best use of the software. The team is mixed with previous integrators and highly technical resources."
-Zach Campbell, COO and Director of Customer Experience
D-Tools offers a range of resources, both free and paid, to support you in all stages of utilizing our software: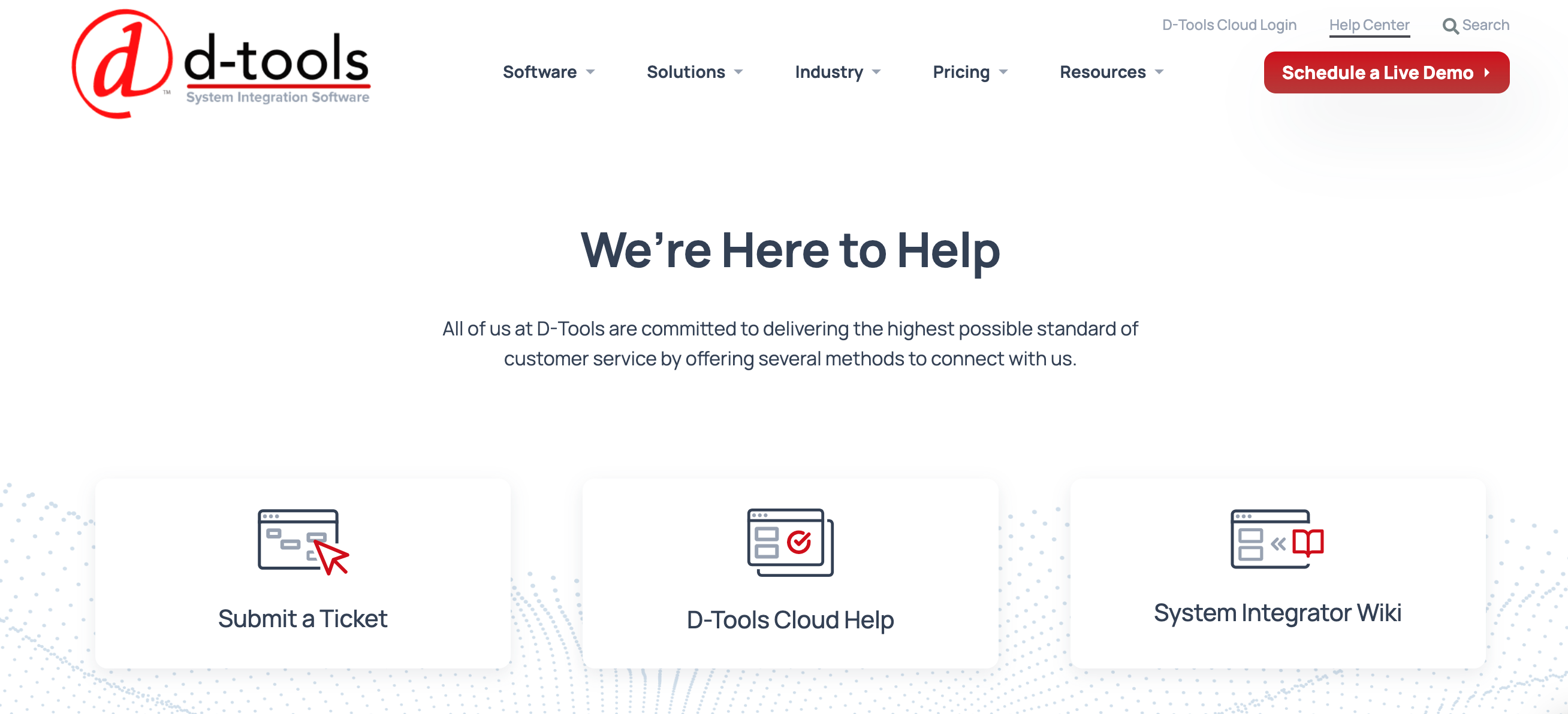 "D-Tools software is easy to use, has excellent training and resources, and has saved countless hours of additional work over the years."
University of Florida, Lon Vance
Help Center: Find the Help You Need
Looking for an easy place to find our helpful resources and to contact support? Head to our Help Center – you can find the link in the top-right-hand corner of your screen above the menu. Clicking on the link will direct you to our Help Center where you can find the following resources:
- SI Wiki for release notes and documentation: With every product release, our product managers provide documentation regarding updates and new features – complete with screenshots and step-by-step explanations that live on what we call, the 'SI Wiki'. To find this information, we have a direct link on the Help Center page, but you can also find it here: https://support.d-tools.com/.
-Gold Support Webinars for SA Customers: Hosted by a member of our Professional Services Team, every Tuesday and Thursday, we have our Gold Support webinars – free to our Software Assurance (SA) Customers. These webinars are approximately 30 mins and customers have the ability to join for a live Q&A directly with our industry experts. We also have a link to previously recorded webinars as well, covering a variety of SI-related topics.

Click here to see the Gold Support webinar schedule.
Not a current SA customer but interested in becoming one? Click here to contact sales.
-Submit a support ticket: The Help Center is also where you can submit a support ticket if you are having issues figuring out the software or run into IT problems – our award-winning support team will be able to assist you. Submitting a support ticket is the best way to get in line for a team member to contact you.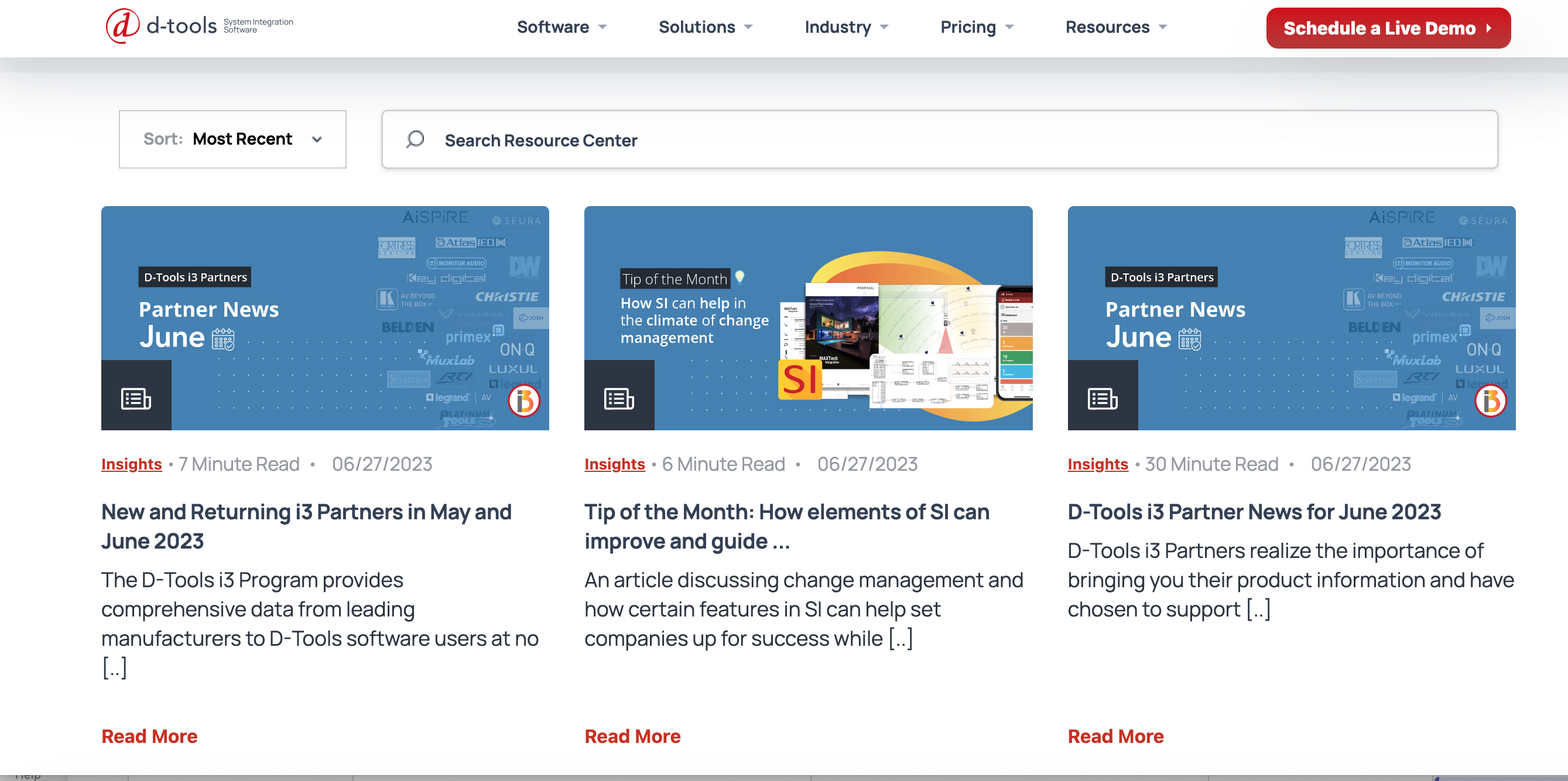 Resource Center: Industry Insights and Technical Articles
The D-Tools Resource Center is a library of content – from technical product articles (ex: The SI Tip of Month Blog Post), to webinar recordings, press releases, and industry-related articles written by our team experts (and sometimes by our very own CEO Randy Stearns). The Resource center content is free and is often featured in our monthly newsletters. It's a great place to start if you are looking for more information on feature-related content or for industry best practices.
Click here to explore the Resource Center.
D-Tools System Integrator (SI): Paid Training Options
There are a number of training opportunities we provide to our System Integrator customers. We have a variety of packages and training options that will cover new customers just getting started, down to long-time customers who want to dive deep and learn a feature set that they might not be utilizing – either way, we have you covered!
-PSG packages: We offer a range of packages tailored to meet your needs. Our subscription start-up package includes 16 hours of online training, while our concierge package provides 160 hours. Our Professional Services team has you covered. Each package has a variety of services included to cater to different preferences and requirements. Whether you prefer a self-paced learning approach or require hands-on assistance for your entire team, we have options to suit your needs.
*Bonus* Each package comes with a 1-year subscription to our e-Learning platform – an online course with lessons and quizzes on all things SI. The course breakdown can be found here.
Click here to explore our Professional Services
-Regional Trainings: Our 3-day Regional Trainings allow users to get a hands-on training experience – similar to a classroom setup. You will follow a dedicated agenda that covers specific topics each day and the ability to ask your specific questions and receive expert guidance from our Professional Services Consultants.
"I decided to attend a regional training class and utilize D-Tools' valuable support resources, which greatly improved both my understanding of the tools available to me, and my ability to create better proposals for clients."
AV Calibrations, Rich Barton
-Onsite trainings: We also offer custom onsite trainings conducted by our Professional Services Consultants (PSCs) who will come to you at your business – allowing you to truly get the customized training your company needs, whether it's industry best practices or in-depth training on specific topics – like how to improve your drawings or customize your proposals.
"Our professional services team includes consultants who will visit your facility for face-to-face training. Onsite events are an effective way to bring your entire team together for focused training that fits your team's schedule. These events are typically two to three days, with a pre-planned agenda and training session schedule.
Through our extensive experience, we have found that onsite training not only fosters collaboration among team members but also offers an exceptional opportunity to implement tailored solutions that precisely address our customers' unique business needs."
- Kevin Frye, Professional Services Curriculum Manager & Sr. Trainer
Click here to contact your Account Manager for on-site training options.
D-Tools Cloud: Looking for help?
If you are looking for more information and help with D-Tools Cloud, we have resources for the growing platform as well. D-Tools Cloud is an ever-evolving solution with new features released bi-weekly, so it can be difficult to stay up to date. The following resources can help you utilize the platform to the fullest extent and stay up to date:
-Documentation and blog posts: Did you know that with every release, D-Tools Cloud publishes release notes and helpful articles on the latest feature additions? The D-Tools Cloud product team has a dedicated documentation blog with the purpose of creating content to help users utilize D-Tools Cloud to the fullest extent with the help of the D-Tools' sales, marketing, and support teams.

Click here to explore the D-Tools Cloud Documentation.
-D-Tools After Dark Webinars: Once a month, one of our D-Tools Cloud Customer Success Managers hosts a D-Tools After Dark Webinar for D-Tools Cloud Customers. These webinars aim to provide valuable insights and in-depth knowledge on a particular topic or feature of D-Tools Cloud, and they are later in the day for customers who might not be able to attend our other webinars during business hours.
"You guys are working hard, and we know that you're busy. D-Tools Cloud After Dark is a series of late-night webinars for those of you who simply don't have the time to skill up on the software during the day. Each webinar covers different topics, the latest updates and new features. There's also a LIVE Q&A at the end, to have open discussions with our team and other Cloud users. Grab a beverage, relax and tune in, and become a D-Tools Cloud expert."
-Leigh-Ann Boland, Customer Success Manager - D-Tools Cloud
You can find the invitation to the D-Tools Cloud After Dark Webinars within
D-Tools Cloud – you will find a banner with the link to registration, and typically an email invitation is also sent out.
-D-Tools Cloud - Online Personalized Training: Available for purchase, we have online personalized training options. An expert member of our D-Tools Cloud Customer Success Managers is ready to guide you through the platform and its features. New customers are able to purchase these trainings as a packaged deal, and existing customers have the option to purchase either prepackaged or a la carte – personalized to cover specific topics like :
Catalog Set up
Configuring Labor Types
Creating new opportunities
Modifying a proposal template
…and more, the choice is yours!
Interested in purchasing online training for D-Tools Cloud? Conveniently purchase within the D-Tools Cloud platform or reach out to D-Tools Account Manager, Megan Campbell, here.