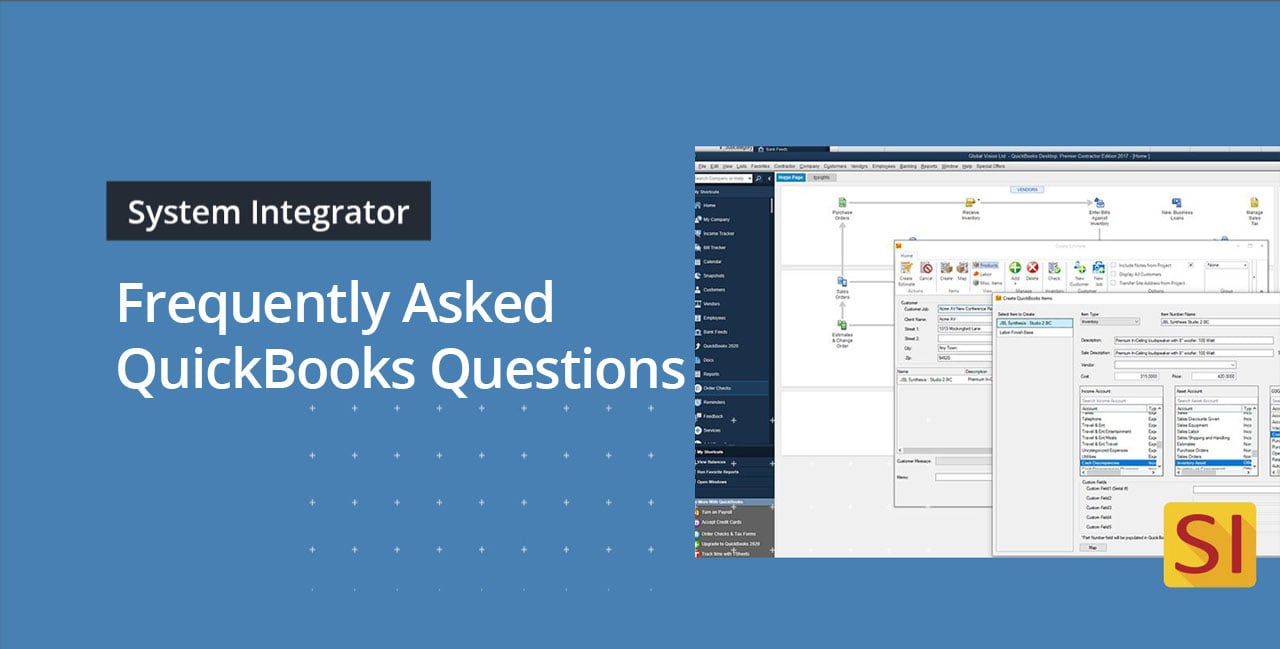 As a member of the support team, I've seen a lot of common questions about the QuickBooks Integration with D-Tools System Integrator (SI). Hopefully, this article helps you answer those questions quickly so you can fix the issue you're having and get back to work ASAP.
How do I set up the QuickBooks integration?
You can follow our guide here for instructions on how to set up QuickBooks Desktop or Online.
Does D-Tools SI work with QuickBooks Online?
Yes! You can set up QuickBooks Online (QBO) like the regular QuickBooks desktop integration and push over the estimates and purchase orders created in SI to QuickBooks Online.
Keep in mind that there are a few things that the QBO integration can't do in comparison to the regular desktop version. You can't map SI fields to QBO's custom fields, you can't push item receipts from SI Purchase Orders, and when an item is created from SI to QBO, you can't transfer the vendor.
Also, QBO is constantly being updated, but we don't update older versions of SI. Because of this, we can't guarantee that the integration will work on outdated versions of the software.
SI says all items are already on an estimate/PO, but I need to push them again for updates. How can I do that?
Simply click the QuickBooks tab in the project, then click estimate or purchase order and hit clear.
Each time you push something to QuickBooks, it gets a number. Accounting Estimate Number for Estimates and Accounting Order Number for Purchase Orders. These numbers help prevent an item from getting pushed over twice. When you click New Estimate/Purchase Order, it'll ignore all items that have a number already. The clear function lets you remove these numbers easily.
If there's a specific item you want to remove, you can double-click the item and go to the Accounting tab to delete it there. Once the number is gone, you can push it to QuickBooks again.
How do I push item changes from QuickBooks back into SI?
Currently, the integration is mostly one-way, with SI sending data to QuickBooks.
However, if you want to send product data from QuickBooks back to SI, you can export it from QuickBooks as a CSV and import it to SI using the "Import CSV" tool.
My SI settings and QuickBooks file are pointed at the same thing, but it keeps saying it's wrong.
Make sure the file path itself is completely correct. Even if SI and QuickBooks are pointed at the same file, it'll fail if the path isn't the same. You can get the correct path by opening QuickBooks and pressing F2. I usually copy the file path and paste it into the QuickBooks Settings window in SI.
My QuickBooks is hosted on a separate server. Can I still use the integration?
Yes, but the integration is set up on a per-client basis. SI talks directly to the QuickBooks software and vice versa. So, if QuickBooks is installed on another machine, you won't be able to use the integration. Many people get around this simply by installing the SI Client on the same machine hosting QuickBooks. Users can log in, push their estimates, and close out afterward.
My project's taxes aren't showing when I push an estimate over to QuickBooks.
QuickBooks doesn't accept new tax rates from imported estimates. You need to make the tax in QuickBooks first and select it from QuickBooks's tax rates when you push the estimate over.
SI is crashing when I connect it to QuickBooks. What gives?
99% of the time, this happens after a new version of QB is installed, but the old version is still present on the machine. Uninstall that, reboot the machine, and try again.
Can I have multiple QuickBooks desktop company files set up in SI?
Yes! Open QuickBooks Settings and click add. You'll be able to add the additional files and pick which one is the default one. You can link up as many as you want, but you can only use one at a time. You'll be able to pick which one you want to send estimates and purchase orders to whenever you want, though.
Can I push to Cloud and desktop simultaneously?
No. While you can indeed link Cloud and desktop on the same machine, you'll only be able to push to one QB or QB Online at a time.
Hopefully, this helps answer some questions or fix issues you may be having with QuickBooks!
In addition, you can find more information about the QuickBooks integration in general on our support site here.
If you have any other questions, contact the support team, and we'll be happy to assist.