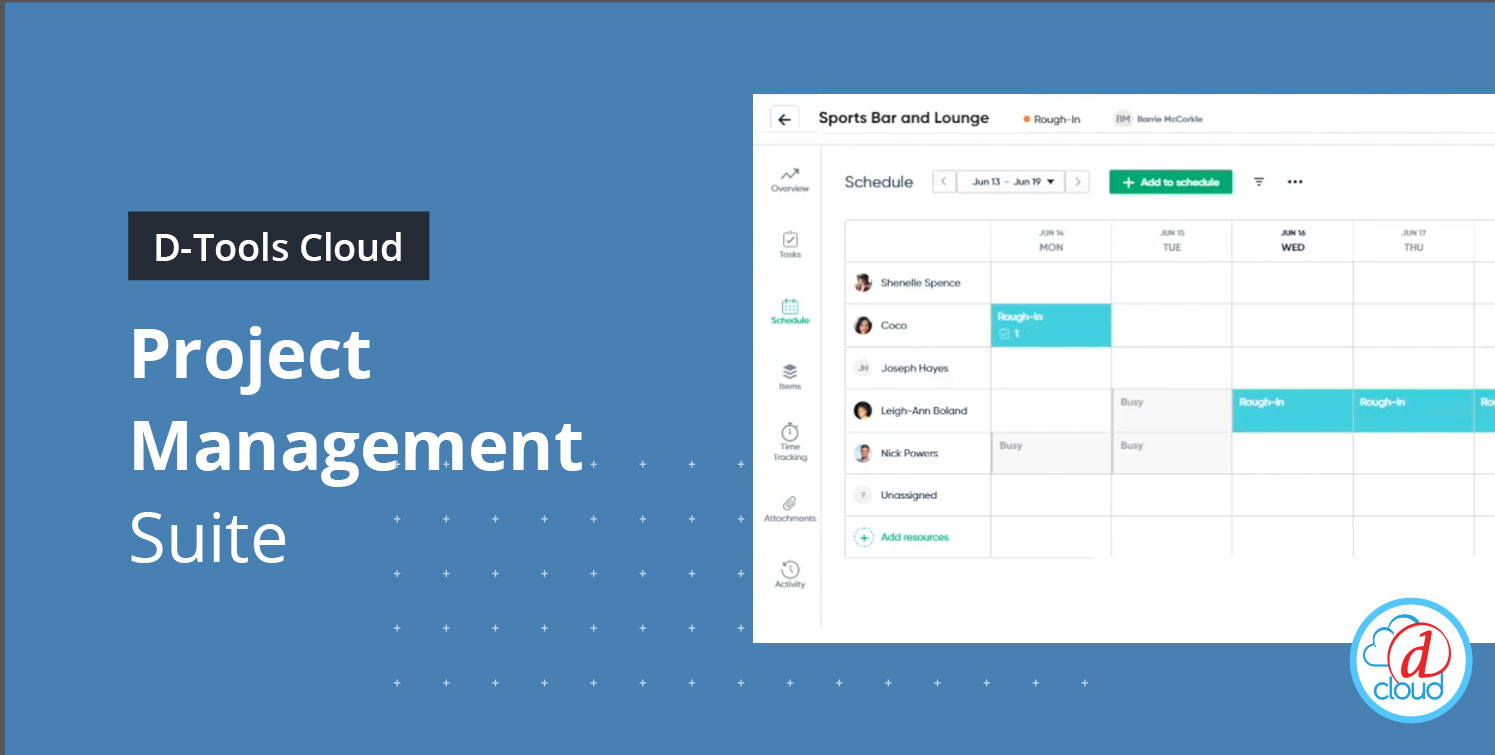 Grow beyond your sales team with D-Tools Cloud Project Management Suite
Listen, we get it. Whether your project life cycle lasts a few weeks or a few months, managing a project to completion has it's challenges. To help meet those challenges D-Tools Cloud now provides a complete end-to-end solution to help make managing jobs easier. So, say goodbye to stress and stacks of paperwork and hello to simple project planning and quick, efficient communication with your field technicians.
It's easy to get started - from within a D-Tools Cloud project you can simply click on the calendar, select a day and then select a resource to be on-site. Once scheduled your technician receives a notification via email and can see their schedule for the week from the installer mobile view. Managing scheduling conflicts also got easier because now you can plan your resources according to availability and see it all in one place.
Project managers also have the option to start by creating tasks that define the project plan and help boost success when your technicians are in the field. The task can be as simple as "mount TV and hook up sound bar" or more detailed, "invoice rough-in completion". No matter the project requirements, just start listing what needs to happen to complete the project. Most importantly, you can add products from the project BOM to tasks. This enables your technicians to update and manage the status of the item from the field. Also, don't forget to add pictures or any attachments (like spec sheets or visual quote floor plan layouts) for reference while executing the task. Now project managers have full visibility and can easily report on the progress of the project; helping to more effectively manage both the job and the client's expectations.
From the field, installers can easily mark tasks complete, update item status and the overall progress of the project plan – helping bridge the gap between the office and the field. They also have a lot of visibility into their schedule, tasks, and projects while tracking their time (clock in/out) to help better manage their activity. Also, if something critical pops up it's convenient to take pictures and @mention your teammates to quickly communicate what's happening and keep everyone in the loop.
Now, creating, preparing, communicating and managing your project plan start to finish just got a lot easier.