Labor is critical to any project. In SI, there are multiple ways to enter labor into your project. This article is a general guide for setting up labor rates and the labor types available in SI. Each type has its own benefits and can be customized to suit your company's needs.
Phases allow you to break down labor in a project into segments and charge different rates by phase depending on which phase of the project the items are installed.
To set/update/change phase labor rates and cost per phase, per hour:
Go to Settings and select Phases.
In the Manage Project Phases window, click New if you want to add another phase or you can just click an existing one and change its name, if applicable.
Enter in the labor cost and rates you want labor to be charged for the phase. You don't have to fill them all in, just the ones you plan on using in your projects.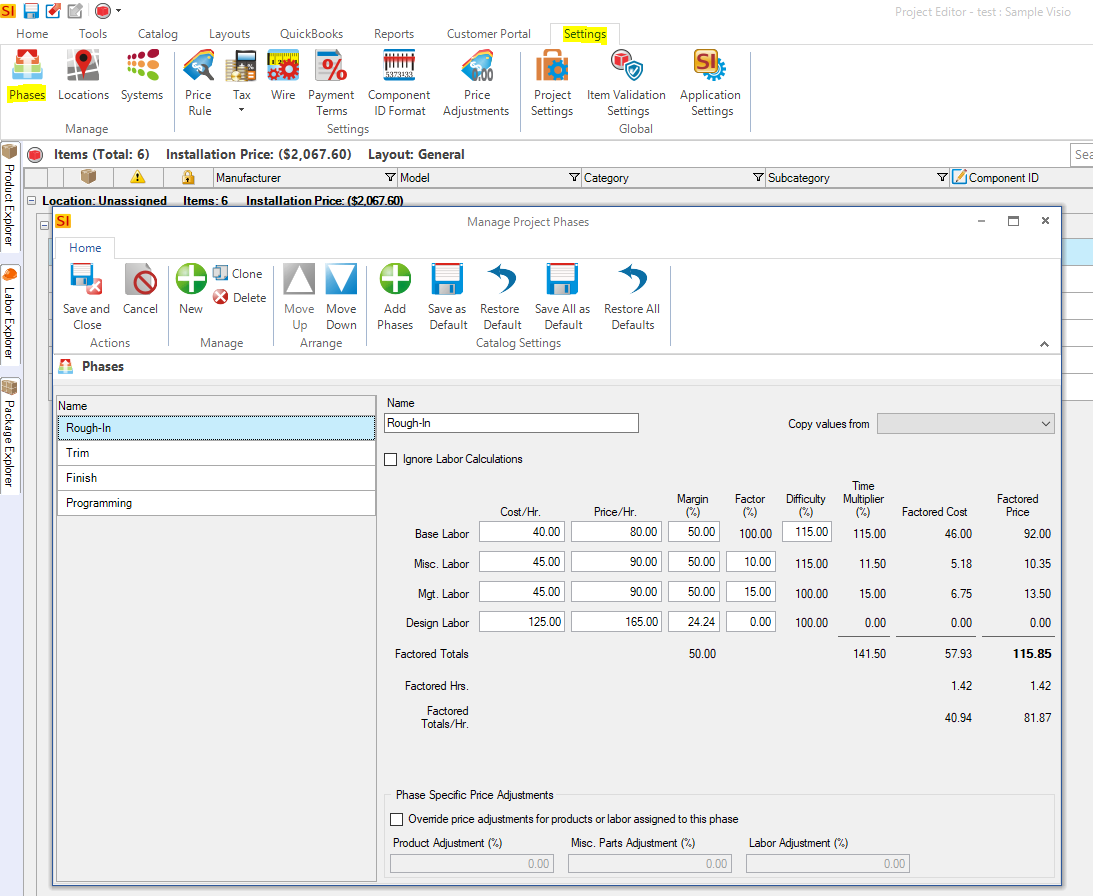 Please note that Phases can be changed per-project and globally. Any changes to rates or new rates that are created in the Control Panel are global and affect all new projects. If the rates are changed in the Project (Settings tab), then only that project will be affected.
Labor items can be used on projects in conjunction with Phase in a project. IE: You want to add a specific amount of programming labor to a project. To add a Labor Item to the Catalog, click Start > Catalog > Manage Labor and then click New. This will open the New Labor window where you can name the labor item, fill in details, and set its price.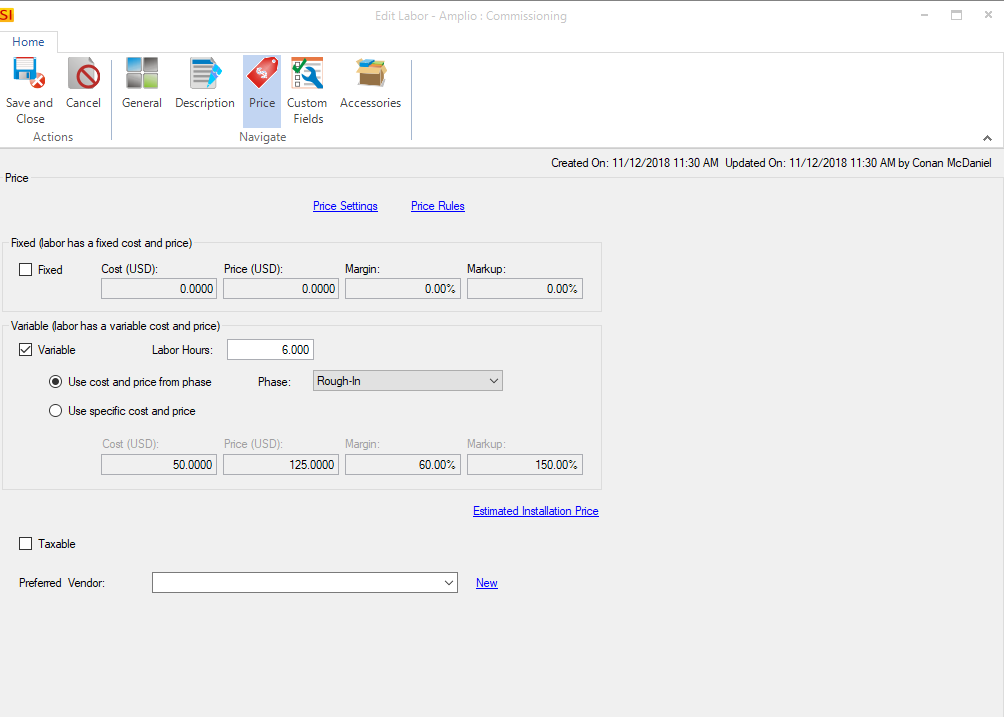 If your labor is charged at a flat rate, simply check the "Fixed" box in the Price tab and enter the values.
To set up labor based on the number of labor hours needed:
Check the "Variable" box and enter the labor hours.
If you want to use the specific values you entered in phase earlier, select "Use cost and price from phase".
Alternatively, you can select "Use specific cost and price" if you want it to be a value different from what is entered in the phase settings.
You can also add labor to a project by clicking New Labor Item inside the project itself. However, this will not be added to your catalog and only accessible in that specific project. To add this Labor Item to the catalog for future use, right clicking on the item and selecting "Update to catalog."
If you want labor to be associated with a specific item, you can add a labor item to that product as an accessory. The accessory will follow the parent item by default, so it will be there every time you add the product to a project.

Double click on the product and go to the Accessories tab.
Select the Add Labor option and pick the labor item you want to add.
Select the labor item you want to add, and the window will close.
Review Labor Considerations for more information about managing labor.
In Mobile Quote, labor works a bit differently. Once Mobile Quote has been added to your account, a new option will be added to your SI Control Panel named Project Types. Here you can create the different project formats your company typically uses and the average rate of labor in each. When building a quote with MQ, select the type of project you want, and it will calculate the labor total based on that rate and the total number of hours pulled from added products. This allows you to give a rough estimate of labor in the quote without syncing labor items and phases within MQ.
If you need further assistance, please contact us at supporthelp@d-tools.com or start a live chat (blue icon in the lower right corner) or open a support ticket at https://www.d-tools.com/support-ticket