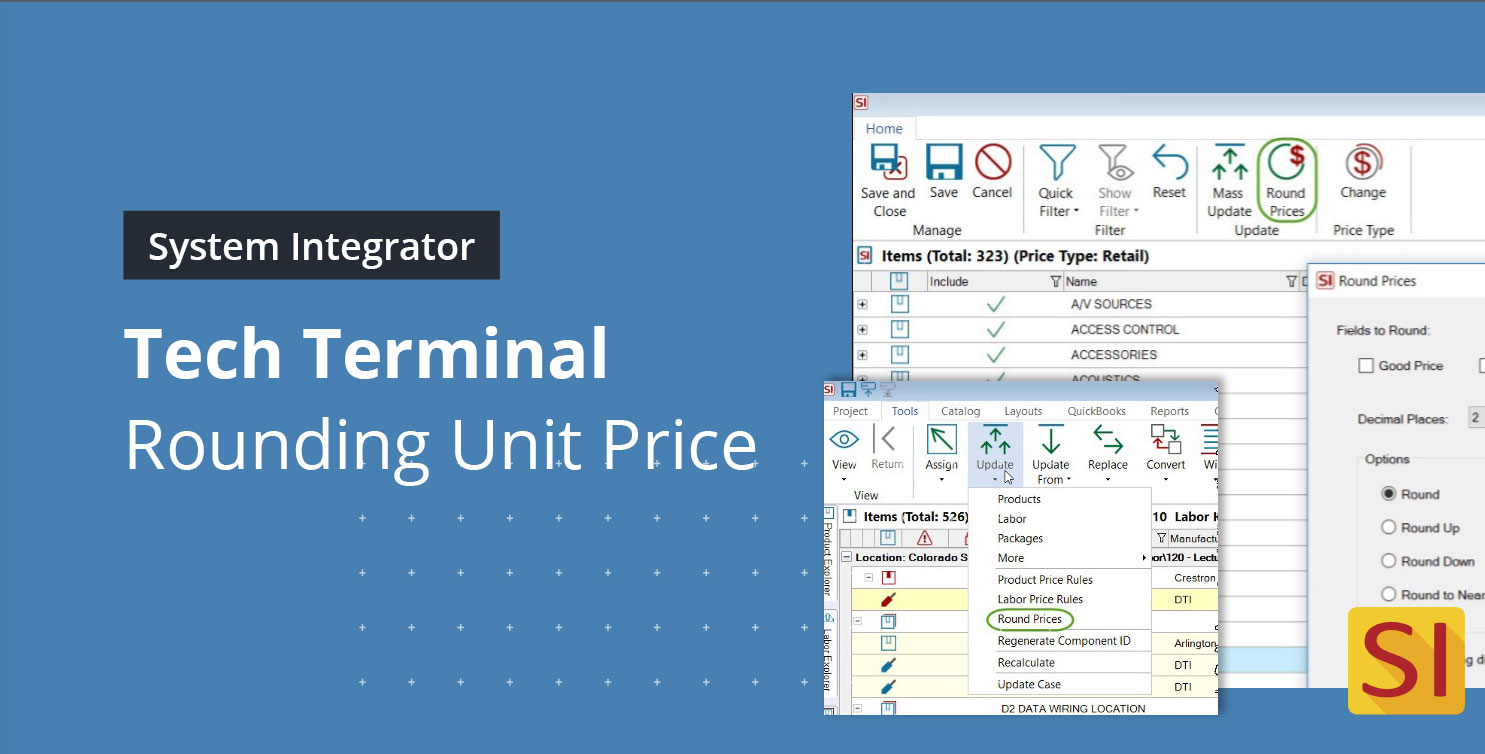 Learn how to round unit prices for bulk wires in D-Tools software for AV system integrators
When you get in-depth with wires or components that are sold in bulk, you are likely going to have a few situations where your price comes out to three or four decimals. For example, the unit price is .00023, but you want this to be a whole number. If you don't want to display that on your reports or in your projects, you are in luck as SI v16 has several options to round pricing as needed, so your data looks cleaner to you and the customer.
There are more details on each function shown in this article, so if you want to learn more about a particular function, click the corresponding link at the bottom.
The simplest way to round pricing in a specific project is to use the "Round Unit Price" function found in Price Adjustment Settings. To access this, open your project and click Settings, Price Adjustment, and change the "Round Unit Price" option. By default, this is set to show four decimal places, but you can cut that down to 3 or less if you desire. Just pick the number of decimals you want, click confirm, and your project total will update automatically.
Please note that if the rounding is set to 0, 1, or 2, items like bulk wire may show up in your project as Unit Price $0. This is because the rounding will not allow for the whole number to display.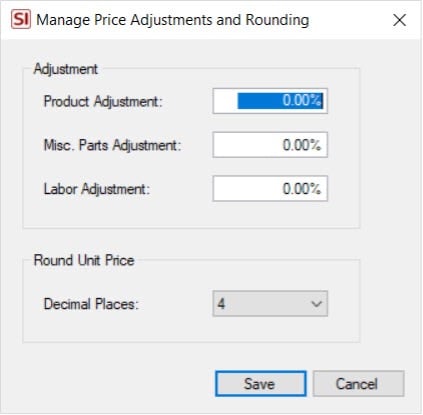 However, if you want to go more in-depth with rounding in your project, you can also use the "Round Prices" function. This allows you to round Unit Price, Unit Cost, and determine how you want to round them. In addition, you can also apply this to the entire project or just specific items. To access this, open your project and click Tools, Update, Round Prices.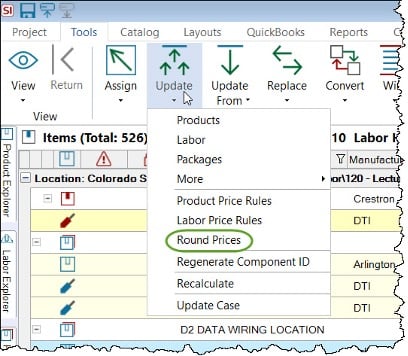 Whenever you apply a calculated miscellaneous item to your project, you also have the option of rounding its price as needed—that way, whenever the price updates, you don't have to worry about re-rounding it. Simply click "New Misc. Item" in the project, Compute, and then hit the "Rounding Options" button beside the Rate field.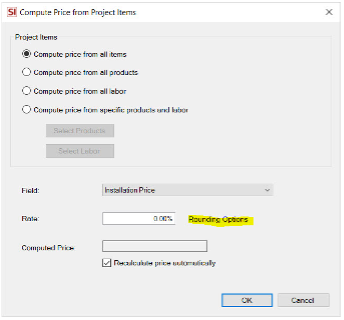 Finally, if you regularly sync items from your Catalog to Mobile Quote, you also can round your prices there. Whenever you're building your Mobile Quote Catalog, click the Round Prices button at the top of the window, and you'll be able to round good, better, or best pricing as needed.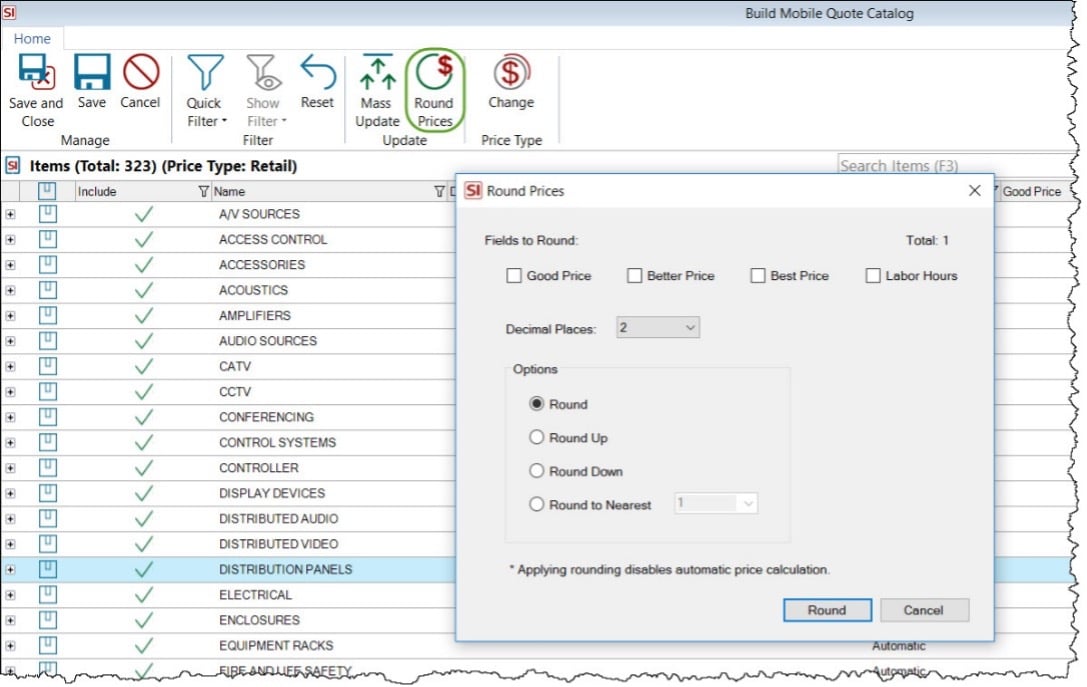 This concludes the ways to round unit pricing within System Integrator. To learn more about the functionalities mentioned above, please reference the following links:
Price Adjustment: https://support.d-tools.com/003_SI_Documentation_(v16)/Administrator_Guide/04_Setup/02_Control_Panel/28_Price_Adjustments
Price Rules: https://support.d-tools.com/003_SI_Documentation_(v16)/User_Guide/03_Catalog/01_Product_Explorer/03_Editing_Products/004_Price_Rules
Round Prices Tool: https://support.d-tools.com/003_SI_Documentation_(v16)/User_Guide/04_Projects/02_Project_Editor/02_Tools_Tab/Update/Round_Prices
Miscellaneous Items: https://support.d-tools.com/003_SI_Documentation_(v16)/User_Guide/04_Projects/02_Project_Editor/Adding_Items_to_a_Project/New_Button/Miscellaneous_Items
Mobile Quote: https://support.d-tools.com/003_SI_Documentation_(v16)/User_Guide/10_Mobile_Quote_2.0/05_Syncing_SI_and_MQ
If you have any other questions, feel free to contact D-Tools SI support by either sending an email to support@d-toolshelp.com or submitting a support ticket here