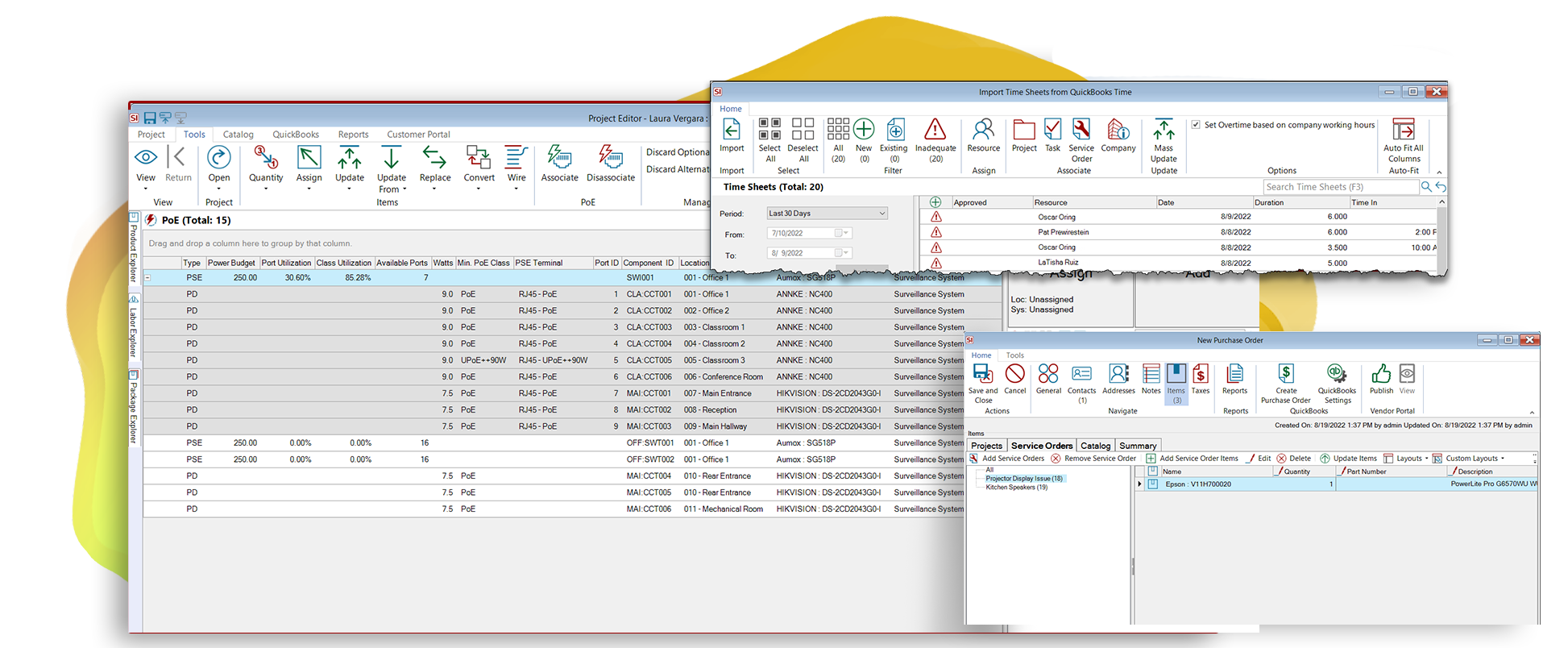 See What's New in D-Tools System Integrator
Available now SI Version 20 provides new performance-enhancing capabilities to help companies save time, gain deeper insight into project processes, and improve operating efficiency throughout their business.
Powerful New Capabilities to D-Tools
System Integrator Software
Multiple Labor Types for Products
SI now enables the creation of multiple labor types which can be applied to products in the SI catalog. Time can be associated to each labor type, eliminating the need to create Labor Items as Accessories.
Multiple labor types help account for all of the labor required to effectively install, calibrate, program or commission a specific product, for more accurate estimation, and job cost reporting.
Projects imported from D-Tools Cloud will now import labor from DTC as Labor Types, eliminating the creation of Labor Item Accessories. This makes for a more organized BOM in Project Editor and follows the newly released multiple labor types in SI.
Azure Active Directory Integration
Integrating Azure Active Directory with SI can provide users with centralized user management, SSO, MFA, improved compliance, and scalability. These benefits can help improve security, reduce administrative burden, and ensure that users have the appropriate levels of access to SI.
Calculated Custom Fields for Projects
Added 10 calculated-type (new for SI) Custom Fields for Projects. This allows users to create a set of formulas using numeric fields to create the desired output. By adding custom fields that enable calculations, users can improve the accuracy of their project quotes, designs, and installations. These custom fields can be used to calculate complex formulas and variables, such as commissions, freight, design fees, shipping, etc., helping to ensure that quotes and estimated costs are as accurate as possible. These calculations can be added to reports for improved communication and clarity.
Assigning Multiple Vendors for Products
Allows users to associate more than one Vendor to Products in their D-Tools Catalog with a Purchase Cost. The ability to assign multiple vendors for products can provide increased product availability, improved service levels, and greater flexibility and agility. This can help users avoid delays and backorders when their preferred vendor is out of stock.
Sales and Accounting Management
New integration with QuickBooks Time (formerly T-Sheets) improves job costing and time sheet management that allows users to import timesheets from QB Time.

An improved PO process enables the ability to create purchase orders from service orders.


Project and Field Service Management
Time-saving enhancements to Mobile Install include the ability to display accessories. Accessories can now be matched with the parent products, saving time when looking for accessories. In addition, when creating a new service plan, users can now display archived products, saving time for returning and finding past products from prior projects.



Change order history and reports have improved with more views and the ability to display pending, rejected, or internal change orders, adding more clarity into a project's status for teams and clients.
System Design
Enhanced calculation accuracy with a new PoE (Power over Ethernet) tool for calculating balances of available power and ports for products.
Points can now be project-specific. This helps eliminate clutter in your global list for one-off Points. Save time with new prompts to update similar Points when changed in a Project.
Sales and Quoting Management
Quantity-based Quoting, ideal for security and structured cabling projects, improves application performance while allowing salespeople to develop a scope and budget for large projects in a fraction of time. Projects now support the ability to manage line items (products, labor, packages, and solutions) by quantity, making it easy to quickly price out a system without designing and assigning locations, systems, etc.

Products/items now have a new Purchase Cost field, which improves multi-currency support by enabling users to accurately track the cost for an item in one currency and present the price for that item in a quote in different currency, regardless of currency conversion.
Adding grouping to Price Rules to allow multiple formulas to be applied to Products and Labor Items that execute in the order you choose. This ensures greater accuracy for more complex pricing structures.
Improved Product Search
The new Find Usages feature is a great asset management tool that provides the ability to search across purchase orders and service orders to identify where products have been installed. This feature is particularly useful in situations where a product has been recalled, requires a firmware update, or is becoming obsolete and should be replaced.

Compare and Sync with Catalog feature for project and catalog items guarantees that project items are up to date and accurate. Simplifying updates to/from the catalog helps users discover and fix potential product issues such as price differences, products that not available in the catalog, unapproved/discontinued items, and other project errors.

Serial Numbers Search provides an historical record of an item's location and usage on a project—such as on a purchase order receipt, in a task, or on a service order, based on its serial number— solving potential problems and saving time for project management and service teams.
Inventory Tracking
New Tracknicity and TRXio integrations help integrators manage their inventory, which at the same time ensuring that inventory items, whether pulled from stock or order for a project, are efficiently, seamlessly, and accurately tracked from proposal through being purchased, received, staged, picked, delivered, installed, and serviced, thereby keeping projects on schedule while helping to reduce unnecessary and unwanted inventory buildup and avoid duplicate product purchases.
WATCH NOW
What's New in Version 20
Watch the D-Tools webinar recording to see what's new in the
award-winning software for AV integrators, System Integrator v20.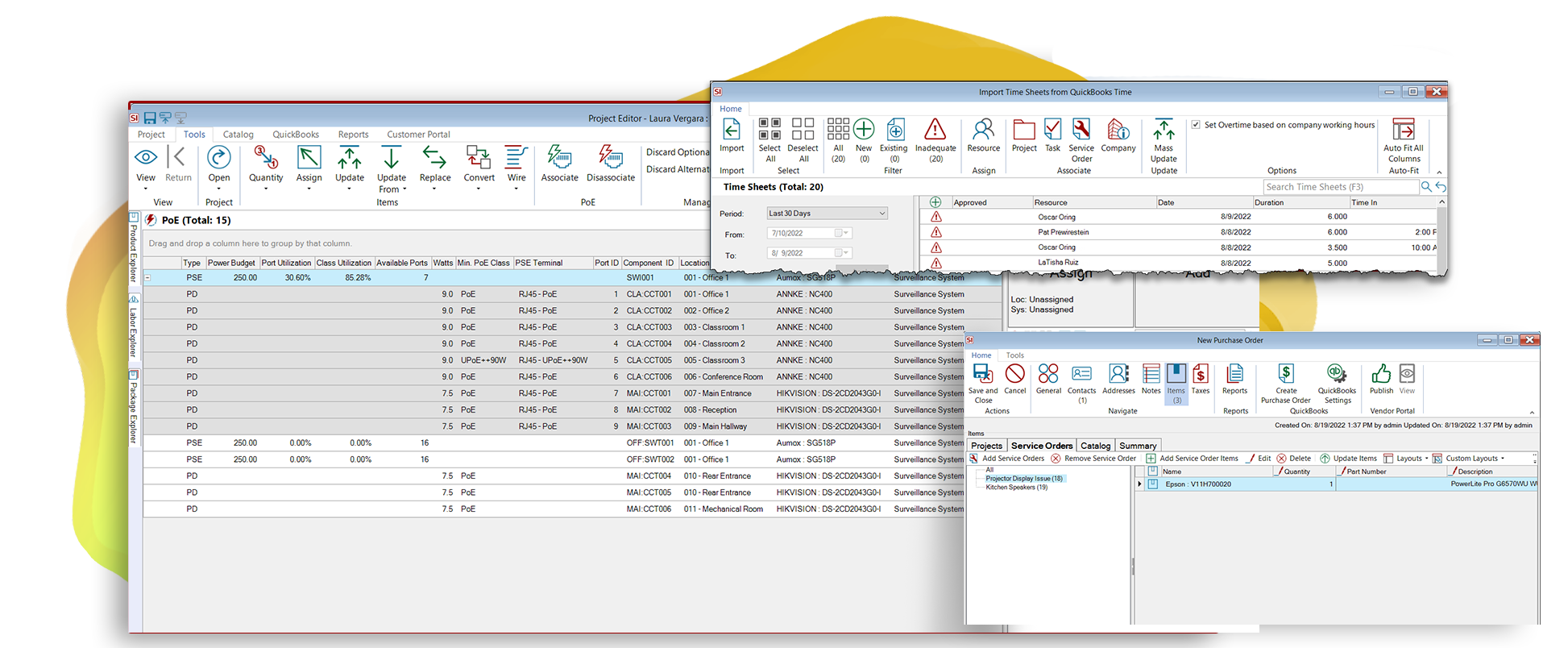 Watch