By leveraging D-Tools System Integrator, SAV, under the leadership of Heather Sidorowicz, is smashing growth targets while holding true to its family-business DNA.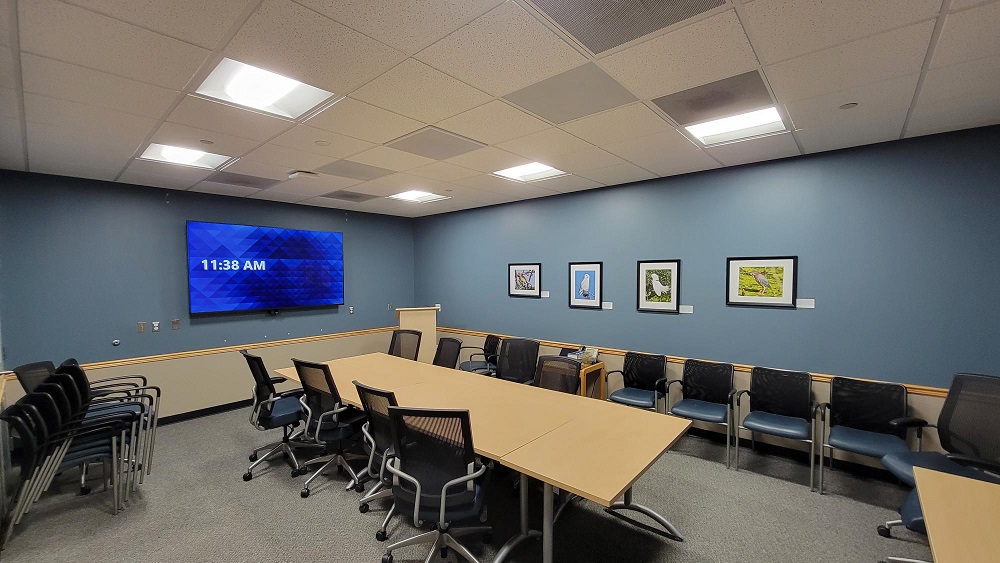 A Microsoft Teams Room perfectly suited to conferencing applications
One of the hallmarks of our industry is the small family business that punches above its weight due to its bold leadership and innovative approaches. Hamburg, N.Y.-based Southtown Audio Video (SAV), an integration business founded in 1984, is a perfect example. The company, which boasts a team of 10, has evolved dramatically since the early days. SAV's president, Heather Sidorowicz, who in 2014 took the reins of the business that her father established, notes that SAV "…started as a humble shop offering rentals of Beta and VHS movies." Over time, business operations broadened to include selling stereo equipment and picture-tube TVs; providing satellite-dish installations; and installing home control and home-theater systems.
The Perpetual Student
Even before stepping into the president role with SAV, Sidorowicz approached the AV business with the perpetual student's appetite for learning. "I immersed myself in a quest for knowledge," she reflects, "devouring information from magazines and attending CEDIA Expo each year to continually enhance my expertise." Leaning on everything she had learned, Sidorowicz, upon acquiring SAV, pointed the ship toward commercial AV — a decision that quickly proved fortuitous. "Our first breakthrough came in 2015 when our sales doubled from $600,000 to $1.2 million," she recalls. Harking back to lessons learned in the residential world, Sidorowicz adds, "We discovered the immense value of building strong relationships with our commercial clients." Over time, and even through the pandemic, SAV has continued evolving, adapting, and growing, resulting in sales skyrocketing to more than $3 million.
Clearly, Sidorowicz and her team at SAV have cracked the code for thriving in the AV integration business. And one big element is leveraging D-Tools' System Integrator software solution. A prolific conference-goer — first residential and later commercial shows — Sidorowicz first encountered D-Tools at CEDIA Expo, and she hasn't looked back since. "D-Tools seamlessly connects the various stages of a project, including quoting, design, engineering, inventory, installation and post-job settlement," Sidorowicz enthuses. "It serves as a comprehensive, one-stop solution for all our integrator data needs."
In the paragraphs that follow, we'll explore how D-Tools System Integrator empowers SAV to achieve massive, sustainable growth in turbulent economic times.
D-Tools Plays a Crucial Role for SAV
Recounting a story from nearly a decade ago, Sidorowicz describes when SAV secured a significant, multi-level project whose execution spanned more than a year. "D-Tools [System Integrator] played a crucial role in our ability to provide accurate quotes and effectively track the project's progress," she explains. Sidorowicz emphasizes that it would have been nearly impossible to effectively manage a project like that using traditional paper or Excel-based methods. "The software's functionality allowed us to break down the project by room and space, enabling streamlined management and facilitating our overall growth," she notes.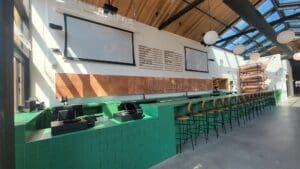 Sidorowicz adds that, back in 2021, amid product-availability snarls, D-Tools System Integrator proved even more valuable to SAV. "We utilized purchase orders within the software to track estimated and actual ship dates, ensuring we stayed on top of inventory management," she describes. "Additionally, the ability to create change orders when a particular part was delayed allowed us to adapt and successfully complete projects when others could not." In fact, D-Tools System Integrator was so essential to SAV handling equipment tracking that the company hired a dedicated employee who quickly mastered the software and further cemented that competitive advantage.
Sidorowicz is unambiguous that getting the most out of D-Tools System Integrator requires commitment. It's not a turnkey solution, and it's not a magic wand. "The software offers a foundation," she explains, "but the more effort you invest in it, the more benefits you'll reap." Embarking on the D-Tools journey typically begins, Sidorowicz says, with utilizing System Integrator for quoting and sales purposes. The software provides a user-friendly platform for SAV to create professional-looking quotes. "Our priority is to present clients with a clear understanding of their purchases and the systems we are quoting," she comments.
For SAV, the next step was to leverage System Integrator for ordering. "D-Tools allows us to generate purchase orders seamlessly, enabling us to track the products needed to schedule and successfully complete a project," Sidorowicz continues. "Additionally, our collaboration with Tracknicity and D-Tools last year introduced the integration of inventory management into our workflow, further streamlining our operations." For SAV, a recent next step has been incorporating the D-Tools Mobile mobile platform. It now serves as SAV's primary communication channel with onsite installation teams, ensuring seamless coordination and confirmation of all necessary parts on the job site. "With parts, drawings, and staffing information readily accessible on the job through the mobile app, efficiency in project execution becomes possible," Sidorowicz declares.
D-Tools Helps SAV Assure Profitability
As noted, since Sidorowicz took the reins at SAV in 2014, company revenues have skyrocketed from $600,000 then to more than $3 million now. She explains how D-Tools System Integrator has helped facilitate that remarkable profitability. "D-Tools enables you to generate professional and precise quotes efficiently," Sidorowicz emphasizes, "ensuring that, as projects materialize, we have the confidence to deliver the job successfully and achieve profitability based on those designs." Indeed, by this point, D-Tools System Integrator has become an integral part of SAV's entire process, going far beyond just sales.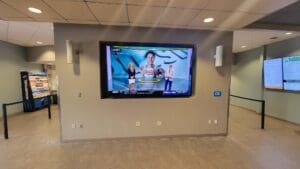 Sidorowicz lays out D-Tools software's end-to-end indispensability to SAV's project processes. "Once a project is sold, it moves into the engineering phase utilizing Visio, which integrates smoothly with D-Tools," she explains. "The software's integration with Tracknicity allows for seamless parts retrieval, streamlining our ordering process. Purchase orders are created directly from the job itself, enabling us to precisely track incoming items for each project." What's more, SAV is increasingly reliant on the aforementioned D-Tools mobile for tracking and storing job notes. Sidorowicz marvels that D-Tools System Integrator — software that SAV initially primarily leveraged as a sales tool — has "…evolved into an all-encompassing solution that supports our entire workflow."
As has become clear, the benefits of D-Tools System Integrator extend far beyond sales. Indeed, if you ask Sidorowicz, the software's real power actually lies in its exceptional information-management capabilities. "It serves as a comprehensive solution for managing various aspects of our operations," she attests, rattling off orders, shipping and receiving, parts tracking, and overall job tracking as just a few examples. "These functionalities have become indispensable to our operations team, [whose members] heavily rely on D-Tools to streamline and organize our workflow effectively," Sidorowicz adds.
SAV's Partnership with D-Tools
Sidorowicz praises the D-Tools team's responsiveness to help tickets created via the website, as well as the frequency of D-Tools System Integrator software updates. "[This ensures] that it remains current and relevant," she affirms. Sidorowicz likewise lauds D-Tools for consistently introducing features that enhance the user experience and meet rapidly evolving industry needs. However, she also candidly offers constructive feedback, remarking on the fact that, at present, D-Tools customers don't have a direct, immediate method of connecting with the company — for example, a real-time chat feature or quick-question functionality. Perhaps future refinements will avail customers of assistance that is even more immediate.
Integration businesses like SAV — smaller, more unique companies that form the fabric of our industry community — can realize remarkable results by investing in D-Tools System Integrator. "We made the decision to invest in D-Tools long before we felt financially ready," Sidorowicz acknowledges, "and, now, we can't imagine running our business without it." Accordingly, she offers her industry peers the wise advice of personal experience: If you want to expand your company — and, in particular, if you want a system that can scale beyond individual capabilities — strongly consider taking the leap and choosing D-Tools.
"At [SAV], no single person can handle all the aspects of a project," Sidorowicz readily concedes. "Sales, orders, operations, and installations each require dedicated attention." And that's where software like D-Tools System Integrator can have its transformative effect. "D-Tools has become the cornerstone of our continuously growing and successful company," she says with abundant pride both for her team and for her business.
Sidorowicz looks forward to seeing where D-Tools will help take her business in the future — and Commercial Integrator can't wait to write that next chapter.
About the Author
Dan Ferrisi has been covering the commercial AV industry as an editor, reporter and writer since 2004. He is the former editor of Sound & Communications, and he joined Commercial Integrator as editor-in-chief in November 2021.