D-Tools software for AV system integrators offers automate tax compliance with Avalara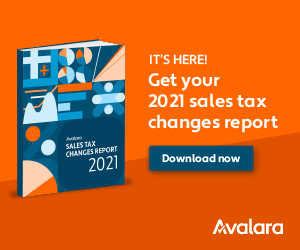 D-Tools, Inc., a leader in data-driven software for system integrators, today announced it has partnered with Avalara (NYSE: AVLR), a leading provider of tax compliance automation for businesses of all sizes.
D-Tools is now part of Avalara's "Certified for AvaTax" program, which features integrations that perform at the highest level, providing the best possible customer experience.

As a result of this partnership, D-Tools software users can now choose Avalara's AvaTax to deliver sales and use tax calculations within existing business applications at the time of checkout or billing — in real time.
D-Tools software solutions drive sales and substantially improve operating efficiencies by managing all aspects of an AV system integrator's business – from initial client contract through on-going servicing – all through a data-driven process that leverages an extensive and integrated product library. The result is increased profitability and healthier bottom-line results.
"We are pleased to partner with Avalara to provide our customers with an accurate, efficient solution to calculate sales tax for their client engagements," said Tim Bigoness, CMO of D-Tools. "Tax requirements are complex. They vary based on location, and are continuously changing. Our integration with AvaTax helps our customers confidently achieve compliance so they can focus on their business."
Greg Chapman, senior vice president of partner management at Avalara said, "D-Tools understands the needs of its customers, and its System Integrator software offering reduces complexity for their customers in many ways. We understand that digitization of business processes is not an option, it is essential; we are proud to offer fast, accurate, and easy tax compliance solutions to our shared customers."
D-Tools is now an Avalara Certified partner. Certified partners pass a series of criteria developed by Avalara to ensure the connector's performance and reliability, thereby helping mutual customers benefit from a seamless experience with Avalara's tax compliance solutions.
About D-Tools
D-Tools is a worldwide leader in accessible, highly accurate business software that caters to the unique and diverse needs of systems design and installation firms. The company's on-premises software, System Integrator™ (SI), and cloud-based platform, D-Tools Cloud, are robust solutions that help manage all aspects of an integrator's business, including sales, comprehensive system design, project documentation, procurement, and project management. Today, more than 7,000 companies in over 90 countries use D-Tools' award-winning software to streamline business processes, leading to improved operational efficiencies and increased profitability. For more information and free trials, visit www.d-tools.com.
All products, product names, trademarks, and registrations mentioned herein are the property of their respective owners, all rights reserved.
About Avalara, Inc.
Avalara helps businesses of all sizes get tax compliance right. In partnership with leading ERP, accounting, ecommerce, and other financial management system providers, Avalara delivers cloud-based compliance solutions for various transaction taxes, including sales and use, VAT, GST, excise, communications, lodging, and other indirect tax types. Headquartered in Seattle, Avalara has offices across the U.S. and around the world in Brazil, Europe, and India. More information at avalara.com.