🦃 D-Tools will be closed Thursday November 25th and
Friday November 26th for the Thanksgiving holiday 🦃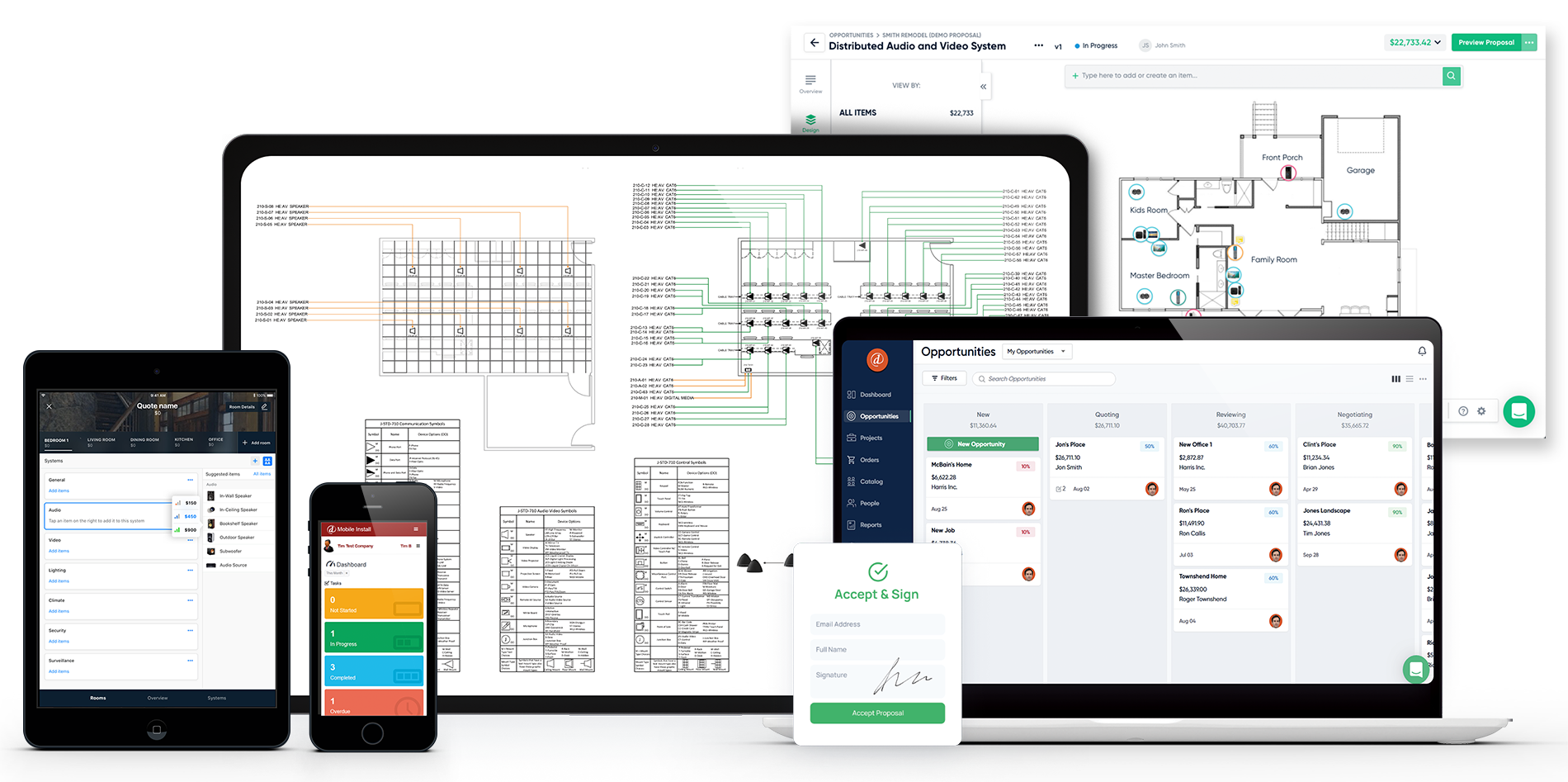 Software to Drive Sales, Improve Productivity, and Achieve Healthier Bottom-Line Results
Power your business with D-Tools end-to-end, core business software for low-voltage system integrators. Win more bids with accurate, professional proposals, ensure clear communication through detailed system designs and documentation, and ensure installation accuracy with field service management - all through a singular, data-driven process.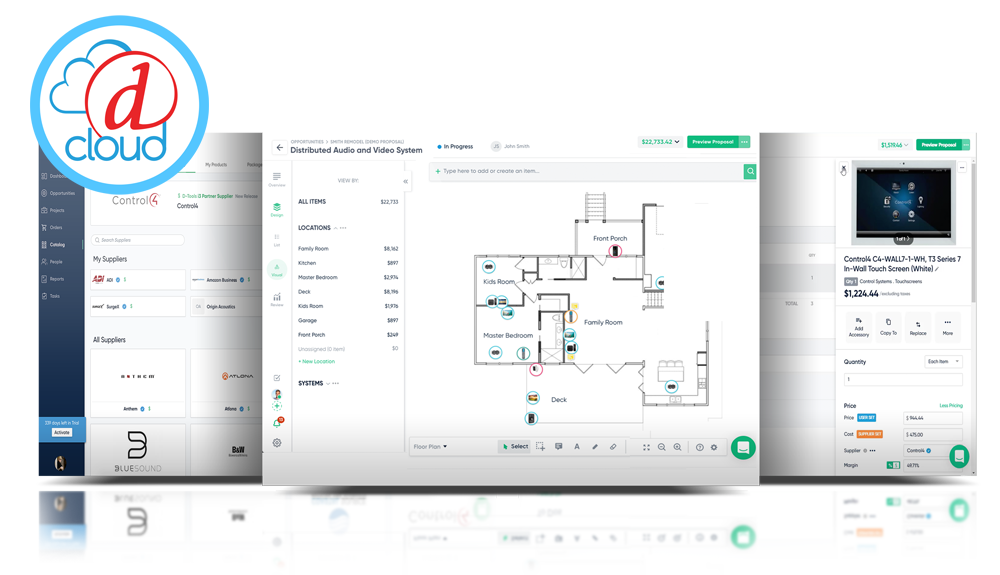 Close More Business and Drive Productivity from Any Device
D-Tools Cloud is an easy-to-deploy, web-based platform for smaller residential AV and security integrators and projects. D-Tools Cloud offers sales pipeline management, visual quoting and interactive multimedia proposals from any web-enabled device, procurement using integrated dealer-specific pricing, and a powerful project management suite.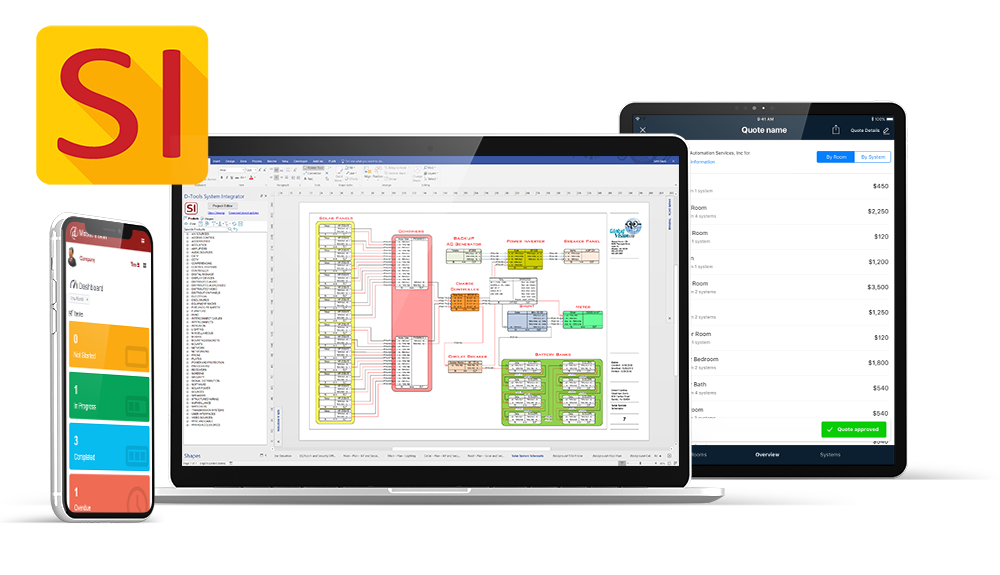 Increase Operating Efficiency and Profitability for Each Project
D-Tools System Integrator (SI) is a comprehensive end-to-end software solution for larger businesses and projects that streamlines project workflow – from estimating, system design, documentation, through installation and field service management, utilizing a data-driven process that leverages integrated product data with dealer-specific pricing.
Check out the award-winning features of D-Tools' low voltage estimating, design, and fields service software
Find out why our software is trusted by over 7,000 AV system integrators, security system installers, higher education technology managers, and HVAC controls professionals in 87 countries around the globe.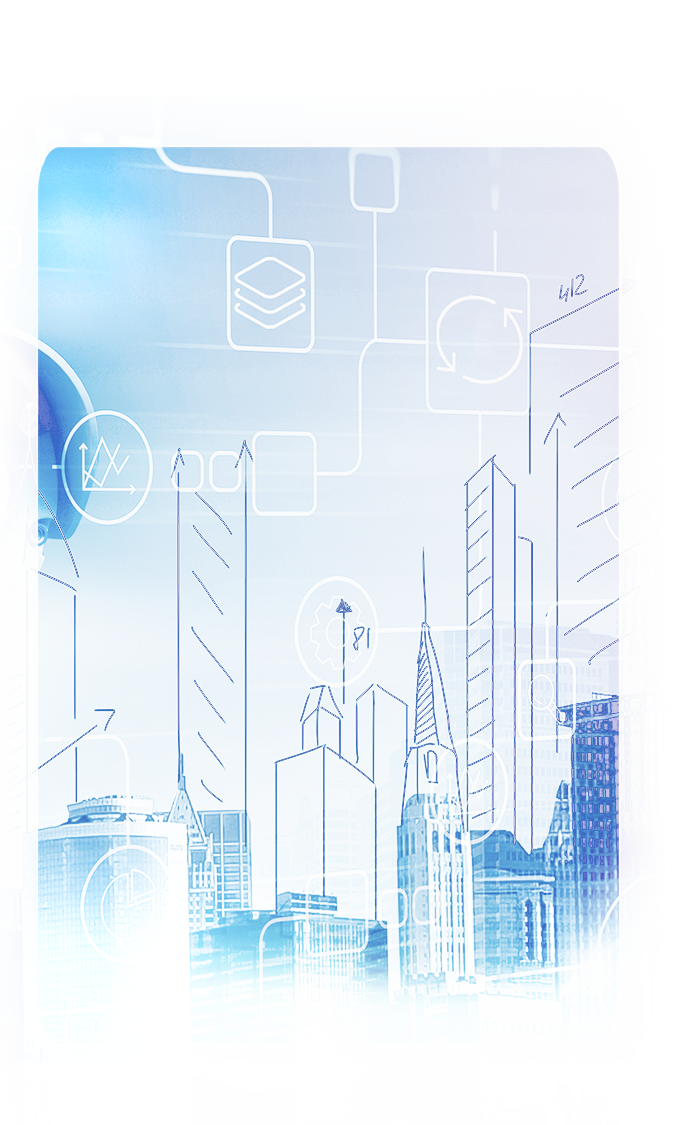 INDUSTRIES
Low Voltage Project Management Software for the Real World
AV Systems Integrators
D-Tools streamlines project workflows for thousands of residential, commercial, and corporate AV system integrators, from simple home theater and office installs to multi-million dollar applications including hospitality, healthcare, digital signage, house of worship, and more.
Security Systems Integrators
D-Tools software makes it easier than ever for electronic security integrators to streamline installations from smaller residential alarm systems to designing commercial CCTV, intrusion and access control, fire and safety, and IP systems.
Higher Education
D-Tools software helps technology managers, AV and IT departments properly budget, install, document, manage, and track technology and equipment utilized in higher education classrooms, lecture halls, libraries, and other campus environments.

Building Automation Systems Installations
D-Tools software helps seamlessly manage and install building and control automation systems and equipment associated with energy management systems including control panels, sensors, cabling, and more.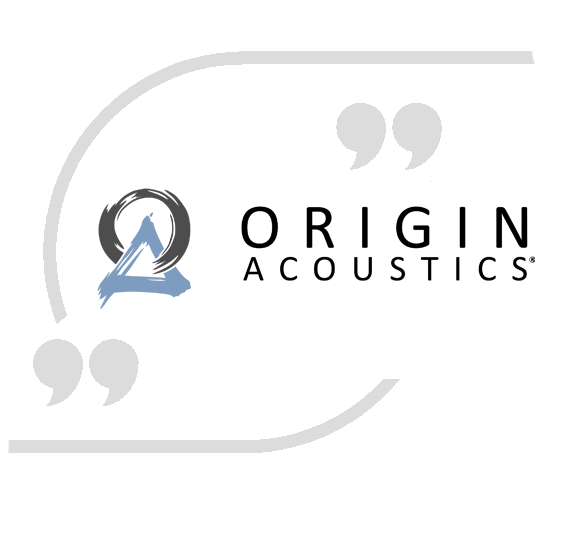 Our dealers are always looking for ways to save time and produce quality proposals that reflect the quality of the products being recommended. D-Tools software is a fantastic way to level-up and deliver optimal proposals in a simple way.
Nina Clarkson-Valdivia Origin Acoustics
CUSTOMER SUCCESS STORIES
What Our Clients Have to Say
D-Tools helped us map out the process and signal flow so that when we're on-site working with the general contractors, electricians, and IT staff, we can be proactive instead of reactive. We want everyone on the same page—from engineer, to installer, to programmer—so it's a smooth workflow throughout the process. D-Tools is helping us build efficiencies, and that's the most important part.
Tierney Brothers
With D-Tools software, we decreased time on quote generation by 40% and decreased design drawing time by 60%. Its combined feature set provides a win for us as well as our clients.
Sound Stage