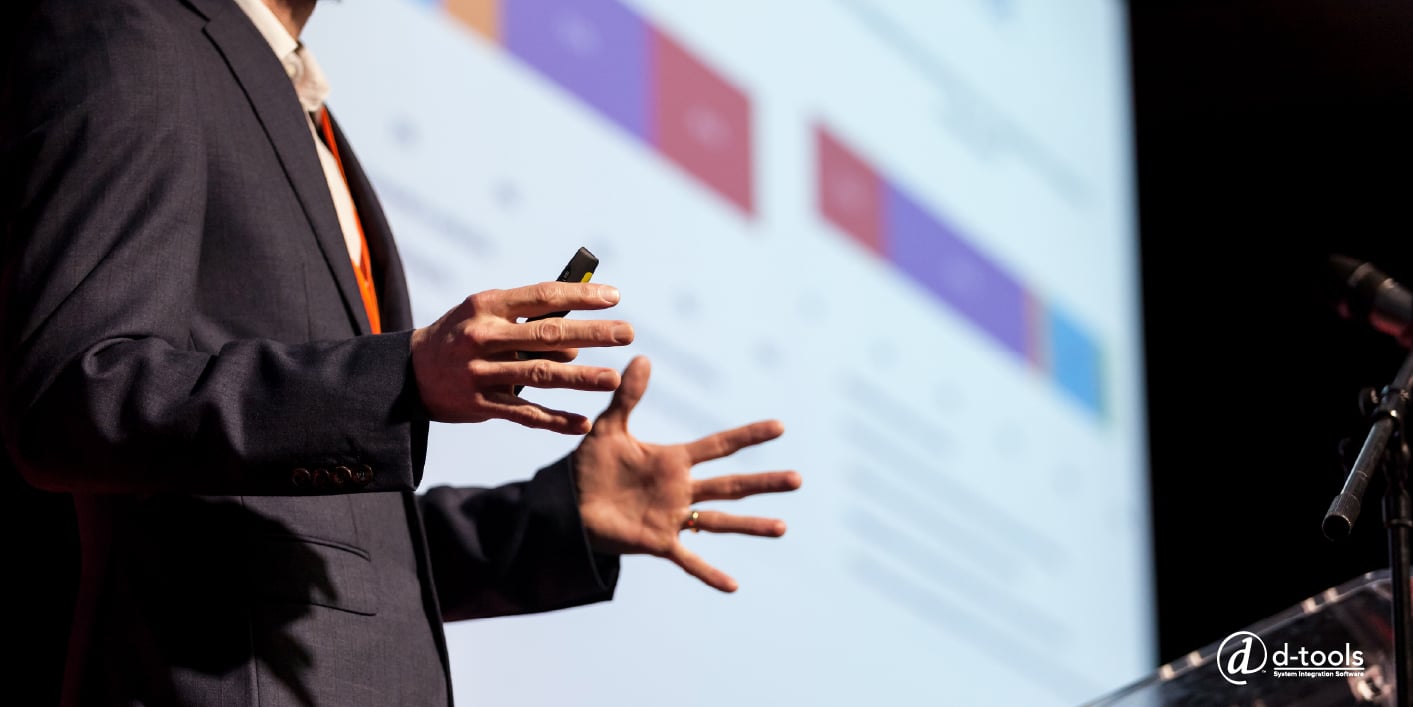 Audio visual systems have come a long way since the 1970s. Now, what would have been a professional and exciting presentation in that era would seem amateurish by comparison. Since the 70s and 80s, massive changes have been made, and expectations have been raised. People now want tech-enabled presentations to go along with announcements from top tech companies.
Consider the slickly produced tech product announcements over the years from companies like Apple.

Most people can immediately picture the late Steve Jobs, in his trademark black turtleneck and jeans, commanding an entire room and a whole lot of tech during these presentations, which were typically live-streamed online and portions shared on nightly news programming. Articles and edits of the presentation appeared online afterward, and it spiked enormous online conversation about the product. A good presentation is now an essential part of branding, even if you're not creating product launch presentations on a global scale like Apple.
Any company that wants to maintain its credibility knows that presentations have to run smoothly, and ideally, wow the audience. A press release or standard lecture with slides simply will not cut it. That's where AV integrators come in. AV integrators set up the systems that these companies use to look flawless during presentations.
The history of AV control systems clearly reveals the growing importance of a well-produced, smoothly-run presentation. Throughout the decades, two different styles of AV control have grown popular — room control and show control:
Room control: This technology allows the person running the show to turn things on, play videos, show presentations, lighting, and other cues. All audio visual equipment in the room is hooked into one system, allowing the showrunner to select what they need from a single remote. This remote might be a tablet, iPad, or touchscreen remote these days. Room control focuses on the options to turn on and control audio and electronic equipment.
Show control: This type of control uses automated technology to link and use multiple entertainment control systems at one time. For example, a video would be played that also has in-room lighting cues, sound cues, and even movements. Show control focuses on controlling the flow of the show and timelines.
Room control and show control systems are both installed by AV integrators, and companies then use these systems for conferences and events. These systems are also used on a smaller scale in private residences. More in-home screening rooms, classrooms, and lecture halls are becoming high-tech thanks to the popularity and innovation of various AV integration companies and their installation options.

History of Room Control Devices
Most early audio visual content relied upon presentations and visual aids that were already produced. Think slideshows, overhead projections, pre-produced slides, pre-recorded video, and more. At this time, complicated room control systems like you might see in lecture halls were not in demand. Presentations required a technical crew to oversee things like lighting and audio cues.
Let's go through the decades and see how audio visual needs and presentation options have changed to meet demands.
1970s and 80s: Presentations required a large crew, with additional crew members overseeing technical requirements. Smaller presentations might use more individual technologies like a VCR, television, or slide projector. If more was needed, large corporations were able to have custom-built consoles created to control the flow of presentation. Control systems slowly started to become popular. By 1978, early room displays were being showcased at industry conferences.
Mid-to-late 1980s: Once computers started becoming more popular, computer-generated presentations followed suit. Soon, audio visual corporations started to develop control systems that worked with the PC, using a button remote with the computer serving as the "wired" base. In-house presentation rooms started to appear on-site at large corporations like IBM. These presentation suites featured control systems and were an alternative to renting a conference room from a hotel or business center. Controls for slide projectors were created using a modified wireless garage door opener, thanks to Texas salesman Scott Miller, who launched a line of products and founded AMX, which went on to become a major player in the AV tech space.
By 1989, there were show control options that could control lighting, curtains, audio systems, and video replay from one control center.
1990s: By this point, many product control systems were becoming more popular. There were a variety of competitors in the market, and President Clinton even had a meeting control system installed in the White House.
Meeting room installations continued to be in vogue throughout the 90s, and slowly versions of room control products on a smaller scale for smaller and medium-sized companies started coming to market. Audio visual companies branched out into European markets as the popularity grew globally.
2000s: The reach of audio visual room control products continued to grow, as companies started developing products for the home market. Items like smart home remote controls started coming out, and popping up in celebrity homes viewed on MTV's cribs. Everyone wanted to be able to control their household electronics at the touch of a button. Low-end control options are now available, giving options to smaller companies. Audio visual companies like AMX started exploring lighting systems, and IT and network systems that could control various aspects of a presentation.

As the world crept further into the 2000s, browser-based control systems started appearing. Windows PCs are embedded into panels created by audio visual company Crestron. Control system software packages are sold and very profitable. The audio visual space becomes even more lucrative as more and more customer types emerge, including universities, classrooms, conference rooms, and more.
2010s: iPads became even more popular than dedicated touchscreen controllers. Demand for tablet interfaces that allowed presenters to use their own devices continued to grow, and many installers and manufacturers of these systems carried a tablet interface in their product suite. This was exciting, because it allowed presenters to use their own tech. However, it also meant that expectations for seamless integration were high.
This brings us to the control systems of today.
Top 5 AV Control System Manufacturers
Audio visual technology is an innovative field, and new ideas are consistently introduced. So who are the major players in the AV control systems industry today, and what do they offer?

D-Tools software allows AV integrators to leverage an extensive and integrated library of products from leading manufacturers and distributors, including dealer-specific pricing for the top five AV control system manufacturers and an ever-growing number of brands. Detailed product information, specifications, and pricing drive proposals and system designs, reducing data entry time and ensuring accurate pricing for every project.
Request a live demo of D-Tools Cloud or System Integrator today to learn more.