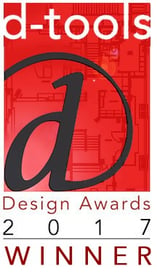 D-Tools picks several stunning system design projects specified using D-Tools software, showcasing the power of the platform and the innovation of its users.
D-Tools, Inc., the worldwide leader in system integration software, today named the annual 2017 D-Tools Design Awards Winners. Showcasing the best project designs and greatest success stories of D-Tools System Integrator (SI) software, the contest categories – sponsored by MVP (Manufacturer Vantage Point) Program partners IC Realtime, KanexPro, Logitech, and Terra Speakers – included Best Residential, Best Commercial, Most Unique, and Best Overall.
D-Tools Design Award winners and finalists were selected from a diverse group of D-Tools user projects, the winning entries were chosen by D-Tools product and executive team members, and were judged on a number of criteria; originality, depth and breadth of D-Tools' software usage, overall system design, and demonstrated proficiency with the platform.
2017 D-Tools Design Awards Winners are as follows:

Best Residential:

Inspired Dwellings – Integrated home system project – submitted by Rachel Threadingham
Project: A new-build family home with integrate audio/visual, data, lighting, and CCTV systems throughout the property. The basis for this project was to have an integrated home system that was easy for the whole family to use.
Best Commercial:

AVIO Designs – Restaurant AV and control project – submitted by Nathan Haynes
Project: Installation of one of the largest, most successful restaurant chains in Canada – and now growing across North America. This project represents the new flagship location in West Vancouver, British Columbia Canada set to open in 2018. The installation included full IP video distribution with high-end audio design and 3rd party automated control.
Most Unique:

One Touch Automation – Custom Sprinter Van project – submitted by Calvin Garraway
Project: One Touch used D-Tools to assist in designing a technologically innovative luxury environment in a custom-built Mercedes Sprinter Van. The design included custom designed interfaces, a unique exterior video system, robust mobile communication, and audio/visual components.
Best Overall:

Aloud AB – Multiroom AV and control project – Submitted by Joakim Ekberg
Project: Residential, multi-room audio/visual and lighting control, all controlled by touch panels and custom designed mechanical keypads that are supported by a robust network infrastructure.
Those interested in learning more about D-Tools' award-winning System Integrator software platform, sign up for a free demo by visiting https://d-tools.com/live-demo-webinar/ or for a free 30-day trial, which can be downloaded by following this link https://d-tools.com/30-day-free-trial/.