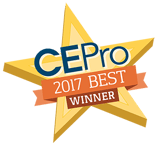 CONCORD, CA — Sept 11, 2017 — D-Tools, Inc., the worldwide leader in data-driven system integration software, today announced that the company has recently received numerous industry awards for the latest version of its System Integrator (SI) platform – SI 2017.
D-Tools System Integrator 2017 (SI 2017) was named winner of a 2017 CE Pro BEST Award during CEDIA 2017 in the Business Operations category. Winning products were individually judged on multiple criteria including innovation, functionality, competitive advantages, benefits to the end user and benefits to the integrator. At the show, D-Tools SI 2017 was also named winner of a Technology Integrator EXCITE Award. The EXCITE Awards were voted on by the magazine's readers in order to find the most important and impressive products and services on the market that help custom installation professionals. In addition, SI 2017 took home a Residential Systems 2017 Best of Show Award, which honors outstanding products and solutions exhibited at CEDIA 2017.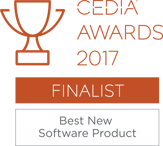 Capping-off a highly successful show, D-Tools SI 2017 was also named a CEDIA Manufacturers Excellence Best New Product Award Finalist is the Software category.
In addition to the awards named during CEDIA, D-Tools SI 2017 was named a Cabling Installation & Maintenance 2017 Innovators Award Honoree during BICSI 2017. The Cabling Install Innovators Award program was developed to recognize the most-innovative cabling and communications technology products and systems within the structured cabling industry as determined by a panel of senior third-party expert judges. Finally, during Integrate Australia, the D-Tools platform was honored with a Connected Home 2017 Most Popular Award in the Software category. These awards are voted on by readers of Connected Home magazine and system integrators across Australia and New Zealand.
Used by over 5,500 companies worldwide, D-Tools provides a complete data-driven estimation, design, and project management software platform designed to fulfill the diverse needs of systems design and installation firms. This solution ties these elements together into a singular, connected process that increases revenue and improves operational efficiency while reducing time and costs. Along with access to a comprehensive library of manufacturer products, this solution positively effects – and thereby improves – all areas of an integrator's business. Moreover, system integration companies using D-Tools ensure – through clear communication and a streamlined process – new and retrofitted projects are completed on time and to budget, resulting in customer satisfaction.
For more information about D-Tools and the company's award-winning System Integrator software platform are encouraged to sign up for a free online tour by visiting https://d-tools.com/live-demo-webinar/ or for a free 30-day trial, which can be downloaded by visiting https://d-tools.com/30-day-free-trial/.
About D-Tools, Inc.
D-Tools, founded in 1998 and based in Concord, California, is a worldwide leader in accessible, highly accurate system design and documentation software platform. The company's flagship product, System Integrator™ (SI), is a robust solution that utilizes Autodesk® AutoCAD and Microsoft® Visio to facilitate comprehensive system design, documentation and project management. D-Tools enables residential and commercial integrators to streamline business processes and increase revenues while reducing the time and cost associated with the installation and integration of low voltage electronic systems. More than 5,500 leading companies in 87 countries currently use the award-winning D-Tools platform to reduce time, costs and to streamline the system integration process. Product updates and related information can be obtained by following D-Tools on Twitter, Facebook, and LinkedIn.
Media Contacts
D-Tools: Tim Bigoness, D-Tools, Inc., (925) 270-4102, timb@d-tools.com
D-Tools: Katye (McGregor) Bennett, KMB Communications, Inc., (425) 328-8640, katye@kmbcomm.com
All products, product names, trademarks, and registrations mentioned are the property of their respective owners, all rights reserved.
# # #