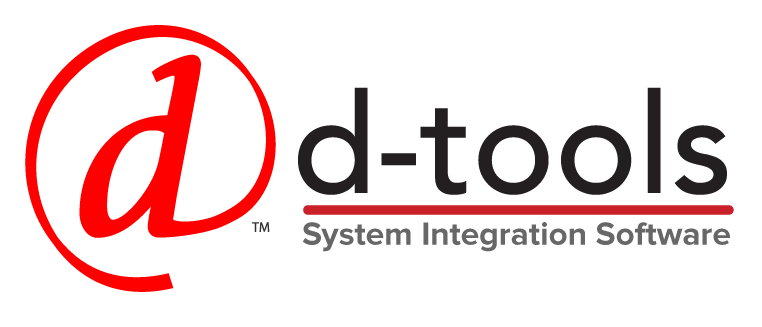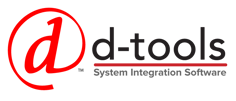 D-Tools i3 Partners realize the importance of bringing you their product information and have chosen to support the D-Tools user community by joining the program and making their product data directly available through D-Tools software. Read on for the latest supplier company news and product updates.

Hartmann Controls Teams Up with Altronix to Offer Pre-Configured Trove™ Access and Power Integration Kits
Making Access Control Deployment Easier and More Cost-Efficient
Altronix, the recognized leader in power and data transmission products for the professional security industry, is further expanding its Trove™ Series with an access and power integration solution exclusively designed to support Hartmann Controls. The pre-configured kits will accommodate up to 8 or 16 doors each and are scalable for large systems.
"These new Trove solutions provide authorized Hartmann Controls dealers with added features and benefits that reduce installation time and labor," said J.R. Andrews, National Sales Executive, Altronix Corporation. "We are most pleased to collaborate with Hartmann Controls in combining our technology resources to provide highly efficient access control solutions."
"Altronix's reputation for reliability and support is second to none in our industry, and we are excited to be able to offer these fully integrated access solutions to our reseller partners," said Andy Hartmann, President and Co-Founder of Hartmann Controls.
These new Trove models are pre-configured with Altronix power and accessories to support Hartmann Controls for up to 8 or 16 doors each. For more detailed information, please visit https://www.hartmann-controls.com/products/protectornet/hardware
All Trove solutions simplify board layout and wire management, while providing maximum flexibility and scalability in the design and deployment of the industry's leading brands of access control. Trove enables installers to easily configure and pretest systems prior to on-site installation, and provides a single point of service and maintenance, while reducing valuable time and labor. Custom design a Altronix / Hartmann system here: https://www.altronix.com/system_design_tools/trove/hartmann
---

Free Freight for AtlasIED Floor Racks and Accessories
#DidYouKnow AtlasIED makes floor racks (and a variety of other racks) in our Ennis, Texas factory?"
For a limited time, we're offering simplified pricing and FREE SHIPPING on ALL FLOOR RACKS! Simple pricing, "Your Configuration," free shipping, in stock in Texas!
Starting November 1st and continuing through the end of 2020, all AtlasIED floor racks and their accessories ship free in the contiguous US via ground freight. Promotional pricing must be used to qualify for free freight. Contact your local AtlasIED sales rep for pricing.
Promotion ends December 31, 2020. Please review our terms and conditions for additional details and requirements.

---

AudioControl RS 1000 and RS 500 Subwoofer Amplifiers Available Now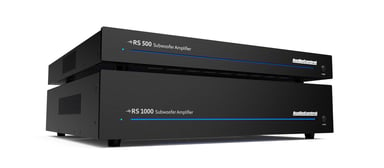 The AudioControl RS 1000 and RS 500 are the ultimate bass amplification solutions for any home cinema, multi-zone audio or 2-channel music system. The RS 1000 delivers 1000 watts from a 2U chassis into a 4 or 8-Ohm subwoofer, and the RS 500 delivers 500 watts from a 1U chassis into a 4 or 8-Ohm subwoofer. Both RS Series amplifiers deliver the ultimate control of any subwoofer system thanks to high power and rock solid stability, even into 2 ohms. Like many AudioControl products, RS Series subwoofer amplifiers accommodate the needs of integrators with IP and IR control as well as loop outputs with an optional high-pass filter along with a balanced and unbalanced input. These features, coupled with the limitless adjustability of AudioControl's multi-award-winning DSP engine that puts graphic and parametric EQs, a crossover along with delay and phase controls at easy access for precise calibration and tuning, make the RS Series amplifiers a definitive choice to power any subwoofer in entertainment systems that demand the very best.
"Our network of integrators all around the world has expressed enthusiasm for these products and we are thrilled to be shipping both new models," explained AudioControl CEO Alex Camara. "We are very confident that the RS Series, featuring an elegant industrial design that matches our new G4 Series amplifiers, will provide integrators with the most complete multi-zone entertainment and home cinema solution set ever from AudioControl."
Intro Video: https://www.youtube.com/watch?v=_uHT-WV-_uI
Literature: https://www.audiocontrol.com/downloads/home/current/rs-1000/rs-series-literature.pdf
Webpage: https://www.audiocontrol.com/home-audio/subwoofer-amplifiers/rs-1000/
Training Presentation: https://www.dropbox.com/s/0jatpv1zass8qzt/AudioControl%20RS%20Series%20Subwoofer%20Amplifiers.ppt?dl=0
---

AudioQuest 48-Series HDMI Cables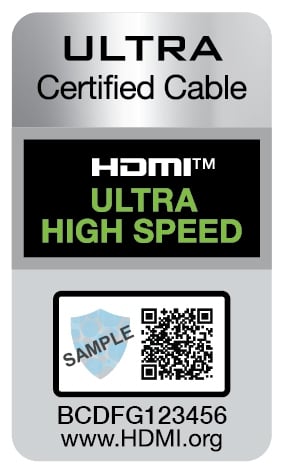 Over the last decade, AudioQuest's Indulgence Series of HDMI cables have earned their dominant place in the HDMI sphere. AudioQuest applied superior design and superior materials in order to bring the A/V enthusiast a superior experience.
Now, with the 48-Series of Indulgence and Mythical Creature HDMI cables, both HDMI LLC and AudioQuest dramatically raise the bar yet again. The new HDMI 2.1 speci­fication sets a far more capable baseline—all conforming cables from all manufacturers will offer better sound and will enable more features than their previous models.
But! AudioQuest's 48-Series of HDMI 2.1 cables have very meaningfully increased the AudioQuest advantage. The company has applied every previous design and material advantage—and added numerous additional design and material upgrades, achieving performance even more without peer than ever before.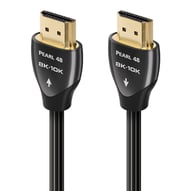 AudioQuest's entry models Pearl 48 and Forest 48 are the ­first HDMI-2.1 cables to receive HDMI LLC's Ultra High Speed certification; others will follow. While HDMI only certifies a bare minimum, no AudioQuest cable is ever only a "bare minimum."
For more information on AudioQuest's comprehensive line of high-performance HDMI cables, visit https://www.audioquest.com/page/aq-hdmi.html.
---

Rent or Own a Fusion Splicer?
With fusion splicers coming down in price (and being increasingly simple to use), how can you decide whether to lease or purchase your own?
Renting lets you pay for a fusion splicer only while you use it; when you're done, you return it. You can rent a splicer for weeks, months or longer (freight is often included in these costs).
Renting may cost you more over time, but that depends on how much splicing you're doing and whether you're charging that rental expense back to a job.
If you're just getting started with fusion splicing, you're working on several small projects or you don't know what kind of splicer you want to purchase, renting can be a viable option.
Purchasing a fusion splicer is a one-time capital expense that will continue to pay for itself over time. The more you use it, the more you'll make on your investment.
It can make sense to purchase a splicer if you know you've got lots of fusion splicing projects in the works – or you don't want to hassle with leasing a splicer each time you need one.
Belden's FiberExpress (FX) Fusion Splicer supports consistent, reliable and high-quality terminations for single fiber splice-on connectors and pigtail splicing. Active cladding alignment ensures that the splicer achieves perfect alignment by automatically adjusting fiber ends in multiple directions while eliminating errors due to dust and other contaminants. To reduce downtime and delays, the device splices for 200 cycles between battery charges.
Now through Feb. 15, 2021, Belden is offering free rentals of the FX Fusion Splicer with qualifying purchases of our FX Fusion Splice-On Connectors (starting at 500). This lets you try our reliable splicer while saving $400 per week on rental!
Learn more about renting vs. purchasing a fusion splicer here: https://www.belden.com/blog/smart-building/should-you-rent-or-own-a-fusion-splicer.
---

Blackwire's newly launched MTX Universal Driver for Control4 Simplifies Resimercial Integration with Yamaha's MTX 3 and 5-D Series of Audio Processors
This driver, along with Yamaha's line of commercial products, completes the package for residential dealers looking to specialize in light commercial installs.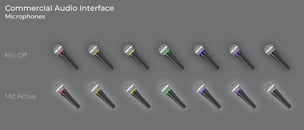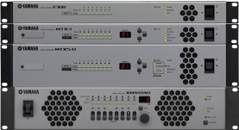 Commercial installs just got a whole lot easier. The new MTX Universal Driver exclusively offered by Blackwire allows integrators of any level to use Control4 systems and Yamaha MTX DSPs together in their commercial projects. The two-way driver allows for audio matrix and zone volume control while providing the ability to mix in microphones into a zone. Featuring more than twenty custom input buttons, the driver allows the integrator to include simple, easy-to-use controls on a Control4 interface that won't overwhelm the end-user.
Blackwire has been distributing the Yamaha Commercial Installed Solutions (CIS) product line for the past year, with dealers reporting great success installing these solutions in the field. This easy-to-install MTX driver completes the integration between Yamaha and Control4 and allows end-users to easily control an extremely complex system with minimal effort.
Blackwire's Yamaha's CIS line of audio solutions include:
VXC ceiling and VXS surface-mount series speakers, which combine premium sound quality with features for fast and safe installation.
MA series mixer amplifiers, 1RU solutions that combine two stereo inputs and up to six microphone inputs with DSP functions, such as feedback suppression and a priority ducker.
MTX series of audio mixers that support up to 16 zones and combine DSP functionality with built-in mixing capabilities. For simple system expansion, the mixers feature Yamaha's YDIF digital audio transfer protocol — which allows for eight additional channels over a single Cat6 cable — while Dante-equipped models add an additional 16 channels.
Most importantly, the entire Yamaha offering is backed by Blackwire's core service and technical support and includes system design and configuration. Learn more about the MTX Universal Driver available only at Blackwire Designs by visiting blackwiredesigns.com/mtx.
---

DW® Adds New MEGApix® Real-Time 5MP Bullet IP Cameras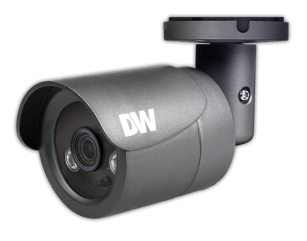 New cameras feature Star-Light Plus™ color in near-total darkness technology and tri-codec H.265/H.264/MJPEG simultaneous streaming.
Digital Watchdog® (DW), announces the release of the new 5MP MEGApix® bullet IP camera with H.265/H.264/MJPEG triple codecs and simultaneous streaming. The DWC-MB75Wi4T is an NDAA/TAA compliant, powerful IP surveillance solution to match any indoor and outdoor application.
This MEGApix IP camera provides 5MP resolution at real-time 30fps. It includes a 4.0mm fixed lens, simultaneous H.265/H.264/MJPEG codec support with dual-stream and Star-Light Plus™ color in near-total darkness technology for quality video in any lighting condition, all in an IP67 dust-tight and waterproof bullet housing. All MEGApix cameras are ONVIF conformant, assuring their successful integration with any open platform solution on the market.
"Sensor resolution keeps getting higher, frame rates get faster, cameras become smaller and performance continues to break barriers," said Mark Espenschied, Director of Marketing, Digital Watchdog. "These new small bullet cameras include all the features you could hope for in a discreet housing that's easy to mount ."
Camera Features Include:
• True Wide Dynamic Range (WDR)
• 100′ Smart IR™ with intelligent camera sync
• ONVIF conformant, profile S
• NDAA/TAA compliant
• 5 year warranty
To learn more about the new 5MP DWC-MB75Wi4T IP camera and all of DW's industry leading video surveillance products, visit us at www.digital-watchdog.com.
---

THE MAGIC OF CINEMA,

AT HOME!
AUDIO-VIDEO PROCESSOR AND AMPLIFIER
Like any true conductor who draws the best out of his orchestra, Astral 16 draws the very best out of high-fidelity and in-wall/in-ceiling loudspeakers by perfectly coordinating all the components within a sensational Home Cinema installation.
Integrating a Class D Pascal Audio amplifier, Astral 16 has 16 channels, of which 12 are amplified and 4 are pre-amplified (balanced XLR outputs) and dedicated entirely to audio (filtering, equalization, bass management, etc.).
This rock-solid foundation is your official invitation to an immersive journey through images and sound of unrivaled quality (sampling frequency supported up to 192 kHz).
---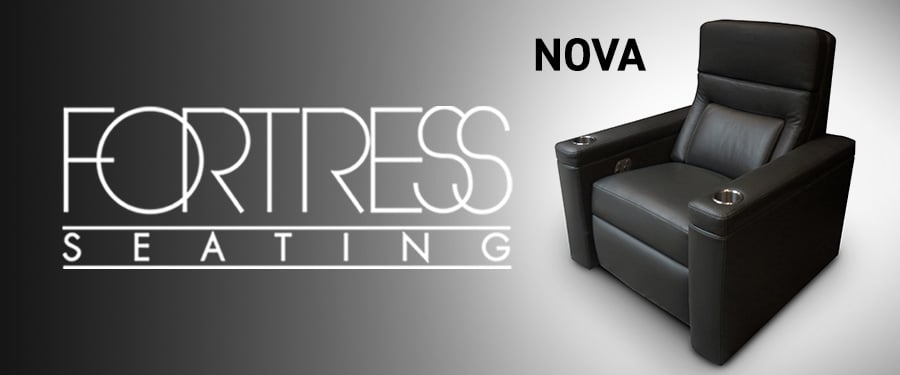 Introducing ~ NOVA!
Making its debut at CEDIA 2019, NOVA is fast becoming a very popular model.
Besides NOVA's luxurious comfort, the outstanding features of this new model are the incredible lumbar support and motorized articulating headrest; both equally important while seated for a lengthy movie.
The elegant design adapts well to a variety of seating environments and can be further enhanced with endless accessory options.
Comfortable seating is the bedrock to every great home theater system. Why compromise when FORTRESS Seating has the style and the range to suit every project.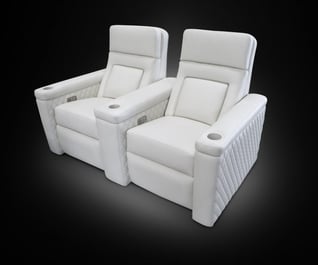 Motorized Articulating Head Rest
Lumbar Support
24″ Seat Width

Medium Back

Stainless Steel Cup Holders
6″ Arms
Pricing starting at $3,300
NOVA shown here with diamond stitched quilted arms.
Right: Articulating Head Rest
---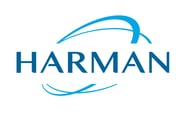 Streaming audio continues to be a driving factor in how customers consume their music. (I'm listening to Qobuz as I write this article.) To capitalize on that trend, we introduced the Arcam ST60 Streaming Audio Player – the perfect companion to any stereo amplifier including our own award-winning SA20 and SA10 models.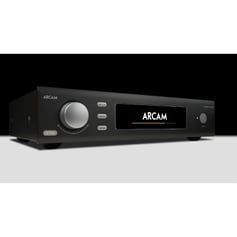 Based upon our proprietary streaming engine, the ST60 provides access to content via wired and wireless connectivity along with a number of digital inputs. Supporting Google Chromecast Built-in and Apple AirPlay 2, the ST60 can deliver high-resolution streaming audio controlled directly from your mobile device or tablet. In addition to enabling streaming from all of the major services (Spotify, Qobuz, Tidal, Deezer, and Napster), the ST60 fully decodes MQA audio files, is Roon Ready, and handles UPnP sources. A large full-color front panel display provides album art and metadata with an elegant and easy-to-read appearance. With outstanding Arcam audio quality, a host of control capability, and compatibility with our MusicLife app, the ST60 is an exciting new product that will deliver the absolute best experience from your digital music. Don't just take our word for it. The ST60 was the winner of the CEDIA Expo What Hi-Fi? "Best of Show 2020" award! Deliveries will begin in late October with a U.S. retail price of $1,499.00.
---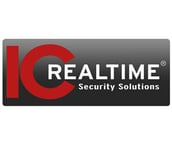 ATTENTION:
COMMERCIAL INTEGRATORS
If you've got the jobs, we've got the gear.
You already knew IC Realtime has the best cameras & recorders and support to cover your AV and Security integration jobs – but did you know that we have Decades of in house experience and the right gear to bid & win Commercial, Industrial, Schools, Cannabis Industry & institutional jobs?
https://www.icrealtime.com/contacts




COMMERCIAL GREEN LINE

MUNICIPAL TAA COMPLIANT LINE
You name it – we have the cameras & recorders to win it.
Schools
Parks
Municipal Buildings
Hospitality
Airports
Retail
Warehouses
Loading
DocksGrow
Houses
Dispensaries
Parking Structures
Marinas

---

Josh.ai Unveils Josh Nano – The World's First Architectural Microphone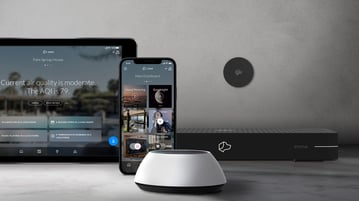 Josh.ai continues expanding the power of artificial intelligence in the home with the launch of Josh Nano and Josh Core, the company's new product ecosystem that works together to provide an integrated voice automation experience. Josh Nano is the world's first Architectural Microphone — a beautiful device that seamlessly blends into any design aesthetic. Josh Core is the whole home processor, doubling down on local processing to ensure that every client's data is private and secure. After raising $22M in funding earlier this year and establishing itself as a leader in voice control, Josh.ai continues to deliver intuitive, simple, and magical user experiences.
"We decided to launch Josh Nano and Josh Core at our first ever Josh Keynote, an event not only aimed at the integrator community, but at architects, designers, home builders, and homeowners alike," said Alex Capecelatro, CEO of Josh.ai. "In addition to featuring our own products, we wanted to highlight our strong partnership with brands like Lutron, Sonos, and Crestron, in a world class environment. Filmed at an $80M spec home designed and built by Arya Group in Los Angeles, the event features a hidden sushi bar that rises from under a table, hydraulic walls and ceilings that open up to transform their environments, advanced lighting and AV features, and more, installed by integrators Powerfull Systems and Roberts AV. The goal is to show people what's possible, not just with voice control, but in a beautifully designed and professionally installed home.
---

Key Digital KD-EX18G
4K HDR HDMI Extender Transmitter and Receiver Kit with 4K to 1080p Down Convert

Key Features: HDMI Extension over CAT5e/6, HDMI pass-thru port for connecting two displays or surround receiver, optional 4K to 1080p down-convert for legacy displays, two-way IR with included sensor and emitter
Supported Technology: 4K Resolution Support (signals up to 18Gbps bandwidth) HDR10 (High Dynamic Range), HDCP 2.2, Deep Color Support, 10G Pass-thru, HDMI Pass-Through, Dolby and DTS Surround Sound Audio Support, Visually Lossless Compression
Benefits: Signal Extension 4K/UHD: Up to 115ft using CAT5e/6 1080p: Up to 164ft, Full Buffer System, Hot Plug Detection Control, EDID Handshaking, Flexible Power over CAT (PoC), Low Profile chassis
Compatibility: Commonly used with consumer and professional HDMI sources and displays including 4K and 1080p TVs, monitors and projectors, cable and satellite boxes, AppleTV, Roku, Chrome Stick, 4K and 1080p Blu-ray players, PC & Mac computers, PS4, Xbox, Switch and other gaming consoles, digital signage players, AV surround receivers, and more.
3 year limited warranty included. USA based tech support, product design, and engineering.
Markets: The KD-EX18G Extender Kit is ideal for atmospheres where the sources and displays are at a distance and may be of different resolutions.
Read more about this product here and check out our website for more of our products!
---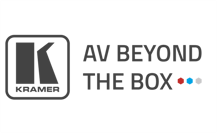 Kramer's Pro Speaker Lineup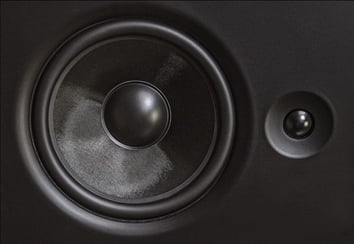 Four Families, One Commitment to Sonic Excellence
When nothing less than crystal clear audio will do, Kramer delivers, with the ideal speaker for any installation. From on-wall to in-wall, powered to passive, Kramer's extensive range of professional speaker options provides unprecedented sonic performance, fidelity, and flexibility.
---

Explore Emerging Trends in the AV Industry with Legrand | AV's new Look Book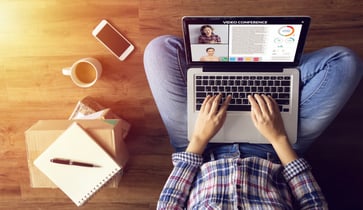 When presented with challenges, the public is quick to adapt. That theory has been tested and proven in the past few months, especially in the workplace and at schools, where people have proven to be more resilient than ever.
A majority of the workforce is telecommuting and meeting via video conferencing. Students of all ages are learning online, and AV technology has paved the way in helping individuals get through it all. The challenges of 2020 have resulted in several emerging trends: connecting virtually, installation efficiencies, remote management and AV-assisted social distancing.
Legrand | AV is here to guide you through this shift with our new Trends Look Book, available for download here. This book examines how these four emerging trends can be applied to remote conferencing, hybrid learning, remote teams, and digital signage.
Learn how:
Video Conferencing is Shifting from Luxury to Necessity in the Meeting Room.
Hybrid stylerooms are Here to Stay.
Digital Signage is the New Means for Mass, Real-Time Information.
A Distributed Workforce Now Thrives on Virtual Collaboration.
Whether it's digital signage, video conferencing, live streaming, hybrid learning – Legrand | AV is committed to making the AV experience even better with solutions that keep people connected. At Legrand | AV, we're committed to enabling amazing AV experiences through our leading brands. We don't just make products. We innovate across key categories and trends to ensure a connected world. Explore more AV solutions at legrandav.com
---

Our Latest Residential AV Solutions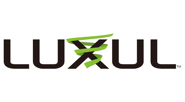 Luxul 4- and 8-Port Gigabit PoE+ Switches Are Now Available
Designed to easily fit behind displays or inside media cabinets, the SW-100-04P and SW-100-08P make it simple to expand networks with PoE-enabled devices. In addition to a dedicated uplink port for connection to a router or upstream switch, the SW-100-04P features four PoE+ Gigabit ports with a total power budget of 58 Watts, while the SW-100-08P provides eight PoE+ Gigabit ports with a total power budget of 92 Watts. The switches are fanless for silent operation and offer durable metal cases with keyhole features and rubber feet for surface mounting options.
Check us out on the Legrand | AV site: https://www.legrandav.com/products/luxul.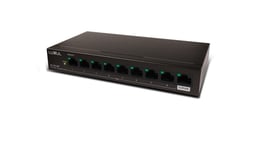 On-Q Dual-Purpose In-Wall Enclosures, Coming Soon!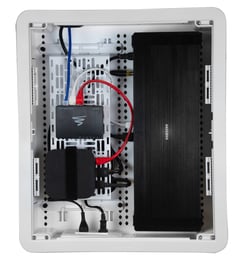 When used for AV storage behind a TV, On-Q's latest In-Wall Enclosures in 9-inch and 17-inch form factors are designed to house cable boxes, streaming players, and more. Further, the 17-inch solution is compatible with the popular 4K and 8K Samsung One-Connect Box. When used as enclosures for structured wiring, the in-wall boxes' WiFi transparent ABS plastic construction ensures a strong signal from ISP modems/wireless routers. For installation flexibility, the solutions are available with a 5-inch mounting plate, while an included mounting bracket offers 1.5-inches of elevation. The enclosures offer trim rings for a clean installation and flush, removable covers with venting and cable access.

SANUS In-Wall Cable Management Kit and In-Wall Cable Management Kit for Mounted TV &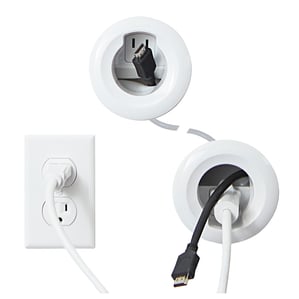 Soundbar Are Here!
Ideal for discretely powering wireless speakers, the SANUS In-Wall Cable Management Kit features two paintable grommets; a 6-foot, pre-wired power cord for fast installation; and a 10-foot, in-wall cable for perfectly positioning speakers at an optimal height. It is the ideal solution for wall mounting popular Bluetooth speakers such as Sonos, Bose, Klipsch, and more. All parts and tools needed for installation are bundled in the kit, including a drill bit and hole saw. Safely extend power to soundbars such as the Sonos Arc and accompanying displays, in addition to devices such as cable boxes, digital TV adapters, or streaming media players. The kit includes three power modules, 8 feet of Romex cable, a drywall handsaw, flat-head runner cable, and cut-out template. For installation flexibility, the power modules' outlets accommodate any type of power plug, including right angles. Further, the kit is a perfect fit with the SANUS Extendable Soundbar Wall Mount Designed For Sonos Arc Sound bar (WSSAWM1), resting directly in the center opening of the mount for even greater ease of installation.
Available Now: SANUS Soundbar TV Mount and Extendable Wall Mount for Sonos Arc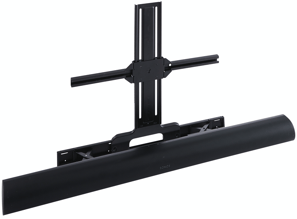 Compatible with most displays from 50 inches to 90 inches, the SANUS Soundbar TV Mount for the Sonos Arc (WSSATM1-B2) attaches directly to TV mounts, allowing the sound of the Arc to move with the display in any direction. Four inches of depth adjustment ensure the Arc's Dolby Atmos speakers and mics are clear and working properly, while active height adjustment with an easy release latch provides access to I/O and power ports.
The SANUS Extendable Wall Mount for the Sonos Arc (WSSAWM1-B2) attaches directly to the wall and offers 5 inches of depth-adjustment, while extending to provide easy access to I/O and power ports. For a clean installation, the mount features 10 inches of wide-open wall access for power and cable management using the SANUS In-Wall Power Kit for Soundbar + Mounted TV (WSIWPSB1-W1). The Extendable Wall Mount is available in black and white finishes and includes drywall, concrete, and wood stud mounting hardware.
Legrand Shading and Residential Controls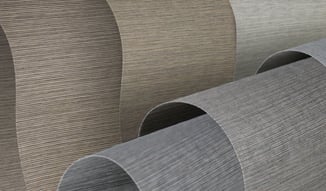 The new light-filtering collections include S Screen and S Screen Naturals. The S Screen collection provides the look and feel of a high-end, natural textile with an enhanced depth and texture. Available in 12 colors — including a variety of neutrals — S Screen offers a sophisticated style and glare control, while adding an alluring effect to any window.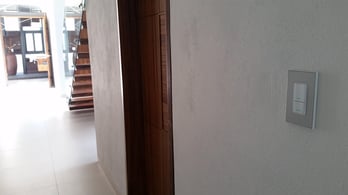 Find out how integrator DAI Control utilized Legrand's Vantage and Nuvo brands to deliver high-fidelity audio distribution and sophisticated lighting control for a lake home in Mexico's exclusive Lago del Bosque housing development.
---

Ready, Set, Go Live!
Introducing the "TeamUp+" Series USB Webcam with Microphone by Liberty AV Solutions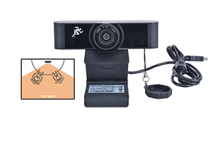 "TeamUp+" Series USB WebCam and Microphone (120° Ultra Wide-Angle View)
First impressions are everything. So, why not video conference, record polished demos, or conduct a webinar like a pro? All and more is achievable with the Liberty AV's "TeamUp+" Series (DL-WFH-CAM120) USB Webcam and Microphone with Full HD 120 Degree Wide Angle Video 1920×1080 @ 30 FPS, along with crystal clear sound using built-in dual noise-reduction microphone arrays. Available and in stock for immediate shipping.
Ready for more? We give you more standard features available on this Webcam then the competitors, including a 5 year warrantee, upgradable firmware, privacy cover, auto light detection for less money.
Easy set-up, plug and play with PC or Mac and Chromebooks, excellent for all major operating systems, and video applications such as Zoom, Teams, and Google Meet. Perfect to 'go live' on YouTube, FaceTime, and other messaging applications. Simple set-up, no drivers or software required. Ideal for home office, stylerooms, house of worship, even medium-to-large conference rooms. If you're looking for the camera for personal use, a standard version, featuring a 90-degree field of view, is also available (DL-WFH-CAM90).
Every-AV-Thing Connecting Source to Display
Liberty AV can optimize the installation of these devices with premium, certified, Liberty AV Optical, HDMI and Category cables and our sister company, WESCO Broadcast and AV can provide all of the quality, distributed brands needed to complete your install, including speakers, cameras, and more. Ask about our eKitting all of these great components in one, convenient kit for time and cost-savings at the time of deployment.
Learn more at https://secure.libertycable.com/product_details.php?pitem=DL-WFH-CAM120 or Reach out to Liberty AV's knowledgeable customer service team at 800-530-8998 or via orders@libav.com for 'Every-AV-Thing Connecting Source to Display'
---

NEW Monitor Audio IMS-4 Music Streamer
Featuring BluOS™ technology and Apple AirPlay 2, Monitor Audio's new IMS-4 is a versatile music streaming solution designed for custom install projects requiring premium sound quality.
BluOS™ technology allows the IMS-4 to stream to four separate zones and its BluOS Controller app offers complete flexibility: streaming from music services, easy access to music libraries and voice control through a smart device.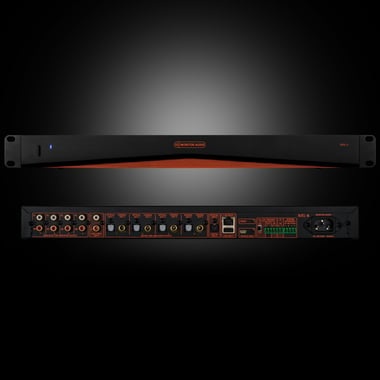 Accessed through the app, or one of the many supported integrated control systems including Control4, Crestron and RTI, multiple IMS-4 Music Streamers can be integrated with other BluOS devices to provide up to 64 zones of music. Each zone can perform together in perfect sync or play different streams to different zones. Lossless music can be played at up to 24-bit/192kHz to every room in a home network and, through BluOS, IMS-4 can deliver millions of Master Quality Authenticated (MQA) recordings, which captures and recreates the sound of the original studio performance.
Apple AirPlay 2 provides the IMS-4 with even greater flexibility as Siri allows users to request the track they would like to hear and state the room they would like it to be played in. Like BluOS, Apple AirPlay 2 lets the music be enjoyed separately or in sync throughout the home.
The IMS-4 music streamer's discreet design (1U of rack space) ensures it can be easily incorporated into any custom installation project. Analogue and digital inputs allow the addition of a cable box or other non-network sources, and makes them available in every zone. The IMS-4 even includes a system interrupt to let doorbells and fire alarms be heard.
The IMS-4 music streamer is the perfect partner for Monitor Audio's amplifiers, such as the IA150-8C. Each of the amplifiers are quick and easy to install and have been engineered to give a stunning performance.
---
Model 500467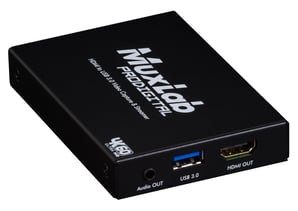 HDMI to USB 3.0 Video Capture & Streamer
The HDMI to USB 3.0 Video Capture & Streamer allows the user to record from HDMI video sources to a PC over USB 3.0. The unit supports an HDMI In port for the source and HDMI Loop Out for a monitor. The 500467 is capable of connecting to a 4K/60 source and will stream at up to 1080p/60 over the USB 3.0 port to a PC or similar device to record and/or send the video to a broadcasting service such as YouTube, Facebook, and other broadcasting services. The device is compatible with OBS Studio, AMCap, etc., and supports a variety of HDMI sources such as Cameras, Game Consoles, Media Players, and many others.
The unit supports an Audio In port for a microphone which is automatically mixed with the HDMI audio, and an Audio Out port for headphones or active speakers. Ideal for home video recording, video game capture, security and traffic video recording, education/styleroom systems, and broadcasting to YouTube and Facebook.
---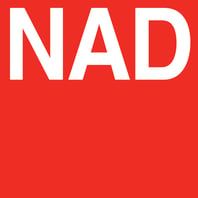 NAD T 778 Surround Sound Receiver
The T 778 is NAD's newest fully featured surround sound receiver. An impressive combination of real-world performance, simplicity of operation, and future upgradability, the T 778 brings flagship performance to new heights.
Only NAD offers Modular Design Construction (MDC), our proven method for preventing premature obsolescence. With MDC, all major digital circuits can be upgraded and replaced to keep the T 778 forever young and capable. Dolby® Atmos™ and DTS® Master Audio combine with Dirac Live™ room correction to deliver hyper-realism that captures every dimension of a performance. Add bit-perfect UHD 4K video pass-through and the T 778 delivers the most accurate sound and image experience you've ever had.
The latest HDMI features, including HDCP 2.2, 4:4:4 color resolution, High Dynamic Range and Dolby Vision video support, plus CEC/ARC, are all included. Digital inputs are available in both coaxial and optical formats to make it easy to attach all your digital sources. IR repeaters, 12V triggers to automatically switch amplifiers on and off, and an RS-232 data port makes it easy to connect to highly advanced automated control systems, such as Crestron and Control4. Thoughtful features like discrete On and Off codes, direct access to inputs and music presets facilitates the integration of the T 778 into elaborate remote-control systems.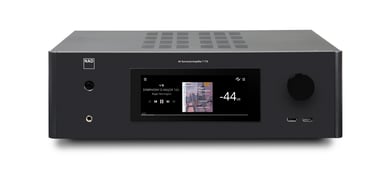 The T 778 combines all its refined features in one compact chassis that offers many options for installation in the home. Because of its highly efficient design, the T 778 is compact, ultra-quiet and rack mountable for integration into complex home entertainment systems. Access thousands of Internet radio stations and over a dozen high quality music services thanks to BluOS Hi-Res streaming and surround yourself with perfection in every room. Enhance your home theatre experience and enjoy efficient, distortion-free amplification.
---
Keep an Eye on Nortek Control in 2021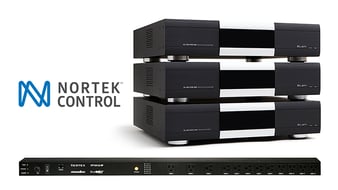 2020 saw the beginning of Nortek Control's reemergence as a world-leading brand, a process that's accelerating into 2021. Fueled by our focus on technology, innovation and analytics, Nortek Control intuitively met the unique needs of a challenging 2020 marketplace with its brands, including ELAN® (launch of IP-controlled Multi-Zone Audio Distribution platform with Dante® audio networking) and Panamax® (BlueBOLT-enabled Power Conditioner) both ideally timed as the world situation forced more people to remain home. Nortek Control continues its march toward a truly evolutionary rebrand as their business groups evolve from a manufacturing-focused company to delivering connected technology solutions for all customers. Learn more at NortekControl.com.
---

Platinum Tools® Announces New Fiber Optic Visual Fault Locator

Platinum Tools® (www.platinumtools.com), the leader in solutions for the preparation, installation, hand termination, and testing of wire and cable, is proud to announce the launch of its new Fiber Optic Visual Fault Locator (p/n TVFL100). Now available, the fault locator has an MSRP of $105.00.
"Our new Fiber Optic Visual Fault Locator works with virtually all common fiber optic sizes and connector types, allowing you to test cables prior to install, and test patch and breakout cables for faults," explained Sean Rothermel, Platinum Tools product manager. "The TVFL provides easy visual location of fiber optic cable faults, comes in a zip carrying case, and includes an adaptor for 2.5mm and LC ferrules."
Additional features and specifications include:
Bright 10mW laser for continuity testing; also shows breaks and performance-reducing bends in most types of fiber optic cable
Aluminum construction for durability
Runs for more than 20 hours on 2 AA batteries (included)
Simple slide switch to select either a flashing or solid beam for easy identification of problems
Fast & easy pass/fail testing of most fiber optic cables
Convenient hinged endcap protects tip when not in use
For additional pricing and more information on Platinum Tools and its complete product line, please visit www.platinumtools.com, call (800) 749-5783, or email info@platinumtools.com.
---

Powersoft CREW nation TOTAL NEARS €50,000
Powersoft's successful partnership with the Crew Nation charitable fund has prompted the company to continue its campaign until the end of the year.
Since pledging to donate a percentage of the proceeds from the sale of its touring amplifiers to the Crew Nation charitable fund, Powersoft's three-month campaign has generated a staggering €48,437; and the company has since vowed to continue the incentive until the end of 2020.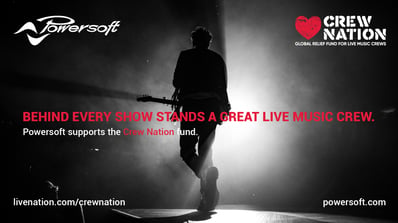 Nurit Siegel Smith, executive director of the Music Forward Foundation – the charitable 501c3 organisation that administers and powers the fund – was full of praise for the substantial contribution already received from Powersoft.
"We are amazed by the incredible pledge Powersoft made toward the Crew Nation fund and for the crewmembers who are the backbone of the live music industry," she said. "Live music inspires millions around the world, but the concerts we all enjoy wouldn't be possible without the countless crewmembers working behind the scenes. Their pledged donation will be instrumental in ensuring our crewmembers are taken care of during this intermission so they will be ready to work and enjoy the show with us."
The Crew Nation fund was originally kickstarted by Live Nation's $5 million donation, which was followed by the promoter commiting to match the next $5 million given by artists, fans, and employees. So far, superstars such as Coldplay, Miley Cyrus, Metallica, John Mayer, and many more have shown their support and donated.
Following this inspiring start, Powersoft's management has stated that the company is looking forward to continuing the relationship with such an important campaign. As well as continuing to donate 5% of its touring amplifier sales until the end of the year, the company gotten its worldwide sales networks directly involved in order to promote the initiative as much as possible.
"We want to continue supporting crewmembers during this extended intermission," said Powersoft's brand, communication and trade marketing manager, Francesco Fanicchi. "We have many friends who have lost work this year due to the impact of the pandemic and we want to be at the forefront in supporting them. As an audio company that was born with touring products, we have a responsibly towards our community."
Please visit livenation.com/crewnation to donate or, alternatively, contact your local Powersoft distributors.
---

When others paused, we pressed play
It's been a challenging few months for all businesses. And while many decided to put things on pause, we went another way. We're always evolving—it's in our DNA—so we kept doing what we've always done and now we have a few exciting updates to share.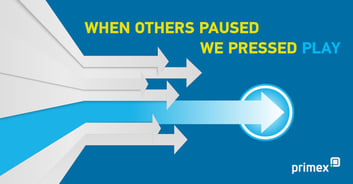 For starters, we've rebranded our award-winning Wi-Fi-transparent media panels SOHO Pro, while adding a line of SOHO Access metal panels for wired security. We've also expanded our connectivity accessories with a selection of tool-less modules and jacks that will make any installers's life easier.
Most importantly, we've expanded our customer support team and distribution network to better serve you. We know you depend on your suppliers to get the job done and we're committed to providing the best customer experience possible.
With Primex as your trusted source for selection and service, the smart home has never been smarter.
Explore all Primex has to offer.
---

NEW: RTI Video over IP
RTI is launching a new Video over IP (VIP) platform that distributes 4K UHD video over a 1GB network switch. Consisting of a control module, HDCP 2.2 HDMI transmitters and receivers, and a rack-mount adaptor, the exceptionally flexible system can be installed in minutes, scaled to a virtually unlimited number of endpoints, and controlled natively within the RTI control environment. Let's take a dive into what you need to know about Video over IP, and the RTI advantages:
Video Over IP is the Future
The market is heading towards using network infrastructure to distribute video and audio solutions in homes and businesses. Installers are finding the technology easier to prewire and plan, while products are becoming less expensive.
A Perfect Fit for the New "Resimercial" Dealer
Video over IP is ideal for hospitality, corporate, hotels, sports venues, and digital signage. The RTI solution can be used in projects that demand low latency distribution of potentially hundreds of interactive displays and sources without the need for large black boxes that become obsolete over time.
Seamless Integration and Management within the RTI APEX Software
Many solutions in the market require a time-consuming discovery and setup process, from discovering transmitters and receivers to naming them and ensuring the proper communication. With the RTI Video over IP line, all of this is performed once inside Integration Designer APEX. Transmitters and Receivers are discovered, named, and properly configured within RTI's software, requiring less setup time and improving project margin.
Preview Display Feature on RTI Controllers
RTI Video over IP allows integrators to create thumbnail display previews of all video displays and sources being distributed. End-users can easily preview and select what is playing on each source device throughout a home or business – a convenient and time-saving feature. Sports bar staff can preview what is playing on each display and manage the establishment properly, ensuring patrons are being treated to the best experience.
Network Setup is a Breeze
RTI Video over IP includes simple setup guides for each supported switch, allowing integrators to configure settings in minutes. No specialized network skills are required; integrators can easily follow simplified step-by-step directions that will explain how to configure the managed switch in minutes. The RTI system will auto-discover and import the project into the APEX software.
Present Video Walls, Display Previews, and Other Exciting Features
RTI is a custom platform, and there is no better way to present video wall control, display previews, and source tracking than with APEX. RTI integrators can provide full video distribution control, source tracking, and previews on RTI controllers using floorplans, pictures that match the space and appeal to the client's vision.
Built-in Controller Intelligence
The RTI VIP-UHD controller coordinates your RTI Video over IP project settings, enabling powerful two-way communication with RTI XP processors. The VIP controller will provide many advantages that allow you to store your project, video wall and group configurations, and more. Because the controller is centralized, feedback and two-way communication are robust without the need for the XP processor to communicate with all endpoints.
Powerful Features on Transmitters and Receivers
The RTI VIP-UHD-TX transmitters allow you to plug in a USB host, perfect for a host computer, and connect keyboards, mice, and other USB devices to the VIP-UHD-RX receivers for KVM control. Each transmitter and receiver features an audio output for audio embedding and breakout (2-Ch PCM). Receivers feature a LAN port and Loop Out for daisy-chain applications, ideal for digital signage. IR I/O and RS-2232 pass-through are possible, enabling easy control of devices. Each unit features POE capability without the hassle and bulk of AC adapters.
The Ultimate in Scalability & Convenience
RTI Video over IP solution can accommodate an almost limitless number of transmitters and receivers with the ability to stack or daisy chain supported switches. The VIP solution is powerful enough to control thousands of endpoints and multiple video walls in a single project. Video over IP scales easily, eliminating the need for expensive upgrades if the client wants to add some displays and sources to the project. TI VIP systems require a single driver easily configured, with the software doing most of the heavy lifting.
If You're Keeping Score
The RTI Video over IP (VIP) distribution platform enables the distribution of 4K video over a 1GB Network to virtually unlimited endpoints. The products feature an industry-leading 4K HDCP 2.2 HDMI solution using visually lossless compression technology to deliver HDMI, Bi-directional IR, RS-232 & USB/KVM up to lengths of 100m over standard network architecture. Each unit is HDCP2.2 compliant with advanced EDID management. With support up to 4K HDR video sources (3840×2160) and all known HDMI formats that include Dolby True HD, Dolby Digital Plus, and DTS-HD Master Audio Transmission, installers can feel confident the