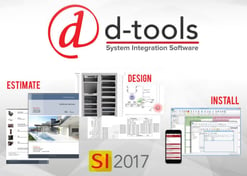 Texas-based security & AV integrator shares 3 ways the D-Tools platform saves time and money
With over 20 years of experience in security and AV technology under their belts, the mid-sized, family owned HomeSmart of Kingsland, Texas, is no stranger to large custom integration projects. To suit the needs of the 18-person company, HomeSmart was looking for an easier way to bid, design, and manage even the largest of projects. The company recently discovered first-hand how well D-Tools System Integrator (SI) software works for security and surveillance integration projects as it does for the design and installation of smart home and AV systems.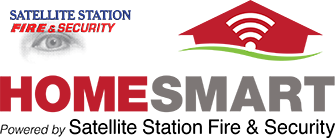 HomeSmart had been using a competitor's product to produce bids, but recently increased their productivity by 80 percent by implementing D-Tools to create professional proposals, design their systems, and manage projects from start to finish. Ben Thompson, whose job duties include Sales/Design/Operations Management for HomeSmart, states, "We use D-Tools for everything from pricing to ordering, scheduling, invoicing, accepting payments, and for all our CAD design. The D-Tools platform has helped us streamline and improve our sales and design processes by 100 percent, resulting in timely installs 100 percent of the time and increased customer happiness. It's difficult to put a price on that, other than to say it has resulted in more customer referrals for increased profits and growth. This is the platform we use for every project now."
The Fredonia, Texas, home belongs to a repeat customer. Thompson describes the house as "a sight to see, and a true work-of-art, very lavish, with extensive attention paid to every detail, from the design and décor to the technology systems." The client was seeking a streamlined, simplified technology experience with all the modern luxuries, including custom lighting, audio, video, security, and surveillance, all controlled throughout the home using touchpads and mobile devices with a centralized Control4 system. In addition, the HomeSmart experts were charged with installing a new network with wireless access points throughout the house, creating a robust infrastructure to run the control system as well as the rest of the home's technology. "The residence includes almost two entire server racks of equipment, including power protectors, networking equipment such as routers and switches, amplifiers, audio/video matrixes and much more," says Thompson.
With the size and scope of the project in mind, Thompson knew he would have to rely on the robust D-Tools platform to keep things running smoothly while staying on time and to-budget. The Fredonia home was one of the largest projects for the company and the first where HomeSmart used D-Tools' powerful CAD integration capabilities—and this learning on-the-fly turned out to be a benefit later on. "The knowledge we acquired working on a job of this scale gave our design team a solid foundation for us to improve as time has passed," says Thompson.
Just as significant are the benefits D-Tools provided during other stages of the project, from creating a parts list to service after the sale. Here's a quick look at three ways D-Tools helps HomeSmart save time and money:
1. D-Tools helps automate processes and streamline equipment list creation.
One of the biggest challenges on a job the size of the Fredonia home is creating and managing the equipment list through multiple design drafts. Manually researching parts and specifications adds time at the beginning of the project. By using D-Tools' extensive Data Library, HomeSmart can tie product information to project documentation seamlessly. Having such a robust database of products and pricing at their fingertips also results in more accurate pricing to ensure jobs are profitable. "We can compile a list of everything we need for a project and order the correct products, which saves time and helps us make money," says Thompson.
2. Mobile Install helps eliminate redundant processes within the organization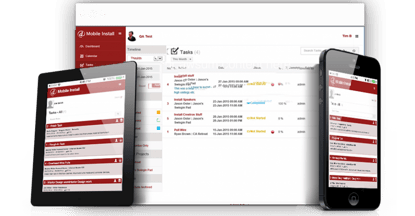 HomeSmart utilizes D-Tools' Mobile Install feature, which allows installation and service tasks to be sent to technicians in the field, which can then be managed and reported backs from any mobile device for accurate time and install tracking. "We used to take extra time at the beginning of a project to walk our installers through a job site to make sure they knew what needed to be done," Thompson explains. "Now with our D-Tools reports and integrated CAD drawings all accessible through Mobile Install, our installers are prepared with the tools they need in hand."
The detailed equipment lists and drawings help ensure important parts aren't left in the warehouse, saving the installation team time. This is especially crucial on a large project like the Fredonia home, with so many wires, cables, connectors, switches and other small parts that are easy to forget. "Everything is accounted for, and we can manage our team on the job site better, which saves us time and money," adds Thompson.

3. D-Tools helps HomeSmart keep clients happy
When a client has a question about a project or is wondering if HomeSmart is on track to finish a specific phase by a certain date, D-Tools helps the company provide that information quickly and with confidence. "Since our entire organization is now more streamlined thanks to D-Tools, our customers typically get a response from us faster," says Thompson. "When a project undergoes changes or revisions mid-stream, it's easy to convey these changes to the client. We can provide more accurate information about our original plans and a concise list of exactly what we need to complete the job."
Clients appreciate this insight, and it helps the company build and maintain trust. In addition, by eliminating redundancies, automating business processes and streamlining project management, D-Tools helps the HomeSmart team shift their focus and provide a higher level of customer service to its clients. "Most importantly," says Thompson, "D-Tools frees up our time to really listen to our customers to ensure we are giving them what they want, and to make sure we do a knock-out job, every time!"
HomeSmart Looks to the Future with D-Tools
After completing this showcase project, Thompson and his team were impressed by how much D-Tools helped the security and AV integration firm reduce costs, work faster and more accurately, as was their customer, whose expectations were exceeded on the large-scale, multi-faceted project.
After just a short time using the platform, Thompson says he's had an exceptionally positive experience. He notes that he appreciates that new features are added regularly, contributing to the value of the software investment, and that prompt support and training is always available for any of the features and functions.
Thompson says he's also looking forward to digging deeper into the software platform to enjoy additional benefits. "I can't wait to implement the new Customer Portal to improve communication and engagement with clients, and to start using inventory management to further reduce costs and save time."
Learn how D-Tools can streamline your business process and improve operational efficiency by signing up for a free, personal online tour at https://d-tools.com/live-demo-webinar/. A free 30-day trial of D-Tools can also be downloaded anytime at https://d-tools.com/30-day-free-trial/.