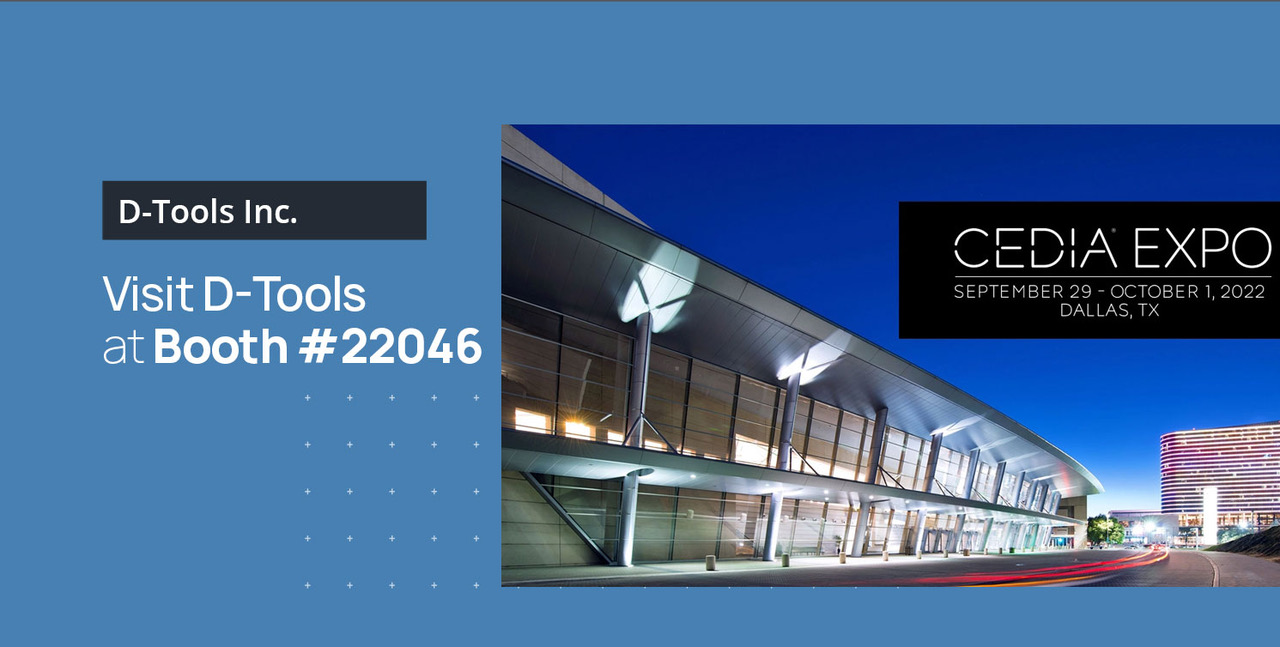 D-Tools, Inc.,the worldwide leader in data-driven systems integration software, will demonstrate a variety of significant updates to its award-winning Cloud platform at CEDIA Expo 2022 in booth #22046, including new service management capabilities. Further extending the value of its Cloud software for post-installation management, D-Tools Cloud enables residential systems integrators to create, sell, and manage service plans for greater customer satisfaction and recurring revenue opportunities. With this new feature-set, integrators now have access to an easy-to-use, yet powerful end-to-end web-based multi-OS solution. CEDIA Expo attendees will also see the latest version of its flagship on-premises System Integrator (SI) solution (version 19). Featured in this new version are several enhancements to help integratorsboost efficiencies and bottom-line results.
D-Tools' New Service Management Features Added to D-Tools Cloud Provide First True End-to-end SaaS Platform for System Integrators and a Convenient Way to Drive Productivity and Grow their Business.
D-Tools Cloud is a powerful, yet easy-to-implement multi-OS, web-based SaaS solution accessible from any web-enabled device. D-Tools' next-generation platform drives sales and improves profitability by streamlining project workflows, from sales and proposal management through system design and project management.
Understanding the importance residential integrators place on achieving greater customer satisfaction, efficient management of projects post-installation, and recurring revenue opportunities, D-Tools will preview at CEDIA Expo an enhanced version of its Cloud platform with new tools to streamline the creation, sales, and management of service plans.
Service plans can be sold as an option with a project or as a stand-alone asset. Service hours utilized can be managed against the service plan, and integrated service order management empowers integrators with the ability to receive service requests, schedule out resources, execute on service orders, and even collect payment for services at the customer site.
Adding valuable new features for service managers and technicians makes D-Tools Cloud the first true end-to-end SaaS platform for system integrators and offers a convenient way to drive productivity and grow their business.
New Release of D-Tools System Integrator (SI) Software Adds Powerful New Sales, Project, and Field Service Management Capabilities for Greater Operating Efficiency of Systems Integration Businesses
The SI version19 release offers systems integrators numerous productivity advancements across the application, including:
Improved job costing and time sheets management through an integration with QuickBooks Time
Improved PO process with the ability to create purchase orders from service orders
Enhanced calculation accuracy with a new PoE (Power over Ethernet) tool for calculating balances of available power for products
Mobile Install enhancements including the ability to display accessories
Improved change order history and reports
SI v19 also includes performance enhancements to features, including projects, tasks, checklists, workflow rules, and more, to help system integrators drive productivity and boost bottom-line results.
Where to See D-Tools at CEDIA Expo
CEDIA Expo attendees can see live demonstrations of D-Tools Cloud and System Integrator at Booth #22046. To schedule a private demo, please contact sales@d-tools.com.
For additional information and pricing on D-Tools software and to sign up for a free trial, visitwww.d-tools.com.