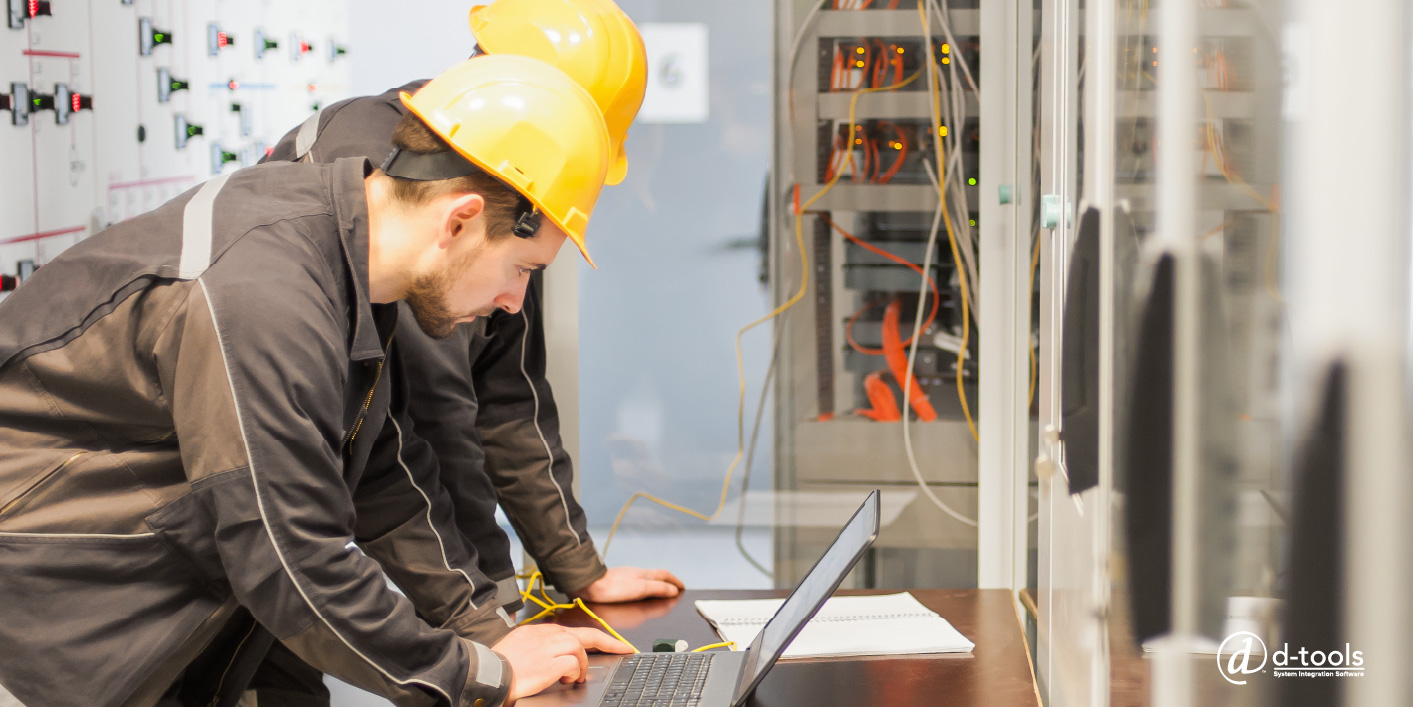 Field service scheduling is one of those tasks that seems like it should be straightforward, but often ends up requiring much more time than anticipated. Piecing together technicians with projects can feel a bit like playing a particularly challenging game of Tetris, and then when you add emergencies, unexpected delays, and labor shortages to the mix, it's hard not to want to pull your hair out by the end of the day! If this sounds familiar, read on for expert field service scheduling tips to make sure your team is running at maximum efficiency at all times.
1. Use a Field Service Portal
No more haphazard spreadsheets or color-coded whiteboards—it's time to take your field service scheduling from analog to digital. Using a paper system leaves too much room for human error and too little visibility into the progress made on a project. A cobbled-together system of cloud-based spreadsheets and calendars is better than paper or whiteboard, but these are inefficient and often difficult to coordinate.

Invest in a software solution with a field service portal for a simplified approach to keeping track of your work orders so you can dispatch your technicians with increased speed and efficiency. Such a system gives you the data you need to provide real-time assistance and scheduling, and it's also designed to be scaled as your business grows. You can't say that about a color-coded whiteboard!
2. Know the Labor Demands of Your Business
Anyone who handles field service scheduling should have a keen understanding of the resources needed for a project. Tools and equipment are one thing, but determining the labor needed for a task can be more complicated.
A new technician may take longer on a job than a seasoned pro; a routine maintenance call will take less time than a problem that needs troubleshooting and repair. There are a lot of variables at play here, but that doesn't mean you can't have a system in place. Some field service scheduling tips for determining the labor needed for a project include:
Know the ebbs and flows of your business. You can expect the unexpected, but you can't always plan for it. What you can plan for are the regular trends and seasonal changes in your business. For example, in HVAC controls, you know that on very hot or very cold days, you're likely to get more service calls. Plan for the labor that will be required to handle work orders by anticipating these situations.
Repeat your successes. Look at a day when your team was on schedule and working at peak efficiency. Investigate what made the day a success. Which technicians were working? What kinds of calls did you have? What turnaround time were you experiencing with your work orders? Use this data in future planning.
Set a baseline. Determine the minimum number of technicians you need to handle your current average workload. Then, calculate how many additional hours of labor you'll need to handle a certain number of additional calls so you can develop a strategy for ramping up in busy times.
3. View Technician Schedules at a Glance
The field service portal you choose should give you the ability to view all of your technicians' schedules in one place. You shouldn't need to click on each technician's schedule to see what's on their agenda, as this makes it difficult to compare schedules and reassign tasks from one employee to another.
With D-Tools Cloud and D-Tools System Integrator's Mobile Install functionality, our field service scheduling tools provide you with a user-friendly dashboard where you can view schedules, dispatch technicians, and monitor the status of work orders.

4. Schedule Strategically
Not every technician is a fit for every job. A dispatcher should know the specialized skills each technician has to offer so they can be assigned in such a way that they are set up for success. Not only does this result in satisfied customers, it also leads to a happier workforce.
It's also critical to schedule service with geography in mind. Rather than trekking from one side of town to the next, service calls should be scheduled in a logical order. This requires some degree of planning, as you'll need to sequence jobs and map them throughout the day. Although customers dread service windows rather than receiving a specific time for their services, a window of a few hours is often needed to allow dispatchers the flexibility to handle all the moving pieces involved in field service scheduling. If you have a large service area, this careful scheduling will go a long way towards reducing inefficiencies, fuel costs, and mileage on vehicles.
5. Give Yourself Room to Prioritize
Field service is full of surprises, so you'll need a strategy for prioritizing unexpected, last-minute, and emergency work orders. This means asking some tough questions:
Do you have the available labor to take on unexpected jobs?
If not, are you prepared to reschedule customers in order to accommodate emergency service?
Which types of services should be rescheduled first? Which ones shouldn't wait?
How will you smooth things over with unhappy customers?
If you say no to potential customers when you're overbooked, do you have another trustworthy service provider you can refer them to?
First-come, first-served doesn't work for field service scheduling, so every business should have a plan in place for prioritizing and make sure all of your team members are aware of it.
6. Increase Visibility
It's important that the members of your team are informed about what's happening at any given time, whether it's clients canceling appointments, technicians on vacation, or urgent work requests. You'll also want to know where everyone is—field service scheduling is easier when you can keep track of your technicians' whereabouts.
This means it's best to use a field service portal that allows for real-time system updates so everyone is on the same page. Time tracking, digital work orders, and GPS location reports facilitate improved visibility for every step of the field service process.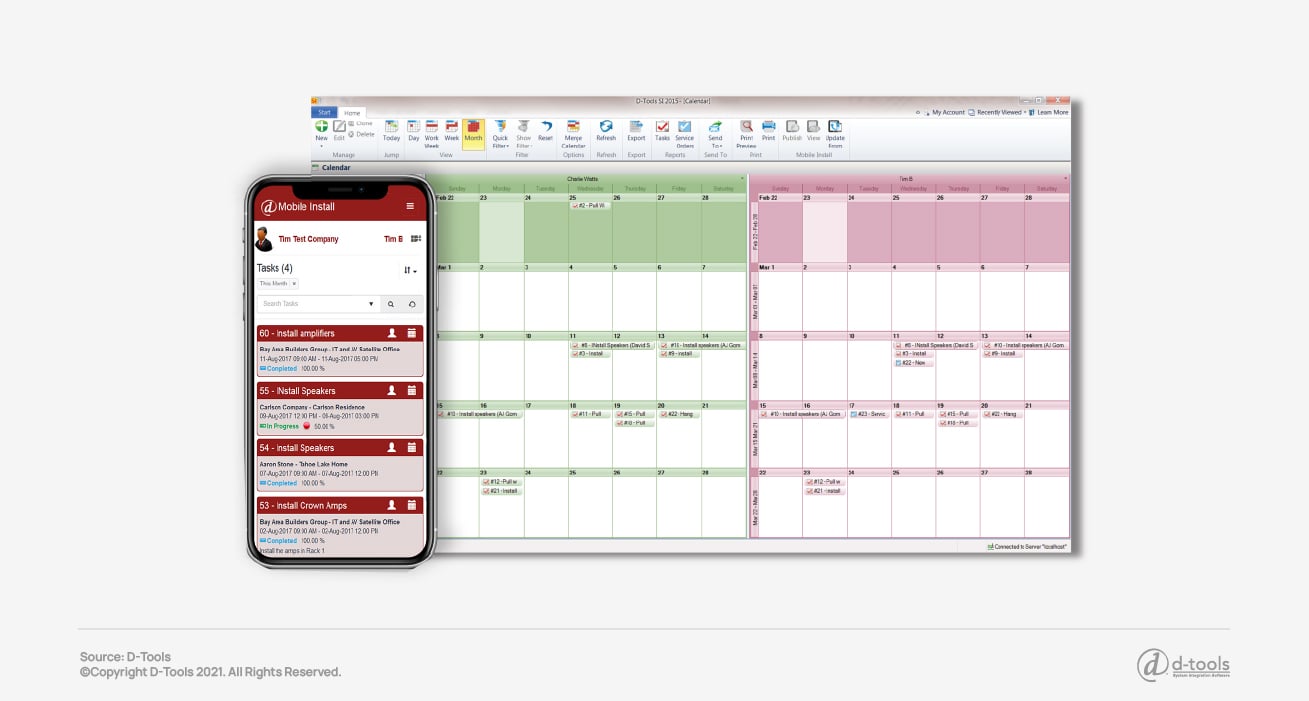 7. Automate as Much Work as Possible
There's a lot involved in field service scheduling that requires careful thought and planning, but there are other tasks that are repetitive. These tasks are ideal for automation.
By automating repetitive operations, you can save time and increase efficiency for both dispatchers and field technicians, allowing them to focus on providing exceptional customer service, problem-solving, and working on other tasks that are more valuable to your business. D-Tools System Integrator enables easy automation to ensure your team's time is spent doing what they do best, rather than handling monotonous scheduling tasks.
Manage Resources Remotely with D-Tools Mobile Install App
D-Tools' Mobile Install feature gives System Integrator (SI) users the power to publish install task and service orders to a web portal powered by the cloud. These service orders can be accessed by technicians and installers in the field from any device.
Below, we outline some of the most noteworthy benefits of Mobile Install when it comes to field service scheduling. You'll see that with added enhancements to time tracking, the ability to add items on-site, and other new features, Mobile Install has become an indispensable part of the SI solution.
Create and Manage Mobile Resources
Customers on D-Tools' Software Assurance plan get one Mobile Install resource for every SI license purchased. Additional Mobile Install licenses are available for a nominal monthly fee for each additional user. All MI users have the ability to receive task notifications via email and can also access tasks via the Mobile Install web portal on any device.
Publish Project Task and Service Orders
Project-specific install tasks and service orders can be published to MI from the SI interface. Dispatchers can select resources, install or repair items, estimated start time, and end hours/dates, and then publish the service order to the MI field service portal.
Send Project Documents and Reports to Mobile Install
Project documentation, such as Visio and AutoCAD drawings and reports, can be uploaded to MI and associated with specific project tasks or service orders. This allows you to arm your install team with the information they need to complete tasks on time and to budget; it also gives your team the ability to pull up project documentation and see exactly what they're dealing with when they return to a site for maintenance or repairs.


Add Site Items to Install Task and Service Orders
SI gives your team the flexibility to track and account for additional work in the field, empowering your techs to add additional products or services and get customer approval on the spot. Approved added items or services can be added to an existing SI project.
Update from Mobile Install
Task status and other information changes can be synched back to SI from MI. Items such as percent complete, actual resource time needed, serial number, and notes are incrementally tracked and updated with each sync. Notifications are sent to project managers when tasks have been updated or completed.
Start Using D-Tools Software for Field Service Scheduling
Learn how D-Tools' software can add efficiency to your processes. Request a demo today.
Article originally published January 2020. Updated November 2021.